Vismaravetro srl
INTRODUCES
Suite + Securplus LCD glass
SUITE WALLS SYSTEM + Securplus LCD glass
Suite, the waterproof partition system for bathroom, is enhanced with a new and unique concept: Suite + Securplus LCD glass
SUITE WALLS SYSTEM.
THE ONLY WATER-TIGHT WALLS SYSTEM FOR PRIVATE BATHROOMS AND CONTRACT ENHANCED WITH A NEW AND UNIQUE CONCEPT: SUITE + SECURPLUS LCD GLASS
The beauty of glass lies in its transparency, in the ability to create perimeters but not barriers, to add without taking anything away from the space. But how to combine this visual freedom with the privacy needs of a shower enclosure? With the new dynamic vision of the environment that Securplus LCD glass gives us: a transparent glass plate that can be darkened with a simple touch. An innovation already known in other areas of furniture, but totally revolutionary if we talk about bathroom space, a much more complex environment due to the presence of water in the shower unit.
It's the Suite collection by Vismaravetro the first one to benefit from this new configuration: the watertight wall system for bathroom that redesigns the experience of the most important room, It is enriched by the presence of Securplus LCD glass among the available options. With a simple click, the shower enclosure loses its transparency, giving privacy and redesigning the spaces, another click and the glass finds again its original luster immediately and in total safety.
Only 75 years of glassmaking experience and dedication to the world of shower enclosures could achieve this aim and succeed in ensuring the highest quality and watertightness, and the double functionality of this innovative LCD. Once again Vismaravetro focuses on design and beauty, technology and performance.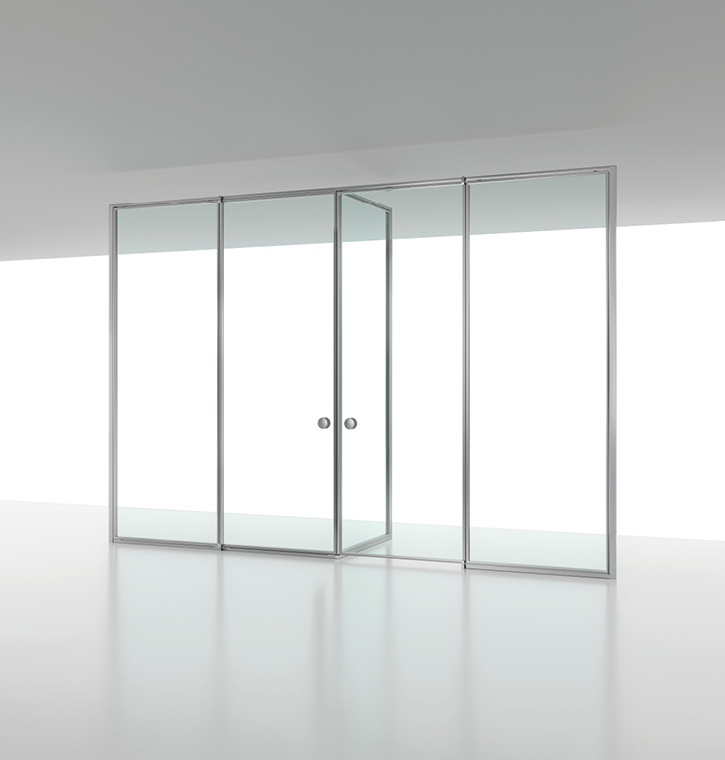 Product Overview
Suite is the only water-tight wall system.
This collection can be adapted to any installations (recessed, corner or three-sided) and is perfect for installations flush with the floor.
The Suite modular system is formed of fixed panels and doors made from aluminium and glass with a maximum height of 270 cm, and is fitted with special hinges that open 180° for enhanced user comfort.
The Suite system offers practically endless customisation options, both from the point of view of its size, applications, and the possible combinations of glass and the choice of profiles.
In this version Suite is enhanced with a new and unique concept: Suite + Securplus LCD glass.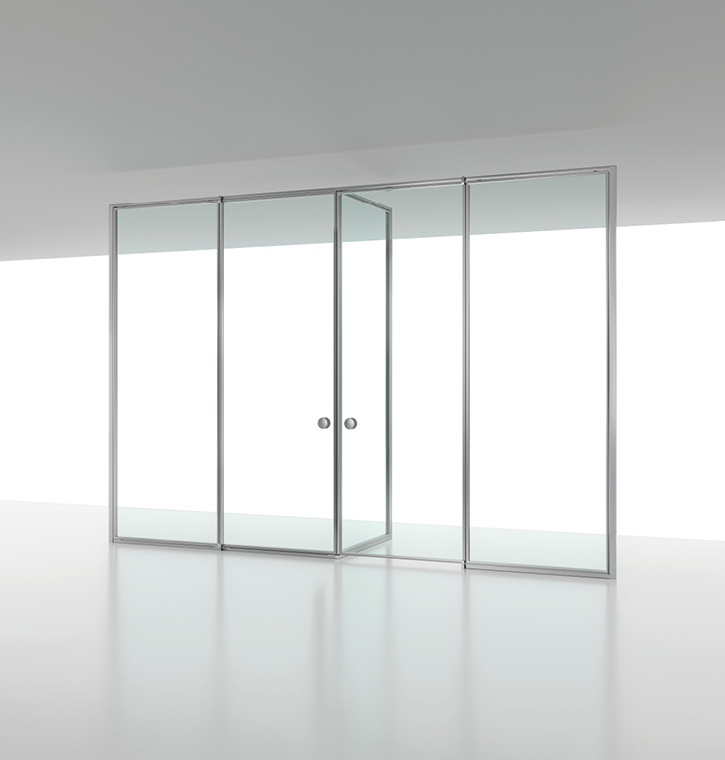 Product name
Suite + Securplus LCD glass
Designer
Castiglia Associati
Dimensions
There are practically endless possible ways you can customise the Suite system, both from the point of view of its size, applications, and the possible combinations of glass and the choice of profiles.
Production process
Technically and aesthetically, Suite is a solution that is "exemplary" of the materials that are in Vismaravetro's DNA, large sheets of glass enclosed by an extremely sleek metal frame.
It also illustrates our focus on the extreme flexibility and customisation of the walls system, offering the customer a range of sizes, profiles, different types of glass, and a selection of decorations.
Collection
Suite collection + Securplus LCD glass

Official website
Suite collection

BRAND SELECTION
OUR PRODUCTS