Vismaravetro srl
INTRODUCES
Suite
SUITE WALLS SYSTEM.
THE ONLY WATER-TIGHT WALLS SYSTEM FOR PRIVATE BATHROOMS AND CONTRACT.
Suite combines the light touch of aluminium with the brightness of glass, design by Castiglia Associati, and Vismaravetro's technical and manufacturing expertise: aluminium profiles and moulds, hinges that open 180°, glass with various finishes, design expressed through materials, components and exclusive manufacturing techniques, with superior technical and engineering content.
A challenge that gave us great satisfaction because the important structure of Suite offers the guarantee of solidity and durability, and respects one of the cornerstones of Vismaravetro's philosophy: the product has to be simple to install and easy to adjust, without losing sight of the aesthetic result shared by Castiglia.
Today, Suite offers a range of configurations to meet the main demands presented by modern bathrooms, but the real ambition is to create a system of solutions going even further.
SUITE IS A MODULAR SYSTEM OF FIXED PANELS AND DOORS IN ALUMINIUM AND GLASS WITH A MAXIMUM HEIGHT OF 270 CM, AND FITTED WITH SPECIAL HINGES THAT OPEN 180° FOR ENHANCED COMFORT AND CONVENIENCE.
FLEXIBLE, VERSATILE, UNIQUE.
Suite is a modular system of glass and aluminium walls designed to define the shower and sanitary ware area in a single solution.
It is made to measure, ideal for either 110 cm niches or for spaces that are more than 4 metres wide.The maximum height is 270 cm.
Another interesting feature is the possibility to open the doors 180° towards the outside, so that the door can be folded completely back against the fixed panel and take up less space.
The clean and sleek modules of the Suite series are ideal for rearranging the traditional layout of a space with absolute flexibility and the creative freedom to cater for specific needs and demands.
CLEAN AND SLEEK LINES REINVENTING THE TRADITIONAL LAYOUT OF SPACES WITH TOTAL FLEXIBILITY. CREATIVE FREEDOM TO GIVE YOU WHAT YOU WANT AND NEED
Large sheets of glass supported by an extremely sleek metal frame.
Suite is a concentrated expression of the DNA of Vismaravetro, bringing together the materials, techniques and looks that are dear to the company, without sacrificing its potential for customisation: its flexibility means you can choose different sizes, profiles, types of glass and decorations each time.
The Suite system comes from a design culture expressed through ideas and practical solutions, it is a product at the service of the creativity of architects and interior designers, and overcomes traditional limits to enable new and original configurations and levels of innovation offering a superior performance.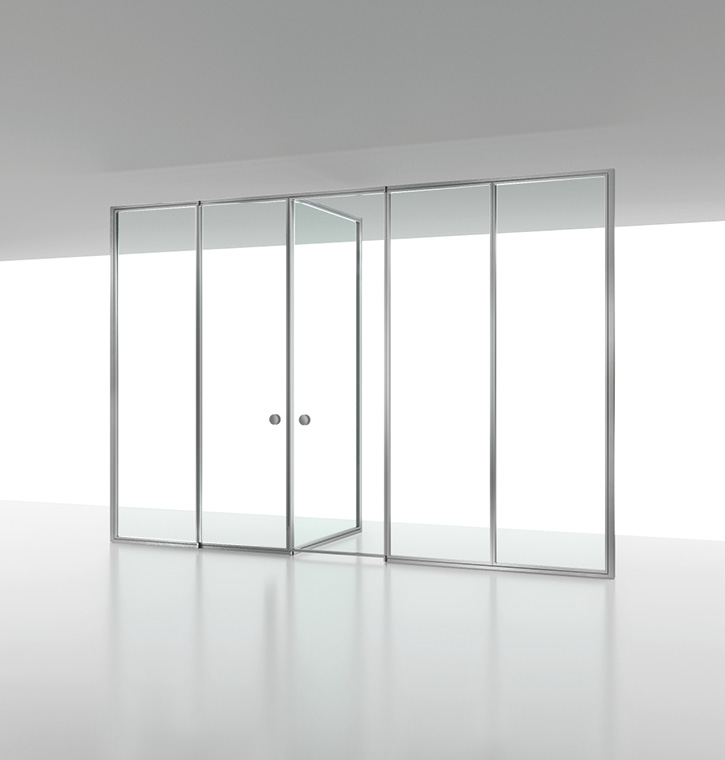 Descrizione del prodotto
Suite is the only water-tight wall system.
This collection can be adapted to any installations (recessed, corner or three-sided) and is perfect for installations flush with the floor.
The Suite modular system is formed of fixed panels and doors made from aluminium and glass with a maximum height of 270 cm, and is fitted with special hinges that open 180° for enhanced user comfort.
The Suite system offers practically endless customisation options, both from the point of view of its size, applications, and the possible combinations of glass and the choice of profiles.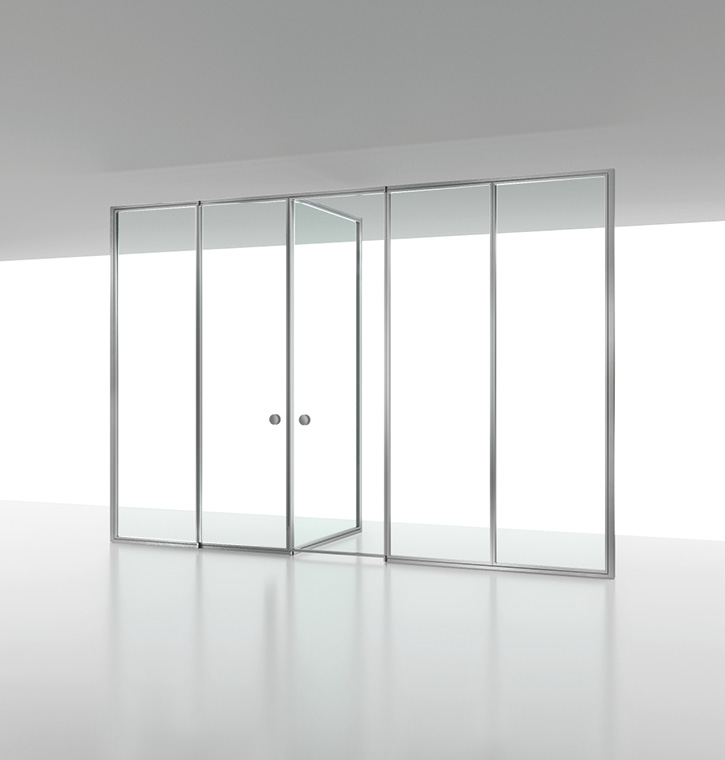 Designer
Castiglia Associati
Materiali
Aluminium, Crystal
Dimensioni
There are practically endless possible ways you can customise the Suite system, both from the point of view of its size, applications, and the possible combinations of glass and the choice of profiles.
Processo produttivo
Technically and aesthetically, Suite is a solution that is ""exemplary"" of the materials that are in Vismaravetro's DNA, large sheets of glass enclosed by an extremely sleek metal frame.
It also illustrates our focus on the extreme flexibility and customisation of the walls system, offering the customer a range of sizes, profiles, different types of glass, and a selection of decorations.
Collezione
EXAMPLES

Sito web ufficiale
SUITE VISMARAVETRO

BRAND SELECTION
OUR PRODUCTS