Phantastic_The Kitchen
Category: Kitchen furniture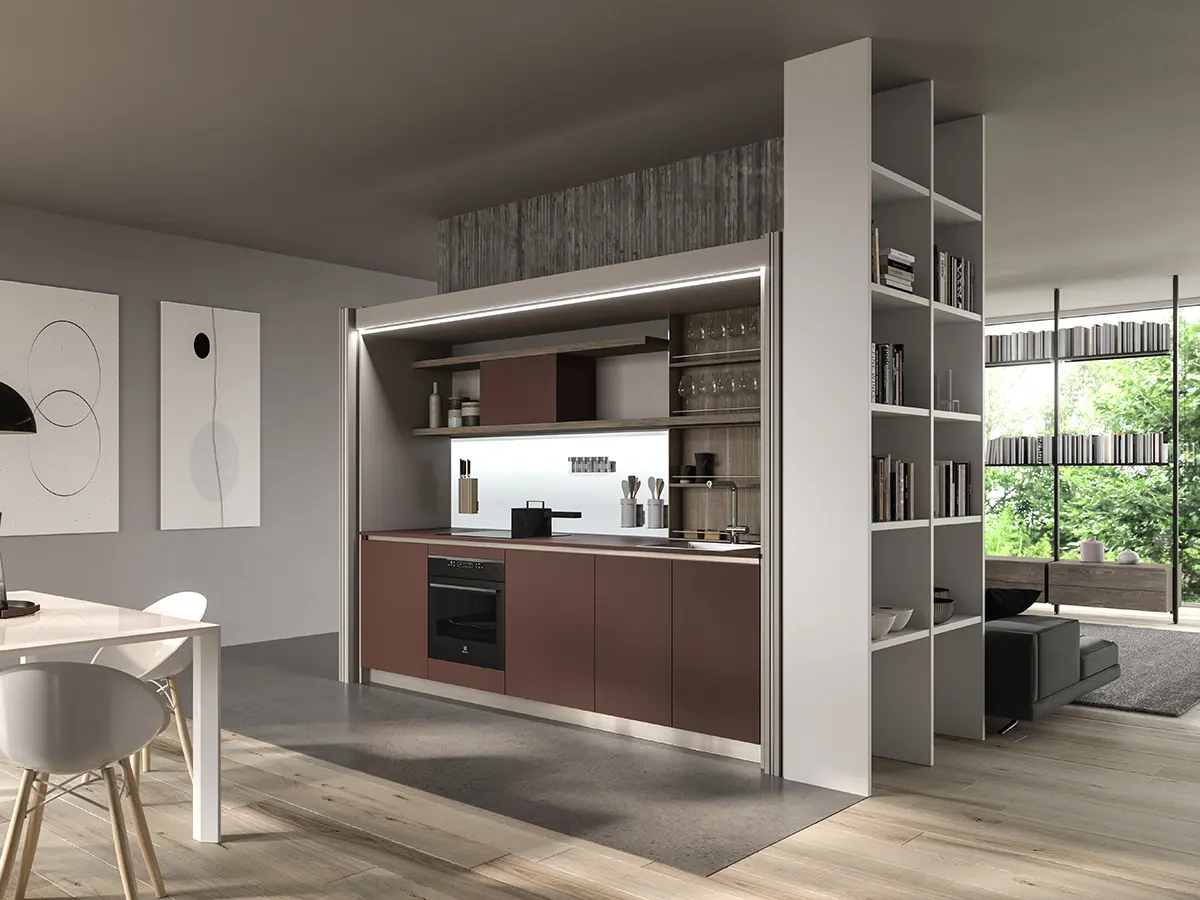 Phantastic_The Kitchen is the proposal that combines the Phantastic wardrobe system and an internal kitchen, thus managing to combine the most essential design with maximum functionality.
Whether you want to hide the kitchen with discretion and design in small spaces, like studios, or in large open plans, Phantastic_The Kitchen is the ideal solution: at first glance, extremely essential and smooth doors – available in different colours and finishes – match well with the architectural structure of the environment, like they were doors or fitted wardrobes. Once opened, they reveal a world in which functionality is the protagonist, ensured by careful design that allows to house everything you need for the kitchen.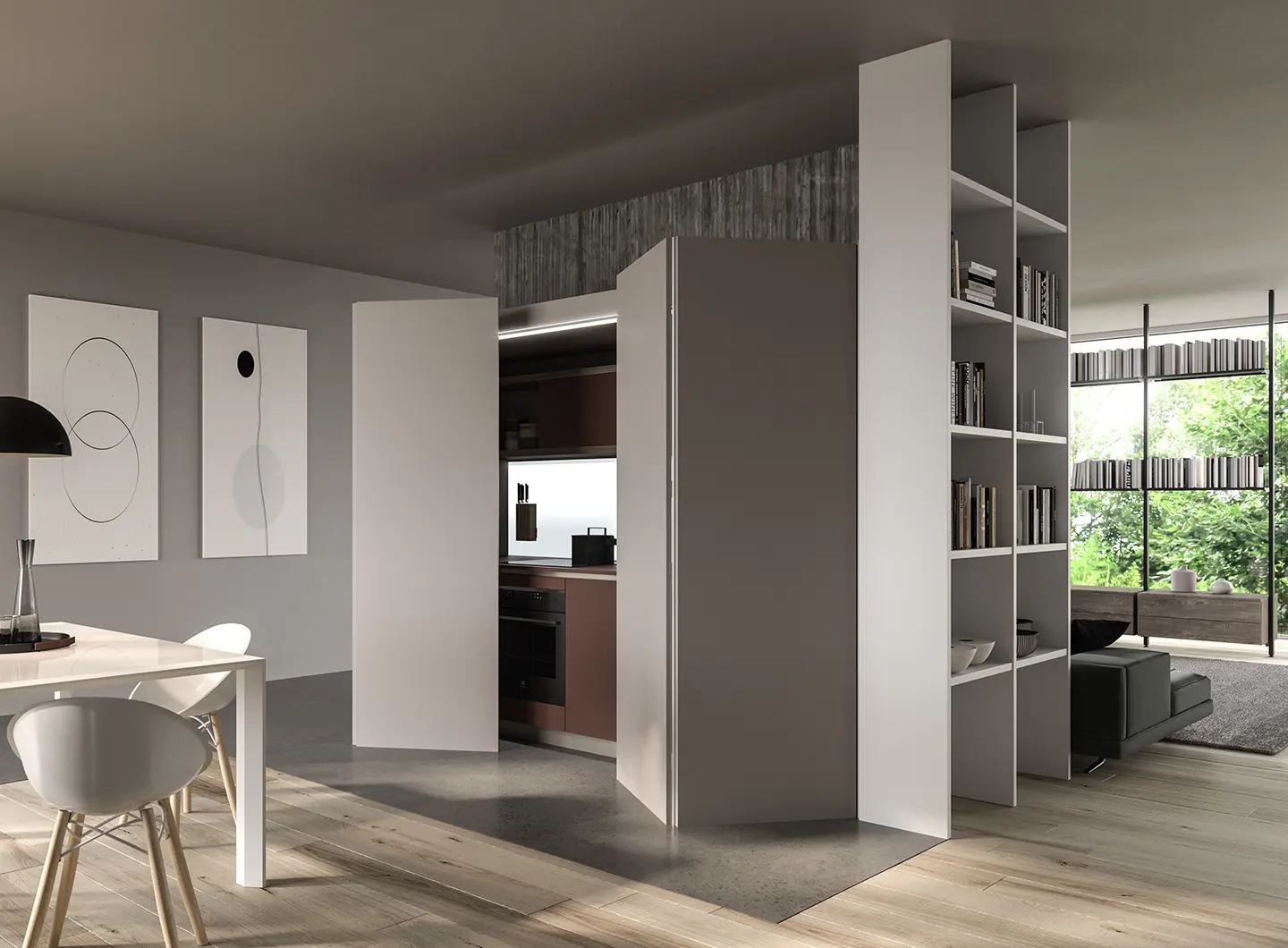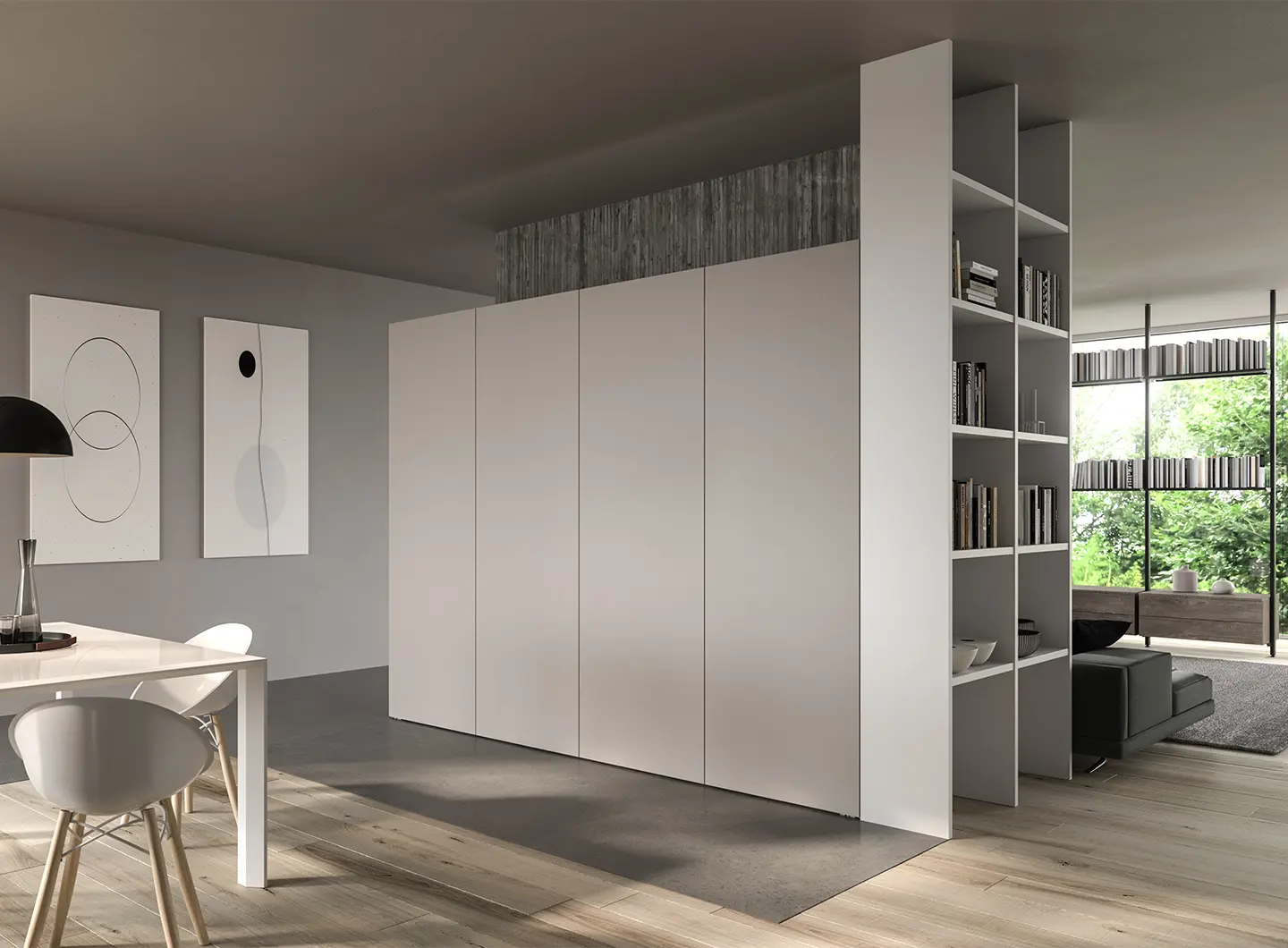 The wide range of finishes offered will allow you, as in this case, to create original colour combinations: for example, Tortora matt lacquered doors for the tall units, combined with the FENIX NTM Rosso Jaipur ones of the kitchen. Precisely the minimal and linear kitchen succeeds in combining the most essential design with maximum functionality. Equipped with appliances and pantry units, it can be enriched by backlit Magnetolab backsplash with magnetic accessories that allows you to have the most useful tools always at hand and at the same time it provides lighting to the entire countertop -, and Galileo unit, a wall system in Rovere Bruges finish for storing ingredients, items and kitchenware. Finally, c-channels and titanium toe kick give an additional touch of contemporary style.
Its own name already suggests the essence of this novelty, because it is formed by combining two different terms 'phanton' and 'fantastic', to indicate something hidden and then surprisingly revealed.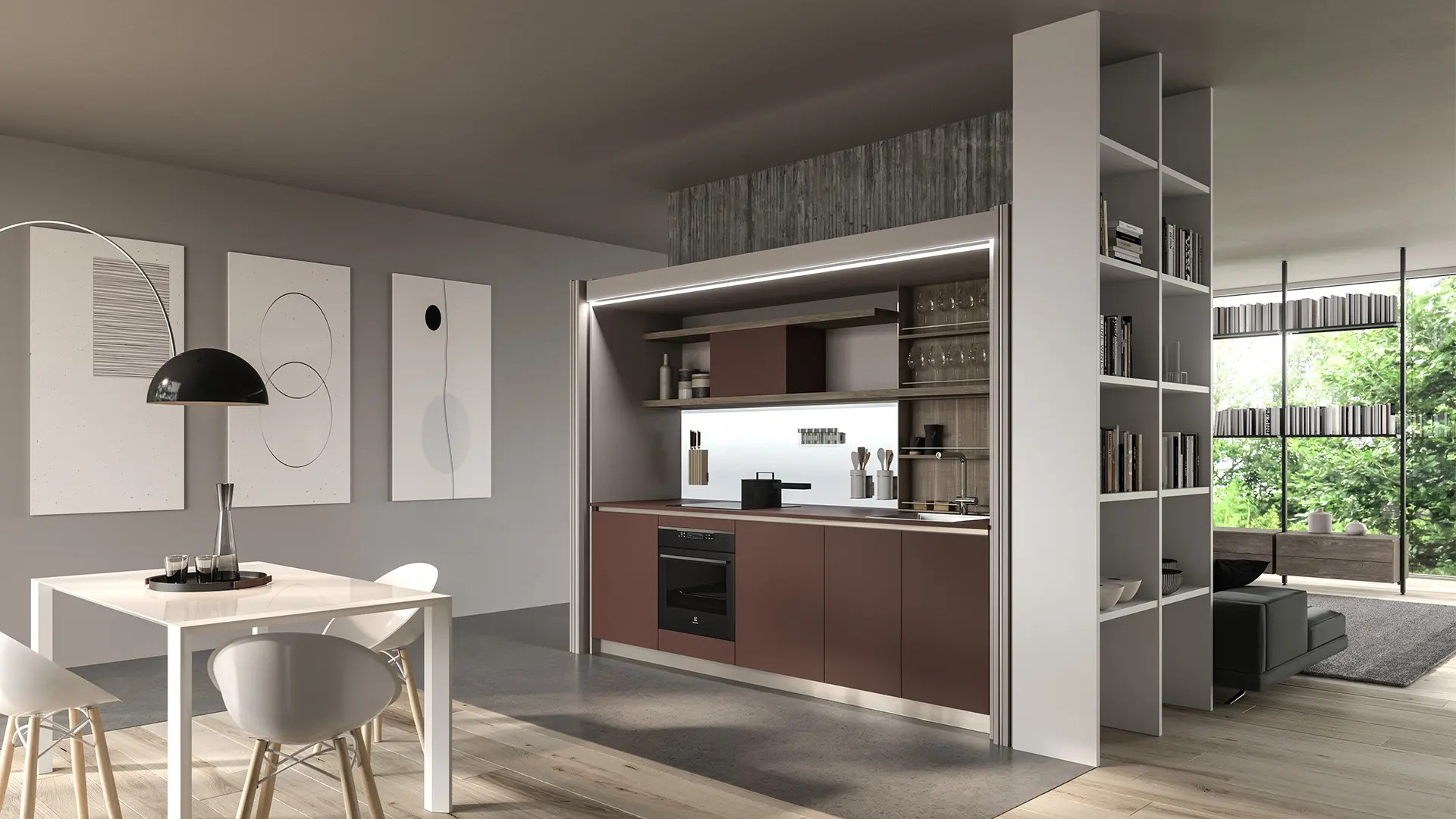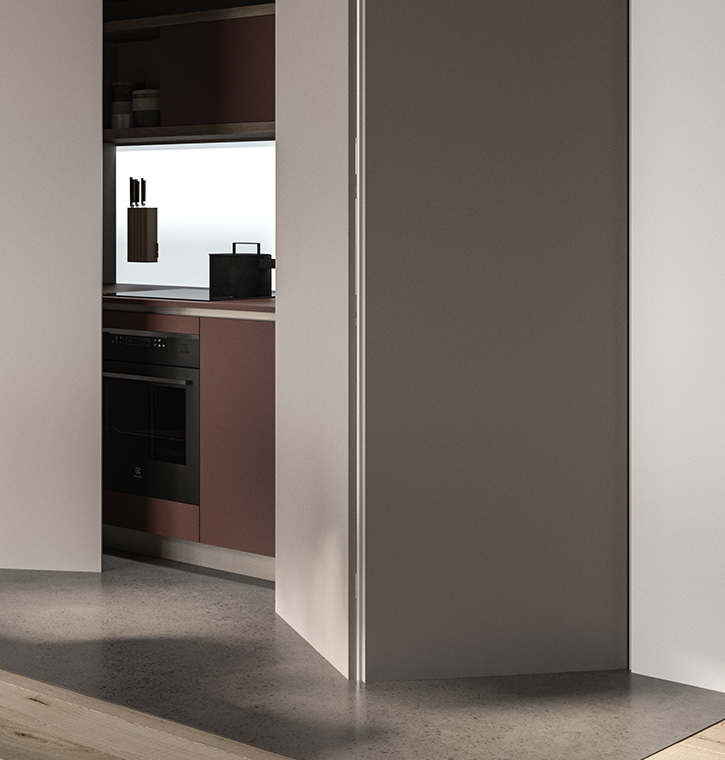 Product description
A further plus of this system is, in fact, the possibility to choose its size: tall units can be single - with just one door- or double, with three or four doors.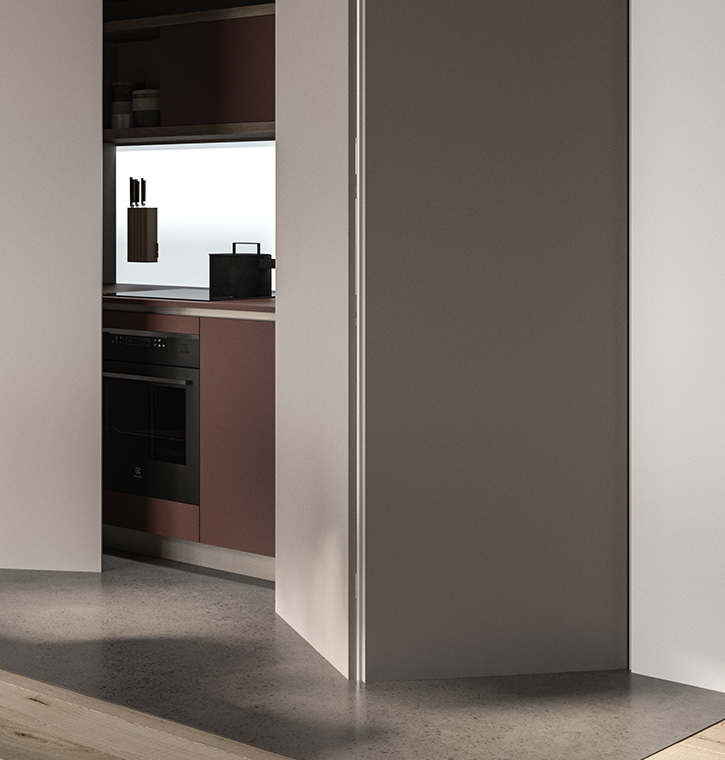 Product name
Phantastic_The Kitchen
BRAND SELECTION
OUR PRODUCTS