Fima Carlo Frattini
INTRODUCES
Flo'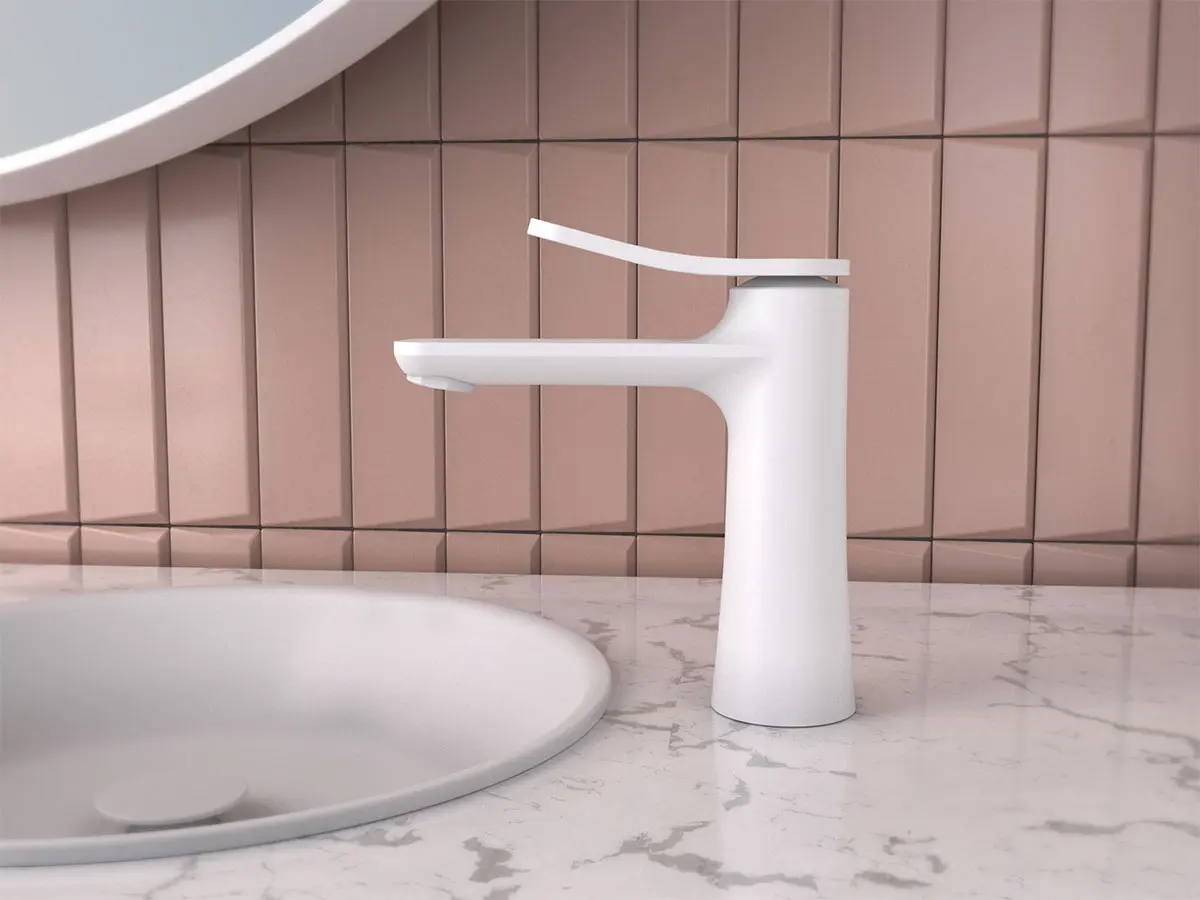 Flo by Fima Carlo Frattini: An ode to water's sinuousness
Design Centro Ricerca Fima Carlo Frattini
Soft and pleasant shapes dress up the wellness room through Fima Carlo Frattini's new mixer Flo'. Fima stands for projectual expertise and innovativeness.
The collection's leitmotiv is a sinuous and sophisticated design that represents the challenge in finding the perfect balance between fluidity, elegance and solidity; between ease of use and innovation. Strong in its aesthetic and expressive value, the lever is the main focus of the design. On the one hand, its organic and feminine silhouette, extremely slim and slightly bent, evokes visual lightness and sensuality. On the other hand, the special slide-opening mechanism makes its movement almost a magic trick thus enhancing the body of the mixer that rises above the spout and blends with the upper part of the lever.
Aesthetics, engineering and attention to detail are also reflected in the special installation system of the mixing cartridge: thanks to a special cap it is always hidden. This ensures stylistic perfection and it preserves the cleanliness of the product.
The soft and sensual shape that characterizes Flo' creates a perfect combination of its downward tapered elements. These elements are connected with one another by simple and straight lines that highlight the overall profile and allow a base-free design. The result is an easier installation as well as a daily use guarantee that is impervious to the passing of time, as it prevents limestone build-ups.
The great customization possibility represents another bonus: the available finishes range from galvanic, i.e. chrome, brushed nickel, black chrome, brushed black chrome, gold and brushed gold, copper and bronze. These are complemented by matt white and matt black. Thanks to their soft touch effect, they give an extremely contemporary flavour that is perfect for playing with total looks or contrasting combinations.
Flo' by Fima Carlo Frattini combines style, funcionality and high level performance in every aspect, including water saving. A reduced water consumption verson is indeed  available.
BRAND SELECTION
OUR PRODUCTS