The top stands at the Salone del Mobile 2023
Add to bookmarks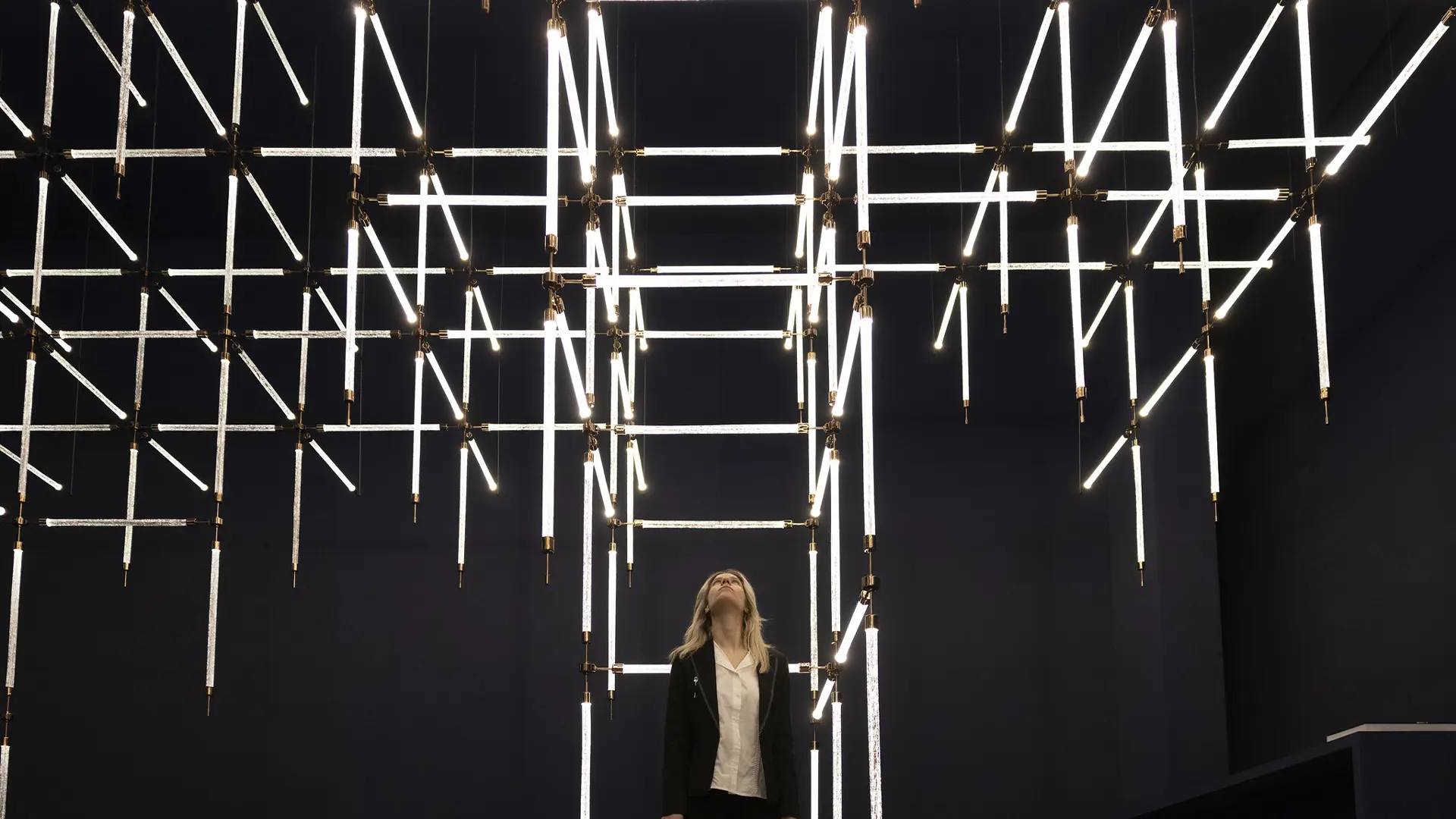 Simple and modular materials to reduce waste, enveloping sets, mirrored and inflatable labyrinthsthat could be folded up and taken away by car at the end of the fair. Here are the best stands seen at the Salone del Mobile 2023
Il Salone ha dato dei segnali chiari sulla necessità di rendere più sostenibile la fiera. Quest'anno niente moquette lungo i camminamenti tra gli stand e più allestimenti disassemblabili e riutilizzabili: un messaggio recepito da molte aziende. But what type of pavilions did we see at the fair?
Trends, styles and colors of the pavilions
The predominant trend this year was luxuriant, tropical green, as seen in Nardi and San Giacomo's modernist spaces with their Mediterranean-imbued, tactile and natural, finishes as well as in the Arflex space designed by Bernhardt&Vella and Baxter, and pure, monolithic volumes, such as Ferruccio Laviani's for Oluce and Francesco Librizzi's for FontanaArte. Pink clung on in all its different shades, as seen on Lucy Kurrein's stand for Molinari, Alessandro La Spada's stand for Re Clan Milano, and the Arrmet stand, followed by earthy browns and sandy beiges, as in Evolution 21 designed by Belgium's Franken. On the subject of earth and sand, many of the stands used them as flooring, symbolically drawing visitors closer to nature, on the Poliform and Firmamento Milano stands, for instance. Then there were those keen to drench their visitors in vivid washes of colour, like Fabio Novembre on Driade's stand, and then again, of course, great monochrome  curtains, such as those chosen by Gino Carollo for Nature Design. This year as never before, plasterboard walls gave way to more neutral components, such as MDF panels and wooden laths, devoid of glue and disassemblable, as seen on Caccaro's No Wall House stand.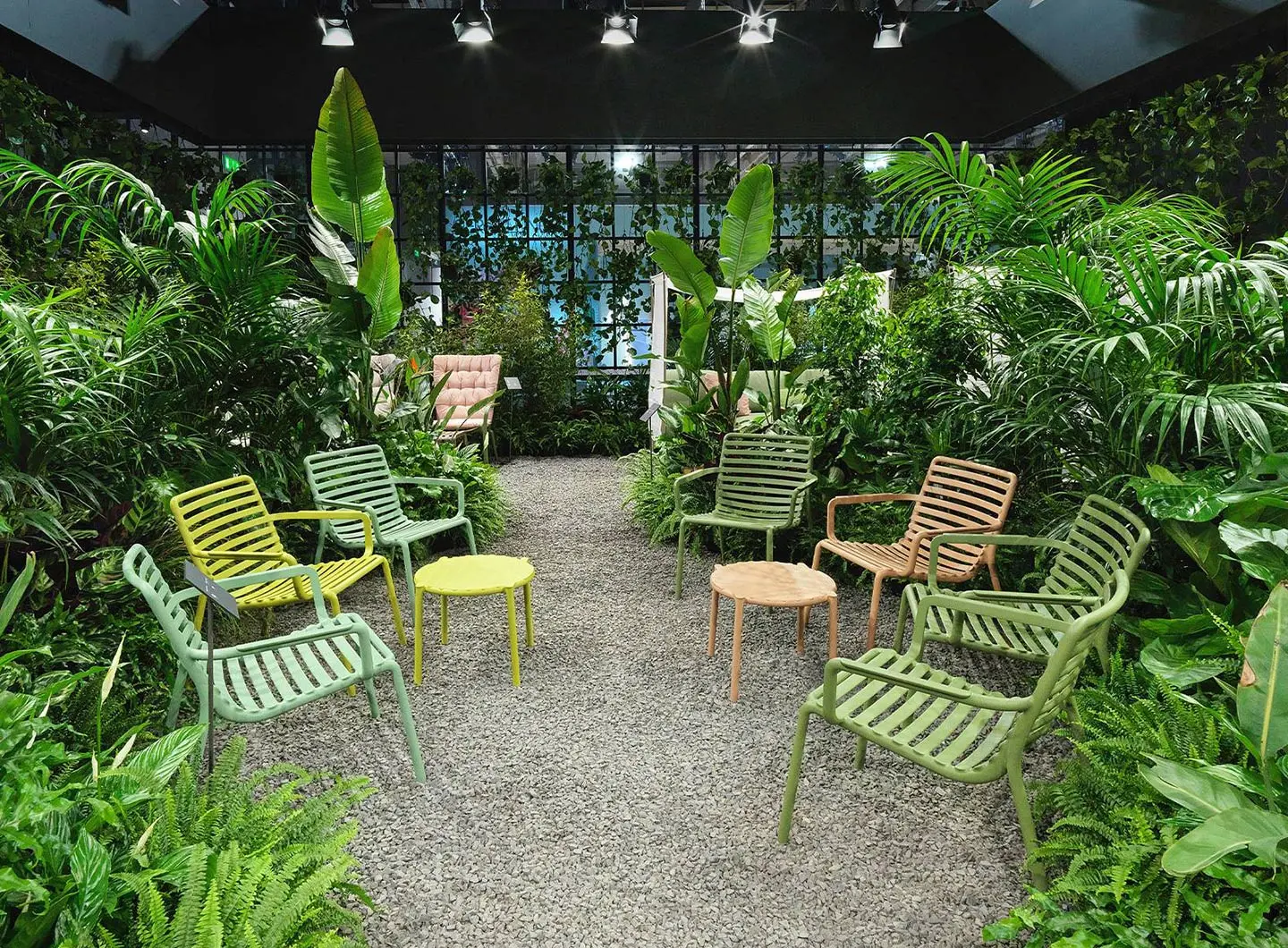 The selection of the best stands of the Salone del Mobile 2023
Many of the stands were designed by leading architectural and design firms, from AMDL Circle for Ethimo to Patricia Urquiola for Kettal. Here is our selection:
Preciosa 
One of the most spectacular installations seen at the Salone, Crystal Beat, designed by the art directors at Preciosa, Michael Vasku and Andreas Klug, was made up of a grid of linear lights composed of Crystal Grid elements that lit up to the rhythm of electronic music. 
Knoll
Designed by the Belgian practice OFFICE Kersten Geers David Van Severen, the Knoll stand played on visitors' perceptions and their sense of disorientation as they walked in to find a winter garden alternating with metallic, mirrored walls.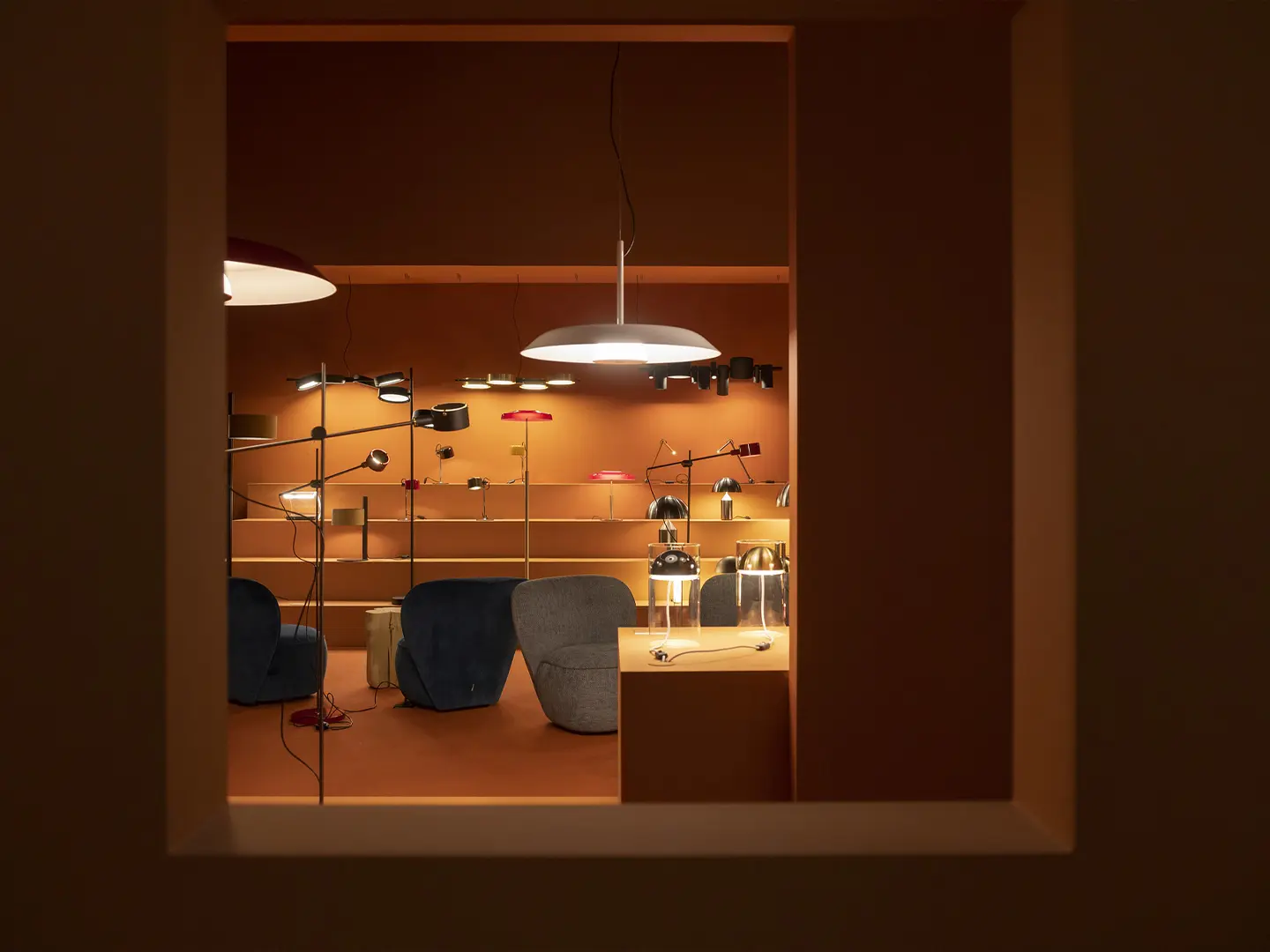 Roche Bobois
The artist Joana Vasconcelos wasn't simply commissioned to design the Bon Bon collection, she also devised the set for the Roche Bobois stand at the Salone. Fluid waves, psychedelic colours and fluorescent furnishing characterised a space that stood out strikingly from the others.
Midgard
The German brand Midgard responded to the Salone's call for more sustainable stands with a space that, although small, was made entirely of cardboard so as to be disassembled, recycled and transported waste-free and to put the spotlight squarely on the lamps, its flagship product. 
TM Leader Contract
The stand of the Spanish company TM Leader Contract, designed by María Ortega, was extremely simply arranged whilst also being effective. A large green parallelepiped highlighted the vivid colours of the chairs and the large monochrome niches in complementary colours.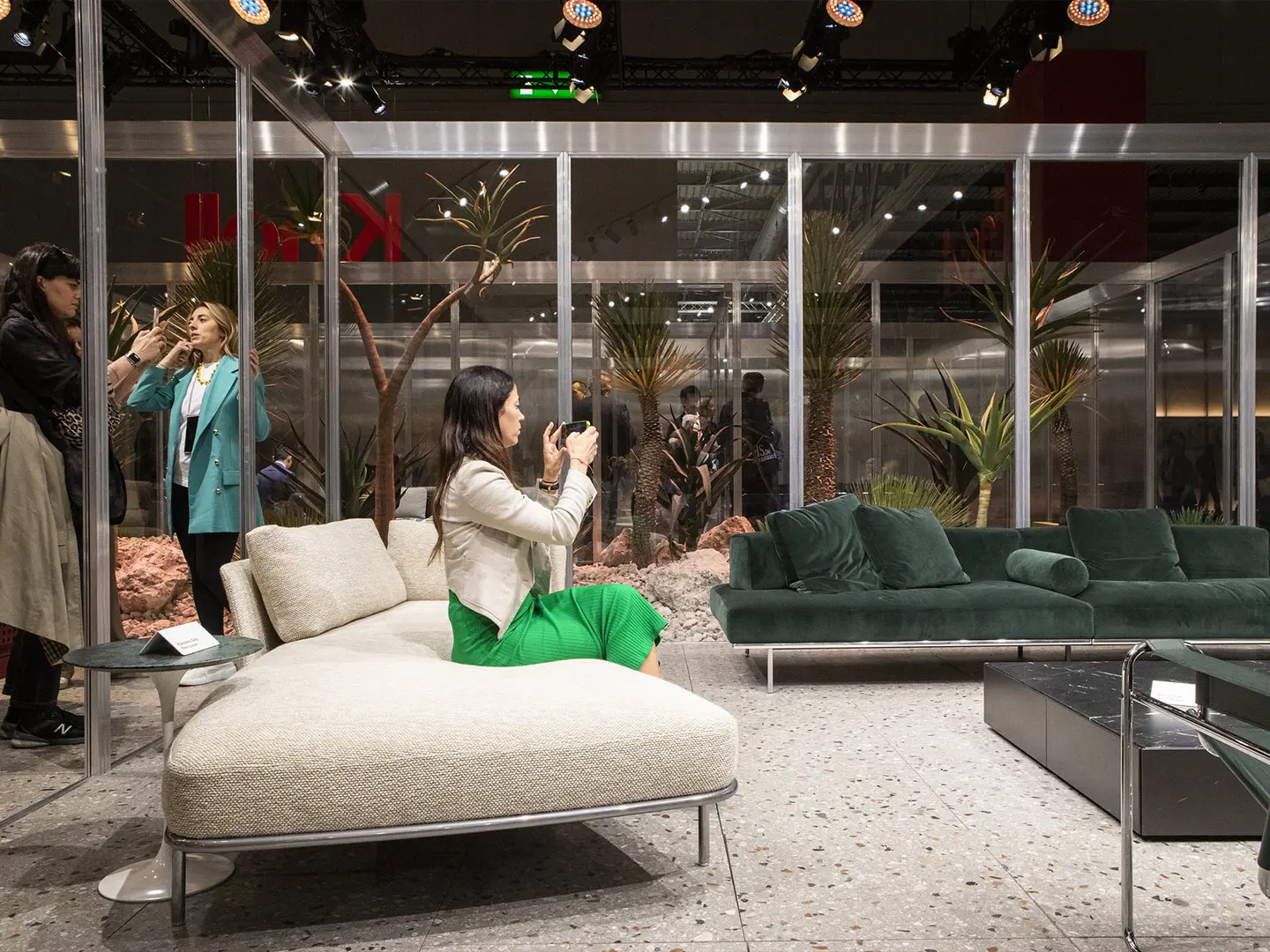 Innova
Keen to avoid waste products at the end of the fair at all costs, the young designer Eleonora Barillari of Innova came up with the idea of using an inflatable as a frame for the stand walls. Specialising in furnishing fabric, it was easy for the company to create inflatable walls, held together by a system of zips, making them easily disassemblable and transportable, and taking up very little space. 
Midj
The stand designed by Studio Vassalli for Midj was reminiscent of two large jellyfish, each covered with triple semi-transparent pyramidal drapes, fading from blue to white. The material was conceived to be recycled and reused as padding for the furnishings produced by the company. 
Infiniti
Designed by Studio Boeri Architetti in 2019, the Infiniti stand was demarcated by poles made of fir from the forest of Vaia, where some 14 million trees were brought down during the storm of the same name. Infiniti decided to reuse it several times, with requisite alterations, to keep waste down.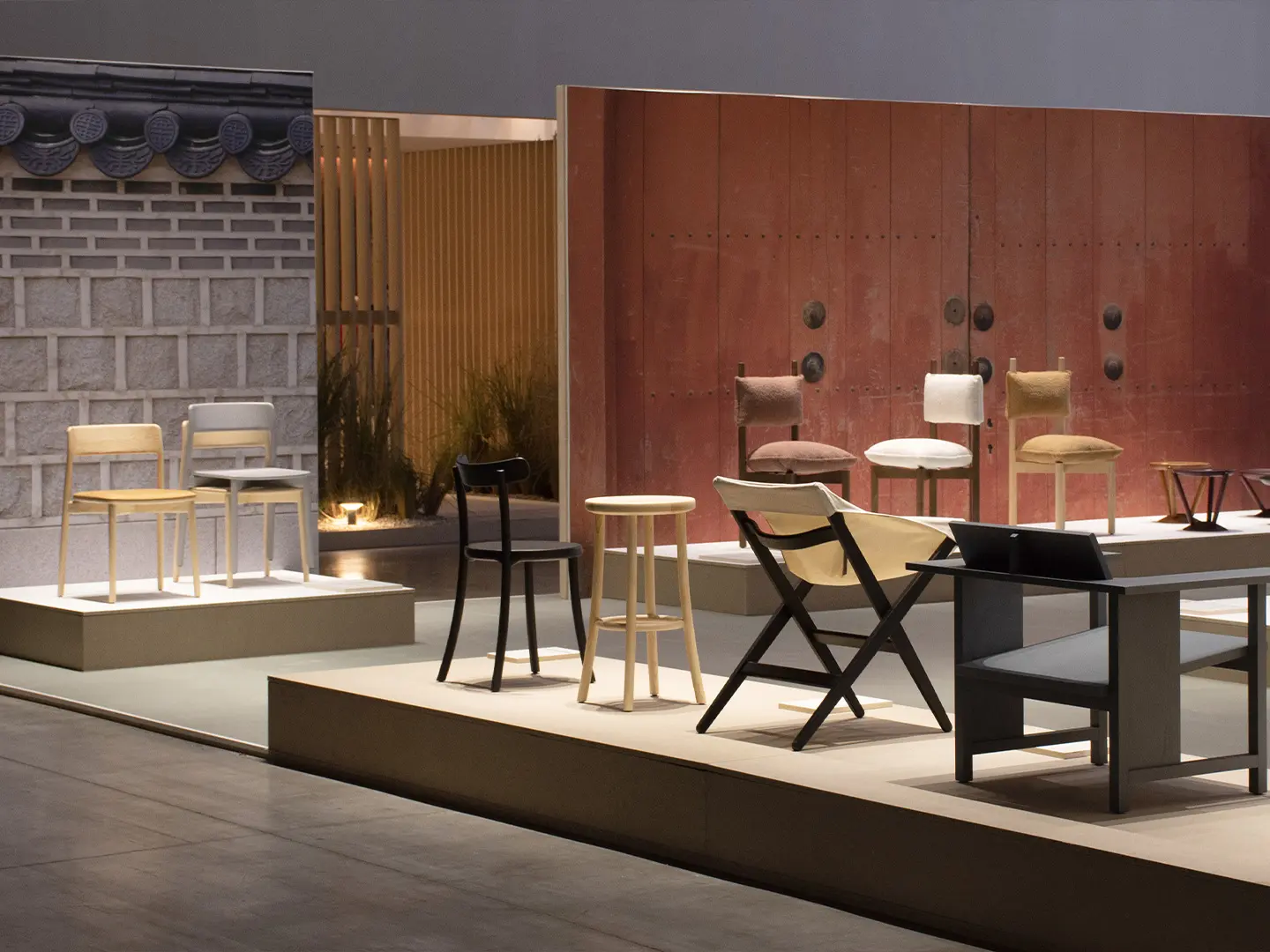 Milla&Milli
Maša Vukmanović, art director of the Croatian company Milla&Milli, said she "wanted to create a magical atmosphere." The stand was made up of more than 500 pieces of fabric suspended and laser cut to create an organic, enveloping shape.  
Mattiazzi
Designed by Konstantin Grcic, the Mattiazzi stand was minimal and functional not just in terms of visitor experience, but also in terms of those occupying the space from morning to evening during the week of the trade fair. MDF panels served to define an outer exhibition area, while a great central cube made of the same material served as a storage space.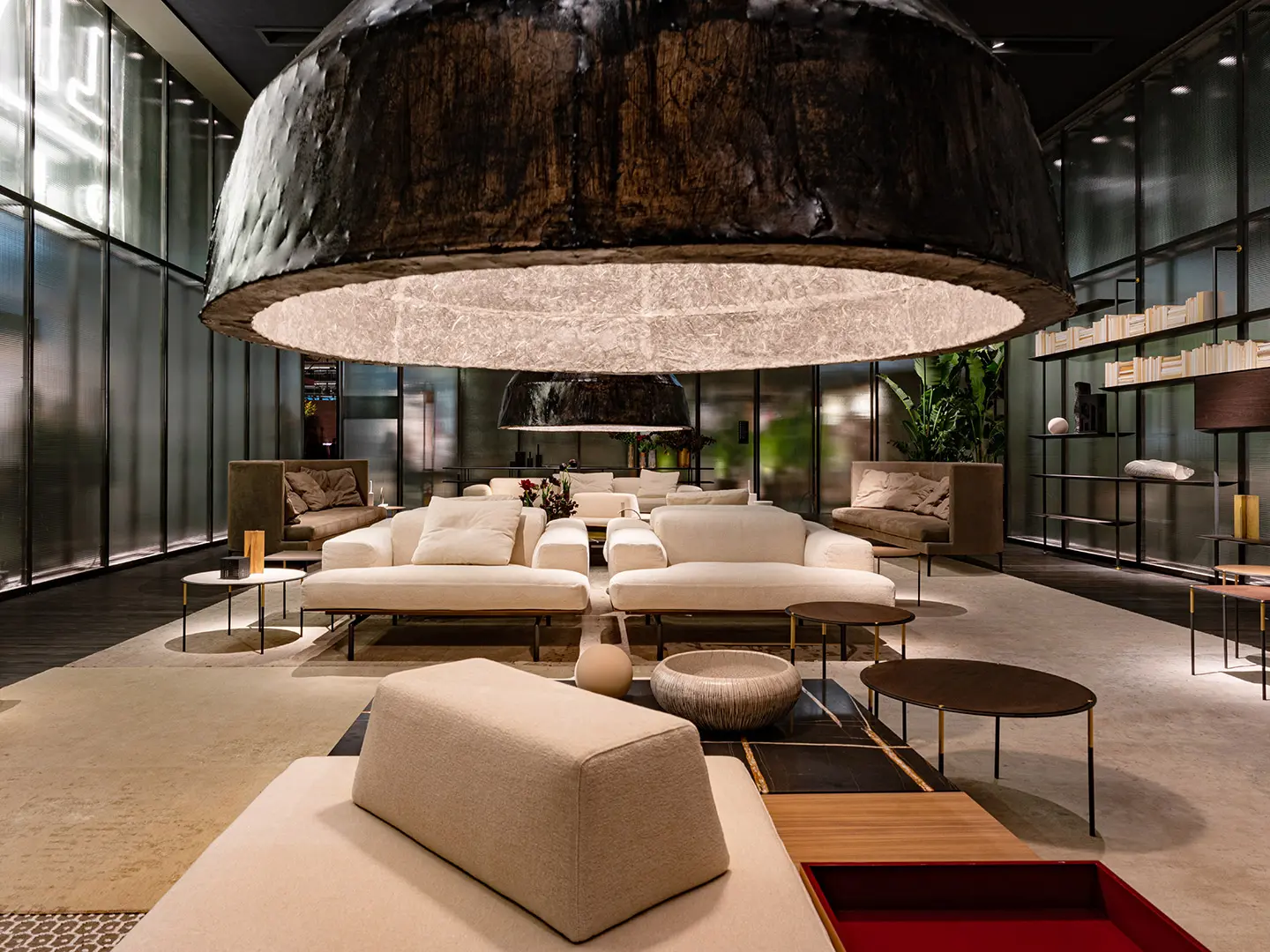 Living Divani
Piero Lissoni's take on the Living Divani space comprised a large transparent cube, the inside of which appeared blurred. Using etched glass panels and black metallic frames, it was entirely in keeping with his hallmark rigour. 
Desalto
Francesco Rota's minimalist stand for Desalto consisted of an enormous backlit white wall to set off The Blue Chapter collection, all revolving around the colour Klein Blue.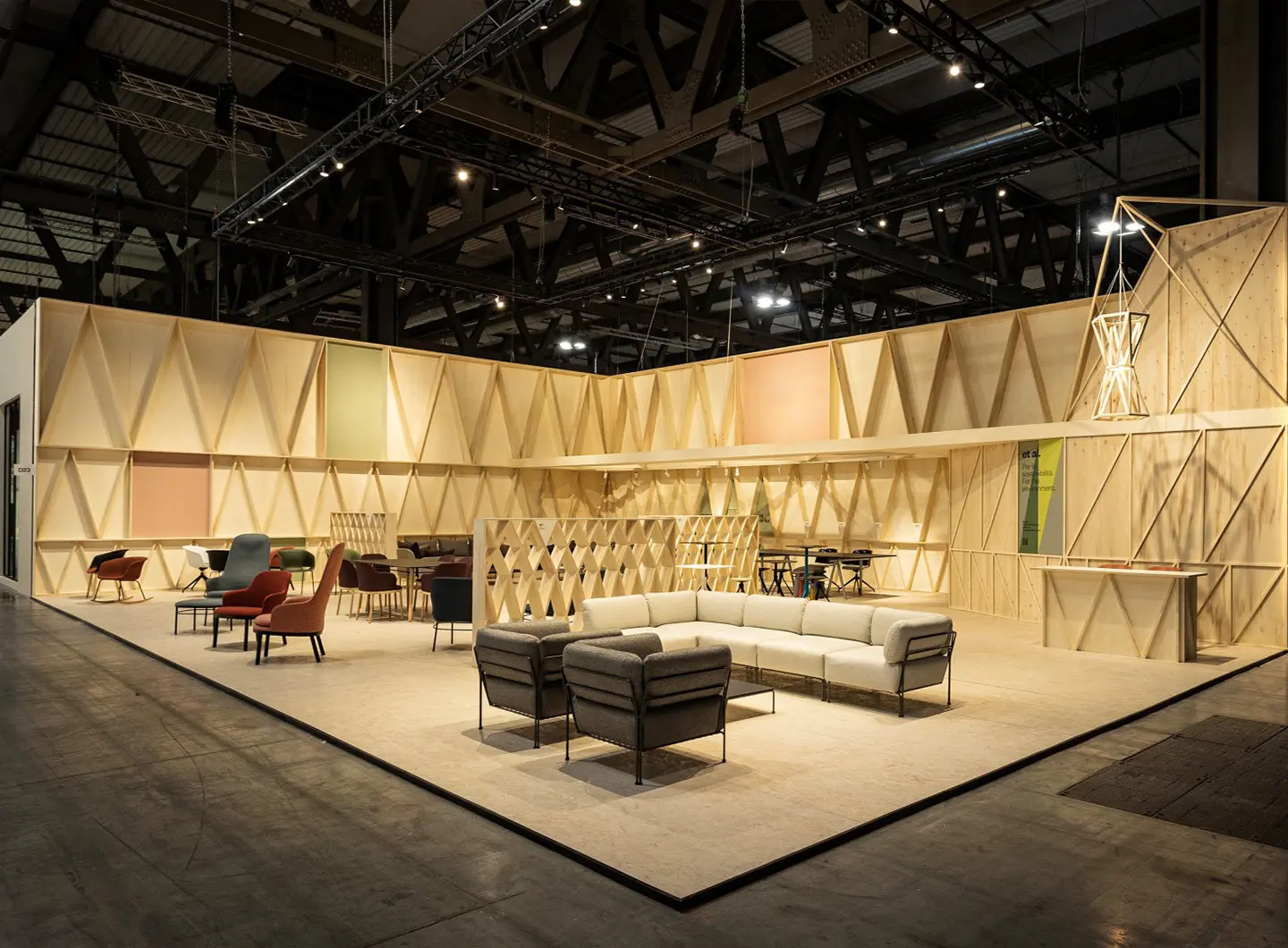 Et Al
The stand designed by Giovanni Maria Filindeu for Et Al was inspired by architectural Italian Renaissance motifs: extremely simple MDF components and wooden laths marking out geometrical wall patterns. 
Saviola
Carlo Ratti and Italo Rota transformed the walls of the Saviola stand with a chaotic accumulation of wood offcuts, highlighting the origin of the raw material the company uses for its products.