Space-saving, eclectic and informal: furniture is becoming multipurpose
Add to bookmarks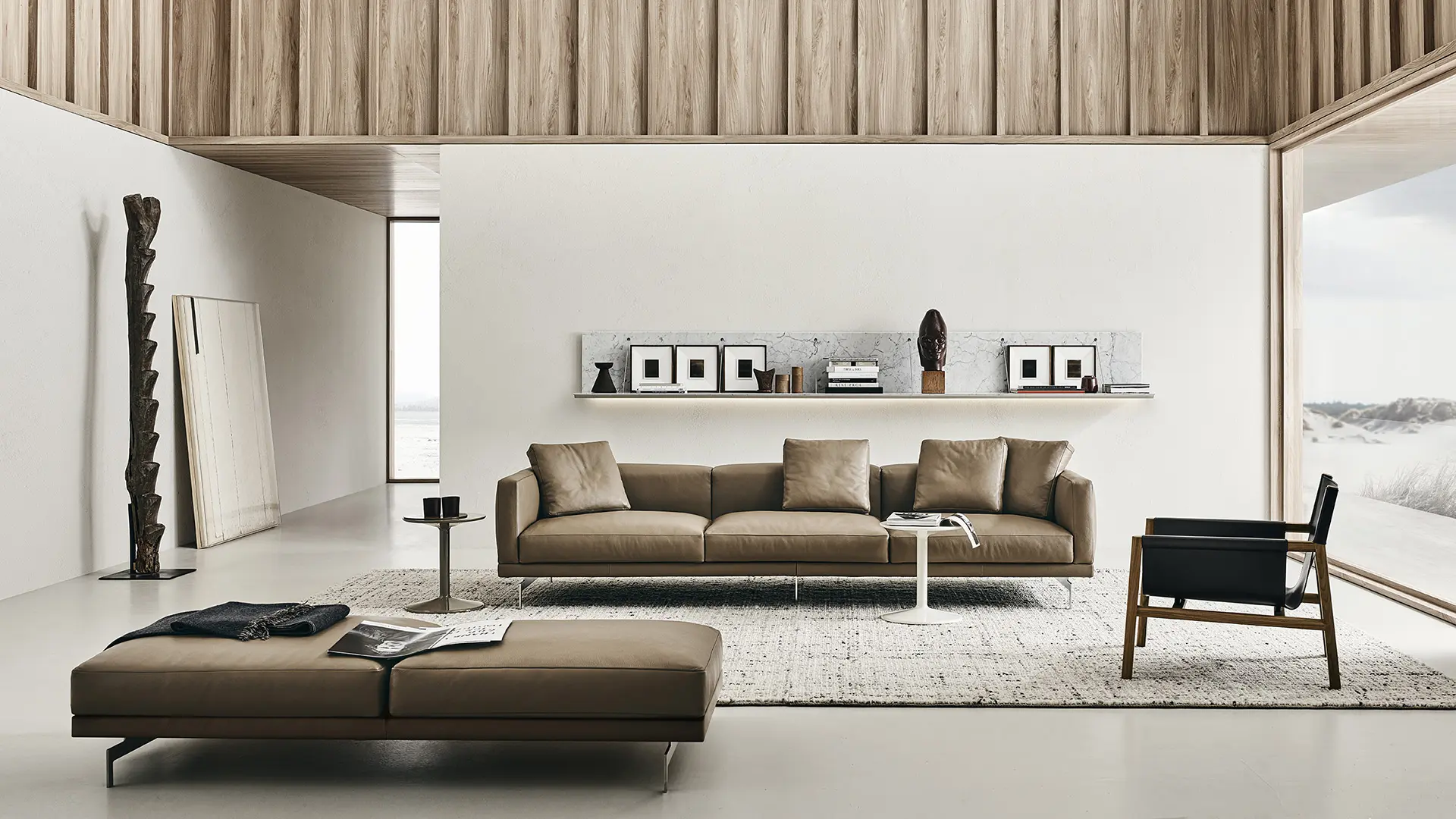 While homes are being turned into workplaces, calling for greater organisation, furniture is adapting, becoming flexible and increasingly capable of hybridising different functions
It's impossible to deny that the lines between our private and our public lives have become increasingly blurred these days. Even the furniture is doing its best to cover all eventualities, in a mix of shapes and functionalities geared to work, relaxation and household management in what may seem a less obvious, yet equally incontrovertible, evolution. Many of the new products launched over the last few years confirm that the most firmly established types of furniture are changing, as if adapting to a sort of hybridisation. No longer just a sofa, just a container or just a table, they respond to our need to combine a number of different activities in confined spaces. It's not just a question of simple optimisation, however. By interpreting new attitudes and new moods, furniture seems to embody a heightened need for fluidity, responding to tastes for flexible and infinitely re-adaptable domestic uses.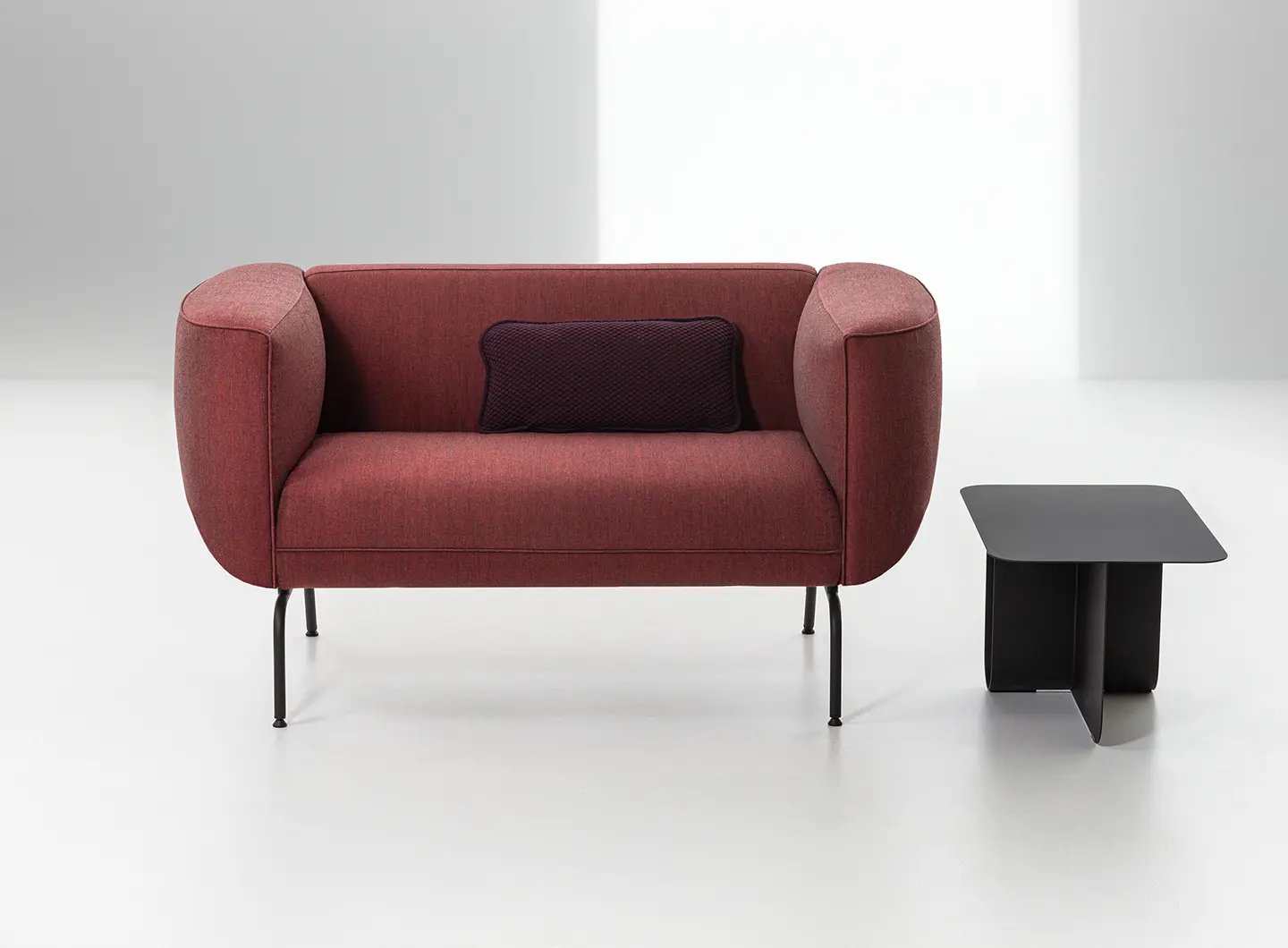 Having really come into their own over the last few years, some types of furniture make this change of attitude explicit. The sofa is the 'place' where the mix of socialising, working and relaxing happens, and is one of the first pieces to be open to a combination of uses. As well as being classic modes of seating, sofas can incorporate work surfaces or accessories that respond to the fashions and timescales of nomadic working, increasingly seen during the pandemic and southworking. The modular Couchette sofa system by the Venetian designers Lucidi e Pevere for La Cividina is a typical example – its modular structure allows for the insertion of removable panels, as if to emphasise the need for separation and cocooning for concentration, as well as tables, clothes hooks and USB ports. Inspired by the shape of the famous Japanese dwarf trees, Bonsai by Claesson Koivisto Rune for Arflex is distinguished by its long, asymmetrical wooden base, the surface of which lends itself to a multitude of different uses. Dock by Piero Lissoni for B&BItalia also puts the emphasis on work surfaces and is extremely adaptable, thanks to the 84 components with which it can be configured, and the left and right extremities of the platform have been conceived as spaces for books, computers, trays or decorative objects.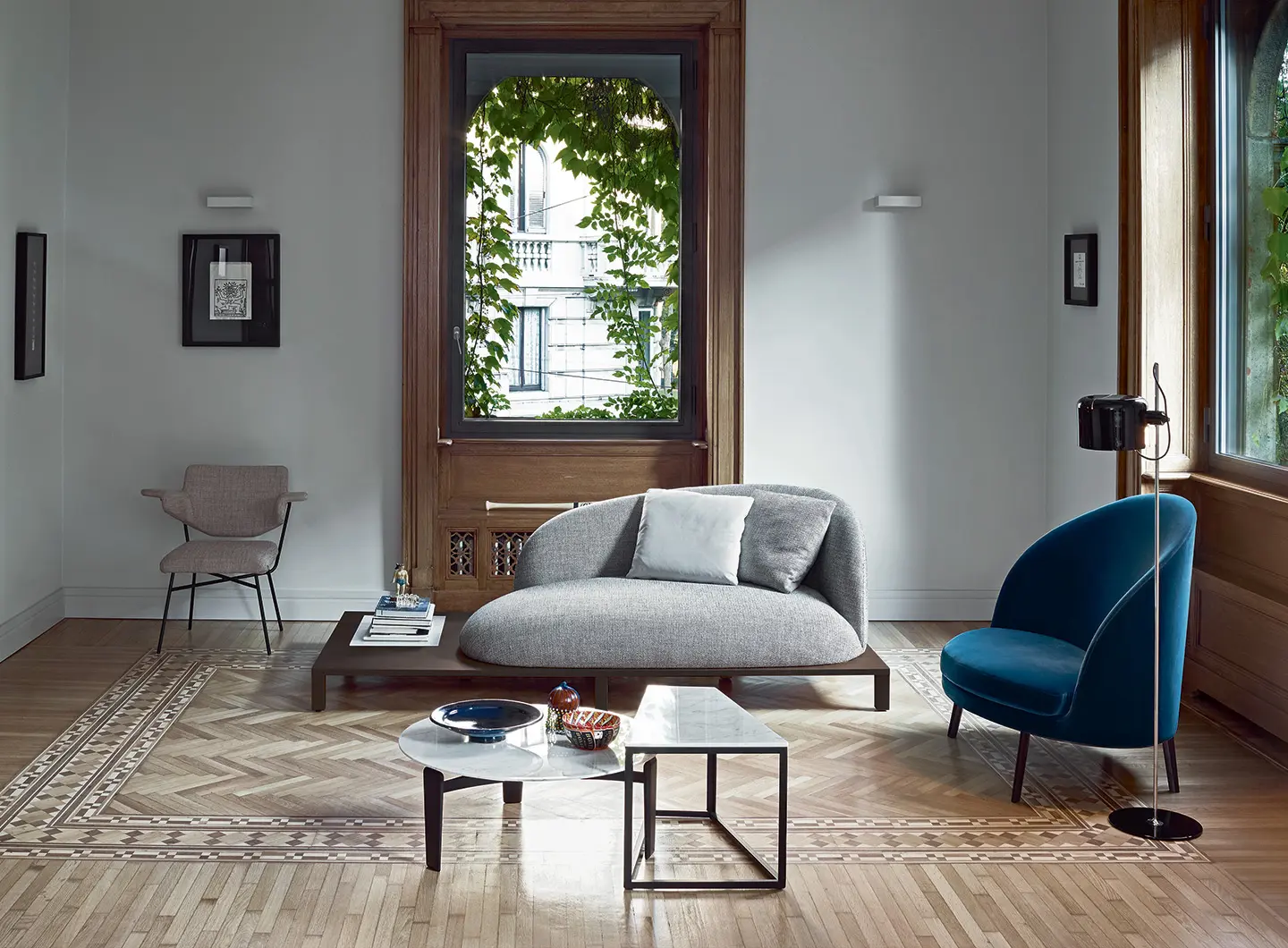 In homes that would rather conceal the fact that they also have to double up as offices, desks can retreat seamlessly when the time comes for a spot of relaxation. Geta, designed by Baldessari e Baldessari for Bross, features a tilting top that, when closed, turns the piece into a normal sideboard. Another option is the addition of David Lopez Quinconces's totally unexpected Vanity desktop to Lema's bespoke wardrobe system, concealed between cupboard doors. Touch Down Unit by Studio Klass for Molteni&C strikes a different note in a bid to underscore transformability. It is an actual workstation incorporating an adjustable work surface, sockets and shelves and compartments for bits and bobs.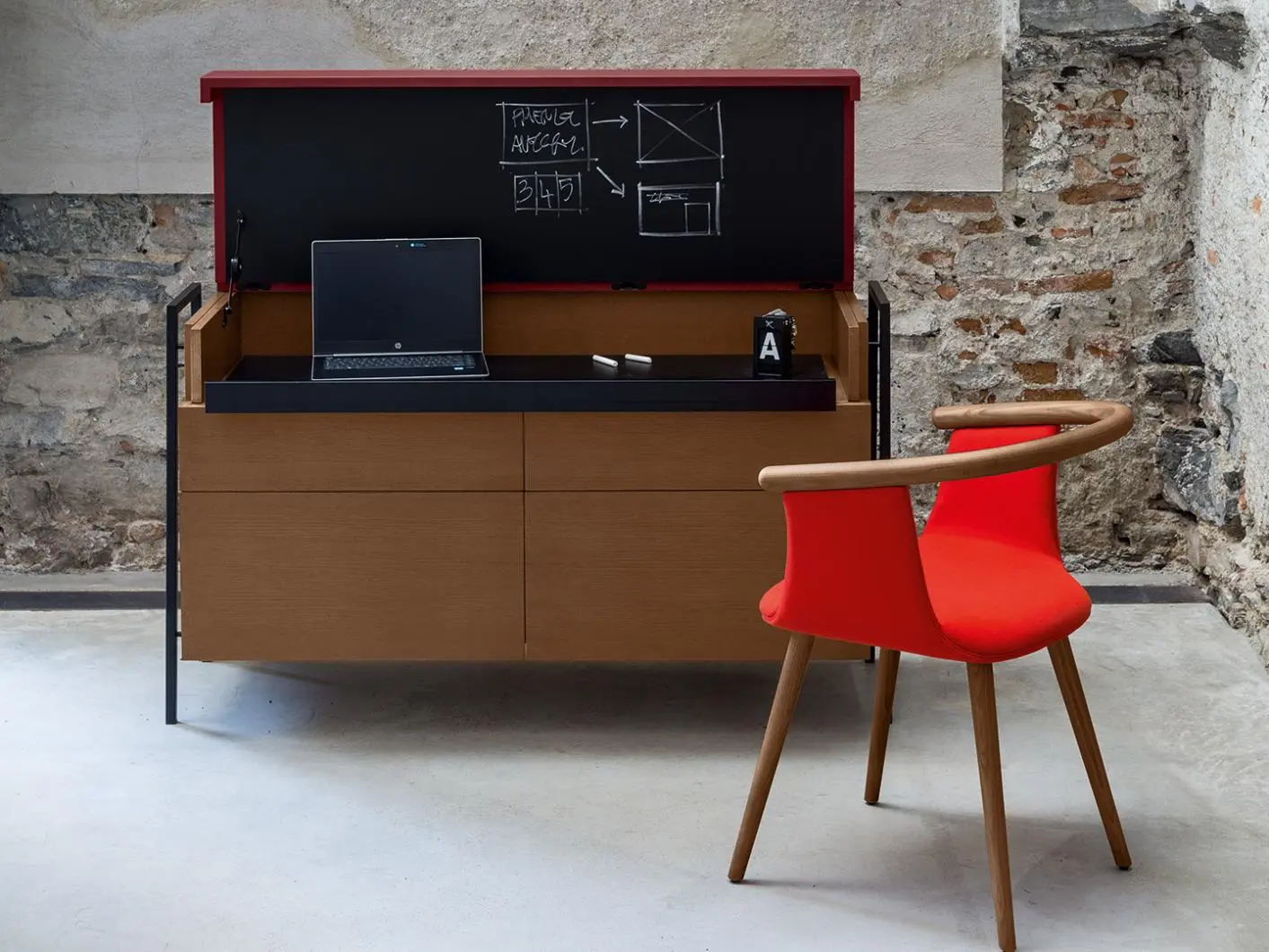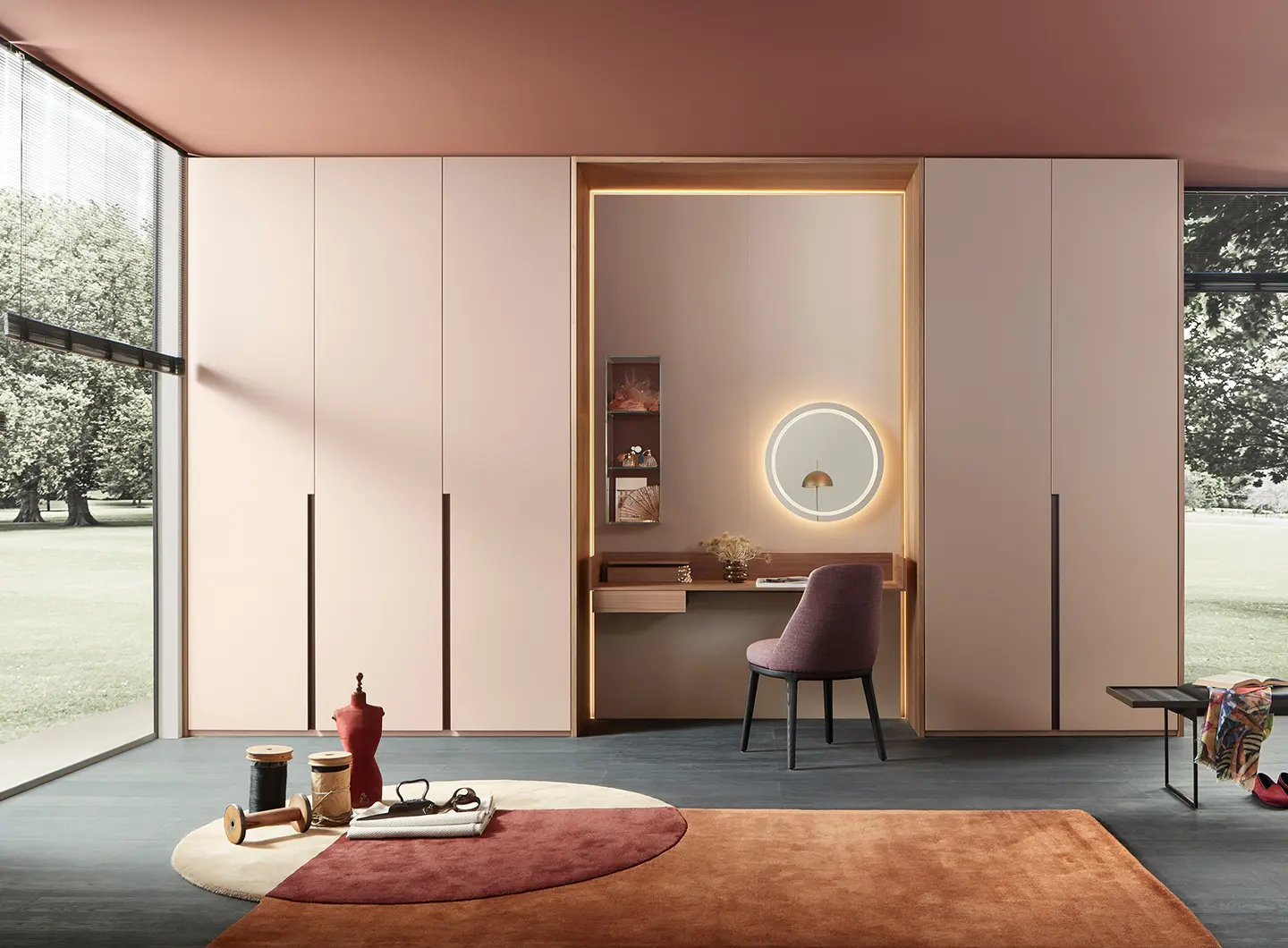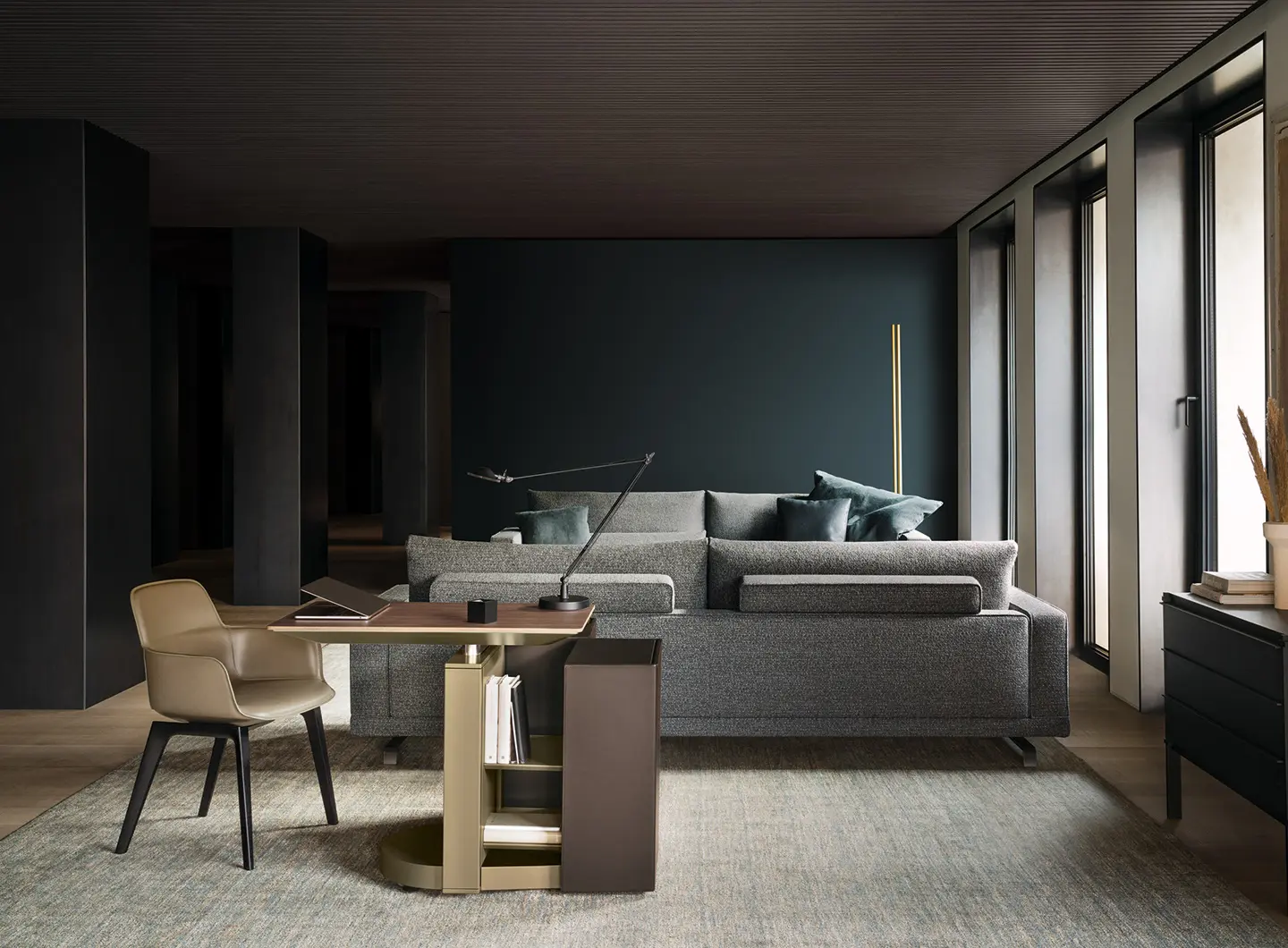 Where bookshelves are concerned, the line between furniture designed for books and furniture designed for storage becomes increasingly fluid, informing spatial configurations that eschew static solutions in favour of more flexible ones. System can be used as a bookcase and as an equipped wall, designed for Porro by Piero Lissoni with the Porro Research Centre. It can be configured according to need, accommodate storage containers or become a freestanding wall inside a room. Bruno Fattorini's Minima 3.0 for MDF Italia also embraces linearity, minimalism and the option to incorporate storage modules, with a wide range of configuration options both in terms of composition and of finishes.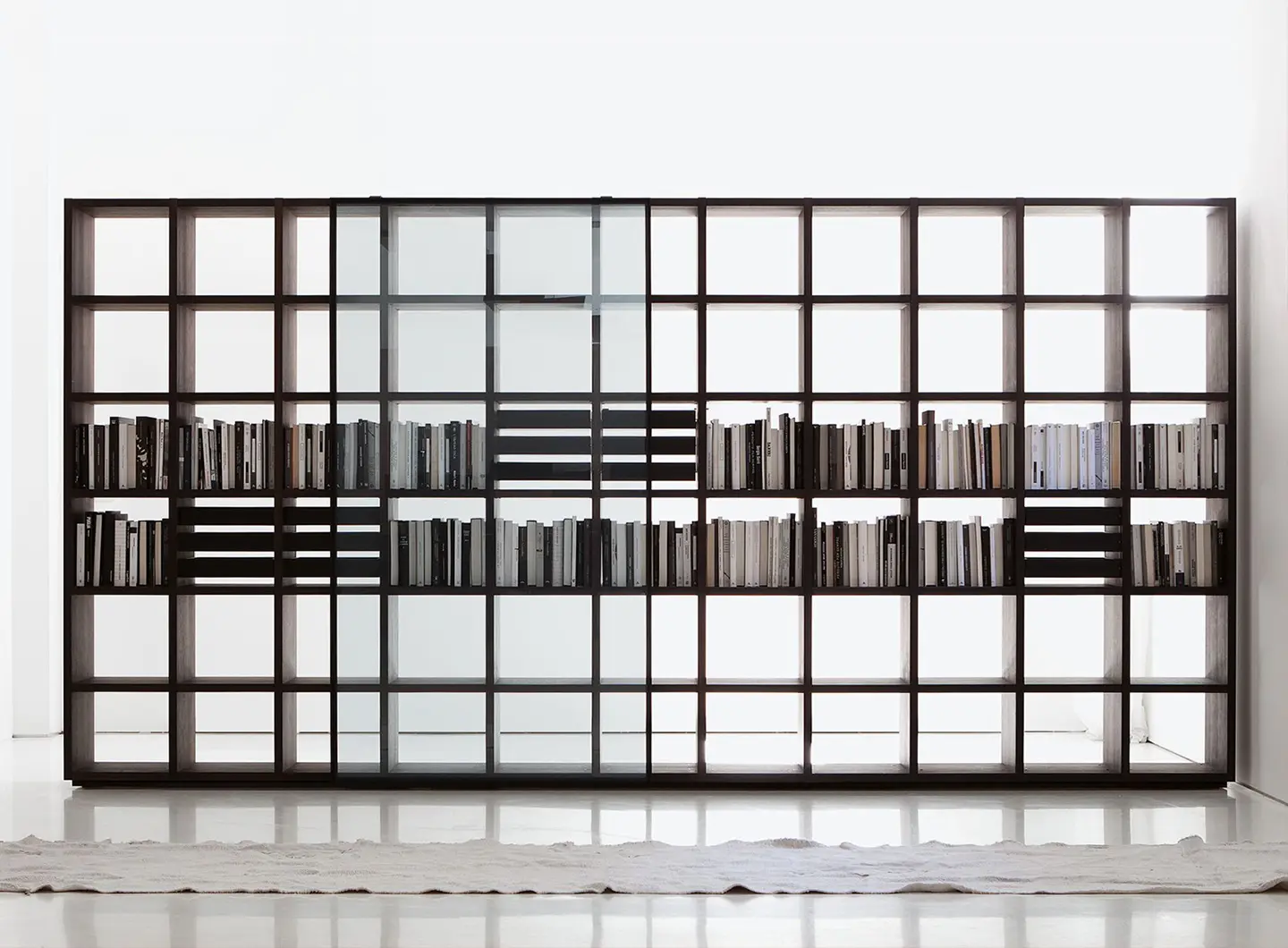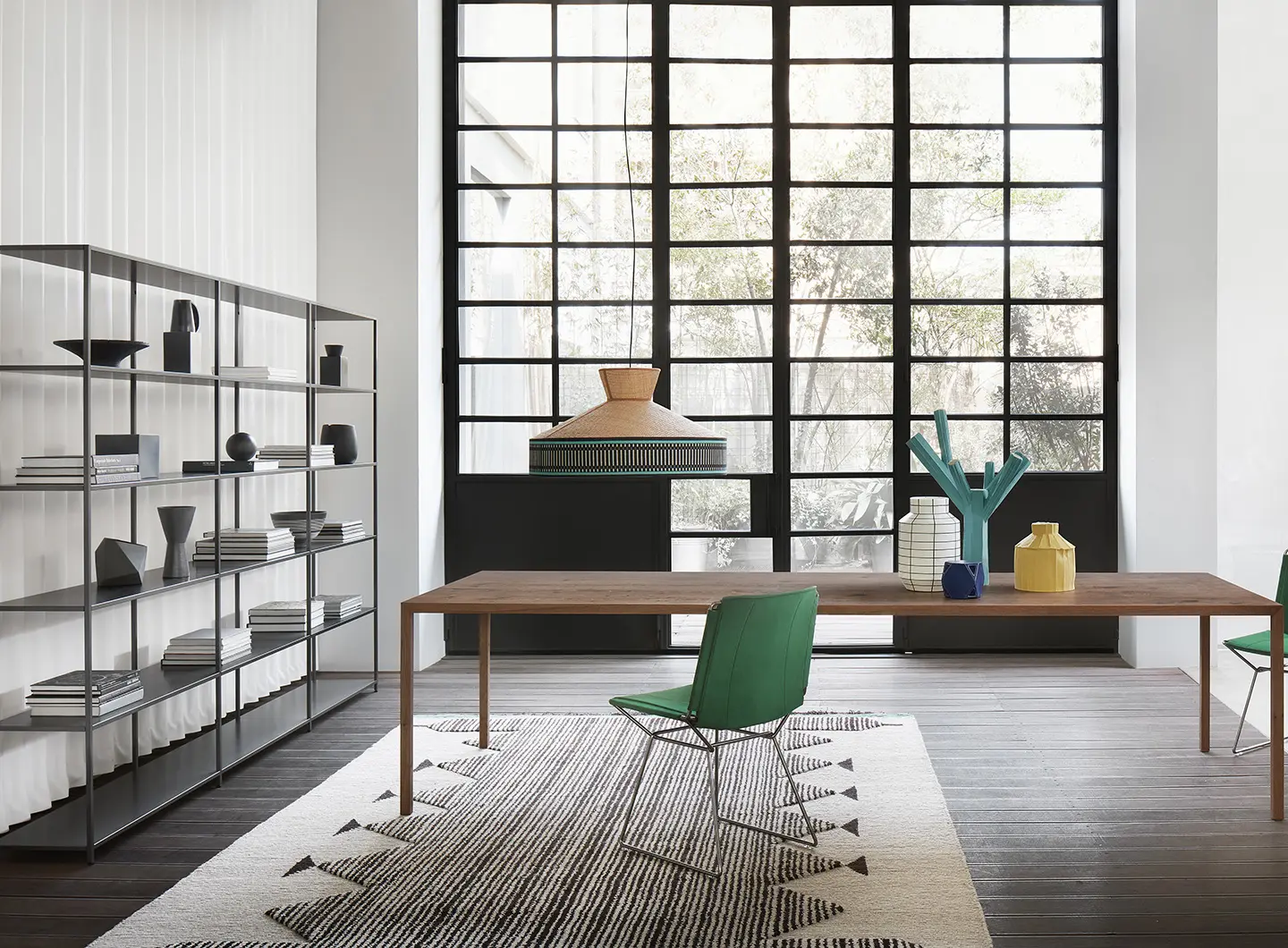 Other bookcases lend themselves as dividers or harness verticality to slot into empty corners of the house and cram in a few books. Inspired by the mythical configuration of the Tower of Babel, Babel by Christophe de la Fontaine for the brand Dante Goods and Bads is a bookshelf/etagere with a novel circular base for accommodating all the things we can never find homes for, books included. The shelves can be rotated or disassembled and used as small tables. Like a monolith, Existence by Michele De Lucchi for De Castelli is a bookcase that refuses to be subservient to a wall and can be positioned freely wherever there's room.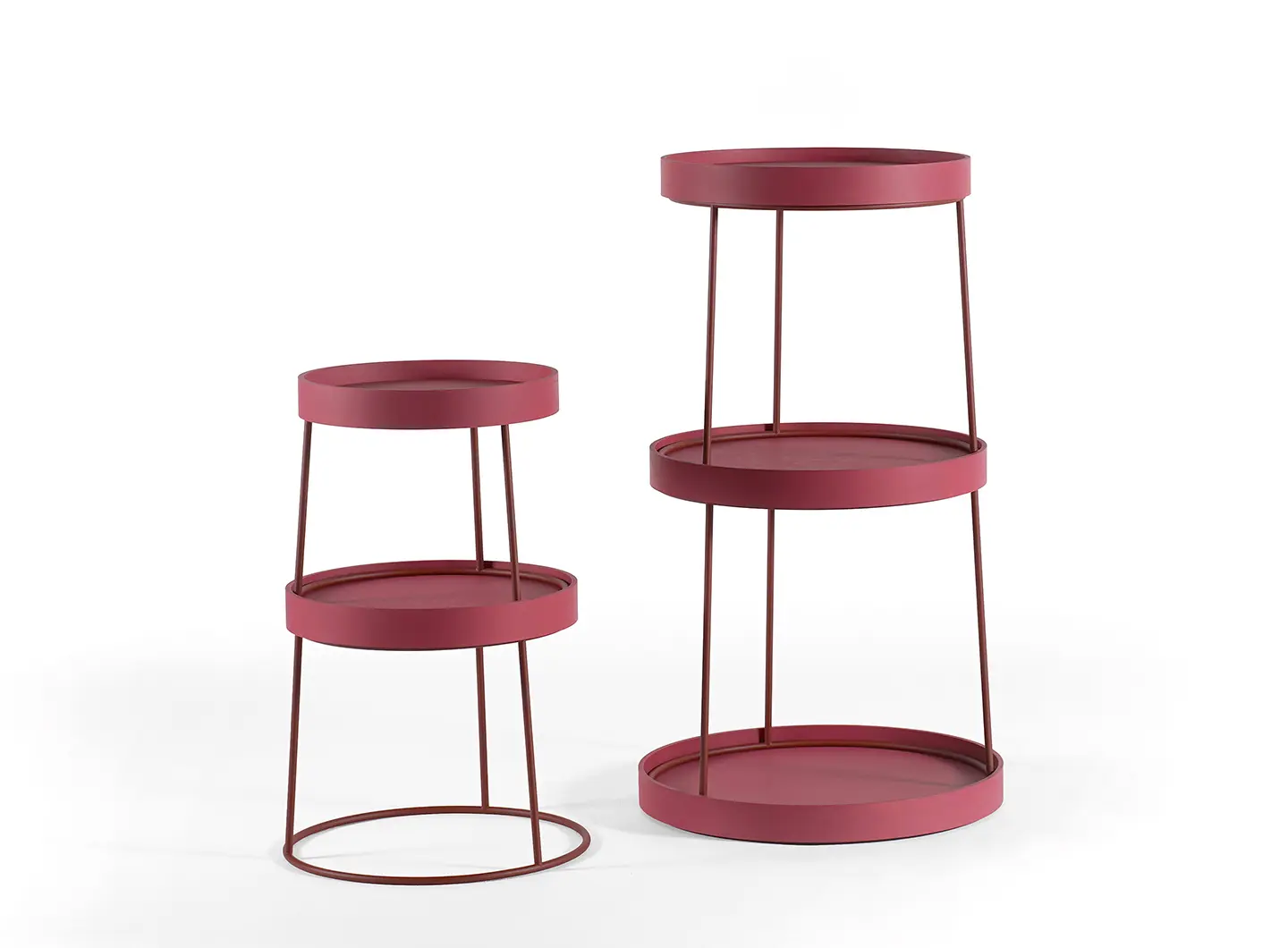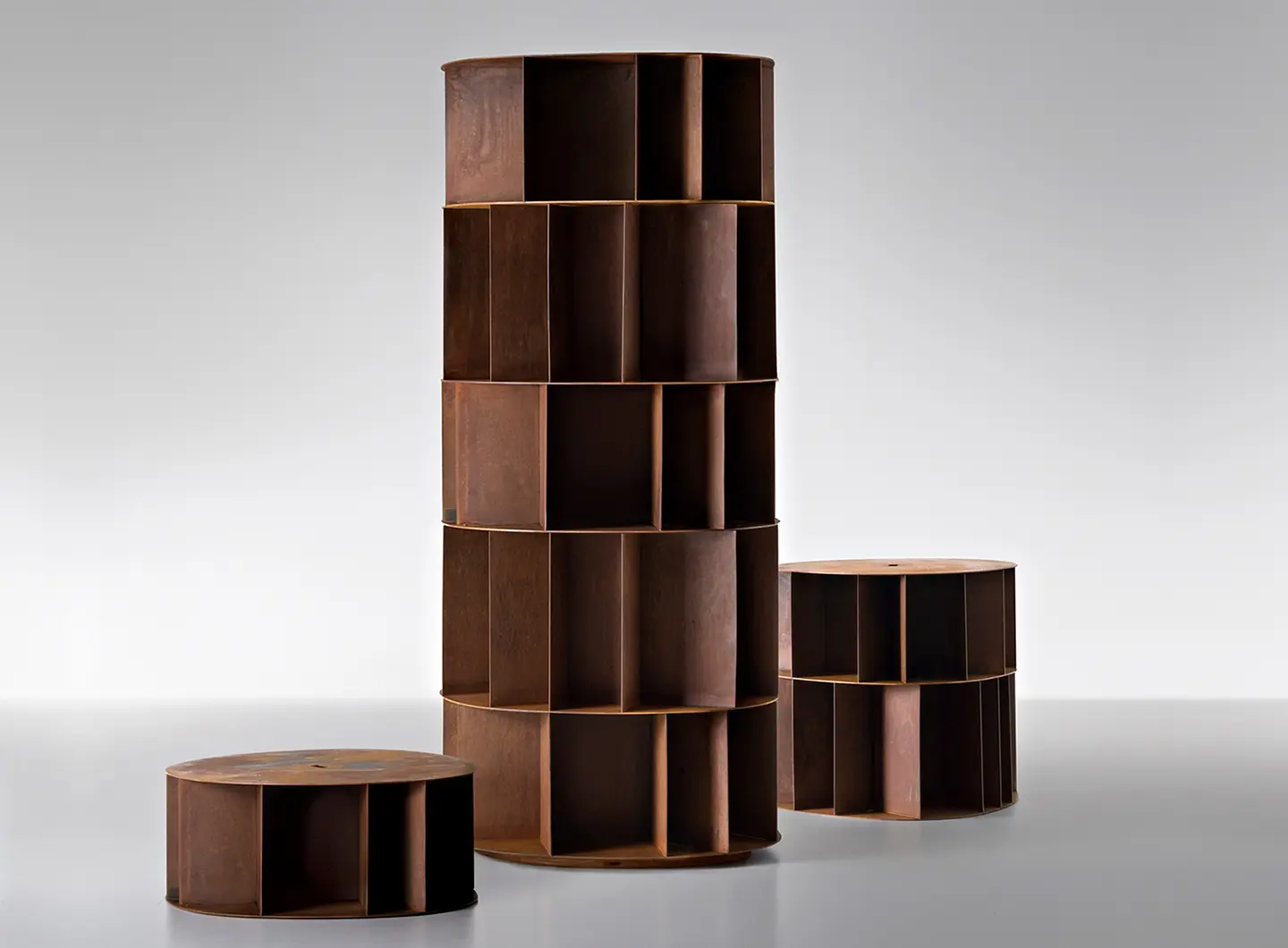 What if transformability took a leaf out of that great classic of the world of foldaway furniture, the emergency guest bed? Ospite, by Vico Magistretti for Campeggi is a folding wooden bed that lifts an all too often reviled piece of furniture with the quality of its materials and manufacture. Not just flexible, once folded up, Ospite becomes practically invisible, embodying the perfect archetypal space-saver – hardly surprising since it was designed by one of the greatest masters of Italian design.