Formalia Outdoor
Category: Cabinets and containers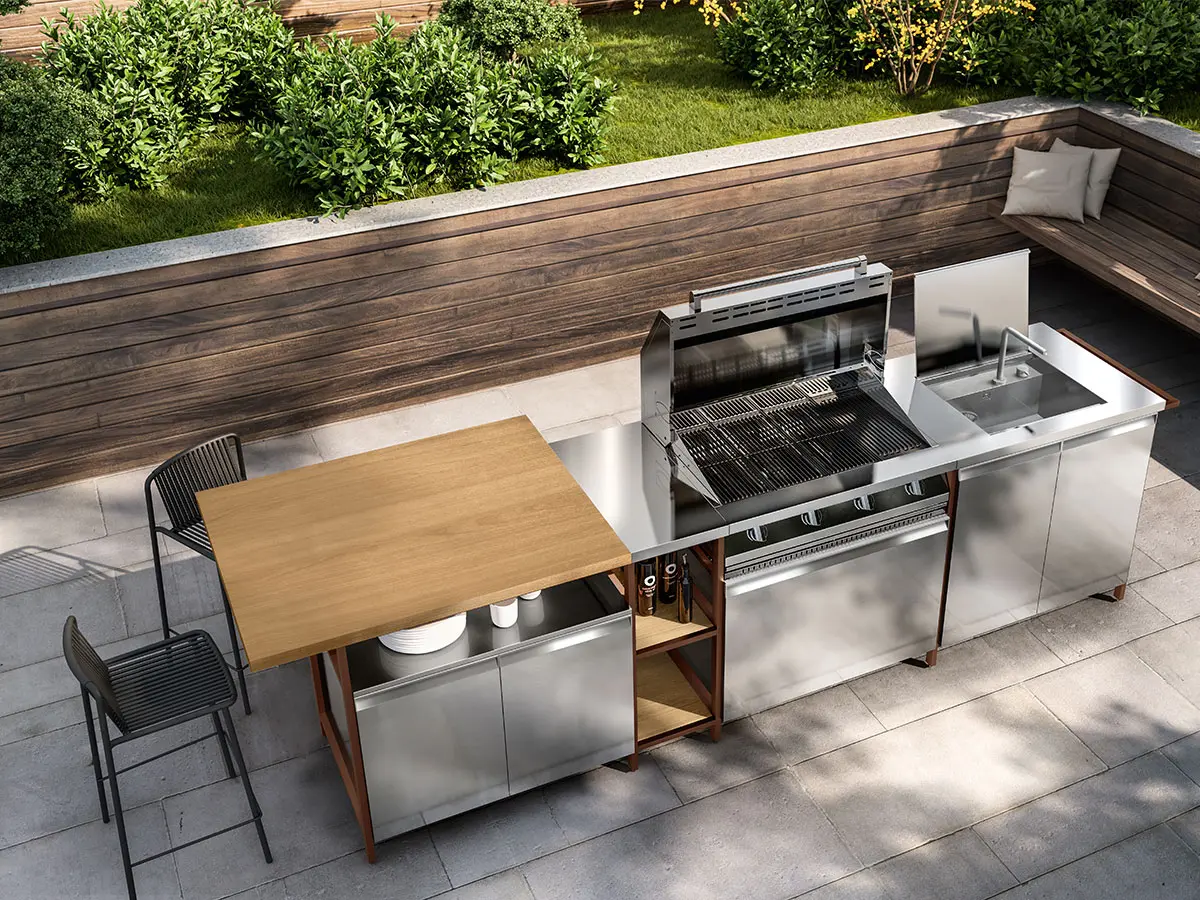 From the evolution of the Formalia collection emerges Formalia Outdoor, the first Scavolini kitchen designed for outdoors. 
With the finest technical performance, Formalia Outoor transports the pleasure of socialising en plein air.
The project stands out for its modern design, functionality and high quality materials, which are expressed in both terms of performance and aesthetic appeal.
The new Scavolini kitchen retains all the distinct traits of Formalia, where details play a leading role and strongly emphasise the design: the shaped door onto which the handle is fitted and the Status Wall System, the open-fronted modular structure made of aluminium and available in three different finishes, Rust, with its powerful contemporary appeal, Black and Titanium. The possibility of incorporating lowered or open-fronted elements enhances the game of symmetries, creating multi-functional decorative elements with minimalist shapes.
The result is a kitchen with outstanding functionality, capable of creating a fruitful harmony with the background and the natural context in which it is set.
Thanks to its impressive modularity consisting of no less than 19 elements to be combined with state-of-the-art appliances, each Formalia Outdoor configuration is a unique and exclusive model, designed to fit into any type of outdoor living space and adapt to any furnishing style.
In designing Formalia Outdoor, a lot of attention was given to the choice of materials that not only ensure high performance, but also express the beauty of a sought-after design The aluminium structure and the top with built-in washing area, available in steel and in other different high-performance materials, can be combined with two different door and structure finishes: in steel for a technical and sophisticated look or in high-performance wood for outdoor use - Okumè plywood with Teak veneer - that makes the whole look more textured and homely. Both solutions are extremely resistant to humidity, weather, temperature changes and wear and tear.
Designed by

Vittore Niolu

BRAND SELECTION
OUR PRODUCTS