Lumiere Nuances
A new collection where the colour wraps the entire lamp in three timely hues.
Lumiere was born in 1990, thanks to the encounter with the designer Rodolfo Dordoni: an erudite, contemporary reinterpretation of classic table lamps with shades, through an unexpected juxtaposition of linguistic codes and materials. The ingredients are gauged with such perfection that the lamp immediately became a worldwide success. Lumiere has never stopped evolving, for 31 years – in terms of colours, finishes, proportions and details – though it has always conserved its formal presence, which has made it a classic icon, always pertinent, always timely.
The Lumiere Nuances collection introduces a new colour range in which the metal parts are coordinated with the colour of the glass when the lamp is off, waiting to come alive with warmth and brightness. Lumiere Nuances comes in three different colours: Sahara, a warm hue like desert sands; Cipria, a fascinating pink tone; and Creta, a sophisticated grey-green.
Designed by

Rodolfo Dordoni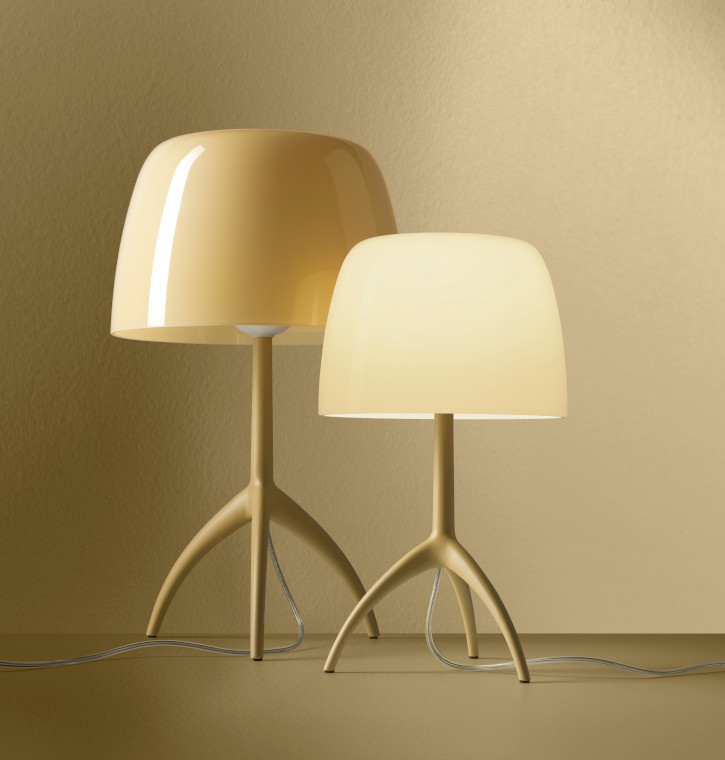 Descrizione del prodotto
Table lamp for direct and diffused lighting. Diffuser incoated handmade blown glass with glossy finish, white on the inside, coloured on the outside. Tripod base and fastener cap in matte liquid-coated die-cast aluminium; feet in scratchproof silicone. New internal lamp housing in transparent PC for the upper part, opaline PMMA for the lower part. Dimmer control on transparent cable in the 220/240V version, on/off switch in the 120V version.

MATERIALS
Blown glass, PMMA, PC and varnished aluminium.
COLORI
Creta, Sahara, Cipria.
BRAND SELECTION
OUR PRODUCTS