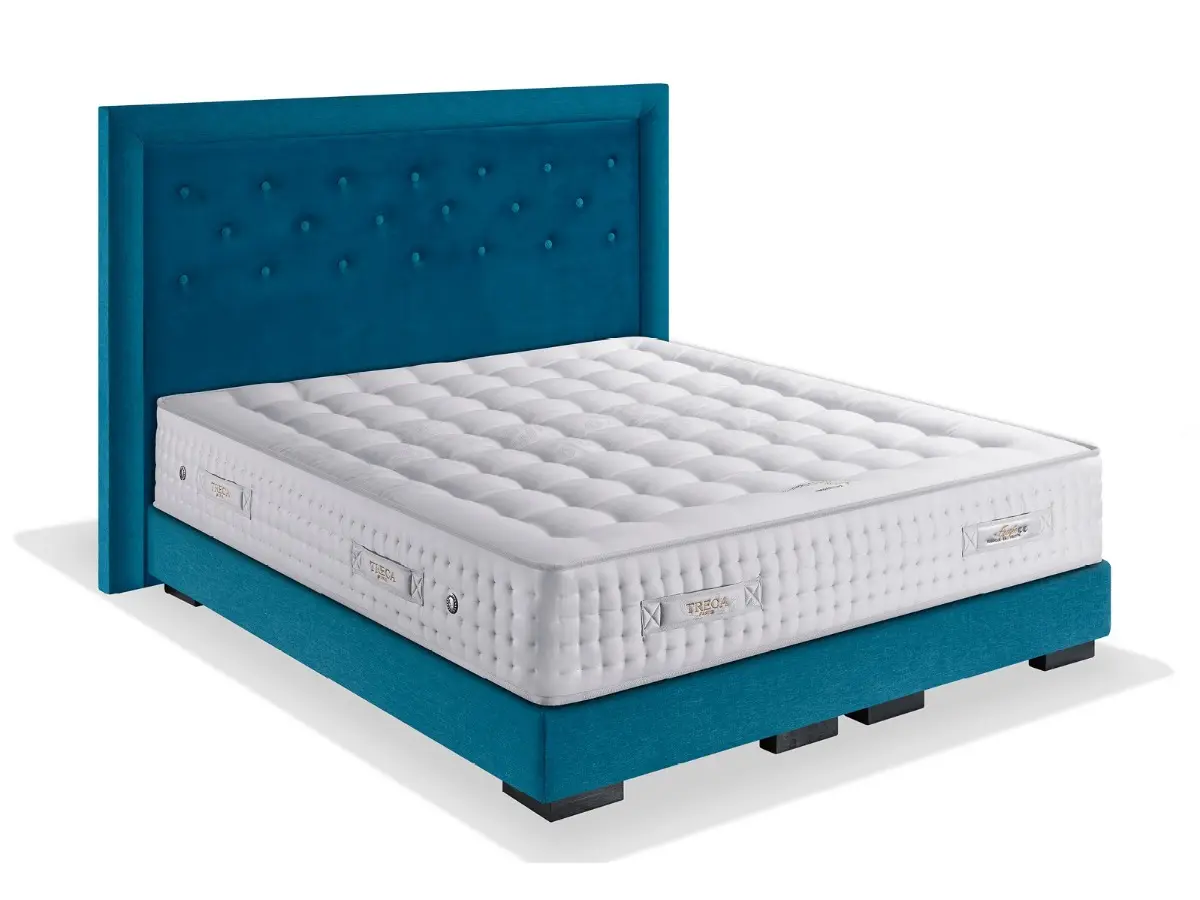 The quintessence of Maison Tréca know-how, the luxury Apogée mattress is based on traditions of excellence passed on from generation to generation. 
Its double Air Spring® pocket spring suspension offers perfect independent support. The point-by-point morphological sleep surface is reinforced by the sumptuous Talalay sleep surface. The noble climatic materials in the Apogée have been found with meticulous research to offer you the best: Royal Alpaca in winter and Arles Merino Wool in summer. 
You can also choose from 4 other climatic materials (Baby Camel, Baby Lama, Silk and French Linen). To make your Apogée mattress even more unique, you can have your initials embroidered on it. 100% French produced [Our commitments], each Apogée mattress comes with a 25-year warranty.
Medium-Firm, Firm or Very Firm Support
Sumptuous Comfort
Loft: 35 cm
Option: French linen ticking
Double Air Spring® pocket spring suspension in cotton:
Following the body's curves and adapting to all sleeping positions, Air Spring® suspension offers a progressive sleep surface, excellent independent support and a point-by-point hold.
Integral and lateral hand-quilting:
A complex technique requiring many years of experience; only 3 artisans are capable of quilting our Couture mattresses. To quilt the surfaces, the mattress is crossed by a needle which perfectly holds and divides the materials for long-lasting comfort. Lateral quilting consists of creating thousands of contact points between the edge of the mattress and the spring structure for a perfect hold from one side of your mattress to the other.
Strip encasing:
The strip encasing prevents deformation and extends the life of the mattress in addition to providing edge-to-edge comfort.
In winter: 4 cm natural Talalay, 1.2 kg/m2 Royal Alpaca:
Royal Alpaca fibre is long, fine and hollow. It holds in a lot of air which means it's very insulating. Yet it doesn't hold in any moisture, which adds to its thermal qualities and comfort. The 1st Alpaca shearing is sorted and the finest fibres are subjected to 4 filtration processes to produce Royal Alpaca. This fibre only accounts for 1% of all Alpaca thread production in the world.
In summer: 4 cm natural Talalay, 1.2 kg/m2 Arles Merino Sheep Wool
BRAND SELECTION
OUR PRODUCTS