Details channelling transparency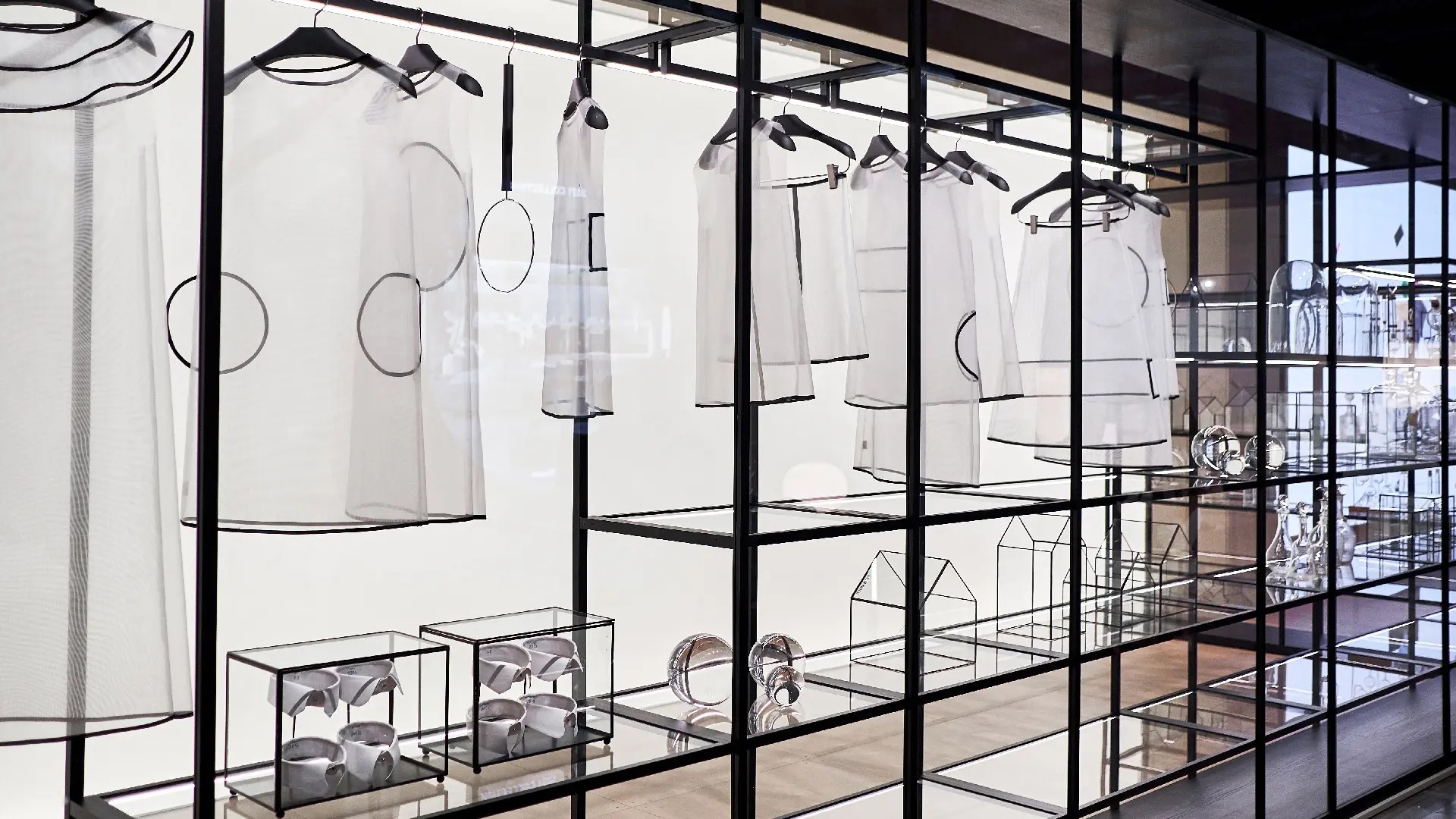 Glass, Plexiglas and variations on a theme, in colours, opacities and textures that enhance the pieces with tiny, sophisticated details or large integrated systems.
Large expanses of glass, little knurled details, polycarbonate panel inserts and extended crystal surfaces: it's a pleasure designing with transparent elements that can reveal, set off or mask parts of the interiors of our homes. Transparency makes objects as permeable as they are sacred in our eyes; it's at once both a barrier and a connection, which is why it allows us to conjure up innumerable possible applications. The architects and designers of the companies who brought their very latest collections to "supersalone" also gave full rein to their imaginations t with glass and Plexiglass, materials that continue to evolve in order to keep step with the most cutting-edge working techniques and the most high-performing finishes.
One such example, the small Soda table from Miniforms (Pav 03, Stand A 24) is made entirely of glass without the incursion of any other material whatsoever and comes in two colours and two sizes – amber and petrol green, high and low. This piece is produced as a single blown-glass volume and features three extruded petals that form the stem and support the round tabletop, it's a real jewel of a piece, straight from the furnace and into the home, laying bare the quintessential material from which it is made.
Poliform (Pav 04, Stand A 01) is also championing glass tables for living areas, but its smoked glass Orbit tables are altogether more sleek, made up of two elegantly folded and paired geometric forms with glass tops that seem to want to blend in rather than assert their substantial materiality.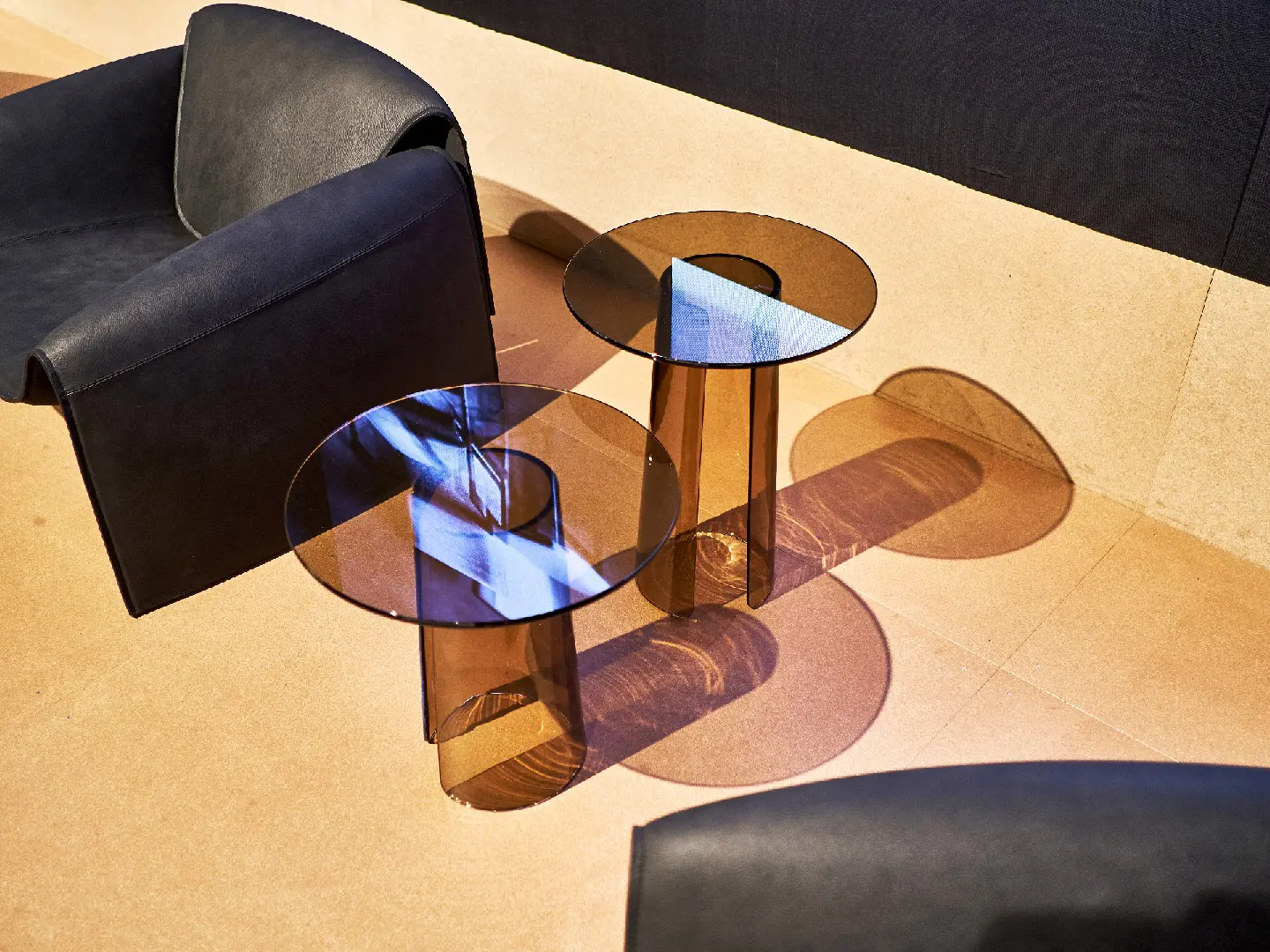 JCP Universe (Pav 02, Stand L 09) has come up with low semi-transparent frosted Plexiglas tables, introducing opaque, coloured and shaded elements that serve to amplify their curves and their amusing volumetry, almost as if they had just been frozen. Designed by Sovrappensiero, the Sopovria VA tables come in various sizes, in a choice of mint or coral, and fit seamlessly into domestic spaces like small companion creatures that are at one with their surroundings.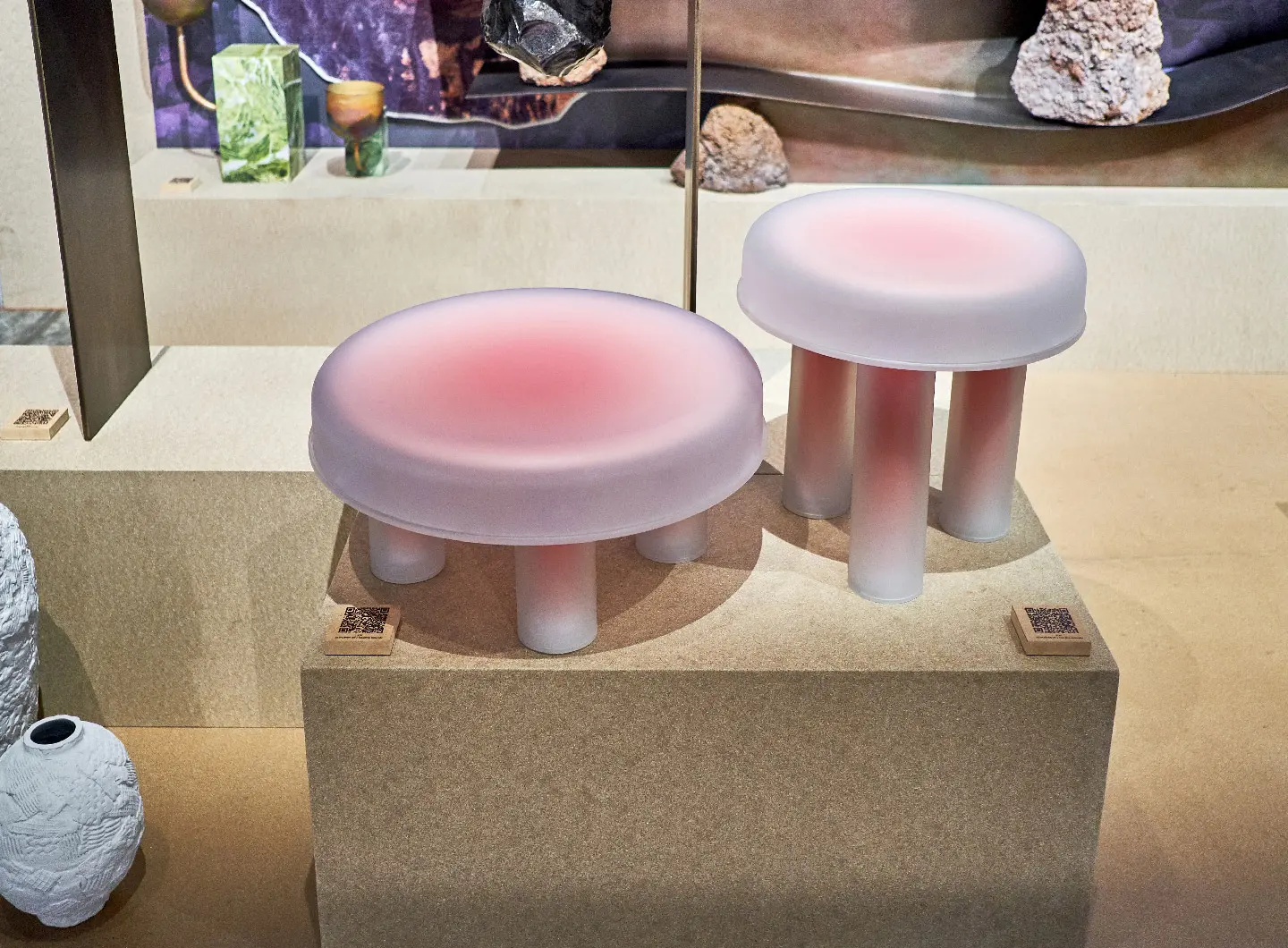 While Cattelan (Pav 03, Stand A 14) also gone for glass for the elegant tops of its large and small tables, Glas Italia (Pav 02, Stand F 16), a leading producer of entirely glass furniture, has turned the canonical use of this material on its head to create the lightweight table showcased at "supersalone." In Hub, the central leg is as cylindrical and monolithic as it is visually light. The hollow cylinder is made of extremely transparent borosilicate glass, while the top and legs are gloss or matte tempered glass, lacquered in a range of colours. 
The long Marcell console designed by Massimo Castagna for Tonelli Design (Pav 04, Stand O 15) exploits the potential of glass tops, including as vertical elements and, in this case, paired with wooden boxes. The essential lines of the glass dialogue with the warm, tactile essence of the square elements, making this a piece that fits seamlessly into a range of different spaces, functioning as a desk, hall console table or even a sophisticated dressing table.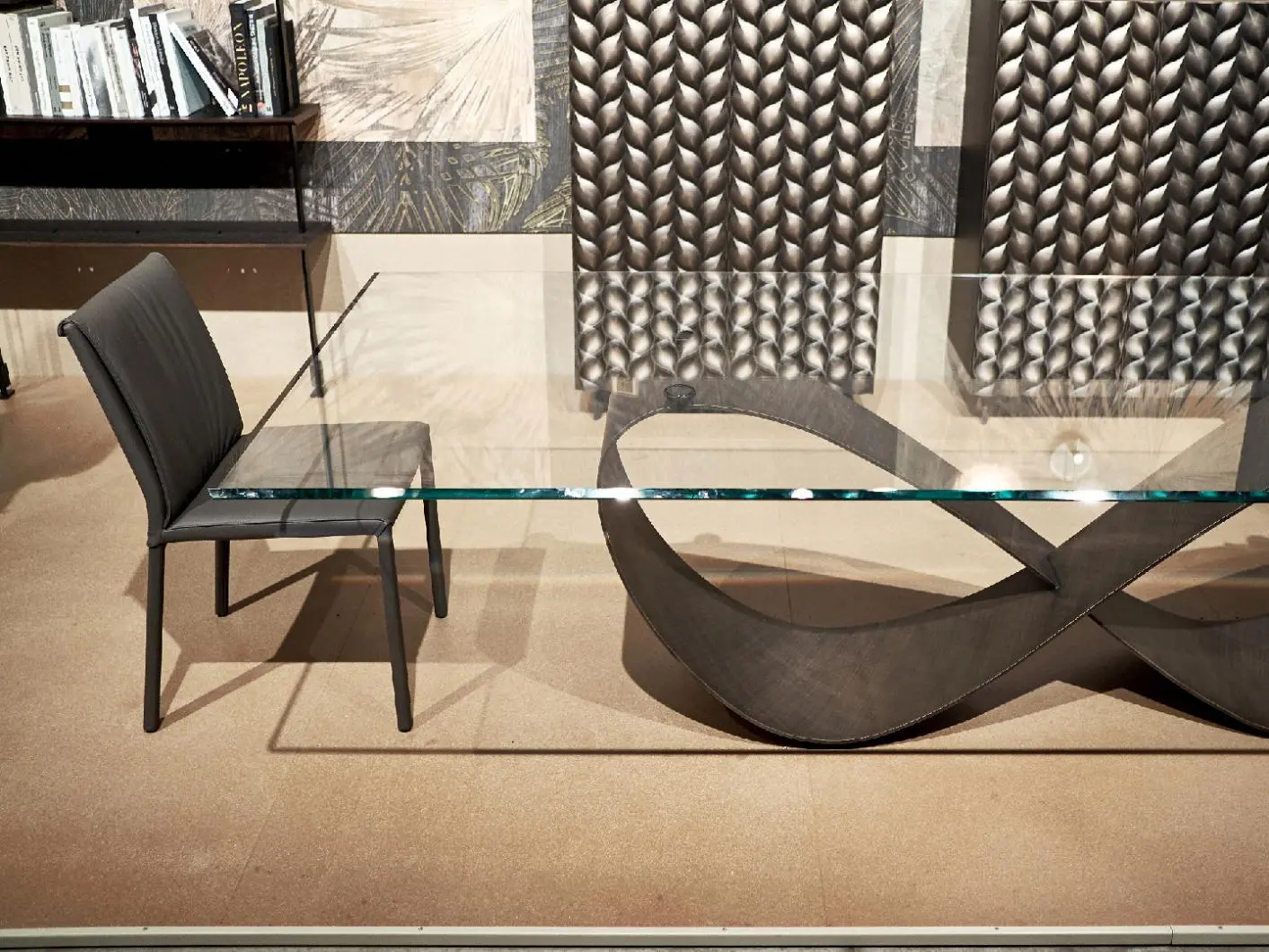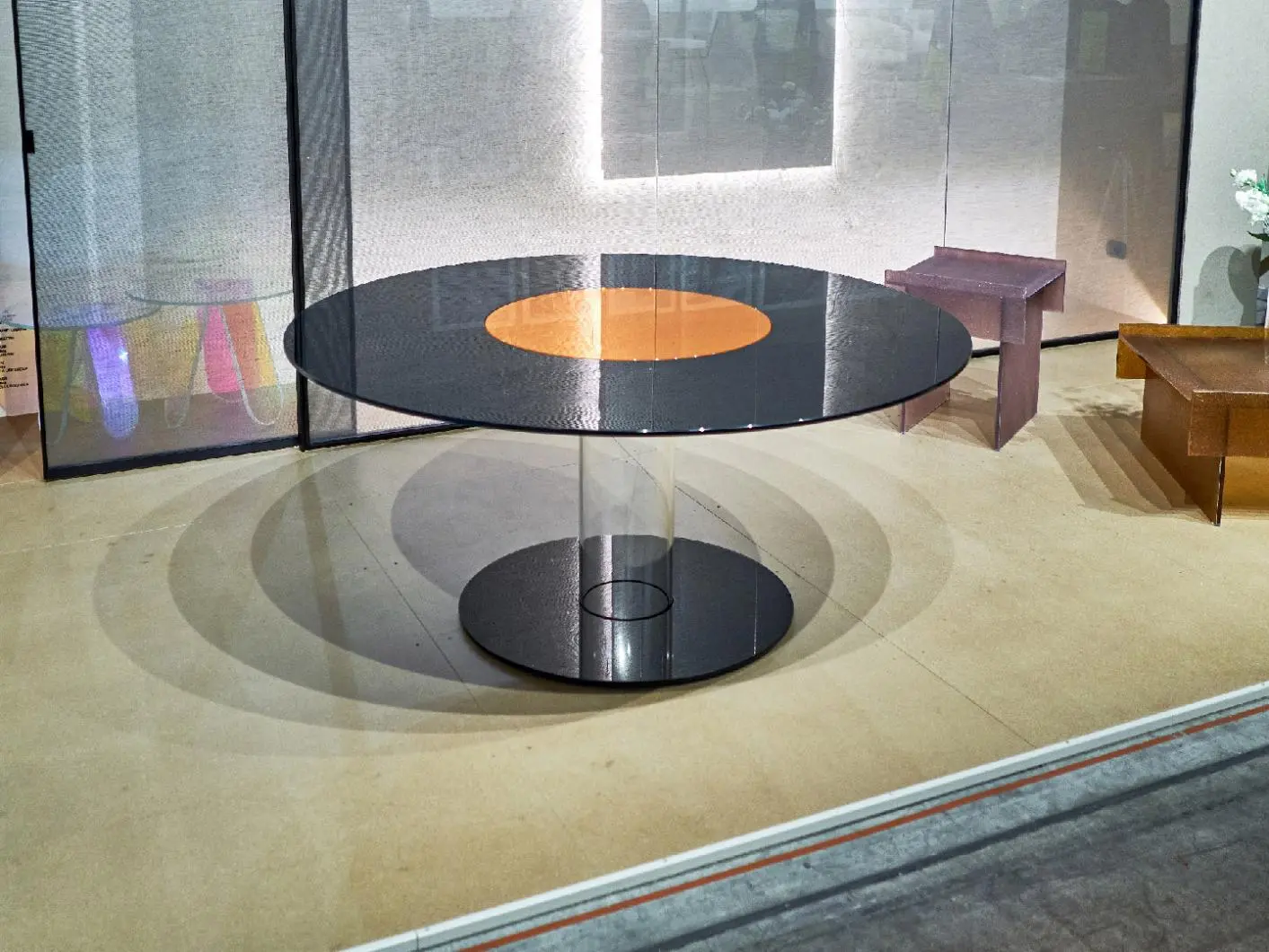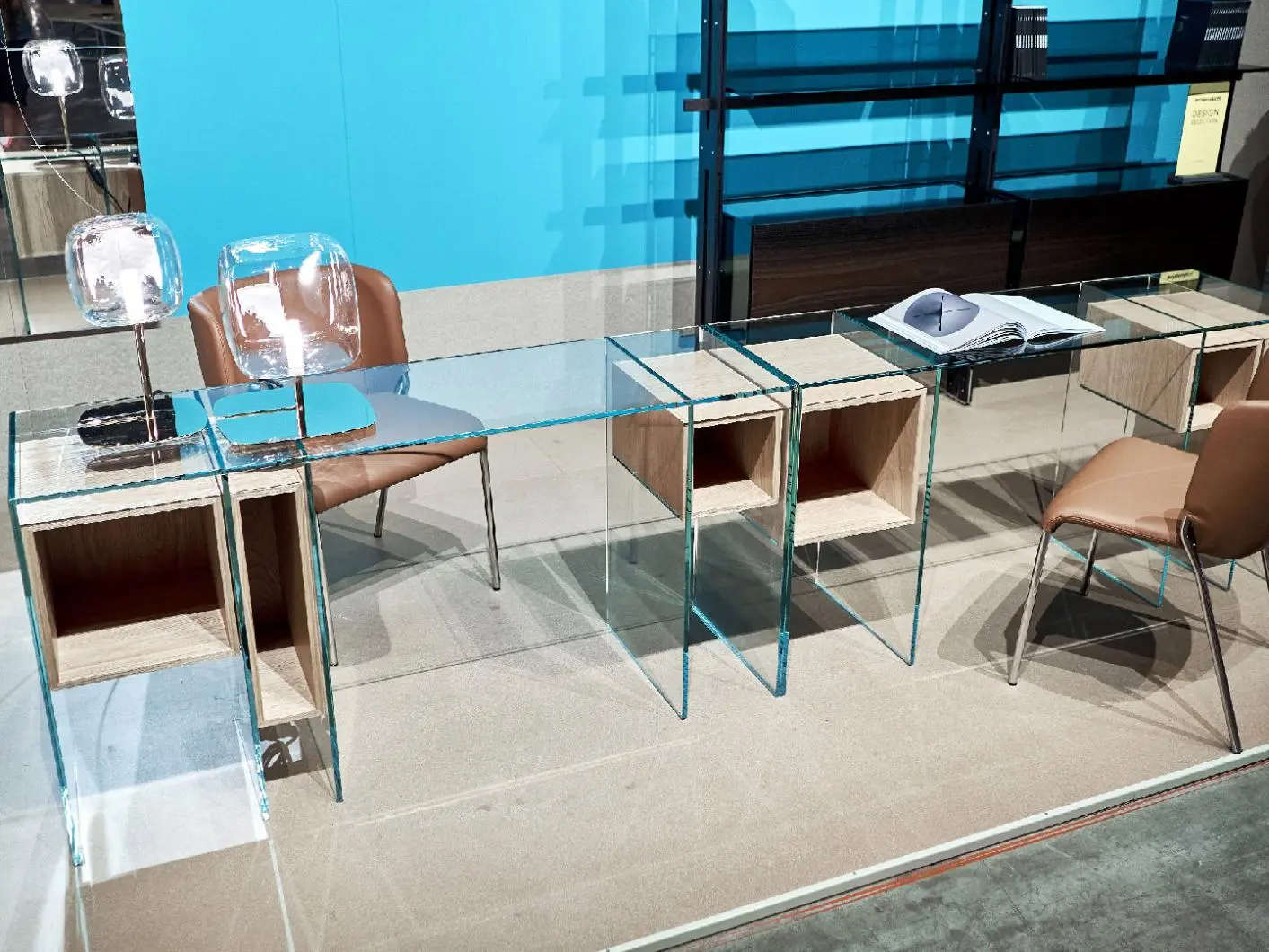 The President Gold Edition interpreted by Gallotti&Radice (Pav 02, Stand D 14) is semi-transparent and made of a single material: extralight tempered glass, decorated with an exclusive crisscross gold finish. This exclusive collection has been produced in a special numbered edition. The metal parts supporting the structure (also painted in the same finish) make this semi-circular desk into a functional piece, and a cable management hole can be made in the top on request.
The entire Santambrogiomilano (Pav 01, Stand F 02) stand pays homage to this noble and very ancient material, with a large table and an integrated wall system, but it is Porro's (Pav 04, Stand B 08) display that underscores its potential to the absolute maximum. Designed by Piero Lissoni (art director of the company), The Electric Box by Porro was inspired by the Casa Elettrica showcased by the architects Figini and Pollini at the 1930 Monza Triennale. It is an illuminated 12-metre transparent box that draws on the Storage wardrobe system. At first glance, the installation looks abstract, but on closer look it becomes a multifunctional architectural furnishing piece, thanks to the styling that hints at its possible uses, as a cupboard, a bookcase or a piece of kitchen furniture, capable of inspiring the bravest of designers to experiment with all its various possible combinations.  
Absolute, bold transparency is offset by textured knurled or undulating surfaces that break up light, diffuse it and distort the images seen through it. One such example are the doors of the vintage-style Cabinet Pixi from Liu Jo Living (Pav 01, Stand F 16), while the ribbed glass doors on Diesel's (Pav 03, Stand B 11) bathroom furniture support the extremely minimal Corian® top, making for an overall industrial/retro look.