Storage dressing room
Category: Cabinets and containers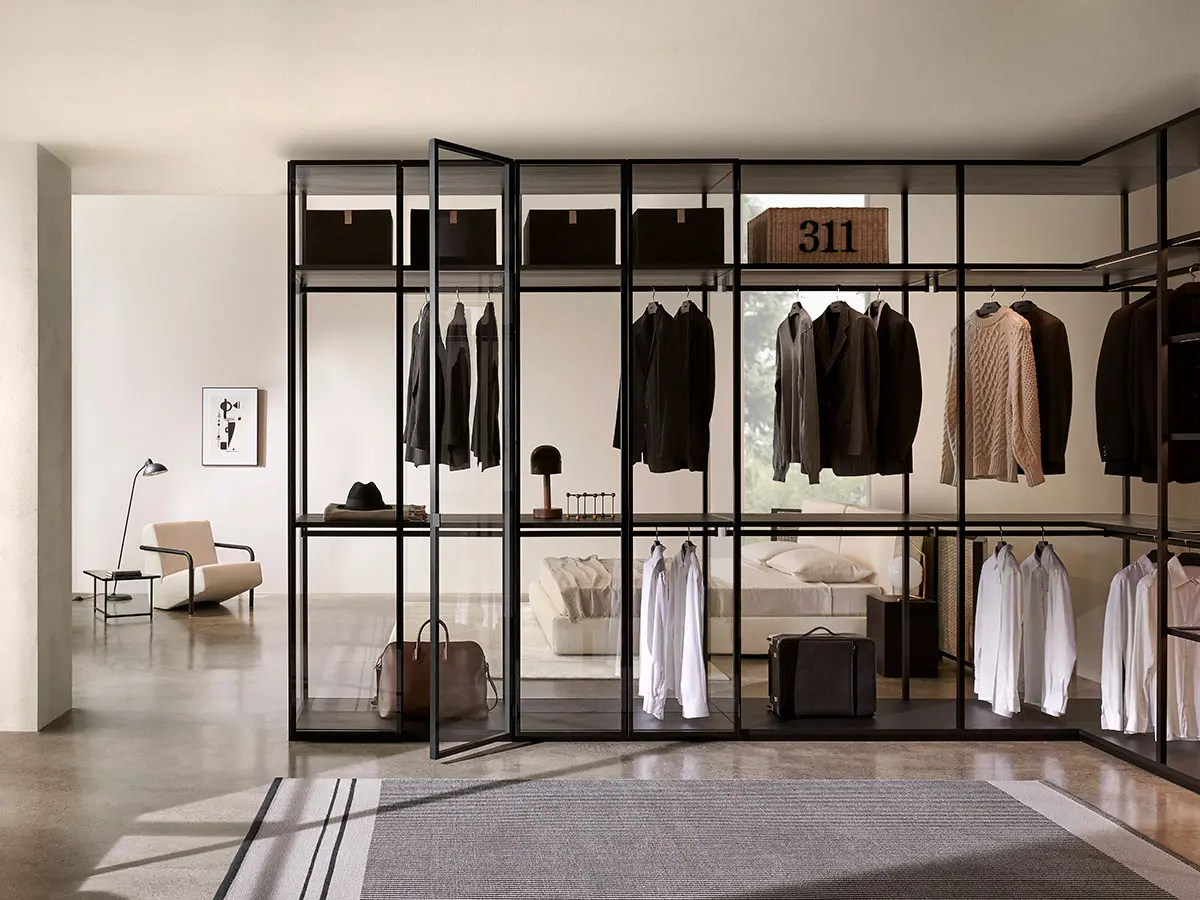 AN OPEN WINDOWS INTO THE HOME
Designed by

Piero Lissoni + CRS Porro
"Storage has changed over the years. In 2021, Storage has added electronics – heavy electronics. But above all, Storage now allows us to think our wardrobes as if they were a beautiful garment display. You see, I have imagined Storage in 2021 as if it were a clothing store within home".
Piero Lissoni, Storage 2021
As the main protagonist of the new scenarios, brand's visiting card and quintessence of its bespoke possibilities, the Storage system of wardrobes and dressing rooms designed by Piero Lissoni + Porro Research Centre was revolutionised from a manufacturing standpoint: a technical evolution in the name of utmost visual cleanliness that makes Porro wardrobe experience even more intense and exciting. The traditional 25x45mm upright was replaced by the new 25x25mm profile in order to further increase the aerial sensation of extreme lightness. The new profile also provides for more space inside and allows to perfectly match the different types of systems – wardrobe, open wardrobe and dressing room – with fully transparent glass compartments alongside others that are partially or completely closed, in an interplay of full and empty spaces and architectural spaces that are every time different, to be experienced. The Storage project has also been renewed by a new impalpable material: light. Thanks to the wireless lighting system, electricity is transmitted inside the structure, hidden from view. With all technical details designed by Porro and fully embedded, the shelves become lighting fixtures and the light can be adjusted by choosing between 2 different temperatures.As the real core of the home, the Storage dressing room freely combines open spaces alongside spaces closed by glass doors, back panels and partitions: a transparency that is further enhanced by the transparent corner solution.
Black sugi is the dark and enveloping finish, extremely sophisticated, at the same time ancient and modern chosen for Storage system of wardrobes and dressing room. Combined with a black painted metal structure, it offers a matte black-ink surface with marked veins, inspired by the ancient Japanese technique of Sou Sugi Ban, which protected the cedar wood by burning it with coal.  With its slim upright, the Japanese-style black sugi equipment and the new lighting system, Storage is a complete and versatile wardrobe system.  The light embedded in the shelf enhances the graphic design of Storage and follows its lines, transforming it into a stage for one's own garments.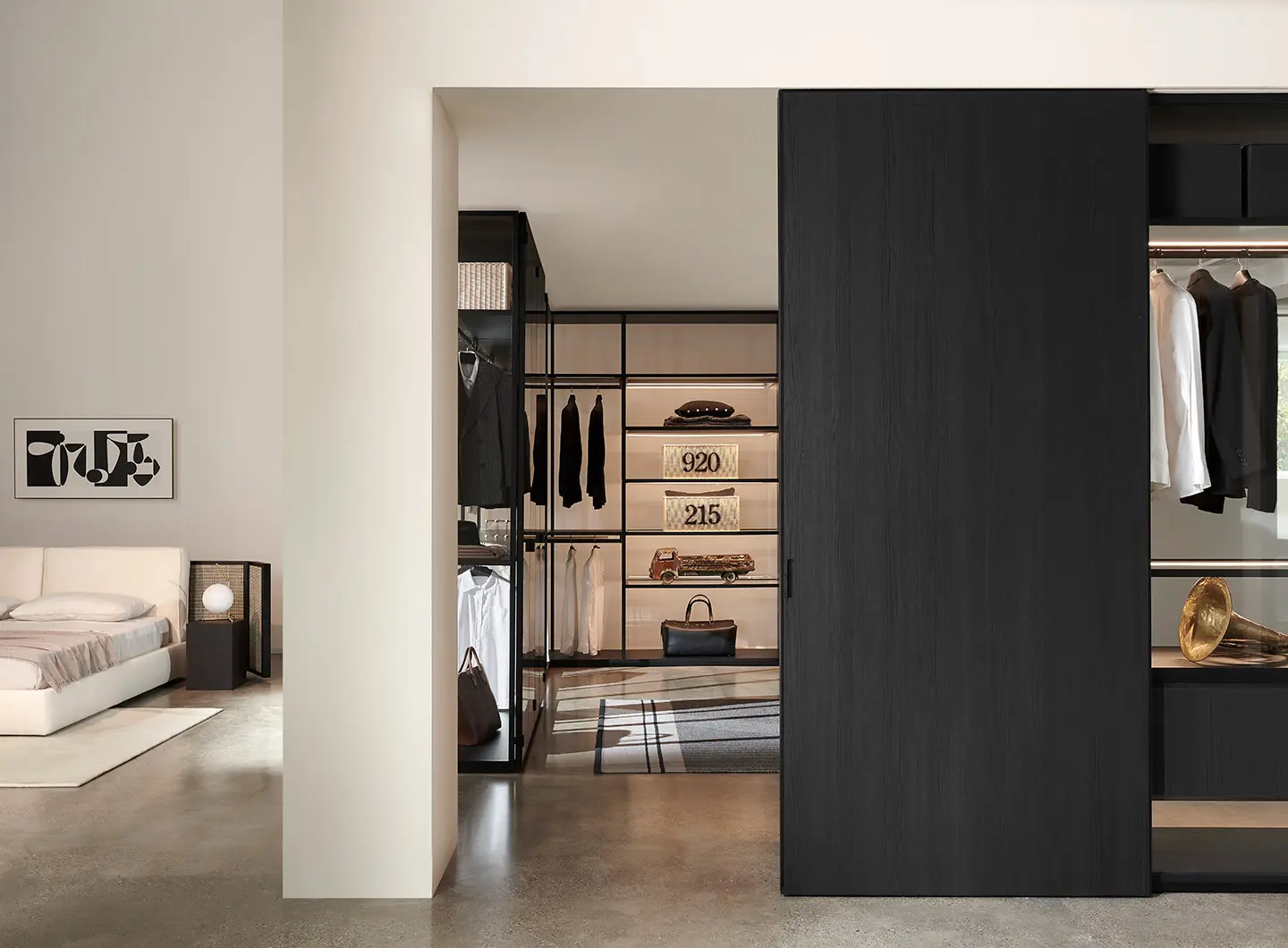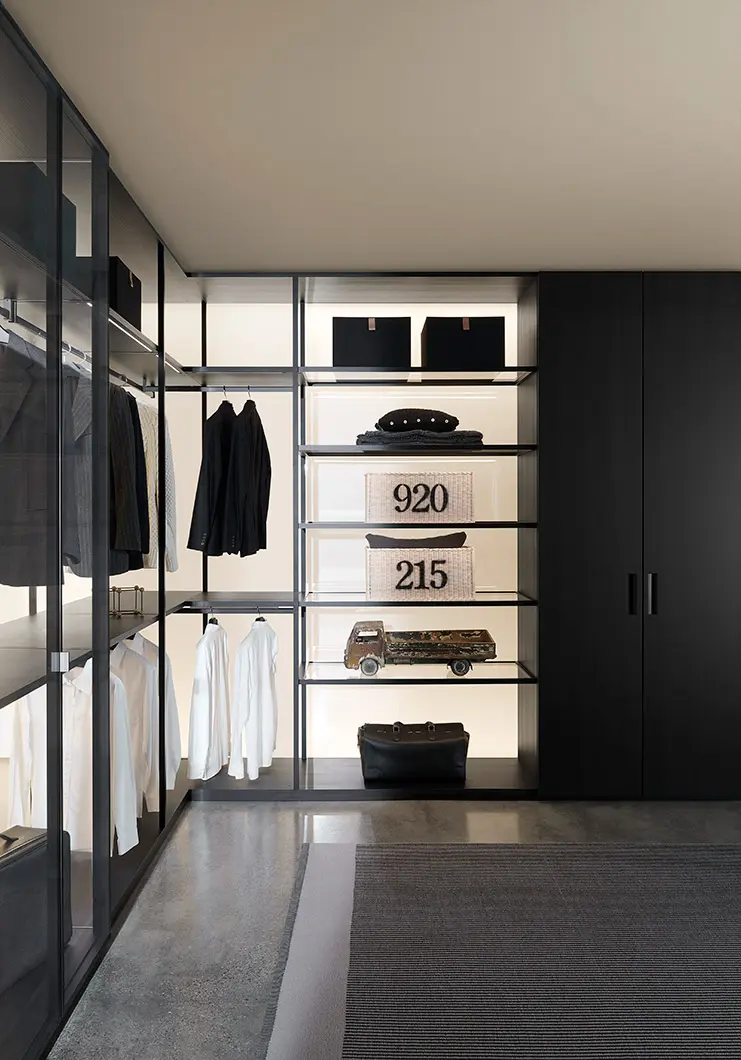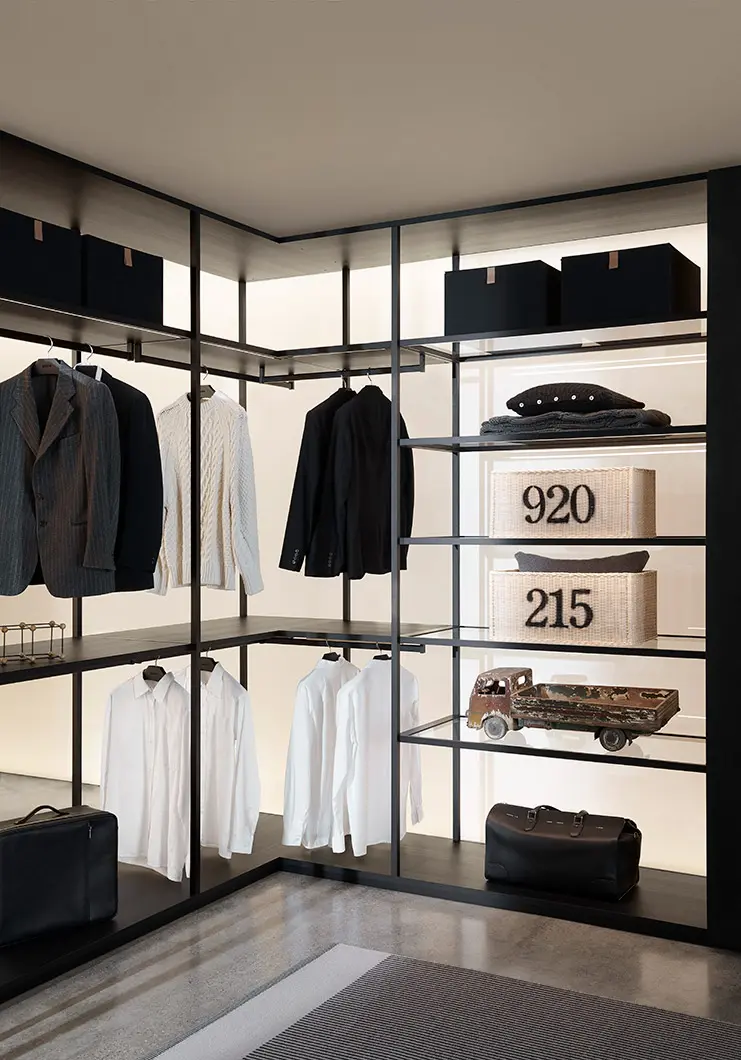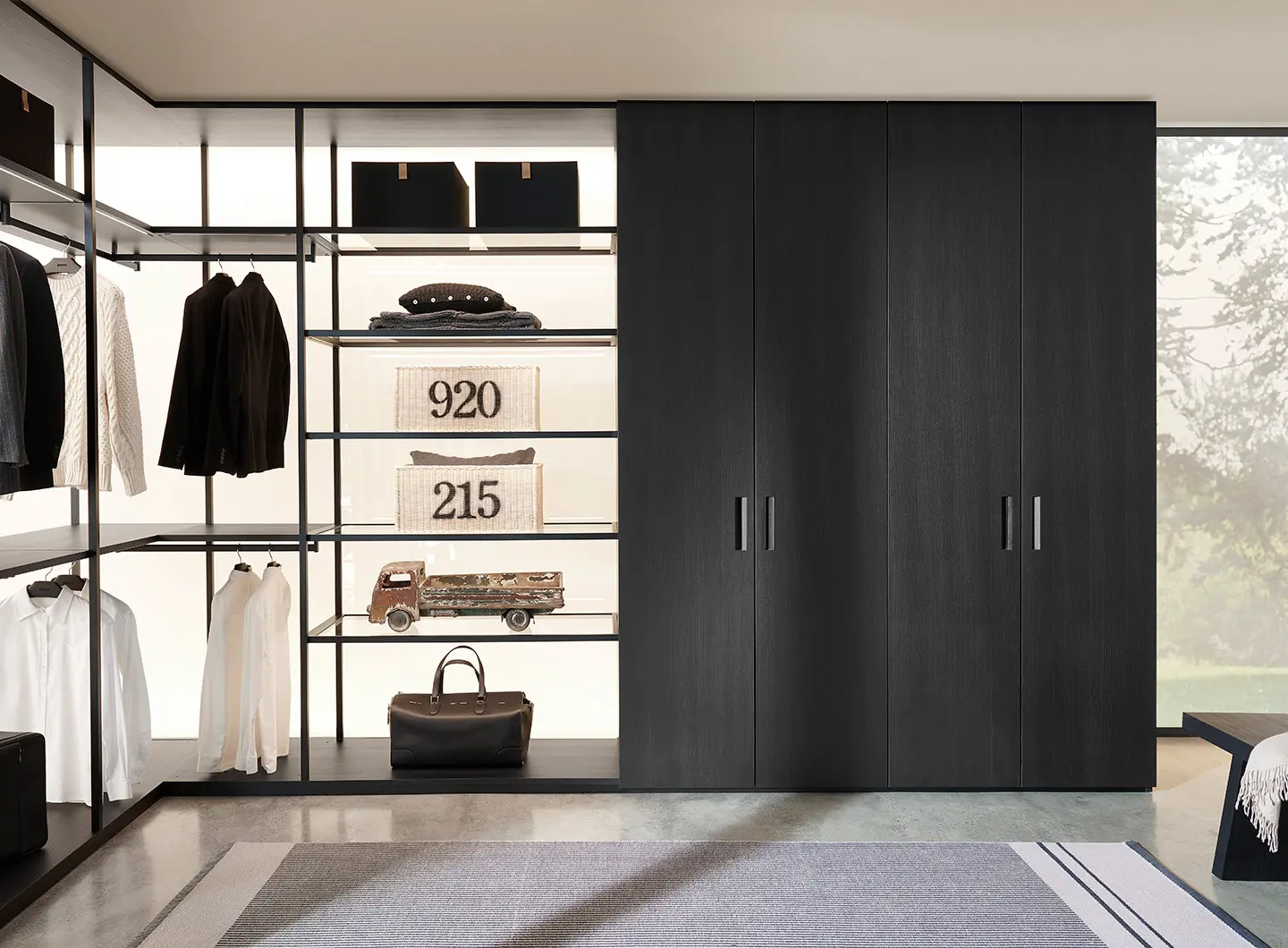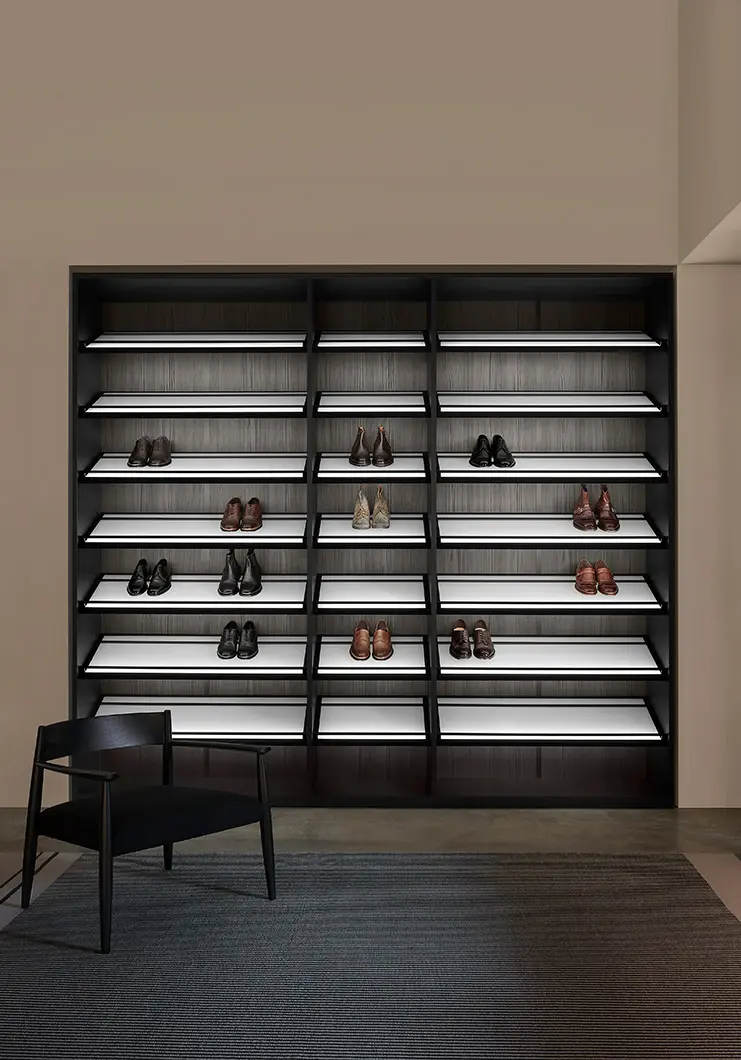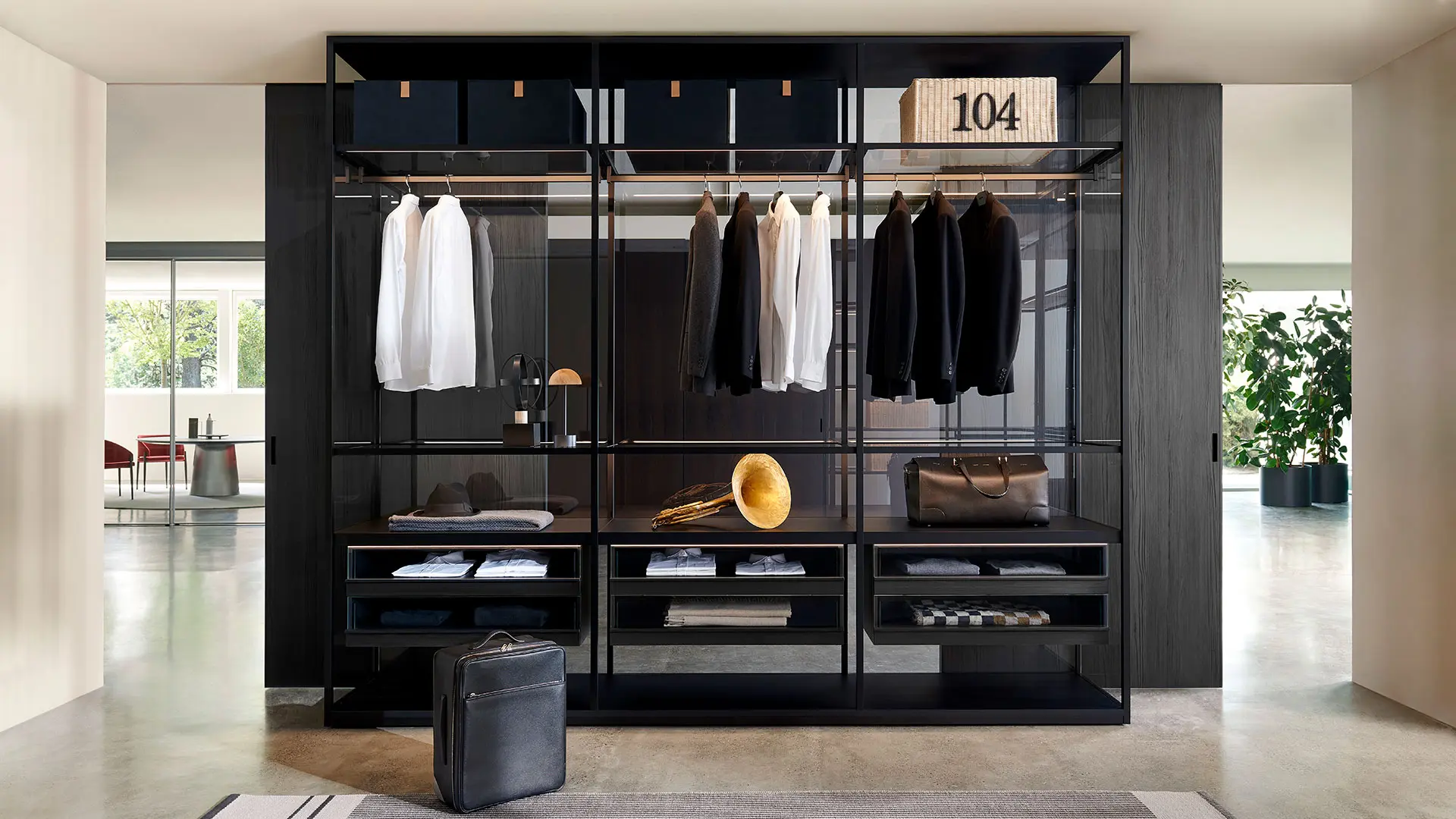 Storage interiors feature 6 different textures that, selected and manufactured exclusively for Porro, combine resistance and high aesthetic values. Scandinavian inspiration for the dressing room with back panels and equipment in white cherry, a light finish that mimics the cherry wood grain with more neutral and universal tones. For the metal parts the cuvee finish is chosen, a refined and precious colour that perfectly matches the white cherry equipment, thus adding value to the composition that features closed back panels alongside transparent ones thanks to the use of a glass side panel.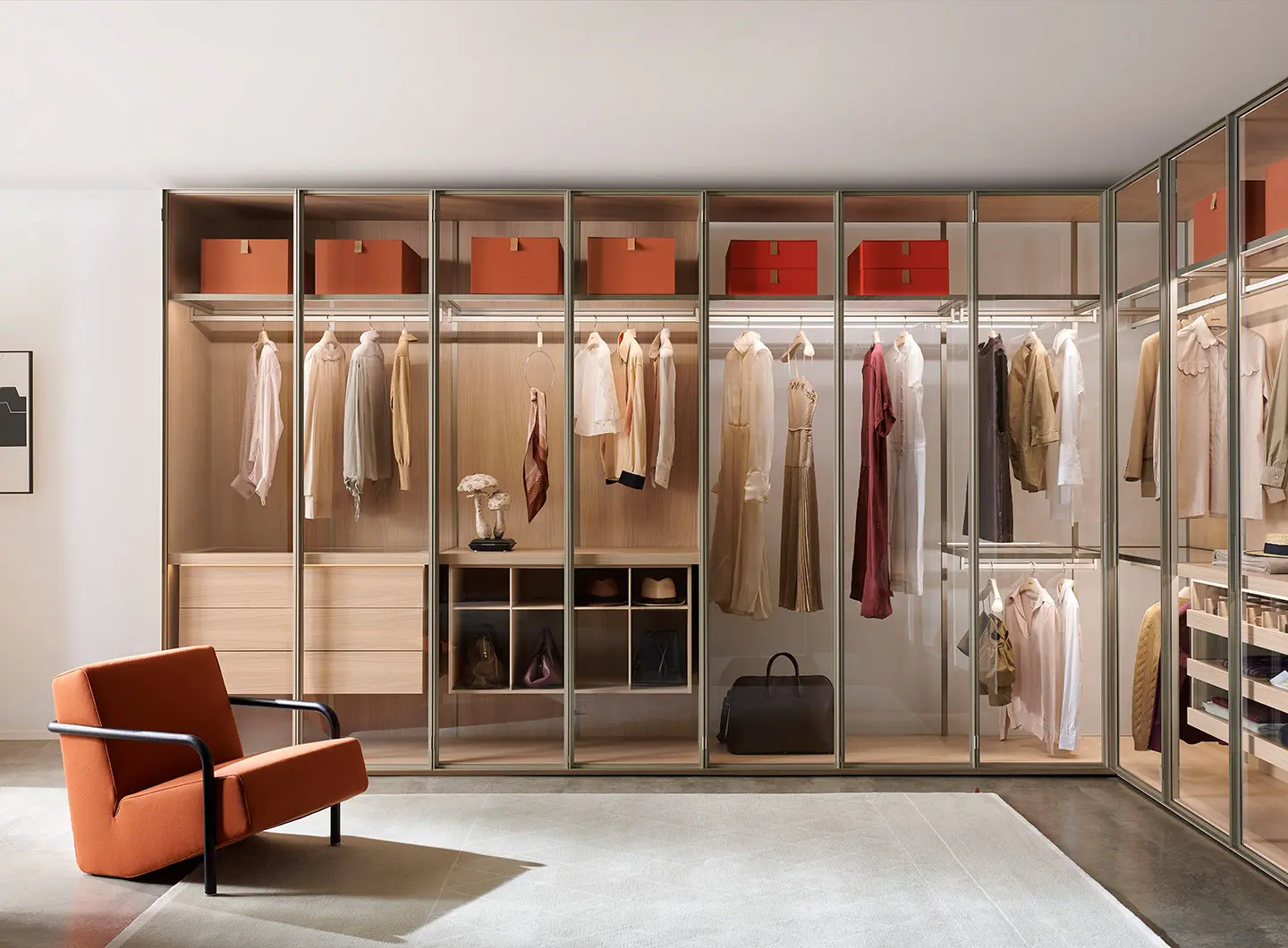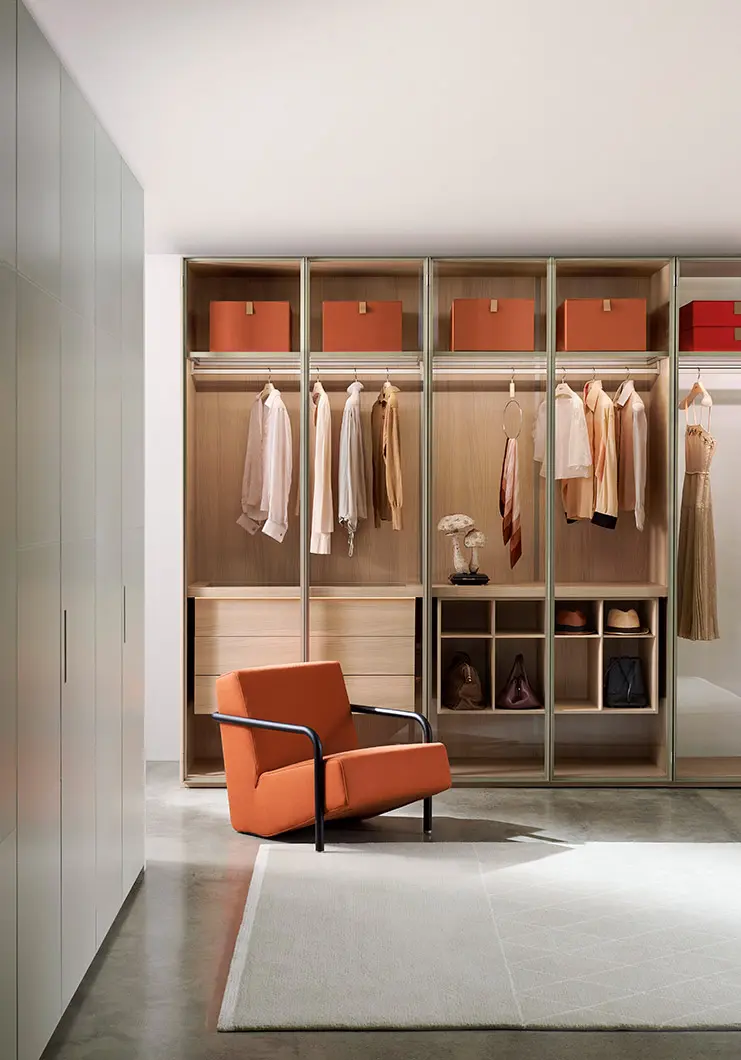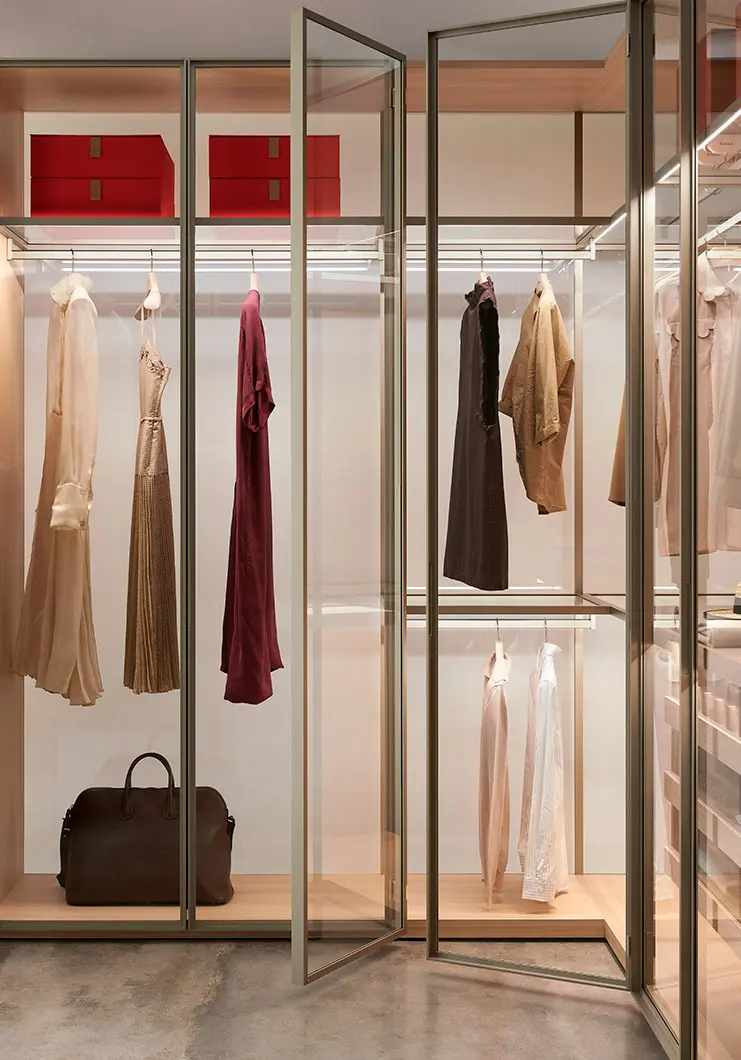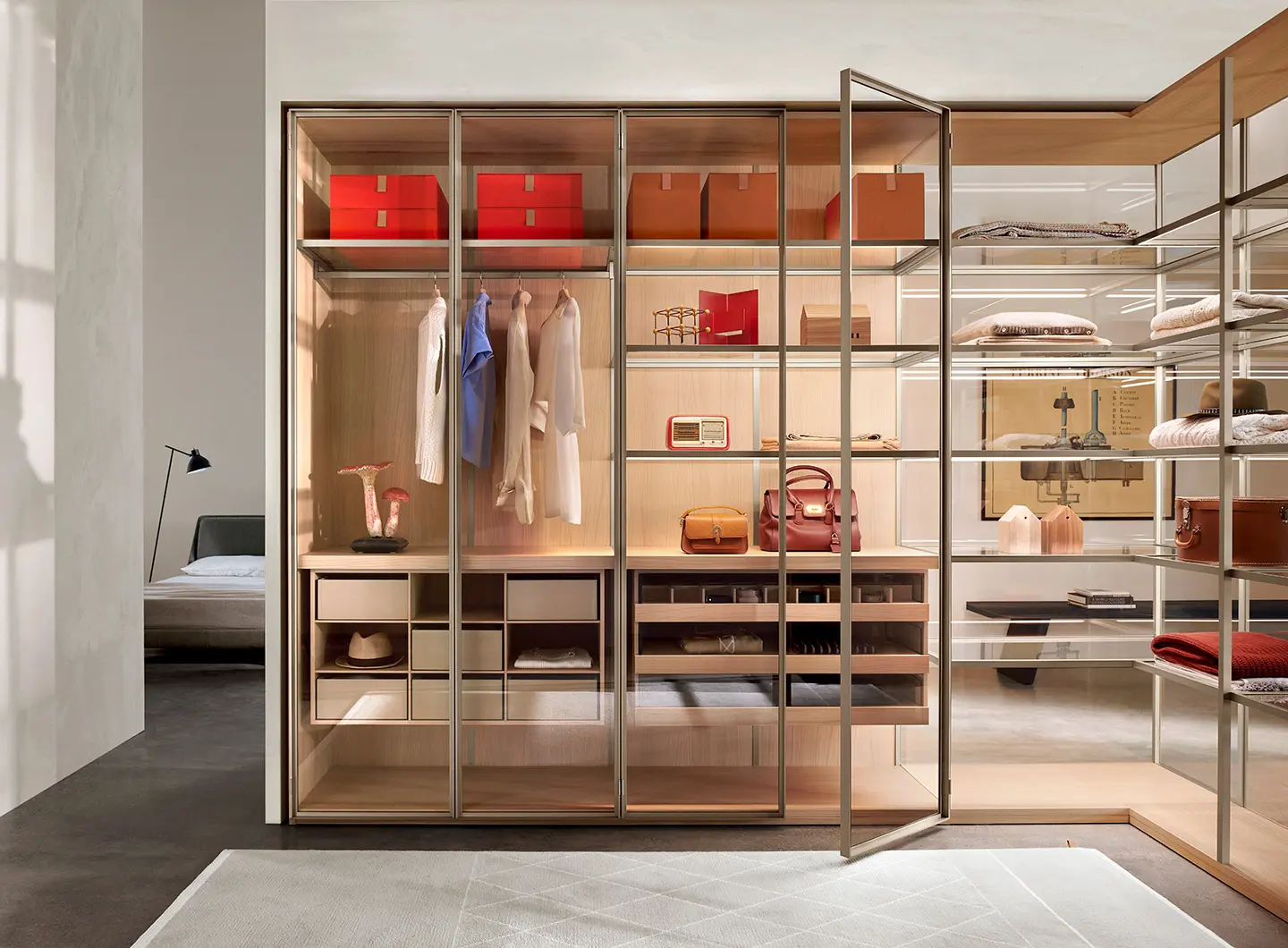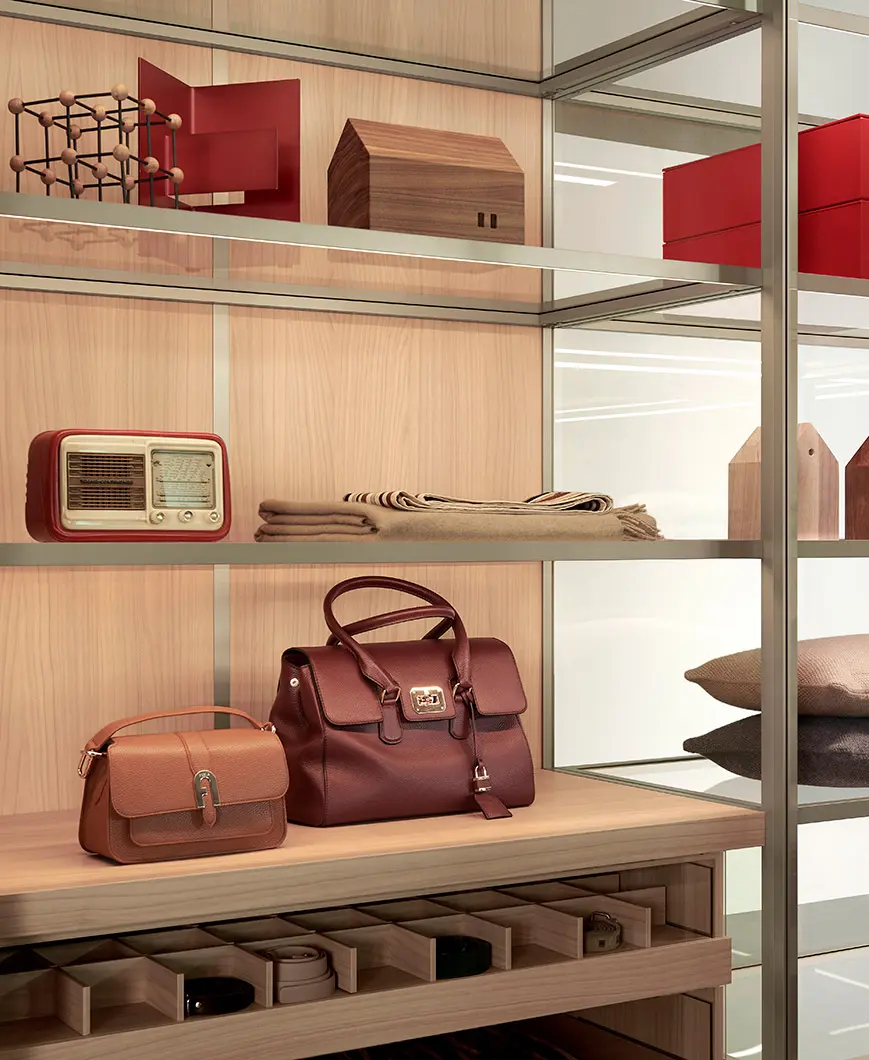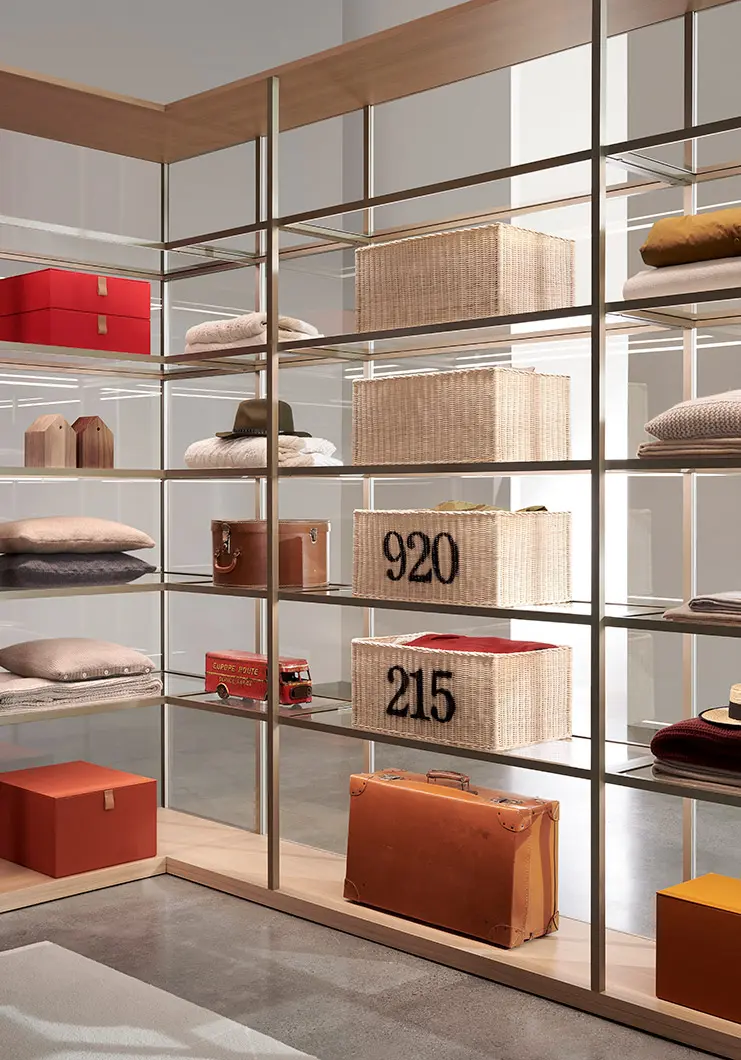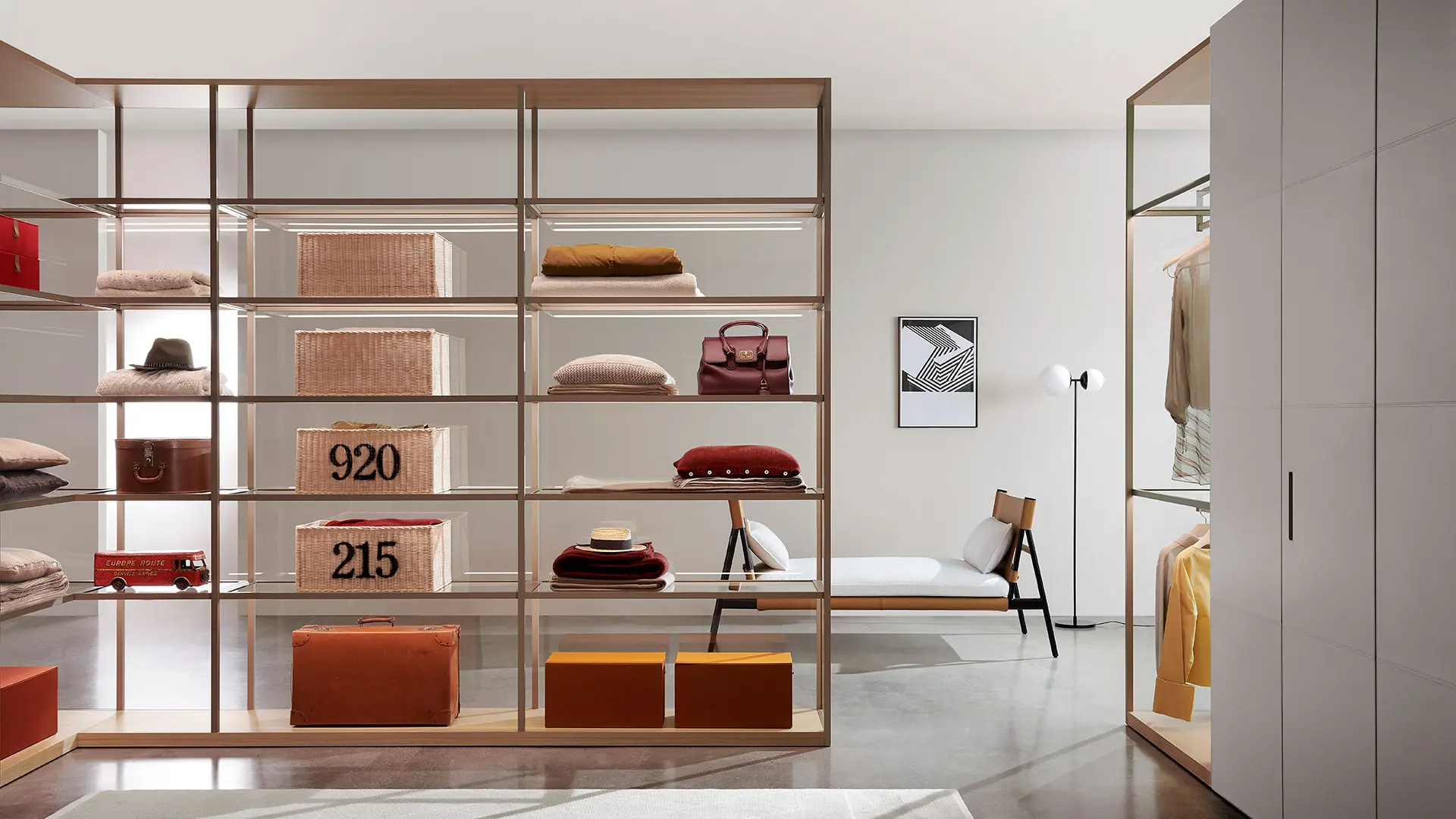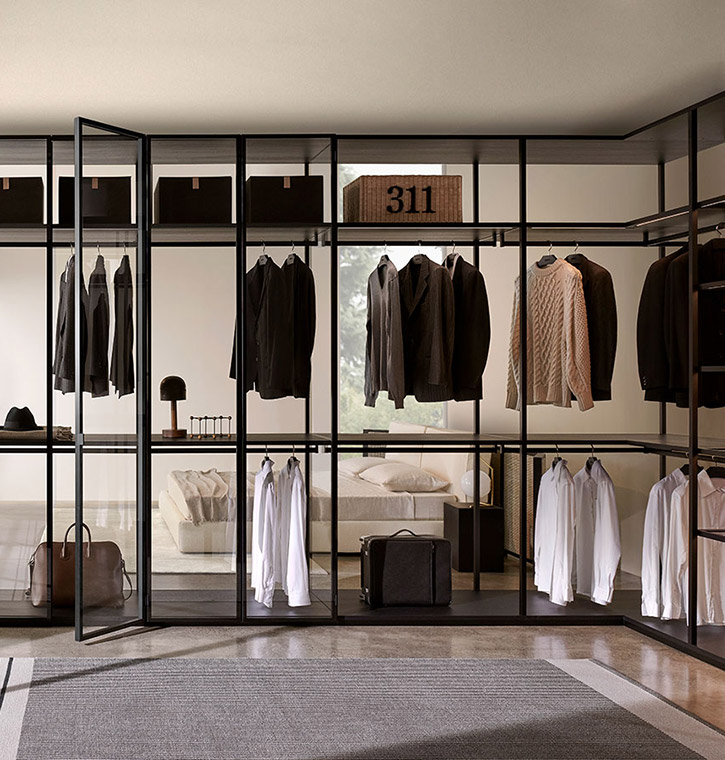 Product description
Storage is a complete programme designed to be functional and practical. It is able to hold and show different items by changing from cupboard to walk-in closet. It can efface itself in small rooms and in the meantime it can to determine large rooms by creating original living sets. The fair and elegant hinged, folding, pullout sliding and sliding doors hide ciliegio white, "cenere" hemlock, black sugi, mongoi, eucalyptus, HDS and matt colours lacquered equipped insides. Rich outfitting, in all finishings of our collection, liven up open walk-in closet with its basic frame held up by white, black, moka, "cenere" or cuvée varnished.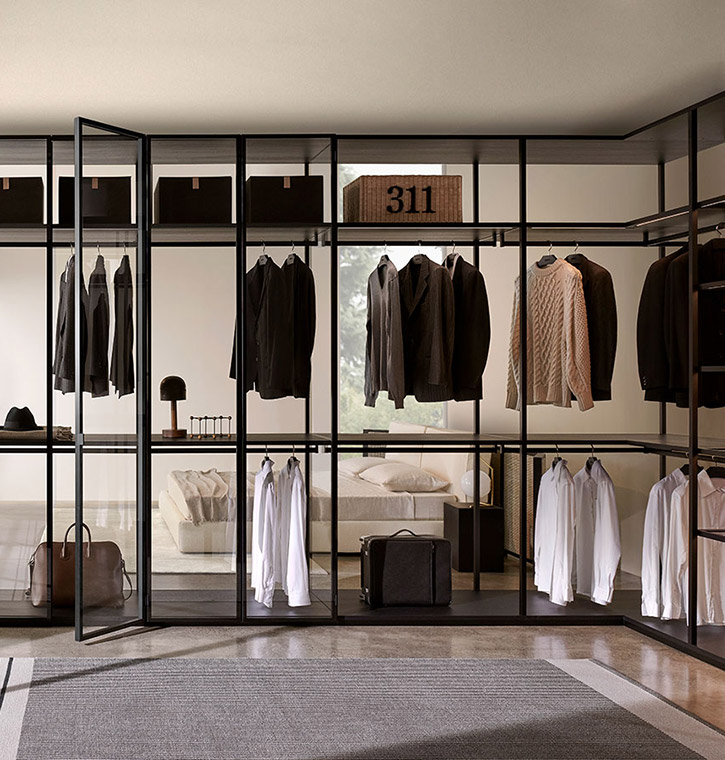 Product name
Storage dressing room
Designer
Piero Lissoni + CRS Porro
Dimensions
Depending on the composition
Product sheet
Storage

Collection
Storage closets

Official website
www.porro.com

BRAND SELECTION
OUR PRODUCTS