Tales of beauty and craftsmanship: communicating by video
Add to bookmarks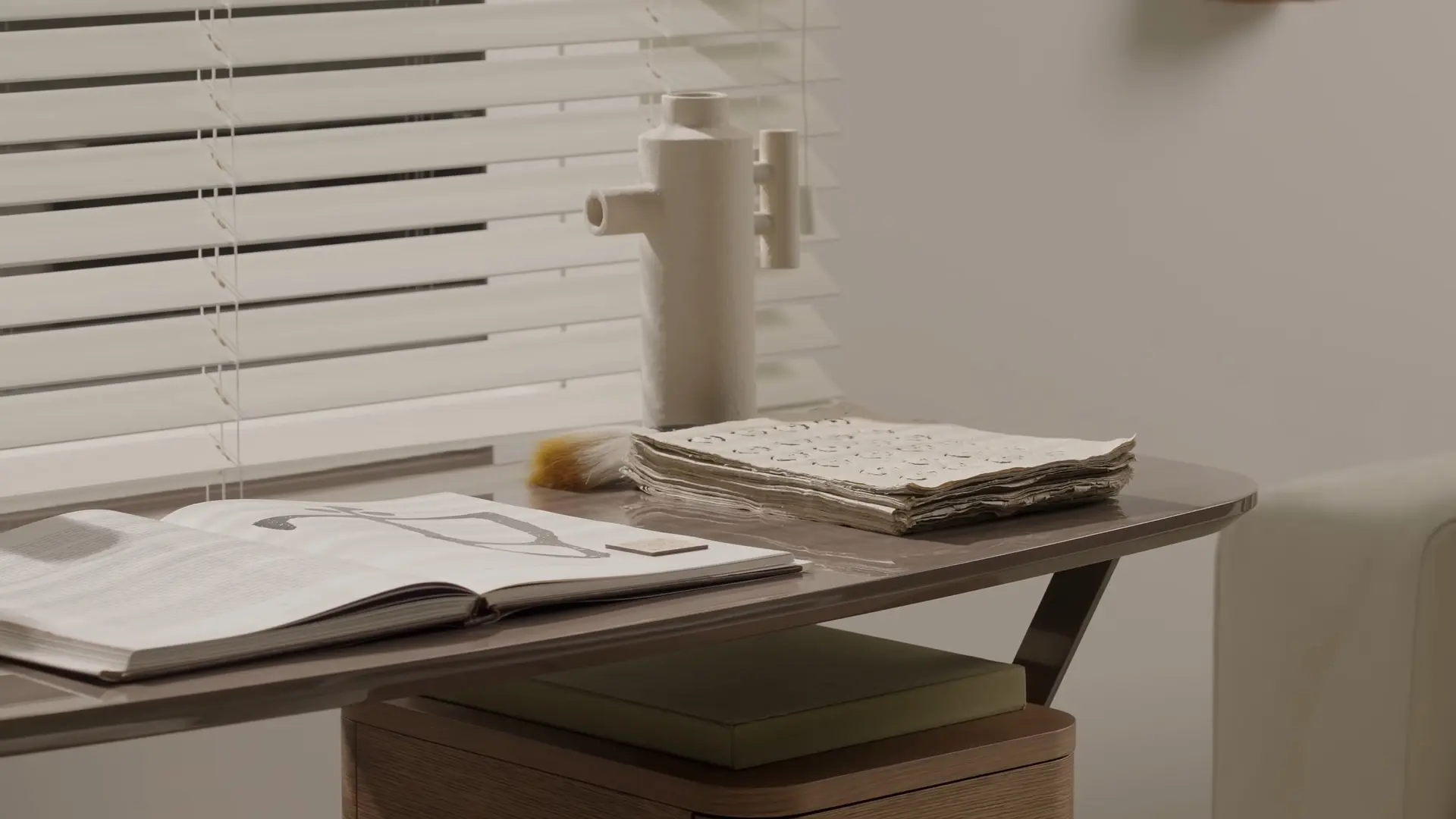 Website and social networks, emotional storytelling and technical content. For an increasingly global and closely targeted audience. Giorgetti, Meridiani, Minotti and Visionnaire describe their relations with digital media
"Materials, forms, colors: the search for perfection in the details is best expressed through vision." In the words of Eleonore Cavalli, art director of Visionnaire, a company whose name itself conveys a strongly visual outlook, we can grasp the synthesis of a shared feeling towards a medium, video, which is having far-reaching effects in the Italian furniture sector given that "digital has become a necessary factor in our daily lives,  as well as the languages related to it," as Cavalli remarks.
"It's a step that has become compulsory, especially since the pandemic, to reach the greatest possible numbers of people," explains Giovanni del Vecchio, CEO of Giorgetti. "Year on year, we're investing more heavily in video. It's a valuable tool, always seen as a backup to physical experience of the products, which is crucial."
Also at Minotti, digitization has picked up speed, integrating traditional channels and digital media into corporate storytelling. "The production of videos and animations is an activity that involves our Minotti Studio: the creative heart of our Meda headquarters, consisting of a team of communication professionals, graphic designers, videomakers and digital experts," explains Roberto Minotti, the company's co-CEO together with his brother Renato Minotti. "The first video launch was linked  to the 2020 Collection. Unable to meet with our usual business partners, we decided to create a video presentation describing not just the new collection, but also the research, inspiration and approach to design characterizing us."
"Video content is now popular on all platforms, whether social networks or the website, making it the most effective and  appealing way to communicate," explains Elisa Santambrogio, Meridiani's brand marketing manager. "But creativity and content are still the crux of communication. This is why videos are a valuable tool for conveying impressions and recounting the best of  our collections. You can create different ones depending on the functions: more emotional videos to present the product, more technical tutorials aimed at a specific audience or on an intranet for your retailers."
Emotional values, on the other hand, are a quality closely bound up with the spread of made in Italy worldwide. "Images, photos, words, music, sounds: these are the various media that, when combined, combine to create an impactful communication," continues Santambrogio. "The real key is to have an idea and be capable of bringing it to the knowledge of as many people as possible,  while leaving space for future curiosity."
For Minotti, the story of made in Italy passes through research, style and a creative path combined with production skills and experimentation.  "In between, there's a unique ability to take care of detail, refine form and continue to seek beauty. If a video can express all this, it certainly arouses emotions," comment Roberto and Renato Minotti. 
"The most emotional way to promote made in Italy is by using images to celebrate the mastery of our artisans who, working in sartorial ways, create products that are like one-off artworks. This wealth of knowledge and Italian know-how, which our eyes are often accustomed to, amazes international buyers. The creation of 'making of' videos is impactful in recounting the Visionnaire collections and the world of craft skills and values underlying each product," explains Cavalli, who adds: "We deliver to customers a meta-luxury product, whose value lies not just in its aesthetic-formal features, but in the whole universe of people, knowledge and culture of our country."
For Giorgetti too, it is important to be able to convey the human element behind each project, "from the designer, who narrates the concept of the product designed, to the company that retraces its development process and design challenges, all the way to the story of the people who give rise by their work to artifacts mingling craft skills and advanced technologies.  Every product we make," continues Giovanni del Vecchio, "has behind it a story deserving to be told." The Giorgetti group avails itself of the support of an external team of professionals, coordinated by the internal marketing-communication office, to produce videos best suited to the website, as on the various social platforms: YouTube,  Instagram, Facebook and WeChat.
Visionnaire takes a different approach. "We make the video materials inhouse, in terms both of the conceptual aspect and their actual production," explains Eleonore Cavalli. "There are also special projects during the year,  whose production is entrusted to external professionals, award-winning artists and directors, who have been working with the brand for many years."  The platforms most used by the company are Vimeo, YouTube, Instagram Reels and WeChat Channels. "By assessing the results obtained globally, we favor YouTube and Instagram Reels, which enable us to conduct sponsorship campaigns to reach a specific audience," adds Cavalli.  "WeChat Channels, on the  other hand, remain a reference platform for the Chinese market, with an audience already acquired over the years through communication on WeChat."
Interest in the Chinese market is increasingly felt also in the  production of videos. "Video pills and specially designed animations are created for our social networks  (IG, FB, Linkedin) and devised in particular for China (Little Red Book, WeChat). In this way we are sure to intercept the interest of our business partners with messages suitable for the channel that conveys it," explain the Minotti brothers. The main platform,  however,  remains the company portal: "The site is a powerful, interactive and dynamic communication tool. The video contents are embodied in different languages, sometimes sent out in thematic newsletters, or uploaded to platforms like YouTube and Vimeo," adds Roberto Minotti, at the helm of the company together with his brother Renato.  "We like to have total control of our productions, so we tend to coordinate each project inhouse with our dedicated team. Only for some specific initiatives do we rely on external professionals, able to competently express Minotti's DNA. "
The digital is now present everywhere," concludes Elisa Santambrogio, brand marketing manager at Meridiani. "Not only on the platforms, from social media to websites and passing through newsletters, but also in physical retailers, with maxi screens inside stores or with videos used by the sales force to describe the  product one-to-one."