Signature Kitchen Suite
INTRODUCES
Integrated refrigerator with French Door
The integrated refrigerator with French Door, designed with a focus on aesthetics and intelligent functionality, features one of the most versatile interior spaces in its class and interiors in glass and stainless steel.
The convertible drawer is extremely versatile and can be set like the refrigerator or freezer or independently regulated to four different temperatures: -1°C (meat and fish); 1°C (fresh drinks); 3°C (gastronomy refrigerator); 5°C (chilled wine).
The double-door refrigerator is equipped with three shelves illuminated by the intelligent True-View™ LED system, two drawers with telescopic guides and soft closing and 6 removable ABS balconies on the doors. The cold water dispenser, integrated in the internal side wall, does not detract from the refrigerator's capacity and is activated by pressing a lever directly with the glass.
The freezer drawer has an integrated auto ice-maker with a capacity of up to 2.3 kg of ice cubes.
The French Door is equipped with two independent Linear Inverter compressors that ensure excellent performance, reliability and silence at the highest levels. Each compartment is electronically managed by a dedicated evaporator.
The integrated refrigerator with French Door is WI-FI ready and can be connected to the home network. It is enabled for SmartThinQ® Control with iOS/Android App. The Smart Diagnosis System detects possible malfunctioning by means of the Signature Kitchen Suite app.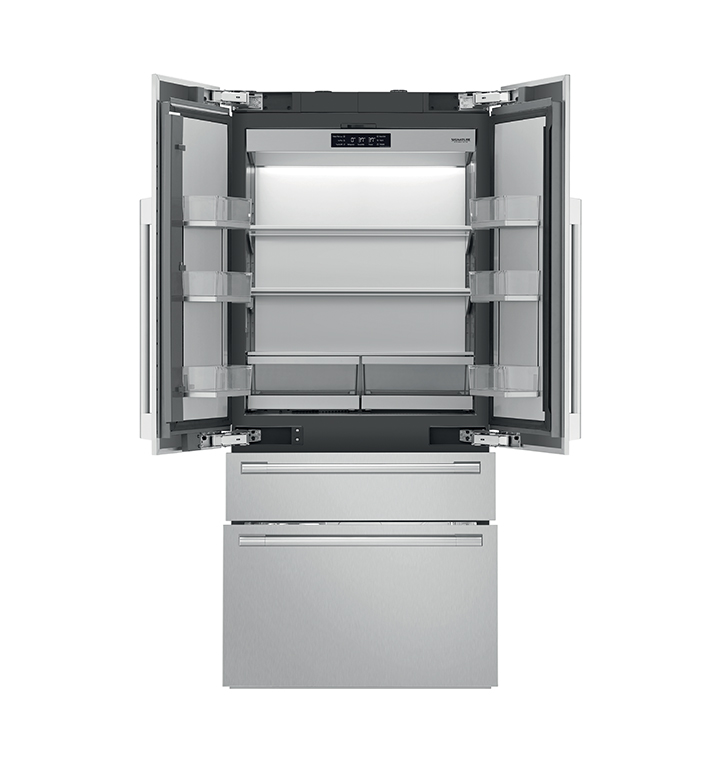 Product Overview
The integrated refrigerator with French Door is made of three zones: refrigerator with double door, freezer drawer and central convertible drawer.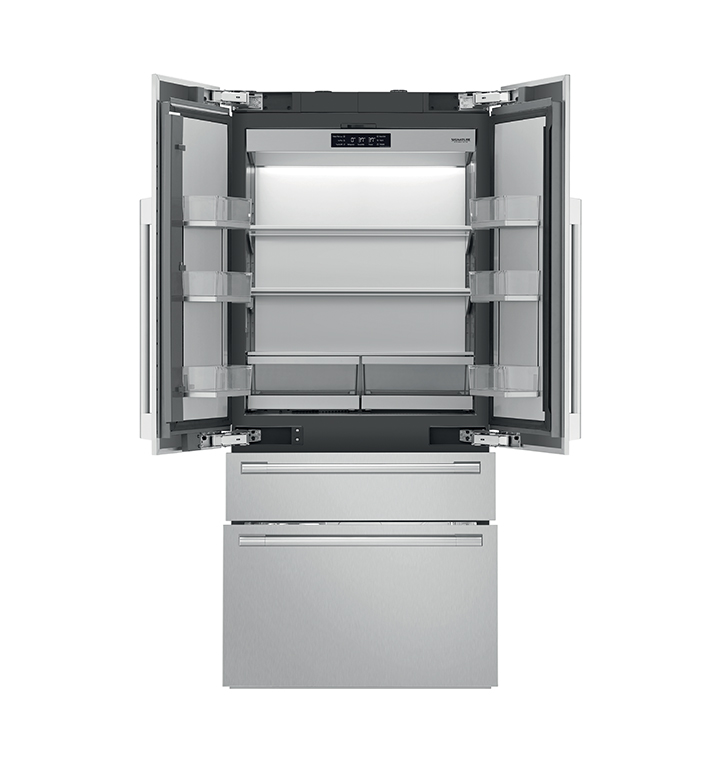 Product name
Integrated refrigerator with French Door
Designer
Signature Kitchen Suite
Product sheet
Download the product sheet

Official website
Visit the website

BRAND SELECTION
OUR PRODUCTS