Signature Kitchen Suite
INTRODUCES
24" Integrated wine cellar
Signature Kitchen Suite celebrates the passion for wine with a high performance wine storage product that combines elegant design, quality materials and smart technology. The 24" Integrated Wine cellar, with a capacity of 113 bottles of 750ml, can be set up with 3 separately adjustable temperature and humidity zones, each with a dedicated evaporator and stainless steel partition barriers.
The interior is entirely lined with stainless steel. The 10 shelves are made of beech wood, a natural regulator of temperature and humidity. The glass of the door is equipped with UV protection to avoid alterations caused by light. The Linear Inverter compressor makes the wine cellar extremely quiet and minimises vibrations, which are harmful to storage.
The Smart Knock Door technology allows the interior lighting to be activated without opening the door, by knocking twice on the glass. In this way you can view your bottles and choose the most suitable wine, without compromising the conservation, avoiding dispersion of temperature and energy.
The 24" Integrated wine cellar is WI-FI ready and can be connected to the home network. It is enabled for SmartThinQ® Control with iOS/Android App. The Smart Diagnosis System detects possible malfunctioning by means of the Signature Kitchen Suite app, permitting timely intervention. Among the features available via the app, there is also the possibility to activate a push notification that is received when the wine cellar door is opened.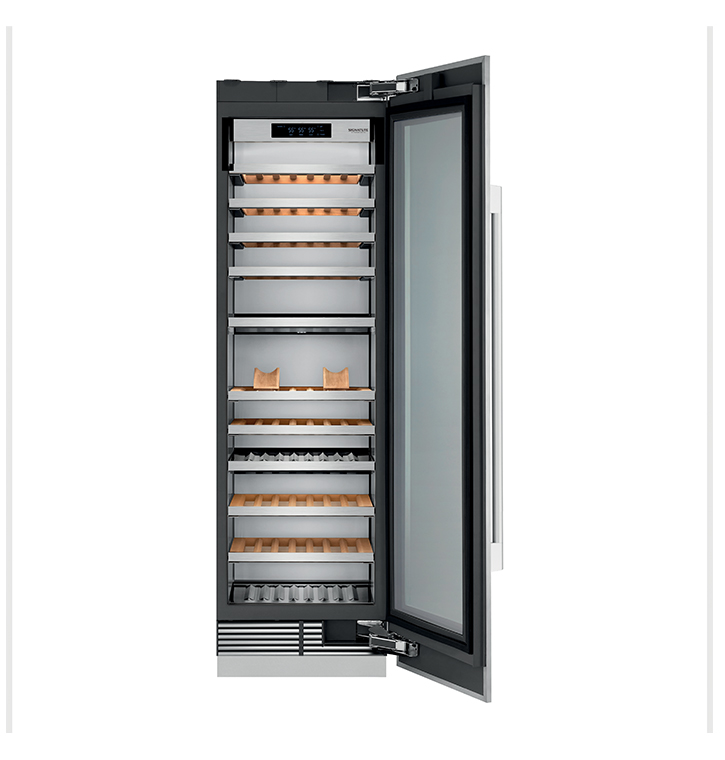 Product Overview
The 24" Integrated wine cellar is panel ready or can be fitted with stainless steel doors, available as an accessory kit. A 18" width version is also available.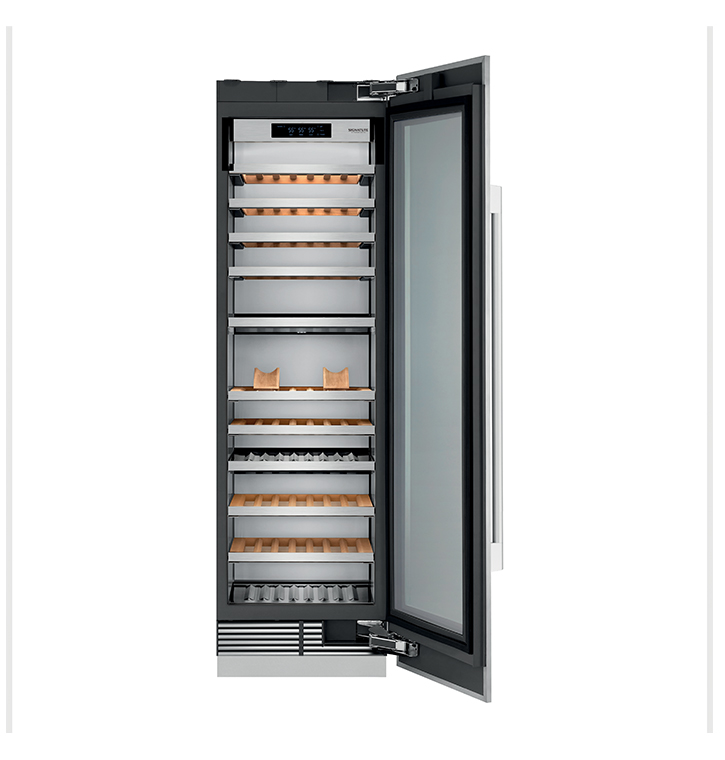 Product name
24" Integrated wine cellar
Designer
Signature Kitchen Suite
Product sheet
Download the product sheet

Official website
Visit the website

BRAND SELECTION
OUR PRODUCTS