Step e Spritz
Spritz and Step are brightly coloured fiberglass resin coffee tables with a sinuous and elemental three-legged base and a round table top, which stand out for their peculiar dual function.
Indeed, they are equipped with a kit to adjust them to two different heights, for enhanced freedom of use in any context and according to specific circumstances.
Smart, practical and contemporary furnishings that are in keeping with the brand's meticulous and unstoppable design research, Spritz and Step come in the standard version with a height of 76.5 cm (Ø 60.5 cm) and a mini version with a height of 40 cm (Ø 60.5 cm).
With their distinctive seductive design and structural ambivalence, they prove to be enjoyably eclectic, comfortable and extremely chic.
Ideal for embellishing open air settings, but also perfect for indoor use, Spritz and Step come in colours to suit all tastes, from energetic red and sky blue, to sophisticated dove grey, coffee and anthracite, and of course the evergreen white.
Especially decorative is Step's table top, which is designed with a slotted pattern that also makes it highly water-permeable. Spritz and Step are extremely easy to assemble, practical to stow away in confined spaces and require no end-of-season maintenance.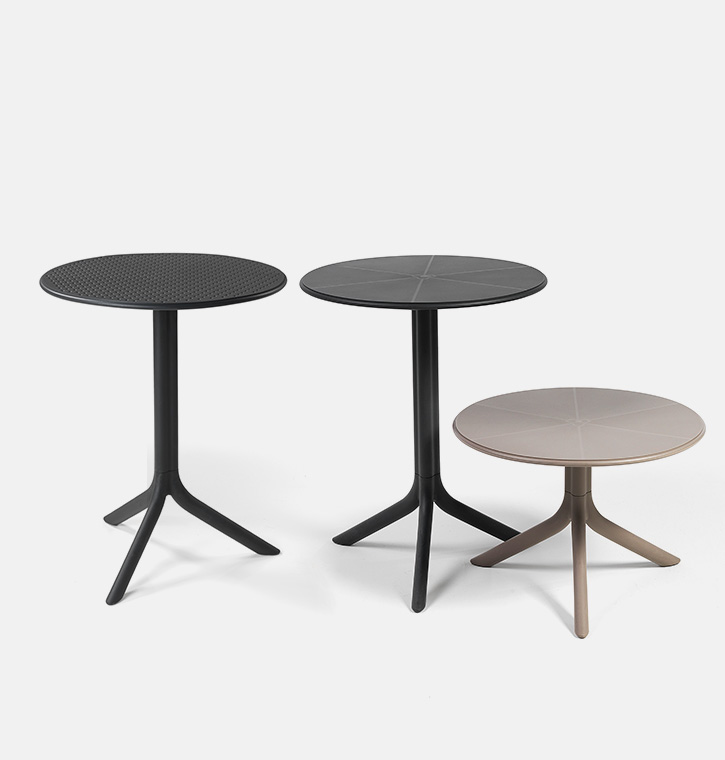 Descrizione del prodotto
Tables with center column and 3 spokes in uniformly colored fiberglass polypropylene resins with UV additives.
Demountable. Matt finish. With non-slip feet. Double height option: 40cm / 76,5 cm.
Recyclable resin.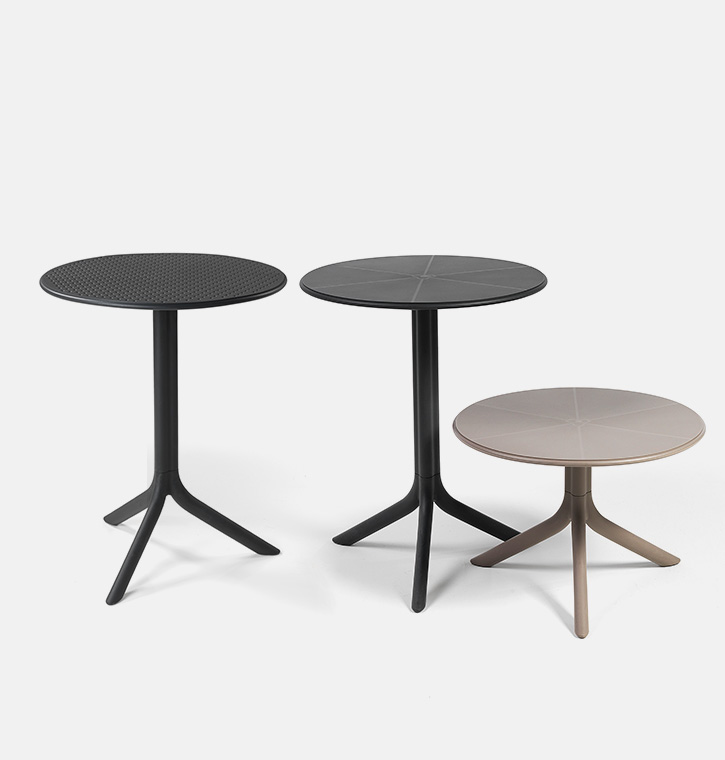 Product name
Step e Spritz
Designer
Raffaello Galiotto
Scheda prodotto
Nardi - Step e Spritz

Collezione
Nardi - Step e Spritz

Sito web ufficiale
Nardi - Step e Spritz

BRAND SELECTION
OUR PRODUCTS