Komodo
Whatever your idea of rest is, Komodo is the solution.
What could be more relaxing than spending your spare time out in the open air, comfortably seated as if in a sitting room yet surrounded by nature?
Komodo is a garden / or / outdoor sofa and much more too, it is a system of elements that can be connected as you see fit to create your own personal experience of outdoor relaxation.
A modular system of upholstered seats in fiberglass resin for outdoor use, offering great composition flexibility. It can be configured as desired depending on space, taste and needs.
The system allows for countless configurations, from the most classic to the most original and creative, with no limits to the number of seats and with design solutions that can be changed and/or added to in time.
Komodo is inspired by the rounded, joined shape of tree branches, and is designed as a stable lattice frame to which backrests and cushions can be attached on all sides. Nature inspires also the innovative attachment system between backrest and seat, which occurs simply by rotation (patented system); in this way there are no visible joints or holes. Composition customisation applies to cushions as well, which can be attached to the lattice frame with a simple, intuitive click system. They are available in a range of colours and fabrics.
Komodo Ombra
Le raffinate atmosfere open air della collezione Komodo si arricchiscono del nuovo funzionale sistema di copertura Komodo Ombra, una coreografica filiforme struttura in resina fiberglass e tessuto dall'etereo effetto ombreggiante.
Concepito per la progettazione di salotti open air che possano beneficiare anche di rigenerante fresco nelle ore più calde, Komodo Ombra ha un disegno ispirato alla leggerezza e alla flessibilità dei giunchi: grazie a questa geometria aerea caratterizzata da estrema elasticità, la struttura, accarezzata dal vento, ondeggia delicatamente.
Facilmente montabile e smontabile, meno ingombrante di un ombrellone e di sicuro effetto scenografico, Komodo Ombra è applicabile al sistema di sedute imbottite Komodo a due e tre posti. Il tessuto tecnico della copertura Velo è proposto in bianco naturale, che ben si adatta alle diverse colorazioni delle strutture e dei cuscini.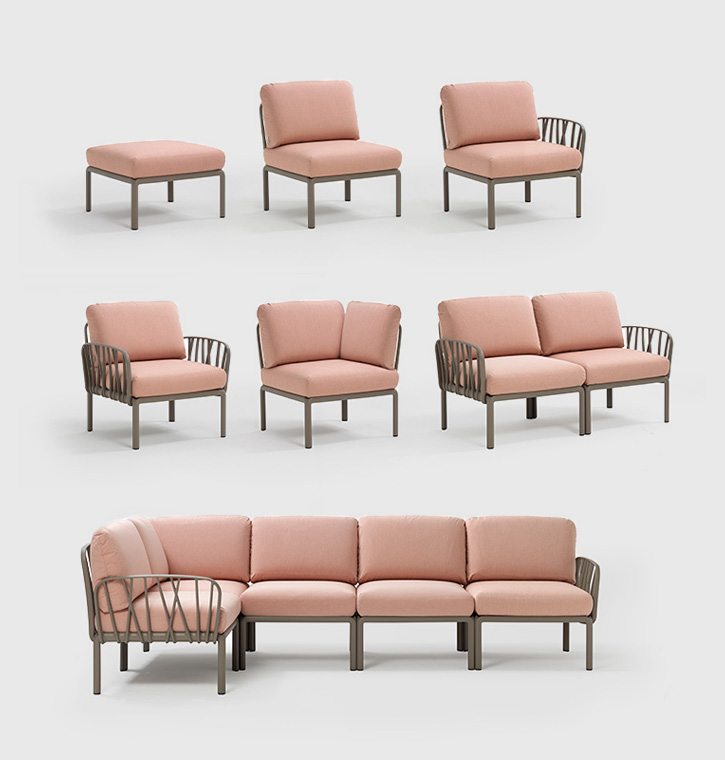 Product Overview
Modular system of upholstered seats.
Frame is of uniformly colored fiberglass polypropylene resins with UV additives.
Backrest and armrests can be attached on all sides of the seat.
Demountable. Matt finish. With non-slip feet.
5 seat cushion kit included in the packaging.
Recyclable resin.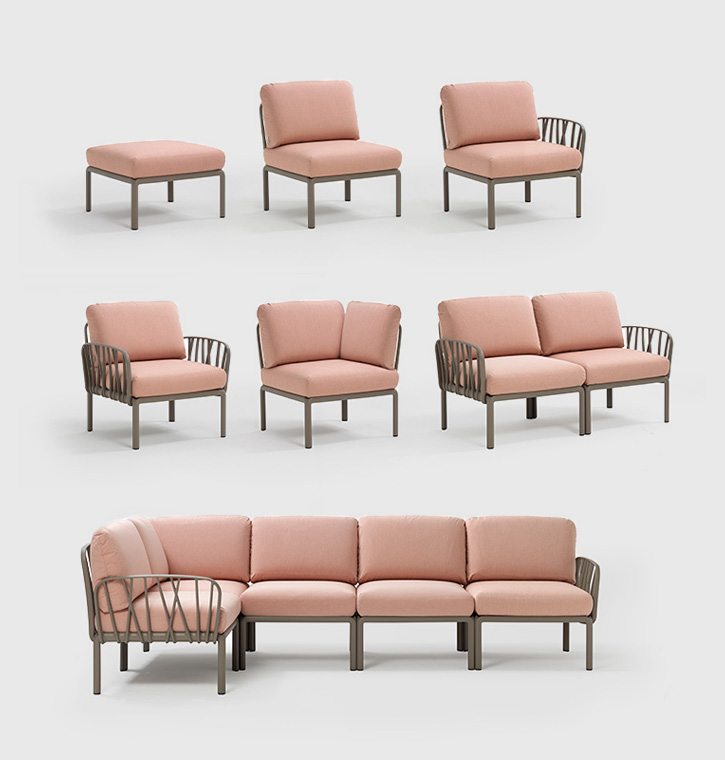 Designer
Raffaello Galiotto
Materials
Poliestere, Polypropylene
Features
angular, componibile, ergonomic, stackable, transformable
Product sheet
Nardi - Komodo

Collection
Nardi - Komodo

Official website
Nardi - Komodo

Designed by

Raffaello Galiotto
BRAND SELECTION
OUR PRODUCTS