Awards and Innovation, lessons from Made in Italy
Add to bookmarks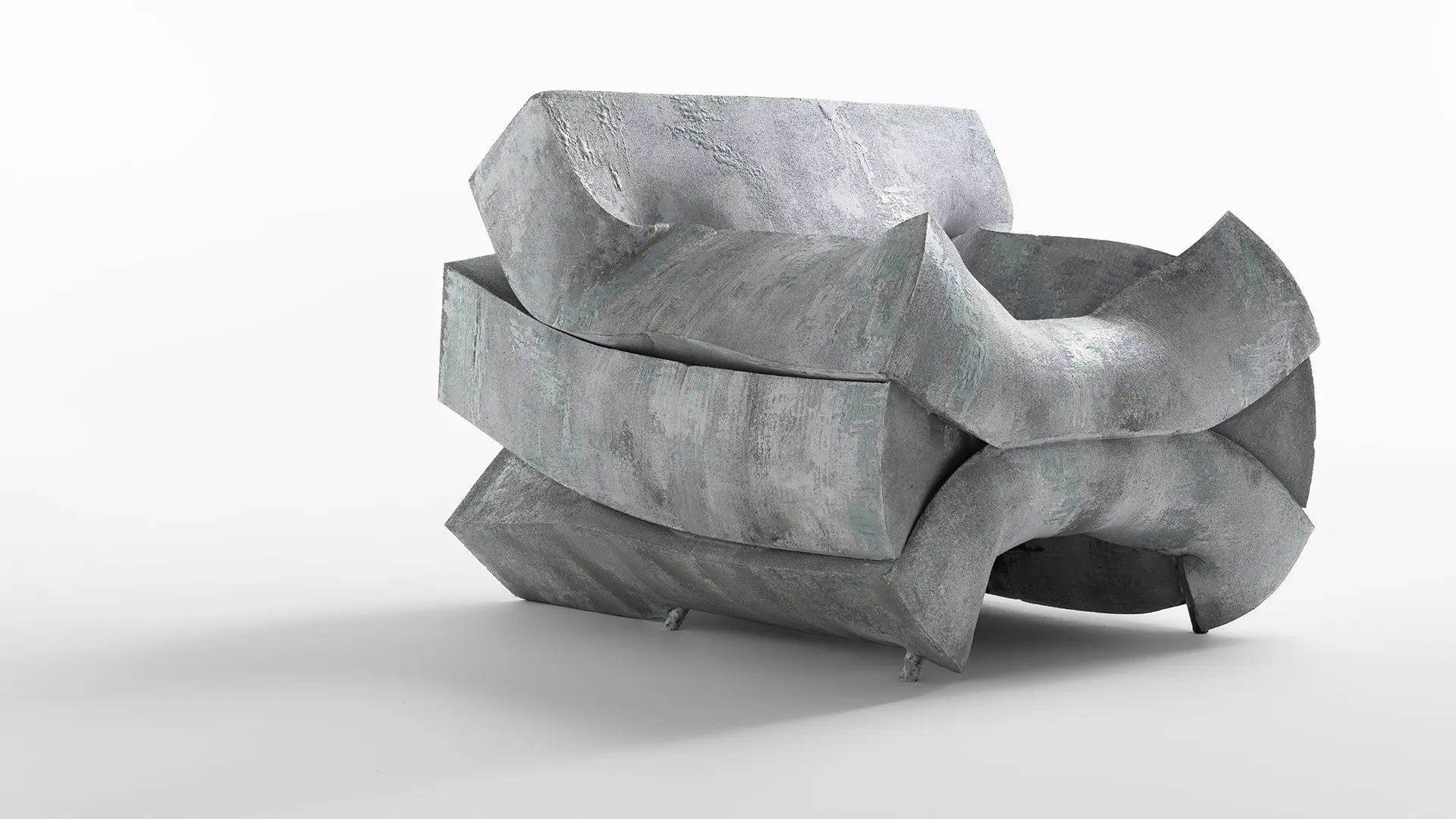 Sustainability, experimentation and thinking outside the box. A perfect balance of Italian know-how and international creativity underpins three award-winning 2022 case studies
What makes a design product into an award-winning furnishing piece? The answer – either direct or by inference - from the designers and entrepreneurs interviewed for this article, is the desire to never be boring, to constantly push oneself to do better – seeing awards as a stimulus rather than an end point – and to experiment with hitherto untried approaches which, if they take root in the aesthetic imagination of the public, lead to commercial success and international recognition. While the stories and creative visions are intrinsically different, their common ground is rooted in the Made in Italy production concept, in that typically Italian ability to bring together the detail of an aesthetically recherché design and the top technological market solutions.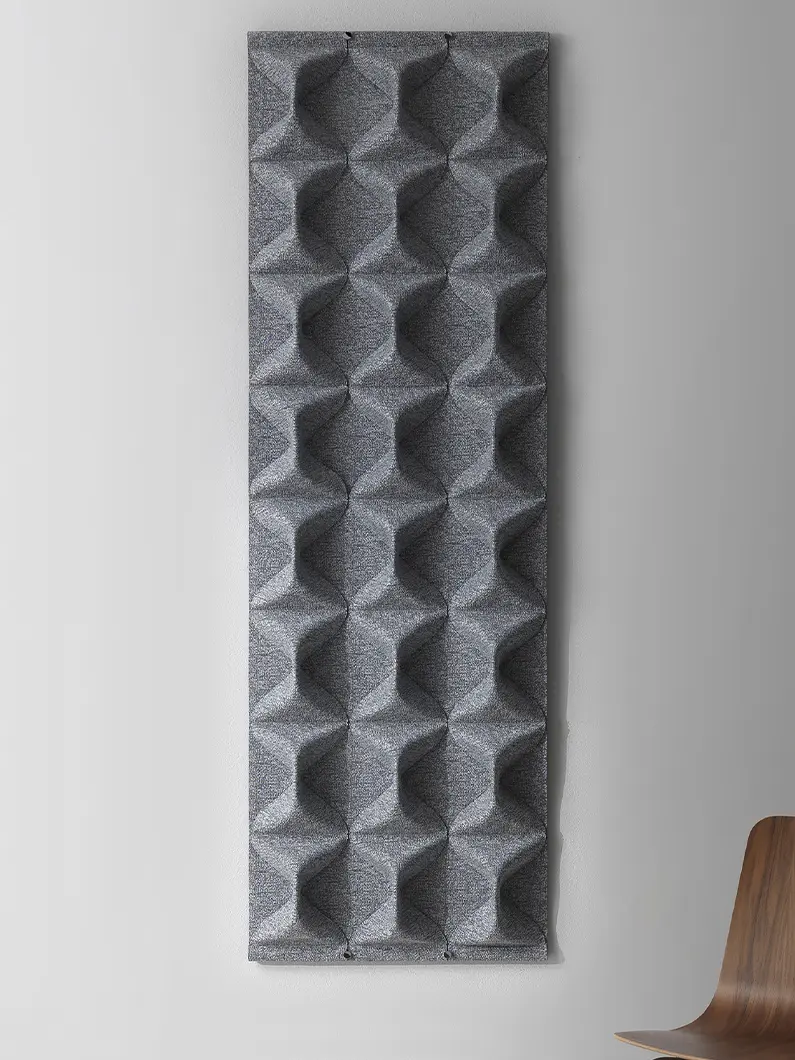 Klipper is perhaps the most shining example, not just because it netted a 2022 ADI Compasso d'Oro, but because it encapsulates an experience that saw a 28-year-old Danish designer and the over 90-year-old head of an Italian company come together.
"Klipper is the summation of a highly emotional and satisfying story, because it tells of a young designer reaching the very top rung of the sector. We met Felicia Arvid at Salone Satellite 2018," says Franco Caimi, CEO of  Caimi Brevetti, a company with another two ADI Compasso d'Oro ADI Awards under its belt. "We saw his work when we were visiting the area devoted to the under-35s, including the product that was to become Klipper: we liked it, but it was still just a concept."
Then came the decision to develop the actual product, a sound-absorbing system with Snowall technology and a bouclé covering, composed of two superimposed layers of fabric. "It's a product that has a place in the home, in restaurants, hotels and offices. It's an aesthetically pleasing design object with a hidden function, like a tapestry or a furnishing piece - which it effectively is - but its primary technological function, developed in our workshops, is to eliminate noise, making people feel more comfortable in enclosed spaces," continued Mr Caimi.
Klipper is produced entirely in Italy and can be totally dismantled for post-consumer recycling. The use of high-quality materials guarantees a longer product life, while the use of sophisticated technologies, which ensure excellent acoustic performance, cut waste.
"Technology plays a fundamental role, particularly as regards the latter: the higher performance of the product, the less material is employed,  and the more resources are saved. It's a key issue for us. We allow researchers, designers and artists to use our workshops free for the purposes of experimentation and innovation, the only condition being that they have a social impact," added Franco Caimi.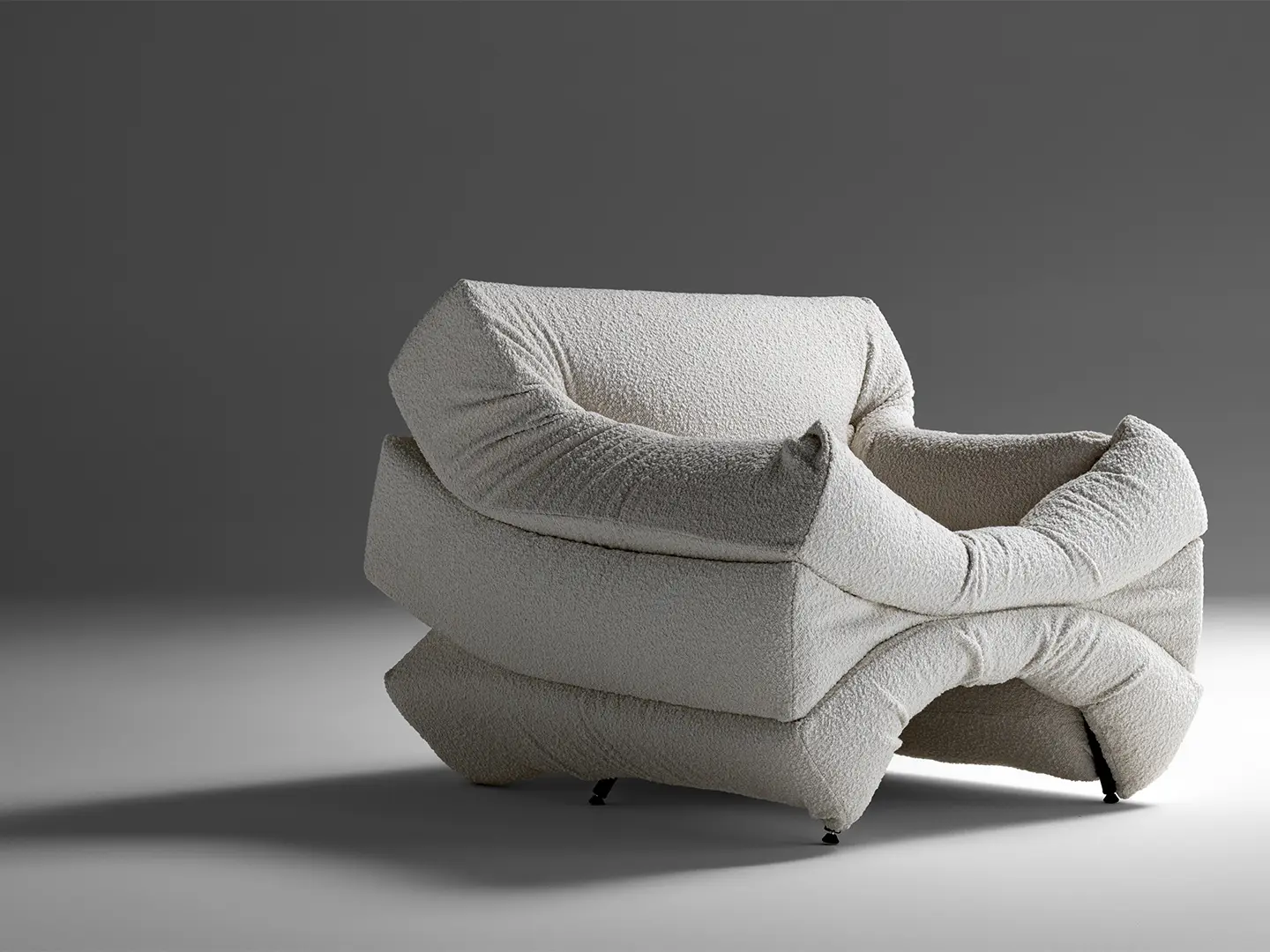 Sustainability, experimentation and thinking outside the box lie behind  Mass Pressure, the Horm armchair designed by Dror, which won a 2021 NY Product Design Award and a 2022 International Forum Design Award.
"Dror Benshetrit is an Israeli creative, designer and architect living in the US, who does his best to make the world a better place, no mean objective, but someone has to try and do it. During a visit to his studio in New York, I saw the prototype for this object: a cubic metre of compressed  foam rubber, cut into three sections, giving the appearance of an armchair. We decided to produce it, respecting Dror's wish that it should not only be a consumer piece, but also have a scope, a meaning," said Renato Zamberlan, art director of Horm and a friend of Benshetrit for the last ten years.
The message is in fact powerfully bound up with the form: a compressed mass to transmit the idea of the pressure to which humans, in all their manifestations, subject the planet. "It's a work of art with a dual aim: alarm and action," added Mr Zamberlan.
Mass Pressure is a unique piece, produced in collaboration with Novacolor, an Italian company specialising in water-based paints and decorative elements, presented at "supersalone" last year and totally hand-painted.
"It went down really well, both for its message and for the fact that,  prior to that, nobody had explored such simple, yet complex shapes. There's always a  powerful response: our philosophy is to try and make products that are never boring, statement pieces that are never received with indifference. In this case, the innovative element was working out how to compress the material."
It became enormously complex once the artwork was translated into a furnishing product, from being hand-painted to being covered with fabric, from carrying a message to also being used for its primary function: a chair. "The greatest challenge was to make it comfortable: taking a cubic metre of rubber and compressing it has meant that the seat itself is as hard as marble. We aimed to achieve the comfort that one expects from an armchair, preserving the original idea and aesthetic," Mr Zamberlan went on. In the world of today, therefore, even sustainability cannot simply be guaranteed by the use of eco-compatible products, it also has to apply to the lifecycle of the piece which must, first and foremost, be completely  disassemblable, ensuring that every single part can be recycled. "By employing simple screws, housed beneath the armchair, the metal part of the structure can be separated from the rubber part, which can itself be separated from the natural fibre fabric through the incorporation of zips. Producing less but better is the way we approach the issue," concluded  Renato Zamberlan.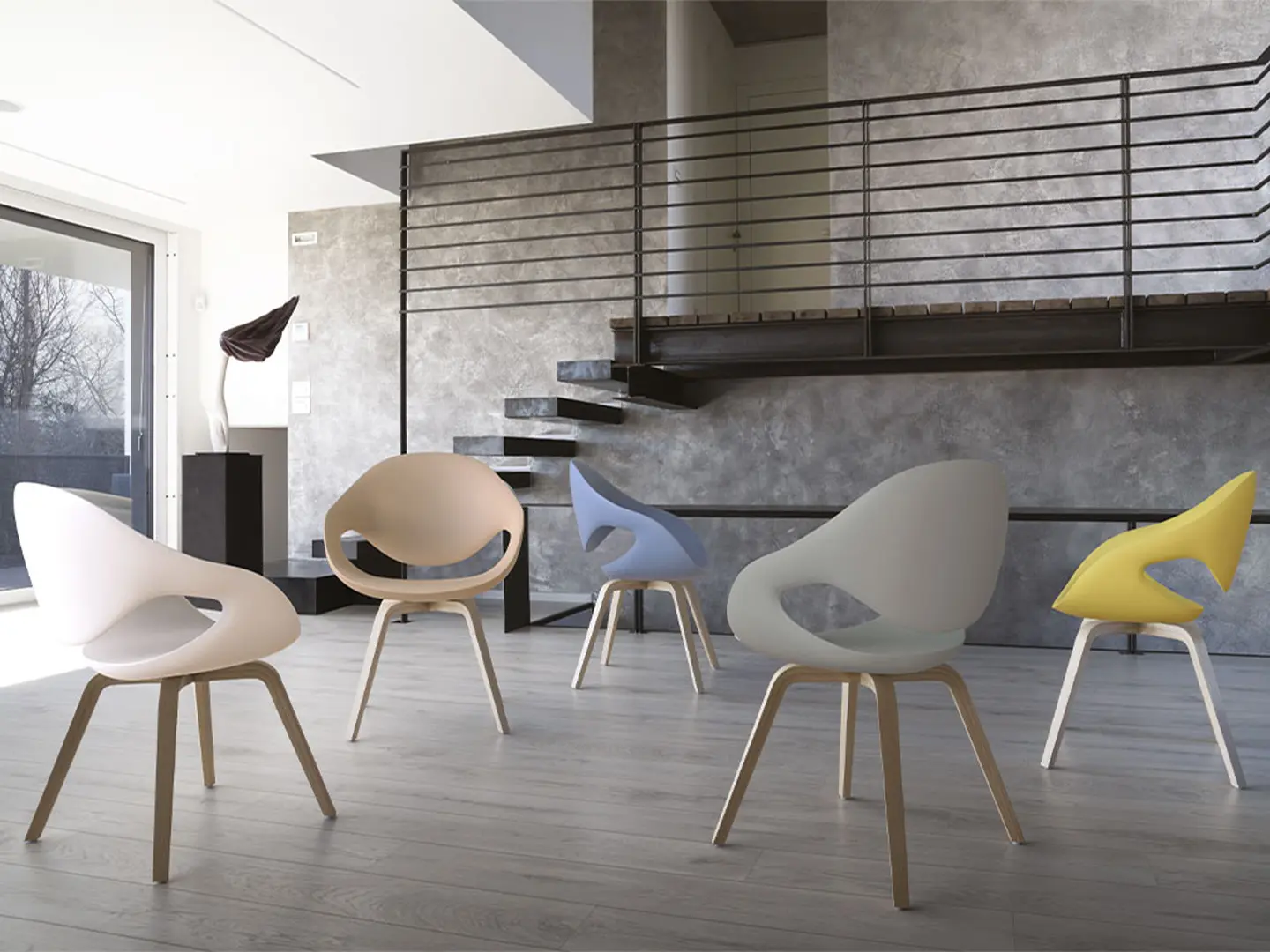 From the province of Pordenone to that of Udine, for another furnishing piece that brings the creativity of a European designer together with Italian manufacturing and technology. The Moon chair collection, designed by Mac Stopa for Tonon, netted a 2022 Iconic Award: Innovative Interior – it is a furnishing project with a powerfully natural feel, thanks to the organic forms employed.
"Becoming more involved in the furniture segment allowed me greater scope for my interest in nature and for almost sculptural pieces that give shape to a natural mimesis," said Mr Stopa, an architect and industrial designer who set up the Massive Design studio in Warsaw some 20 years ago. "I like geometrical and curved lines because they help make objects more fluid and dynamic. That's why I was one of the first designers to acquire a 3D printer for the studio, over 10 years ago, for experimenting new approaches to our work."
He believes that Italy in its entirety is the capital of design: the legacy of classical architecture, the mid-20th century design, the detailed craftsmanship, the new technologies, the use of materials, all come together so well as to suggest that any project is possible. "The approach to manufacturing in Italy is truly special because the starting point is often the desire to do something different, which turns the whole system on its head. In other parts of the world, on the other hand, the tendency is to produce a different version of something that has already been done."
Sandro Tonon's relationship with the Friuli-based company, especially where the Moon project is concerned, was triggered by the latter's investment in injection moulding, a process that allows for the production of more flexible and comfortable furniture. One example is the Moon chair collection, in soft-touch integral polyurethane, with a waterproof covering that's as soft as a second skin, yet crushproof.
"This sort of technology enables the furniture to be 'sculpturised,' making for the maximum possible flexibility, with organic, adaptable forms that are more akin to the world of craftsmanship. Moreover, it makes it possible to produce a collection of products of different colours and sizes, based on consumer demand. Moon's great strength lies in its many variants – the backrest can be open or closed – and dimensions – large, small, even a stool version," commented the Polish designer.