Green Vibes
Add to bookmarks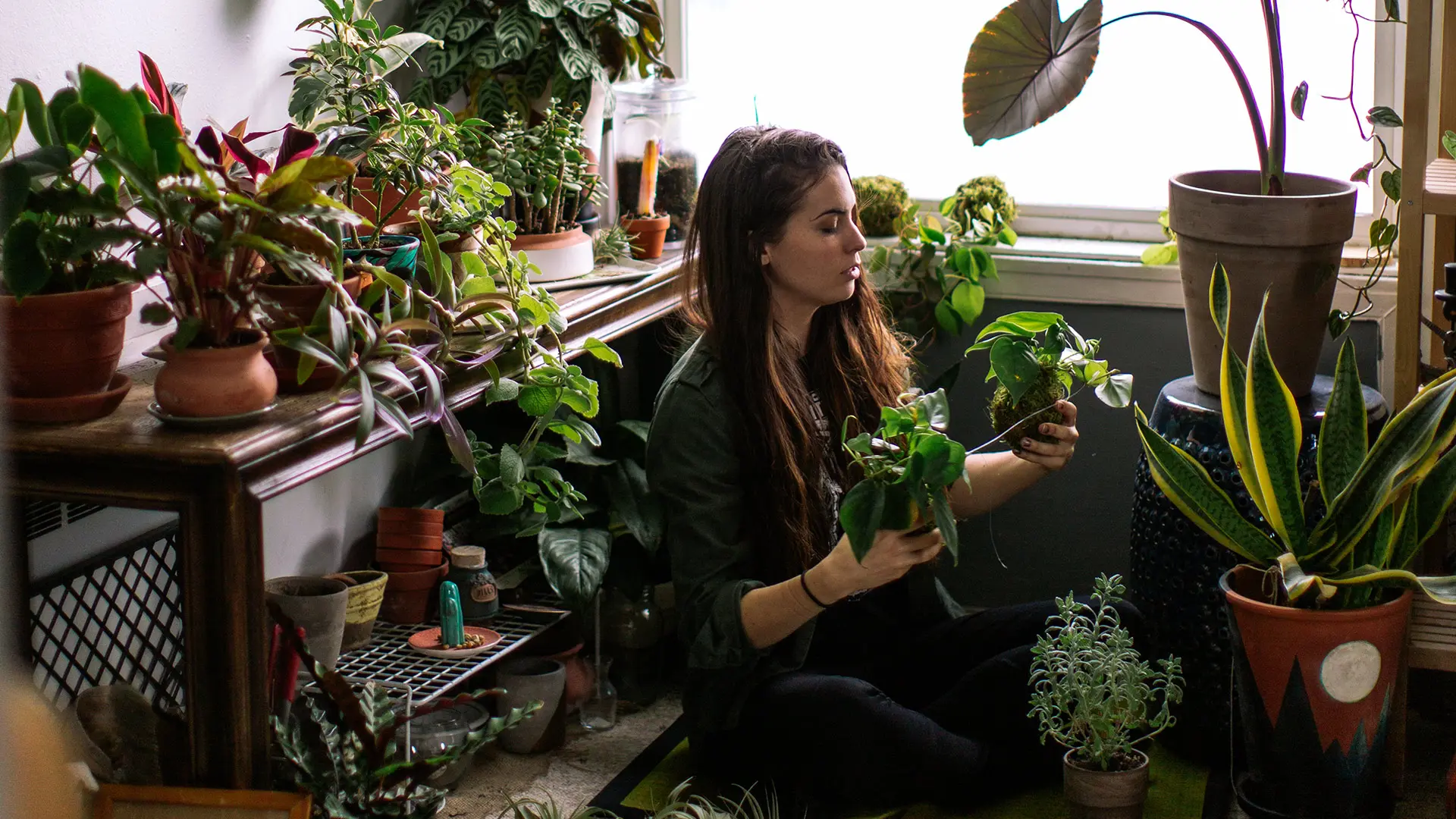 A long way from the image of the typically British activity for over-60s, gardening is enjoying a renaissance and micro-gardening seems to have become a craze for younger people.
"Paradise haunts gardens, and some gardens are paradises," remarked Derek Jarman (yes, that Jarman, the artist, filmmaker and political activist) at the beginning of the book – illustrated with captivating shots by Howard Sooley – on the garden he created in a surreal corner of Kent – a flat, barren expanse of shingle, with the Dungeness nuclear power station looming on the horizon, and where the filmmaker enjoyed seeking out wild hyacinths with his partner and Tilda Swinton. A book that elevates gardening to an art form.
Igor Josifovic and Judith de Graaff, professional digital writers, green influencers and founders of the Urban Jungle Bloggers community, which became a global phenomenon (1.2 million followers on Instagram), who bring that nature into the home, would agree with him. Theirs is not just an aesthetically driven passion but a genuine love. Plant Tribe, their latest pamphlet, is an empathetic tale of the power of plants to change our lives: looking after them lowers stress levels and boosts the immune system, improves air quality and releases a burst of energy and creativity.
Two books that could well secure a place in Greta Thunberg's library, in fact. Those, too, of all those Millennials and the entire Gen Z, that have discovered a new passion for micro-gardening over the last two years, which has become a mainstream trend, both where indoor pot plants and tiny allotments are concerned. In fact, this "green" craze is really taking off in the USA, France, Germany, the UK, Scandinavia, Canada and Italy. In terms of numbers, an American poll has shown that 80% of the 6 million novice gardeners are aged between 18 and 34, while the online retailer AO.com (which operates in the UK and Germany) reports that 62% of Millennials admit to having considered green spaces vitally important during lockdown.
This is further confirmed by green-themed television programmes, which are netting huge audiences, such as the UK's The Big Flower Fight (Netflix), a sort of Masterchef for florists, and online independent retailers - Lezio, Bakker, Flobflower in Italy, The Sill, Bloomscape and Bergamotte in Europe – which are steadily taking on the sectoral giants. Then there are burgeoning, diverse applications such as Planta, Florish, Gardenia and Vera, which offer advice and instructions on how to look after each and every sprout, as well as cutting edge services such as smart diagnoses on their state of health, watering reminders and expert consultations. Furthermore, on Google and Pinterest, research into indoor micro-vegetables, aromatic herbs, and edible flowers, as well as pot plants, saw a 223% spike in 2020 compared with the previous year.
So, given that gardening, even in micro form, born of the passion for and culture of biophilia that's at its height right now, is becoming a way of life, design has taken this on board and launched new projects accordingly. Starting with the proper equipment - Giulio Iacchetti designed the Orte gardening set for Internoitaliano – a painted metal hoe, six-pronged rake, and a shovel – with a wooden base onto which the implements can be affixed once finished with, and the Idro watering can, a "green" object in every sense – purpose, manufacture and shape. Made entirely by hand, the flared upper part is useful for collecting rainwater. Otherwise, Diva by Alessi designed by Eero Aarnio is a functional and ironic watering can made of thermoplastic with a comma shape that gives it a sense of movement even when not in use. The importance of choosing the right tool for uprooting, cutting, collecting and grafting cannot be overstated, and Opinel has come up with the perfect collection of gardening knives, secateurs, pruning knives, and small saws.
There are thousands of potential containers, large or small, original or not, to choose from. For those with large terraces, Romeo and Juliet from Extremis is a winner: a biophilic seat that encapsulates and brings nature along with it. Made of long wooden slats, it seems to float between two plants in a romantic marriage of nature and function. Patricia Urquiola's Cassero collection for Serralunga is inspired by the concrete moulds used in the construction industry and is designed to bring plant life indoors. A domestic descendent of the Vertical Forest? The Albero flowerpot stand by Achille Castiglioni for Zanotta fits the bill, with its subtle presence, dynamic composition and flexible design – an unusual structure that carefully accommodates the plants on round plates placed at regular intervals along its height, while horizontally every element is able to rotate by 120 degrees, so as to better organise the arrangement of plants of differing sizes. Unexpected domestic oases can be created with the Cigales planters by Paolo Cappello for Miniforms -freestanding, wall-mounted and/or with mirrors – conceived for a positive lifestyle that sets up a relationship with people's psycho-physical equilibrium.   Meanwhile, Window Garden Pendant is a stylish intelligent hydroponic irrigation system incorporated into porcelain vases by BIG for Danese.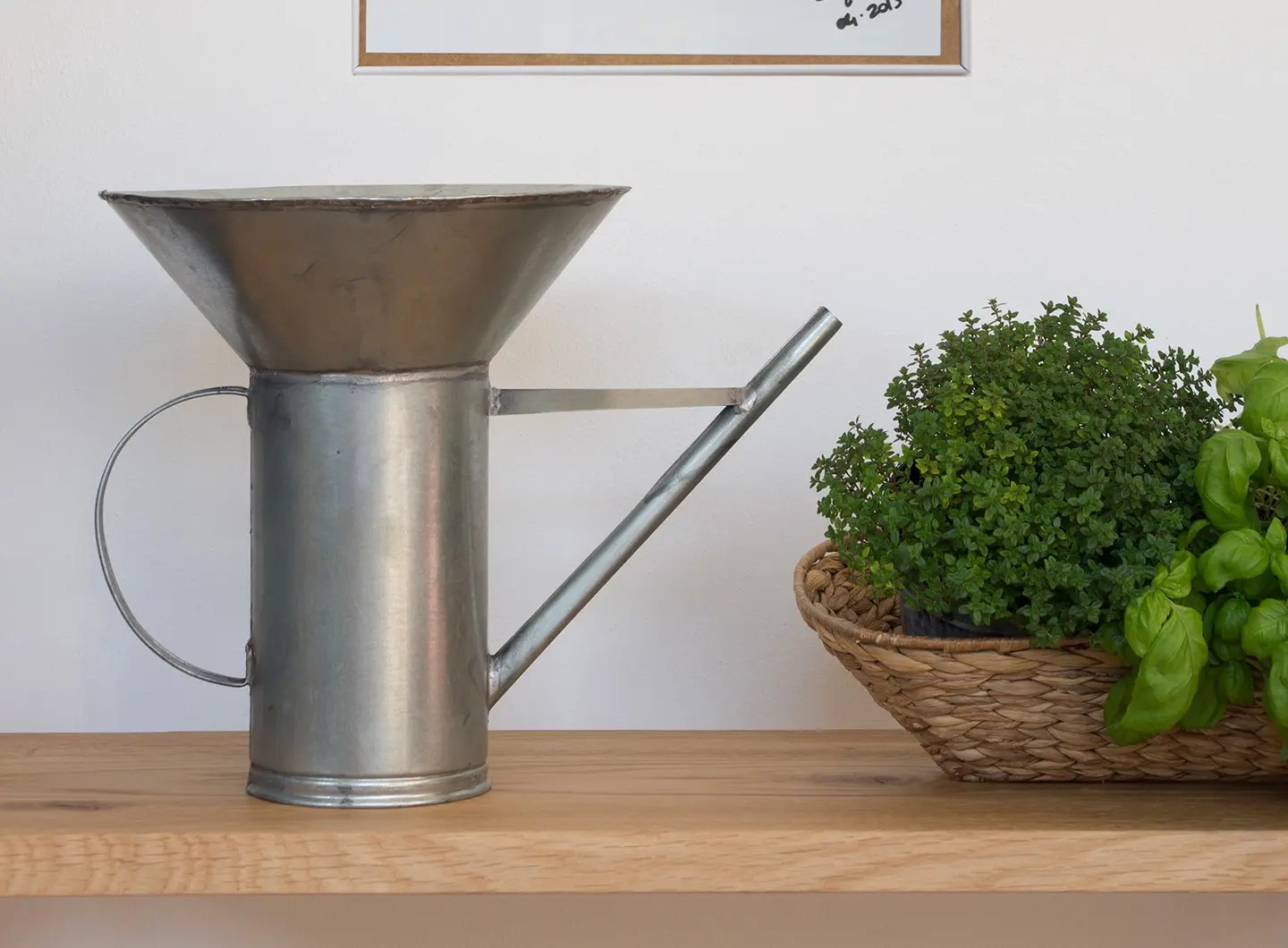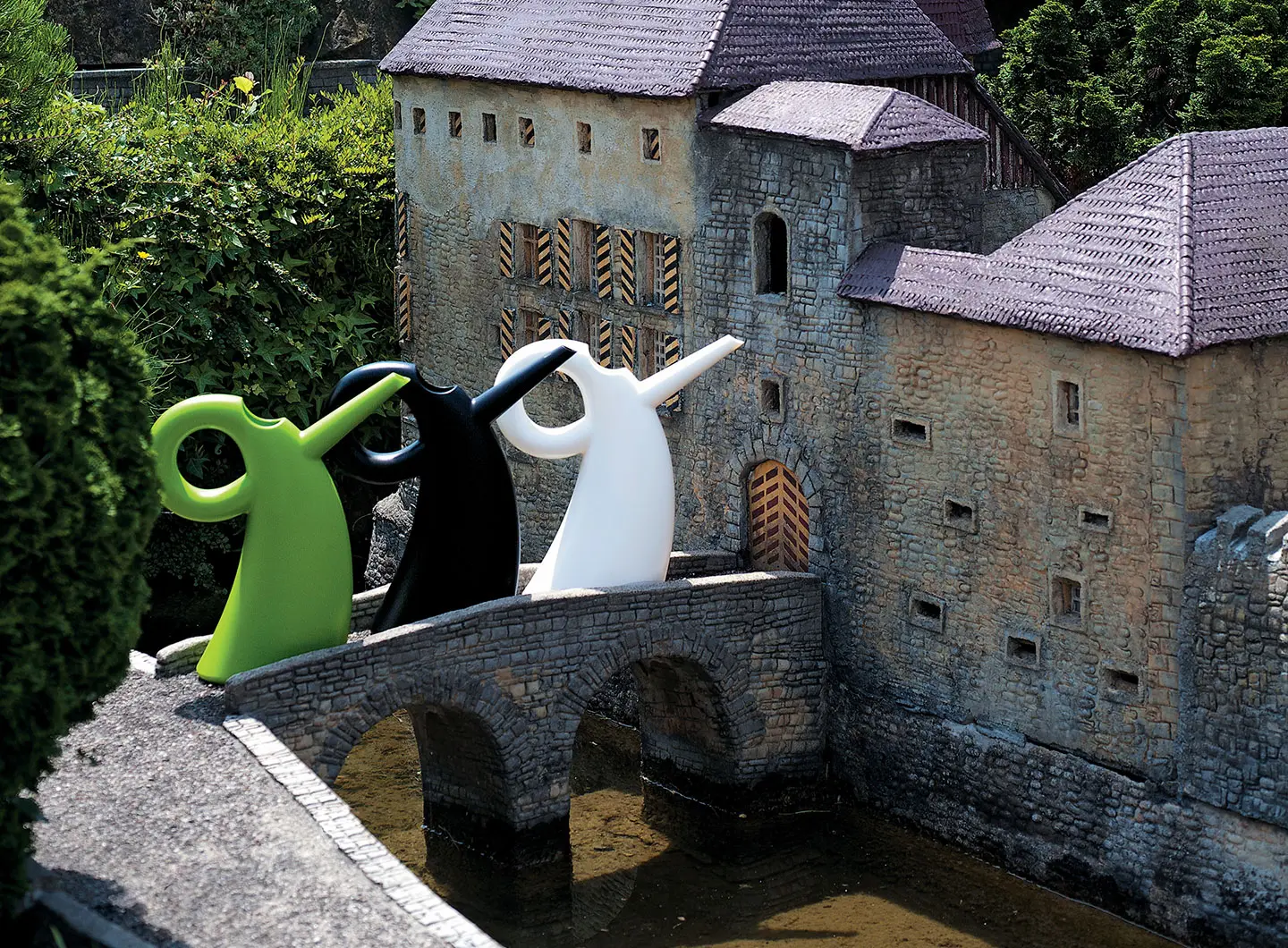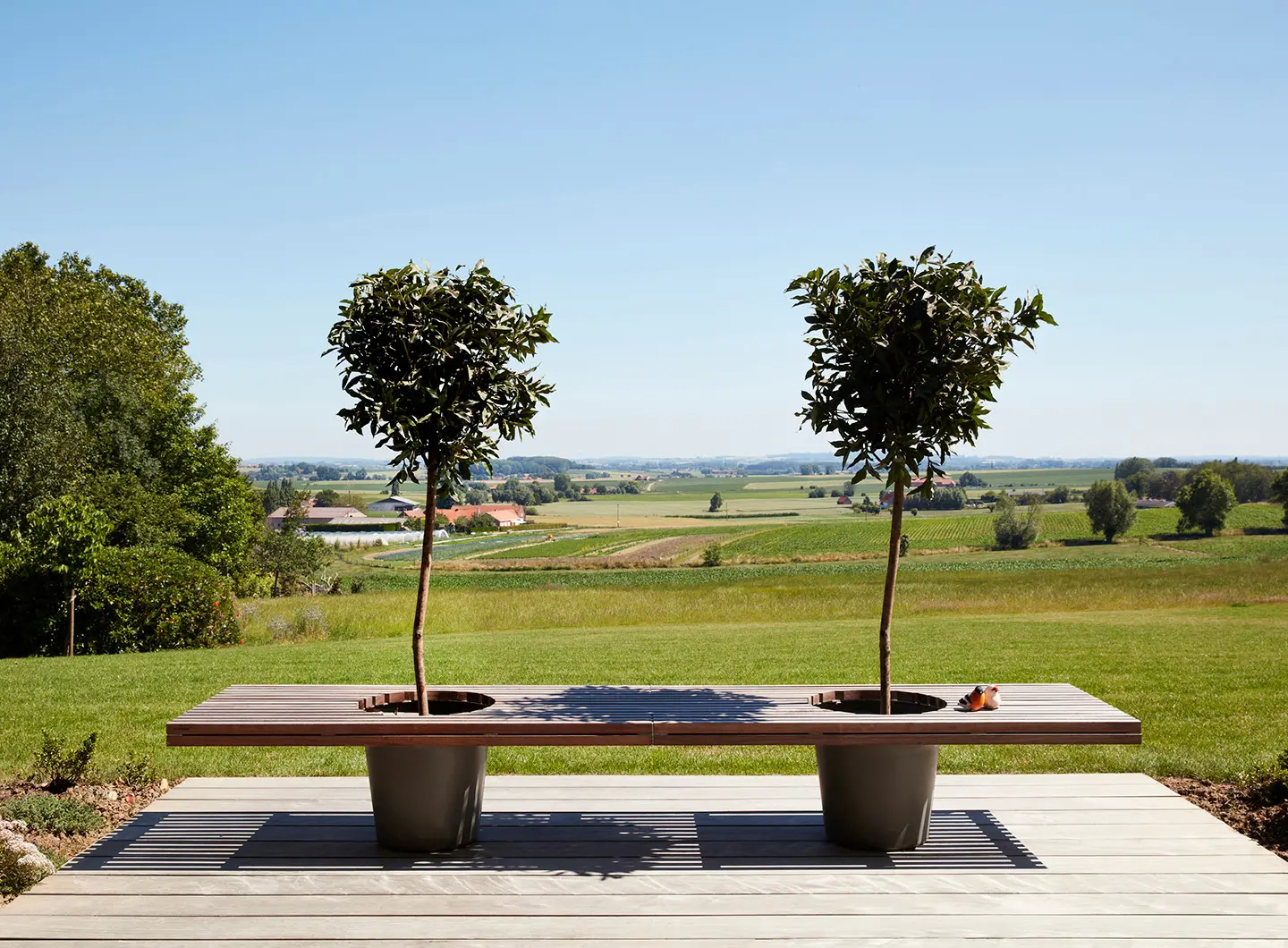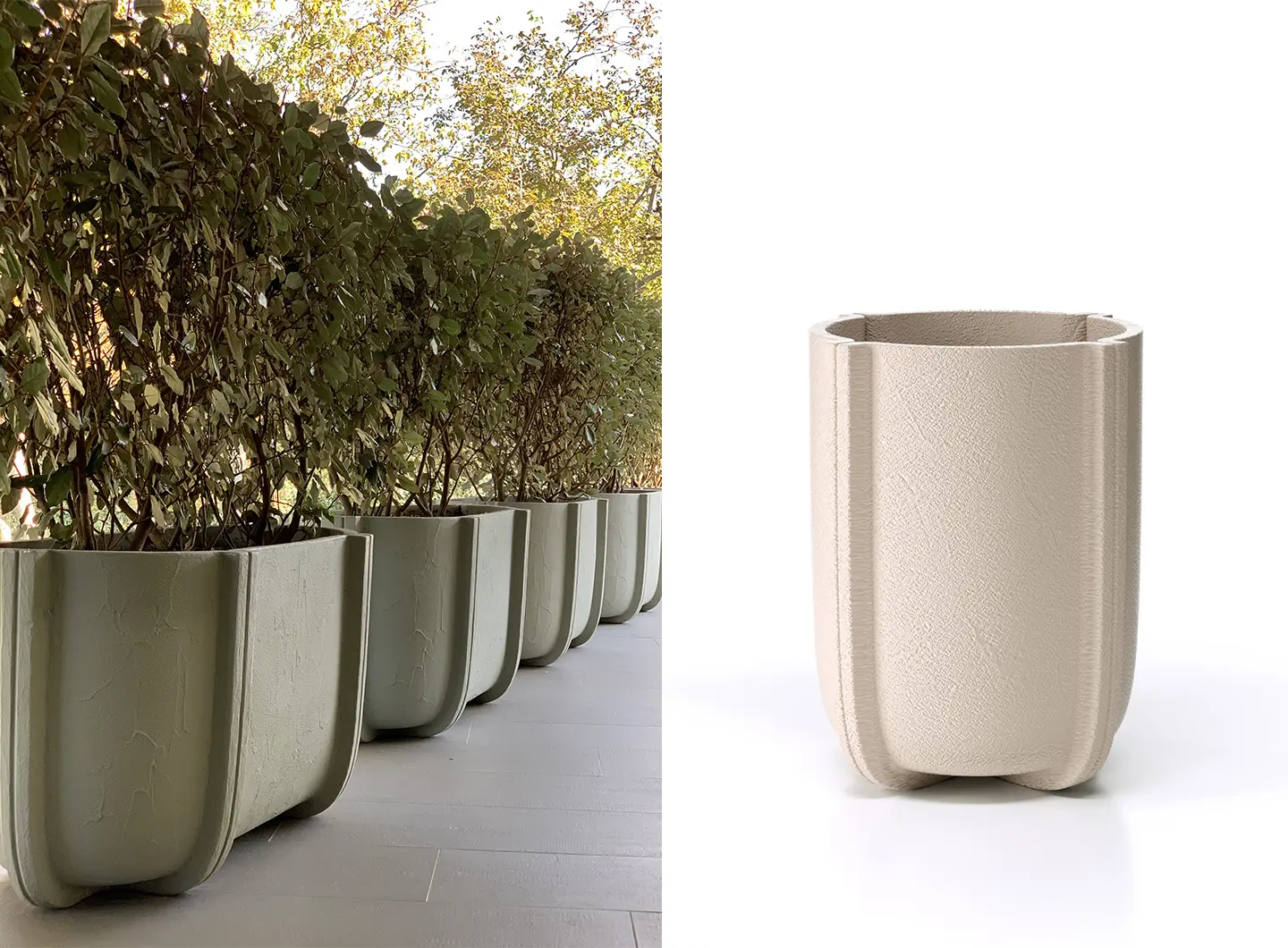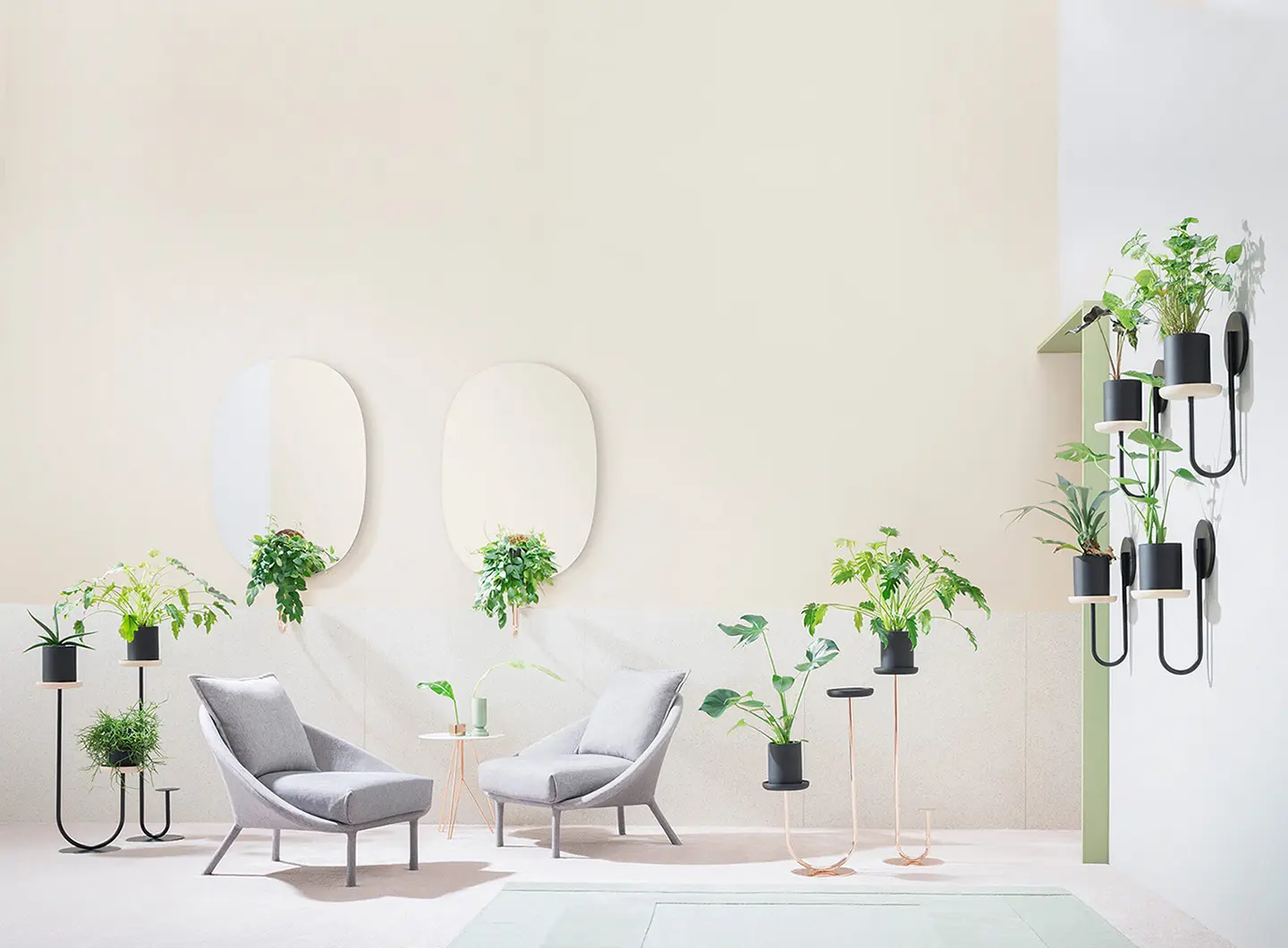 Thinking outside the box, there are new solutions such as Tevaplanter, the new inside out planter. There's much to be said in its favour – it's sustainable, recyclable, efficient and stunning. It's a flowerpot made of 100% natural porous material that does away with the need for earth but relies on a hydroponic system to nourish the seeds that will produce roots, leaves and flowers before our very eyes. Then there's the futuristic Plantone Smart Mini Indoor Garden that automatically regulates the irrigation and illumination, promoting the simultaneous growth of 5 different types of plants. Here, the green thumb is applied to a smartphone app to take care of this all-in-one garden.
Even the most traditional furnishing is tending towards a natural inclusivity, including the modular systems from USM Haller, which offer a new range of accessories to incorporate plants into the home; the top of Bla Station's Bucket table incorporates a cylinder just screaming out for brightly coloured flowers; Erbale by Driade marks a new typological invention: it's a "tent/screen" made out of alternating plastic bags to contain plants and water; Gople by BIG for Artemide ensures that plants absorb just the right level of light – albeit artificial, but inspired by nature, thanks to the patented RWB technology. Noé Duchaufour Lawrance has come up with Viceversa for Kundalini, a lamp that is both frame and life: a simple rotation and the pendant light creates space for plant elements, creating luminous vertical gardens; lastly Madre by Andrea Anastasio for Foscarini is a poetic object – the opening in the middle of the luminaire reflects light both outwards and inwards, while the upper hollow conceals a vase tailor-made for green stems, berries, ferns and pampas grass.  
It would appear quite clear that design – creating dreamlike and vibrant scenographies that reconnect the lived space with the energising power of plants - is the real quintessence of the contemporary surge towards nature!
PS. In need of advice on which plants and vegetables to grow at home? It all depends on the size and luminosity of the spaces and just how much of a green thumb one has, net of technological aids. Should one wish to be remembered for one's originality, one could opt for the Begonia maculata Wightii or the Rex 'Red Robin', the Alocasia cuprea 'Red Secret' or the Amazonica 'Polly,' ornamental Pineapple or Banana, carnivorous plants like the Sarracenia leucophylla, the Nepenthes ventrata or the Drosera. Other varieties include the stevia, the perilla, the tomatillo, the iceplant, the loofah plant and hemp.