Brera
Brera series has been conceived to respond, in a simple and functional way, to the desire to live gardens and open air spaces with the highest freedom, by combining two advantages: protection and possibility of total opening.
With a single fast movement, silent and elegant, the sunshading blades of Brera slide and compact in a small space. Brera is available in P, S and B versions. Brera Premium is the fully-equipped version of the Brera series with vertical Zip Raso closures and Slide Glass sliding glass windows. Brera Superior offers functionality and technology: a solid but soft on the eyes structure with compactable sunshade blades. Brera S can be enhanced with Slide Glass windows. Brera Basic is made to measure and composed of profiles designed to fit discreetly into minimal and pre-existing spaces.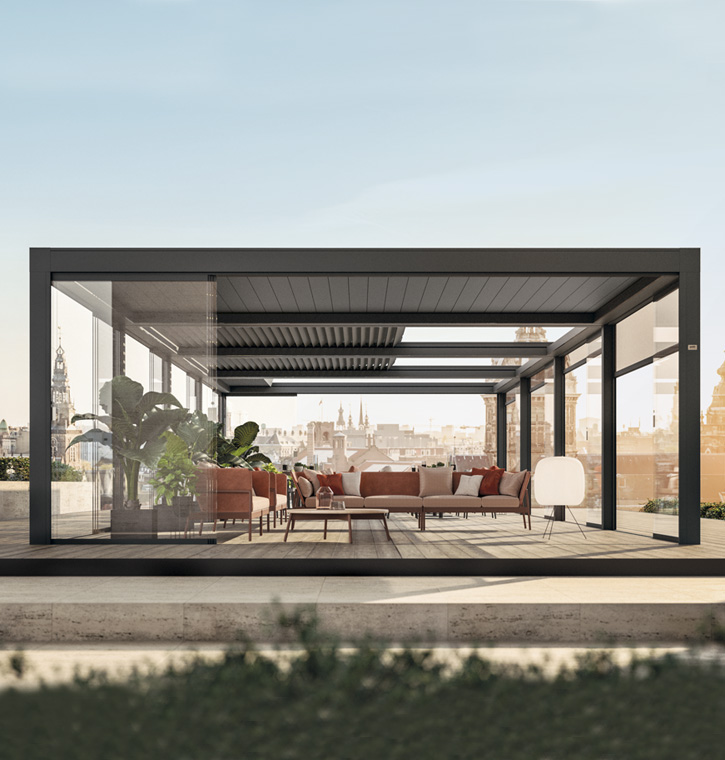 Product Overview
Retracting bioclimatic pergola. Tilting and compacting blade system at the touch of a button.
Aluminum structure that can be complimented with built-in Zip Raso perimeter closures and Slide Glass doors.
Protection from the sun, rain and wind.
Structure and blades made entirely from aluminum.
Blades brackets in INOX steel.
Modules that can be coupled both depth and width-wise to cover larger spaces (Brera S and P).
Choice of side in which the blades retract.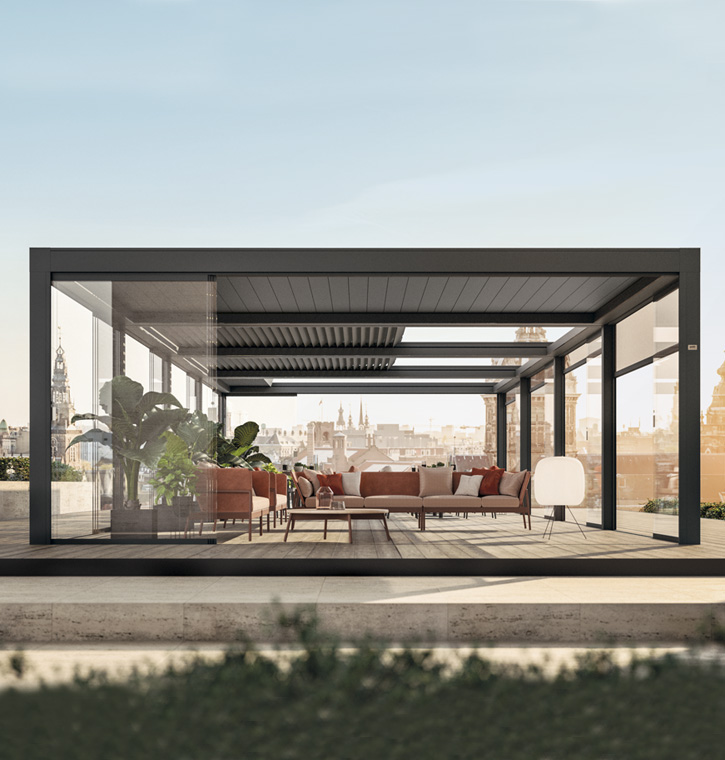 Features
freestanding, with guide system, with integrated lighting, motorized
Dimensions
Single module maximum dimensions: W max 450 cm D max 610 cm.
Two different height of blades (2 or 3 cm.) depending on width.
Maximum space occupied when blades retract:
Blade: H. 2 cm. – size max: 80 cm.
Blade: H. 3 cm. – size max: 110 cm.
Official website
Discover Brera

BRAND SELECTION
OUR PRODUCTS