Modern
Category: Cabinets and containers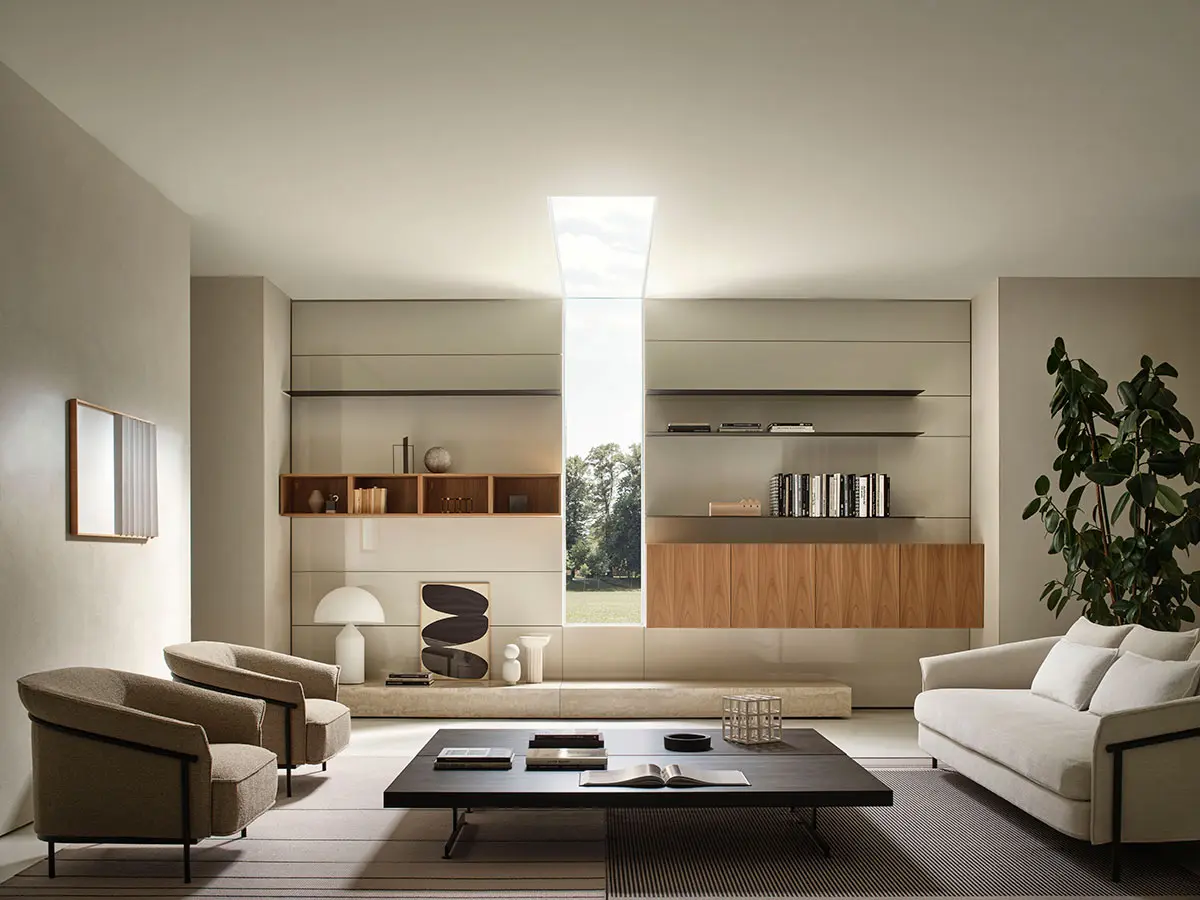 ARCHITECTURAL FULLY INTEGRATED EQUIPPED WALLS
Designed by

Piero Lissoni + CRS Porro
"When you do this job, you must have absolute passion, and fall in love every day. And Modern is the architect's love. When we started thinking about Modern, it came out in 1996, but our reflection had started years earlier. The question was: is it possible to rethink the architectural model in smaller terms, within a house, throughout the years? You know, it is very easy to design something that lasts one or two seasons...but a system has to last. A system must be born with this kind of imprinting. Almost a mathematical model. And it started with a square, the model was a square matrix. And from there we multiplied it over time. Then the square was remodelled, it changed, we changed the proportions. You see it here, from 1996 to 2021".
Piero Lissoni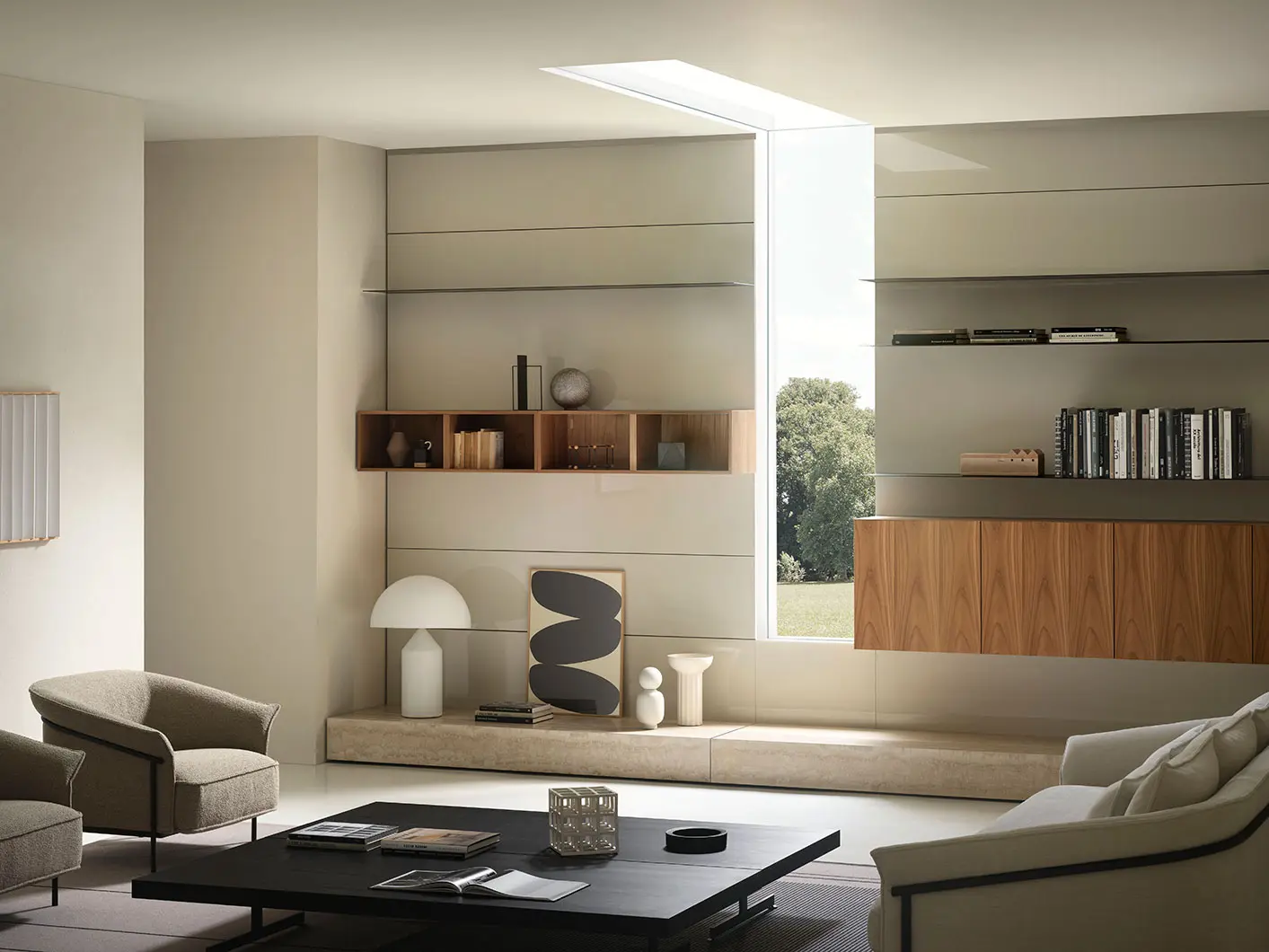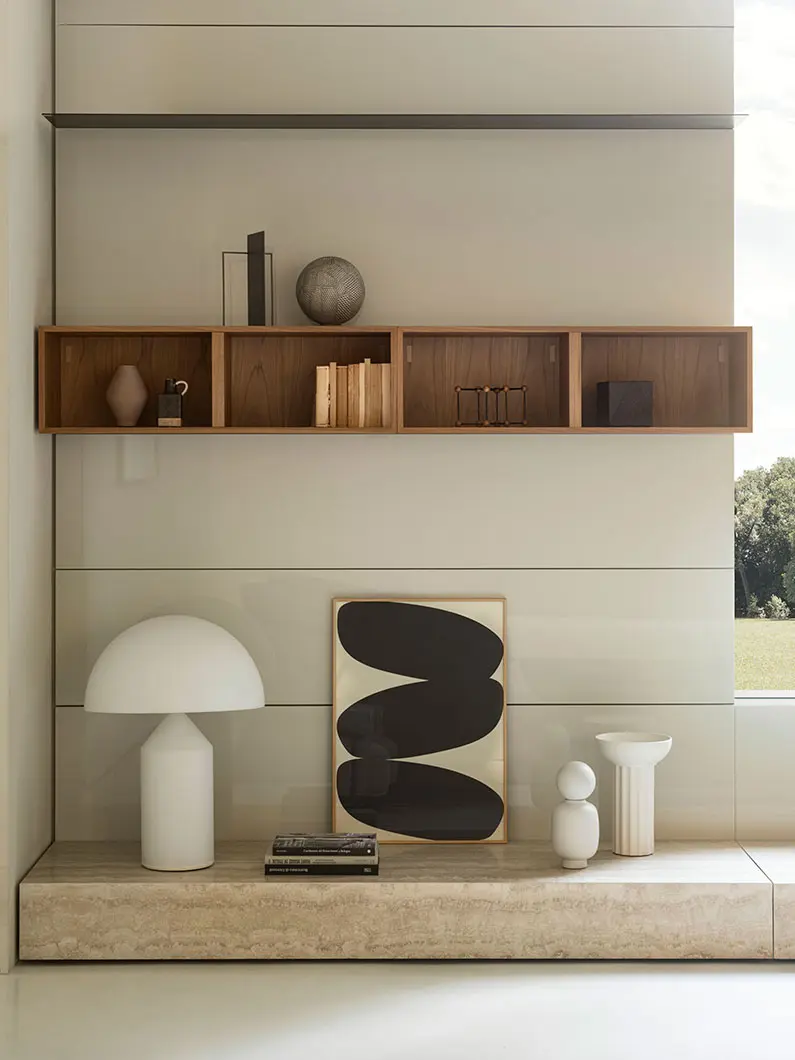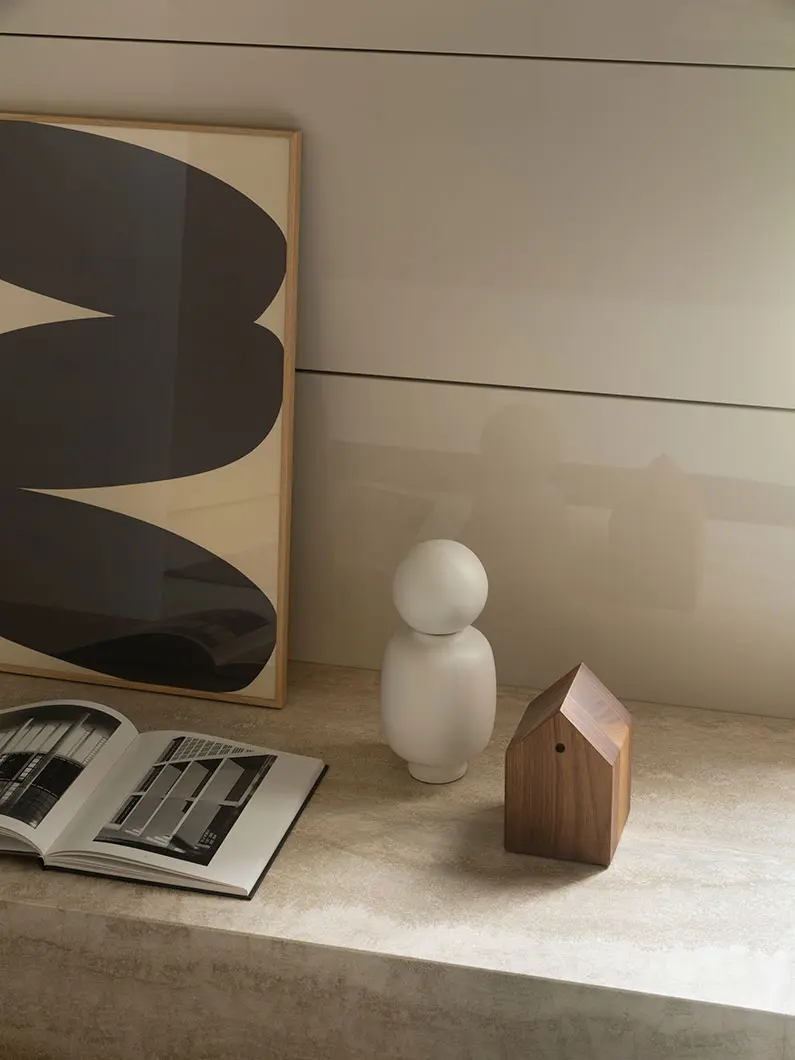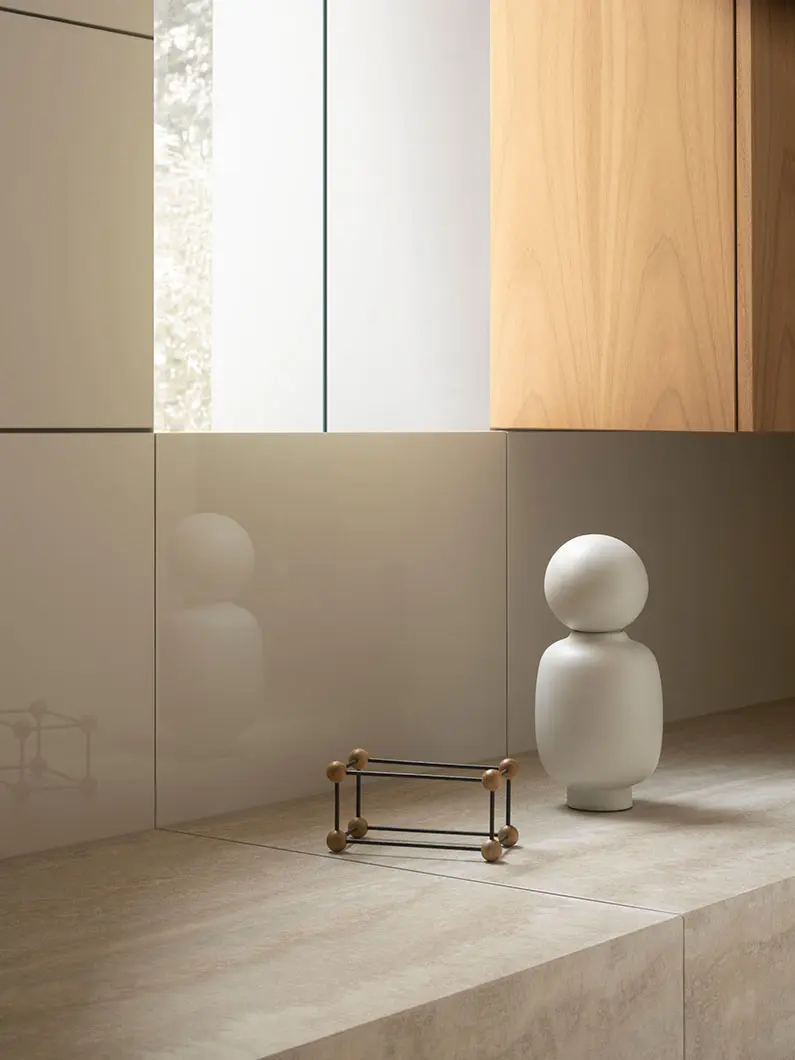 Modern living composition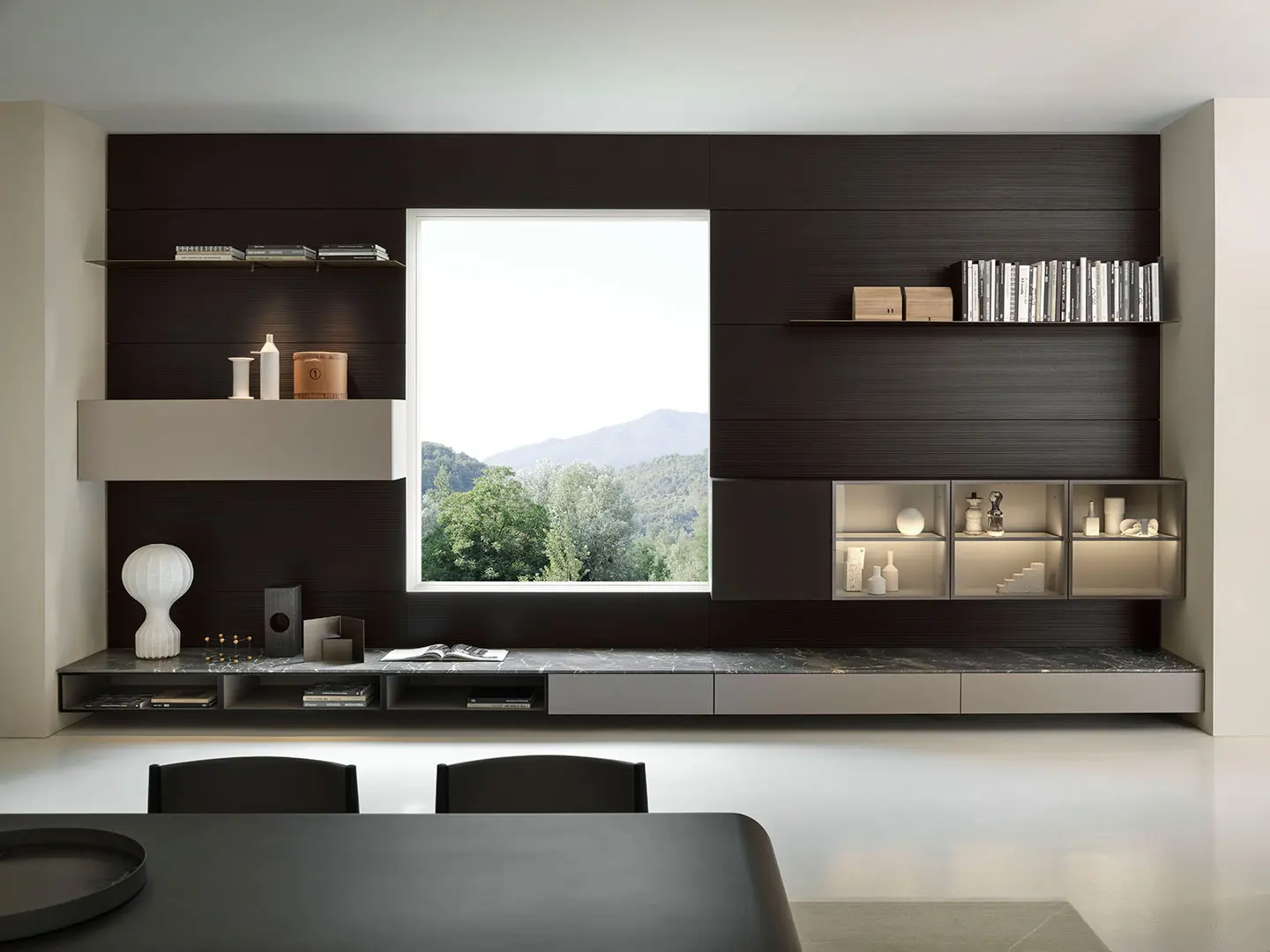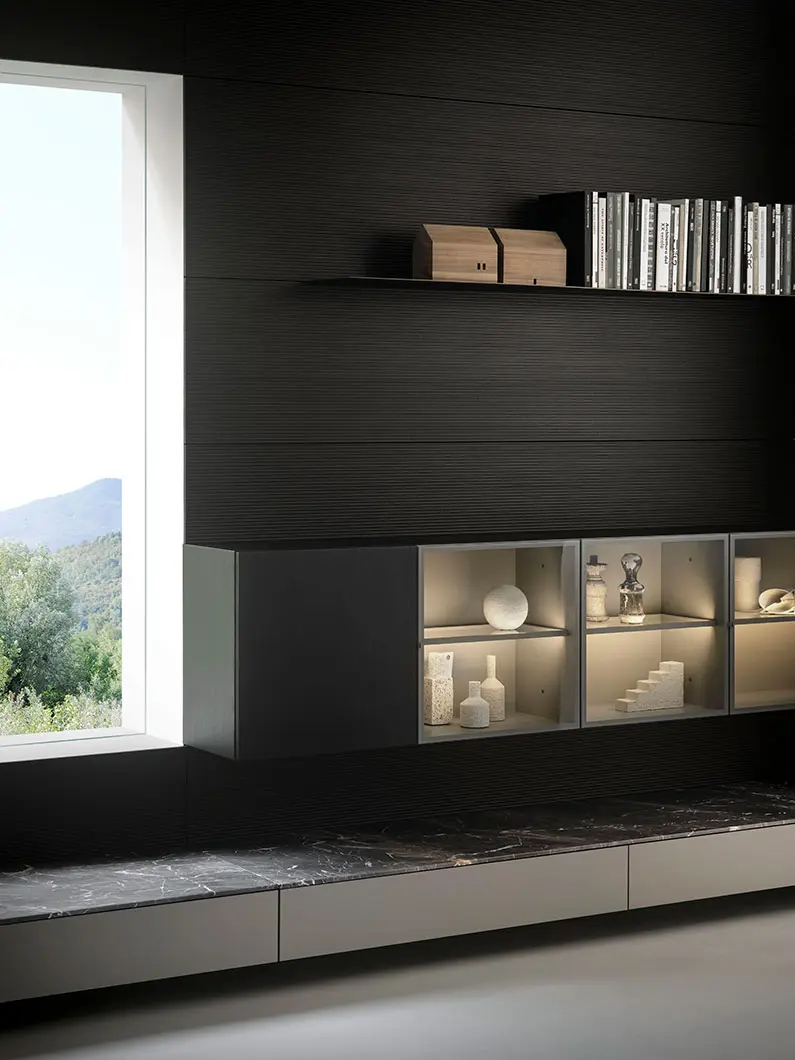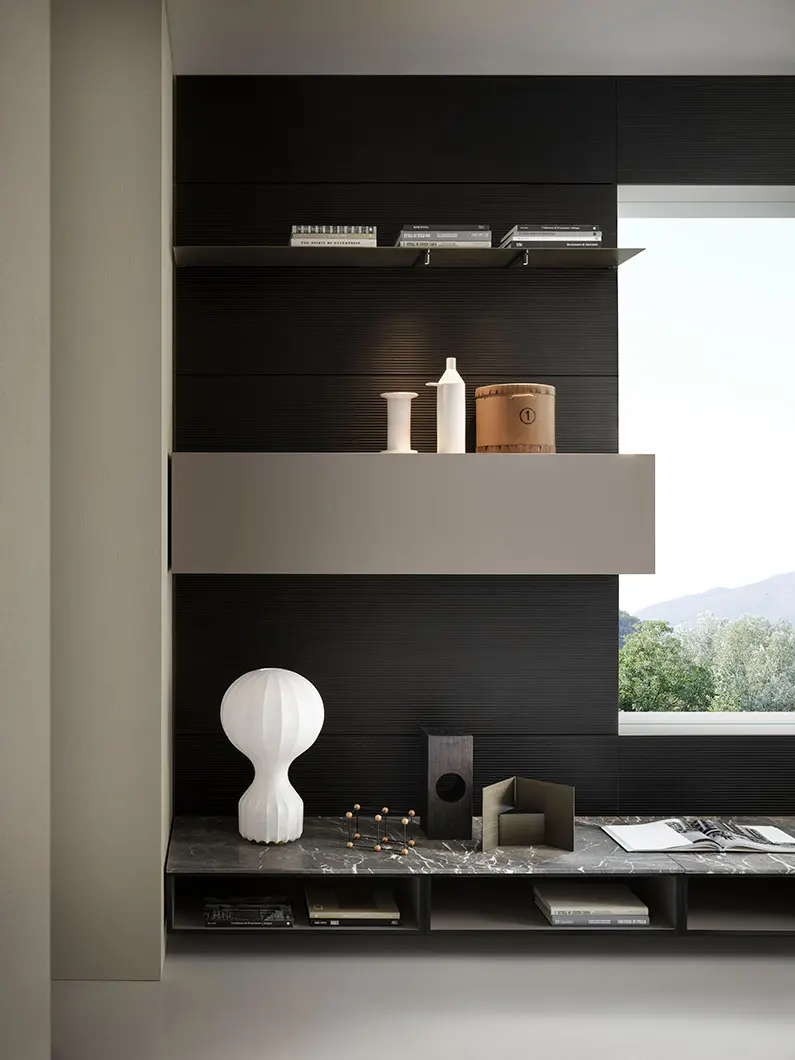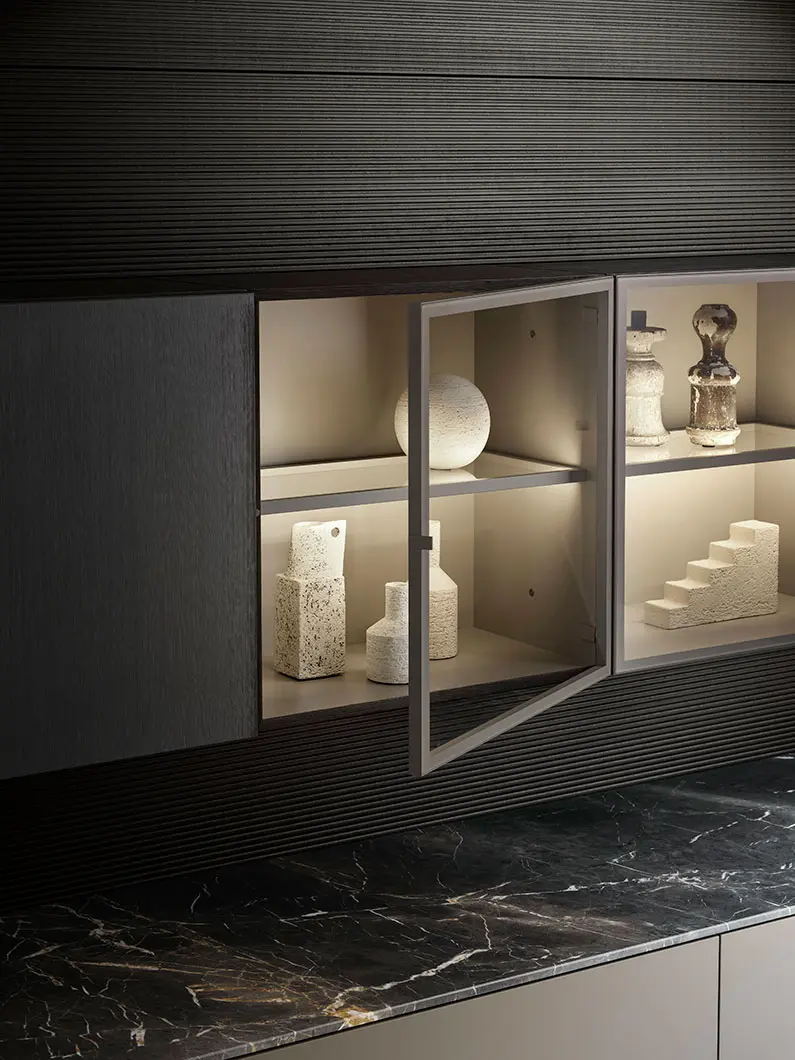 In the Modern cabinet day system, this year's research focuses on the idea of "all full", to create entire equipped walls that perfectly blend into the architecture and are used for storage, but – when necessary – open up to reveal secret niches. The wide Modern hanging composition is combined with a Verde Rameggiato marble Roc board, with the visual effect of an entirely closed and tightly-packed wall, reminiscent of the traditional Japanese home. An architectural solution with a strong scenic appeal that offers maximum capacity and utmost customisation.This large storage area in black sugi is enlivened by the nice graphic interplay of the doors made of heat-treated oak, in contrast with the verde gris shade chosen for the interiors of the glass cabinets – with a metal frame painted in the same colour –which emerge as contemplative voids in the composition. Perfectly hidden behind the vertical sliding door in black stained canneté, available in the sizes 1200x 1400 and 1600 x 1800 mm, the TV compartment pops up only in moments of leisure.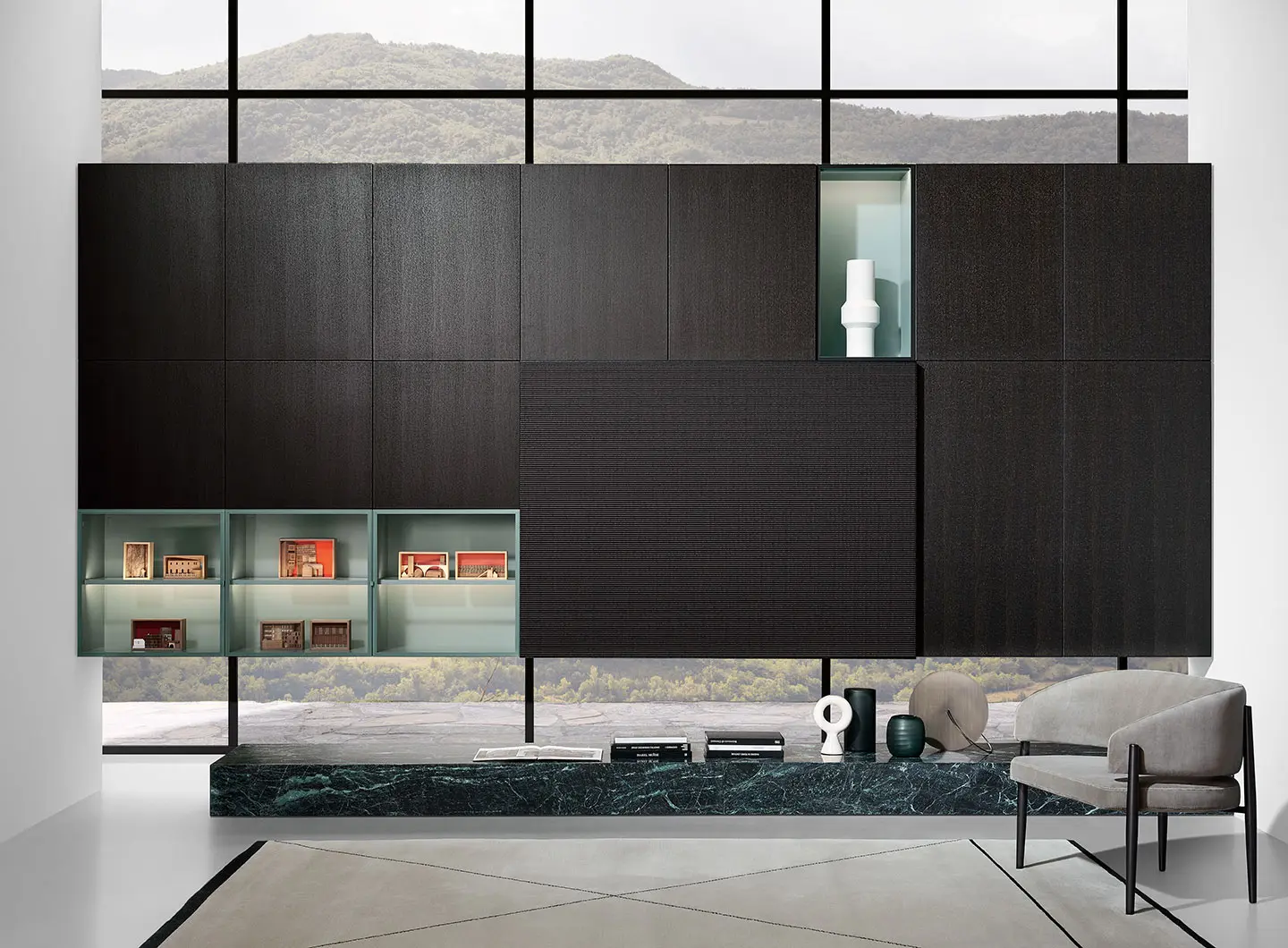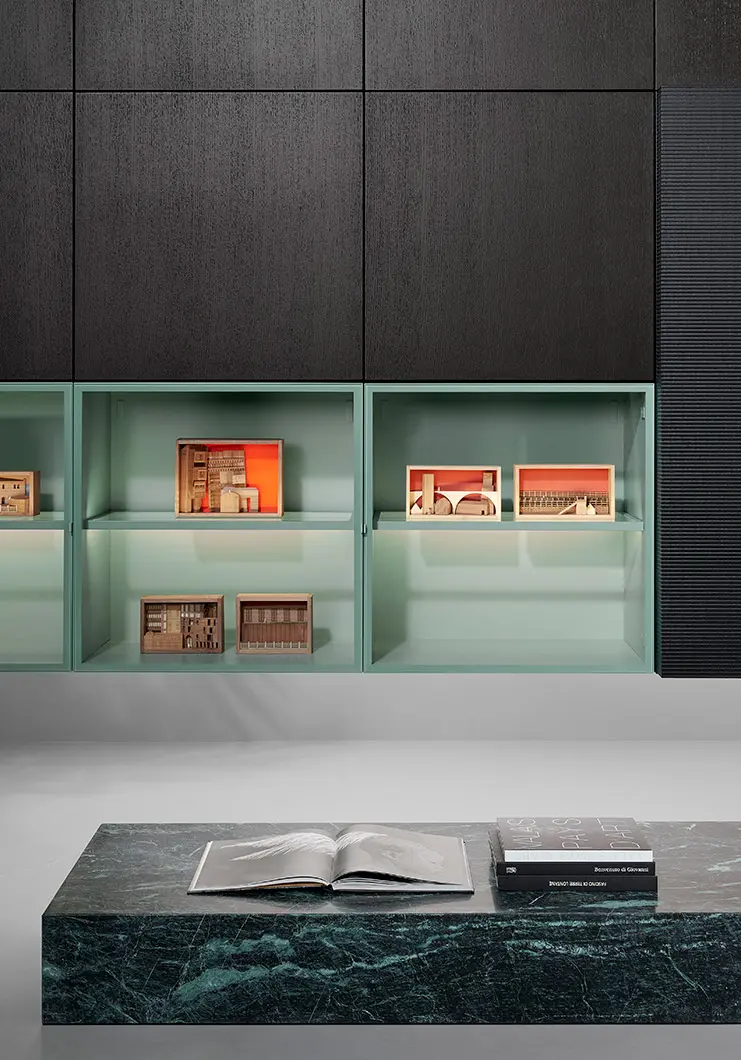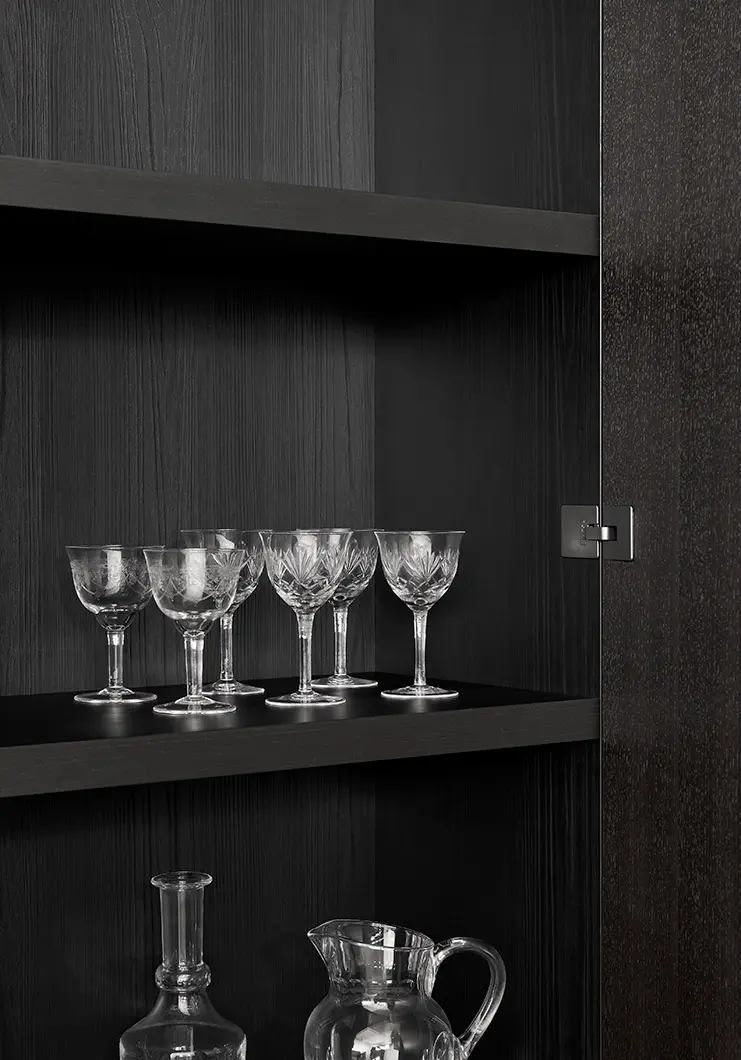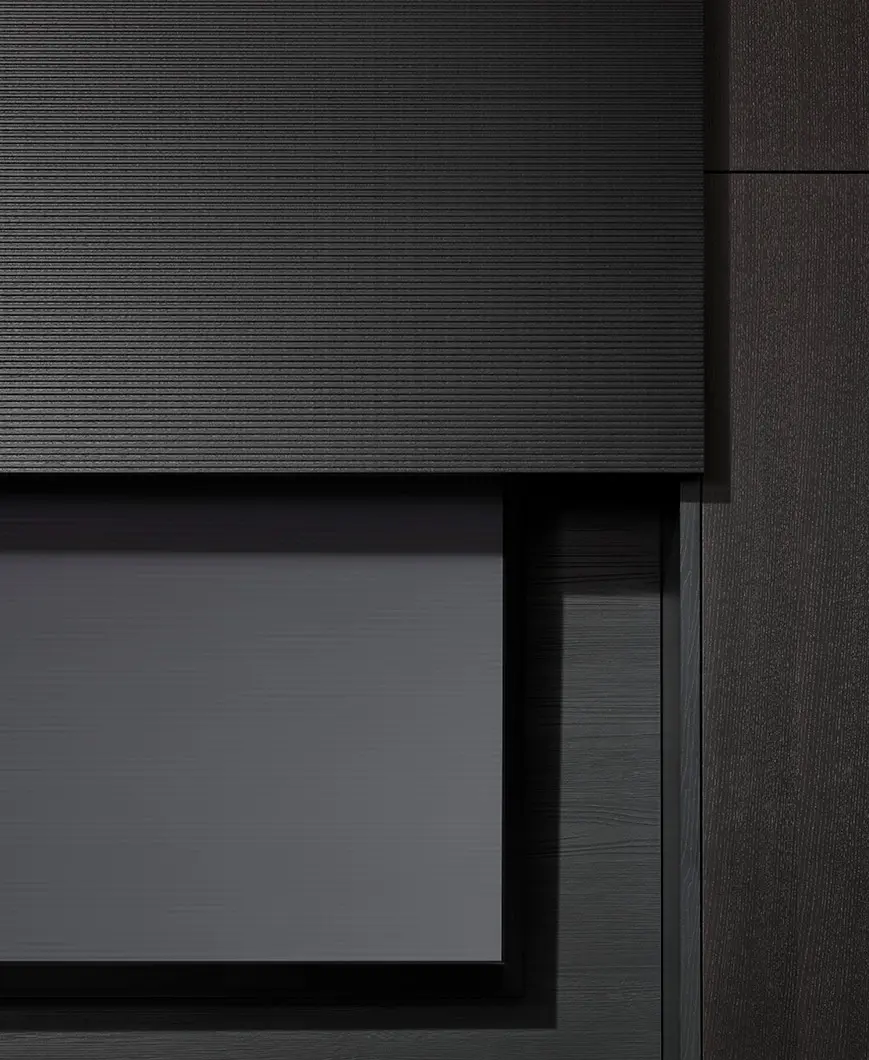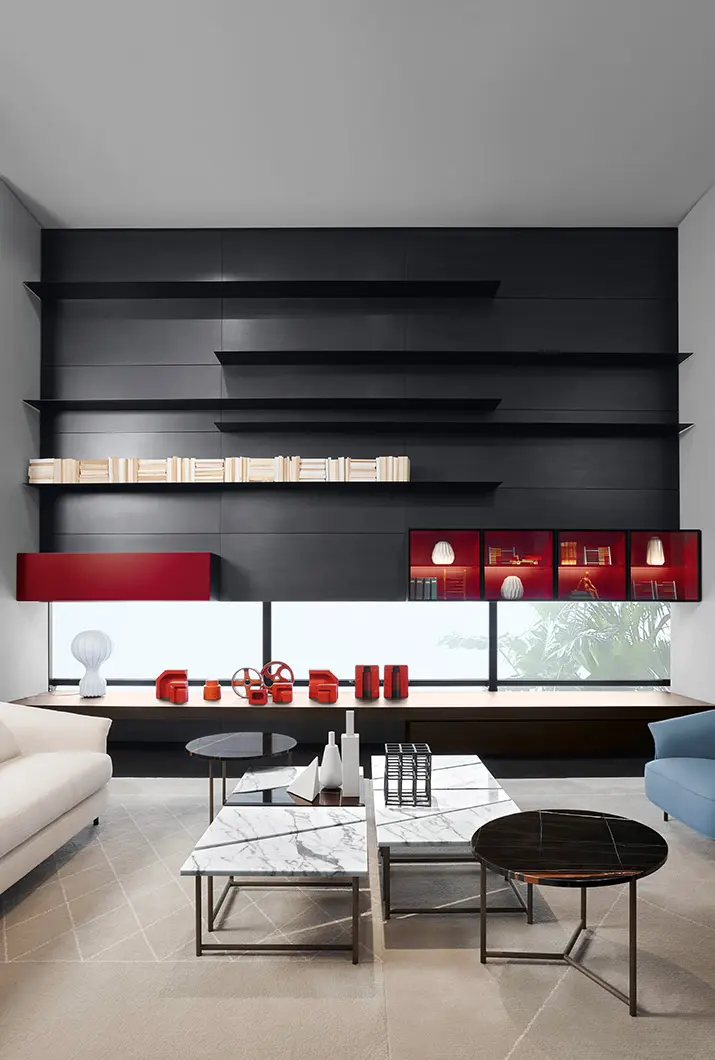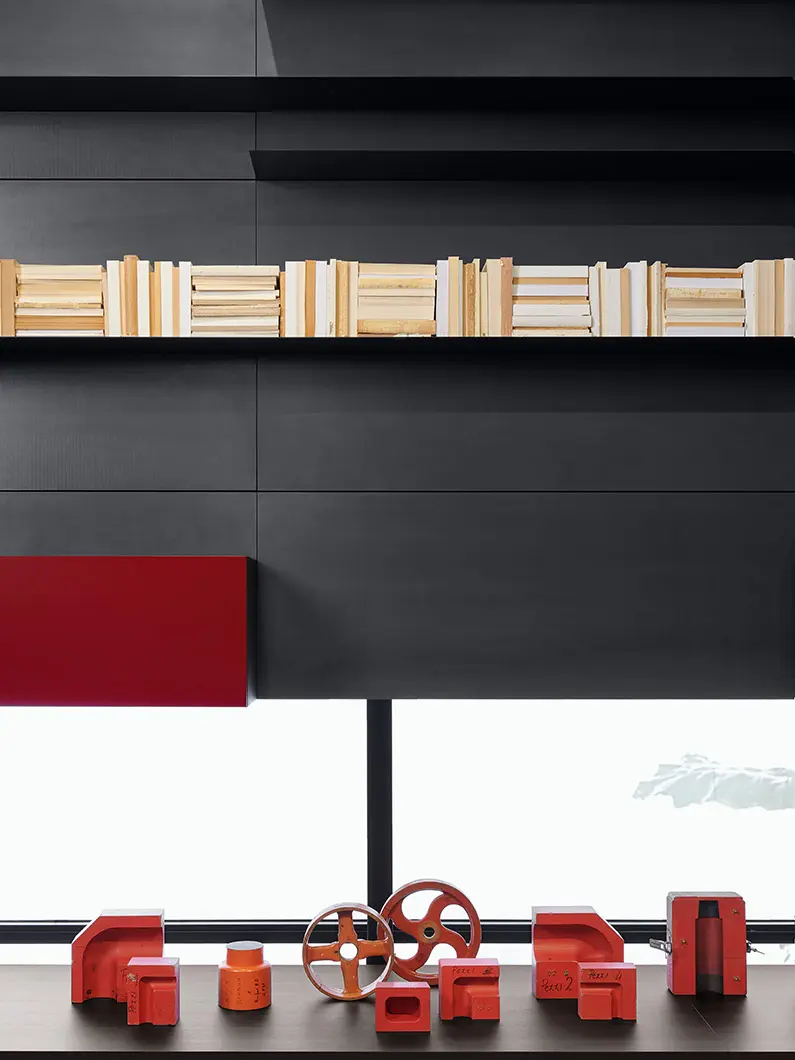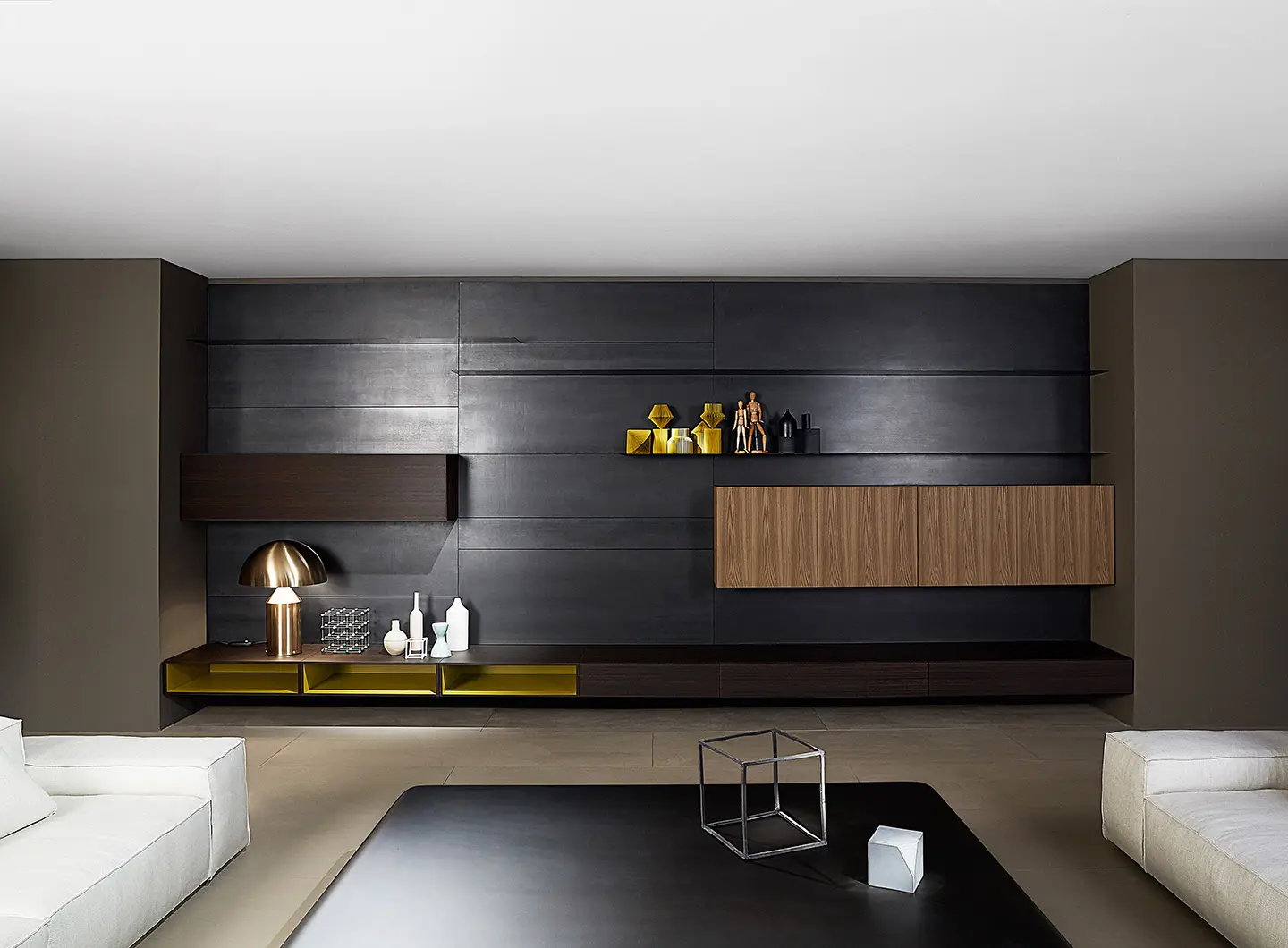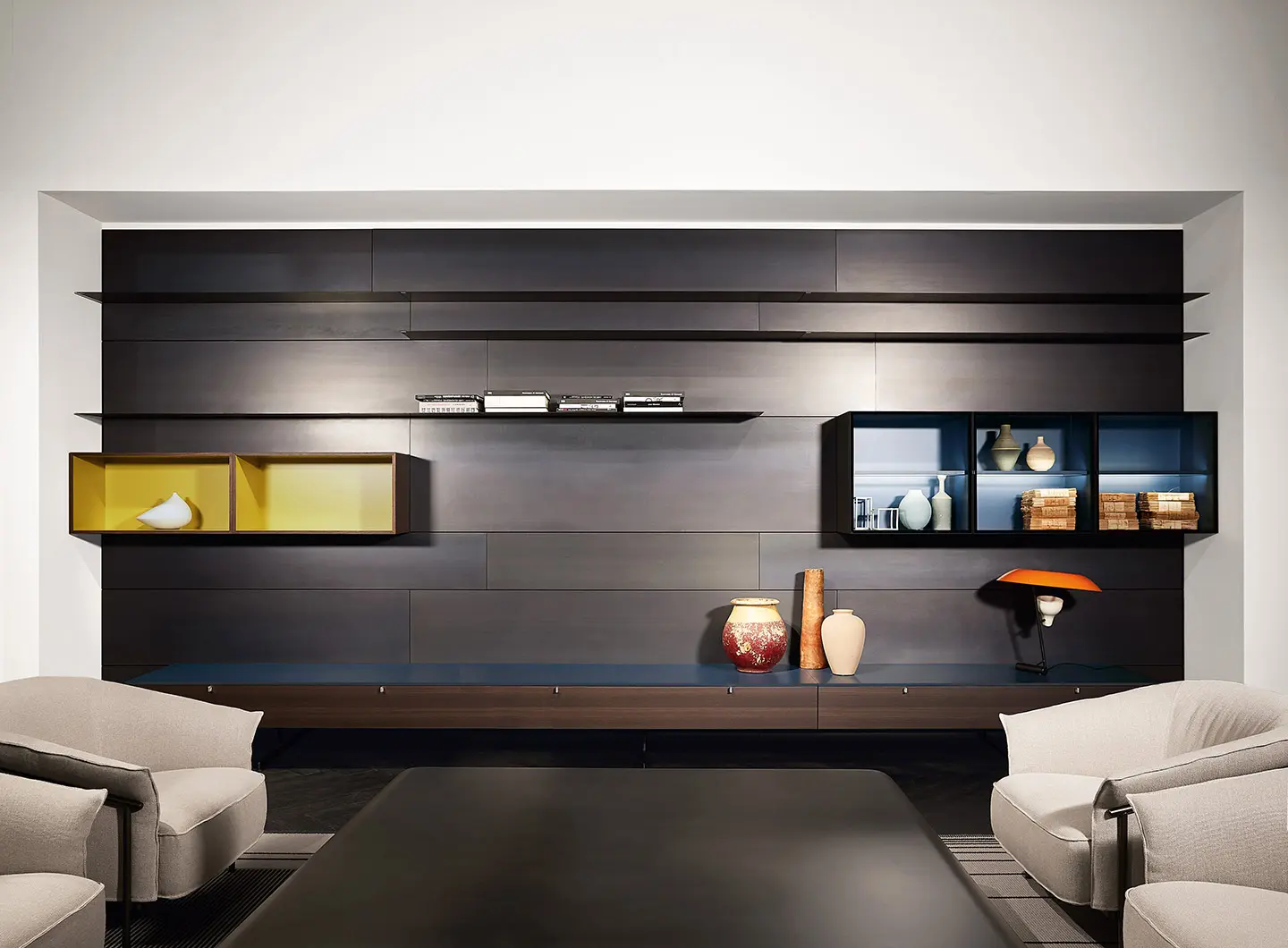 Modern dining compositions
A floor-to-ceiling Modern composition for the dining area plays on the emptying of the central area embellished by a Paonazzo marble back, dividing the lower area with a suspended chest of drawers in black stained hemlock, with a marble covering top, and the upper hanging elements in black stained hemlock. They include 4 vitrines with transparent glass doors, enlightened transparent shelves and a marble back. The precious detail of the marble veins continuing on the different surfaces enhance Porro's craftsmanship, even in an industrial product like Modern.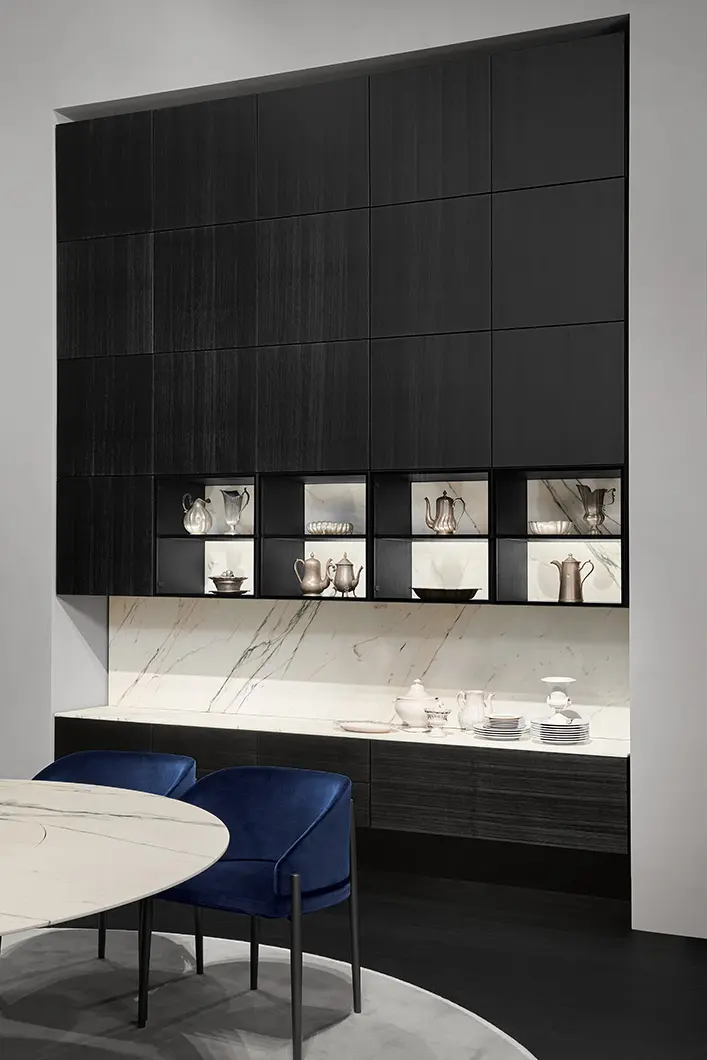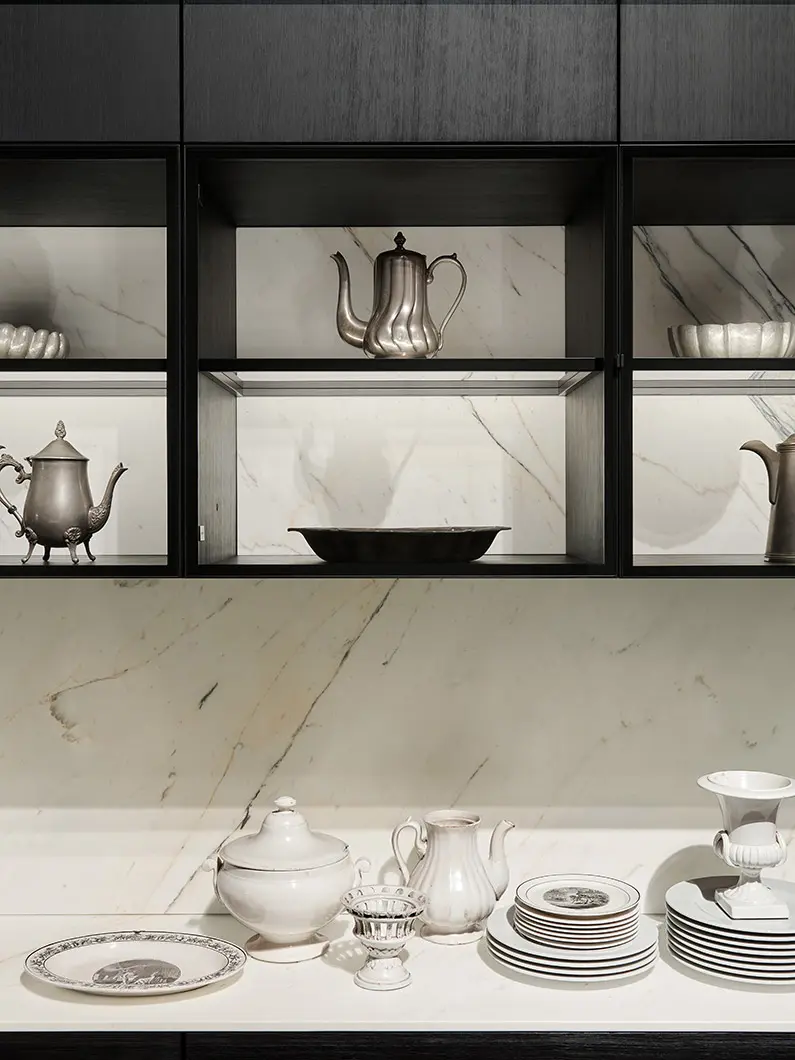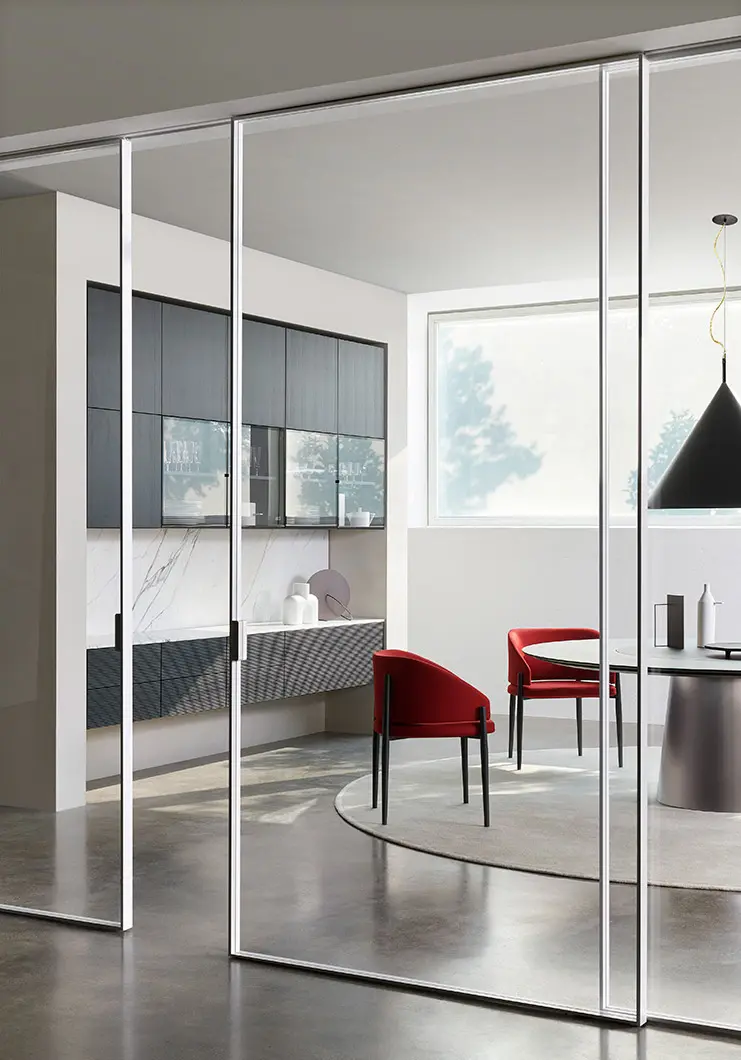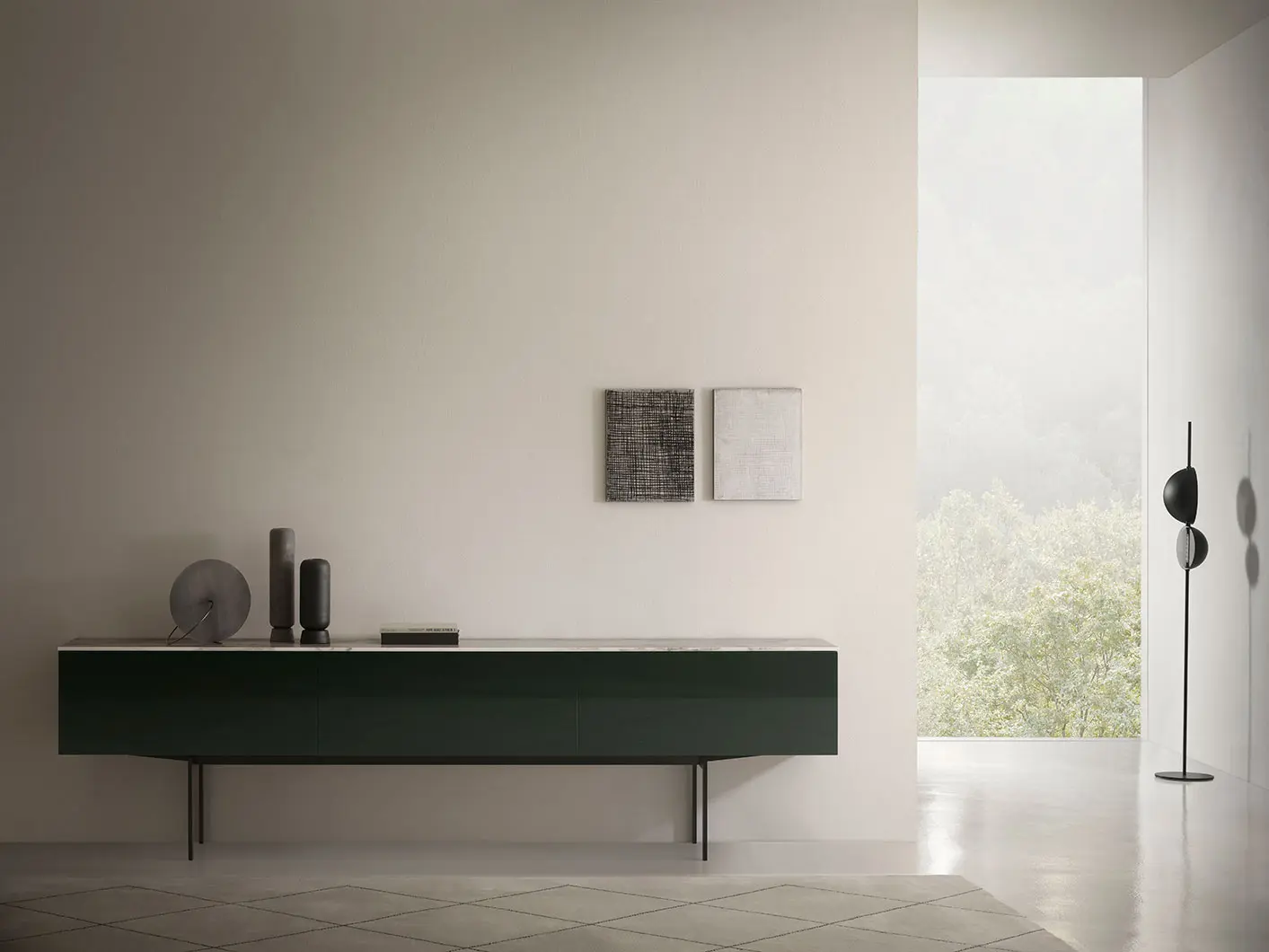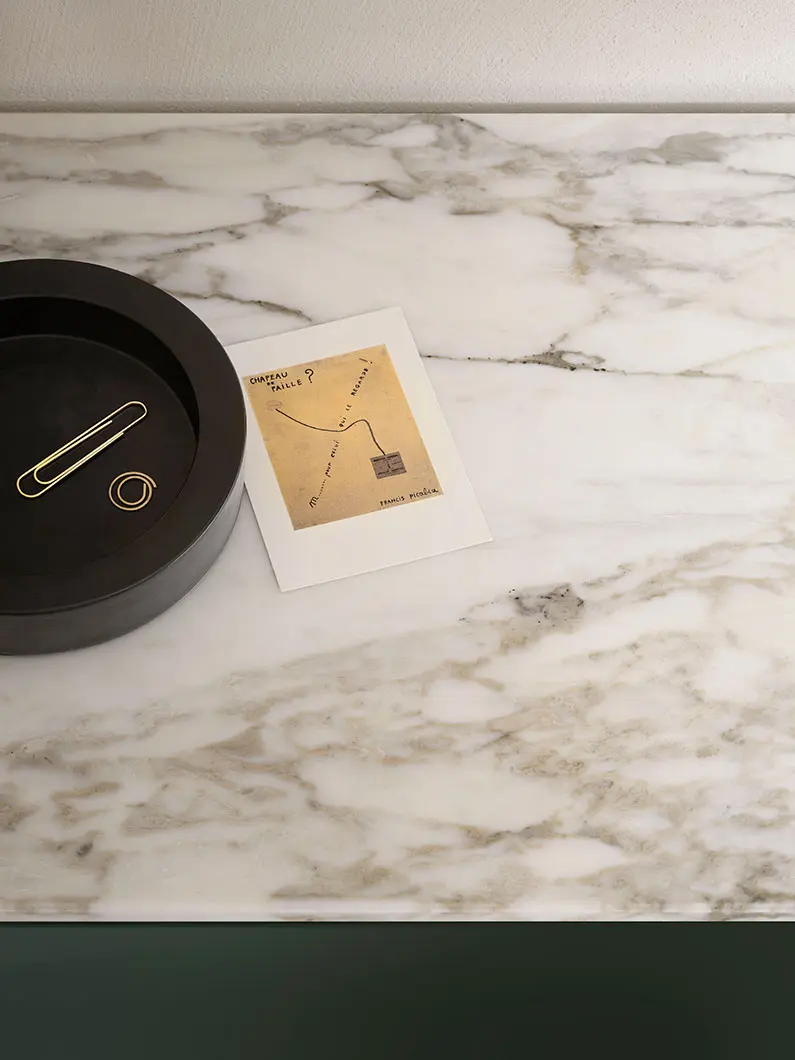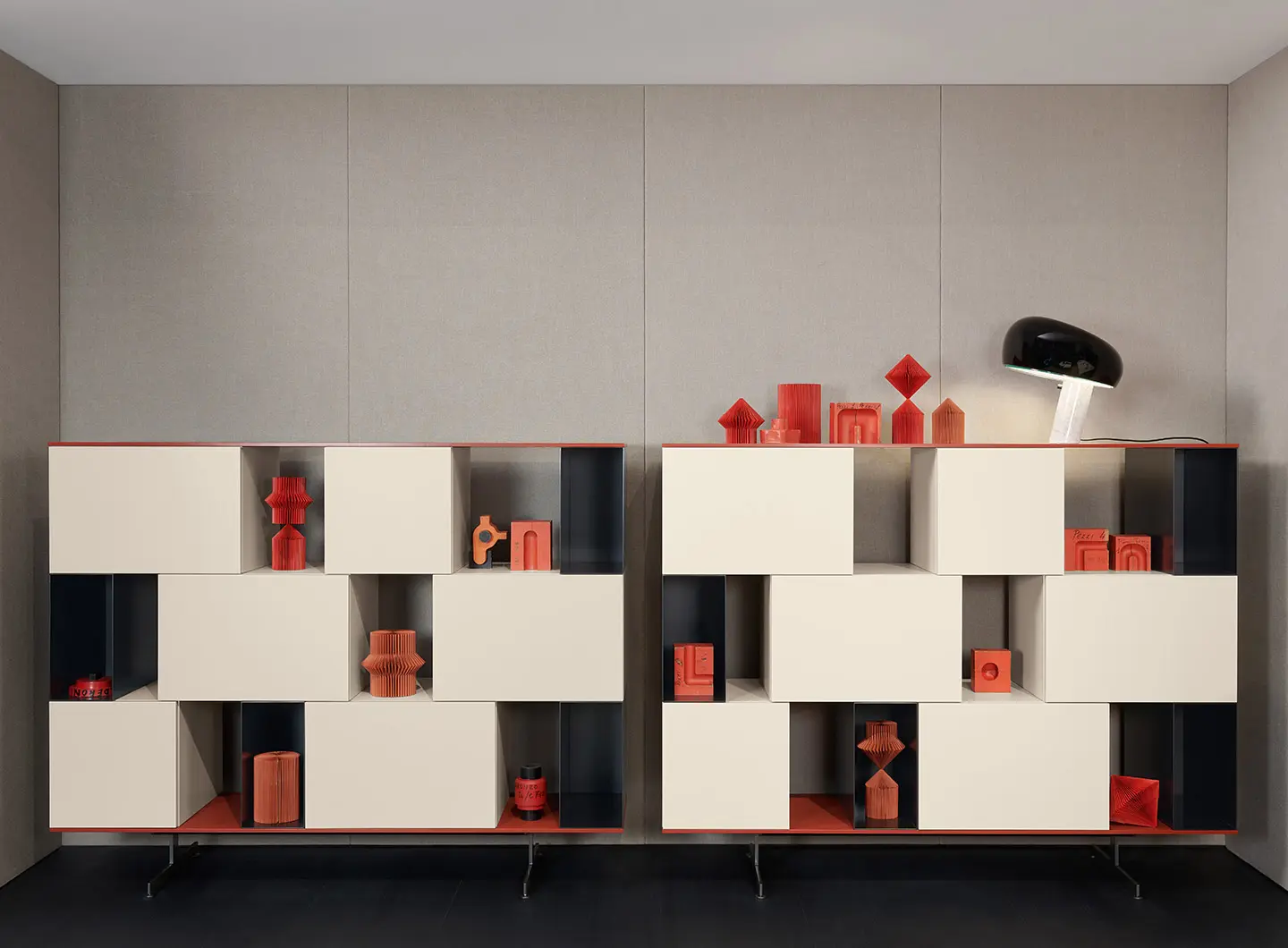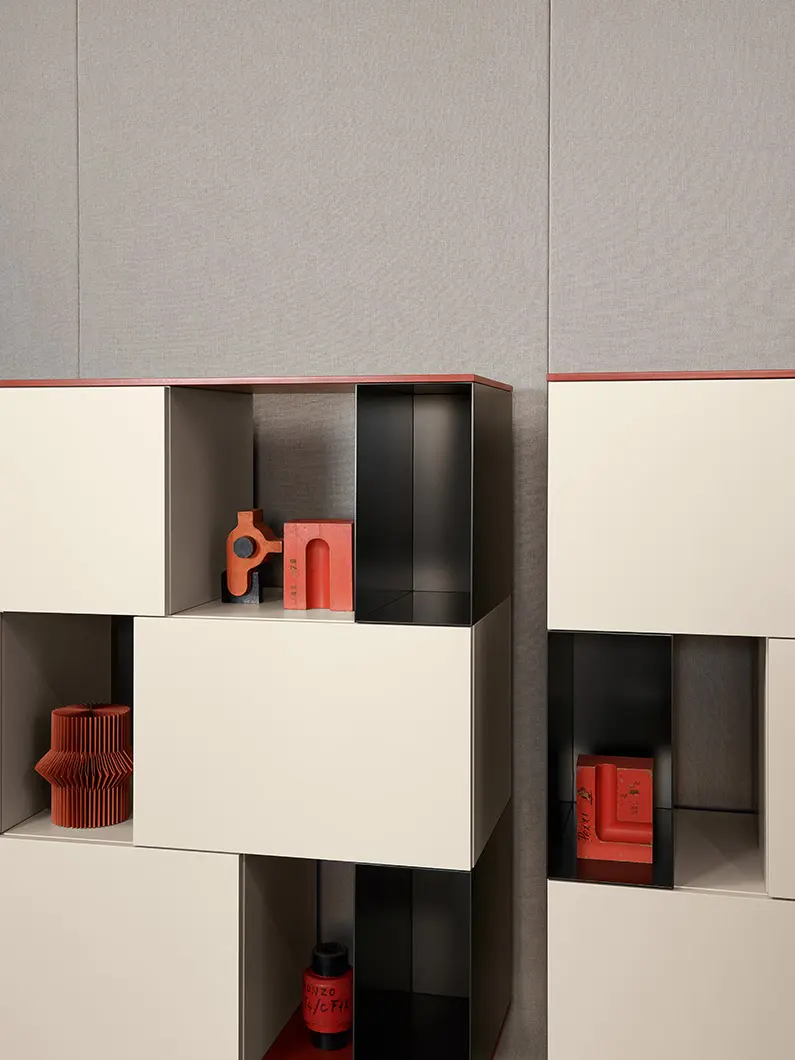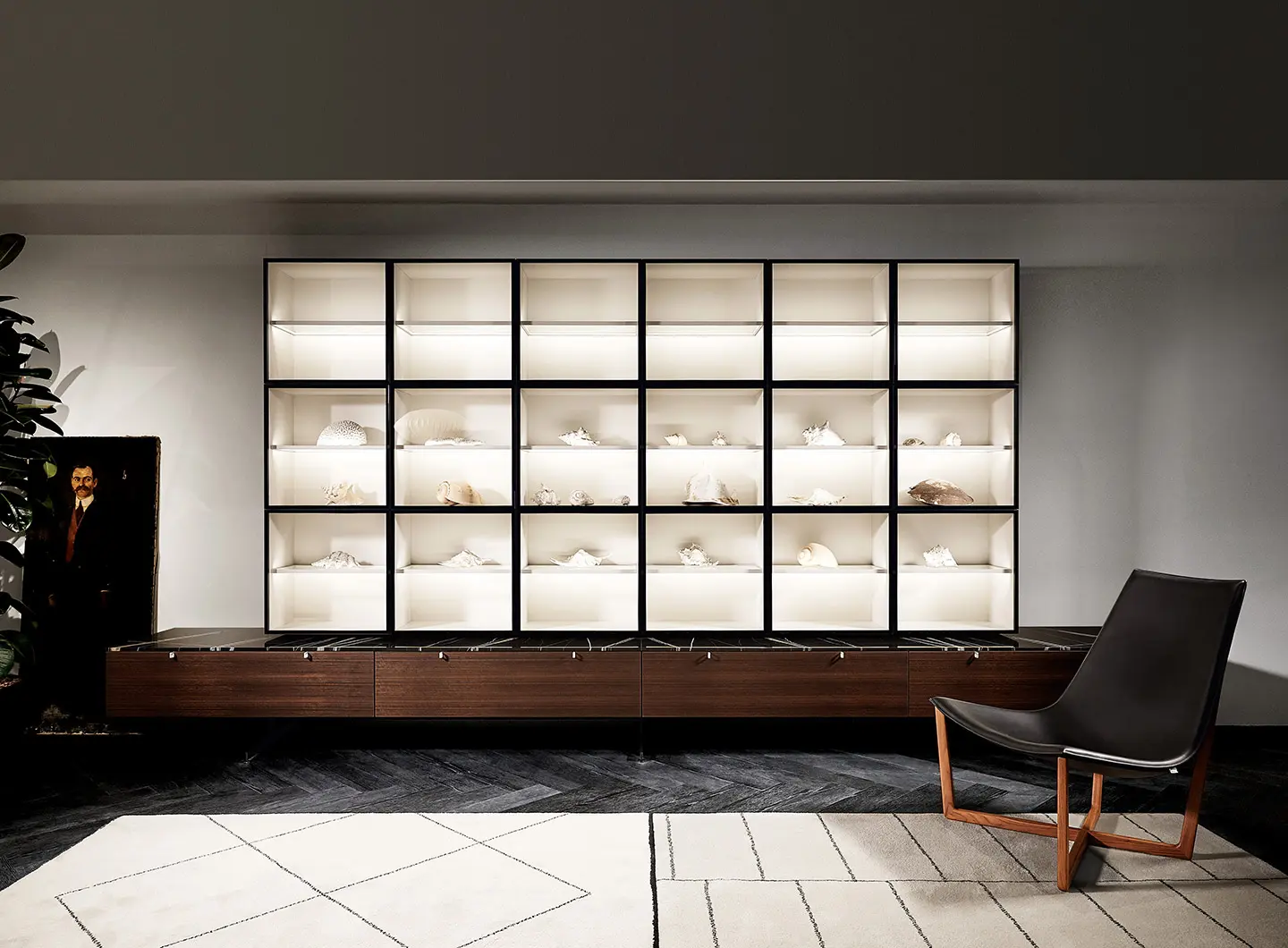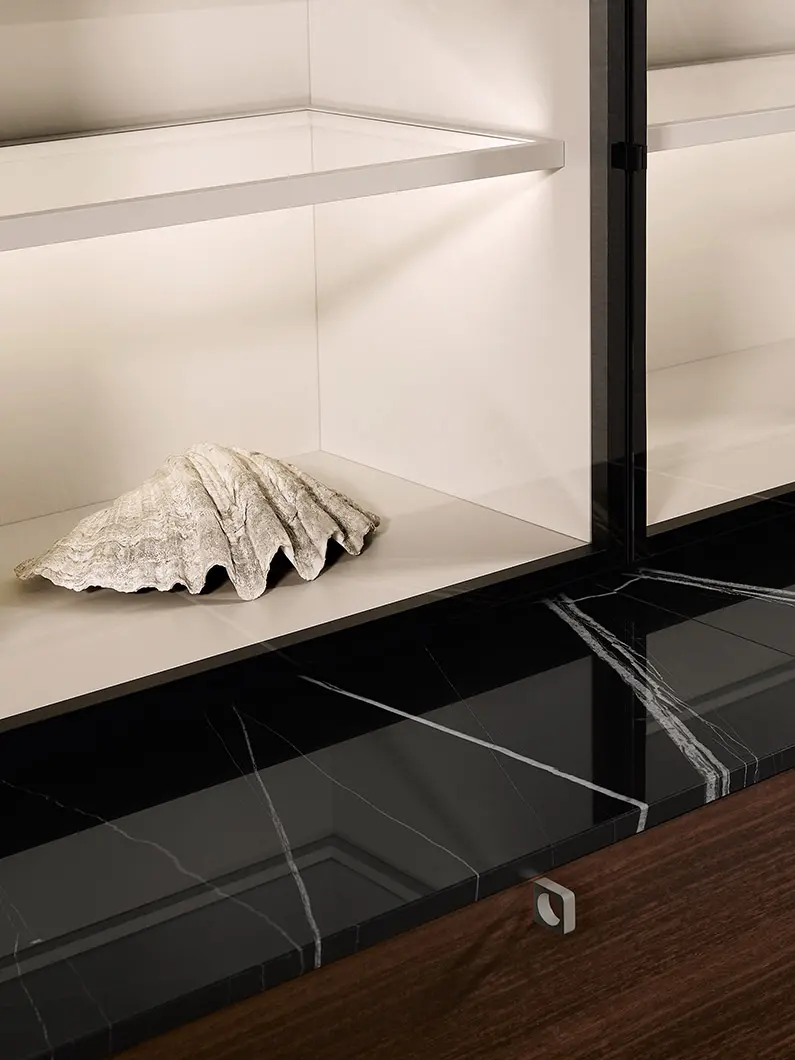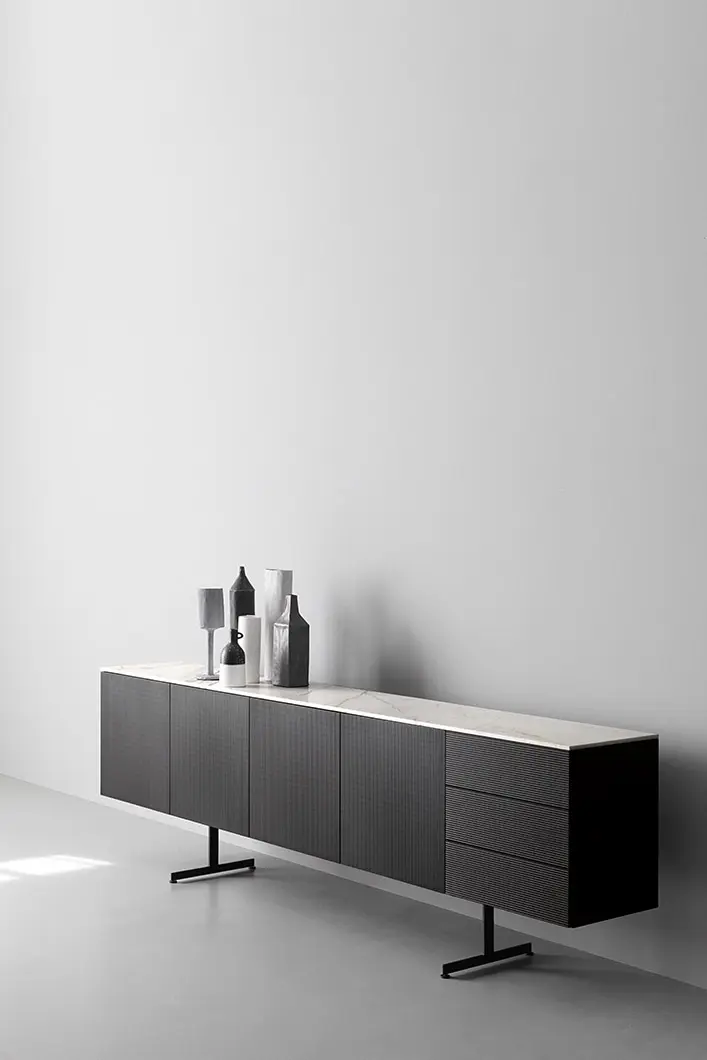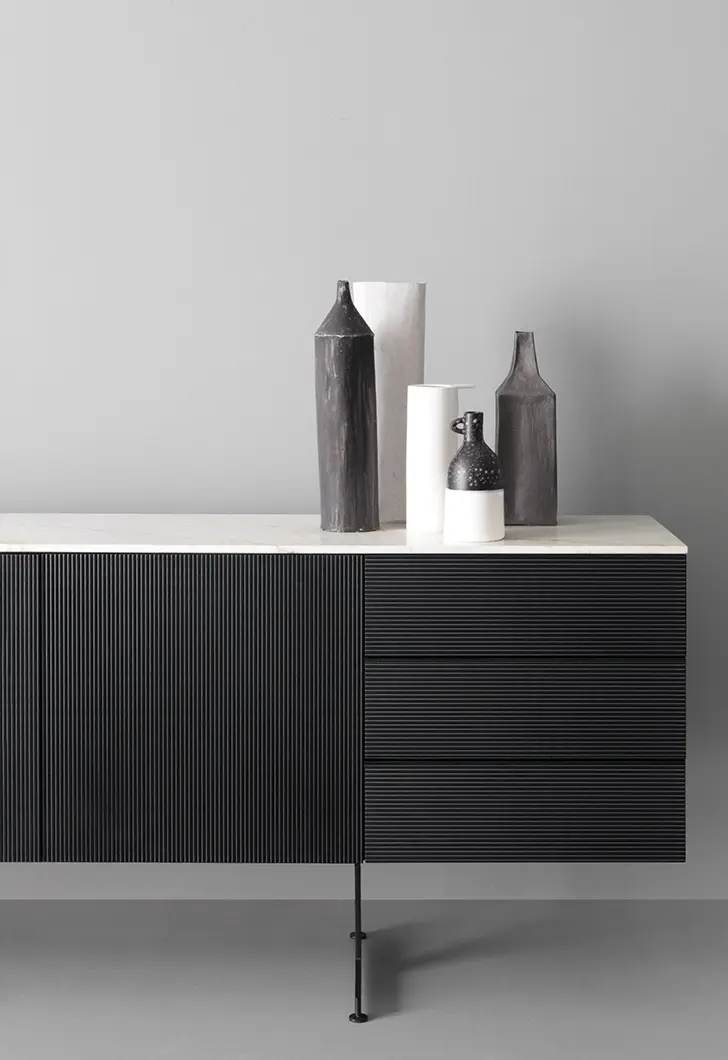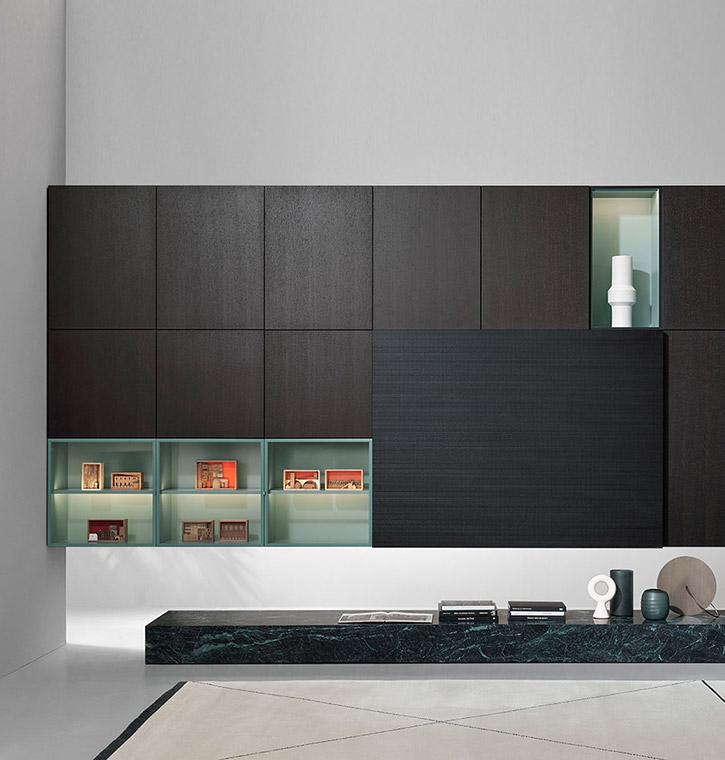 Product description
Modern arises from a pure geometric shape: the square. And from a simple idea: its movement in the space. A module repeating itself to generate objects different in materials, colours and functional purposes. Various objects – containers, tops, shelves – which proportions and formal consistency are harmonious with. An open collection of elements arises, combined and flexible, invented to draw spaces through sharp and elegant signs, shaped by rigorous lines, careful quality and refined design. A system allowing the greatest freedom to create the perfect combination of elements. A presence appropriate for every habitat.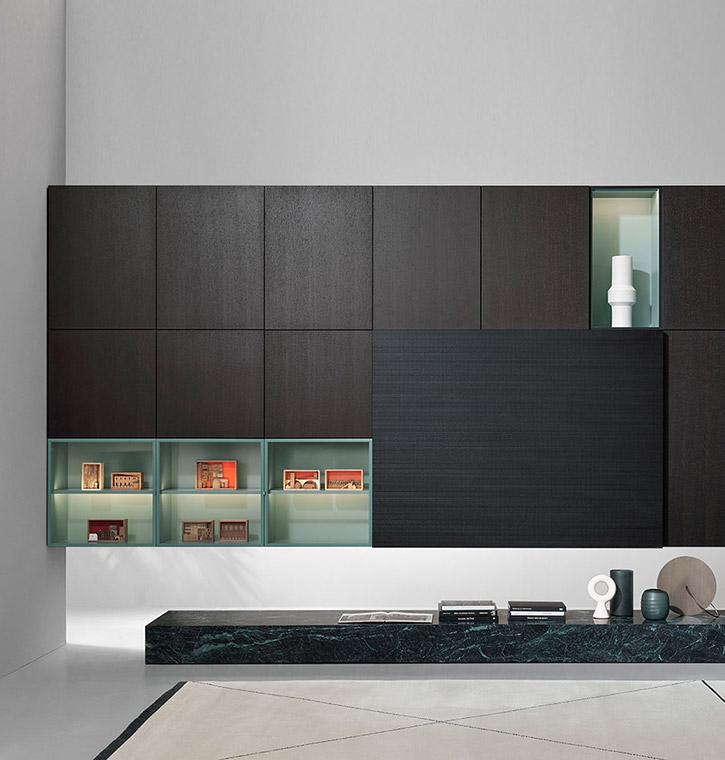 Designer
Piero Lissoni + CRS Porro
Dimensions
According to the composition
Product sheet
Modern

Collection
Modern cabinet collection

Official website
www.porro.com

BRAND SELECTION
OUR PRODUCTS