AIR SHELVING
A PERFECTLY POISED BOOKCASE FLOATING IN MID AIR.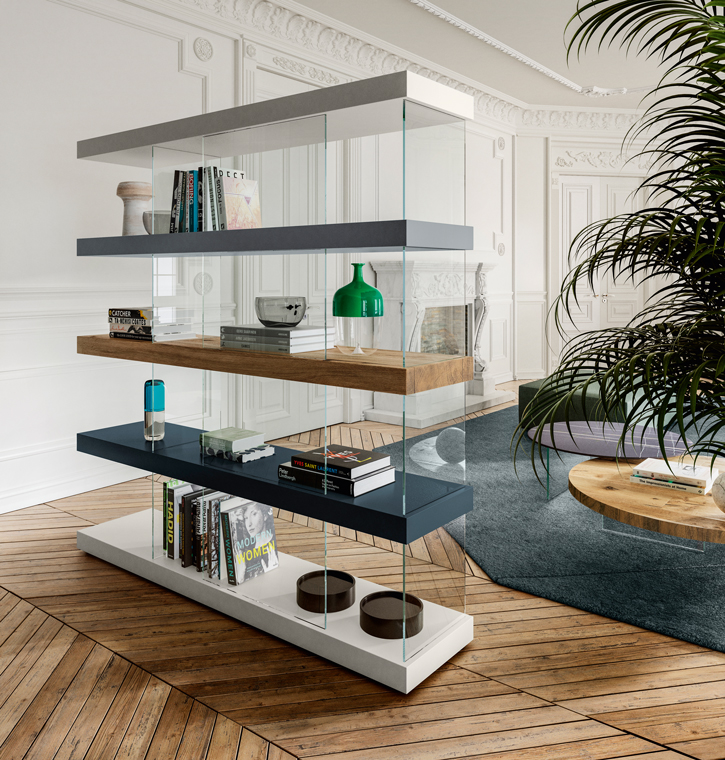 Product Overview
A reworking of space that changes the relationship between solid and void.

Standing on glass supports, the Air bookshelves seem to float in the air, allowing light to filter through and giving the room a sensation of extreme weightlessness.

The transparency of glass hides thick shelves and functional storage units, supported by a hidden mounting system that guarantees stability and safety to the structure. Free from size restrictions, they can be positioned in the middle of a room, dividing space with an element of floor-to-ceiling architectural mimicry.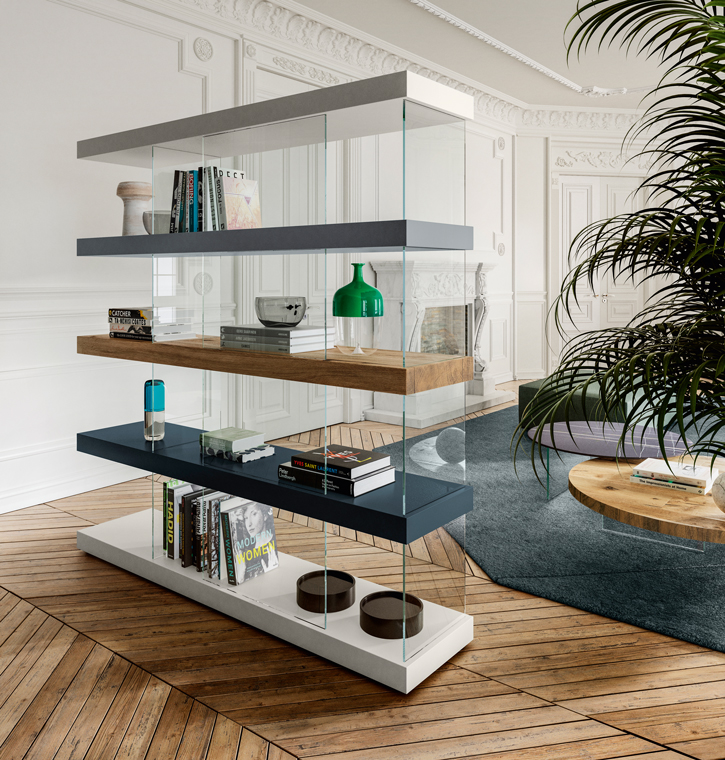 Product name
AIR SHELVING
Product sheet
Configure the Air Shelving

Official website
Discover the Air Shelving

FLOATING SHAPES
The chunky wooden shelves are supported by subtle vertical structures in extra-clear glass: a contrast that conveys extreme lightness.
TEMPERED GLASS
Tempered glass, an extremely durable material, is fitted to the storage units using a hidden fastening mechanism that ensures stability and safety.
SELF STANDING
With no fastening requirements, the Air bookcase can be stood against any type of wall, preserving any existing decorative or patterned surfaces.
EXPRESSIVE DESIGN
The shelves can be designed to align or be staggered, and you can personalise the colour and materials to create dynamic and original juxtapositions.
DOUBLE-SIDED DETAIL
The Air bookcase is double-sided, meaning you can position it in the middle of the room. It can also be extended upwards as far as the ceiling to create a delicate, elegant partition that blends into the architecture. 
Discover all the design Shelving produced by LAGO.
BRAND SELECTION
OUR PRODUCTS