Sustainable, new, high-performance outdoor items for summertime
Add to bookmarks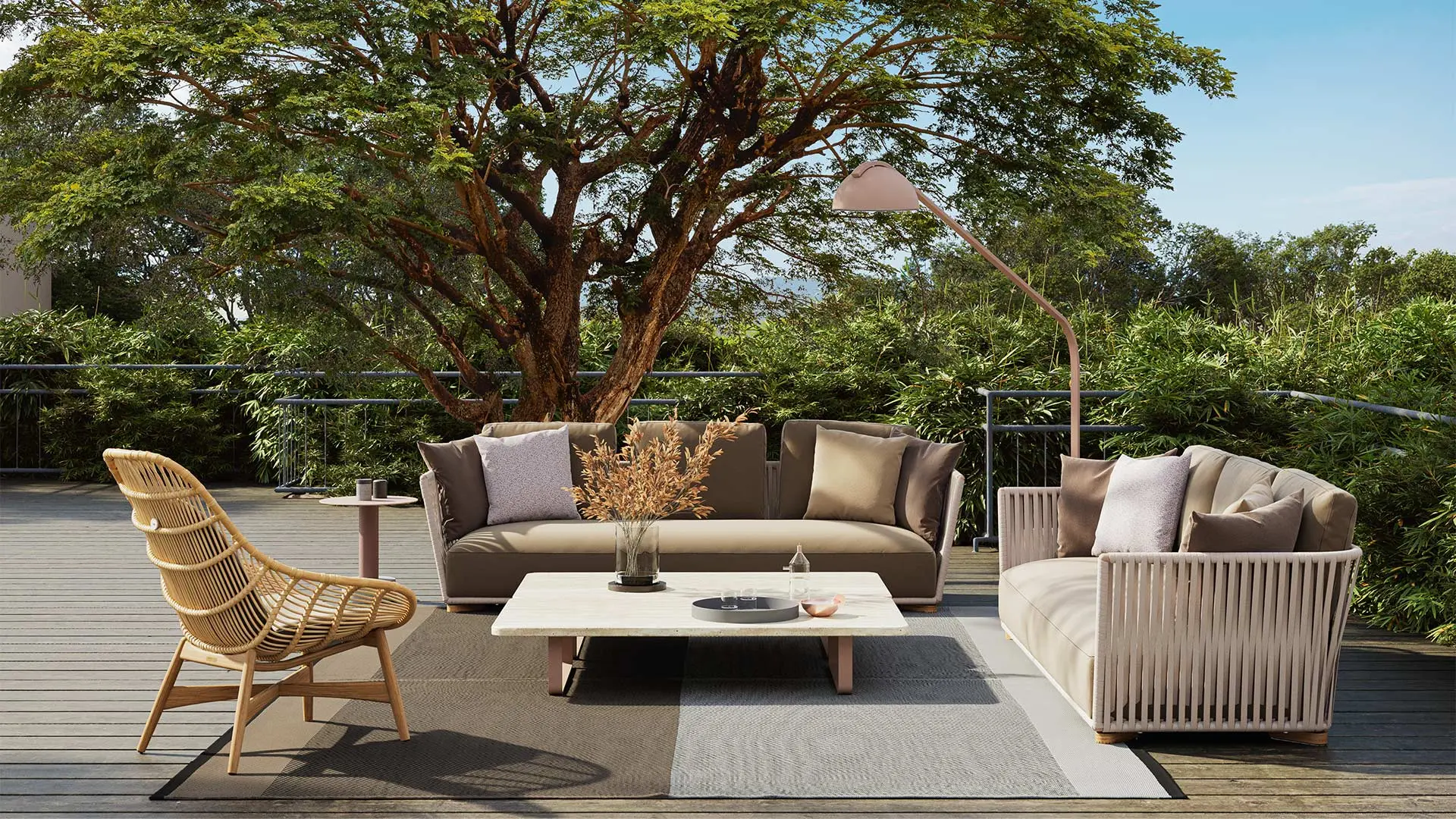 The latest designs from Italian and Spanish companies balance design with eco-sustainability, investing in the circular economy for more responsible products while keeping high quality
Living Divani's 2022 outdoor collection showcases the company's idea of the home as a harmonious space for people to rediscover a sense of conviviality and, at the same time, carve out a safe space. With a structure in Burma Teak and conceived to be easily rotated, David Lopez Quincoces' Kasbah modular sofa is designed for indulgent relaxation and to be used flexibly as the years go by.
"Developed for a residential project in Morocco using wood as a tactile material, Kasbah filled a brief for a large sofa configurable in multiple ways. We decided to work with Burma Teak sourced from certified plantations, and went for plastic joints made out of recycled waste yarn from the fashion industry, ensuring that all components are sustainability-inspired without stinting on design quality," the company explains.
This is evident in its Extra Wall compositions, an iconic upholstered furniture system designed by Piero Lissoni in 2002, which revolutionized the indoor and outdoor contract market. Celebrating its twentieth anniversary this year, the collection has been expanded with sustainable bouclé fabric upholstery made out of 100-percent-recycled PET from the Reviva® collection.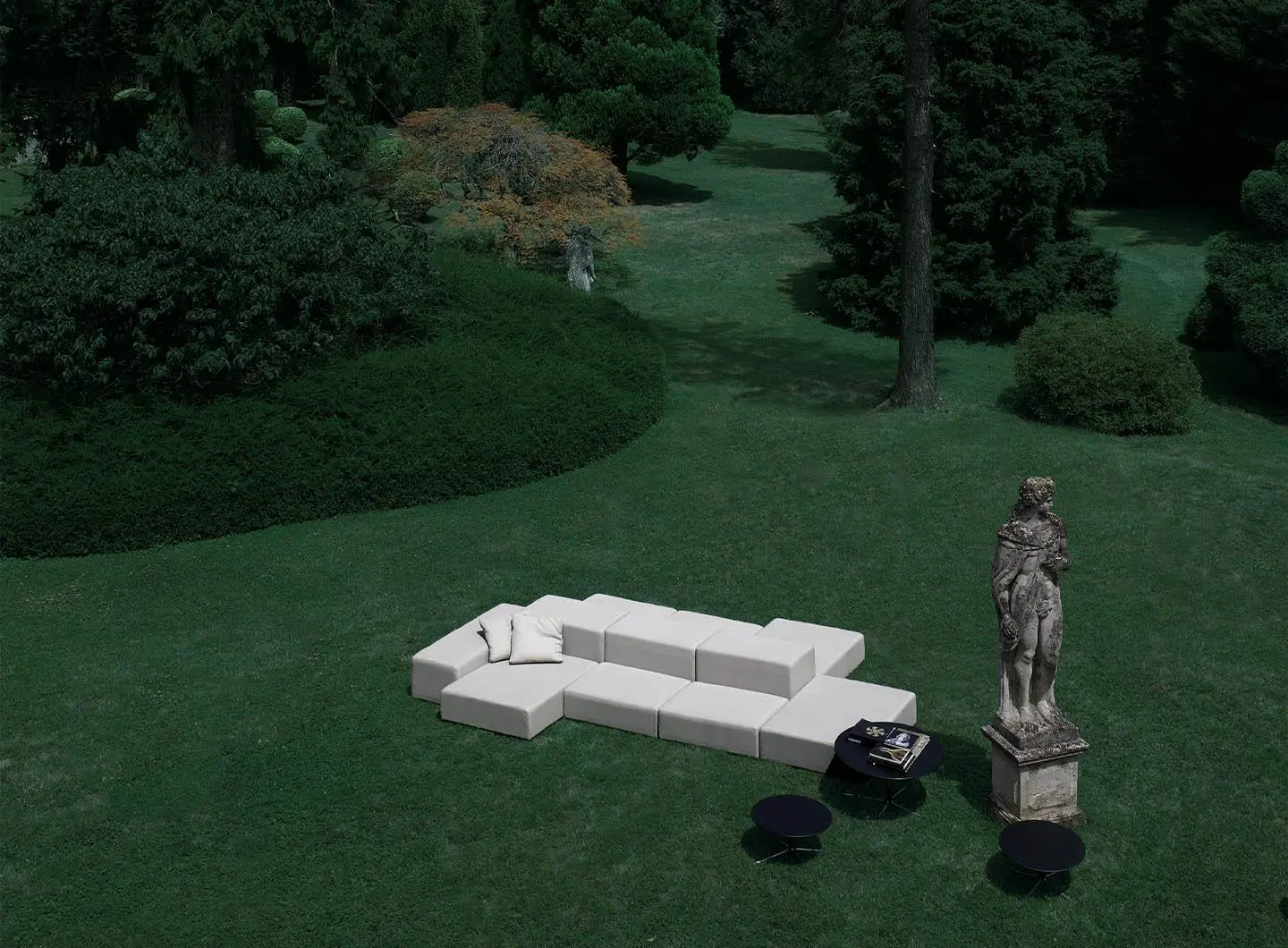 Sustainability is a top priority for Expormim too. The three pillars that underpin the Spanish company – design, innovation and tradition – and the three values that drive its production – ethics, culture, and well-being – ensure that each piece of furniture is designed to be long-lasting.
Expormim told us: "We are convinced sustainability is impossible without durability. We are committed to a strategic process of boosting environmental sustainability and social commitment, which have been at the core of the company's business since its foundation. Going forward, for our business it is essential that all raw materials used for outdoor furniture are sustainable and environmentally friendly. Obtaining certification to ensure the sustainability of materials and procedures is no fad; it expresses our desire to hand down a better world to future generations."
Alongside Talo and Obi, two of the most interesting new products presented at the last Salone del Mobile designed by Altherr Désile Park and Ludovica+Roberto Palomba respectively, Expormim also exhibited new versions of its Petale outdoor seating by MUT Design, Lapala by Lievore Altherr Molina, and Blum by Manel Molina.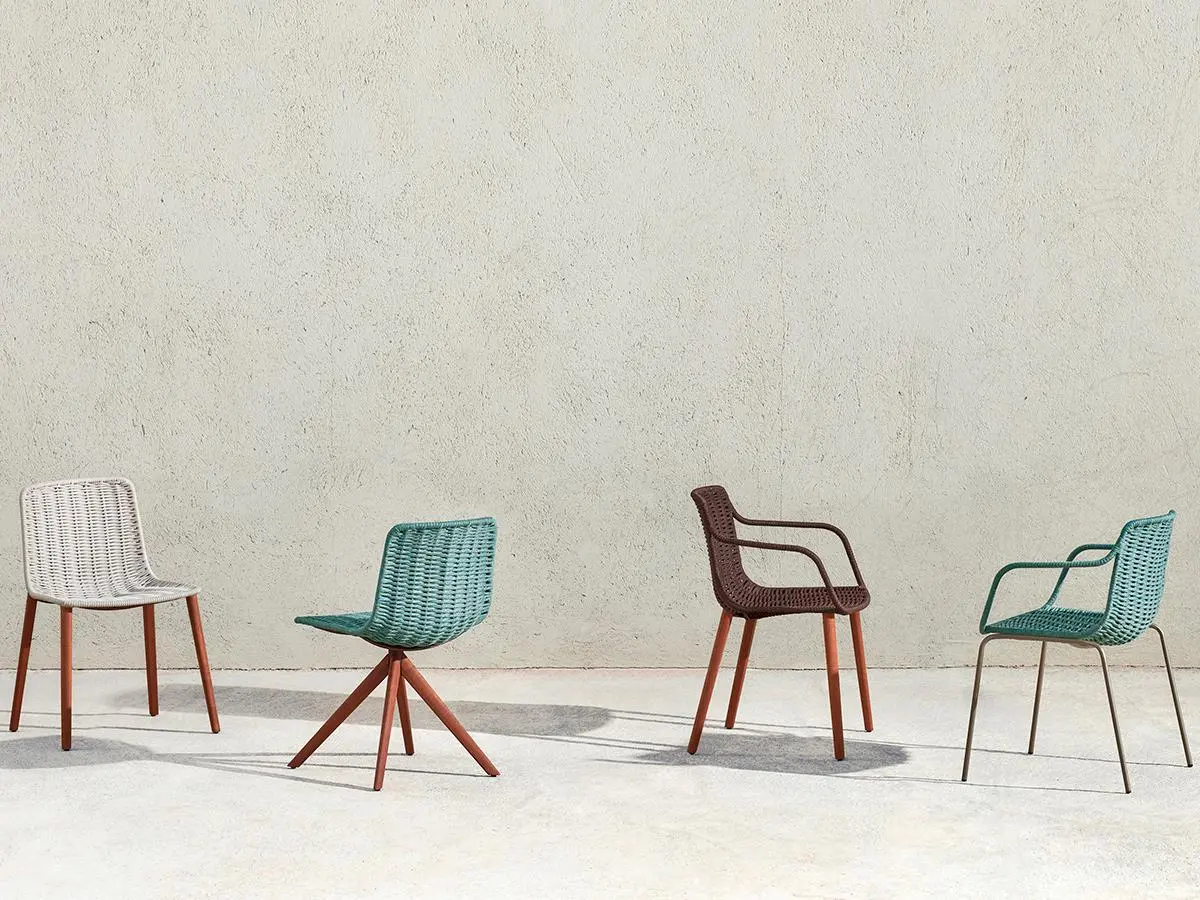 Staying in Spain, Kettal's outdoor furniture also has a sustainability focus: the company's 100-percent-recyclable, 70-percent-recycled Pad lounger system is designed for comfort and to withstand continued use, while 100-percent-recyclable and 60-percent-recycled Grand Bitta is a collection that combines aluminium frames woven with polyester rope, teak wood and stone table tops.
"My intention was to create a dense yet breathable weave to give the pieces a feeling of lightness and the feel of a cozy nest, in which natural colours help foster relaxation," says Rodolfo Dordoni, who curated the collection for Kettal. Paladin is a 100-percent-recyclable wooden umbrella for home and public use designed by Konstantin Grcic from 60-percent-natural, 30-percent-recycled materials.