Glass furnishing, an expanding niche
Add to bookmarks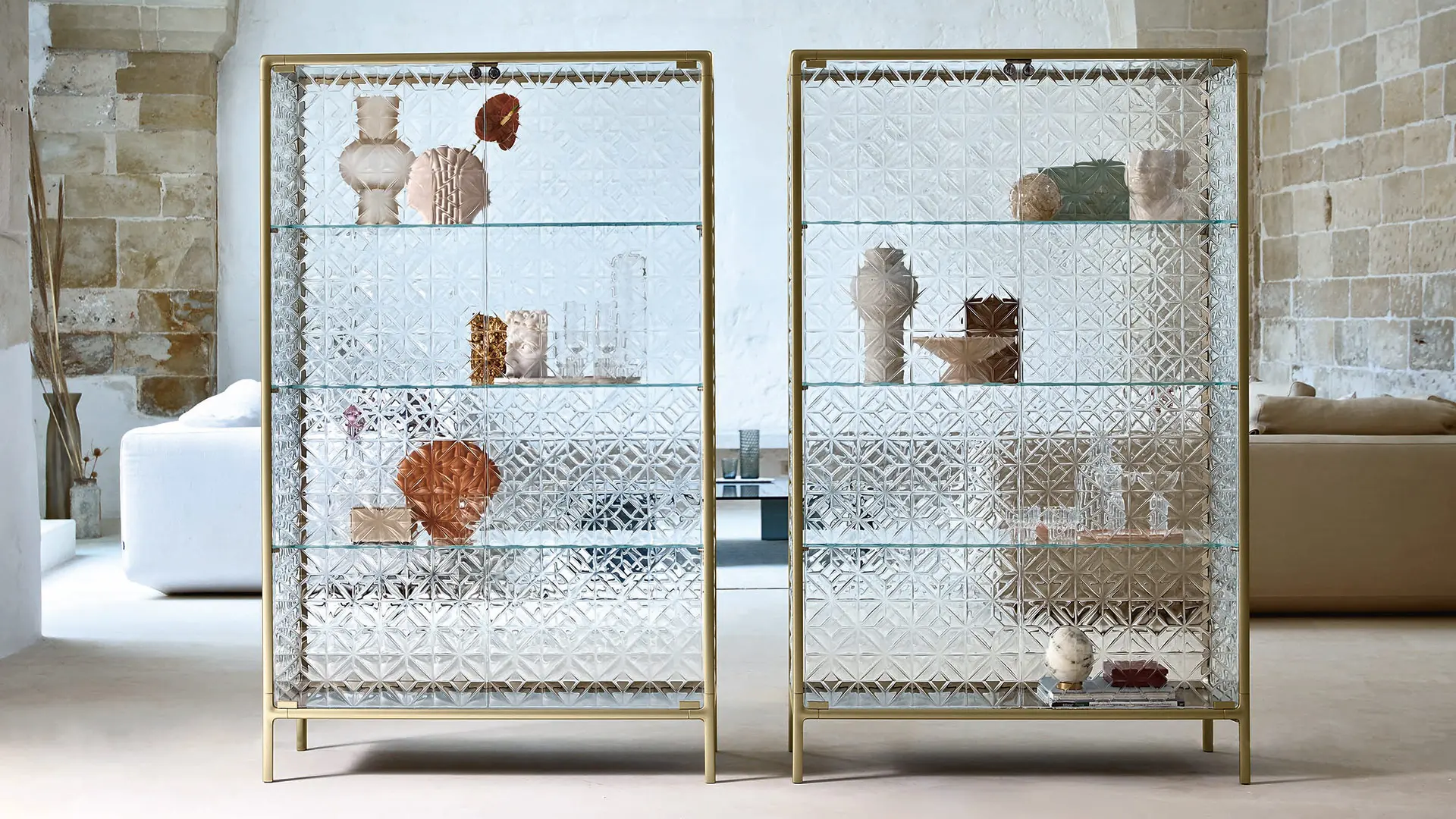 It's an extremely ancient material, bestowing transparency, lightness and textures on our homes with tables and storage that belie huge technological research.  Glas Italia, Rimadesio, Fiam and Tonelli Design have discussed some of the processes. A snapshot of a niche sector that keeps on growing.
Glass as a structure. As a material that furnishes the home, bestowing transparency, lightness and light.  Shirō Kuramata's 1976 Glass Chair was the first of its kind, made using an adhesive capable of bonding six sheets of glass together without screws, struts or reinforcements. "That was the forerunner. The first design to harness the great potential of this sort of bonding, totally transparent. We have carried on, taking this concept into industrial production."
These are the words of the architect Lorenzo Arosio, who runs Glas Italia, a company now in  Macherio (Province of Monza and Brianza), established in 1972, with its roots in a family-run glass factory. It now (2019) has a turnover of 15.2 million euros with estimated growth prospects of 30%. Its main markets, aside from Italy which is in pole position (although 80% of production is destined for export), China, Korea and the Far East in general, France and the USA. Covid has bolstered investments in China, "which could become our leading market in 2021," says Arosio.
Bisel by Patricia Urquiola and Jabot by Mario Bellini are small tables that are testament to the evolution of glassworking: "With Patricia, the product is achieved through an almost artistic approach, and a lot of experimentation. We worked on glass tops formed by various layers of coloured glass, then faceted the edges so that the stratification became visible," explains Arosio. "With Mario, the point is purity. The material is all tempered (up to 7 times stronger that normal glass) and is glued using a UV-ray process. The difficulty lies in assembling the sheets precisely, as, they tend to present irregularities after undergoing thermal tempering."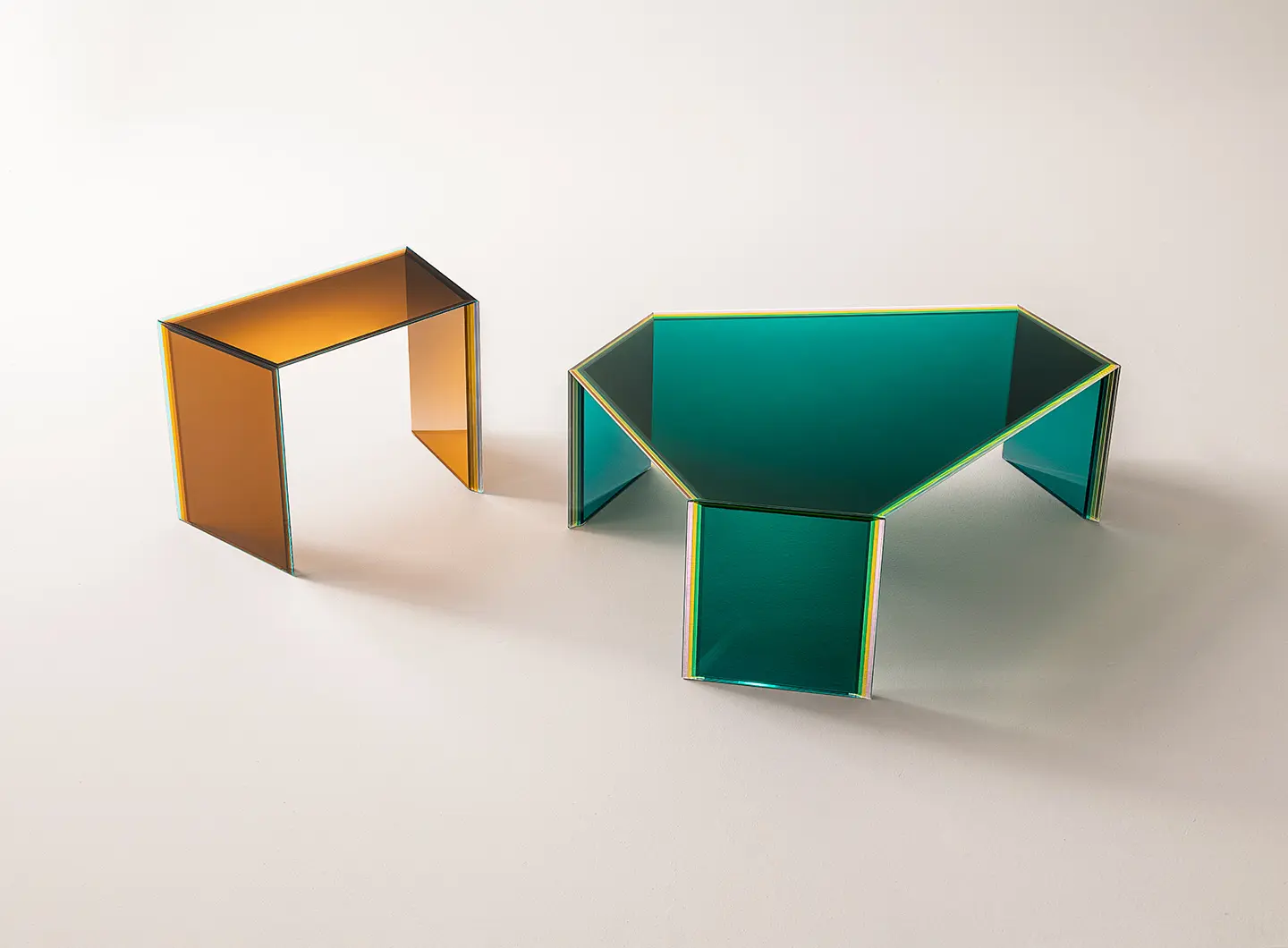 Is it a material for everyone, though? "In general products made entirely of glass tend to be niche products. Beautiful they may be, but they also have their limitations. You can make them safe, but if you take a hammer to them, they break. Yet it's becoming increasingly normal to have a glass product at home – both partitions and furnishing pieces, and the demand for containers is on the rise," concludes Arosio.
Rimadesio in Giussano (Province of Monza and Brianza) also produces spatial dividing systems and furnishings. The company was set up in 1956 in Desio, also in the heart of Brianza, and also with glass as its focus. It was initially called Rima Vetraria. Then came the change of name, using the first few letters of the founder's surnames – Luigi Riboldi and Francesco Malberti – heralding a new departure with the introduction of aluminium. The evolution spawned Modulor, a boiserie system that now comes with optional containers, designed by Giuseppe Bavuso. Here, the glass is employed for the panels, while the frame is aluminium. Specifically, the glass is diamond etched, making for a delicate dotted texture, then back painted in Ecolorsystem colours (a collection of water-based paints developed by the company) – and unlike shiny glass is fingerprint-proof.
Modulor drove orders during the first three months of 2021, along with the Cover closing system of hinged doors and the Self containers: 18.6 million euros. "The highest ever volume of orders during the same period," according to the company. Rimadesio closed 2020, the year of the pandemic, with orders worth over 57 million euros, a mere 4% drop from the previous year. During 2020, exports accounted for 64%, with Germany and Austria seeing the highest growth, while of the non-EU countries, Russia and the United States performed extremely well. Italy accounted for 36%, confirming its leadership position.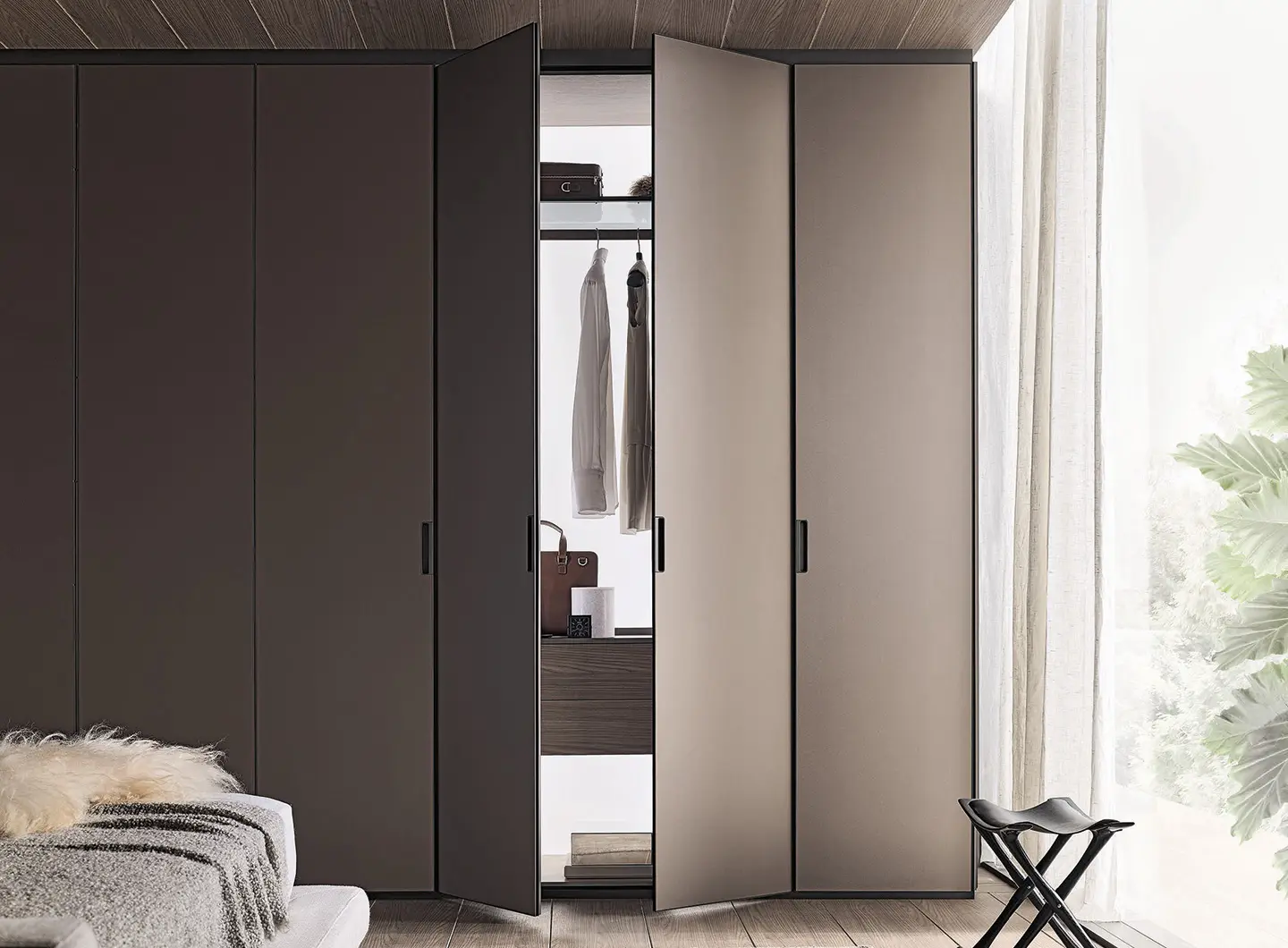 What is it that makes glass unique? It manages to fix a pattern, amongst other things. Echo by Marcel Wanders Studio for Fiam features textured glass – the cupboard boasts a painted wood aluminum frame and 6mm back painted, fused and tempered glass doors.
Fiam, based in Tavullia (Province of Pesaro and Urbino), was set up by Vittorio Livi in 1973 and has channelled its DNA right from the outset. The Onda pouffe designed by Livi himself is a paean to curved glass. The firm now has an 8-million-euro turnover in a market split 30-35% in Italy and 70-65% in the rest of the world (of which the EU accounts for 50% and Asia 25%), with foreign sales gaining a greater foothold over Italy. "In 2021, we are seeing 20% growth compared with 2019 and we are working on projects linked to commercial and product marketing and maintaining a significant growth trend," says the company. Covid has boosted investments in communication and digital instruments in general.
"Glass opens up very wide-ranging possibilities, from how the sheets are used to the techniques applied to the finishes. There's a whole world of processes to be rediscovered – engraving, superficial finishes and paints. Carlo Scarpa used acid etching and glass corrosion processes to huge effect, extremely beautiful. There's so much out there, but it's been neglected a bit. We delegate to standardised industrial productions (cutting and grinding), but in actual fact it's the artisan approach that needs to be explored. Everything that takes us back to fine quality products is vastly appreciated - by an international market with purchasing power."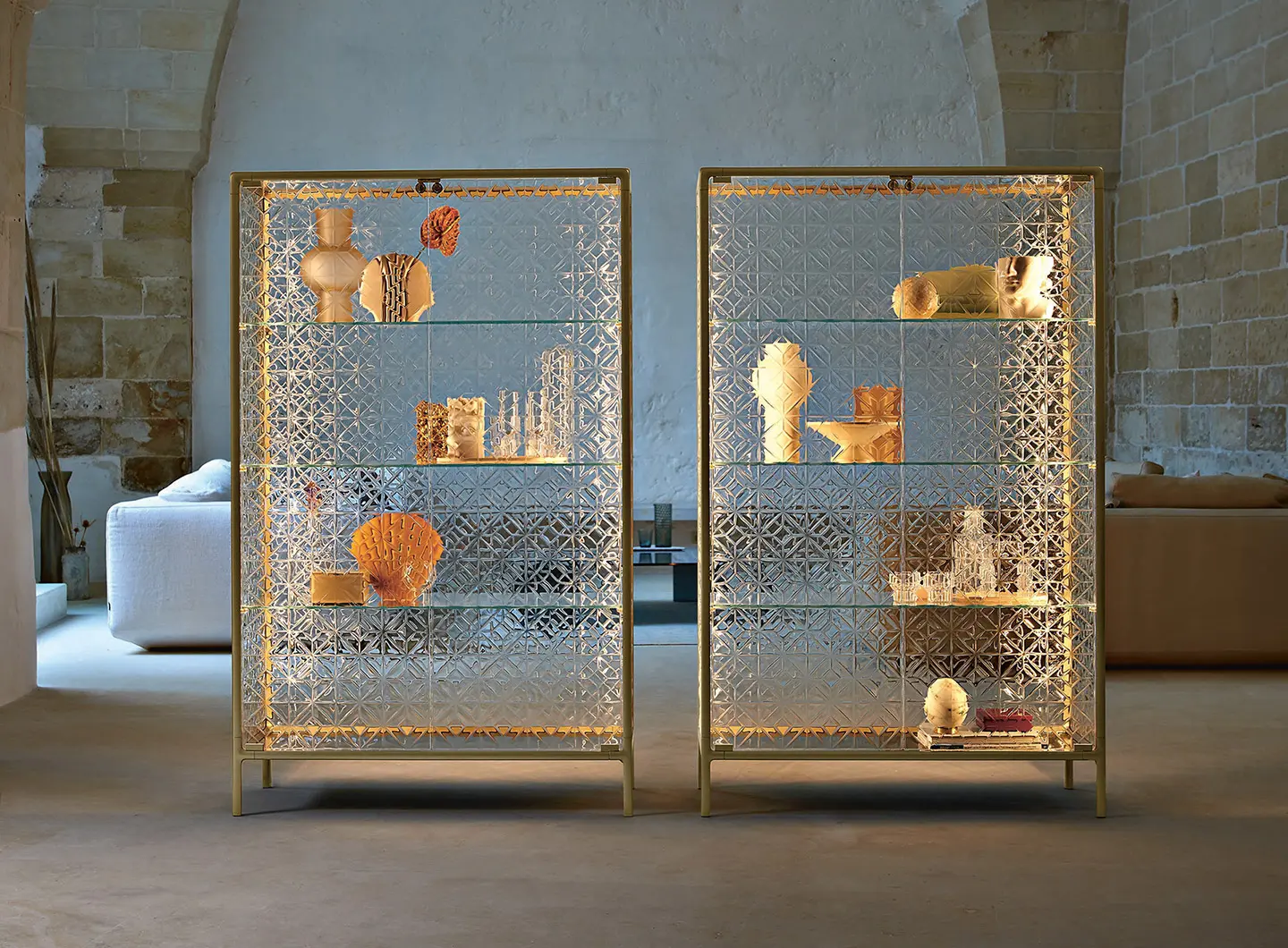 This is how the architect Massimo Castagna, art director of Tonelli Design, fleshes out the use of glass in furnishing. His After9 collection of tables and the Hemingway bookcase for the Marches-based company informs a new line, harnessing a mix of materials: "The meanings of glass change when it is worked along with other materials: stone, woods, metals – there's a huge world waiting to be explored. It's extremely interesting. It takes us back to how they are used in a home. With different materials. I think it's a more realistic approach to home living."
Now Tonelli, set up in Pesaro during the Eighties, sells its own products to around 60 different countries, the reference markets being the USA (40%), in constant growth, Italy (30%) and the rest of central Europe, with the UK, France and Spain foremost. It has a turnover of 4 million euros and saw 20% growth in 2021 compared with 2020. During the pandemic, it strengthened its focus on the home and on home offices and implemented a major digital market activity plan, with webinars and investments on the social channels.
The ways in which glass is made can be different, contemporary and digital. They all inevitably involve silicon oxide or quartz sand, sodium carbonate and calcium carbonate melted together at 1,500°C, as has been the case for thousands of years.