Events in december: four unmissable "seasonal" treats
Add to bookmarks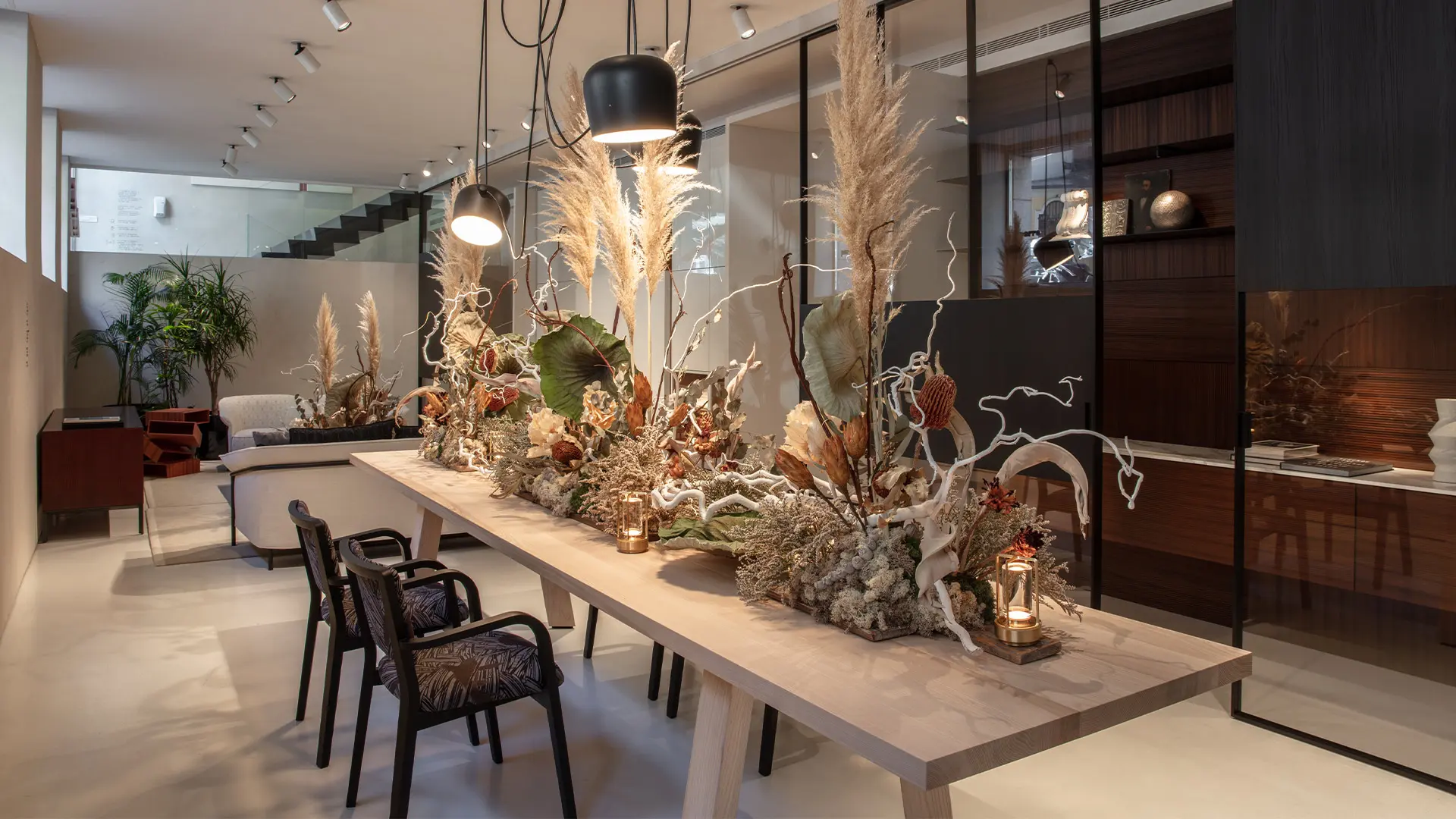 Porro presents "In the Mood For" in Milan, Stephen Burks is on show in Atlanta, Brodie Neill in Australia and "Designing Peace" in New York
As the eagerly anticipated Christmas atmosphere begins to build, design events are becoming ever more exclusive and fascinating, with exhibitions all over the world. These are particular sorts of event, where not only the protagonists' work but also and especially their "living concepts," evidence deeply personal characteristics.
The unexpected interiors of Porro Duriniquindici
East and West come together in Porro's Milan showroom for the exhibition In The Mood For, in which the pure forms of the brand's systems and collections meld with the fabrics of Backhausen's Japonaise collection, delicate, atmospheric Ambientec lamps and the green handiworks of the plant artist Satohi Kawamoto.
The creations of the three foreign brands range across Porro Duriniquindici's two floors amongst the company's iconic pieces – not least Kite Sofa and the small Romby armchairs by GamFratesi; the Left bench, Ryoba table and Nebbia chair by Piero Lissoni; the Lipia bed by Jean Marie Massaud and the small Lullaby lounge chair by Nicola Gallizia.
Ambientec is the Japanese lighting company set up by Yoshinori Kuno in 2009, born of lengthy experience in the field of professional lighting for underwater photography, designed to illuminate the depths of the ocean. Its wireless lamps are innovative, waterproof and integrated with exclusive LED technology. Satoshi Kawamoto is not just a master plant artist, but, thanks to his approach to integrating plants with the internal spaces in which people live, he's also an interior designer. Kawamoto is the founder and creative director of Green Fingers Market, a company channelling original, sophisticated green style. Backhausen, a brand leader in luxury fabrics since 1849, pays homage to traditional Japanese elegance, combining luxury furnishing fabrics and decorative materials with a variety of motifs, including Enso, Hana, Hoshi and Koi by Koloman Moser.
The future of living in the exhibition "Stephen Burks: Shelter in Place"
The exhibition Stephen Burks: Shelter in Place runs until 5th March 2023 at the High Museum of Art in Atlanta, USA, featuring more than 50 works accomplished by the designer during the last 10 years of his career – a decade that demonstrates his holistic approach to material, bringing art, architecture and design together.
A globally-renowned African American designer – in Italy he has worked for Cappellini, Dedon, Roche Bobois and Missoni – Burks champions manual production as an innovative approach within industrial processes. Hugely topical, Shelter in Place explores design ideas and solutions pertaining to domestic life in a period of global upheaval, and tackles the issue of how to design interiors that will foster joyful, creative lives. It is no surprise that in his work, Burks collaborates with craftspeople all over the world to create furniture, domestic objects, lighting and fabrics of tremendous aesthetic value and equally high functional content.
The exhibition unfolds across five different themes: Craft as Collaboration, Modernist Orthodoxies, Weaving as Metaphor, Environmental Inclusion and Crafting Diversity, in collaboration with students from Berea College in Kentucky, an institution that promotes a utopian and anti-racist culture.
"Stephen Burks: Shelter in Place", High Museum of Art, Atlanta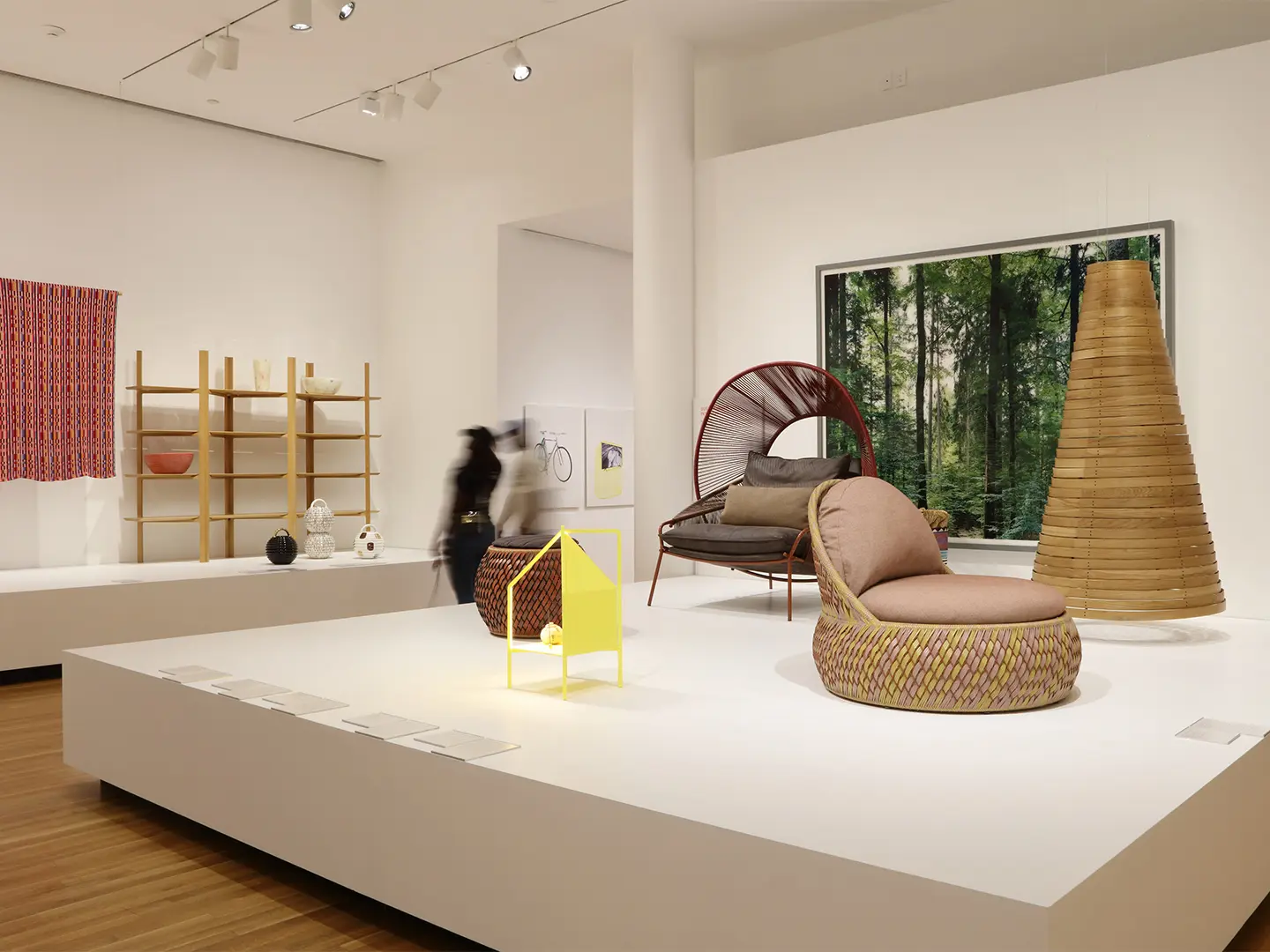 The visionary talent of Brodie Neill in "Resonance"
Brodie Neill is originally from Tasmania, in Australia. Although his studio is in London, he is now, in some respects, "going home" - his exhibition Resonance opened at the non-profit Design Tasmania centre in Australia on 2nd December. It comprises a selection of iconic pieces from his archive of "furniture formations," for which he is known all over the world – his Curve Bench for Riva1920 is unforgettable.
Demonstrating his extensive knowledge of even unusual materials and their potential for use in design,  the exhibition showcases a collection centred on the re-imagination and transformation not just of virgin materials, but also of forgotten or waste ones. The works on show include ReCoil, a table built from salvaged timber from the arid  Pieman River Valley in Tasmania, recently presented by Design Tasmania at Melbourne Design Week 2022 and at London Craft Week the previous year; the Gyro table created for the London Design Biennale in 2016; and Cowrie, currently on display as part of the exhibition The Chair at Craft Victoria in Melbourne.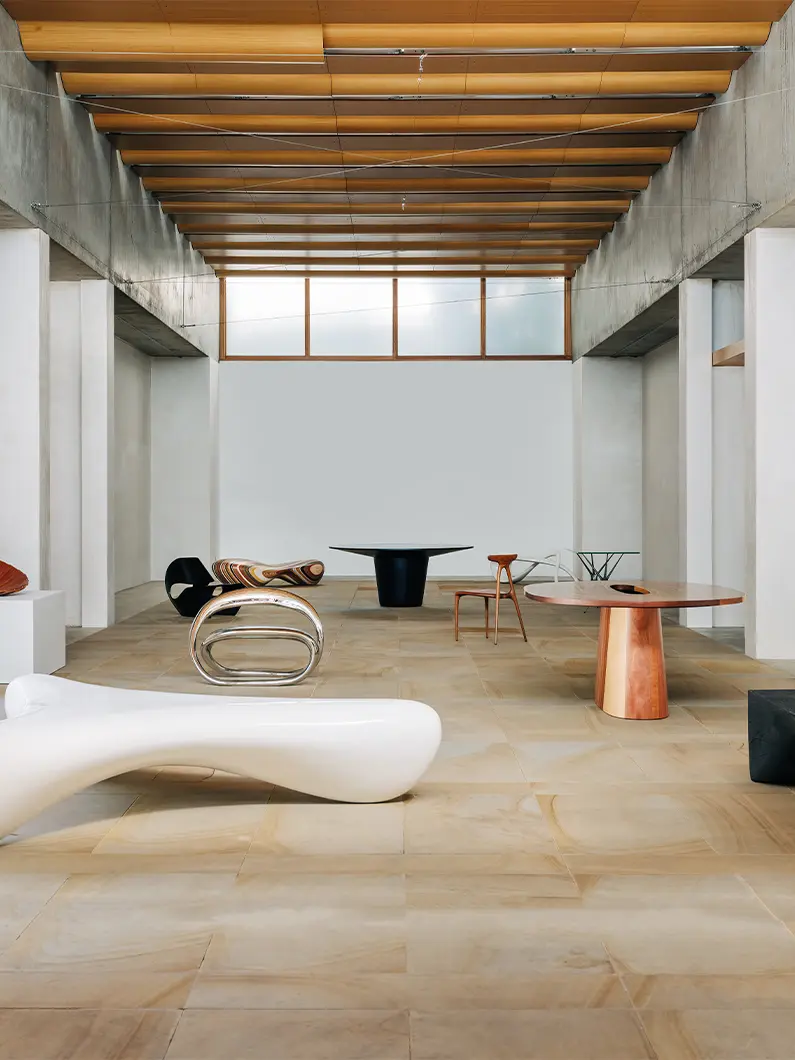 Design for Peace in New York
The exhibition conceived by curator Cynthia E. Smith is called Designing Peace and will be on show until 4 September 2023 at the Cooper Hewitt, Smithsonian Design Museum in New York, investigating the role and potential of design in building a world of peace.
The concept behind the project, in continuity with a series of events that the Cooper Hewitt has dedicated in recent years to the themes of humanitarian aid and international cooperation, is that "peace is not an abstract and remote concept, but it can be local, tangible and even possible," said Cynthia E. Smith. Five questions build the exhibition: "How can design support safe, healthy, respectful environments?", "How can design address the root causes of conflict?", "How can design engage creative confrontation?", "How can design embrace truth and dignity in a search for peace and justice?" and, finally, "How can design help transitions from instability to peace?". The answers are still open.
Here are a few examples, chosen from among the 40 exhibited projects from 25 countries: the HarassMap app, created by four abused Egyptian women; the Teeter Totter Wall installation: three pink swings placed by Rael San Fratello on the border between Mexico and the United States; or again Stone Garden: a 13-storey building for mixed use built in Beirut by the Lebanese architect Lina Ghotmeh to commemorate the suffering of the city from the post-war period to today.
Designing Peace, Cooper Hewitt, Smithsonian Design Museum, New York