New spaces and new ways of understanding bedroom and storage
Add to bookmarks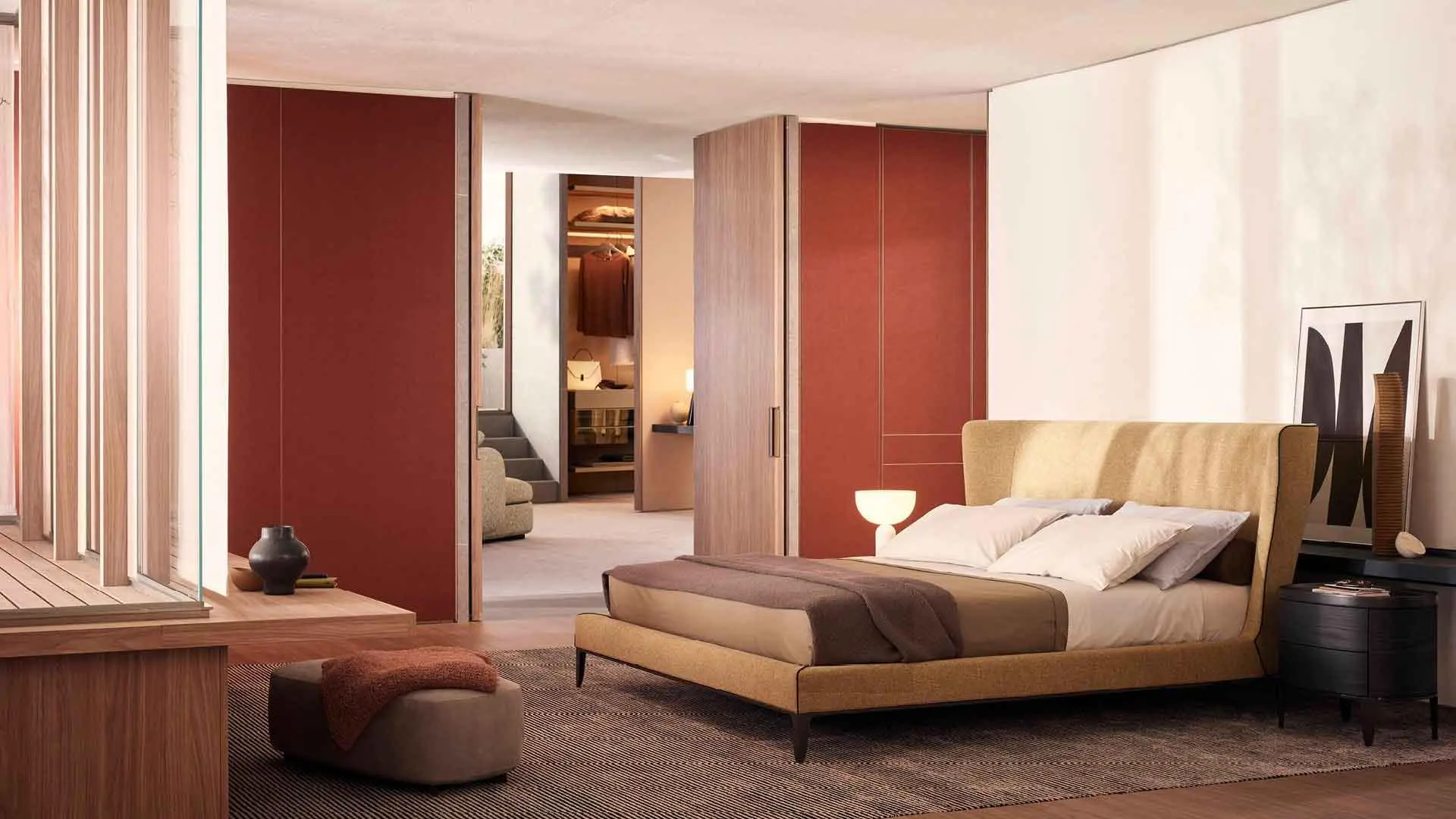 An extremely multi-faceted universe, a reality that revolutionized our way of interpreting the bedroom, closets and all things storage, in homes as they change to cater to the modified needs of the people who live there
There's nothing strange about the fact that furniture sales have been among the strongest of all recoveries post-2020. People became keen to try and build a world as well suited as possible not just to their own needs but to a new way of living the home, emerging after long months of working from home, smart working, lockdowns and the need for a cocoon of comfort and peace within their own walls, temporarily without having/being able to look elsewhere. Bedroom spaces underwent one of the biggest rethinks in this needs-driven revolution that, to a certain extent, has swept through the home and its spaces as we know them. If until now this part of the home held the almost unique role of providing a space to rest and spend the night, its functions today have multiplied, with the appearance of desks, foldaway closets, beds that have changed their classic conformation or hide away in a bookcase by day only to return as the star later on, above all without losing comfort, not to mention a thousand other potential possibilities.
Nowadays, containers and closets can be adapted and transformed into partitions or bookcases to create new spaces and make new arrangements without necessarily having to call in a renovator, without making final decisions, leaving the decision to the moment with the option of changing in future (reflecting the uncertain times we live in). Beds can be so many things without losing their comfort, and yet the bedroom is becoming increasingly unique through the addition of new features that optimize space or become a key identifier of a home's style, for example through materials or headboard design. All this is, of course, abundantly clear on furniture brands' Instagram accounts, where the storytelling evokes cosy yet sophisticated atmospheres.
Poliform, for example, offers a warm overarching palette for both its posts and various elements, from walk-in closets to cabinets and bedrooms, focused on fabric detailing and wraparound headboards in a sinuous variation of colours, materials and lines that are always clean and essential. At Minotti, interwoven fabric detailing features on the headboards of its beds and bedside tables, becoming as one with the bed itself, the wood worked in finishes and geometries to create an always elegant, always minimalist result. The company's Instagram account offers a veritable journey through Zen lines and minimal colours, almost like a Japanese garden where harmony is the undisputed king.
Molteni&C Dada's Instagram profile features a sketch of the initial design for a dresser, Luca Meda's original sketches for his historical design creations, and everything that goes to make up this company's contemporaneity, built on details, furniture elements and entire interior designs and their respective spaces, well-lit and tidy closets, and above all stand-out beds, such as one designed by Patricia Urquiola that epitomizes the elements of this comfort zone for yearned-after R&R, through the prism of Venetian-inspired luxury.
Zanotta's Instagram account is more pop- and graphics-oriented, with detailing that relies on quotes, cards and coloured writing to render its style and hallmark traits even more recognizable. This has always been how the brand recounts its approach to interiors, dynamic spaces and combinations, allowing endless variations and adapting to a changing world and the changing needs of our homes. It's not that important whether it's a bed or a vertical container: what matters is being able to create an original, personal space. Edra.official offers its Instagram take on interior design that straddles dream and reality. For instance, a canopy bed suspended from the ground, as if to be closer to the immaterial realm of dreams.
Pianca, a Veneto-based bedmaking company since 1956, has always sought to expand its view of the home as far as possible by designing practically every interior element. The company takes a similar approach to its Instagram profile, showcasing colour choices, the materials chosen for its products and their details, ranging from wraparound beds and super-essential closets to capacious bookcases and dressers that embrace the finitude of their detailing, rendering them into the foundations of living room and bedroom decor.
Check out the previews of the products that will be unveiled at the Salone del Mobile.Milano 2022