A life in glass. Fifty years of FIAM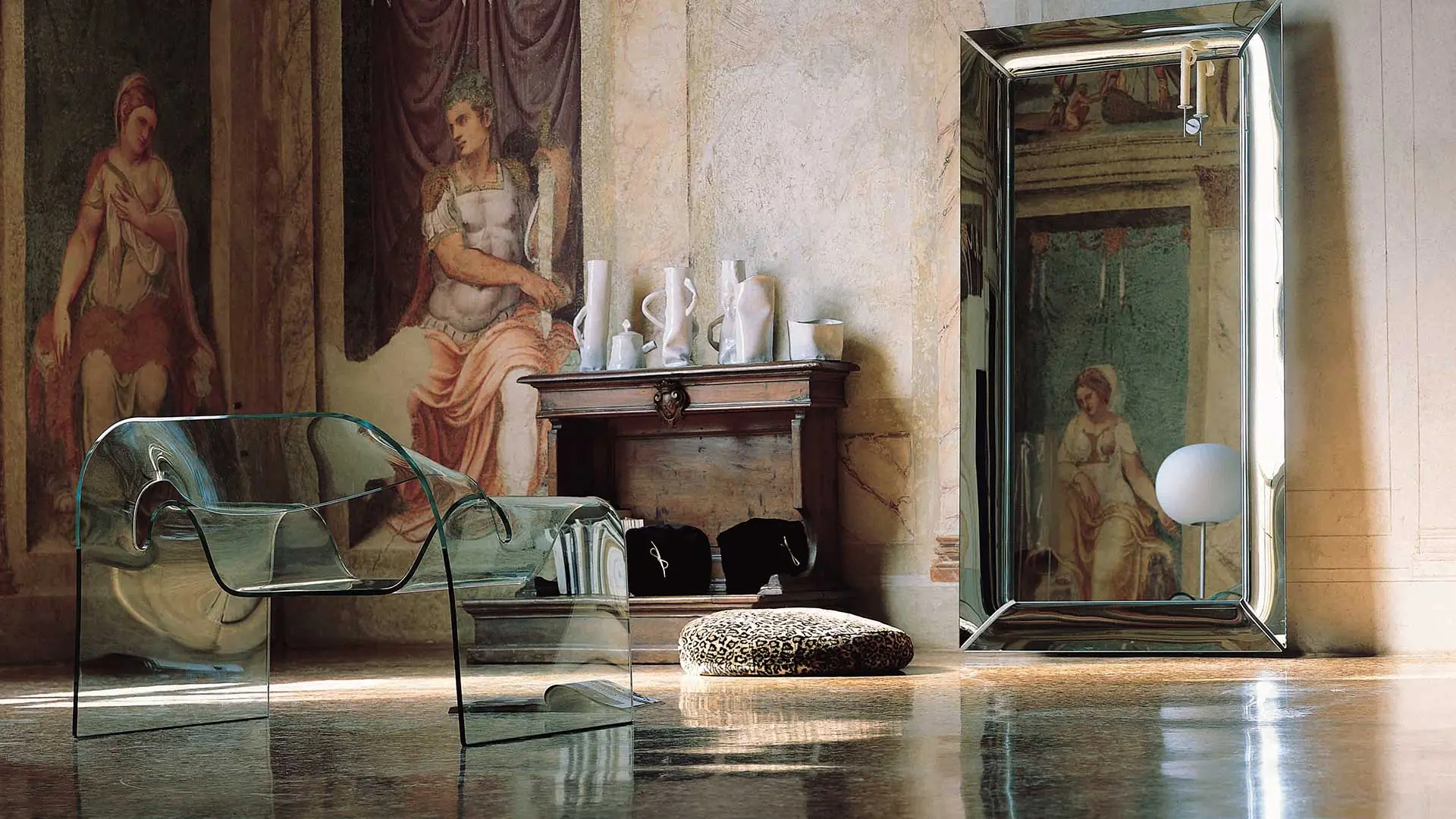 If we think about what glass meant 50 years ago, today we have made some unimaginable types. We have changed the paradigm. Conversation with Vittorio Livi, founder of FIAM 
Glass is calcium and silicon: it is earth! The most ecological material that exists, endlessly recyclable, it can undergo any processing. A material that humanity will need in the future. 
Vittorio Livi, designer and founder of FIAM Italia, speaks with satisfaction and passion of the objectives achieved in the course of his work. An inexhaustible and contagious energy: "We are still in a primordial era, I have to enough to keep me busy at least until I turn 105." 
To celebrate the 50th anniversary you have chosen to revisit the Onda stool.
I made it as a seat to control production. A journalist saw me sitting on top of it and told me that if it broke I would be seriously hurt. So why not stand on it with one foot? He photographed me in that position and the extraordinary image of a man standing on a sheet of glass was published everywhere. It was 1968 and, given the interest, I created the collection. I designed the first pieces and also built the ovens. In '73 I presented FIAM, the first company in the world to make curved crystal furnishings. That was the spark: it seemed right to celebrate the 50th anniversary with this symbolic object. 
How did the collaboration with designers begin?
I was very young, I went to Milan and the then president of ADI Angelo Cortesi introduced me to the Milanese design environment. So we began to produce collections with a certain aesthetic significance, not that mine did not have it... But in all this there has been the technological revolution of a profession that did not exist. I have never imposed technological limits on designers. Beyond this, the passion for art has enabled me to cultivate experiences that over time have proved successful and invite artists such as Arnaldo Pomodoro, Gianni Colombo, Bruno Munari, Walter Valentini and many others to create works. We have built the Villa Miralfiore museum, where we keep all our works. For forty years, for the festivities, instead of giving the usual panettone or bottle as presents, I give a multiple object. And today people find inside their homes a collection made up of these "personages". To create their works, always original and always with different aesthetic forms, the artists have stimulated our research, the results of which have entered our furniture line. I have devoted my life to glass. 
Are you still active in the company?
They often ask me, why don't you retire? But I like living. I have my own plans for my life until I turn 105. Every morning I can't wait to go to the company and devote myself to research, which is the work that gives me the most incentives. With a passion for your work you live happily. I have been assisted for some time by my sons, Daniele as CEO and Francesco as Export Area Manager. They represent the future of the company. 
Any anecdotes related to your collaborations with masters such as Mari and Magistretti?
Mari thought I was brave because he didn't like my method of choosing products. He thought it wouldn't lead me to success. 
Instinct. I have to like things beyond logic. Mari reasoned rationally: "If you don't do something rational you can't get ahead." He was a rather difficult character, very direct. At first I suffered a lot. The world has changed. Arriving from Pesaro meant coming from the deep south. Young, "southern", with a trade that did not exist, and an unknown material. Where did I think I'd go? 
Your relationship with Magistretti.
Knowing Magistretti was a fairy tale. There is an anecdote that, thinking back, still moves me today. He had fallen in love forty years earlier with the work of a Sicilian artist, exhibited at the Schwarz Gallery in Milan. He wanted to meet him again and, knowing my passion for art, he told me about it. I understood that he meant Emilio Isgrò, who in the meantime had moved to Milan. I organized the meeting and, when, creating a certain suspense, I took Vico Magistretti to Isgrò's workshop home, they were both moved. Two guys meeting again after more than 40 years... Another beautiful moment was when, a few months before he died, Magistretti invited me to his house and asked me to make a lamp. Unfortunately, however, his heirs decided that they wouldn't produce anything that wasn't in production before his death. He was a wonderful person, with an exceptional culture, a rare sensibility. I have experienced adventures with Starck, Arad, Libeskind, Fuksas, among others, and I was lucky enough to live through this historical period. Not that FIAM is big, but they had the opportunity to create objects that they couldn't have made elsewhere.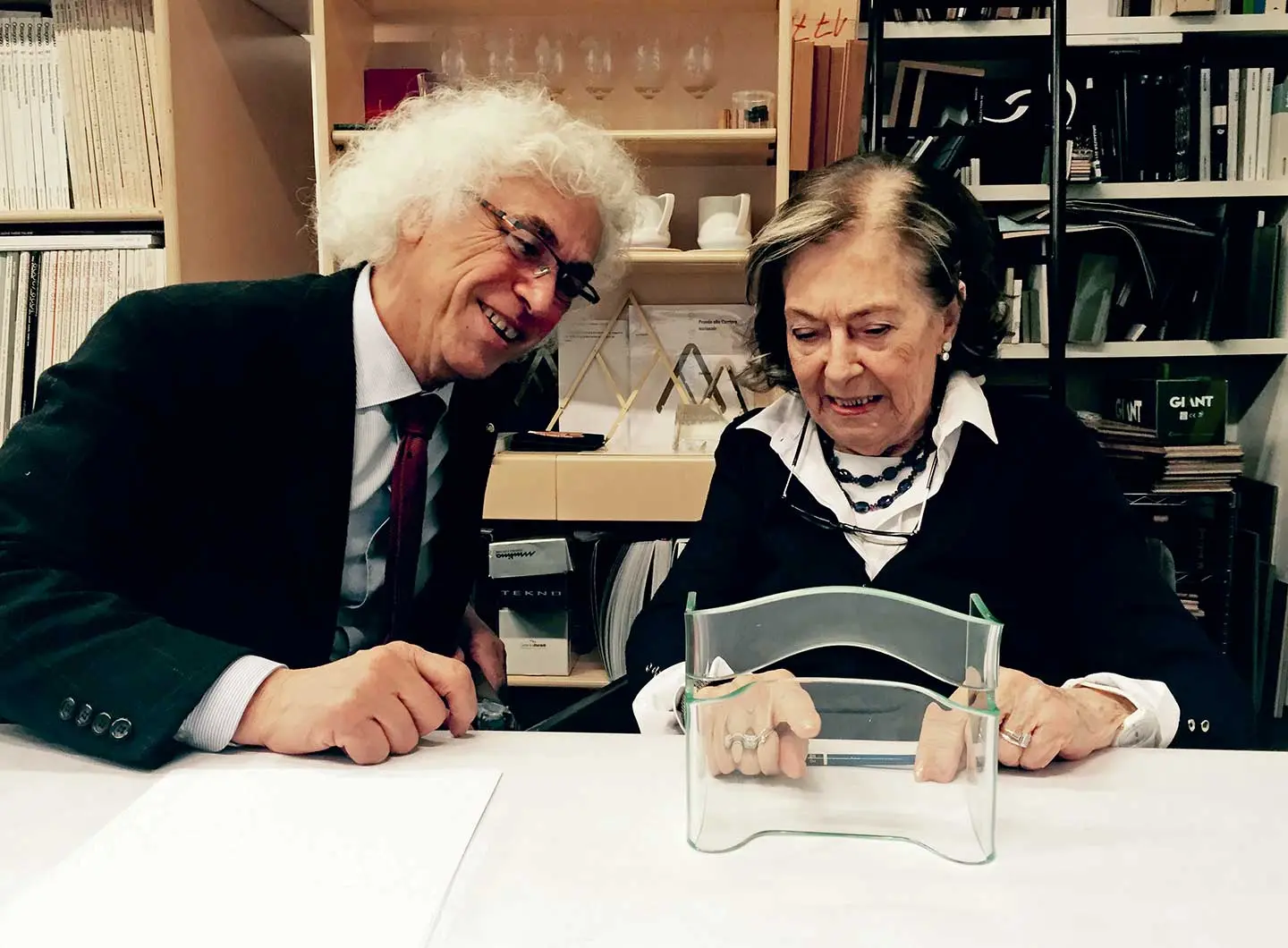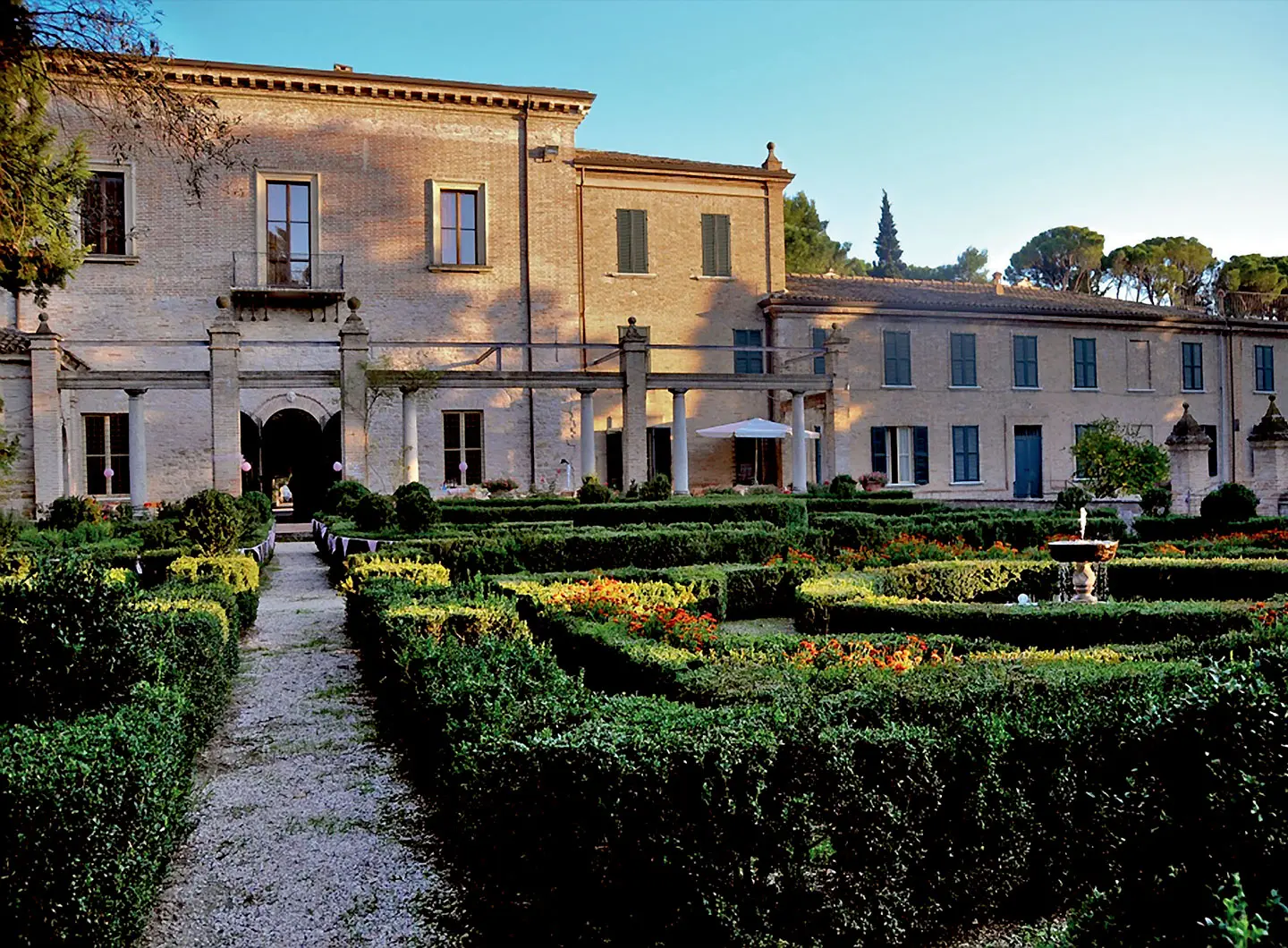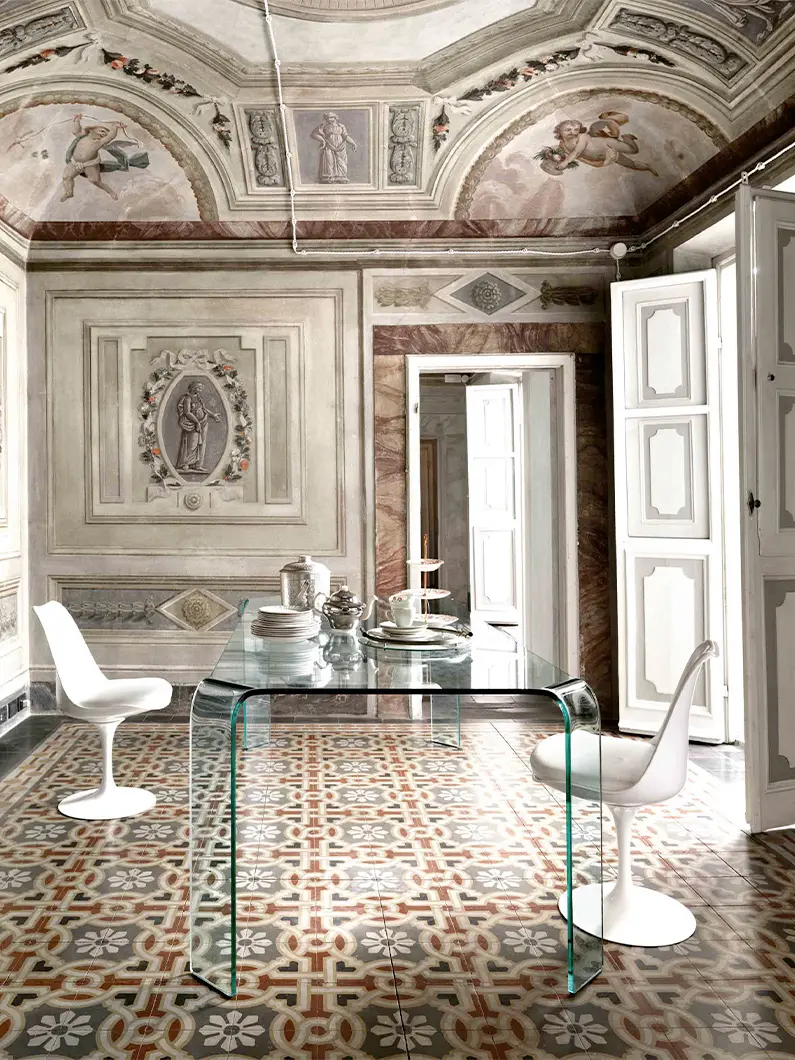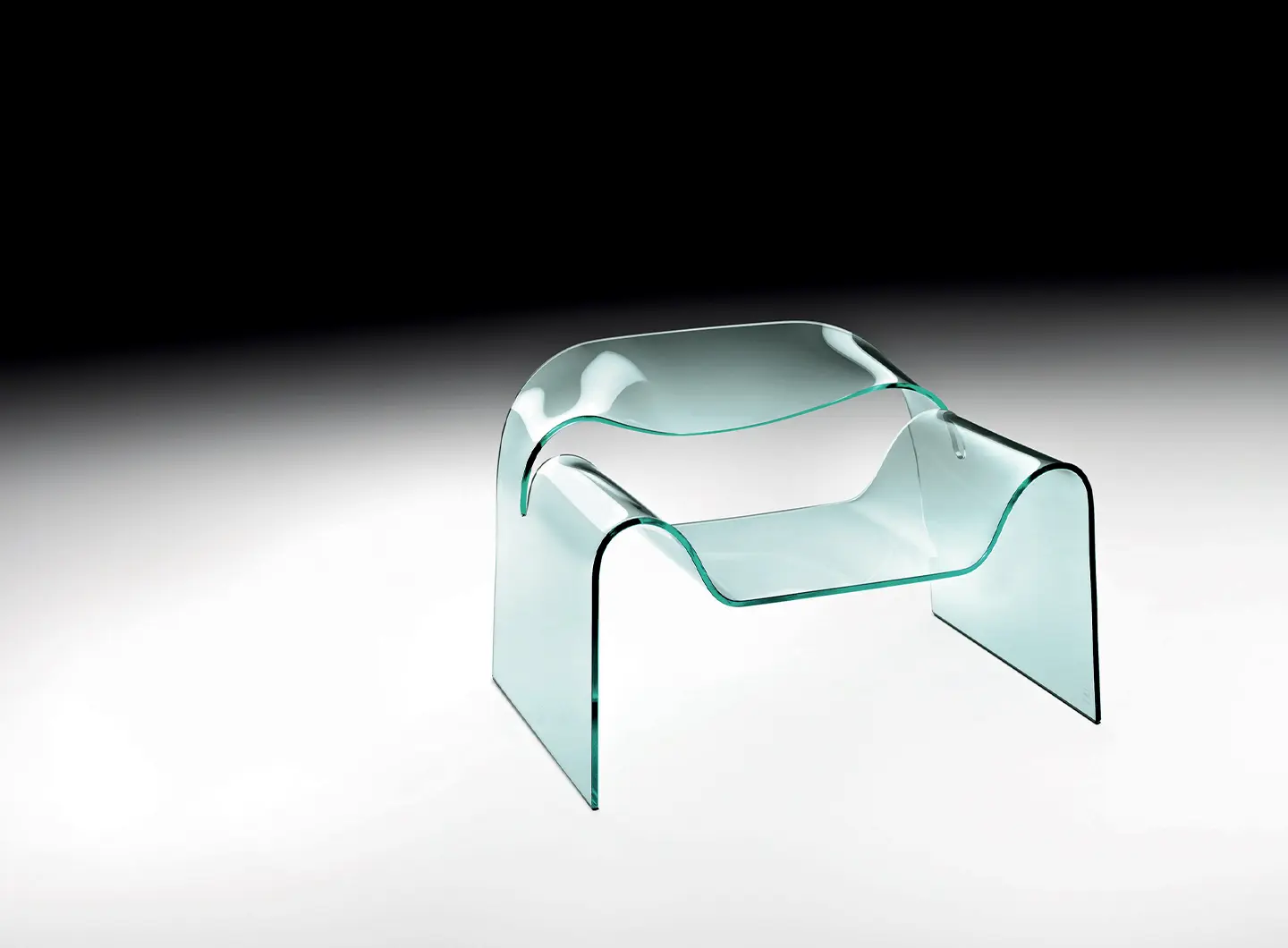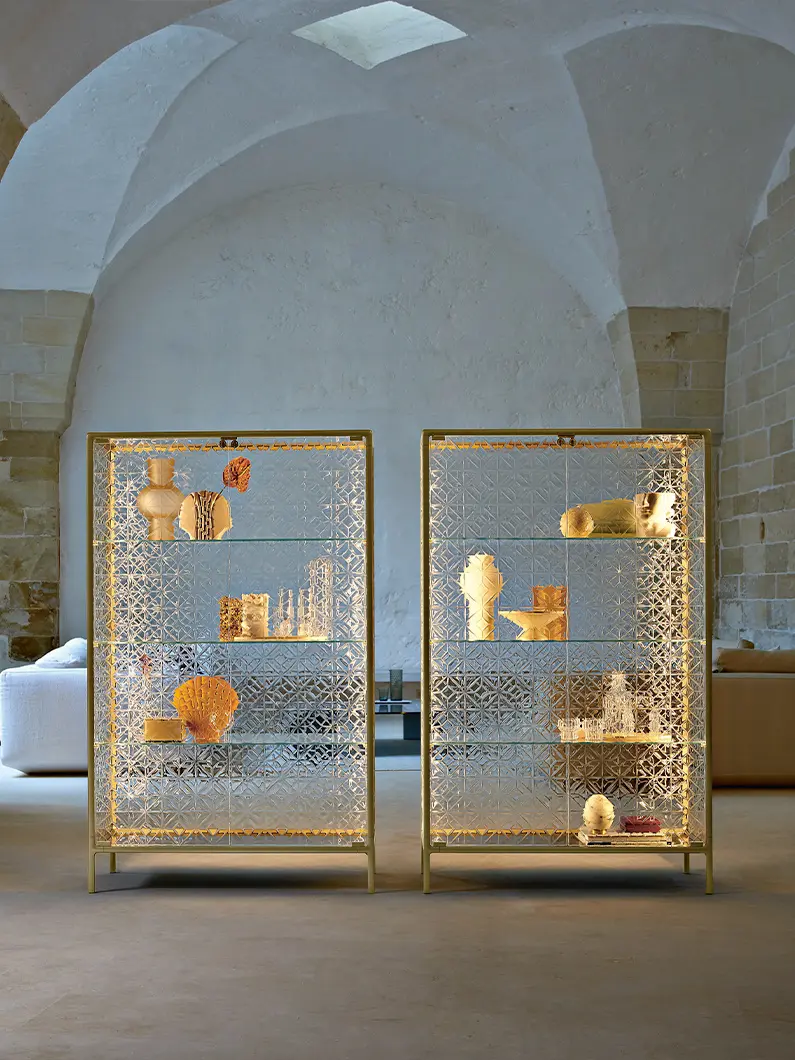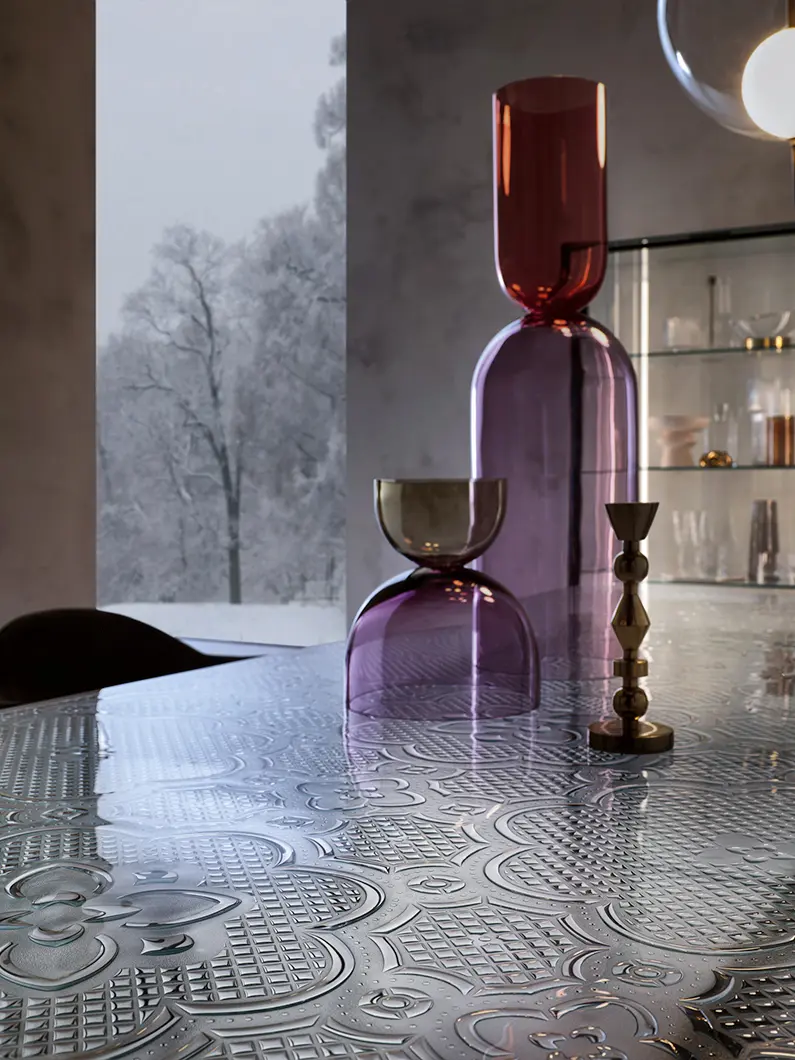 Another designer who exalted curved glass was Cini Boeri with Ghost.
With Cini it was a truly extraordinary adventure. She had a unique elegance, a model I wanted to inspire me, a professional whom I cared deeply for. She brought me a maquette of Ghost, saying: "Anyway, Vittorio, you won't be able do this job!" I like challenges. I realized that for us that project would not only mean sales, but the impulse to show that our company could go further, that it could have a future. After about three years I produced the first prototype. And Ghost was issued. By making that piece we were able to understand the technological potential of glass. When in 1987 we presented Ghost in Milan, it was came first in the "Readers' Referendum", for the most innovative product, held by Interni, winning 38% of the votes. The only thing is that they didn't remember to give Enzo Mari the Compasso d'Oro... Then they gave it to her for Lifetime Achievement, 35 years later.  
Is there something you haven't yet done with glass that you would like to? And with designers you haven't yet worked with and would like to?
Glass is such a malleable material, it is infinite. It protects you from the weather, it can be worked hot or cold, it can be colored. There's nothing like it. I have tried to make it more and more precious. We are making glass into "precious stones", precisely because we want to make its value understood. We have to continue to study it. I'm an instinctive person. For example, looking at the work of Marcel Wanders, we asked him if his stylistic code was adaptable to our material. The result was Echo (shortlisted in the ADI Index 2024) and Cristaline. Today we offer the dining area and complete living area, where glass is the common thread combined with other natural materials. 
How are you celebrating your 50th anniversary?
Not in a day but in a year. We started with a charity evening at Villa Miralfiore, whose proceeds with the support of the Mediolanum Foundation, were donated to the Andrea Bocelli Foundation to finance the new reconstruction work after the 2016 earthquake in Central Italy and urban redevelopment "ABF Educational Hub of the Sforzacosta district of Macerata".  We're holding one celebration a month in 12 cities around the world. Next year we will end at Villa Miralfiore on the occasion of Pesaro European Capital of Culture, and we want to link our work to a region that belongs to us.