Be seated!
Add to bookmarks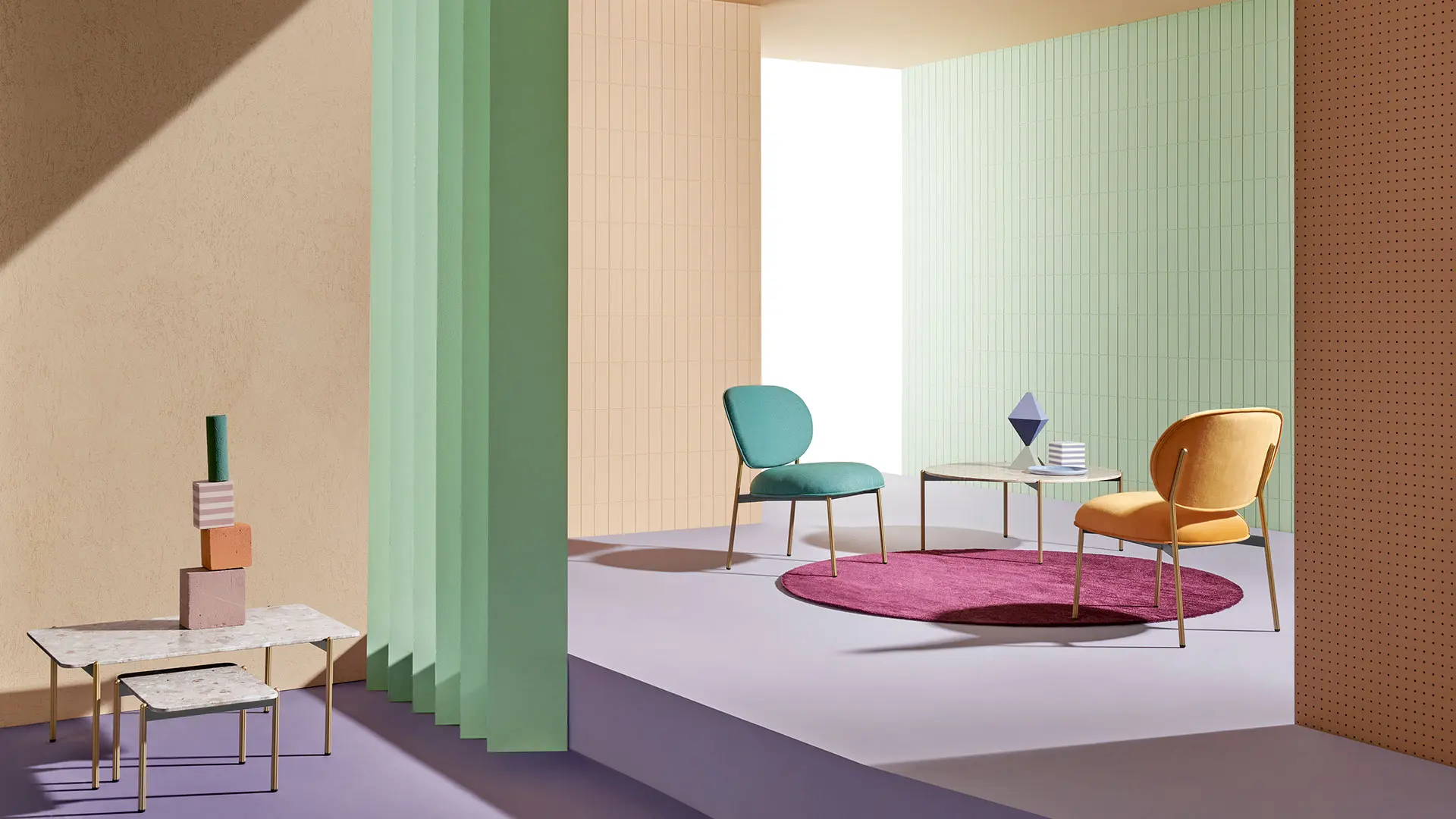 Neither simple nor banal objects, chairs are the protagonists of our spaces. They adapt to a variety of situations and support the different shapes, movements and positions of our bodies.
If they were to ask us who our best friend and also who our most bitter enemy had been during the last few months of lockdown, the answer from many of us would be: a chair! The object to which we perhaps devoted least attention when furnishing our spaces, conscious that we would be spending most of the day away from home, and once at home, preferably snuggled up on a sofa or armchair if not in bed, even, has become the throne on which we have spent entire days. Working, studying, having lunch, having supper and playing. Basically, this neglected household object has had its revenge, and we have found ourselves having to face up to a not insignificant factor that we had previously taken for granted: the comfort of our chairs. We have realised that not all of them, even when excelling in terms of design, fashion and imagination, are actually very comfortable, or to put it technically, ergonomic. Actually, if we think about it, we've realised how crucial their versatility is in this "new normal": chairs really do have to respond to an extraordinary variety of situations and needs, as well as supporting the shape, movements and different positions of our bodies.
So, conscious of the importance of these "by no means simple or banal" interior design objects, many brands have come up with new models or re-edited timeless icons for their catalogues over the last few months. The common thread is comfort and adaptability to a range of different situations.
As smooth as a stone, as delicate as a soft patch of moss, Arper has come up with Adell (design Lievore + Altherr Désile Park). Its organic, rounded and reassuring lines evoke a charming natural presence and it was, in fact, designed with sustainability very much in mind. The seat is made of 80% recycled and recyclable polypropylene, no glue has been used, the paint responds to precise environmental requirements and the chair can be totally disassembled for responsible disposal. Soft and lightweight, yet solid and substantial, this chair responds to a range of different needs and uses and provides a welcoming, comfortable refuge in a number of different contexts.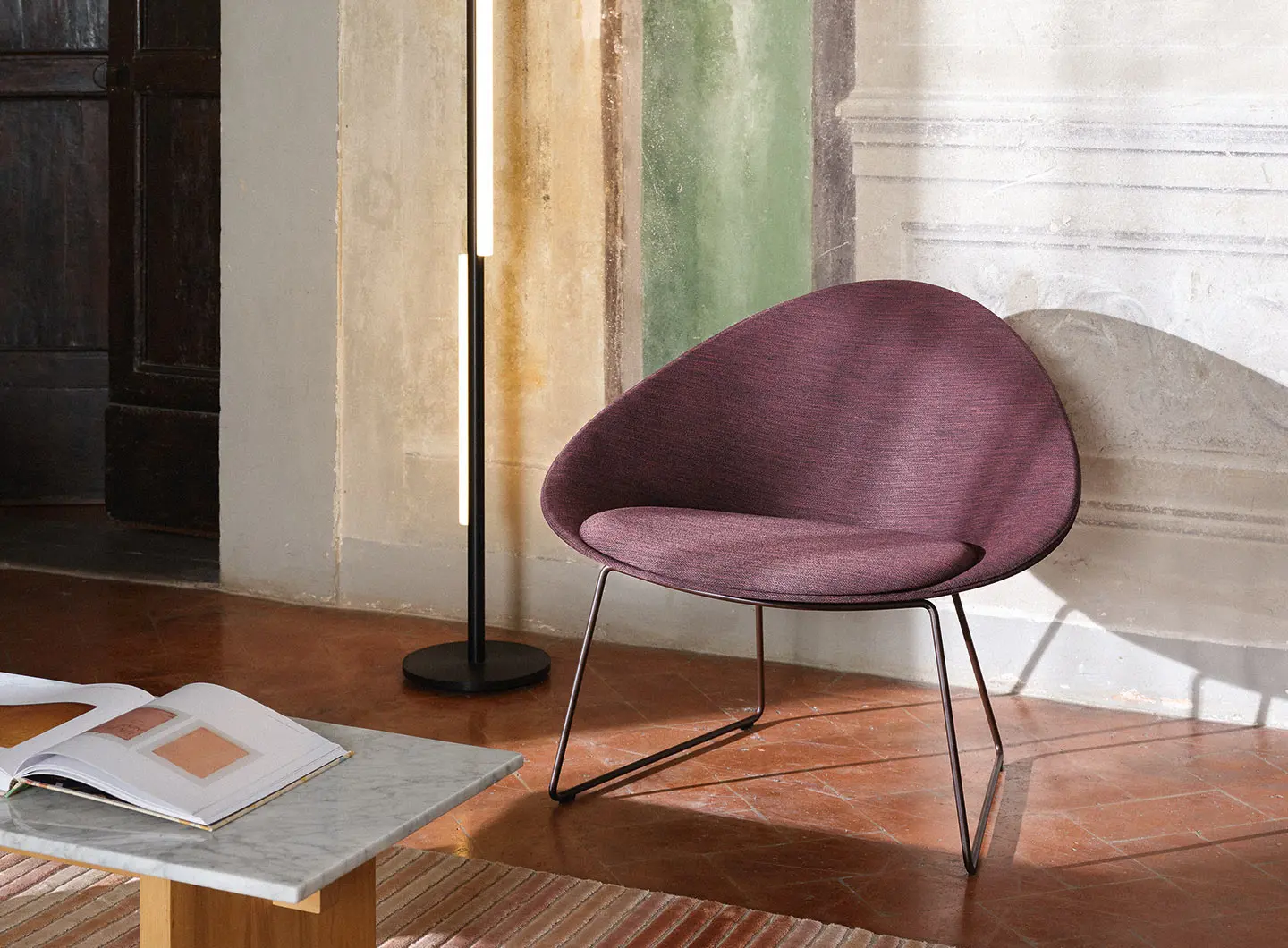 Konstantin Grcic has designed the new Citizen Lounge Chair for Vitra, marking a small revolution. Thanks to its unconventional structure, it is a cross between an executive chair and a chaise longue (the high back version) or a lounge chair (low back version), channelling a feeling of dynamism and relaxation. Its formal vocabulary evokes elements of classic tubular steel furniture, but its slender open silhouette is a deliberately different design to that of a classic lounge chair. The seat is attached to the frame by three steel cables, allowing it to swing in all directions, while the fixed backrest allows the sitter to assume a semi-circular ergonomic sitting position. Lastly, further flexibility is assured by the swivelling base on which the structure rests. Not just for offices.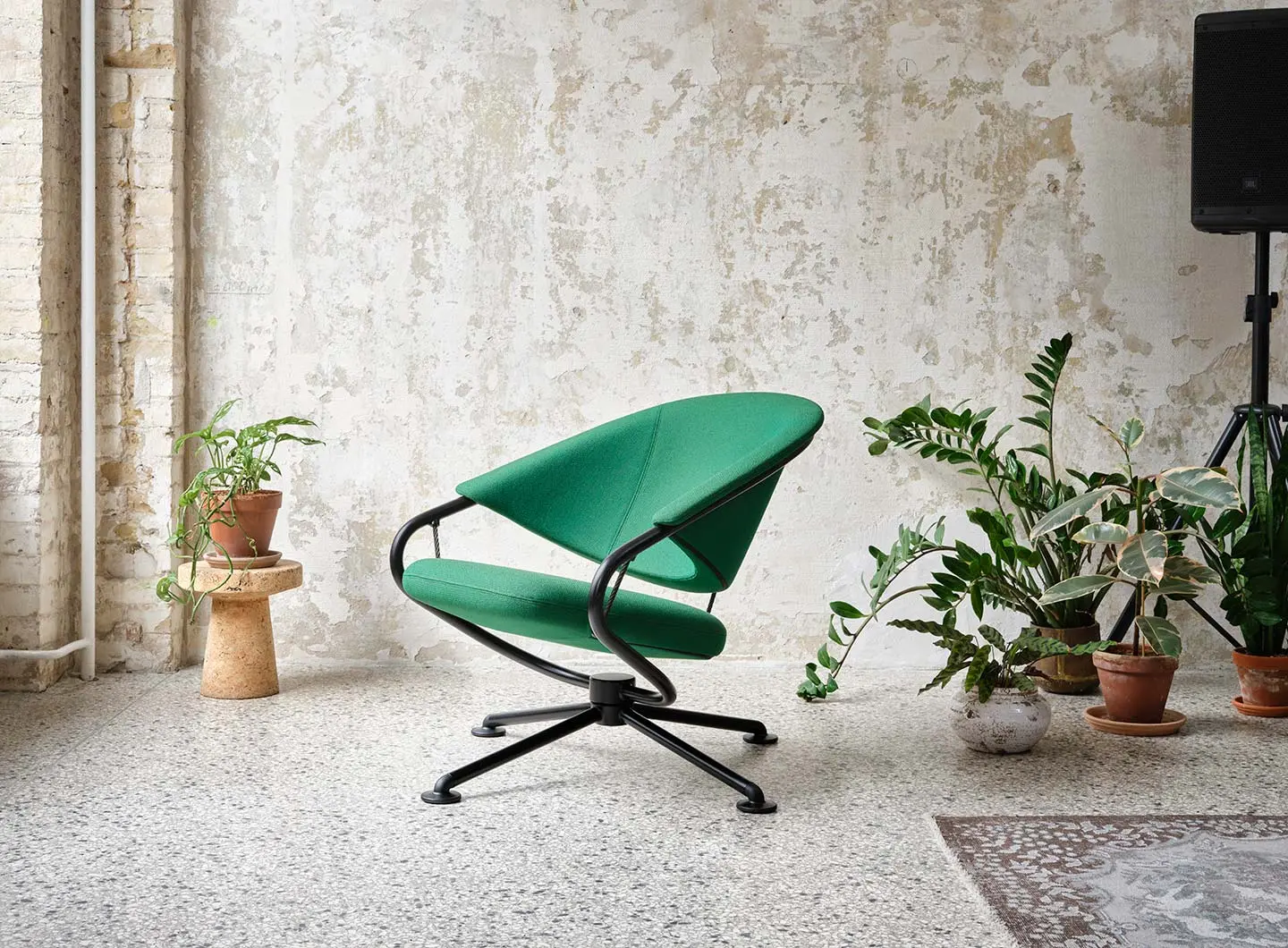 Continuing Artek's original tradition of intersecting art and technology, Ronan & Erwan Bouroullec have come up with Rope Chair: more than a form, it's a line traced and translated into three dimensions, a simple artistic flourish that comes alive in the space. The marine-grade rope used for the backrest is the key to the chair's comfort because it can be adapted by the sitter. Where other chairs dictate how one has to sit, Rope invites creativity of posture, encouraging dynamic movements and changes of position. When a sitter gets up, the frame of the chair bears the traces of the body it last supported, the imprint of a sitter which defines its shape. Basically, it is expressive creativity and sophisticated engineering at their purest.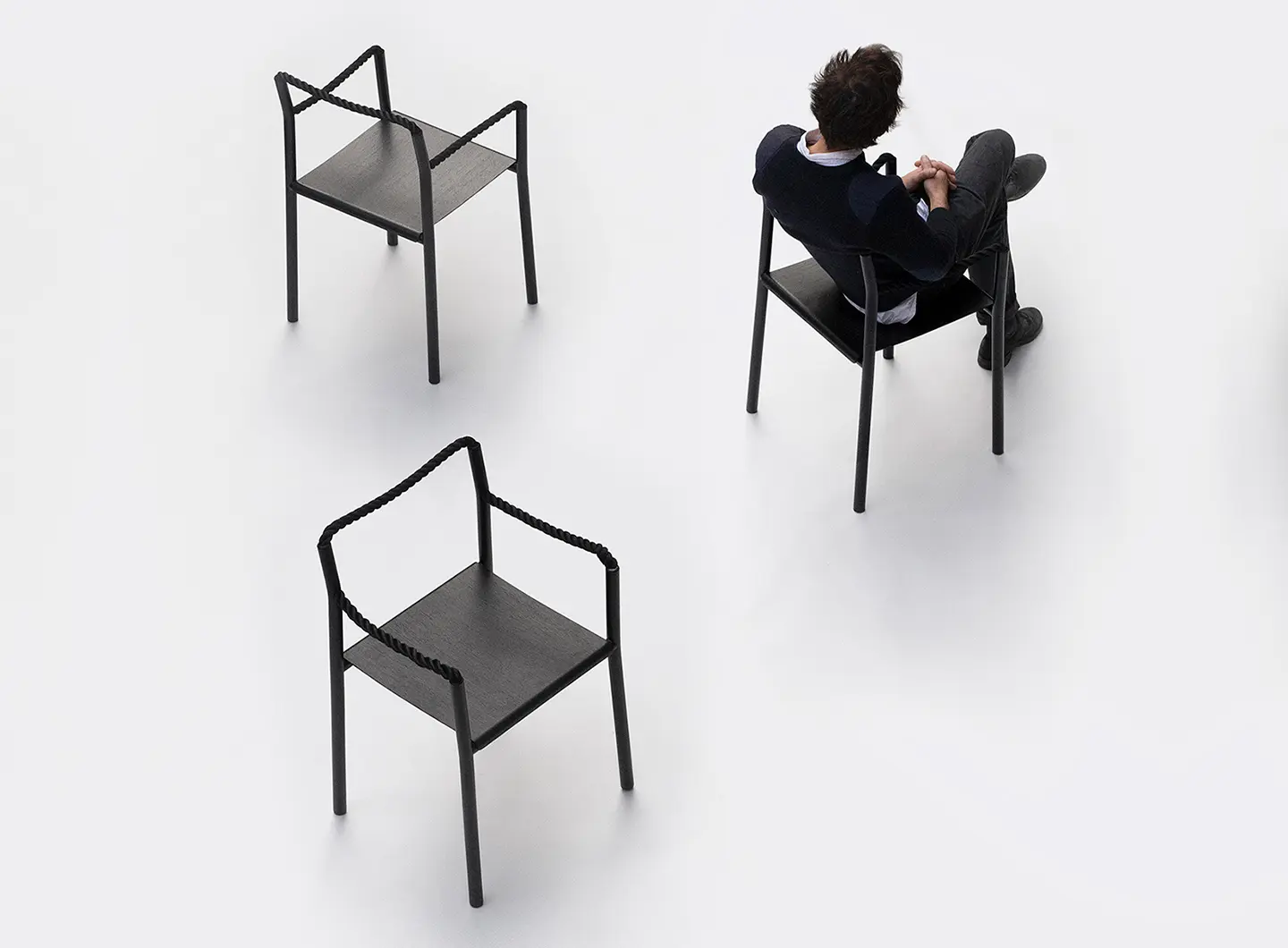 The step from engineering to artificial intelligence is (not) a short one. However Philippe Starck appears to be immune to the word "impossible" and, after a lengthy gestation (nearly two years), the A.I. chair has been produced by Kartell, created entirely from an algorithm based on instructions from the French designer, who wanted to create a good-looking, comfortable and robust chair using the smallest possible amount of material and energy. A.I. fully responds to the company's focus on good sustainable practice and is the first chair to be made from 100% recycled material in which aesthetic quality and structural requirements are upheld and dovetail with the generative design. A tremendous example of circular economy.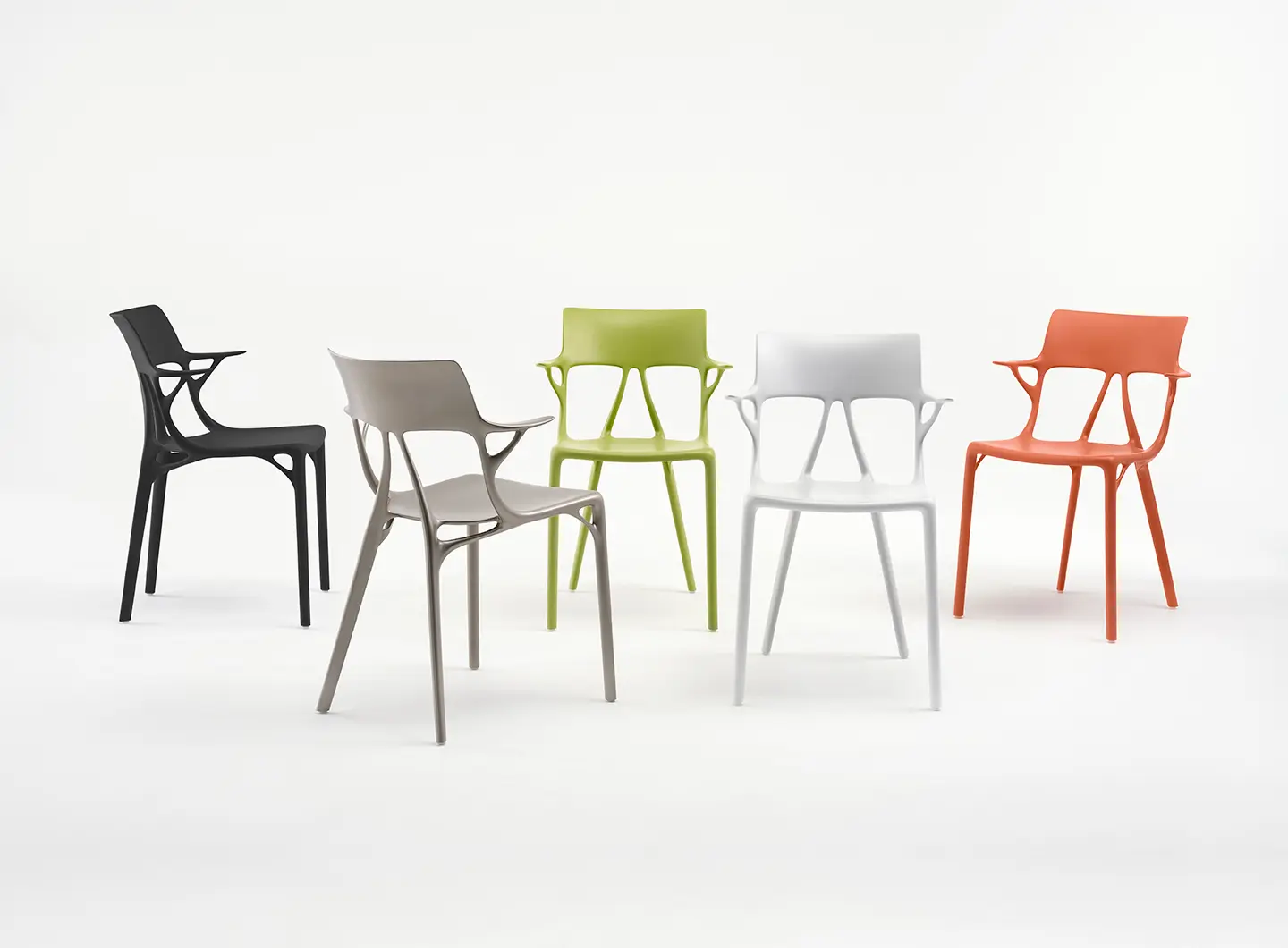 Strong by Eugeni Quitllet for Desalto "is the idea of using air to give life to new ideas, taking shortcuts to a solution through a continuous form." For the designer, bending means curving reality to create a dream: defying gravity by deploying a continuous line that is modelled to give shape to the chair. The name is a reference to the strength of the curved tubular steel that contrasts with the lightness of the air inside it. Form defines matter, matter gives life to form and design imbues character.
Back to emotions is the mantra of the new collections from Zanotta, beautifully channelled by Patrick Norguet for "his" Dan chair, which is an expression of the need for authentic and empathetic design, crucial in everyday life. It is an evolving project, based around a minimalist frame that can support two types of seat, according to the user's taste and application. One is more radical and hi-tech, in which the seat and backrest are made from coloured elastic straps, and the other is a more elegant solution, featuring a leather-covered upholstered seat and backrest. They are extremely spare objects, devoid of superfluity but boasting a wealth of functional content and innovative solutions.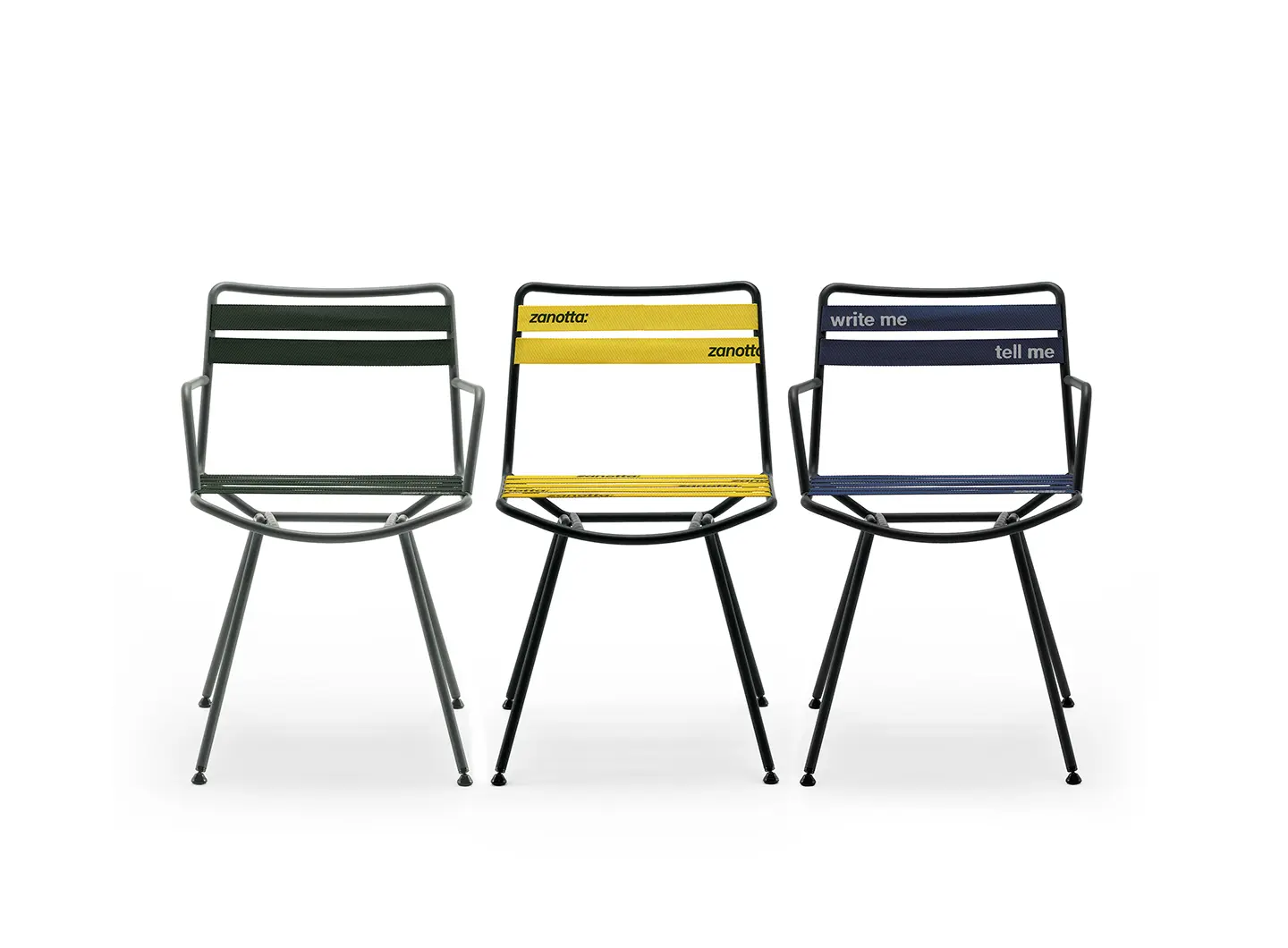 When Enzo Mari designed Mariolina for Magis in 2002, it was like a breath of fresh air in the chair world. It was not so much the fact that it was a new type of comfortable chair but the fact that it had been fuelled by experience and emotions. Mariolina is a basic chair, but it also stands as a manifesto for Mari's design vision: simple, practical, durable and, especially, affordable. It is reminiscent of Fifties style, but with a number of different details. The section of the legs is more slender and precise. The seat and the backrest are not fixed to the frame with screws or rivets but with moulded plastic ribbing attached to the metal structure behind the seat and the backrest. A freshly re-edited icon that comes in mono black or white.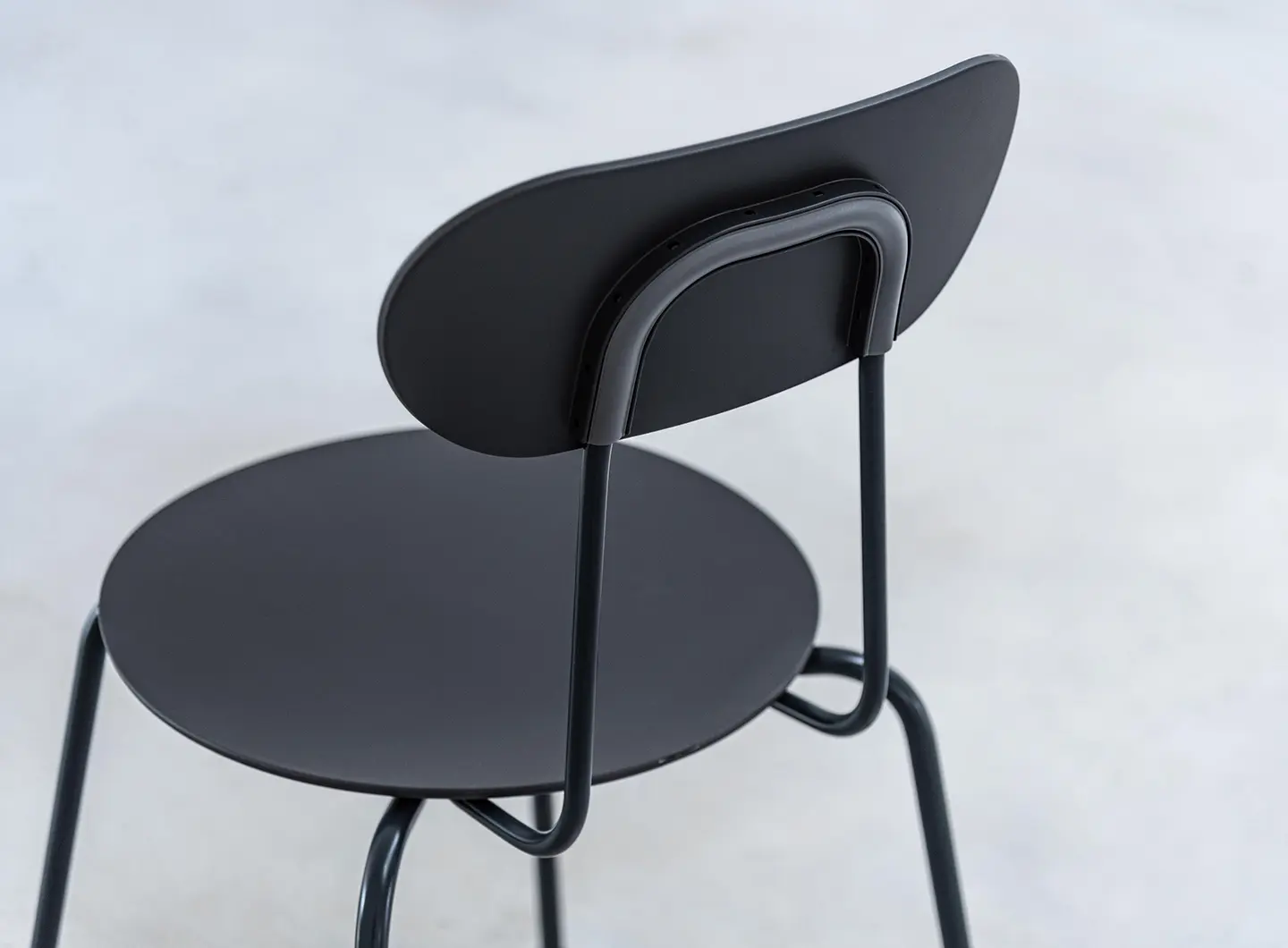 Sebastian Herkner has made his debut for Pedrali with Blume, a softly rounded chair with a distinctive and sophisticated extruded aluminium profile and a flower-shaped silhouette. The 2019 Designer of the Year has channelled elegance and refinement here, and has always been guided not just by an interest in craftsmanship but also by suspended and reassuring realities, transmitting a desire for beauty and dreams.
Piero Lissoni is a guarantee of iconic status. This also goes (or will go) for Ears, his new project for Viccarbe. The sinuous shapes of the chair maintain intact a style that takes us back in time to the contemporary classicism of the Seventies and to the roots of industrial design. Ears is as light in terms of materials as it is resistant to ageing, and its balanced arrangement (as spare as it is comfortable) makes it the perfect option for a number of different environments, both collective and private.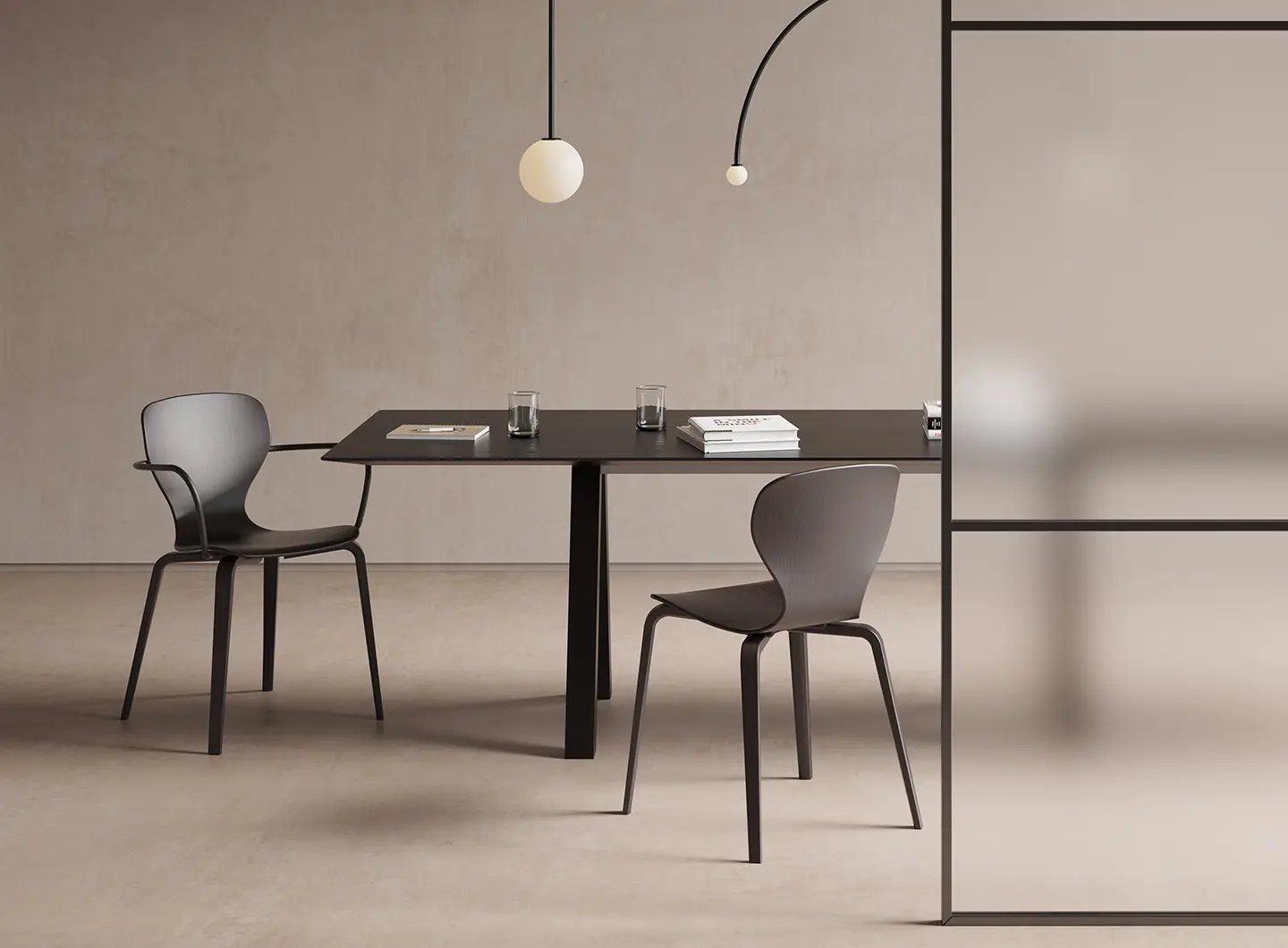 From one icon to another. Michael Anastassiades' rigour defines his new Sugiloo chair, which comes with a wooden or upholstered seat, with or without a wooden backrest, for Gebrüder Thonet Vienna. It is a powerfully contemporary design, with its pure, essential lines. The lightweight structure is informed by the coming together of curves which, like the line of a pencil on paper, mark out the seat, backrest and arms. It is a sophisticated homage in a minimalist key from the designer to the genetic code of the Austrian brand.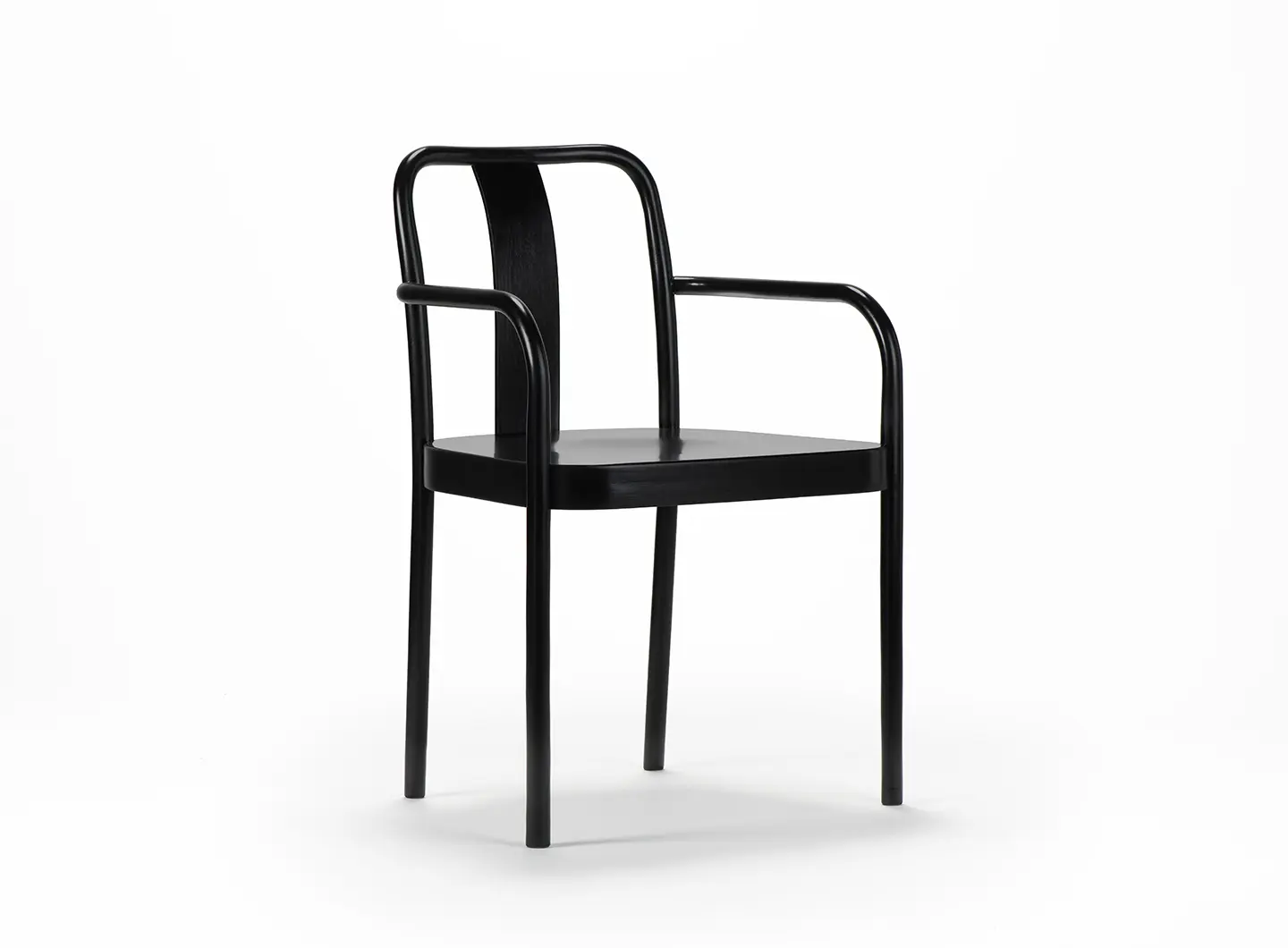 The last word goes to one of the Milanese masters, Vico Magistretti. Fritz Hansen has re-edited Vico Due to celebrate the hundredth anniversary of the birth of the designer who conceived it in 1997. Inspired by a sketch of the letter Z on a piece of paper, this chair stands out for its simplicity and power, elegance and practicality, unique looks and contemporary feel, thanks to the particular conformation of the conjoined arms and legs formed by the same piece of tubular steel that frames the simple line formed by the seat and the backrest. In the new version, the addition of armrests to the arms makes for greater comfort, while the black powder-coating of the chromed tubular steel frame bestows a modern touch. A timeless piece of furniture design.