Vestige
Vestige is a family of tables whose bases remind us of architectural figures of ancient civilizations, eroded over time. The passage of time leaves a trace of the past as it sculpts matter.
"The void is as expressive as the physical parts and shows a trace of something that no longer exists."
Evoking classical forms, Vestige reflects on how the passage of time sculpts matter. Note has designed this family of tables in the context of Void Matters, a conceptual set of products that explores the shapes of an object considering the positive and negative sides of matter.
The sculptural base is formed by a rectangular block from which a cylindrical section has been subtracted from upper part. An honest aesthetic that exhibits strength and beauty in simple ways.
Choose from three different finishes; Tarkett's iQ surface in Marino blue, also by Note, as well as a wide range of lacquer or ash wood stain colours.
There are two dining table versions, one with a rectangular top and two bases, while the other has a round top and a single base. In both cases, the glass is always tempered translucent Bronce.
In addition to the glass tops, the coffee tables are available in, stained ash wood or lacquered MDF.
Designed by

Note Design Studio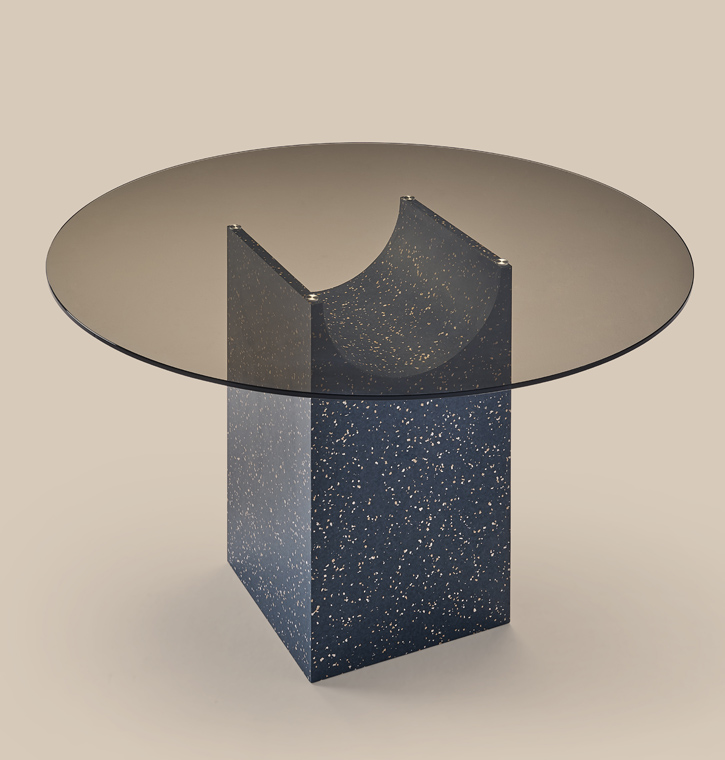 Product Overview
Vestige is a family of tables which includes dining and occasional tables. Two simple elements shape the table, delicate in appearance but sturdily constructed.

The base is both structural and aesthetic. To combine with the champagne hues of the glass top, Note have curated the brand new Menta, Lavanda and Calabaza stains for the ash wood version of the base, and also recommend our classic Nogal and Cerezo colours.

We have also repurposed iQ from Tarkett as an alternative finish for the base: extremely hard waring, it is normally used on floors and walls. The table launches in Marino, a deep mottled blue pattern that has also been designed by Note.

Another option is to choose a lacquer colour from our ample range; an extra-matt finish that contrasts with the shine of the glass top.
While occasional tables are available with three different table-tops (glass, ash wood or lacquer), dining tables are only available with a glass top.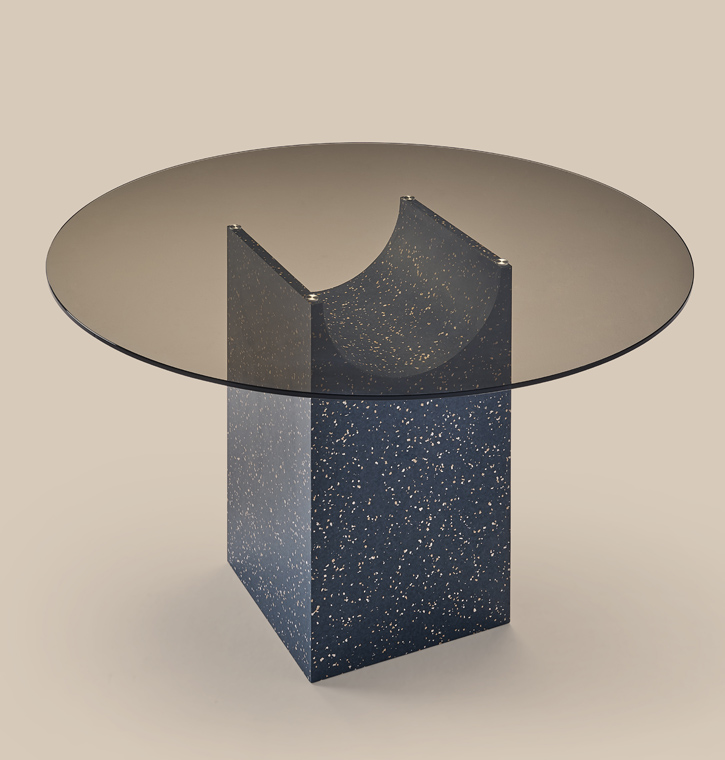 Designer
Note Design Studio
Dimensions
Download technical specification sheet
Product sheet
Data sheet

Collection
Museo Collection

Official website
Vestige table

BRAND SELECTION
OUR PRODUCTS