Rubinetterie Ritmonio
INTRODUCES
DIAMETRO35 IMPRONTE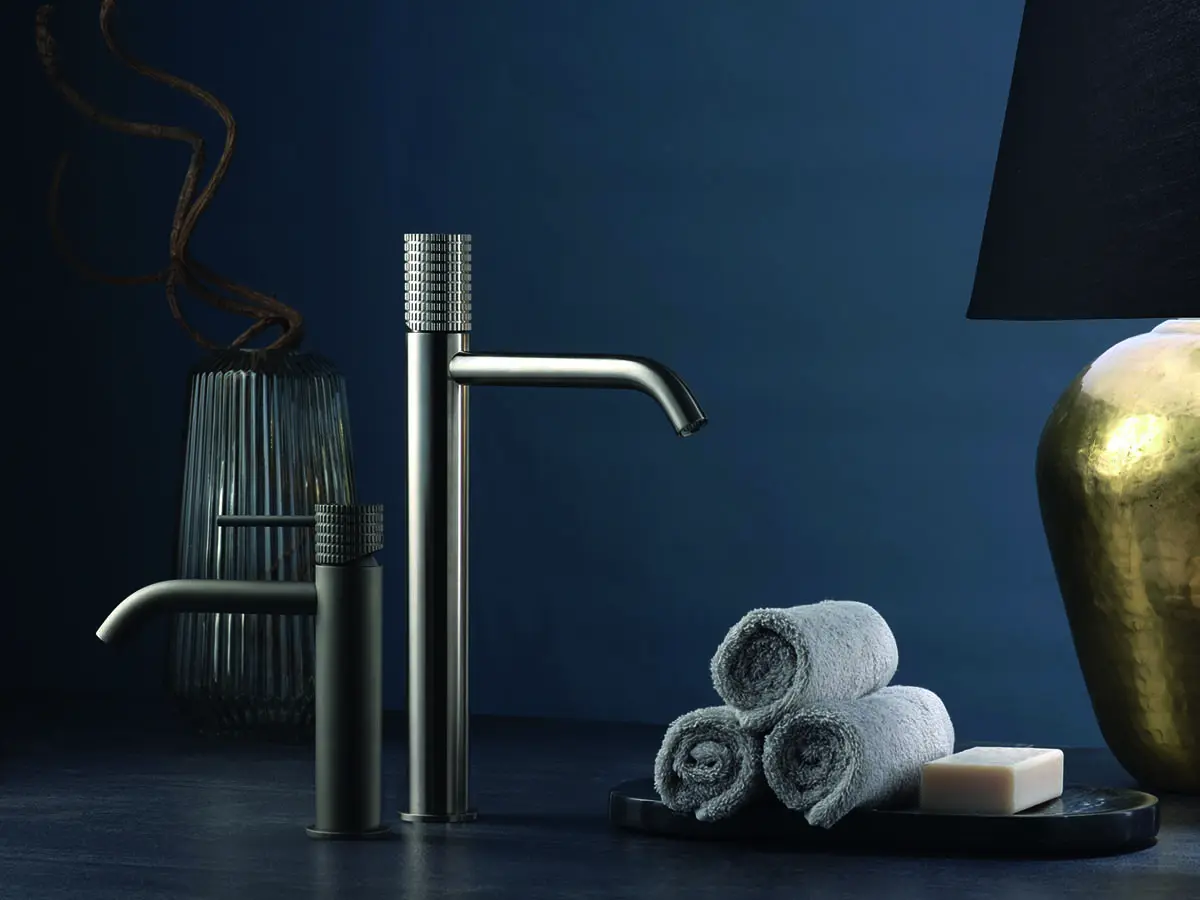 The Ritmonio style "leaves its mark": Diametro35 Impronte. Maximum customization to create a bathroom with a unique identity.
Ritmonio plans the evolution of living styles. The Diametro35 series, a symbol of Made in Italy which for over twenty years has assumed a prestigious role in the world of design taps, decreeing the international success of the company, is the hearth of an ambitious expansion project, which - during the course of 2021 - will lead to the launch of new collections designed to reach different market segments and offer an increasingly diversified and competitive offer. New declinations of an iconic series, whose exclusive design with unrepeatable proportions has become a classic of unparalleled perfection.
Among these, Diametro35 Impronte: a distinctive sign to give expression to the most diverse styles and instill an even more marked identity in the bathroom, making each project unique and highly identifying.
Ritmonio's research, aimed at a greater possibility of customization, therefore arrives at three-dimensional textures, giving shape to a collection that consists of four exclusive imprints, to reinterpret the products with originality: Prisma, Tratto, Rigo, Punto.
Interpretations of style that are enriched with unique details: a new material and tactile dimension for the handle of the mixer, proposed with or without a lever, which becomes the absolute protagonist of the bathroom.
The result of a careful study of market trends and the evolution of interior design, the solutions provided by Diametro35 Impronte are designed to harmonize with all the elements that make up the bathroom space, interpreting stylistic moods in harmony with the most current canons.
Maximum versatility is ensured by the possibility of choosing from the 16 special finishes of the Ritmonio Finishes Selection. Handle and body of the faucet can be combined or mixed to create original combinations: the opportunities are endless and allow you to express your style at best by creating environments of great character.
A design freedom that extends beyond the taps. From the successful ELEMENTA concept comes the new ELEMENTA for Diametro35 Impronte collection, which allows you to enrich the supports of the new series of accessories with the same aesthetic details and the same finishes as the mixers, creating a fascinating total look effect. The processes can be declined - for example - on the bathrobe or towel rack modules, creating creative solutions, with a coordinated, precise and characterizing stylistic mood.
FOCUS TEXTURE:
PRISMA: classic shapes revisited in a contemporary way. Precious facets in which design and plays of light converge.
TRATTO: a meticulous processing to give shape to unique details, which capture the eyes.
RIGO: creativity, dynamism and style. A refined material effect that defines the identity of each environment.
PUNTO: the timeless perfection of the simplest and most instinctive sign. To give new expression to the material and enrich any interior style.