The unmistakable design of Gae Aulenti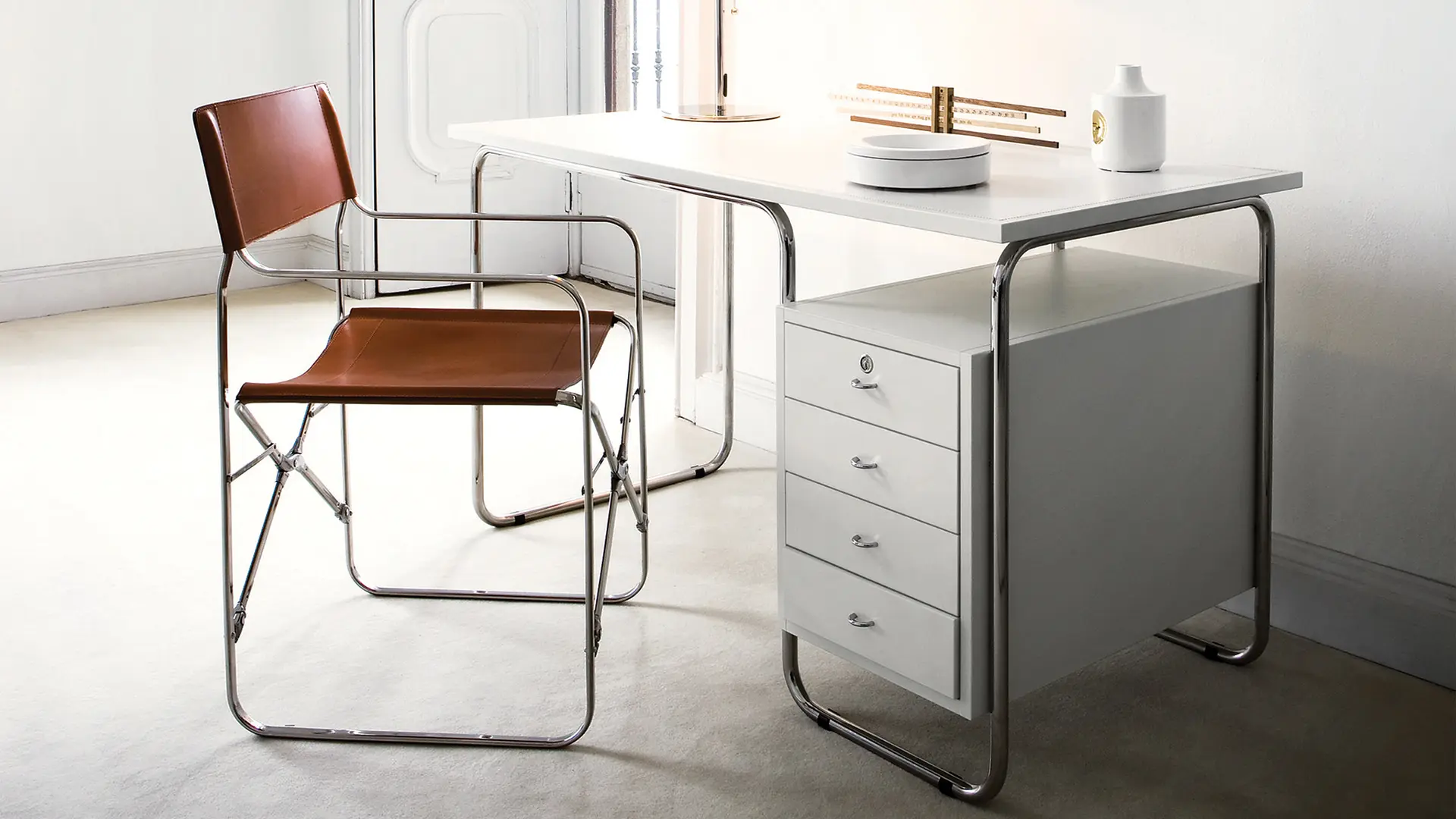 Gae Aulenti worked with top Italian and international furniture companies Artemide, Kartell, Knoll, Tecno, and Zanotta, creating furnishing designs that ranged from the timeless essentiality of her chairs for Zanotta to the unmistakable Locus Solus collection, recently reissued by Exteta
Gae Aulenti graduated in Architecture from the Politecnico di Milano in 1953. She embarked on her design career in Milan when it still bore the scars of Second World War bombings, fighting her way to a prominent position in what was an all-male world.
Aulenti began her design adventures with the Sgarsul rocking chair for the Poltronova company in Tuscany in 1961, the year that the Salone del Mobile opened its doors in Milan for the first time.
In 1964, Aulenti designed the Aprilina chair for Zanotta, a company with which she was to work for many years. Lightweight, foldable, with a metal frame and only minimally thick when closed, Aprilina "can be hung on a hook inside the closet and be your extra chair", as we read in "Domus" 438 (1966), where the chair appeared among objects for sale at the new Centro Fly Casa in Milan.
Centro Fly was the first ever high-quality furniture department store. Conceived to bring design to a wider audience, Gae Aulenti was its art director.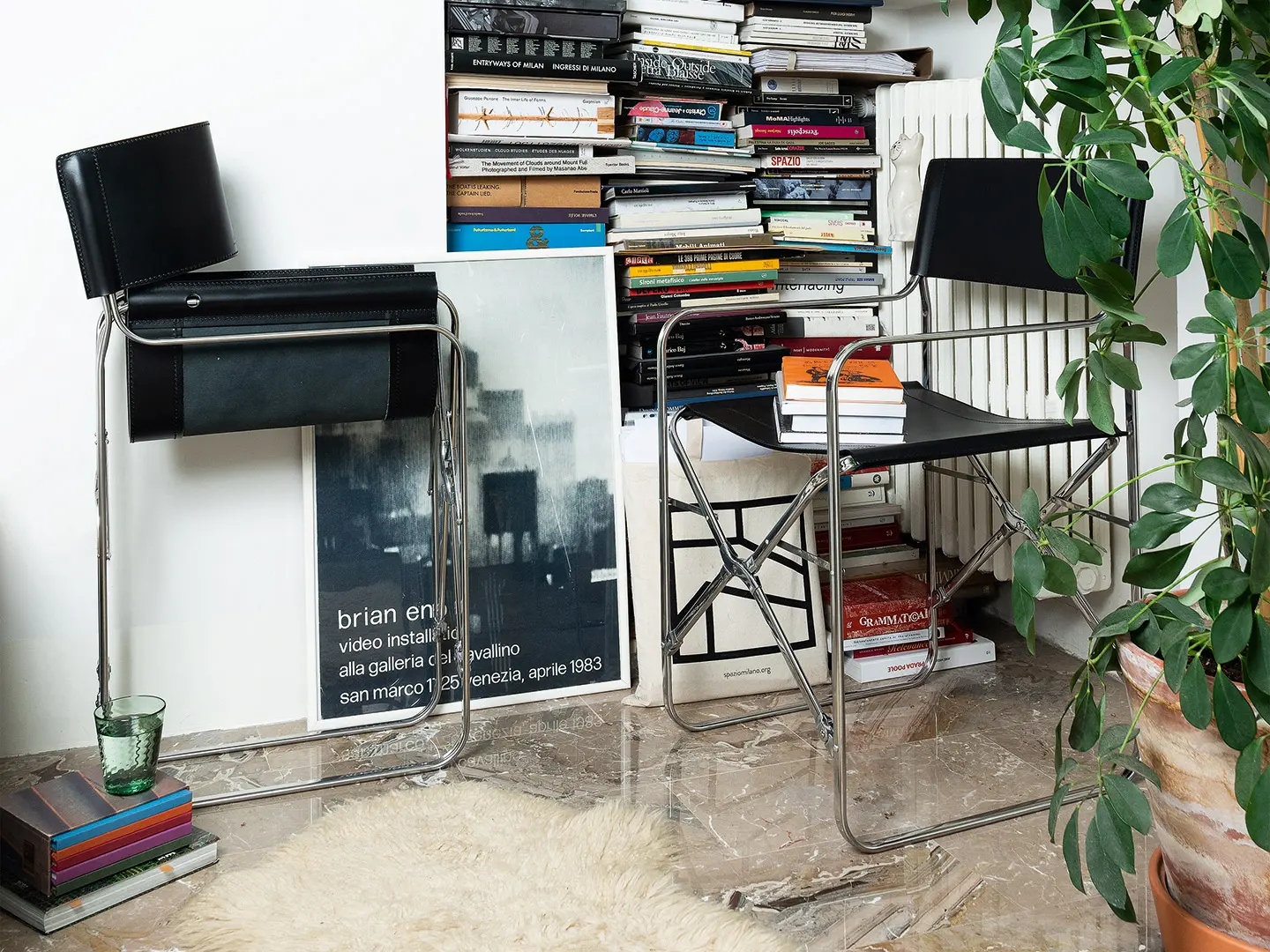 Aprilina's reduced weight and minimal overall dimensions were reprised seven years later in her design for the April small armchair for Zanotta in 1971. In stark contrast to the experimental "explosions" of its 1960s editions, that year the Salone del Mobile took place in an extremely calm, sober atmosphere: Kartell presented its entire collection in a black version, while Zanotta focused on the contrast between highly polished white tiles on the stand's steps and walls and objects presented in black and white versions. April appeared to fully embody this widespread desire for balance. Repurposing a well-known template, the archetypal popular folding director's chair, the design updated the materials. As Andrea Branzi noted, Gae Aulenti's work cross-pollinated the theme of modernity with the permanence of design. Aulenti replaced the chair's traditional wood and canvas with an oval steel section structure and a removable leather cover (later, also fabric and a variety of leathers), lending the object an elegance that allowed it to fully take its place as home decor. It is to this day an unsurpassed classic.
At the 1971 Salone del Mobile, Zanotta presented three new tables with stainless steel frames: Festo, another Gae Aulenti piece with a fiberglass top, Prado with a laminate top, and the ABC desk/table with a fiberglass top and removable trays, both by Roberto Menghi.
The following year, 1972, Kartell unveiled its Gae Aulenti Series at the Salone: the 4854 chair, 4794 armchair, and the 4894 coffee table. Originally designed in 1968, these innovative and extremely elaborate pieces were the world's first series made using injection-moulded rigid polyurethane, with variable section profiles and complex curvature. Whereas previous Kartell designs had been mass-coloured, pieces made using this new technology pieces came out of the mould in a neutral colour and were coloured later, making it possible to create non-stock colours at reduced cost. Initially, they were made in yellow, light blue and white variants specially designed for FIAT dealers. Afterwards, a wide range of chromatic variants were added to the catalogue, from the amaranth brown typical of those years to more traditional white, black and blue, through to shocking pink and neon green. Notwithstanding their essential lines, the seats were extremely comfortable.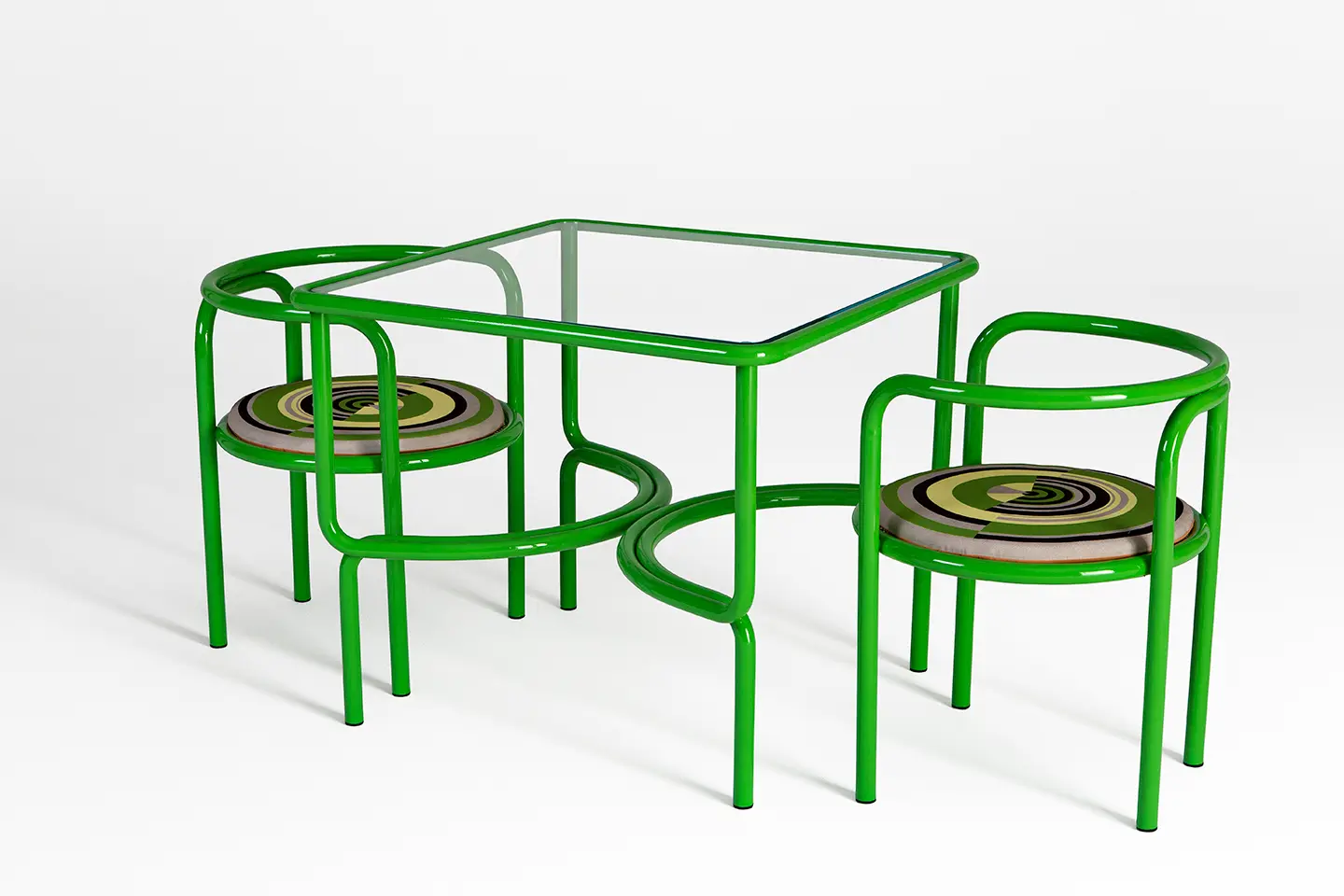 The unmistakable line of the Locus Solus series, which radically renewed outdoor furniture when it was designed in 1964, was very different. Conceived for the Poltronova catalogue before appearing for Zanotta in an indoor version in chromed tubing, testifying to the narrative value of its design, Exteta reissued this collection in 2016. A pop reinterpretation of rationalist metal tubing furniture, Locus Solus consisted of an armchair with footrest, chair, sofa, table, small table, bench, high stool, deckchair and floor lamp, reinventing the metal tube characteristic of modern movement design masters Marcel Breuer and Mies van der Rohe and adding lively pop art colours. Crafted using either side-by-side tubes or one continuous tube, the structures were stove-enamelled in the colours of lemon yellow, pistachio green, and eggplant purple, as well as white, brown and orange. Their decoration definitively removed any Rationalist associations: coverings in cotton-jute or plastic-coated fabric, designed in collaboration with the Scuola d'Arte di Pistoia, were printed with large concentric circles in bright colours, standing out against white backgrounds. The cylindrical cushions that served as headrests or footrests recall (in an ironic reference?) those used by Le Corbusier in his famous chaise longue. The unmistakable design of these items of furniture starred on the set of Jacques Deray's film La Piscine (1969), accompanying the intertwined stories of Alain Delon, Romy Schneider, Jane Birkin and Maurice Ronet.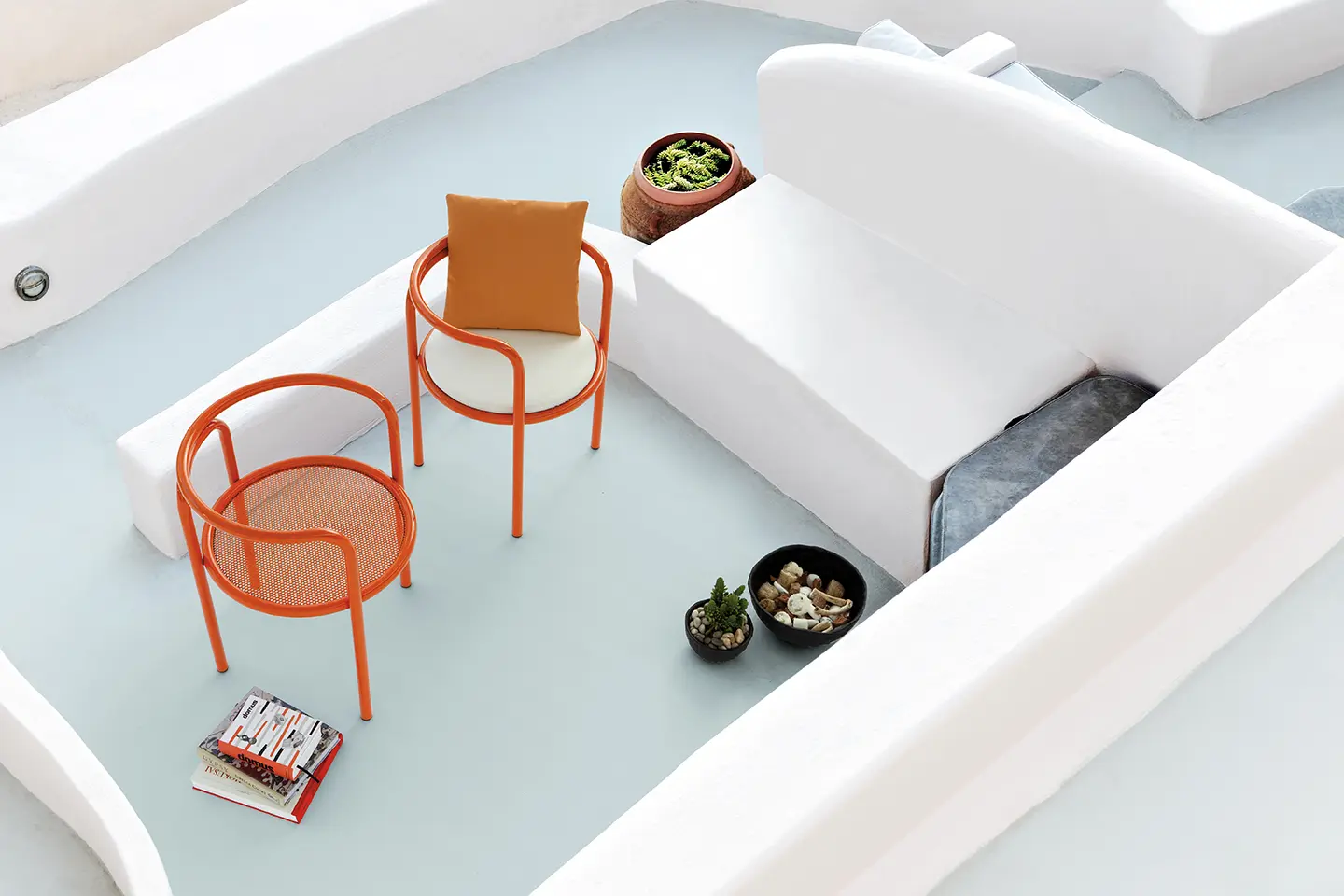 Gae Aulenti played a particularly significant cultural role in 1960s and 1970s Milan. Her artistic direction of the Centro Fly Casa, which opened in 1966, was an opportunity to educate the general public in design culture. Aulenti travelled across Europe and the United States to gather information for this project, even if no other "furniture department stores" were yet up and running.
Aulenti designed the interior space – 2000 square meters over three floors – and selected the products to go on sale, choosing an open space layout punctuated by orange escalators, with tall metal planters and platforms covered in hazel-coloured carpeting to display furniture and accessories selected from fifty international designers. Aulenti placed optical backdrops on the perimeter walls, and dressed the sales assistants in optical uniforms designed by stylist Krizia. The inauguration was a memorable occasion: a big evening party, with the escalators in operation, "including a big dance, a happening, with a healthy dose of joy and unpredictability," as Aulenti said afterwards. Demonstrating its cultural vocation, the Center also held temporary exhibitions, the first by Ettore Sottsass, followed by Achille and Pier Giacomo Castiglioni.
Gae Aulenti's renown was international; she designed two showrooms for the Knoll brand (in 1968 in Boston, and in 1970 in New York). She designed the Gae Aulenti Collection (1976) for Knoll: a group of chairs, tables and sofas, all with extruded aluminium frames, and the Jumbo table in Carrara marble, which had an unusual oversize shape (1972).
In 1992, she designed sets for the RAI 1 "Una Storia" television show hosted by journalist Enzo Biagi: a black shelf, a table and the particular Tlinkit armchairs in reed and rattan she had designed for Tecno, floating in a totally white space. With their warm, natural materials, the seating conveyed a familiar presence, contrasting with the rest of the set and heightening the overall metaphysical effect.