PINWU Design studio & Yuhang Rong Design Library
Add to bookmarks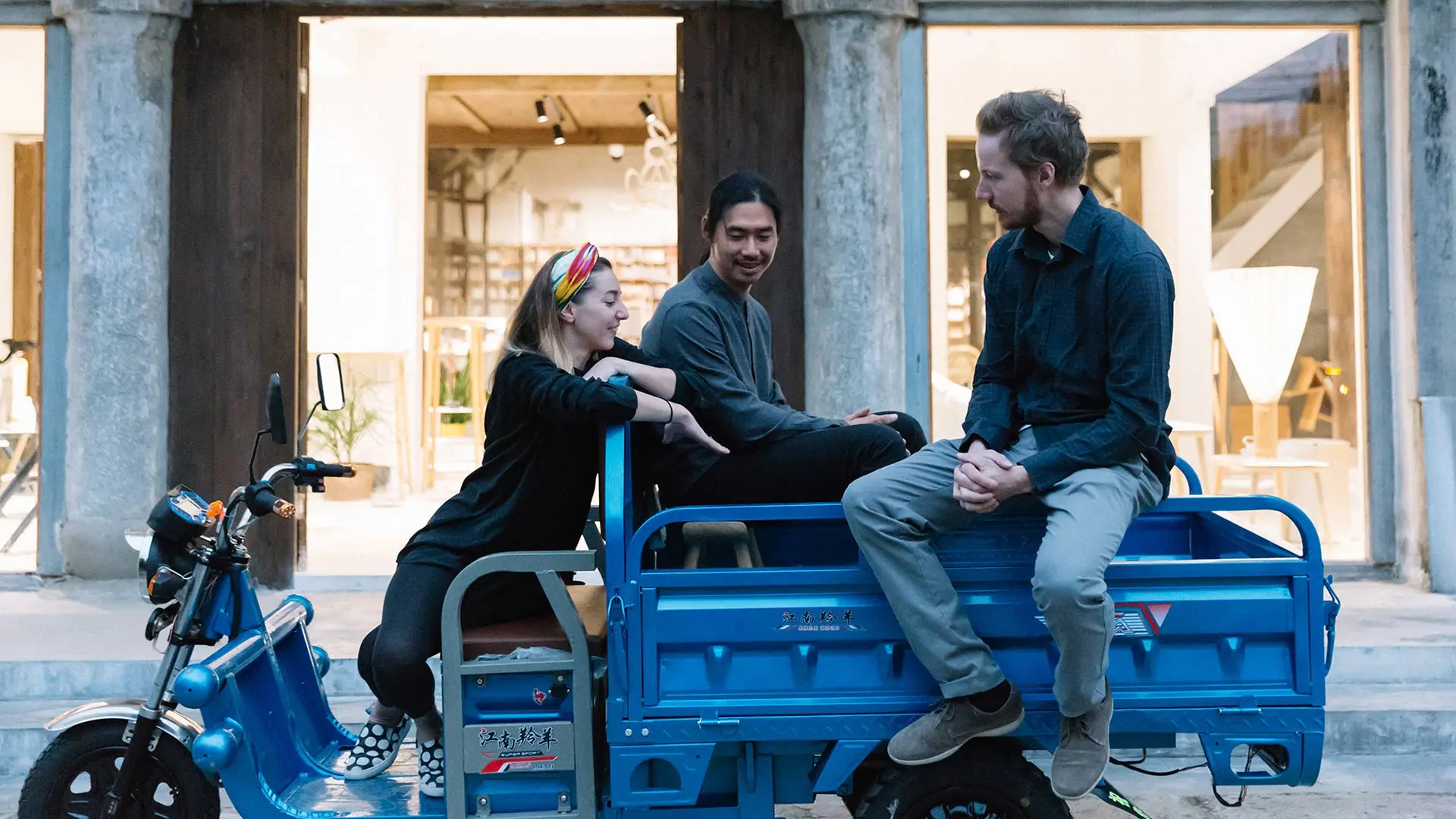 In China's Yuhang District, a multi-ethnic studio specialising in projects in which craftsmanship is omnipresent. It has also put together an astonishing library of materials.
They are: Jovana Bogdanovic (Serbia), Christoph John (Germany), Zhang Lei (China). Professional name: Pinwu. Their work focuses on investigation into the techniques and craft processes of Yuhang, China.
Your work is based on researching new and future applications of traditional crafts for contemporary design. To this end, you are putting together a "library" of ancient Chinese material and artefacts – in collaboration with the Yuhang District Government of Hangzhou. Is this correct?
Yes. It is called the Rong Design Library. Rong in Chinese means melt or fuse, which describes the main philosophy underpinning our research and design. The library is a non-profit project, supported by the local Yuhang government as well as by a few companies and private sponsors. Most of our projects and works are based on detailed research into traditional Chinese crafts and materials. We are studying craft processes and discovering interesting and inspiring methods for working with materials. Furthermore, we are trying to combine different processes and materials which originally did not belong together but are suddenly being used in new combinations.
As you said: "Craft is present in every design, because it is the history of design." How can tradition and innovation – past and present – coexist in the same project?
We believe that the number of innovations and applications surrounding our lives today naturally leads in part to a return to traditional values. It does not mean we are working contrary to or are averse to technological innovation, but in order to embrace and fully understand how we can properly use and understand innovation, we need to be aware of our roots and fundamentals. We also think that innovation does not just mean being forward-thinking in terms of digitisation and virtualisation but also in terms of culture. Our Design Library is connecting designers from all over the world. In the past few years we have invited numerous international designers for limited residencies in our company. They have benefitted from our research, incorporating it into their design and finding new approaches to their design work. Equally, we are learning from their visions and the ways in which they work with the materials and information gained from us. In that sense it is an invaluable cultural lesson for us all.
To us innovation also means improving a craft, finding a good solution by using a certain type of craftsmanship and related materials. That means on one hand creating the lightest possible armchair by using just one material, harnessing its characteristics and static capabilities. On the other hand, craft innovation could also mean putting together two materials that produce a surprising new quality, resulting in a functional design that was not originally envisaged.
It seems that in our immaterial time, craft will become a fundamental part of design. What do you think?
We are living in an increasingly virtual world, which doesn't necessarily mean that our senses will be increasingly satisfied. The feeling aroused by an appealing and well-crafted object or material will always be irreplaceable. The large amount of information we receive every day and the endless choices open to us quite often leave us insecure and confused. The rising importance of craft in design symbolises the need to balance out our senses. The satisfaction generated by going through a process of handwork and finally accomplishing a solid piece of work seems to be more and more desirable. Even if the end user never actually experiences this process, by touching, watching and using a well-crafted piece, he or she can feel the effort that has gone into the work. This gives rise to the general trend and demand for craft-oriented design.
For the SaloneSatellite Award 2019 you decided to offer a monthly residence at the Yuhang Rong Design Library to two designers who garnered Special Mentions. What was the reason for this?
Firstly we want to share our research and the opportunities it throws up for creating designs based on our material library. We find it very interesting how different designers from different backgrounds approach a material, and how different the outcome is. Many SaloneSatellite participants are very creative in their design and always interested in exploring new materials and inspiration. We can provide not just physical samples and documentation of numerous craft processes, but also contacts with businesses and local craftsmen as well as local companies and factories, to help designers produce their works and objects. Equally, we learn a great deal from their work and can explore potential collaborations for future projects.
You also produced many furniture and projects as Design Studio, focusing on original local crafts using bamboo, water silk floss, porcelain and paper. Where does the inspiration for your work come from?
Our inspiration basically comes from the craft itself. Sometimes we have an idea and look for the right craft and material for producing this particular design. On the other hand, some ideas just arise while researching a certain material or a manufacturing process. After the first work with handmade paper and the traditional Chinese paper umbrella, which gave rise to the Piao Paper Chair, we realised that basically all ancient crafts could provide this sort of inspiration. Every material has its limitations, but also plenty of possibilities. We mainly try to use materials according to their natural qualities. But when two particular materials are combined, their qualities change, which opens up new possibilities. As product designers, we do not just collect information from many different crafts but also derive a lot of inspiration from working with other professionals such as artists, dressmakers and architects. This collaboration provides an endless input for new designs and challenges.
You have also taken part in SaloneSatellite. You were part of a group called Innovo (2009, 2010) and then you called yourself From Yuhang (2012). When was Pinwu born?
Pinwu was actually born in 2010 just before From Yuhang. Pinwu is the name of our design studio, which encompasses all our projects and work except the Design Library. From Yuhang was the title of the initial project about contemporary design, inspired by traditional crafts and materials. In 2012 we showed the result of this project as related to local handmade paper from Yuhang and the relative design works at SaloneSatellite in Milano. Yuhang is a district of Hangzhou and the place where our studio and our library are located, the place where our nationwide research into Chinese crafts and materials began.
There you presented different editions of the paper chair: those furniture pieces describe in greater depth how a weightless material such as paper can be transformed into a stable and organic solid form. Can you give a brief description of the production process?
The inspiration for the chairs came from the craft of traditional Chinese paper umbrellas. We studied how the craftsmen glued the paper sheets onto the bamboo frame. That then gave us the idea of simply gluing the paper sheets onto each other and seeing what happened. Thanks to its long, rough fibres, the handmade paper is very durable and strong. We started sticking it layer by layer onto a mould with white glue. After applying several layers, we left it to dry and then removed the paper part. It formed a surprisingly solid shell. So, we tried many shapes and thicknesses until we finally managed to produce a durable, stiff seating shell. The Piao paper chair was the first edition. That version of the paper shell is mounted onto a solid beechwood frame. The main shape is kept as simple as possible. The material is the main actor of the work. The open fluffy edge allows the user to feel the base material and even to understand the transition from a soft and fragile material to a solid shell. In the second edition of the paper chair we tried to push the boundaries even further. We discovered that even the legs could be made of paper. The traditional horseshoe-back chair served as the inspiration for the main shape. The seating is made of a leather-covered, upholstered wooden board.