When cultural heritage becomes a TV series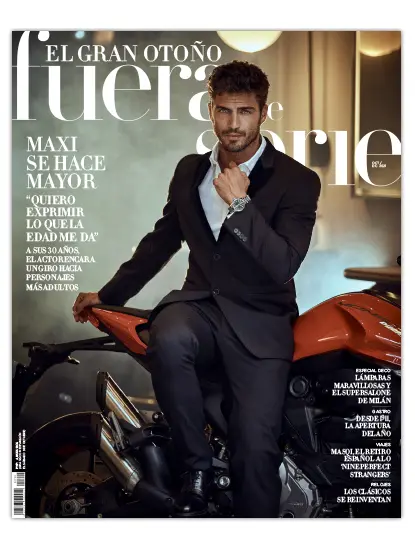 Fuera de Serie, the weekly lifestyle supplement to the Spanish newspapers Expansiòn, has announced a new TV series that will beam Spain's cultural heritage into people's home, through the voices of the protagonists – artists, photographers, architects and designers - who continue to give shape to them.
The documentary series Archivio de Creadores, featured in the Spanish magazine Fuera de Serie, is an ambitious project from La Fábrica in collaboration with La Caixa Foundation, Amazon Prime Video and Audible, bringing the stories of 100 leading Spanish cultural figures to television screens, split into 50-minute monograph episodes. The initiative is available on various different media: the conversations in full are also available in cultural centres and on the new  CaixaForum + cultural platform and will also be turned into podcasts and books. The overarching aim of the project is to put the accent on Spain's greatest contemporary thinkers – artists, filmmakers, writers, architects, chefs and philosophers – enabling their view of the world, of art and culture to be laid down and passed on to future generations, as well as being properly narrated to the current ones.
While, long term, the project is to map out the Spanish cultural landscape of the first half of the 21st century through the stories of 100 key figures, the "first season" of Archivio de Creadores (online from 3rd December) kicks off with eight protagonists: Juan Mari Arzak, Isabel Coixet, Alberto García-Alix, Antonio López, Antonio Muñoz Molina, RCR Arquitectos, Fernando Trueba and Patricia Urquiola.
The latter, a designer originally from Oviedo with a studio in Milan, is one of the most high-profile Spanish designers on the international scene and, like the others, she talks freely about her ideas, her memories, her training, her creative universe and, especially, her work, which followed her studies in Italy under the wing of Achille Castiglioni and continued alongside first Vico Magistretti and then in the Lissoni Associati studio. She started collaborating with Italian furnishing companies in the early 2000s in the north-east with Moroso and was soon working in all Italy's high-end manufacturing districts.
To date, Patricia Urquiola has designed products and spaces for the world's foremost design companies: Cassina, cc-tapis, Salvatori, Kartell, Budri, Bolon, Glas Italia, Agape, Alessi, Kvadrat, Andreu World, Alpi, Cappellini, St. Regis, Molteni&C., Axor-Hansgrohe, B&B Italia, Baccarat, Boffi, De Padova, Driade, Coedition, Ferragamo, Flos, Gan, Georg Jensen, Haworth, Kettal, Listone Giordano, Moroso, Mutina, Rosenthal, Verywood, Bottega Ghianda, Serralunga, Olivari, Viccarbe, Mabeo Furniture and Emu.
Credits
Text: Elisabetta Donati De Conti
Original Text: Ana Ramirez
Photo: Courtesy of Fundación "la Caixa"
Magazine: Fuera de Serie
Publisher: Unidad Editorial Revistas