A wealth of insights to help us re-engage with the beauty around us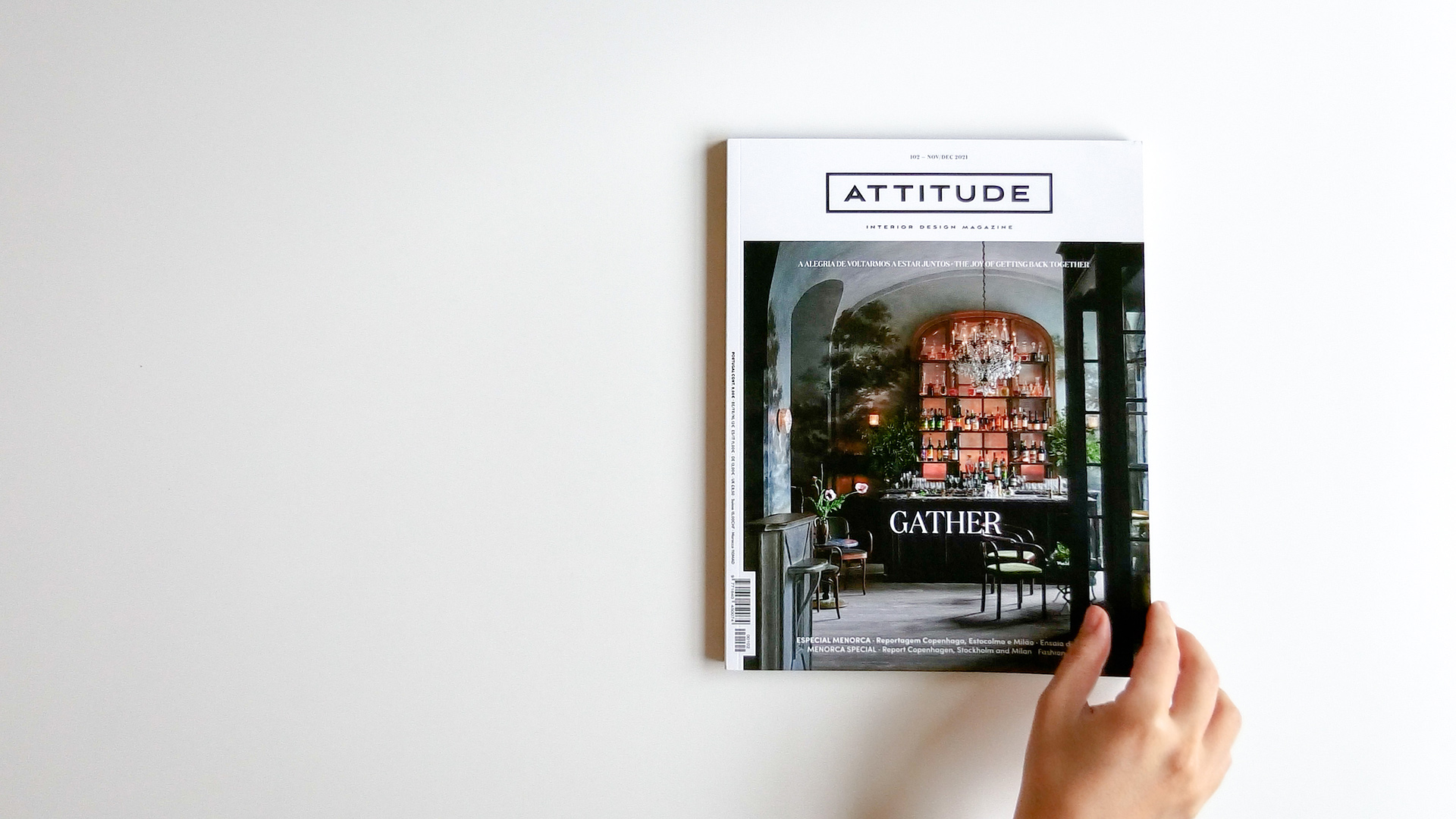 The Portuguese interior design magazine Attitude has gathered together a collection of stories and spaces that make up an optimistic manifesto for getting together.
After some indecision as to the theme for the 102nd edition – first gastronomy then, possibly, travel – the editors at Attitude came to a joint conclusion that what they really wanted to focus on was our need to come together. After almost two years that have borne witness to the fragility of the world, the Portuguese magazine is calling for us to (re)discover common routines fuelled now, more than ever, by a renewed awareness and sense of community, under the banner of the word Gather – which literally means to unite, to get together, and also to hold each other close.
This edition has air of optimism about it, hitting the newsstands just as events devoted to art and design are making their return to trade fair pavilions, showrooms, studios and streets, continuing to facilitate encounters between creatives and consumers in as personal a way as possible. Featuring prominently amongst its pages is a report on the latest edition of the Salone del Mobile, held this year in a more intimate guise ahead of its return to the format that has seen it become the greatest trade fair event in the design world.
The story of cities buzzing with design continues with a tour of 3daysofdesign in Copenhagen and another of the Stockholm Creative Edition, alternating with interviews with the most famous and creative Portuguese chefs,  Vasco Coelho Santos and Fernando Morais, coverage of the latest hotels (the new ACE in Brooklyn and the Maison Duroy in France) and restaurants (Leonetta and Palacio Chiado in Lisbon, Sirga in Penafiel), bold developments in the fashion world and even a trip to Menorca – an enchanting island, that stands out for its approach to preserving the unpolluted beauty of its landscapes along with its powerful contemporary art vibe.  
Then there are the 100th anniversary of the Adico brand, a focus on Brazilian furnishing in Milan, a report on the Origem Comum initiative and several interviews with protagonists of the creative world: the interior designer duo Quintana Partners, ceramist Blanca Madruga, creative director Cristina Benejam Arnal with Fernando Garcia Antón, designers Roman and Williams, interior and product designers Hauvette and Madani, and an article on the artist Jorge Molder.
The magazine closes with a reflection from Inês Graça, inspired by the words of José Saramago in The Tale of the Unknown Island: "… you have to leave the island in order to see the island, that we can't see ourselves unless we become free of ourselves." This, perhaps, is life's most precious gift: the ability to distance ourselves from what is truly important in order to appreciate its true value. Whether it's an island like Menorca or everything we've gone through over the last year.
Credits
Video: Michele Foti
Original Text: Carlos Cezanne
Photo: Michele Foti
Magazine: Attitude Interior Design Magazine
Publisher: Attitude