Villa Necchi Campiglio, a history of revolution and restoration
Add to bookmarks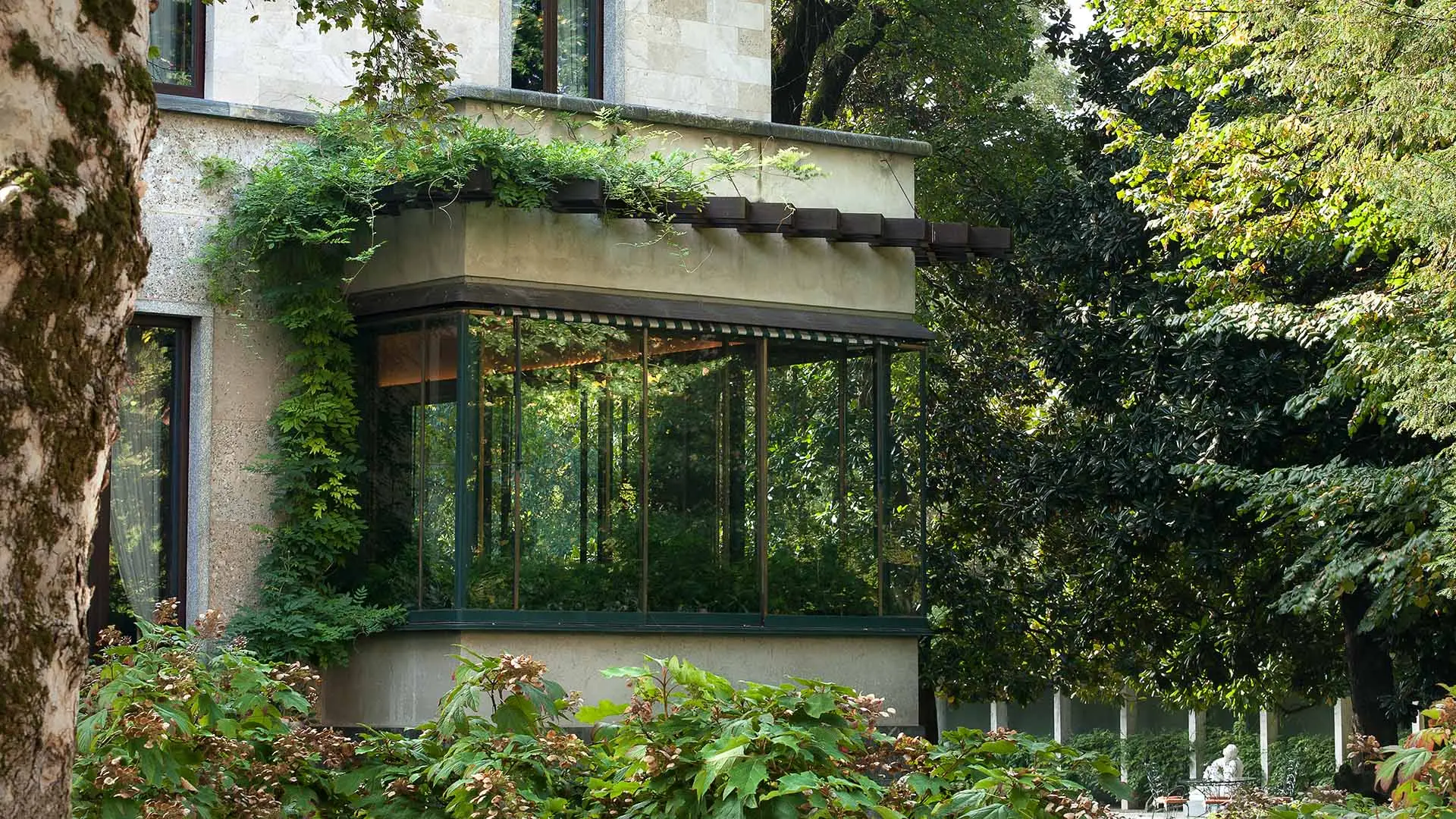 Despite being in a secluded, secret corner of town, hidden by a park in the midst of the Via Mozart Art Nouveau/Art Deco quarter, this house is one of Milan's most iconic and photographed locations.
A FAI property open to the public since the final family heir donated it to the heritage organization in 2001, Villa Necchi Campiglio was completed in 1935 to a design by Piero Portaluppi. Much like the founding narratives of basilicas and sanctuaries, legend has it that the building was conceived in a vision: lost in fog after a show at La Scala, in what was at the time the Milan suburbs, two captains of industry and bon vivants, Angelo Campiglio and Gigina Necchi, decided to have a villa built in the city to look like a country home. They were eyeing a vacant plot of land in an area barely touched by the building boom; Aldo Andreani's Palazzo Fidia opposite had only just been completed a couple of years earlier. Industrialists from Pavia, they hired an architect called Portaluppi, one of the most futuristic, eclectic, Rationalist architects of the day, who came up with his trademark flourishes: geometric lozenges, a zodiacal ceiling in the dining room, and a star-shaped window. Portaluppi's futuristic faith in technology (industrial materials, electricity, a heated swimming pool) was a radical break from the canonical forms of upper-class Milanese luxury, which was still very much in hock to eighteenth/nineteenth-century tastes. Indeed, his design was all minimal spaces and unusual shapes (an elongated parallelepiped-shaped electric fireplace), with an internal division that reflected a search for symmetrical harmony in the arrangement of the apartments on the main floor but not, for example, in the external facades or by opening up as much as possible to natural light. A veranda-terrace conceived as a green salon with plants between double glazing is the building's most famous and appealing space. A bronze of Puro folle (Parsifal), a masterpiece by Adolfo Wildt, a summa of Wagnerian mysticism and the sculptor's alien forms, has recently added an extra splash of green.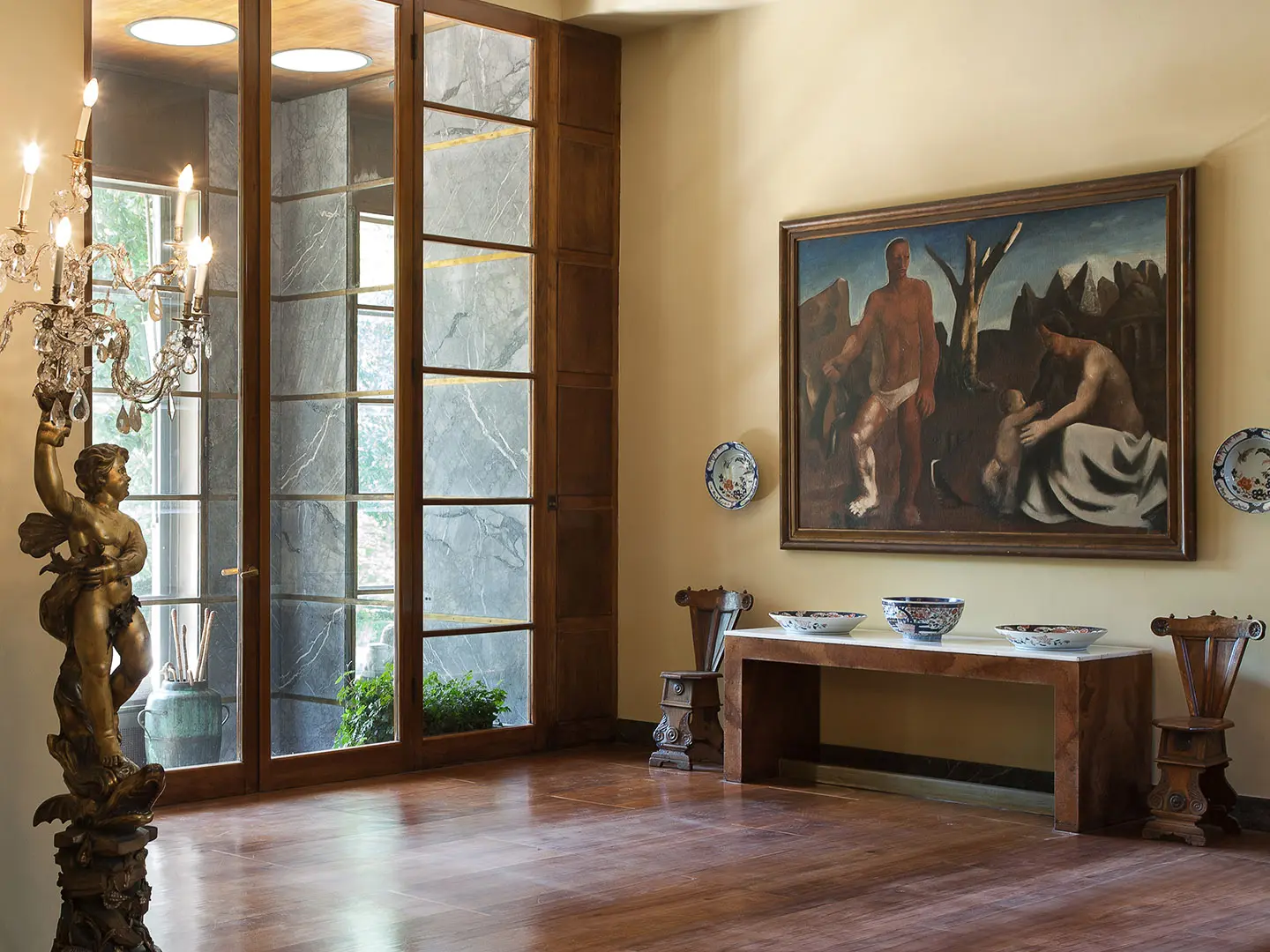 FAI-donated collections from de' Micheli, Sforni and Gian Ferrari have transformed Villa Necchi Campiglio into a stratified home-cum-museum. The de' Micheli collection is laid out as an eighteenth-century living room, with a predominance of yellow damask and Venetian works (by Canaletto, Guardi and Rosalba Carriera). The Sforni bequest is a remarkable collection of paper-based works (from Picasso, Fontana, Sironi, and Modigliani among others) displayed evocatively between a bathroom and a guest bedroom. It is, however, the collection assembled by brilliant and eclectic gallery owner Claudia Gian Ferrari that features the most pre-eminent pieces, including Mario Sironi's large canvas The Shepherd's Family, and Arturo Martini's The Dead Lover, which greet visitors in the lobby, along with paintings by De Chirico, De Pisis, Casorati and the Puro folle sculpture mentioned earlier.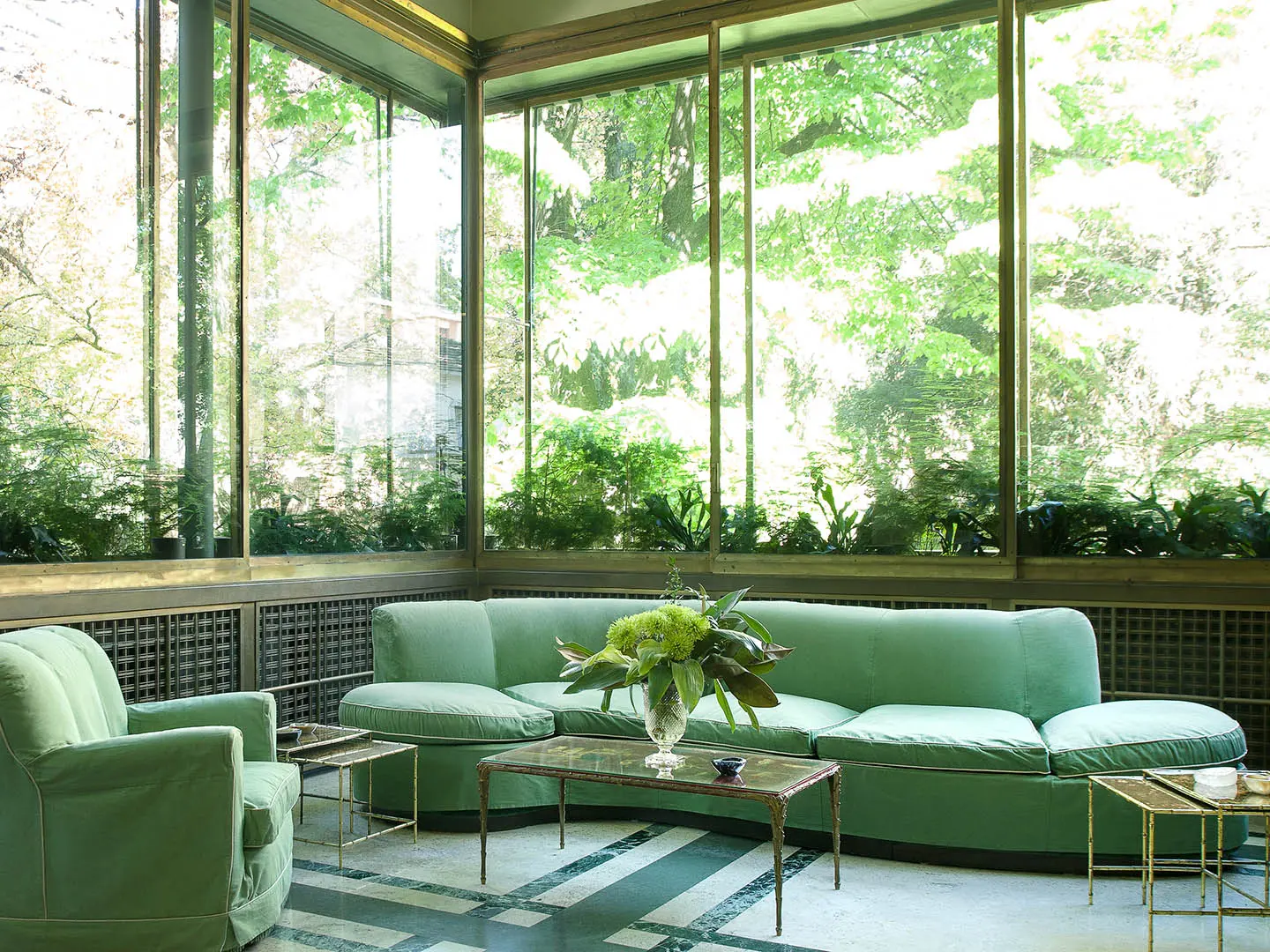 Addition of these artworks, of other provenance, is by no means the first change to the villa as Piero Portaluppi conceived it; it was, in fact, not even the first "betrayal", given that the architect conceived the space as a total, indissoluble work of art, designing it down to the tiniest detail, including the dinner service (the cups sport the C of Campiglio in Secessionist form) and radiator covers, in a wholly personal synthesis of elements from Rationalism, Deco, and the Viennese Secession, a potential response to Josef Hoffmann's Brussels masterpiece, Palazzo Stoclet.
The villa's history is in part a story of revolution and restoration that intertwines with the Necchi Campiglio's family's own history. In 1938, a few years after the original architectural work was completed, the owners commissioned another pre-eminent architect, this time a leading exponent of neo-traditionalism, Milanese high-society favourite Tommaso Buzzi, to undertake a counter-reformation, i.e., to correct and gradually normalize the interiors and smooth off its rough edges, both literally and figuratively. Buzzi's neo-Renaissance inspirations covered over Portaluppi's rational forms and voids.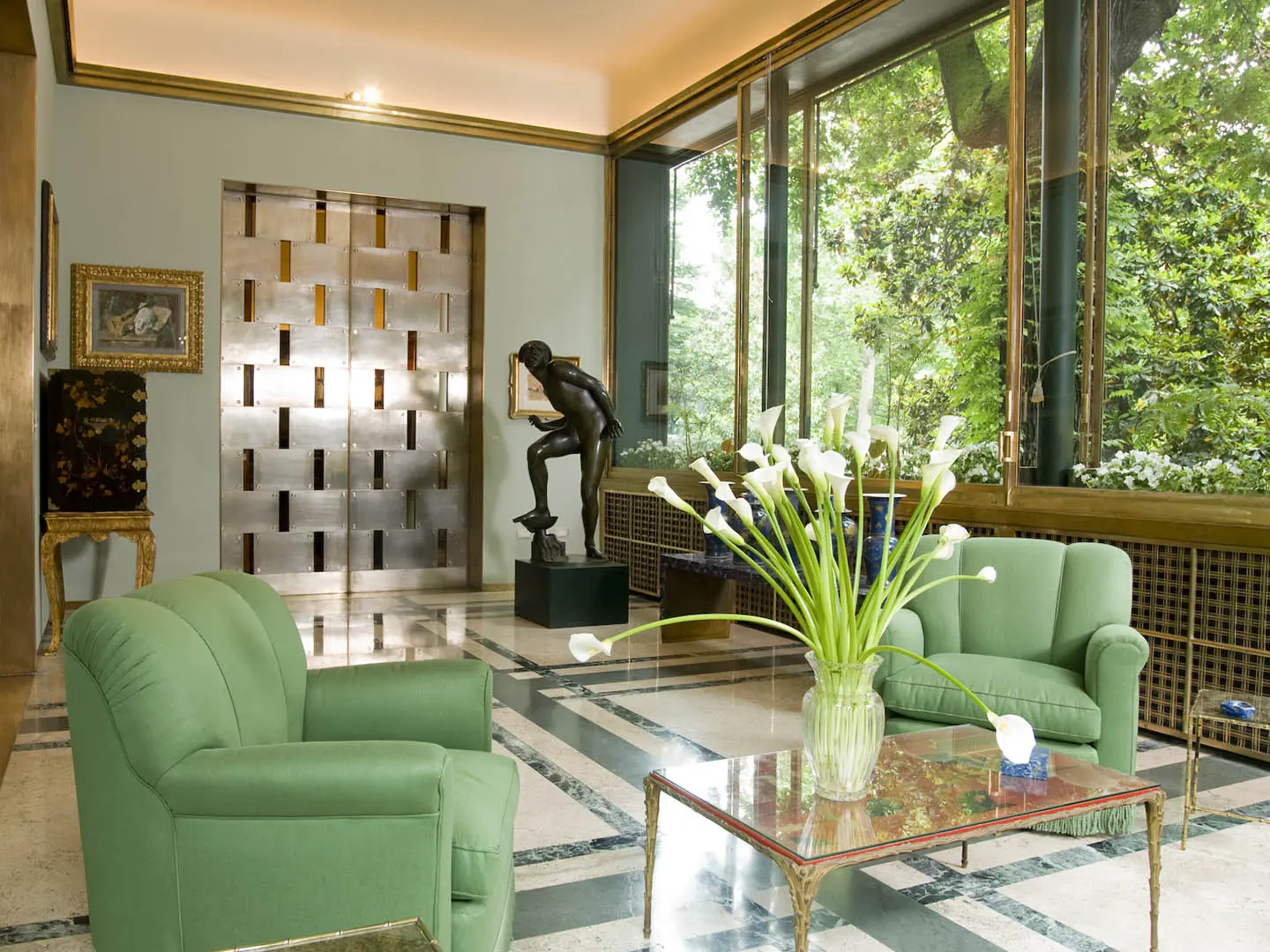 One emblematic example was the fireplace, converted into a classical version; the walls were hung with tapestries, and new furniture brought in typical of a canonical Lombard living room. The aesthetics of the resulting hybrid is a perfect manifestation of the Lombard bourgeoisie's conflicting ideological desires. Interestingly, Luca Guadagnino, a movie director well-known for letting furnishings speak for themselves, picked the Villa as the perfect location for his film I Am Love.