Jarman, Leonardi/Stagi, Oudolf: three classics for landscape designers
Add to bookmarks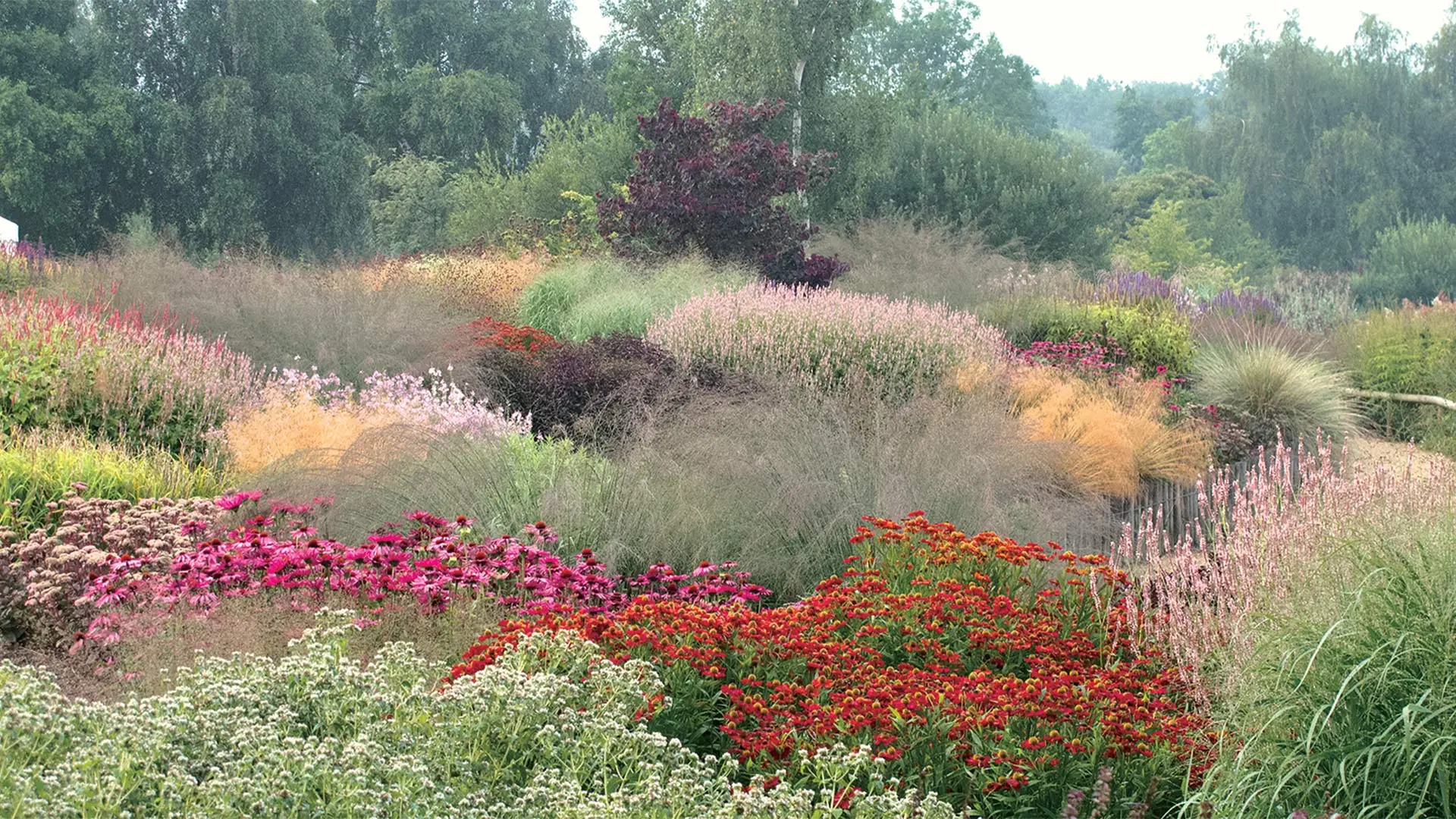 Written in different periods, these books contain all the secrets for organizing a designer garden. Starting from a profound knowledge of botany
How to design a garden capable of enthralling in a historical period like ours, when forms all too sharply defined clash with a contemporaneity that is psychologically ever more fluid and confused?
Answers to this question come, each with a different approach, from three books by landscape designers whose creativity is expressed in different ways: Derek Jarman (1942-1994) was also a filmmaker and screenwriter, Cesare Leonardi (1935-2021) and Franca Stagi (1937-2008) were architects, Piet Oudolf (1944) is a writer. Theirs is an all-encompassing reflection, which starts from a deep love and carefully acquired knowledge of plants, but also brings into play their varied and visionary personalities.
The gardens that arise from all this are strange, rich in stimuli as apparently foreign to botany, a realm where a first glance a sort of chaos seems to be the dominant feature. Yet actually an order prevails dictated by an approach that at times becomes philosophical, a careful sensitivity to feelings and a close dialogue, at times ancestral, with the floral part of our universe.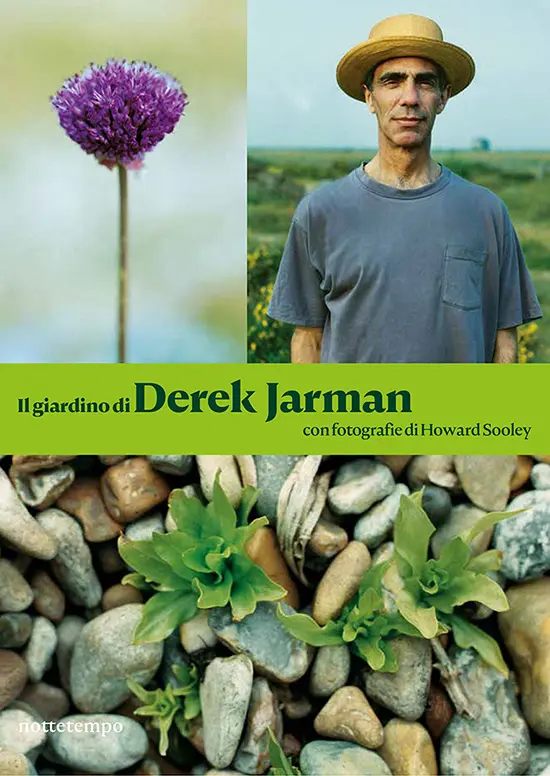 Derek Jarman's Garden
"Paradise is the obsession with gardens," writes Derek Jarman, "and mine is obsessed with them too." If the author's work as a filmmaker has often been centered on themes such as sexuality and violence, his garden truly resembles a paradise.  
This book, with images taken by his photographer friend Howard Sooley, is a diary of the development of that setting from the beginning, in 1986, until a year before Jarmal's death, 1993. The location, found by chance during a visit to Kent, is an arid, flat and desolate expanse of shingle with Dungeness nuclear power station on the horizon.  Jarmal, passionate about botany since childhood, succeeded in combining the painter's eye with a knowledge of plants and flowers without overlooking ecology.
His landscape also brings together flints, seashells and driftwood found on Dungeness beach, sculptures made out of stones, old tools and objets trouvés, native plants and cultivated bushes and flowers. The Sooley's photographs portray the various recesses of the garden, bringing out its complex geometric plan, its magic stone circles and fascinating and bizarre sculptures.
Title: Derek Jarman's Garden
Authors: Derek Jarman with photographs by Howars Sooley
Translation: Fiorenza Conte
Publisher: Edizioni Nottetempo
Year of publication: 2019
Pages: 144 pages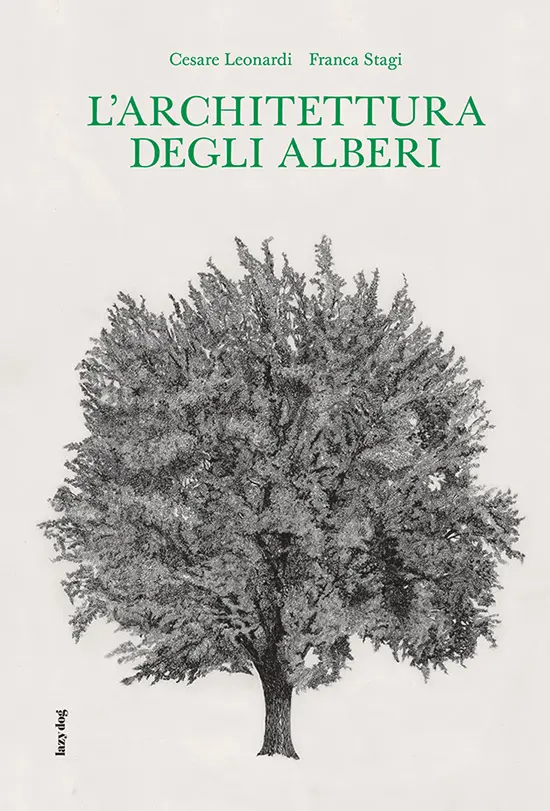 The Architecture of Trees
"So you have to know trees to design parks; to know them one by one, and also to know that the design of a park is the design of something in the making, the proposal of a mechanism of change, growth, life and death," said Franca Stagi.
So a mechanism of change is the authors' idea of the garden.  Published for the first time in 1982, the volume is now reissued by Lazy Dog Press, for the Italian edition, and Princeton Architectural Press, for the English-language edition, and accompanied by over 500 illustrations of trees and 212 of species of trees, all on a scale of 1:100, with and without foliage, with diagrams of the shadows they cast during the various hours of the day and the seasons, with tables of the seasonal variations in color of the foliage and 393 descriptive entries for each family (53), genus (128) and species (212), with 185 specific drawings of leaves, flowers and fruits.
It is a work difficult to classify, midway between a scientific text, fully attributable to the centuries-old handbook tradition, and a singular "product of love and obsession", as the architect and critic Joseph Grima described it. An apparent contradiction, which seems to reflect the personalities of its two authors, who had an architectural practice in Modena from 1963 to 1983: impulsive and irrepressible Cesare Leonardi (1935), rigorous and determined Franca Stagi (1937-2008). The result is an irreplaceable instrument for professionals, architects, landscapers and designers, or even anyone who feels to the irresistible charm of the wonderful world of trees.
Title: The Architecture of Trees
Authors: Cesare Leonardi and Franca Stagi with texts by Laura Conti and Augusto Pirola
Publisher: Lazy Dog Press and Princeton Architectural Press
Year of publication: 2018
Pages: 424 pages
Planting. A New Perspective
Piet Oudolf's gardens  are surprising, exciting and hard to define. The combination of perennials and trees, refined colors and seemingly chaotic sequences creates calm yet enthralling settings that draw on a compelling emotional resonance.
Known by all as one of the most skilled international landscape designers, in his most recent works Oudolf introduces integrated schemes, where the various species mix and merge without stifling each other. Ecology and the characteristics of the botanical varieties form the basis of these designs, with a continuous reference to environmental well-being.
Piet Oudolf with photographer Noel Kingsbury (one of the UK's leading experts in natural planting) know perfectly well how plants behave in different seasons and conditions, what happens to their roots and which species are best matched. Essential reading for all those who want to create gardens in harmony with the surrounding environment, that respect biodiversity and at the same time nurture the human soul, the volume presents various of Oudolf's original garden designs with a detailed directory offering precise information about the various plants, such as longevity, seed persistence, spreading ability and the propensity to self-seed.
Title: Planting. A New Perspective
Authors: Piet Oudolf with photographs by Noel Kingsbury
Publishing house: Timber Press
Year of publication: 2013
Pages: 280 pages