Atelier Gardens: Berlin film studios turn into a campus for social activism
Add to bookmarks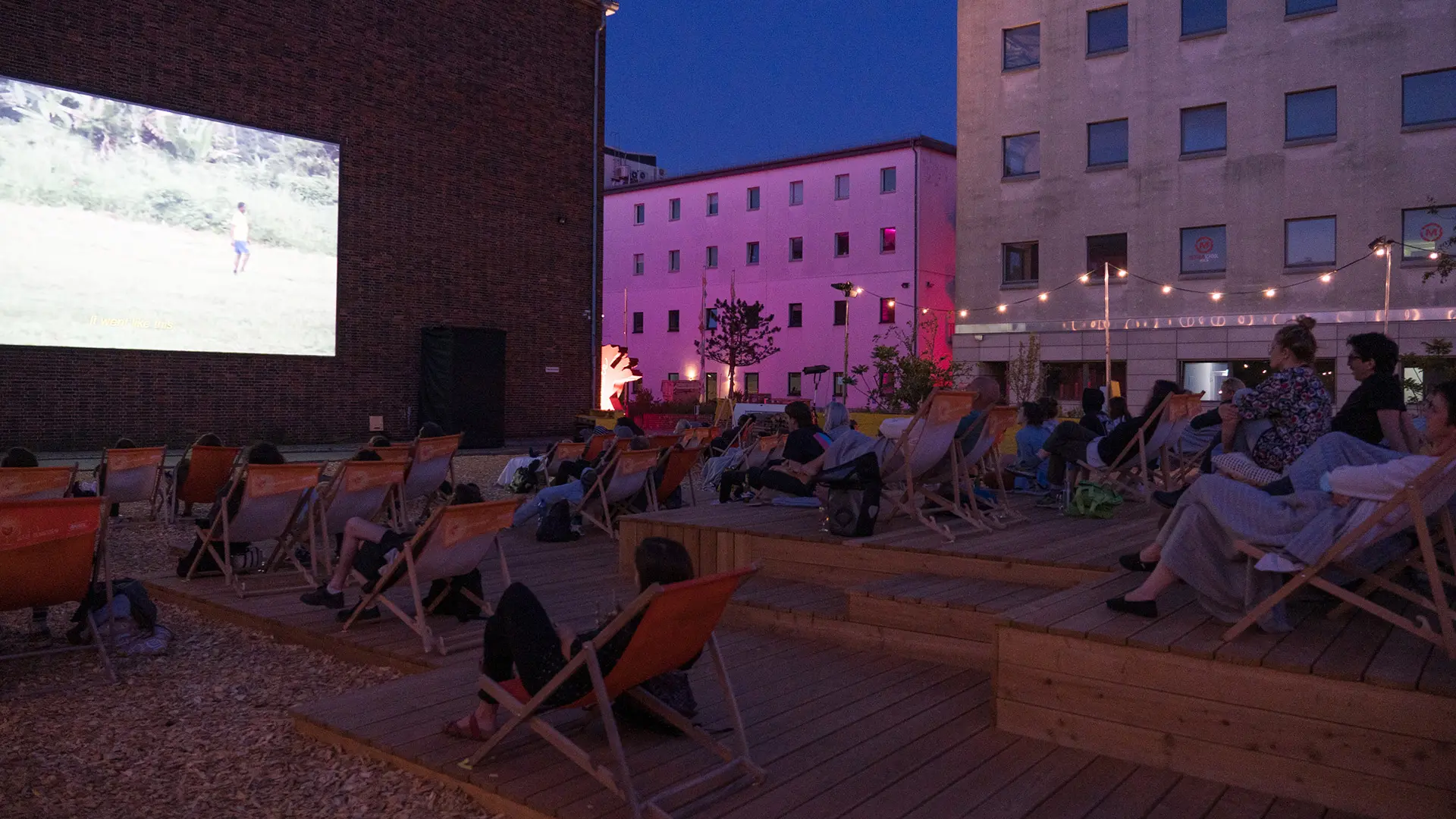 Berlin's BUFA film studios welcomes a community of "change-makers" to the repurposed campus. Atelier Gardens' developers and architects tell us about the scope, mission and impact of the project
Situated on the southern fringe of Berlin stands one of Europe's oldest film studios, Berliner Union Film Ateliers (BUFA). Constructed more than a century ago over an area of 23,800 sqm, the original studios serve as a reminder of the city's rich history in film and television.
The campus has recently undergone a major, sustainable transformation catalysed by a new identity and innovative uses of its physical spaces. The name of the development is Atelier Gardens, and filmmakers are being joined by creative, forward thinking organisations, individuals and small businesses seeking to affirm change in their new base camp.
"It is a place for global change-makers involved in defending human rights, food production, the Media and any other activities endeavouring to make the world a better place," Clive Nichol, CEO of the project's developer Fabrix, told Salone del Mobile.Milano.
The site gets a new lease of life
Located in Berlin and powerfully influenced by its local and historical heritage, the site aims to become a magnet for European activist communities with a focus on environmental and social justice.
Clive Nichol adds: "We looked at the global movements that change-makers are wrestling with and realised that rather than having drilling down on human-rights, or the environment, or science and technology, all these themes are actually so tightly intertwined that it made sense to offer a participatory space where they could all come together to share perspectives, host events and gather people."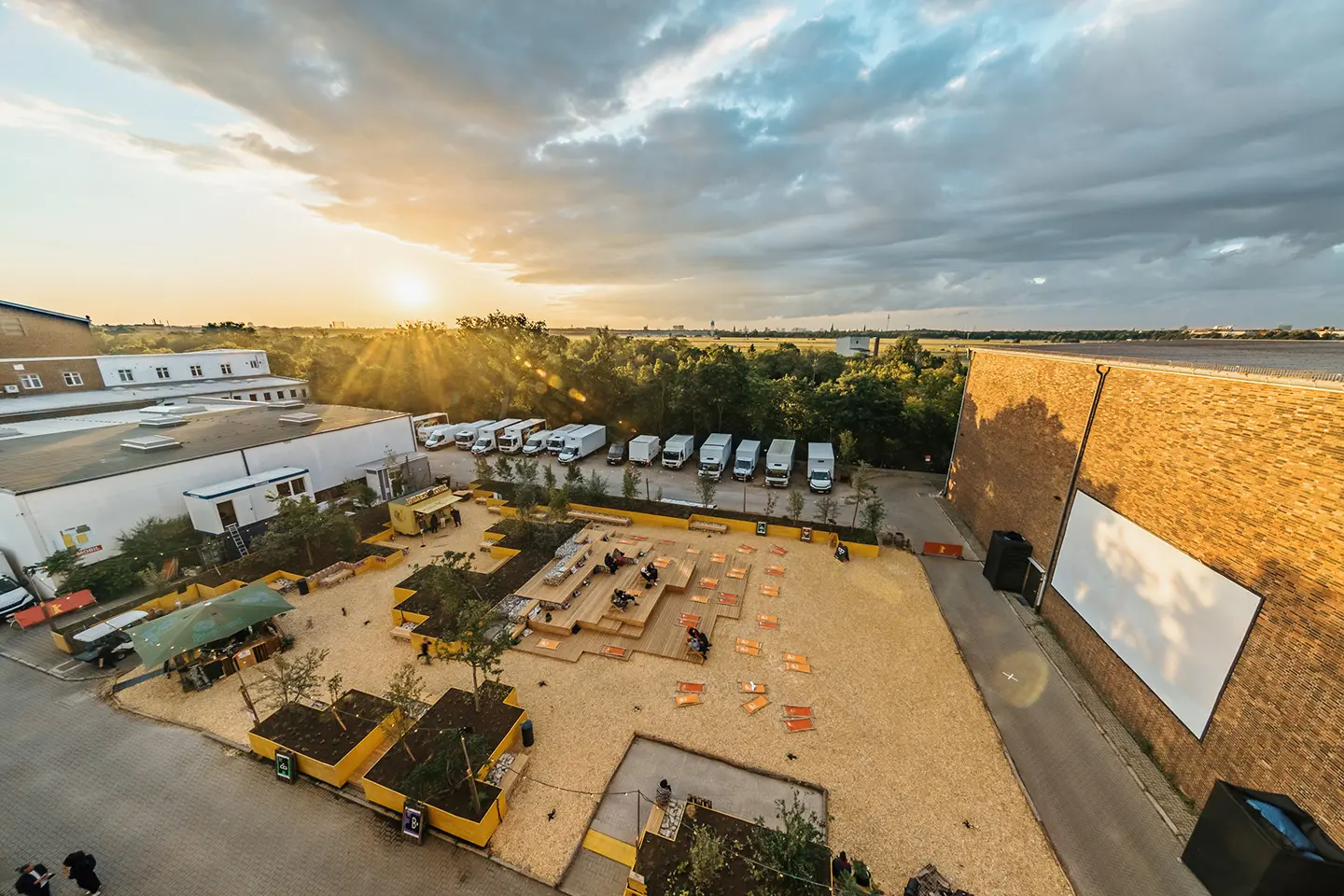 The iconic BUFA film studios are famous for producing 20th-century classics and Oscar-winning movies. "The studios have a long history of storytelling and we thought it was a great place to start up something like this," Nichol explains. The campus offers unique spatial diversity, with extensive open plazas designed to accommodate film shoots; however, because of the logistics of filmmaking, every few years new buildings were added to the complex with no real masterplan underpinning their construction.
Atelier Gardens now has a new masterplan designed in conjunction with architects MVRDV, which envisions the campus as a flexible workspace where the studios are transformed into social spaces, event venues, and the headquarters of organisations engaged in activities that represent the future of the site, such as urban farming and beekeeping.
Jacob Van Rijs, Founding Partner of MVRDV, explains: "We were aiming to achieve a certain balance between buildings and open spaces. These studios are of monumental proportions, with beautiful brick façades, and we wanted to preserve that heritage but at the same time, breathe new life into it."
Most of the buildings have been repurposed and adapted for public use, creating a society within a society that shares a common approach towards working in harmony with nature.
The new name name speaks for itself: in light of its history, the site remains a "studio" (Atelier), a place that encourages creativity, ideas and action, and has a newfound connection with nature (Gardens).
The way Nichol sees it, the word "garden" had different meanings, from a natural resting space, to the soil for growing food crops, or an area for running workshops. The new identity of the campus is thus that of a natural, mixed-use development where "lots of different people can do lots of different things, but with the same intentions and outcomes."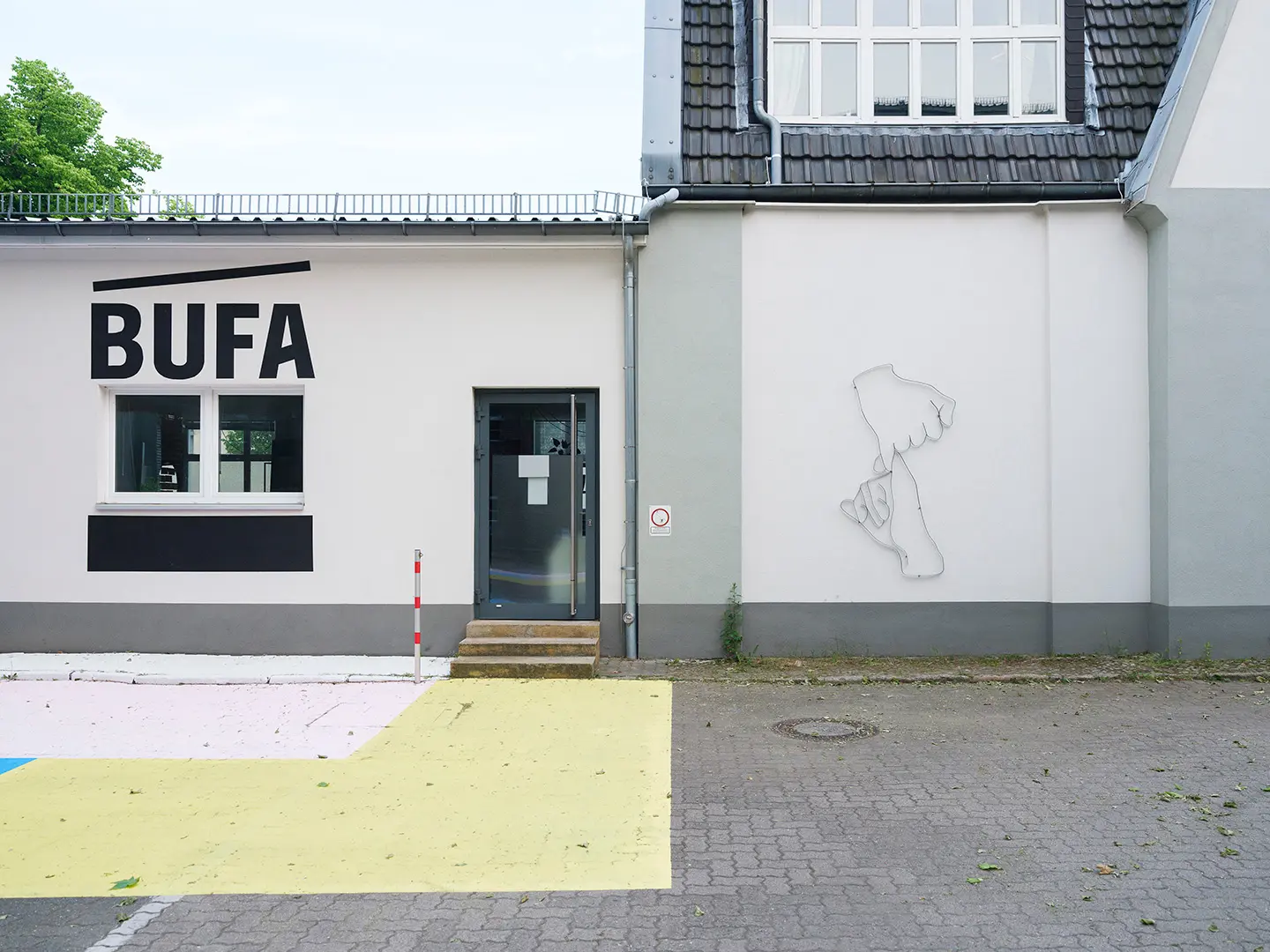 Maximum impact, minimum waste
Sustainability measures were incorporated in the construction, which was geared towards repurposing buildings on site, reusing materials where possible and sensible, recycling/upcycling old electrical equipment, and salvaging and giving away furnishings that could be utilised elsewhere.
MVRDV also designed a new rainwater collection and reuse system, with water plumbed from the roof gutters around the campus directly into a new toilet flushing system. Recycled water is also stored in cisterns for irrigation throughout the site, while a highly efficient human solid waste separation/fermentation process produces compost used throughout the complex.
Moreover, a long term strategy to reduce energy consumption on the site has been put in place entailing the widespread installation of PV panels to produce electricity.
Principle Architect Jacob van Rijs said: "Ours is a long term involvement; we have several projects coming up to continue the transformation of the studios; we want to make the spaces flexible enough to adapt seamlessly to unexpected events."
During the redevelopment, the whole area was rewilded over a five-to-ten-year period of cultivation and experimentation. Waste material will be repurposed as test growing mediums, mulch and insect habitats.
The existing hard concrete landscape has been broken up and planted into, creating a sense of nature taking over. "One of the projects involves transforming an office building into a beautiful rooftop garden with a gigantic external staircase," adds Rijs. "It will turn into an attraction and provide a great place for gazing at the city's skyline."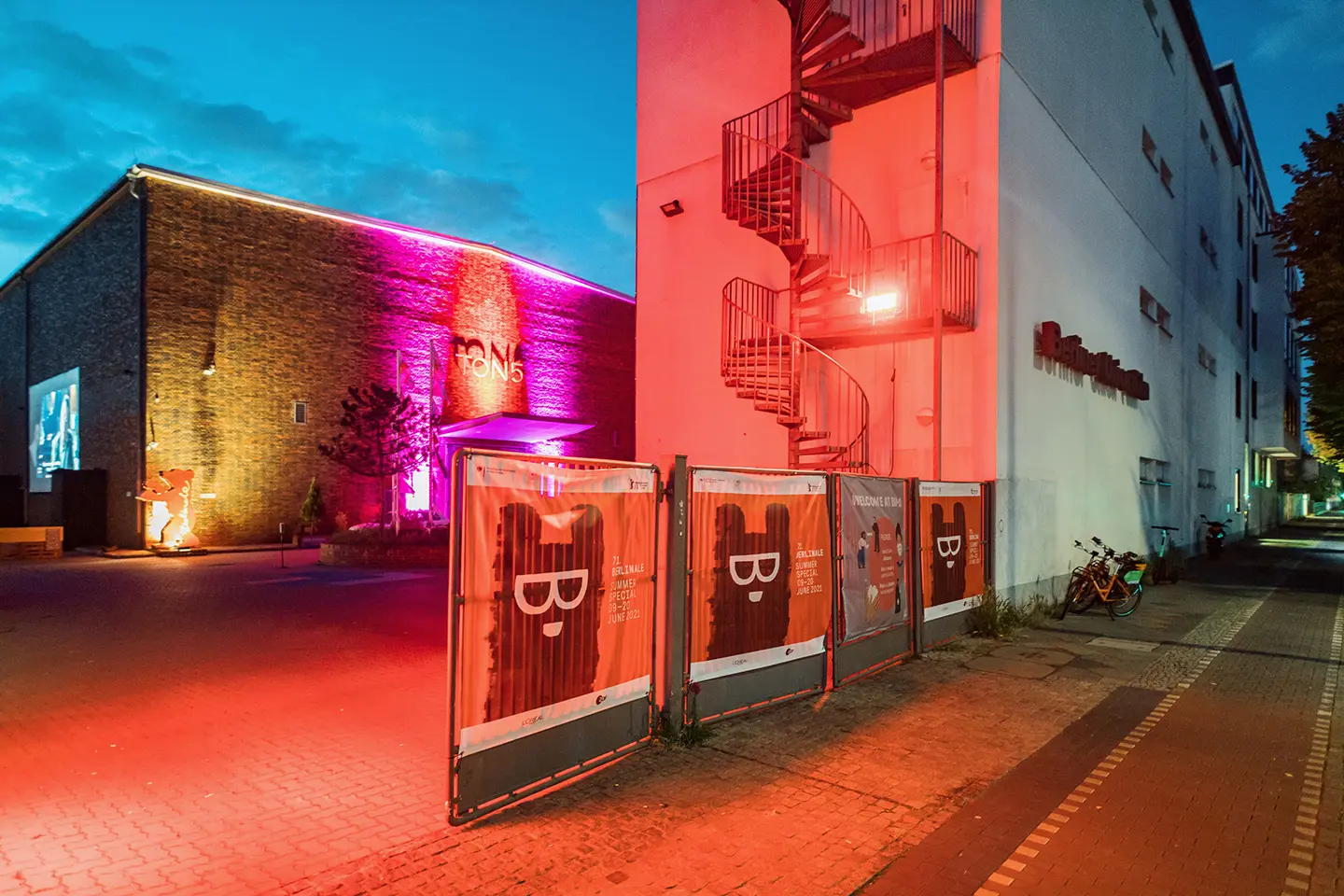 A base-camp for change-makers of the future
The campus has quickly become home to some of the most active European groups and organisations that are tackling global issues like climate change and food poverty. Tenants include such impressive names as the environmental groups Extinction Rebellion and Fridays for Future, the learning platform for creative leaders KAOSPILOT+, and the microfarming network Tiny Farms, to mention but a few.
"It was actually a coincidence that brought us here initially, but we decided straight away to move in," explains Tobias Leiber, Co-founder of Tiny Farms, "simply because there are so many other startups in the food and environmental spheres".
The company was founded in spring 2020 and hopes to gain a stronger foothold thanks to its strategic location at Atelier Gardens. "Last winter we tested if we could create plants starts here and we'd like to expand that. In other words, we want to do things that fit in with the concept of this place."
Tiny Farms is in fact the perfect fit for the larger community that now calls Atelier Gardens home. And this, as the project's developers confirm, is what really brings the campus to life. It's the kind of physical and spiritual space that every city in the world should have to hone the skills and support the commitment of their local activists.
"While helping individuals, groups and organisations promote their powerful causes, we also want the studios to become a place to celebrate and rejoice in doing good in the world," says Nichol.