Ximi Li
Add to bookmarks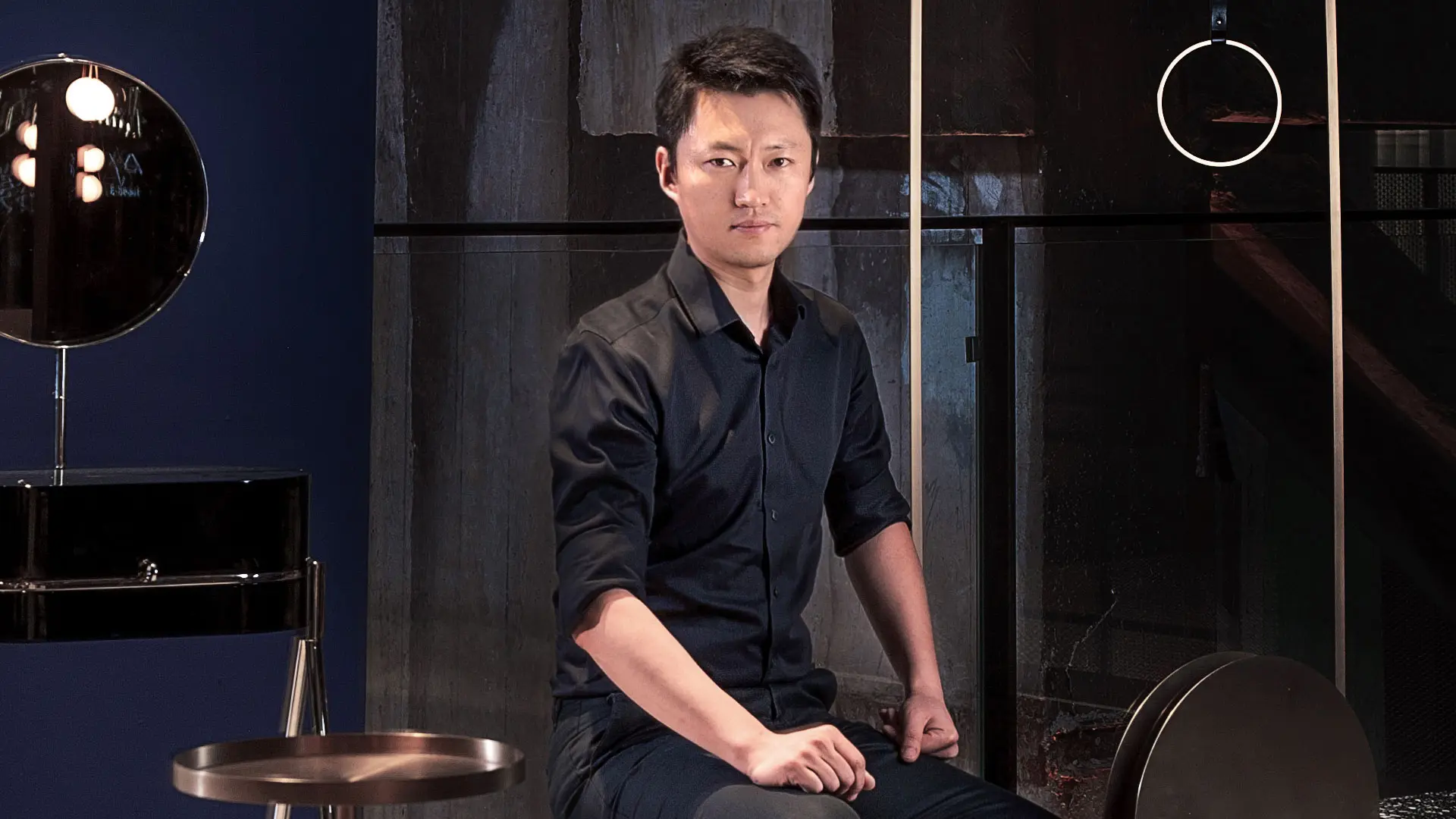 Educated in the East and West, Ximi Li is a multi-faceted figure who knows that designing is not just a matter of expressing one's own ideas but of understanding and respecting the industry and the market.
Ximi Li, a designer currently based in Shanghai, really symbolises the fact that the cultural bridge between Italy and China that the Salone del Mobile.Milano Shanghai is committed to underpinning is truly possible. Li took his degree in Industrial Design from the China Academy of Art and a Masters in Furniture Design from the Milan Polytechnic University. He then decided to stay in Italy and embark on his professional career in the studios of Andrea Branzi and Luca Trazzi. On his return to China, Neri&Hu snapped him up: in his 6 years as the practice's Chief Designer, he was responsible for product and multi-brand development in Europe and Asia. These different experiences helped shape a multi-faceted, open and contemporary personality, enabling him to work as a designer for many European brands and also launch his own brand, Urbancraft, in Shanghai, the aim of which is to integrate Chinese tradition with elements from other cultures. Urbancraft products are essential, rigorous, valorise detail and are made from precious materials such as glass, marble and fine wood.
What originally made you want to study architecture? Was this a passion for you throughout childhood, or something that came later?
I discovered my passion for drawing when I was in kindergarten. I didn't know what design meant as a kid, but the time I spent learning and practicing Chinese painting, watercolour, sketching etc. gradually got me onto the right path. My interest in design began to burgeon when I was in high school. I got to understand design as an interdisciplinary subject that infiltrates art, culture, history and beyond; I knew that it was something I would enjoy doing for life.
China and Italy. How do these two cultures influence your work? What do you think has had the biggest influence on your design practice to date?
My experience in both China and Italy has formed my way of thinking. In China, "WUXING", which means "comprehension," is vital. The Chinese think that a lot of things don't need to be explained verbally. It is better to leave something unsaid so that people can interpret it in their own way. On the contrary, Italians are very logical. There was a period when I had to change my way of thinking and see and practice design as well as other things the Italian way. At a certain point I found out that I could view things both ways simultaneously. I managed to understand how the Chinese and the Italians think, how they express themselves, and the kind of design they like. This certainly impacts my work. I would ask myself if my design could be understood by Europeans and if my design would resonate with the Chinese.
I worked for several designers in Italy. Andrea Branzi influenced my work greatly. I first saw his work in 2008 when I was still a graduate student at the University of Milan Polytechnic. We were in Paris for a project and had a chance to visit his exhibition at the Cartier Foundation, and I was so amazed to see pieces of work that crossed the boundaries of art, design, and nature, while integrating all the elements so perfectly.
I was fortunate to have had the chance to work for him from 2009 to 2010. He works and lives in the same house, and I was able to observe closely how passionate he is about art and nature, and how he applies his design philosophy to his work. He expanded my comprehension of design, encouraged me to explore more design possibilities, and helped me to acknowledge and understand the meaning and power of design. It was a very precious experience for me.
Your practice has often been noted as having a kind of contemporary international aesthetic, capable of blending East and West. How would you describe your style and approach, and how do you express this through your work?
The new generations in China are free from tradition, heritage or style. I would say that my style is in alignment with my life experiences.
I was born and raised in Northern China, which is very close to Russia. During my teenage years, I spent quite some time in Beijing before I moved to Shanghai for college. Afterwards, I lived in Milan for graduate school and work for four years, and finally settled down in Shanghai. My work is deeply influenced by my experiences in different countries and regions, my understanding and feelings towards different cultures, as well as my imagination.
From North to South, East to West, the history, painting, liberal arts, crafts, details, and architectures of all the places that I have lived and worked in have left marks on my life and shaped my way of thinking. My comprehension and interpretation of different cultures are reflected in my work.
In terms of means of expression, clean lines with circular, or rectangular elements are predominant in my work. It's natural for me to use the simplest forms to express my ideas. I hope that the resonance goes beyond the forms, and that people will understand the content behind the works - whether it's heritage or stories.
What about your process? Can you describe what happens after you receive a project brief from your clients - where do you begin to get your ideas?
We are running Ximi Li Design and URBANCRAFT at the same time.
URBANCRAFT is a design furniture brand and we sell through select shops. URBANCRAFT pieces are displayed in the best furniture shops in China along with great brands, Iike FLOS, Vitra, Friz Hansen, Zanotta etc.
I don't have a particular creative process for URBANCRAFT. It's all spontaneous and free. I start to draw when inspiration come to me, whenever that is and wherever I am. It could be in the middle of the night, on a plane, or during a conversation, etc. Recording an inspiration normally just takes several minutes, but the time spent refining the forms and deliberating the details afterwards can be quite extended. It is mandatory to ensure that the ideas are expressed with respect to brand DNA, and can be achieved stably with current techniques.
Ximi Li Design works with different brands and spaces in the fields of furniture design, interior design, and creative consultancy. The first step of a project would always be to understand and digest - not only the brand positioning and DNA of our clients, but also the target customers' needs and desires. Besides, it's also crucial to know the strengths and weaknesses of our clients' manufacturing facilities. Take one of my most important clients, HC28, as an example. HC28 is a pioneer in the industry in China, dedicated to creating furniture through collaboration with designers worldwide. They respect designers' ideas, and have a complete development, production, and sales system. Our collaboration started with exchanges of ideas, followed by briefing, communication, showroom, and factory visits. These are the steps we take to draw up the lines for creativity. Once the lines are drawn, ideas flow freely. The creative process become interesting as you balance creativity, brand positioning, and the market.
Shanghai has become a centre for designers from across Asia and the world. What attracts designers to the city?
Shanghai became well-known throughout the world in the 1920s and 1930s. People from all over the world came to this city, bringing different cultures. Its citizens were able to experience Western architecture, opera, food etc. without compromising their local cultural and traditional heritage. Shanghai, being an amalgam of East and West, also managed to preserve the diversified culture the way it wanted.
Shanghai is a city that's so inclusive and modern; lots of designers, photographers, artists with different backgrounds settle down here and call it home. Shanghai is also progressing at an amazing pace in terms of economy, culture, design, etc. You know, it's a city with great potential and a prosperous future. Furniture brands and corporations are gradually laying more emphasis on design. Even consumers are more willing than ever to pay for products by design brands. Some designers from Europe came to Shanghai to set up their own studios or brands, because it offers more business opportunities than Europe. With the Salone del Mobile, Design Shanghai and other shows, the design community has become strong and inclusive.
Do you have any advice for young Chinese creatives entering the design field?
Young Chinese creatives are up and coming, they are well integrated into the international design family. Over the last few years, young Chinese designers in architecture, interiors, art and fashion have developed very well. Gradually they have formed their own design languages.
The golden age for furniture design has not yet come. Furniture is something people use intimately every day. Any flaws and discomfort are easily spotted.
Creativity is only one part of creating things. It takes talent, sensitivity, and years of practice for a furniture designer to fully understand and grasp how structure and proportions affect the work. I am very thankful for the six years I worked as chief product designer at Neri & Hu, where I had the opportunity to design different product categories for top furniture brands, and gain experience over the years. These experiences stood me in good stead after I became an independent designer. In addition, young designers need to know that design is not only about expressing their own ideas. Understanding and respecting the industry, the market, and the brands is key.
Do you visit the Salone del Mobile.Milano and SaloneSatellite? Do you think the Salone del Mobile.Milano Shanghai can lead to a profitable exchange for both countries in the design field?
I visited the Salone every year when I was living in Milan. I travelled to Milan for the Salone regularly after I moved back to Shanghai.
The relationship has certainly grown closer economically and culturally since the Salone was extended to Shanghai. Many Italian brands have built up a reputation through the show and grown their business. Equally, dealers and customers in China are given more chances and choices. However, there is still room for improvement.
First of all, the furnishing categories in China and Italy have commonality and differences. The differences can be traced back to history and regional lifestyle. For example, tea tables, valet stands, and dressing tables are some of the categories that play important roles in Chinese houses, yet might not be a necessity for Italian homes. It takes more than changing heights or sizes to adapt products to meet the demands of a new market. Local brands are growing fast, especially over the past two or three years, and they have developed a loyal fan base with an emotional attachment to different brands. Italian brands need to invest more in localisation to win consumers' hearts. Collaborating with Chinese designers with global vision and a comprehensive understanding of the Chinese market would certainly be beneficial to both parties and lessen the distance between Italian furniture brands and Chinese consumers.