Xavier Lust: the magician of metal or the illusionist of lightness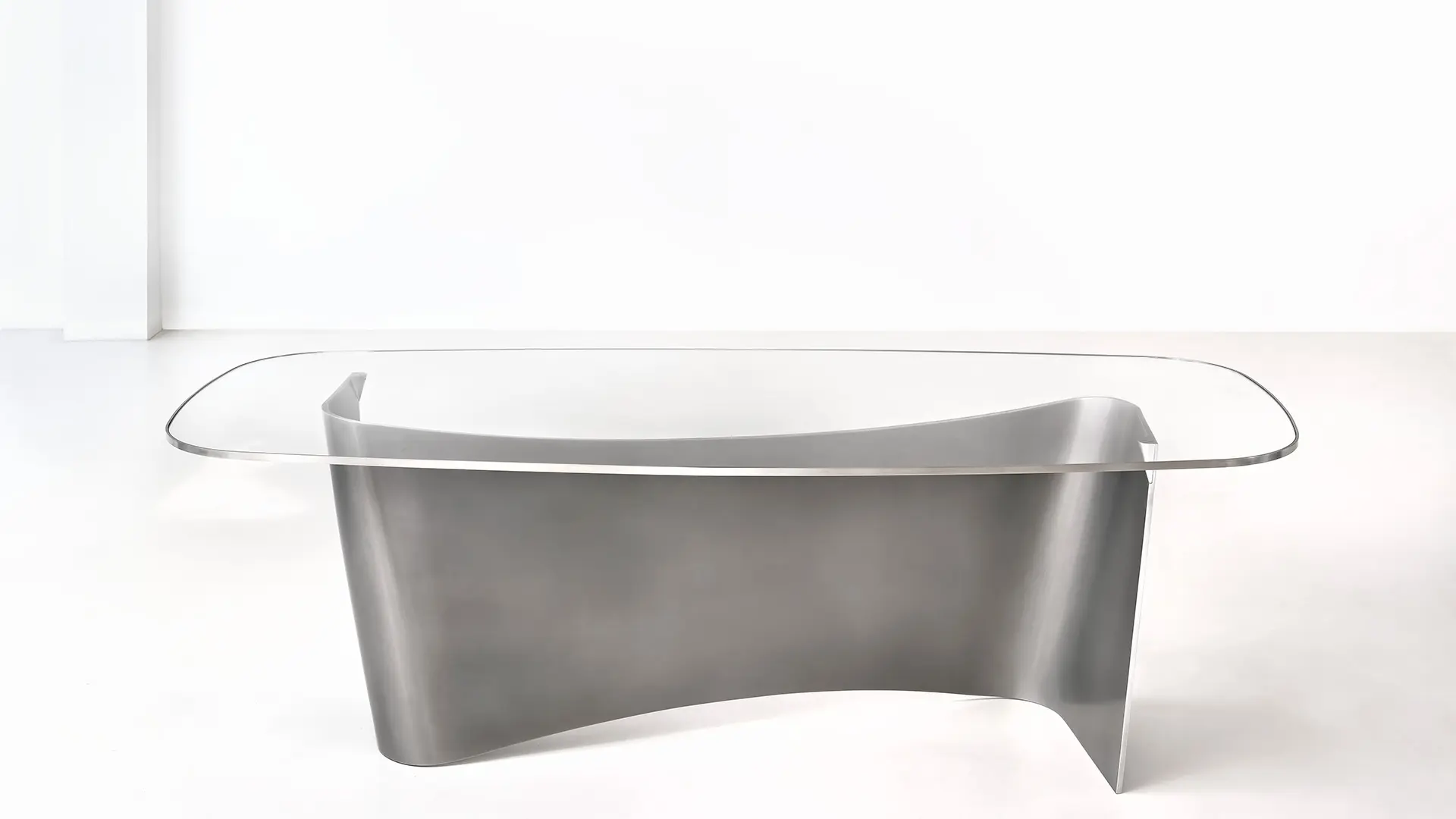 A standard-bearer for Belgian design, he's a born designer and loves biology. His latest creation: a sculptural and functional whale/cabinet, designed especially to trigger a mass of positive emotions.
He's always been known as the Belgian designer par excellence. Blond, blue eyes that gaze down from quite a height, the enfant terrible Xavier Lust, born in 1969, has set tongues wagging ever since he launched his career. His sinuous, soft objects are a terrific example of the concept of sensory design that we're so fascinated with, so much so that there are those who maintain that they seem "born" and not "made." What Lust manages to achieve with metal is unique and unrepeatable. His famous Le Banc aluminium bench (also in a limited edition) has won goodness knows how many awards and has found its way into the permanent collections of the most prestigious design museums at international level, including the Tate Modern in London, the Design Museum in Gent, the Musée des Arts Décoratifs in Paris and SFMOMA in San Francisco. He has worked with many different companies, including Fiam, MDF Italia, Driade, De Padova, Baleri, and Extremis while his latest creation is called the Hard Whale Cabinet. We met him so that he could tell us about what lay behind his latest creation and other stories.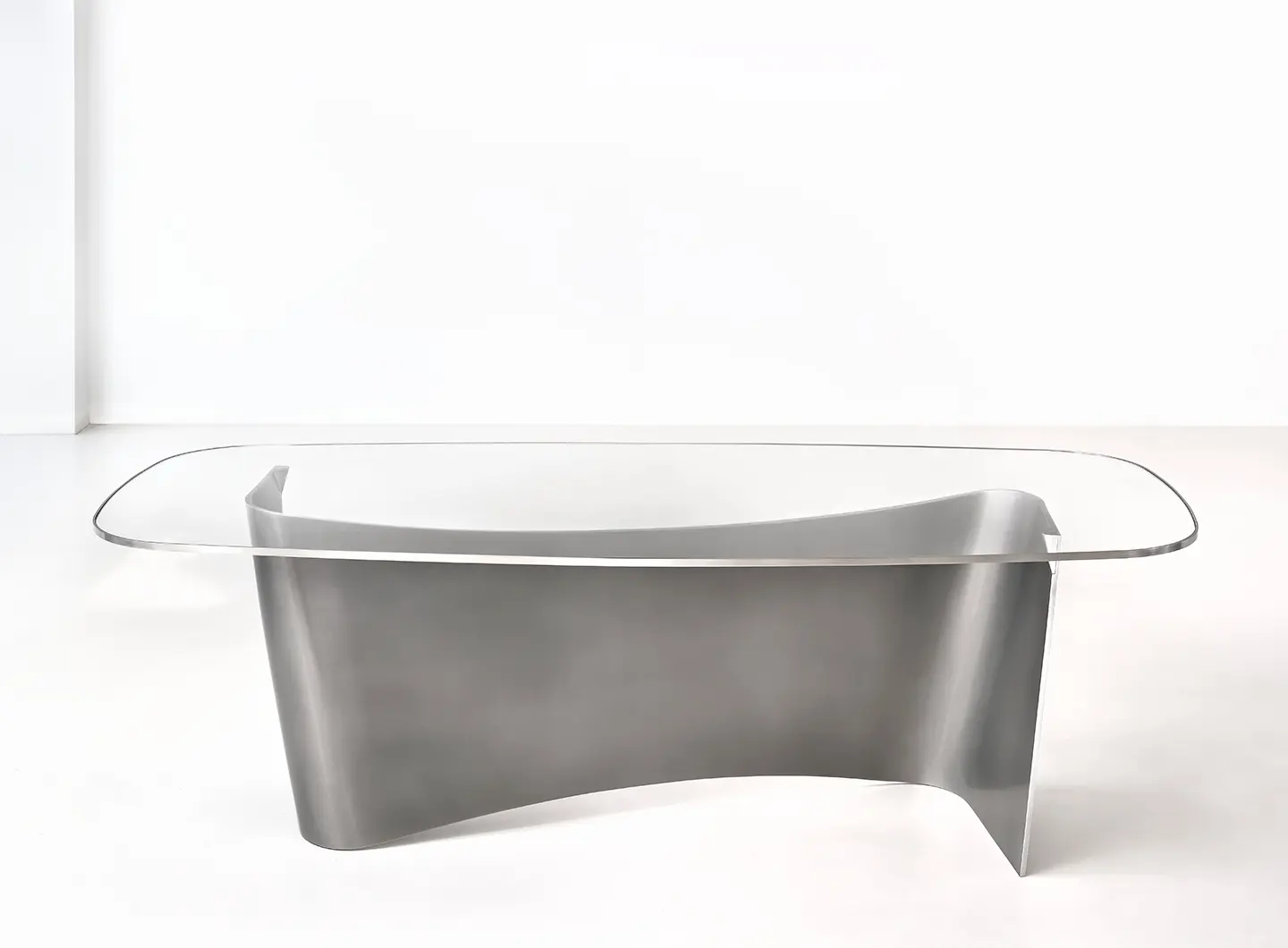 Where did the name for this latest cabinet come from and why?
To encounter a whale is like meeting life in its largest and most ancient form. It is a sort of symbol of serenity and power and has an aura of mystery. It is these impressions together with my passion for biology that inspired this latest creation, the Hard Whale. Calm and grace emanate from the wavering volume of the cabinet. The patina of the aluminium recalls the skin of the animal underwater. The doors open softly through simple pressure to reveal the sculptural and functional interiors.
I guess that this piece was created over the last year… how would you describe your work during these unprecedented, house-bound times we've been through?
I usually have a very social agenda where I divide my time between meetings with collaborators as well as events. For the first time in ages, I found myself alone in my office, with time to go over my thoughts, to explore ideas freely. On the other hand, and surprisingly, I received several requests from clients. Perhaps, as they were spending more time at home themselves, they were thinking about their interiors and what they wanted to surround themselves with.
What image comes to your mind when I say the word design?
A well-conceived and beautiful object. One whose existence is relevant and creates a positive emotion.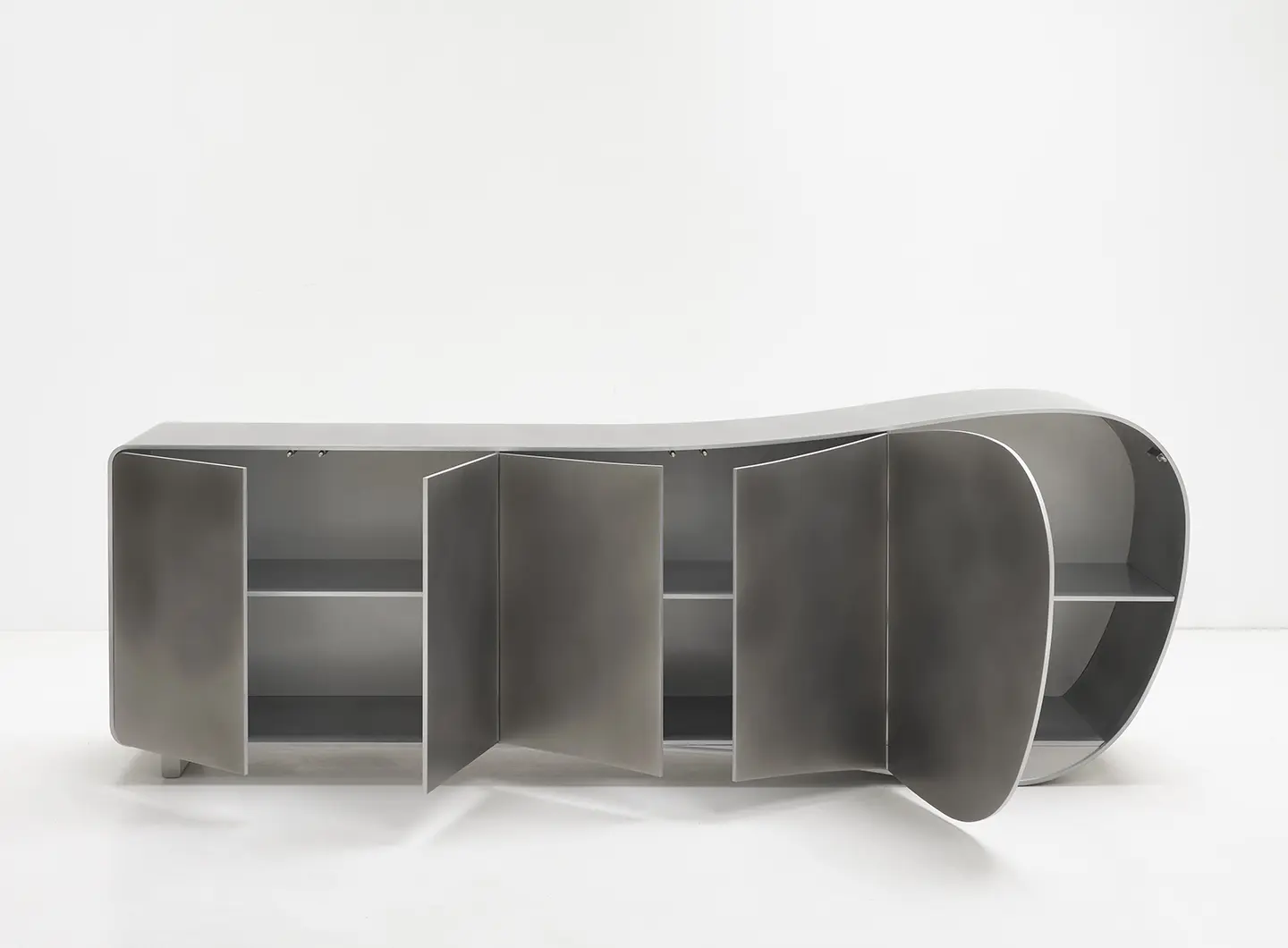 When and how did you decide to become a designer, and what kind of qualities does a designer have to possess?
Probably I have always been a designer, even before I knew it was an actual profession. As a child, I was interested in finding out and understanding how and why things existed. As a rule, I try to keep the same open mind and curiosity. I believe a designer needs to preserve and nurture this curiosity. As well as questioning the world, a designer also needs imagination to conceive alternative realities that do not exist quite yet. Finally, resourcefulness is crucial.
How does it work, sketches by hand, scale models, experiments… how do you initiate a project?
It generally starts with an external stimulus, a meeting, a request, a discovery, and at a certain point, I have a mental image that I can sketch. The sketch is still the fastest and best way to capture a fleeting idea. Sometimes, when I am drawing, my hand will surprise me with an unexpected stroke, a beautiful proportion, a nice shape, a potential design.
Do you usually like to work to a clear brief, or do you prefer to come up with a specific idea?
I generally feel comfortable with either of these situations. I very much enjoy immersing myself in a given project and imagining bold concepts. On the other hand, the freedom of creating a revolution from scratch is one of my greatest drivers. I approach each of these creative processes in a very personal way and invest myself unconditionally. When it comes to a commission for a client, there needs to be mutual respect, as well as trust and good will on both sides. Of course, I also try to make the projects intellectually stimulating.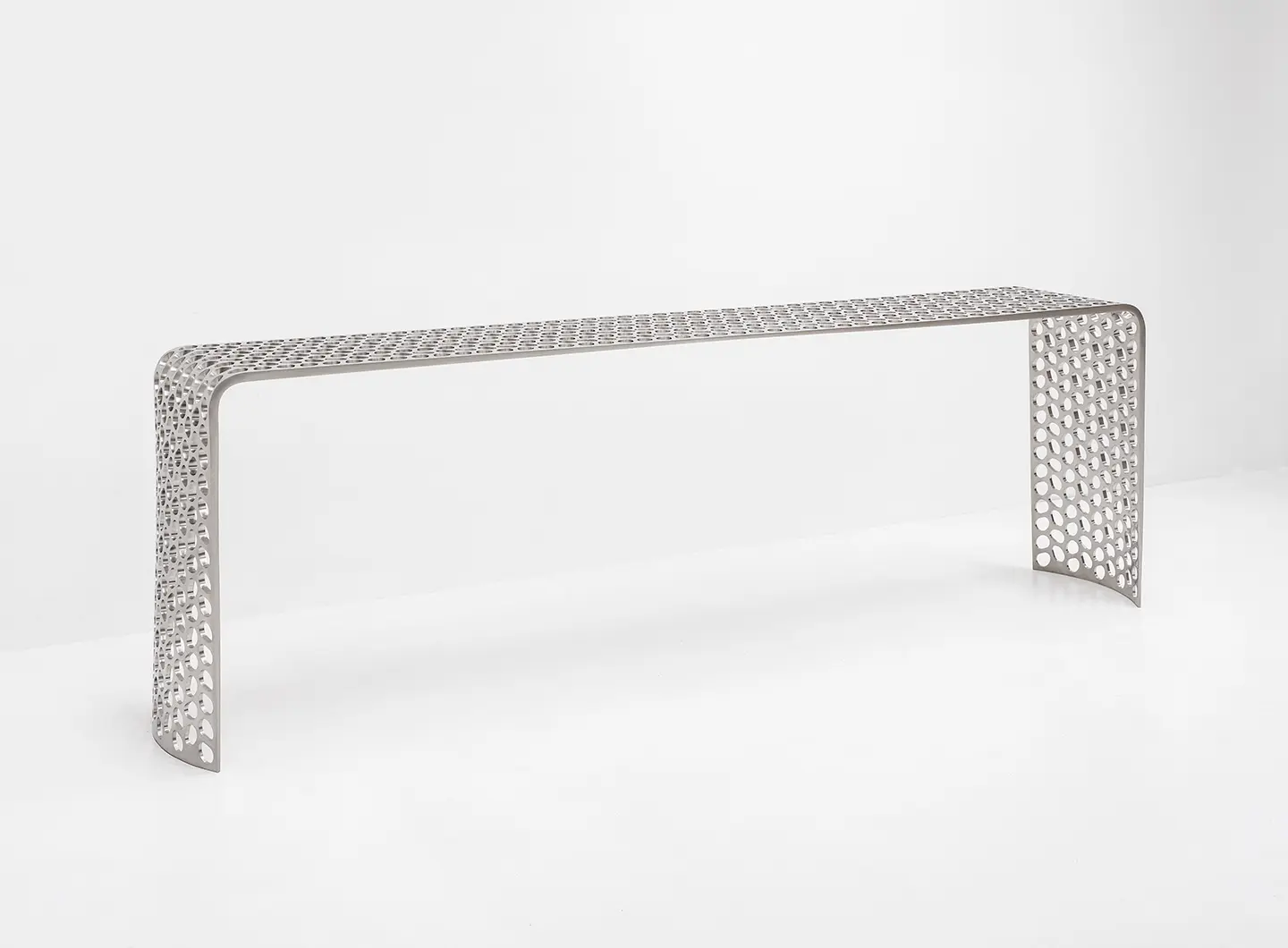 What invention would you say revolutionised the history of humanity and which revolutionised your personal history?
The arrival of the smartphone and its democratisation is certainly the change that altered the course of humanity. One can't deny that it's brought its own benefits, but it has also brought constraints, such as the need to be available to this small tablet at any given point. Everything is available in a flash, which opens our world just as much as it – paradoxically – isolates each one of us.
The invention that revolutionised my personal history is definitly the espresso macchiato!
How would you visualise your creativity in the next century?
Nowadays, I have more and more ways of creating art design or limited-edition pieces. I have always experimented with eco-friendly materials, but these pieces provide exceptional opportunities to take the research further. The aim is of course to envision timeless objects that make recycling 'unnecessary.' In the next century, the objective would be the same, with the next level of technology.
Is there a favourite object you could not live without?