Simes, 50 years of innovation. In conversation with Roberto Botti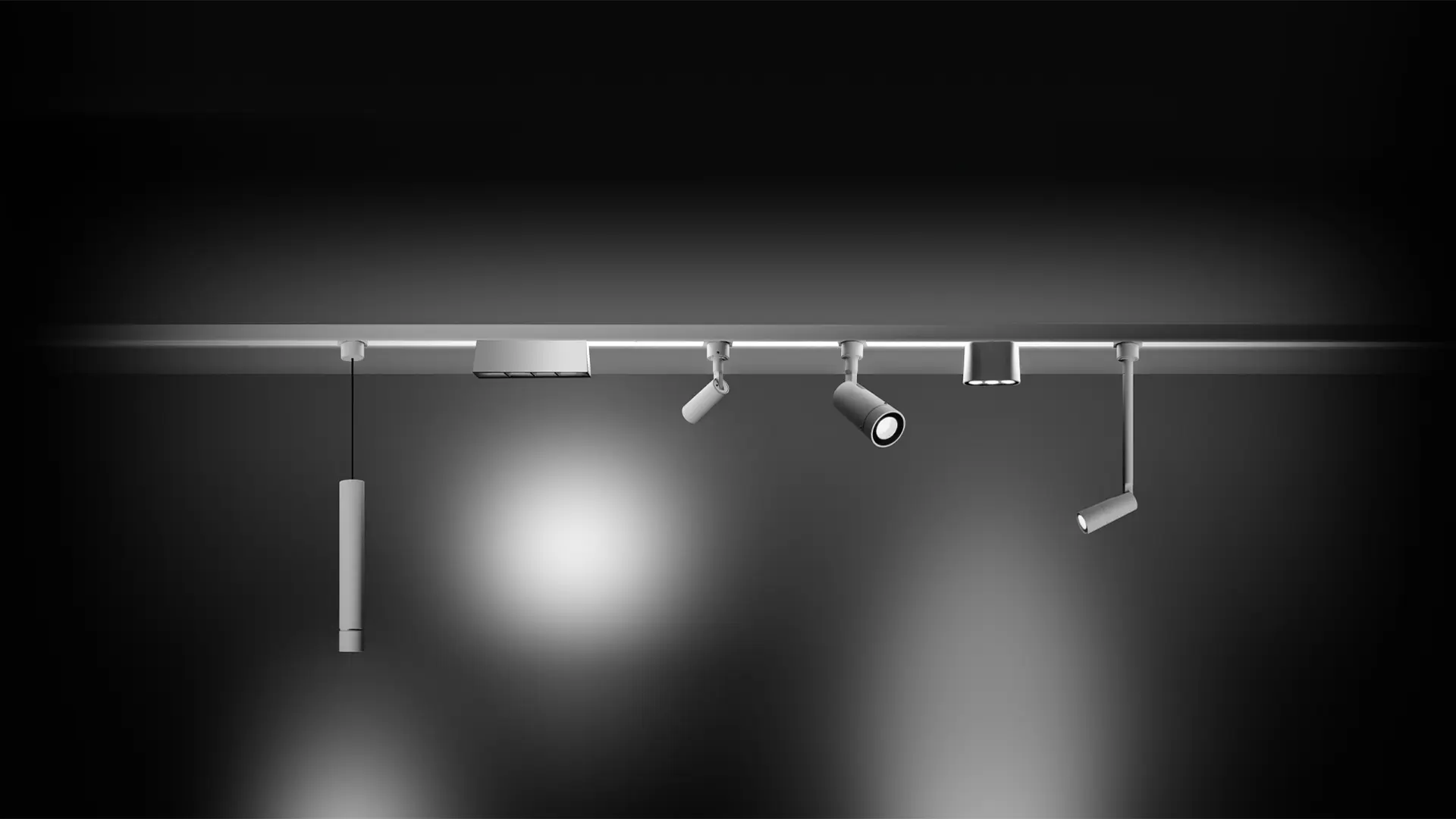 "If the product is completely new, you have no precedent as a frame of reference." IP System - inserted in the ADI Design Index 2022 - is the latest in a succession of innovations that have characterized these 50 years at Simes. Conversation with Roberto Botti, Simes General Manager
There are various artworks in the company headquarters of Cortefranca
The idea of bringing art to the company developed a few years ago with the aim of creating a pleasant setting filled with beauty for me, my staff and the many visitors. Elefante at the entrance is by the Brescian artist Stefano Bombardieri. Another splendid work is Gorilla, a creature-sculpture by the Bolognese artist Davide Rivalta, which is in one of the hanging gardens at Simes's headquarters. Sfera by the great Arnaldo Pomodoro makes the space where we welcome visitors during convivial breaks unique.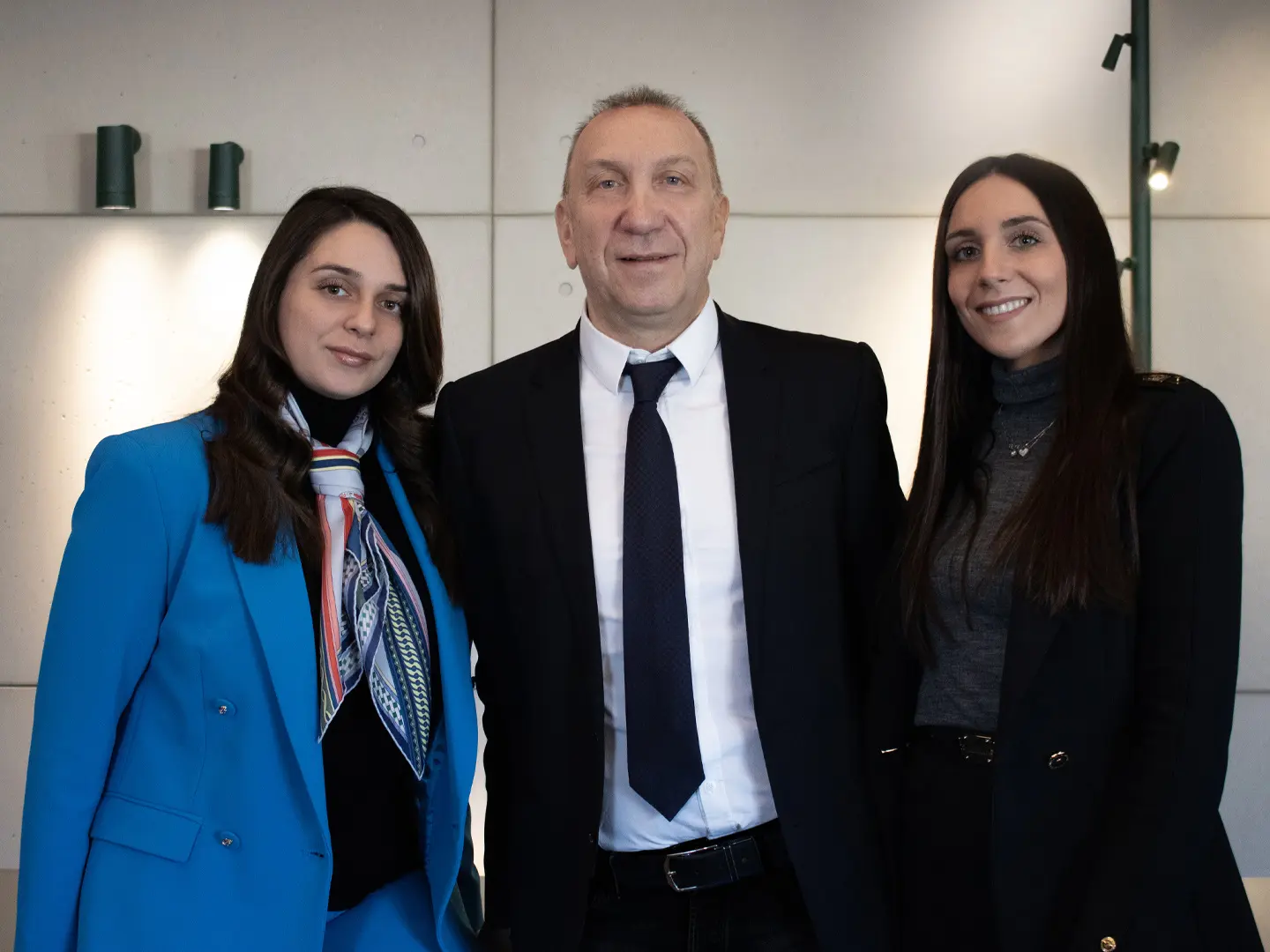 Did your father found Simes?
The entrepreneurial story of my father, Egidio Botti, who recently passed away, began in 1957 in the field of mechanical processing. Simes - Società Italiana Materiale elettrico Stagno - was founded in 1973 to manufacture waterproof electrical equipment. The dream of being able to create his own lighting product led him to produce the classic "Tartaruga" - a historic product, dating from the 30s - but he reinterpreted and customized it to suit the demands of the market and satisfy the needs of designers. 
I took over at the helm of the company very young in 1990. My father, a traditionalist, asked me for results but we had different ideas. 
At that time there was no bottom-up lighting, it was only mounted on the wall or ceiling. Inspired by a trip to America, I developed the first waterproof ground recessed luminaire with the product Prado, effectively changing the way of conceiving the lighting of an environment out of doors. 
When did you start collaborating with designers?
Already in 1985, when my sisters and I joined the company, it started working with the first designer, Pino Spagnolo, introducing a new aesthetic and stylistic approach. 
In 2014 Klaus Begasse, a German designer chosen for his very clean, minimalist style, designed Keen, an extremely compact and innovative floodlight, adjustable to any point in space.
In 2015, Matteo Thun's collection Wood was designed to blend light and nature, camouflaging the lamp in the setting and skillfully combining teak with aluminum. 
In 2016 Marc Sadler contacted us because he saw we had the potential to interpret the subject. And this is how Ghost came to be: "a luminous hollow, a blade of light that emerges from the concrete and disappears when it is switched off. No artifice, just a slit in the concrete of brutalist inspiration. A piece of sophisticated and invisible ingenuity blending architecture and light in the most natural way." 
The Stage family of floodlights of 2017 was by Holscher Design, a Danish design group, and quickly became one of the company's best sellers. 
Subsequently, in 2018, we come up with the bizarre idea of designing a luminous brick - Paolo Rizzatto's Brick of Light - another interesting reading of the integration of light with a building material used for over 5000 years. 
In 2020 we explored the issue of miniaturization. The lamps have to make the smallest possible visual impact to disappear into the architecture and the setting while enabling the light to be dominant.
Today our efforts are oriented towards the concept of visual comfort and well-being. Our watchword is quality of light.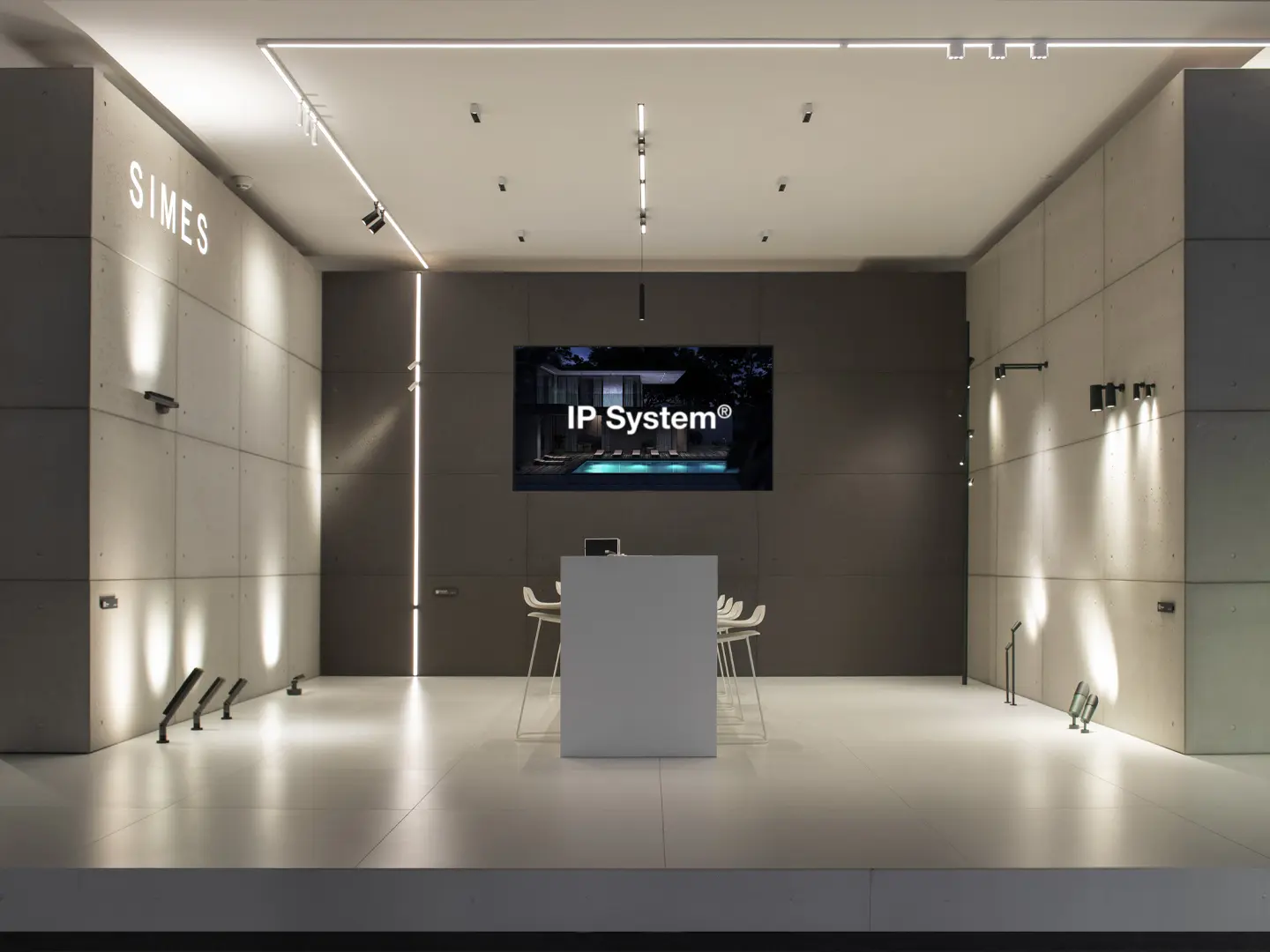 How was IP System created?
The idea came up in 2020 in my research and development office as I was playing with a luminous strip. I bent it, lengthened it, shortened it. Silicone is present in all outdoor lamps and it's the material used for gaskets and seals.
I thought: given this silicon strip -- actually an electrified gasket -- if we can invent a system to capture energy at any point, we create a watertight system. I put the question to the five engineers in the office. We looked at each other and no one said a word for five long minutes. Idea: If we invent a system that pierces silicone and captures energy, the silicone itself wraps around the needle and protects it from water. In three days we had prepared a prototype.
All this in 2020, in the most complicated phase of Covid, working remotely without being able to enter the laboratories. Every day we had theoretical ideas that we could not verify. It was complicated. I was unable to calculate the investment needed to develop such a project, and I didn't want the budget to limit our research. Three years passed from idea to production.
We gained experience from our mistakes. If the product is completely new you have no precedent as a frame of reference. After a year we obtained the first piece and the first samples. We showed them to some customers who said they were beautiful but asked whether the additional products were removable and repositionable. Without wasting time we started over from scratch until, in mid-2021, we had a product that seemed capable of responding to market demands. But it was still not satisfactory and we started again from scratch. The third time it did start working. I never give up. When things get tough I keep going until I get the solution. It's a continuous and meticulous search to strike the right balance.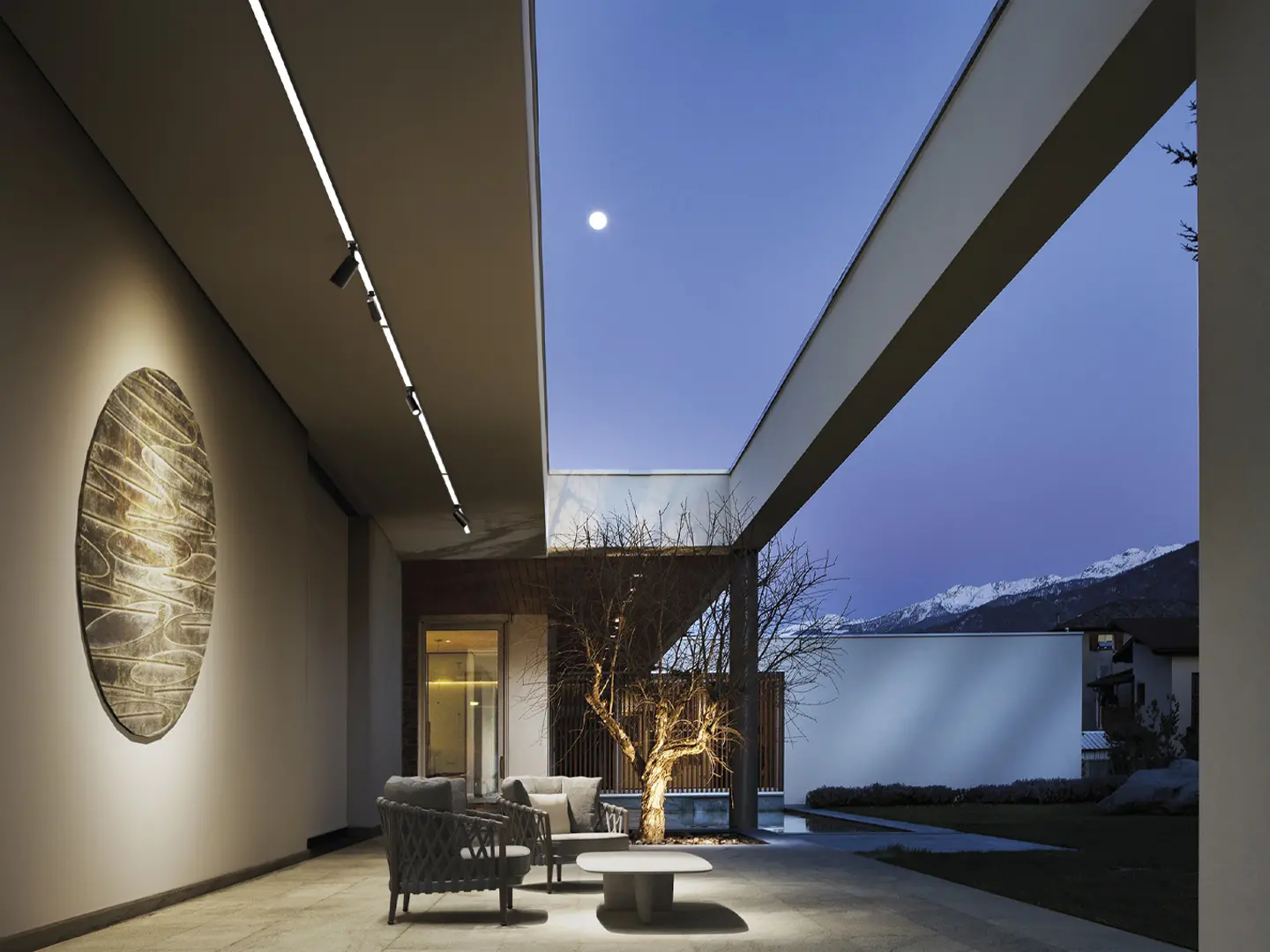 How did you work out the solution?
It was an incredible challenge. We developed a comb and needle straightening cap essential for proper installation, and they too are a true masterpiece of engineering. The product is protected by eight patents. We are already developing the next steps, which are exceptional.
IP System is very suitable in humid environments such as spas, outdoors, wine cellars, but the idea of combining linear light and spotlight in a single product, and in such a flexible way, is so innovative that it will be used everywhere, both indoors and out. 
The importance of Euroluce (and perhaps a preview?)
For thirty years, every time I go to the Fair, the most important event ever, it is as if it were the first day of my finals. You can grasp the real news and trace trends.
It is precisely from the observation of companies that offer indoor systems and rails that I began to develop the idea of IP System.
At Euroluce the design of the stand will focus on IP System and a large training area where visitors will be able to touch the product and understand it at first hand. A space for swapping ideas and discussion.