Ritzwell, 30 years of Japanese philosophy in a minimalist key
Add to bookmarks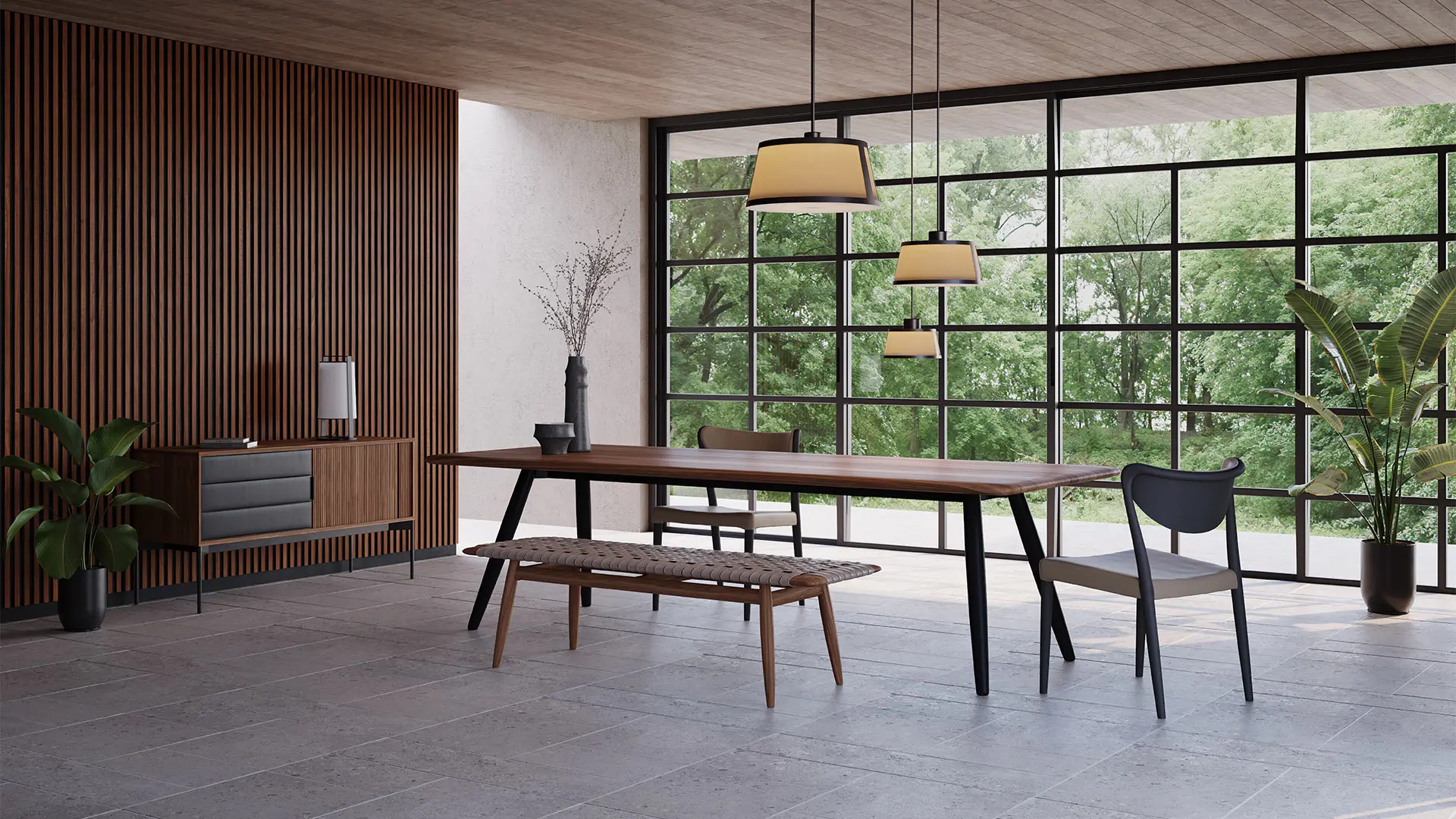 Channelling its poetic graphics, the iconic brand discusses new furnishing possibilities inspired by nature. A conversation with its founder, Toshiaki Miyamoto
100% Made in Japan. We are talking about Ritzwell, the company founded in 1992 in Fukuoka, on the northern coast of the Island of Kyushu, in an area abounding with lush vegetation, where work derives harmony from the constant contact with nature. A Japanese furnishing market leader, with a markedly international client-base, Ritzwell stands out immediately for its distinct identity - poetic and inspired by its genius loci, not to mention ancient local traditions.
Ritzwell has spent 30 years working towards a synthesis of the foundations of Japanese philosophy and an essential formal language. The brand is very alert to contemporary life, reflected both in the design codes it adopts for its furnishing, and in the new factory, which opened in 2020. The building, which covers an area of almost 6,000 m2 in Nijoyoshii, Itoshima, also in Fukuoka Prefecture, between Genkai Bay and the surrounding dense vegetation, was designed by the architect Shigemi Imoto, and is characterised by spaces boasting prestigious warm, natural finishes, such as teak. A place of production in perfect osmosis with nature, where one can literally almost touch the authentic values of interior design, and place where one can meet the craftsmen at work on different pieces. A real- time immersion into the values of the brand, geared to designing new furnishing possibilities.
Creating a point of contact between people and a dialogue with visitors is one of the main drivers of the new flagship store in Tokyo, the Omotesando Shop & Atelier, opened to mark the 30th anniversary of the brand. Like the factory, the new flagship store shares the same values of respect for and osmosis with nature, thanks to its close relationship with the site: the urban forest of Aoyama, one of the city's largest green spaces, created over a century ago to provide the city with a "green lung" that would conserve local biodiversity.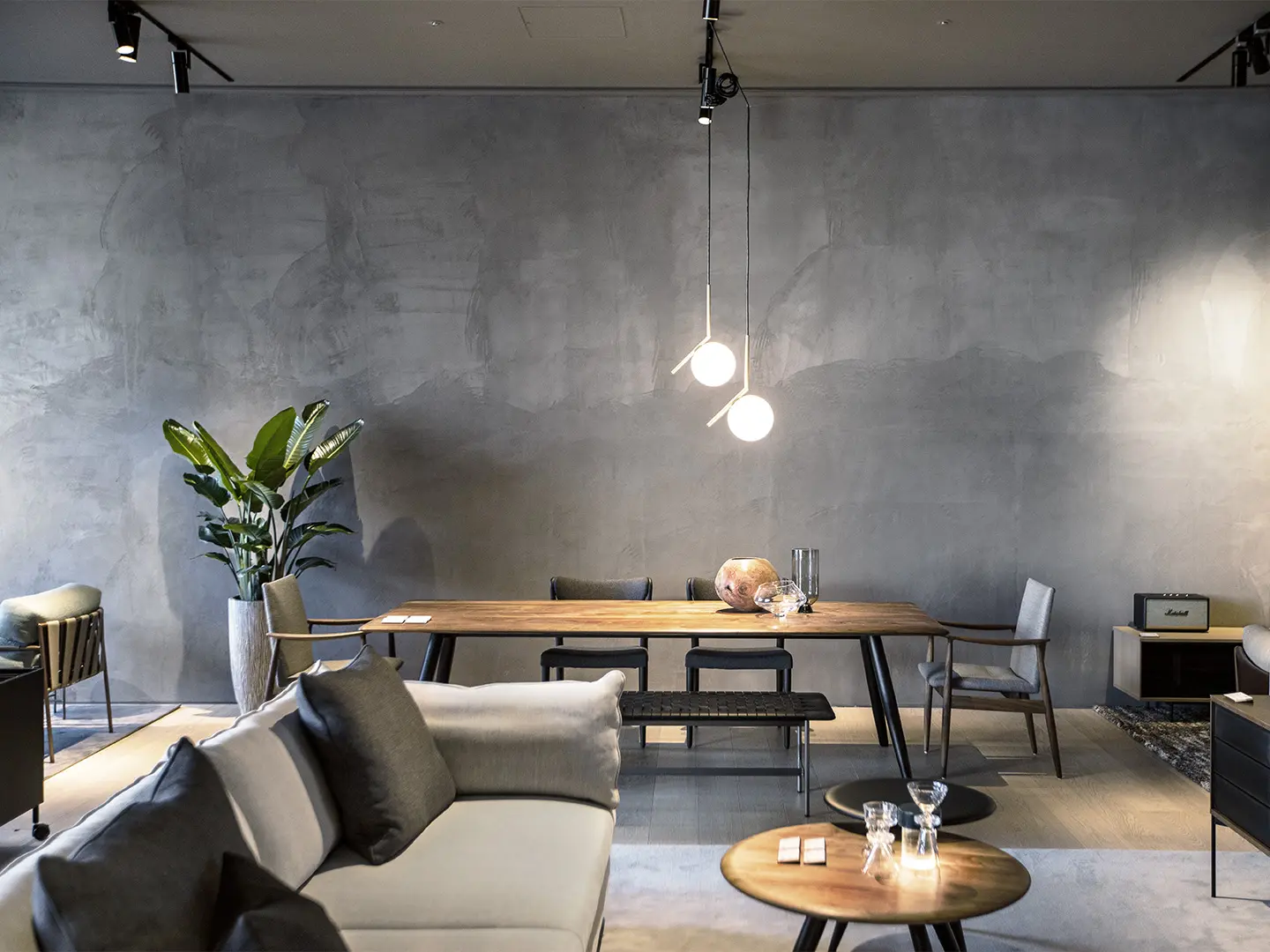 We interviewed Ritzwell's founder, Toshiaki Miyamoto, who explained that, crucially, behind every Ritzwell piece lies a thought process that then gives shape to a meticulous project that the craftsmen will turn into a thoroughly desirable furnishing piece, leveraging their incredible manual skills.  Each piece of furniture is redolent of the art that has gone into shaping it and bringing harmony and beauty to its user. These pieces don't just serve intrinsic functions, but are so much more than just furniture.  They become a part of the home itself, new silent inhabitants that perpetuate beauty from one season to the next, because the materials and the finishes have been expressly selected in the name of furubi, the patina of time, a typically Japanese concept bound up with the traditional deep reflection on the passage of time, intrinsic to the Japanese culture.
He tells us about it.
Nature, culture materials, design. These are your company's key values. Can you tell us about them?
Since ancient times, we Japanese have built a refined and emotionally enriched culture of coexisting with the surrounding nature. In other words, rather than a culture gained through battling the onslaughts of nature, we have nurtured a unique culture that rests on welcoming the blessings of spring, summer, autumn, and winter into our lives.
Many sculptures and architectural structures have conceived with extremely simple, clean lines, yet refined through the wisdom of nature. The forms and positions of wooden shrine and temple architecture have passed down through the ages, assimilated into or integrated with nature.
Even now, we continue to inherit the DNA of Japanese history and culture, and these elements unconsciously come to the fore when we design furnishings. The lifeblood of Japanese culture is palpable even in modern and futuristic designs, bestowing a tangible uniqueness not found elsewhere. All Ritzwell products are imbued with this wisdom and this design.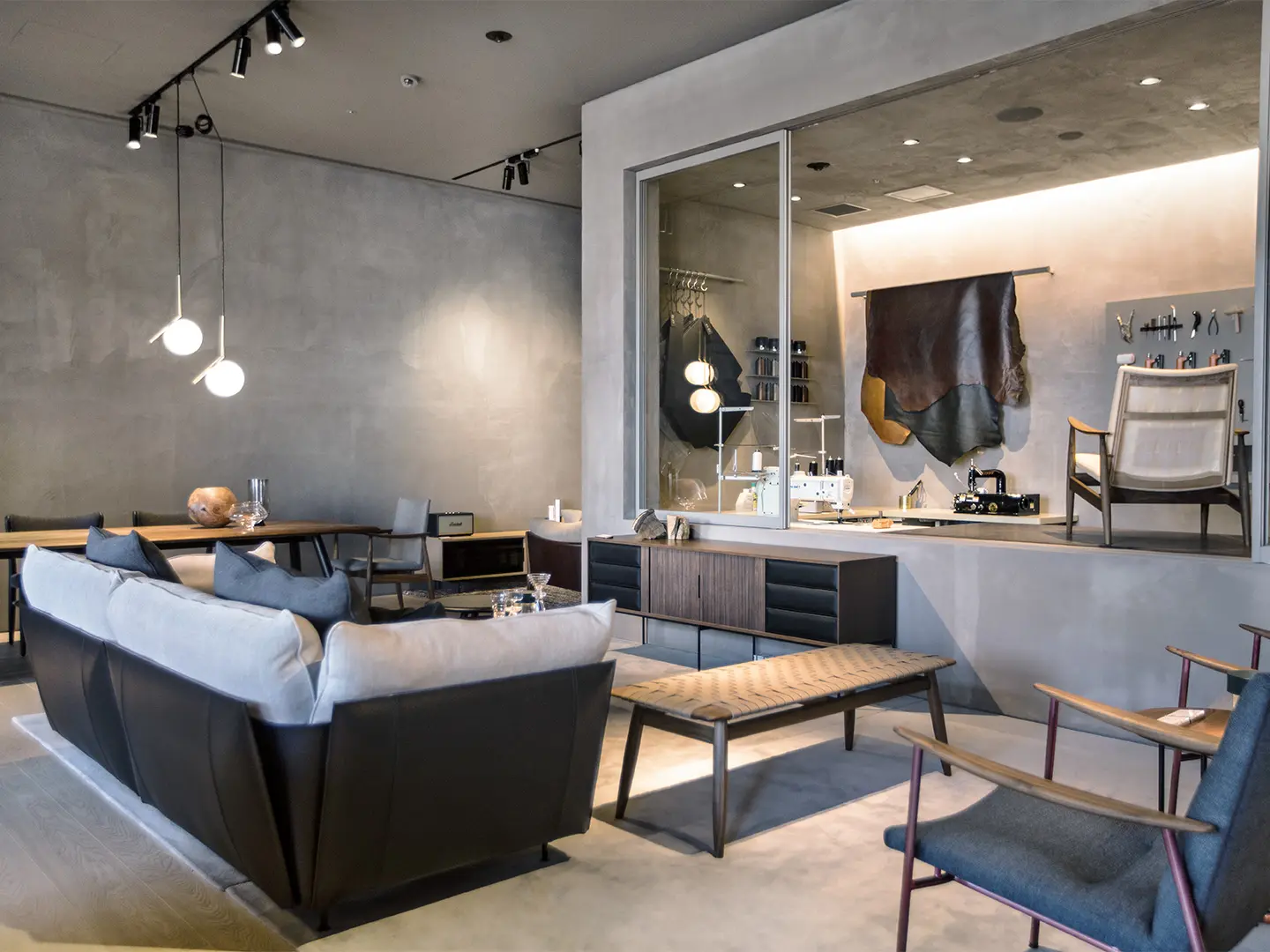 A 30-year history: where did you start, where are you now and where would you like to go?
Around 40 years ago, before Ritzwell was founded, I went to the Salone del Mobile in Milan for the first time and got very excited by the wonderful European furnishing, with Italian furniture at its heart. At furniture exhibitions after that, I was astonished by and envious of the furniture makers' brilliant designs, technical prowess, and unique PR methods. While impressed by all this, I wanted to create something that would set itself apart from all of them.
What would furniture that is truly aesthetic and comfortable look like? We wanted to make our own distinctive, world-class furniture based on Japan's unique atmosphere and culture. These thoughts gradually became more pressing and culminated in our setting up the company in 1992. We were full of enthusiasm, but starting from scratch. We still had a long road ahead of us. Fortunately, we have overcome the challenges of the past 30 years without losing sight of our original purpose and direction. I feel very emotional that we have made it this far.
At the 2018 Salone del Mobile, we finally exhibited in the coveted Pavilion 5. This marked a new beginning for Ritzwell. We released new products and carved out an innovative image. With the company's foundation as a furniture maker now well-established, the company's top management was also replaced to kick off this new era for us.
As we go forward, I would like the company to diversify its products, while refraining from creating too many, focusing instead on the beauty and function of each individual product.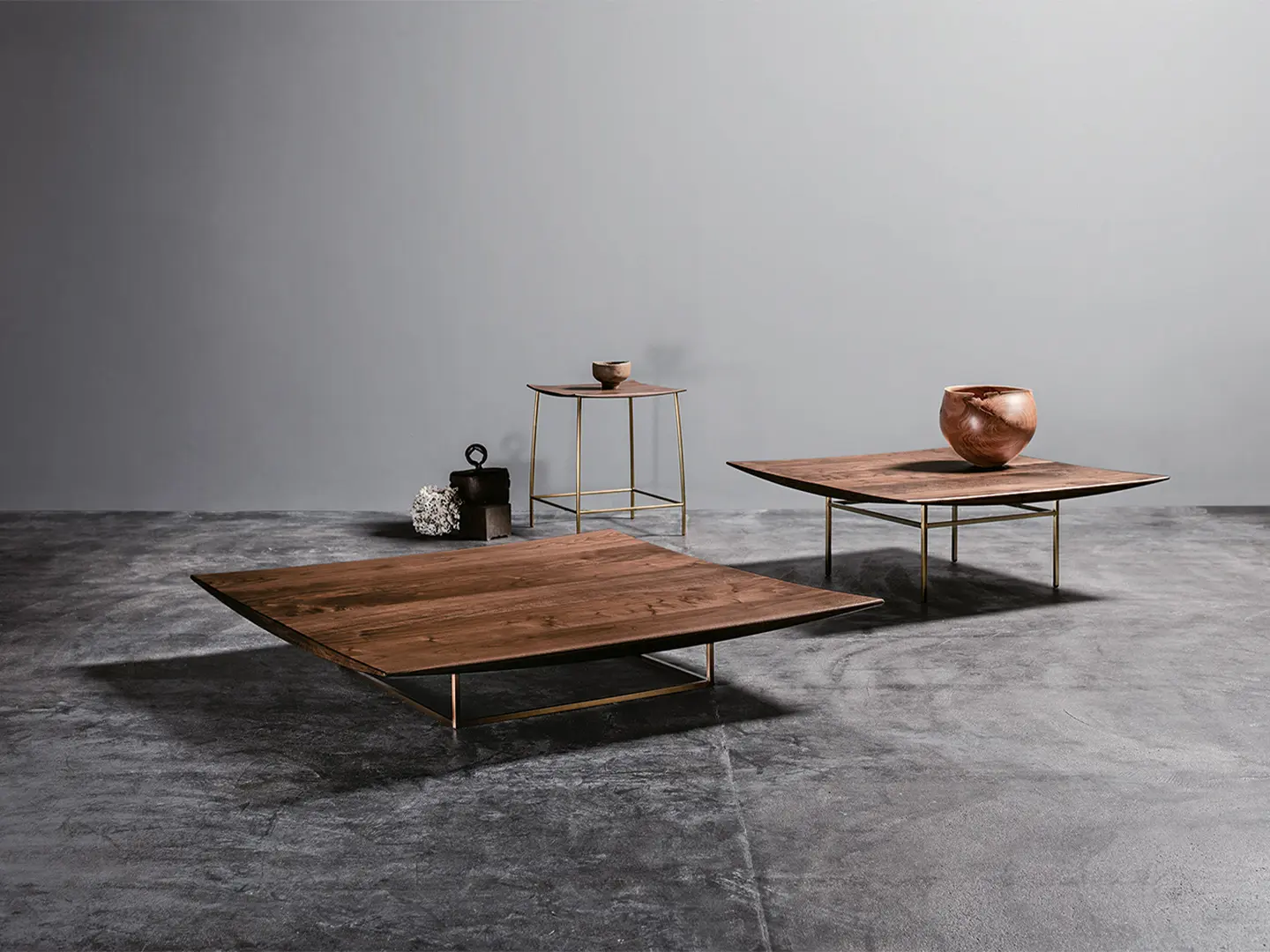 You gave yourselves a major gift to celebrate this anniversary, the new Tokyo flagship store, designed to create points of contact between people and a dialogue with visitors. Why?
Some years ago, we held a small event at a showroom in Tokyo. We invited craftsmen from the factory, who gave an upholstery demonstration. This small demonstration engendered a warm, friendly atmosphere that I had never experienced before, and the visitors and craftsmen had constructive conversations with one another. The head of the Japanese leather manufacturers' union, who happened to be visiting, was impressed and said, "Times have changed. The craftsmen are now out in the open! Until now, it has been a behind-the-scenes world."
You could actually touch the excellent handiwork, feel the leather in your hands, the texture of the material, and enjoy a chat with craftsmen that was not just sales talk.
Even in the age of AI, of social networks, and progress toward virtual reality, it was great to witness an event filled with the gentle laughter that is inherent to human nature. That's when we decided to build a workshop right in the middle of the city and show off the extraordinary skills of the craftsmen, in a stylish and welcoming studio.
It all started with the idea of transmitting Ritzwell's philosophy and identity through its furniture. By spending time and engaging in peaceful conversation that is a soothing antidote to today's hectic lifestyles, I wanted to cherish the sensitivity that resonates between the creator and the user. I once had the following pleasant experience.
One day, an elderly couple visited our showroom to buy furniture as a wedding gift for their daughter. The couple and I had a lively conversation for around 30 minutes about what kind of furniture they wanted. When the wife left the room for a moment, the husband said softly: "I haven't seen my wife enjoying such a chatty conversation for ages. For the past few years she has been feeling constantly down, avoiding seeing too many people and not wanting to go anywhere. I'm glad I pushed her to come here." They spent a long time deciding on the furniture and then left. On their way out, his wife smiled and said, "I have never had such a pleasant experience in a store." I think our sensibilities must have resonated with her in some way at that moment, liberating her heart. I still remember that day with pride at having been able to do a good job.
As we enter a new era, the key mission of the Omotesando Shop & Atelier is to showcase Ritzwell's unique design, its highly skilled craftsmen and well-chosen materials and, not least, to provide a space for healing.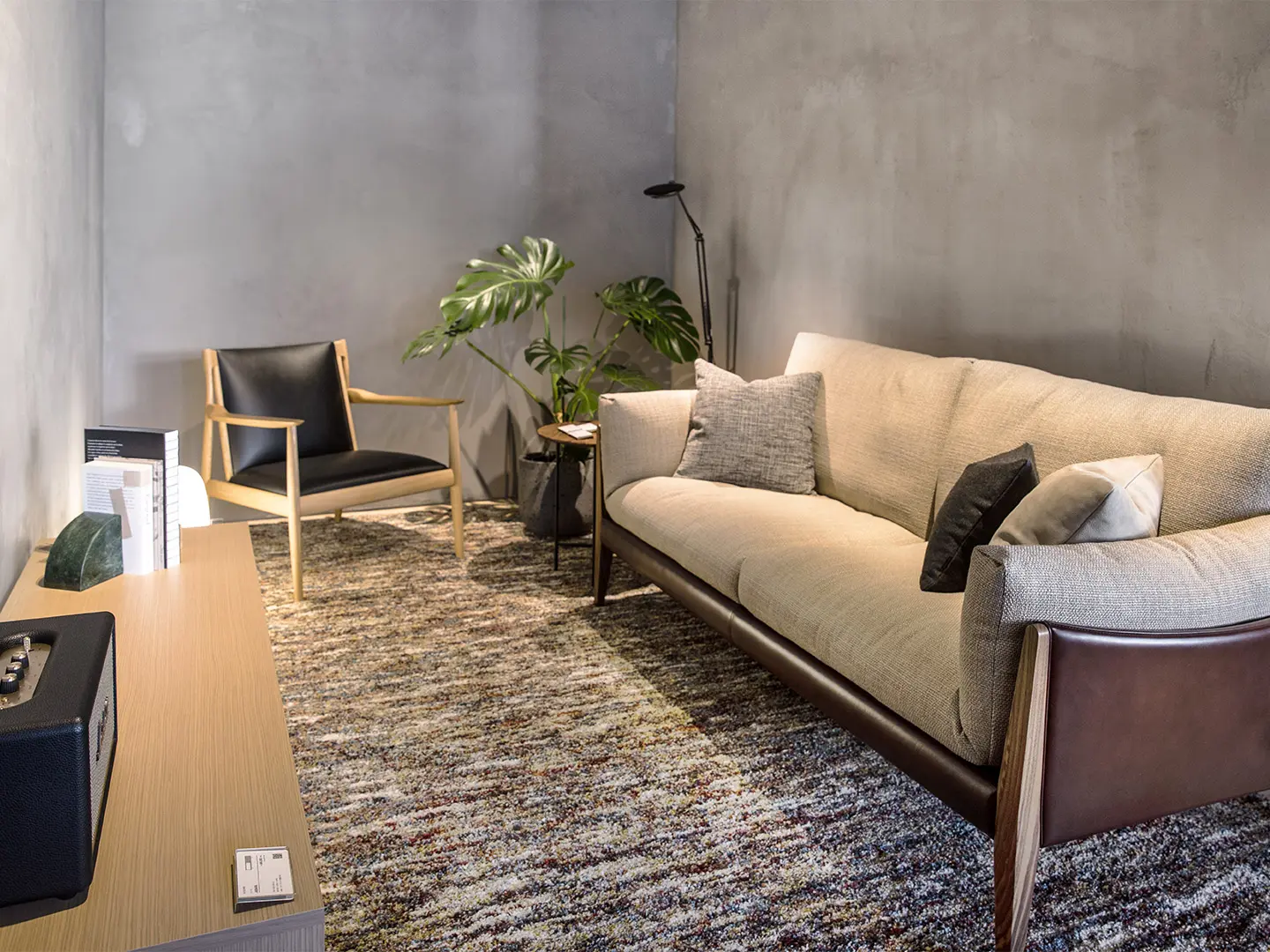 When you first took part in the Salone del Mobile in Milan in 2008, you were awarded prestigious prizes and captured the international markets. What did you get from taking part in the fair - on a personal level?
Ritzwell has already exhibited at the Salone del Mobile more than 10 times. I've been there myself on each occasion, right from the start, and my feelings have gradually changed. Initially, I was very happy and excited to be able to take part, and keen to get to work on honing my design and manufacturing skills to be on a par with the famous Italian furniture makers. After a few years, I began to realise that my goal was not to focus on the famous European manufacturers and designers, but to return to the origins of Ritzwell's philosophy. I wanted to rethink Ritzwell's identity, work out where it was trying to go, and what, as a Japanese person, to transmit in terms of its culture and environment.
Hanae Mori, a leading Japanese fashion designer, made it to the top of the Paris Mode world, and was lauded more than once in the French media as "more representative of French fashion than the French." However, I remember that she then went back to her Japanese roots, and launched her own distinctive style. In many respects, the Salone del Mobile is a stage that allows me to expand the way I view the world and grow.
Japan, with its philosophy and its aesthetic, has always held a particular fascination for the West. Could you explain the concept of furubi more clearly for us, for example?
We Japanese have a unique aesthetic feel for seeking out beauty in ancient objects. The appreciation of the old (furubi) is connected to Japan's distinctive "wabi-sabi" view of the world. This references the delicate and subtle concept of cherishing and valuing the beauty of the changes that occur as the inner essence of an object is brought to the surface. It is the sense of the grace of old age, serenity, and simplicity, as well as other aspects of the aging process. For example, the appreciation of buildings such as Shinto shrines and Buddhist temples that have withstood the passage of time, or of tsukubai basins covered with moss, are examples of the profound elegance acquired through the passage of time. The ancient, rustic character of the walls and tokonoma (alcove) of a tea ceremony room is another expression of the unique Japanese philosophy of revering the old. Examples also abound in literature, such as in haiku and waka poetry. In this way, this unique Japanese aesthetic carries a deep appreciation for the old (furubi). It is a sensibility that we Japanese develop from birth, never learnt from anyone else.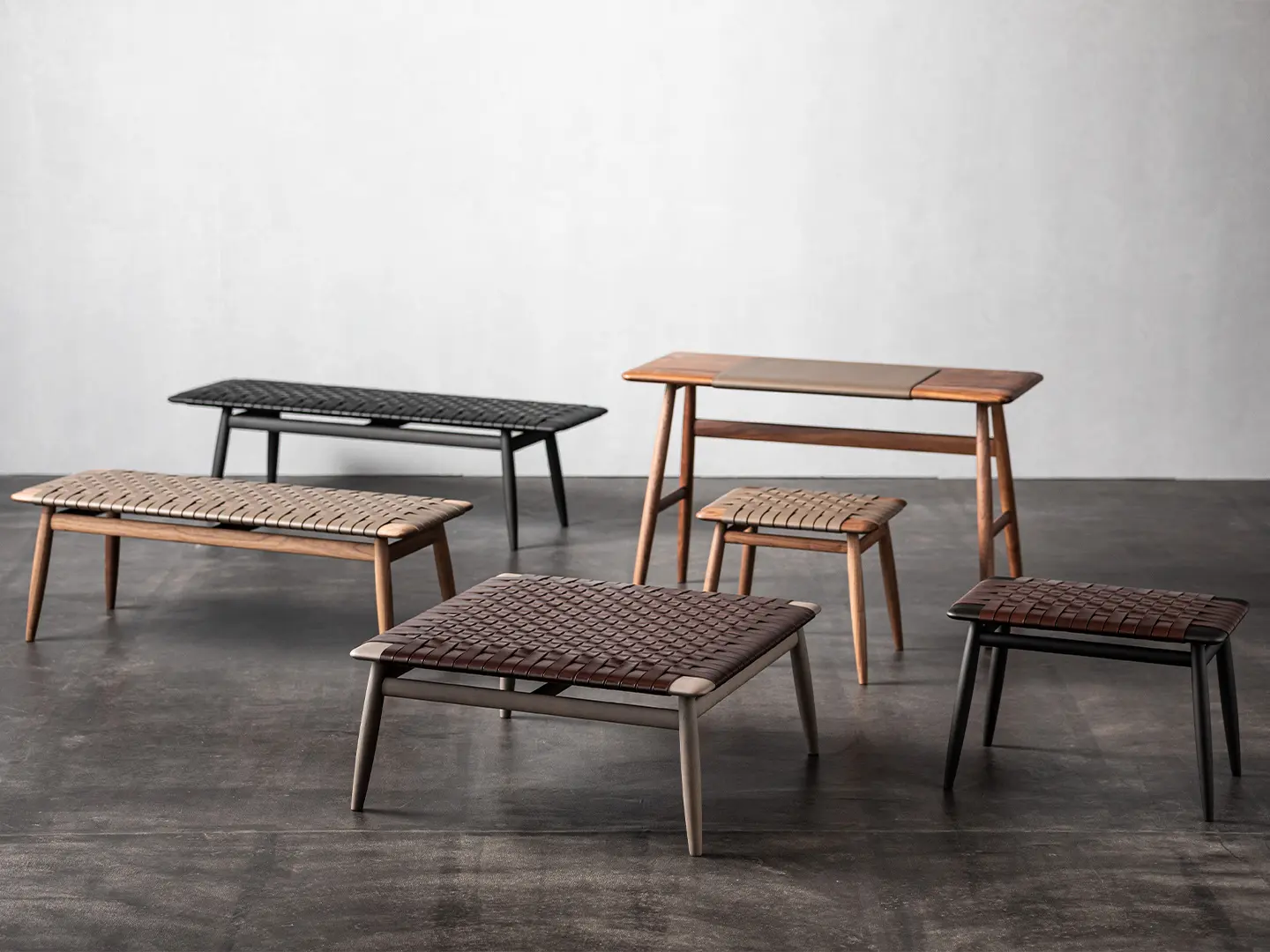 You've said that "like music or art, our aim is to create furnishings that become part of our lives to create peace and tranquillity anywhere." Meaning that home furnishings must be able to conjure up memories and affection. Could you enlighten us further on what is one of your most important premises?
Ritzwell's approach to manufacturing:
1. Design, production, and sales are all carried out by people. In other words, it begins and ends with people.
2. All of Ritzwell's furniture must have some warmth contained somewhere within it.
3. In order for people to become deeply attached to the furniture and use it for a long time, you need someone with a keen eye for even the smallest detail and what lies behind it, in order to produce a perfect piece.
4. The materials are transformed and reborn as furniture. This is a resurrection of knowledge by human beings. Crucially, the product must be able to withstand the test of time.
5. Furniture should acquire a deeper meaning, forged over the course of many years by the people who use it.
6. Smooth communication between the makers (craftsmen, sales teams) and the customer is desirable.
7. Time, materials, sensitivity, intelligence, and skilled hands are indispensable for the creation of a product.
Is there a piece you haven't produced yet but dream about producing?
I am not in any rush, but there are various works that I dream about embarking on.