A positive signal for Italian exports
Add to bookmarks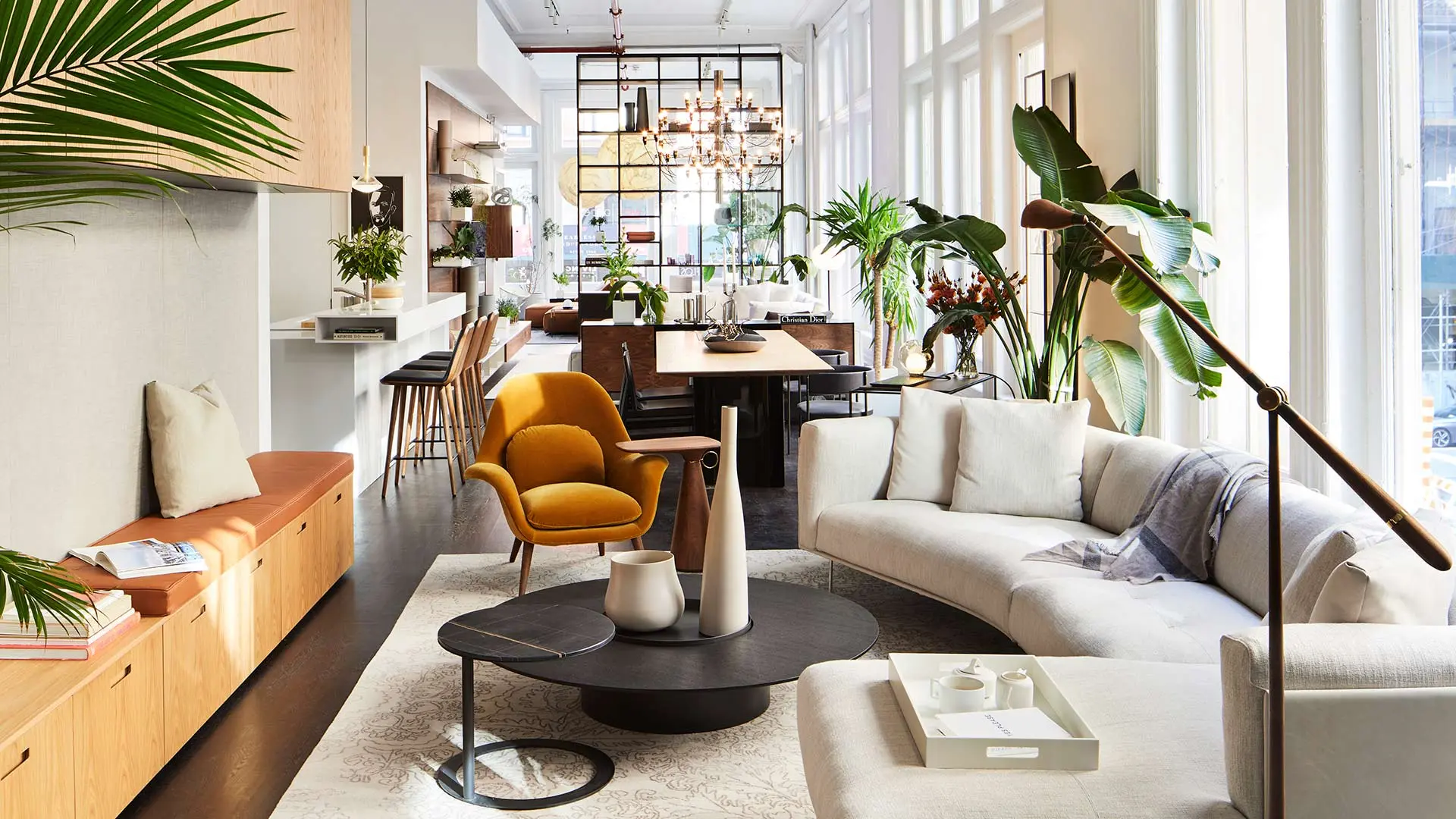 Maria Porro and Carola Bestetti discuss West | Out East. The new showroom in New York provides a full immersion in high-end retail, with pieces by exclusive brands championing Italian and international "savoir-faire."
Just to be clear, the United States, and New York first and foremost, are still the old America. That's to say, they're the third largest market for Italian design companies, seeing a positive trend that has also marked it out as the leading non-European commercial outlet.  There has been steady growth in exports since 2013, which hit a record 22% high in 2015, followed by more contained growth which only slowed in the period from January and December 2020, which saw a -4,3% decline compared with the same period in 2019. Living rooms, bedrooms and mattresses, however, are enjoying positive uptake (FederlegnoArredo Study Centre data).
The new space is certainly a tangible sign of optimism right now. West Chin,  principal of the showroom and of WCA West Chin Architects & Interior Designers, the high-end architecture, interior design and decorating firm, had this to say: "Despite the pandemic, the market is strong, even in New York City which was devastated by COVID-19 last year. This is my 6th recession – it is more complicated than the rest due to the pandemic and remote working, but I am a strong believer that the creativity, energy and opportunities of NYC are enticing and exciting and will be missed by many that have migrated to Florida or the suburbs. If they don't returns, a new generation of New Yorkers will migrate to NYC to make it their home, and we will be here to provide them with the best in modern furniture." Carola Bestetti, Head of Marketing and Communication at Living Divani, presenting her collections in the new Fifth Avenue showroom remarked: "The United States is a particularly interesting market, with strong potential. We have set up an important network of retailers, while continuing to be involved in carrying out numerous internationally-acclaimed residential, public and hospitality projects."
The new design hub, launched last February, is already a cult destination and obligatory port of call for lovers of beautiful things and  Made in Italy. It is an actual two-storey apartment, furnished with the utmost care, finesse and elegance. West | Out East is located in a stunning building on  Fifth Avenue/20th Street, not far from West NYC HOME, the parent company set up by WCA West Chin Architects & Interior designers. "We had the opportunity to double our space and show twice as much furniture in a domestic setting: our duplex apartment," said Mr. Chin.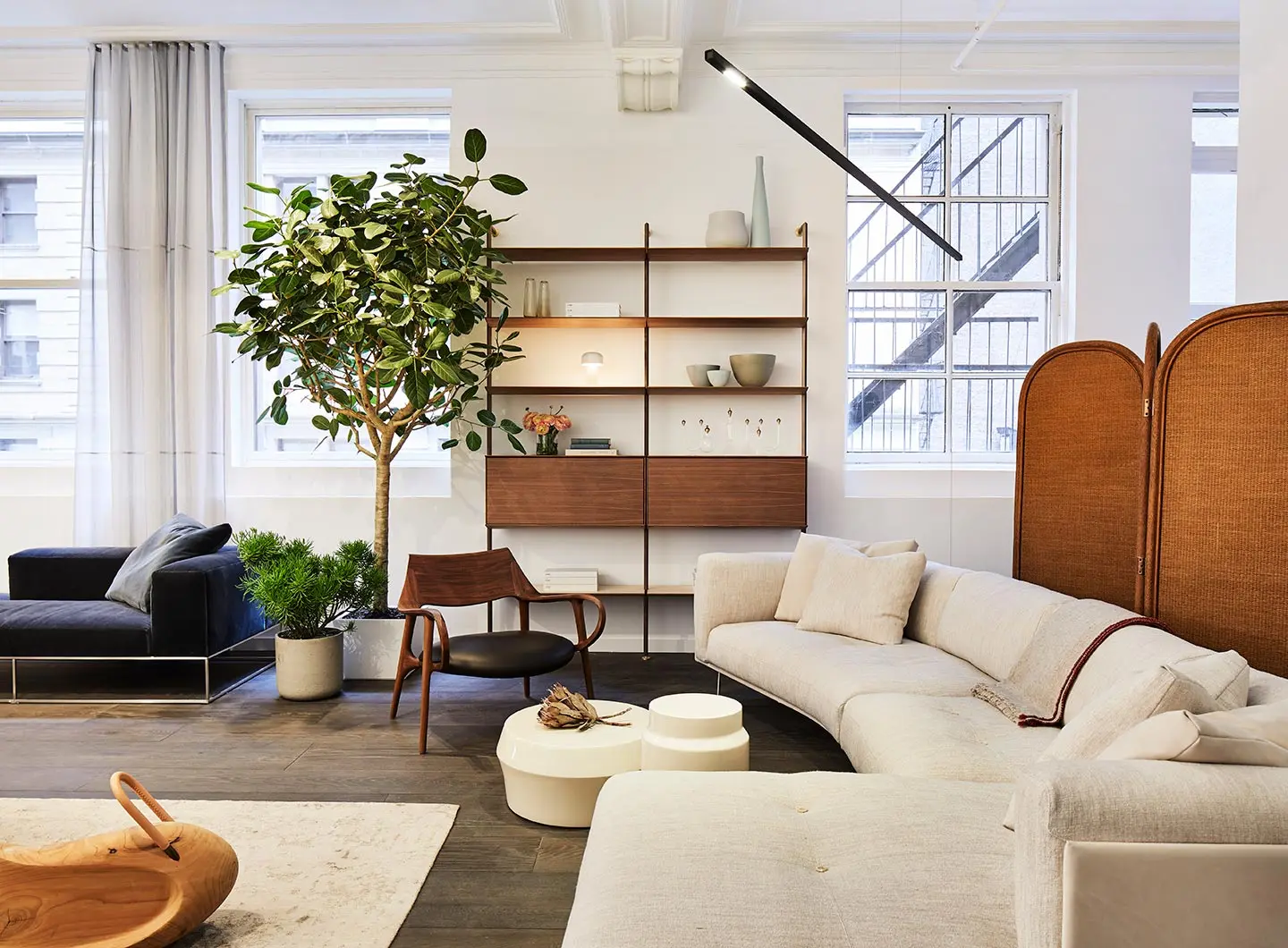 "Being in New York was a fundamental step for us," said Maria Porro, Marketing and Communication Director at Porro. "We were looking for a partner with a strong focus on design, so for the last 5 years we have been working with West Chin Architects & Interior Designers, and were lucky enough to come up with the idea for a display space designed like an open-space home. It's an original concept that has proved highly successful and which has now become even more far-reaching with the new showroom." 
West | Out East, with its glamour and high-end pieces, and its incredible variety of choice, is instantly captivating. A full immersion in best design with pieces by historic international firms such as  Expormim, Fredericia, Kasthall and Gaggenau and exclusive brands channelling Italian "savoir-faire" which, as well as Porro and Living Divani – the most highly represented - include  Riva 1920, Arper, Bocci, Fantini, Flos and Davide Groppi. "It is hard not to be attracted to Italian design when you're passionate about modern architecture and design. I think my first exposure to it was in the late 1990's, Italian design is so appealing because the design talent combined with ingenuity and technology allow for clean and elegant lines in pieces that are very functional and comfortable," commented Mr. Chin.
The space is doubly fascinating because of its particular layout, which serves as a backdrop for the collections, making for a  composite and scenographic venue, in which the walls that play host to furnishing systems  (all by Porro) seem to vanish, allowing the furnishings to take on almost architectural values. "Designed like a real house to be brought alive by private dinners and meetings," Maria Porro explained, "the new showroom is a series of unfolding spaces offering up a multitude of glimpses and changes of scene." Carola Bestetti described it thus: "This splendid duplex, with its many daytime and relaxation settings suggestive of both a domestic and a contract world, ranging from hospitality to offices, offers valuable triggers for both ordinary people and the A&D world."
A recent poll on expectations for the near future by the Sandow Media Company showed that 45% of American interior designers are looking not just for inspiration but for a sign of confidence in the future in products. The same poll also showed that a particular brand approach could also have a marked effect on post-pandemic purchasing. In this particular setting, the brands are showcasing their absolute stand-out catalogue gems, featuring new pieces as well as timelessly beautiful historic and modern icons, such as Gino Sarfatti's 2097 lamp, Piero Lissoni's Extrasoft sofa and Davide Groppi's Japanese rice paper Moon suspension lamp.
As if to say that the Big Apple and Made in Italy can still make people dream.