"Not just essential, bathrooms should be emotional spaces"
Add to bookmarks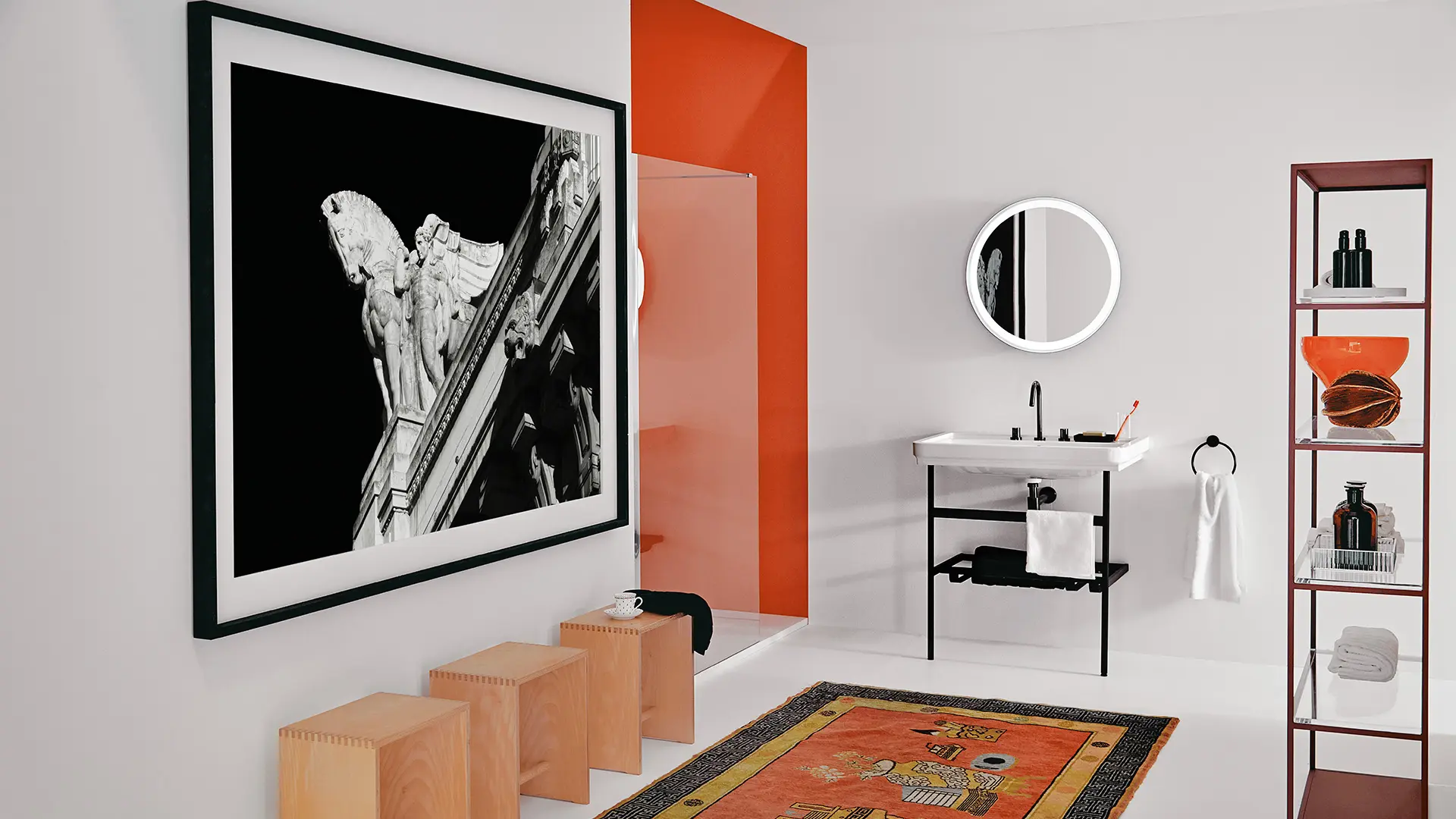 Design for Ideal Standard by architect Roberto Palomba, the new Atelier Collections will be presented at the Salone del Mobile 2022
With so much more time spent in the home, the pandemic has no doubt made interior, domestic considerations unanimously more important. The bathroom however can often be overlooked, which given this space's universal necessity and essential function is somewhat surprising. For architect and Salone veteran designer Roberto Palomba of Palomba Serafini Associati the bathroom straddles the threshold of architecture and, both product and industrial design. David Plaisant spoke to Roberto who is chief design officer of leading manufacturer Ideal Standard as he prepares to launch his Atelier Collections at this, his 30th year of attending il Salone.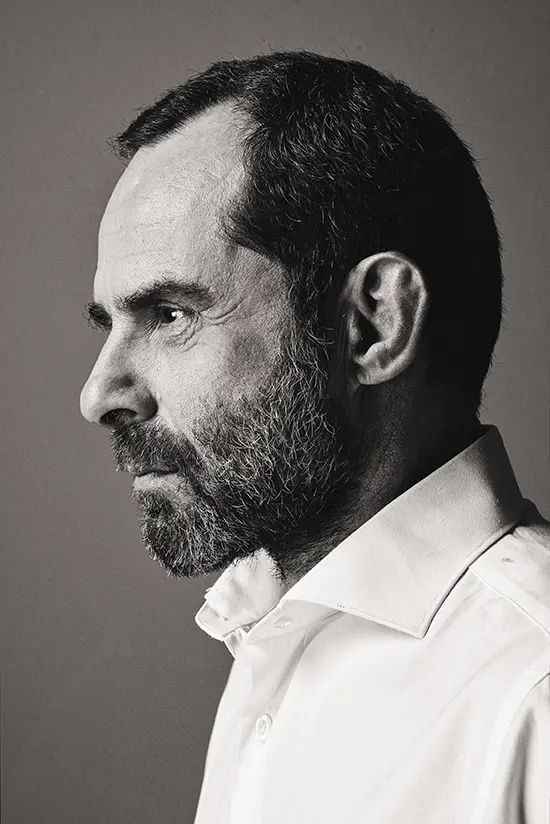 So first of all, can we start by walking into the bathroom that you've created for Ideal Standard, the collection that is being launched at Salone del Mobile this year? My first impression is that there's a kind of modernist approach here, it's almost like a classic bathroom design. There's something of evoking the past, or a modernist past at least compared to your other bathroom designs. Is that right? Would you agree?
I think as far as my generation is concerned, we were always slaves to style in a way, but nowadays we can be much more free. So we can mix styles and influences, heritage or otherwise. Everything can be used in a completely random way depending on the mood. You can use a quite classic ceramic basin with a super futuristic tap. And you can put it in a super minimalistic white room, or maybe in a red or blue room. Or maybe you can go for something completely contemporary with a very square, minimalistic sink. For me, this represents being up to date. I want to give designers all over the world the perfect tools to create their own designs. So, it's important not to be focused only on one style. As chief design officer of Ideal Standard it's important to me to give a service to my colleagues in order that they use our catalogue, giving them all the opportunities to create their own designs; they can be completely free and yet completely involved, creating something personal and unique. So, I would say that sums up my design strategy with the Atelier Collections. You can mix and match, for me it's like having different words that can be combined to create a book, like a vocabulary almost.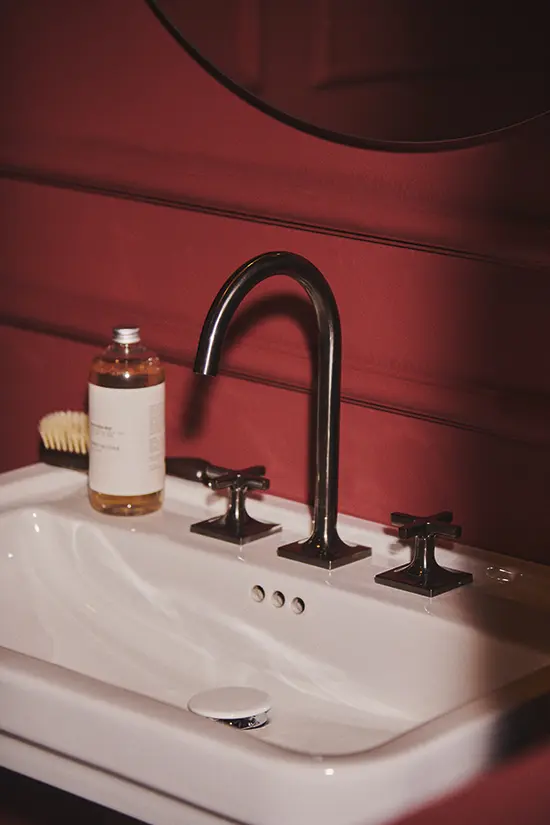 In the past it was very common to have this idea that you go for a bathroom set, which all has to match. If we think about hotel design or other big design projects there this is this notion of matching that is quite rigorous. What do you think about that kind of approach?
I mean…. I think going for a set is a very 'plumber' thing to do.
Plumber? Like the guy who instals your bathroom?
Yes a plumber! (LAUGHS). I don't have anything against plumbers of course, in fact I love good plumbers. But perhaps I mean that we don't expect that a plumber should have the skills to decide what goes with what and so on. Conversely it's important to understand that an architect is absolutely not able to fix a basin onto the wall so then you need a plumber. Sometimes in the past it was the plumber himself selecting the line of bathroom fittings, so everything followed that line. Nowadays architects want to create their own unique work, now the bathroom has changed completely; before it was just a useful room, now it's becoming an emotional room. If it is very small as well, tiny even, the bathroom is so important for our wellness, for our sense of wellbeing.
Clearly there has been a lot more attention on all aspects of the home over the last two years. But as a designer have you noticed that both you and the client or user are focusing much more on how everything in the home is used including the bathroom?
Well we have all been in lockdown, being forced to to stay at home for long periods of time so clearly we have lost that sense of being able to go out, of meeting other people. But at the same time we discovered that our homes often don't really reflect who we are. We began to realise that these spaces were often used as somewhere to eat, sleep and escape from as much as possible, they basically had become a place to keep our stuff. And so for many people, the pandemic represented a way to understand that a house isn't necessarily a home. People are now looking for a space that is better suited to them, to their emotions; and as each of us has different emotions, each of us is looking for different colours, furniture and designs that reflect that difference. I think everyone has discovered that they just want to have a home instead of a house.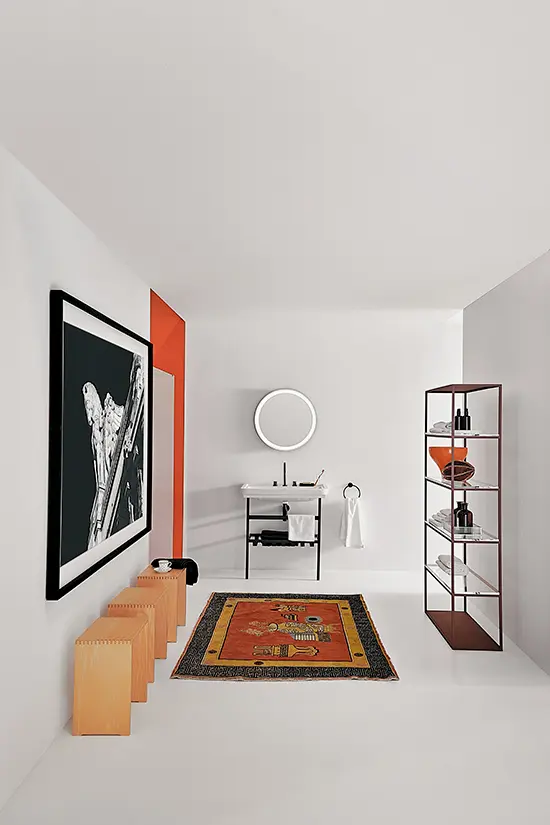 I wanted to talk about the actual form and the design of these objects in the bathroom, and how that compares to designing other objects, like furniture for instance.
There is a big difference. Of course with bathrooms we are talking about appliances that need to be fixed on the wall whereas other objects are free. So that means that they are design items but at the same time they are part of the architecture as well. The moment that you fix these things on the wall or to the floor they suddenly become architectural; it's not like you can say 'Oh I'm fed up with this chair, I'm going to throw it out of the window!'. (LAUGHS). No, you can't do that, you obviously need somebody to unfix it from the wall and then you need to find a substitute immediately because you can't live without it. So with these [bathroom] objects being at the borderline of furniture and architecture, you need to design with completely different considerations. Another important factor is that as these appliances have to be very functional they need to be produced with industrial techniques. The design of a sofa or chair for instance can be, in part, a craft process; but in the bathroom when you are using ceramics or brass, the production is entirely industrial.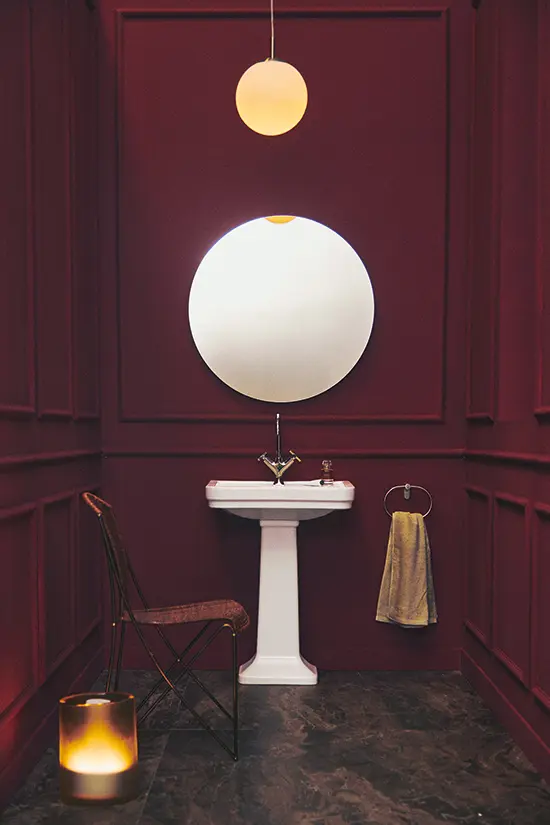 So really, we are talking about industrial design here would you say?
It's industrial design with an emotional skin. I would say that is why I am so involved in this part of the process because it is very inspiring for me to design industrial, emotional architecture and furniture at the same time. I have to say that it is very challenging to design something new every year, but it's a great challenge in a way and this job has always given me a lot of energy over the years.
Finally as we approach June when the design world will gather in Milan, what first comes into your head when I say the word "Salone"?
Well, it's my whole life I would say. It will be my 30th Salone del Mobile as it marks its 60th year, so I am reaching precisely the middle point of its history. Maybe, I can even call myself one of the pillars of this building at this point. You know, in many ways Salone is still like end of year exams for a schoolboy. All the work of the last year has to be ready and it's the moment that people will say okay you did a good job, you are top of the class, you went one step ahead of the rest, or they might say you have gone one step back. You start to think that you are growing old, so you need to look at the new generation entering the stage and try to update yourself and get out of your comfort zone. Salone is the opportunity to open a window to the world in order to show all your efforts of the last year because at the end of the day even if what you do is the best in world, if nobody knows what you have done, it's like you didn't even do anything. It's incredibly important that we share what we are doing, share what we do, after all this is our life, our passion, it is the very reason why we work.