Modeling the memory. Giorgio di Palma's ceramics in Milan
Add to bookmarks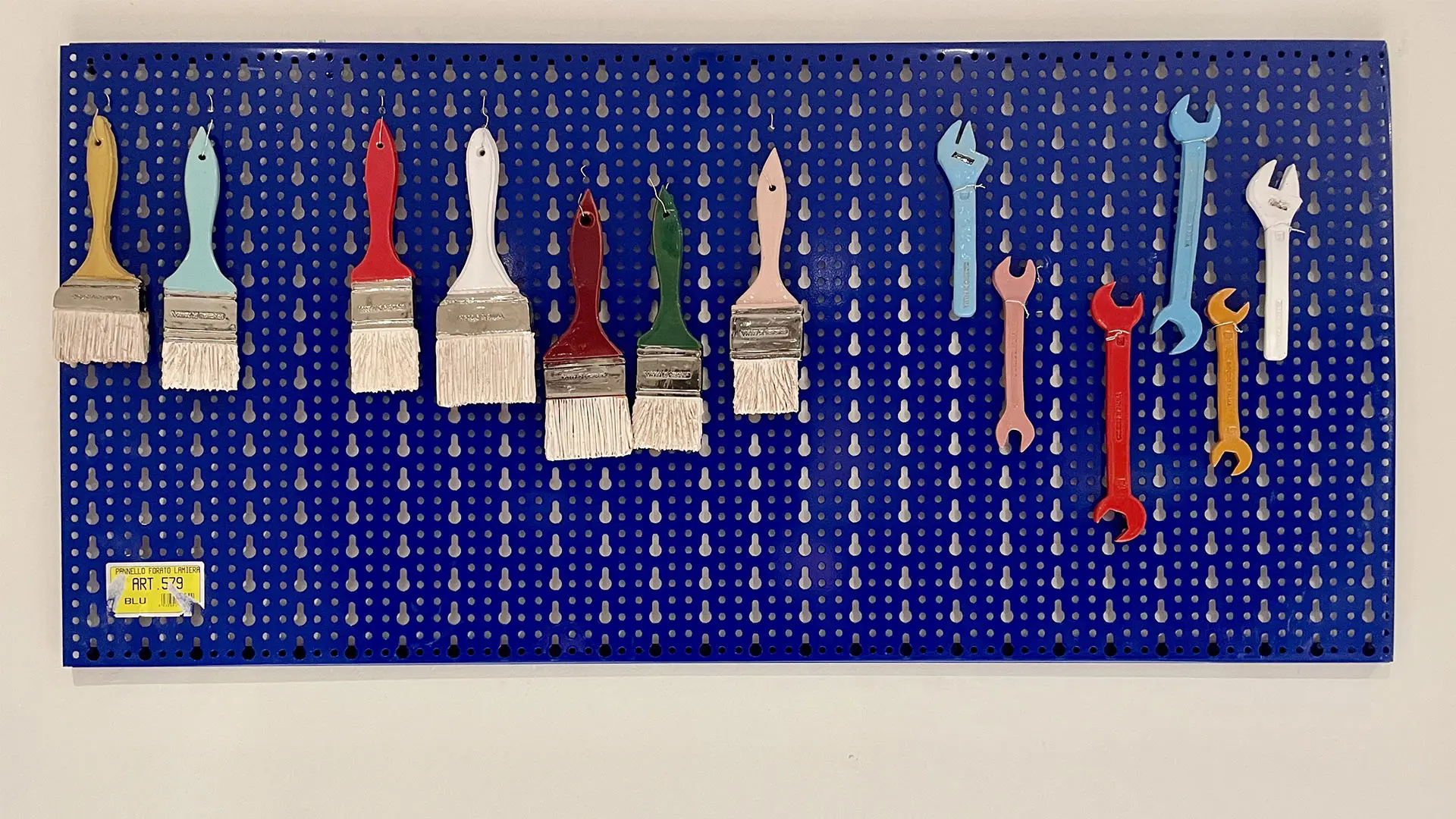 The Apulian artist's works, currently on display in Milan, exploit the versatility of ceramic, a material both ancient and modern, to explore the evocative power of objects.
The cake topped with whipped cream, orange soda bottles, sandwiches, pizzas and braided mozzarella, taralli, bowls of popcorn and crisps, cone-shaped paper hats, streamers, chairs and formica tables. These details suffice to recreate a very special atmosphere, that of birthday parties, and a definite space-time: Puglia in the eighties.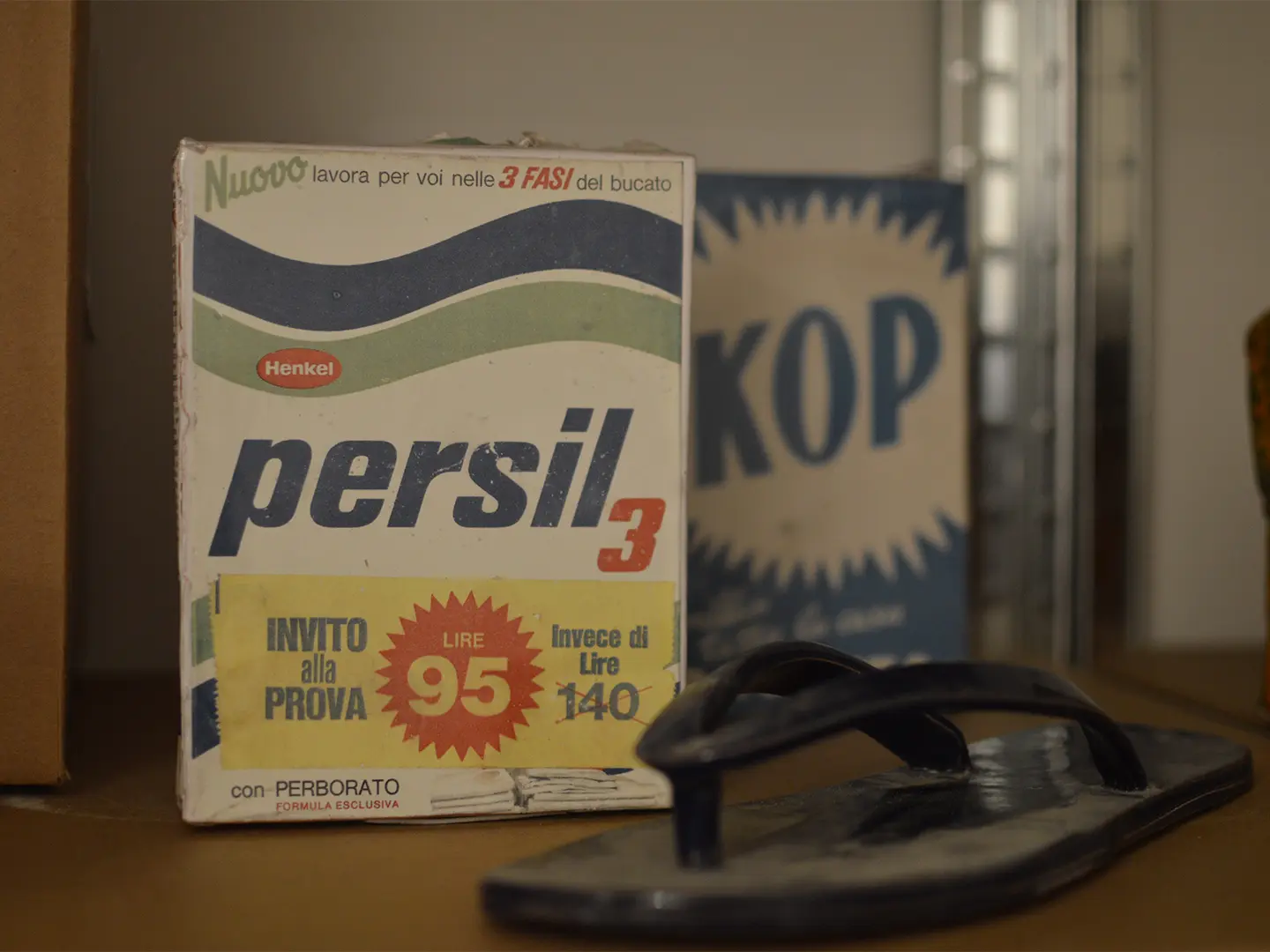 The objects created by Giorgio di Palma (Grottaglie, Taranto, 1981) for the exhibition Festa di compleanno ("Birthday Party"), all modeled in terracotta and laid out on the two levels of the Meme Gallery in Milan, are so many Proustian madeleines, powerful activators of memories that draw on personal and collective associations.
On the first floor only the guests seem to be missing, while the set-up in the basement reproduces the scene in a garage or cellar, with a worktable complete with tools and a set of utensils and consumer products scattered on metal shelving.
"We got the idea a couple of years ago, when the guys at the Pigment collective in Bari asked me to work with them on a project to be exhibited at the Museo Pino Pascali at Polignano a Mare," explains the master ceramist. "We had just come out of lockdown and were coping with a new situation, unsure whether gestures that before Covid were trivial, such as hugging someone to wish them well or blowing out candles, would still be possible. For this reason,  I thought of going back to childhood, a recurrent theme in my work, and the parties we organized with family and friends in rented premises or even garages".
The work on the packaging, as always, is very realistic. "The objects are all linked to that period, including their aesthetic. The Fanta bottle has a certain form, the crisps and snacks come in very specific wrapping," explains di Palma. "One thing I remember from those years, for example, is plastic beading, and I worked hard to recreate that situation at the Museo Pascali and in other spaces like the Meme Gallery, which is also very sensitive to Pugliese qualities." (The gallery, founded in 2019, is an extension of the Frutteto Garibaldi, a historic Milanese workshop clearly with origins in Puglia – ed.). Then in Polignano the artist engaged in a sort of excavation of citizens' memories, asking them to send vintage photos, souvenir pictures of past birthdays, which were included in the catalogue, alternating with images of the exhibition, creating a short circuit between past and present.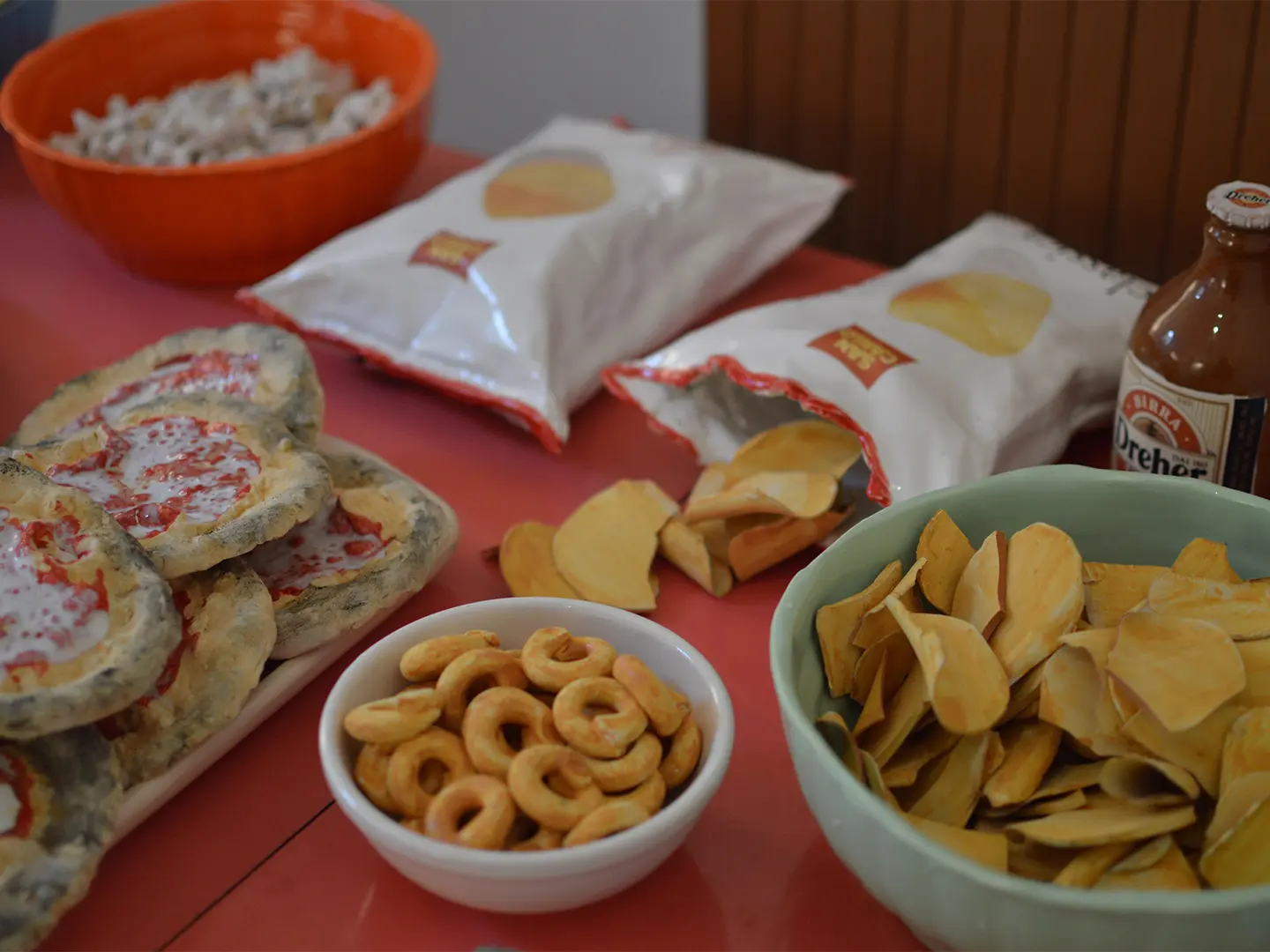 Giorgio di Palma has dubbed his creations "ceramics for which there was no need". As in the case of the exhibits in Milan, these are life-size hyper-realistic reproductions of everyday objects, which have no function other than to transport us elsewhere. To put it in semiotic terms, they are signifiers that refer to something else, to concepts or archetypes rooted in the mind of each of us, arousing the bittersweet feeling of nostalgia. A sleight of hand that is also effective in many design objects from the past, as shown by the success of modern antiques and projects such as  the Fattobene platform, a sort of atlas of Italian material culture where there is space, among the many icons of yesteryear, for the bottle of Tassoni citron juice and the blue and white jar of Fabbri cherries in syrup.
Ceramic is a material with a noble tradition that lends itself to different processes, and its versatility has often been interpreted in a contemporary key by artists and designers. (Think of the work  of Gio Ponti as artistic director at Richard Ginori, the anthropomorphic vases by Ico  and Luisa Parisi, the over 2000 works by Ugo La Pietra, the partnership between Ettore Sottsass and Bitossi, or again, closer to us, Elena Salmistraro's fantastic animals.) The decision to use it stems essentially from a biographical fact. Grottaglie is one of the Italian "cities of ceramic", hosting a craft district active since the Middle Ages.
"Grottaglie created ceramics as a functional branch of pottery," explains di Palma. "Its typical forms are capasoni, traditional amphorae, and more generally containers. When materials such as tin or plastic arrived, the trade slowly declined. I decided to offset this by making ceramic objects that were usually made from different materials, and stripping them of the function typical of wares made at Grottaglie. They're objects that evoke a particular aesthetic, remote from the minimalism so popular today. If I had to remake a TV set I would definitely choose  a Brionvega from the seventies or eighties and not a flat screen model."