From Madrid, Ana Domínguez Siemens talks about design, research and new materials
Add to bookmarks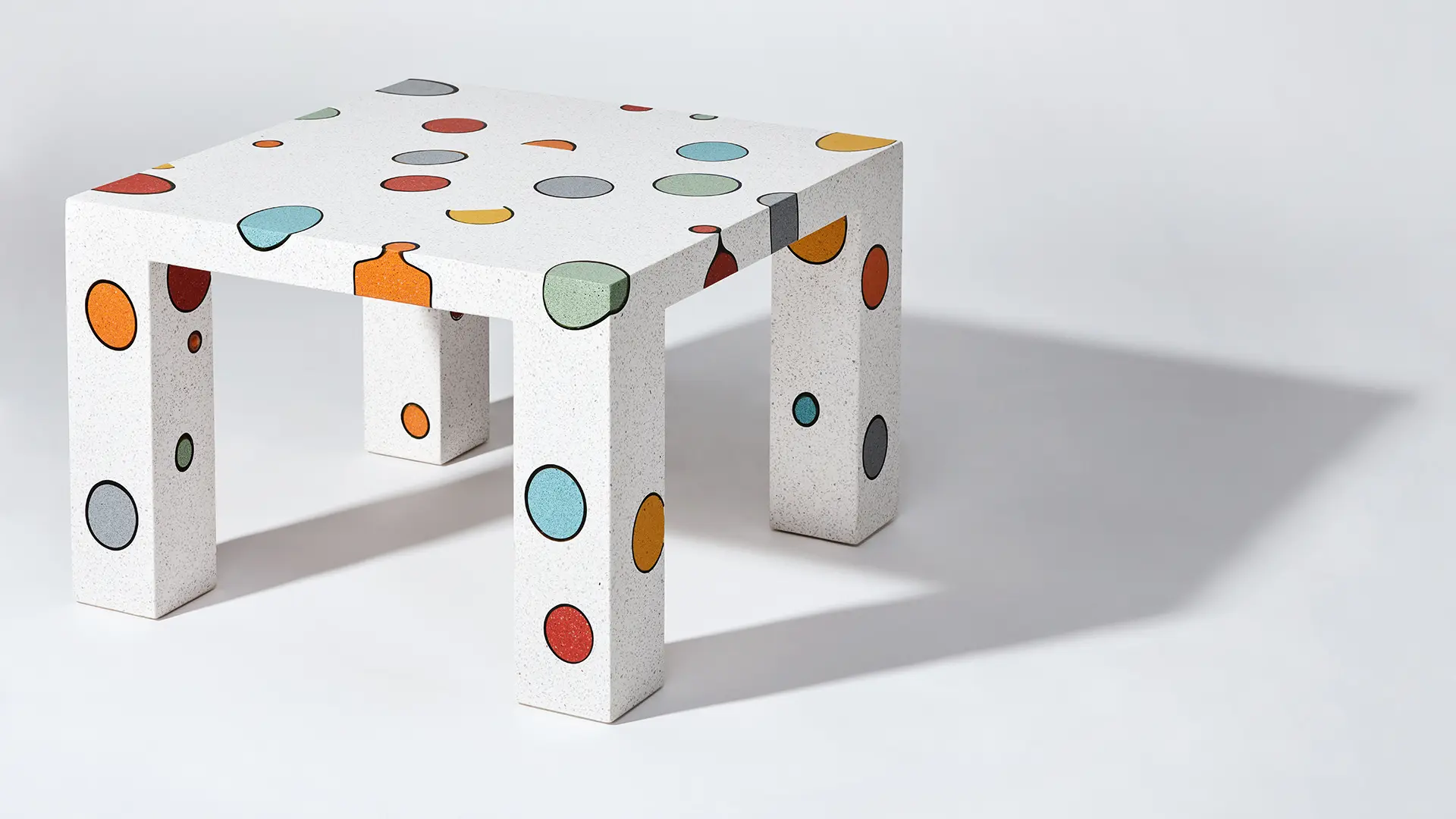 Patricia Urquiola and Nacho Carbonell, Lucas Muños, Jorge Penadés and many more besides. What designers are focusing on right now are materials and innovation.
Travelling the world paying attention to what is happening in the field of design always reminds you that, in the era of globalisation, it is more about what we have in common than what separates us. Amongst designers it is common to find affinities and concerns that intrigue the contemporary designer. My last exhibition as a curator, Materia Gris, features designers with a specific interest in exploring new materials. The potential of an unstoppable flow of matter discarded by humans presented an opportunity for many designers to set to come with solutions to this problem. The exhibition is about new materials, but also about the intelligence behind their development. A lot of grey matter in the service of the environment, of humanity, hence the title. Lucas Muñoz, a designer interested in the circular economy, made an installation from all the material accumulated in the CentroCentro art centre's warehouses, and added a further level of social impact by involving the Norte Joven association in the manufacture of lamps that visitors can purchase at the end of the show. The exhibition showcases a selection of forty projects in which different designers demonstrate their approach to new non-synthetic bio-based materials, focusing on projects in which the raw materials can be as varied as algae, fungi, bacteria, human hair, paper, pine bark and needles, leather, salt, snail droppings, mussel shells, animal bones, sawdust, corn and potato starch, olive pits, flax, glass bottles, charcoal from vegetable residues, fruit, etc.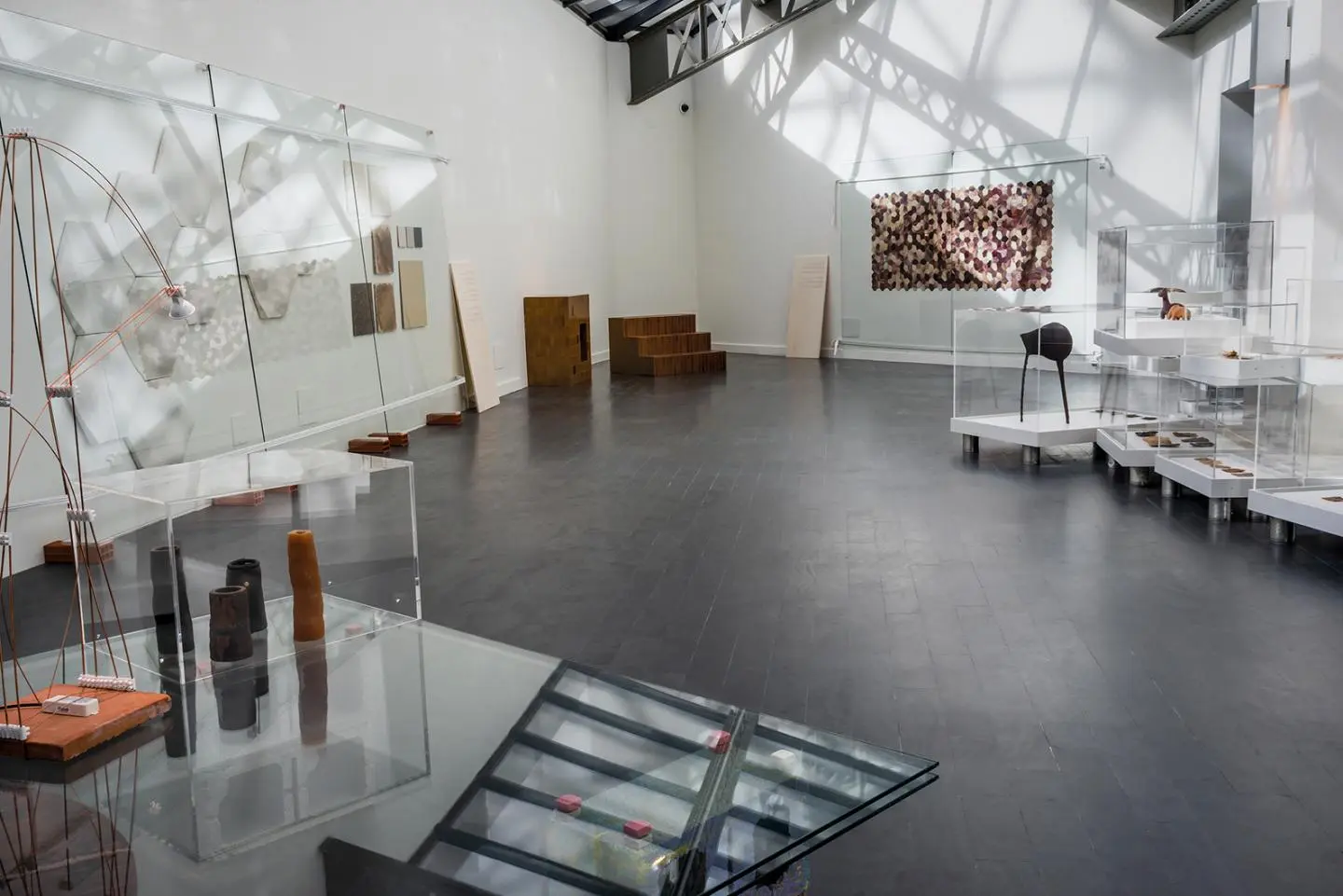 Several of the projects on display were Spanish. To begin with, I wanted to pay a small tribute to Silio Cardona, who in 1994 invented Maderón, a material made from the shells of almonds, which paved the way for so many other materials that are trying to gain a foothold in the market today. I showed a Rothko chair, designed by Alberto Liévore and made with Maderón, a paste made out of ground almonds and some glues, which can be moulded like plastic but has the warm feel of wood. More recently, Naifactory Lab developed a material using olive pits, a by-product normally destined for biomass burning.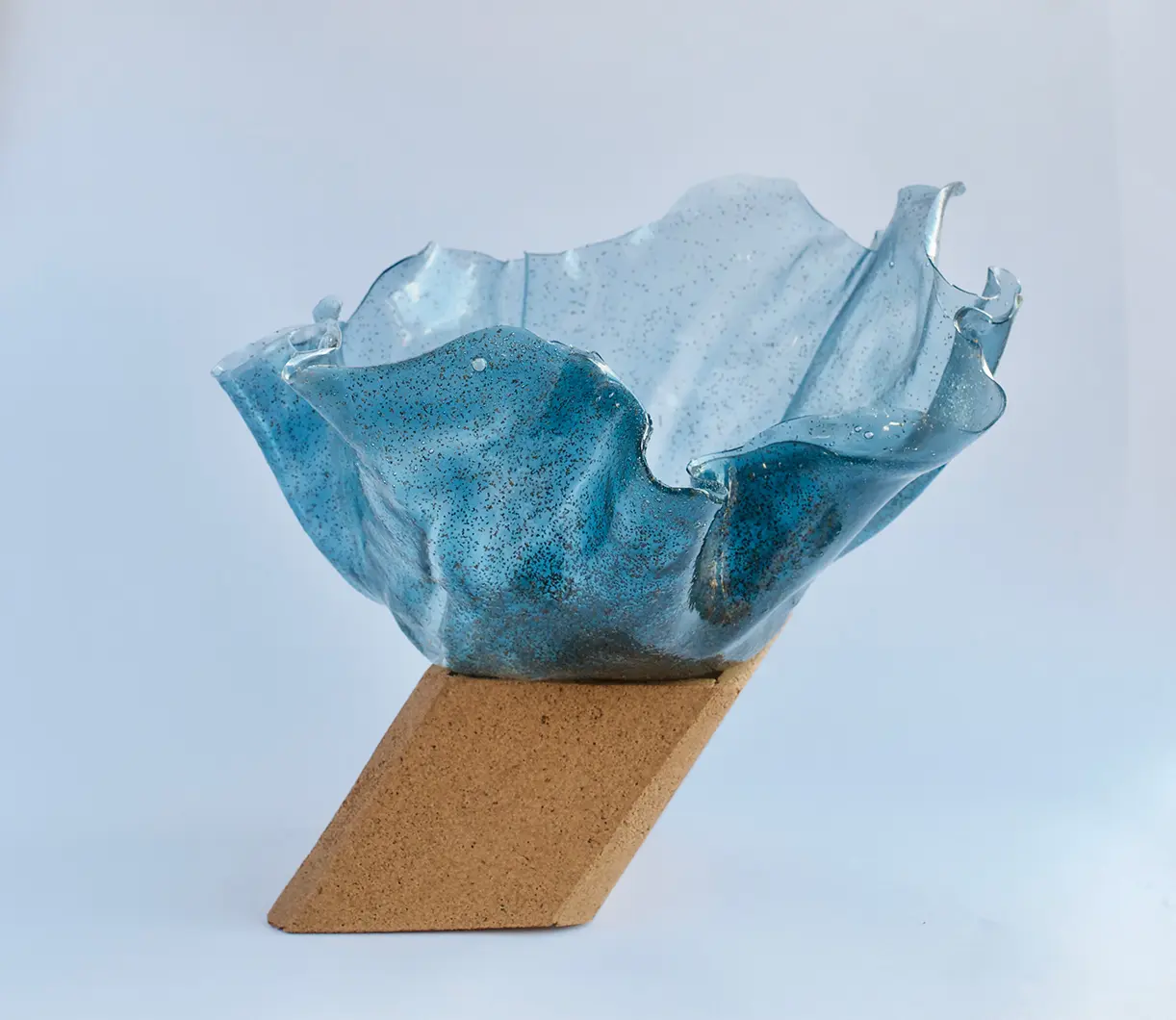 The basic mixture of the material with other 100% natural ingredients allows for its diversification into a wide variety of textures and properties, depending on the quantity and quality of bone being used. Another piece by a Spanish designer was Patricia Urquiola's Back Wing chair for Cassina, covered with Apple Ten Look leather, a material made from fruit residues such as cores and apple skin. It was important for me to show this type of project from a company such as Cassina and the Spanish firm Andreu World, by whom I showed a material similar to plastic but 100% bio. The Nuez Lounge BIO®, designed by Patricia Urquiola, is manufactured with a 100% natural origin, biodegradable and compostable polymer. This new material is the upshot of R+D+I's attempt to develop Andreu World's own materials and biotechnological research with microorganisms that generate the most nature-friendly and, therefore, the most sustainable polymer. This is a way of making the public understand that we are not talking about a utopia, that this is already a reality that has reached the market and that is already a part of our daily lives.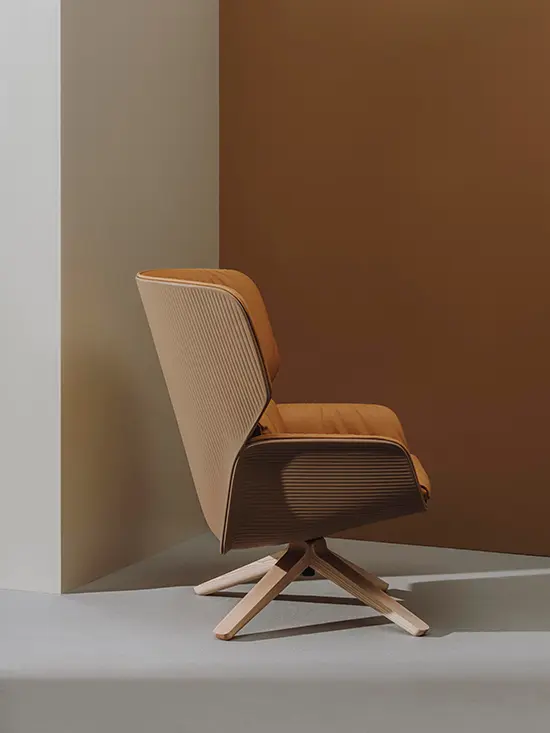 Another material similar to leather is the one created by Carmen Hijosa from pineapple harvest residues, called Piñatex. On the other hand, Jorge Penadés's project Structural Skin is an example of how to reuse the waste from the traditional leather industry. He collects scraps, crushes them and mixes them with natural binders to create a new material. I also showed Inés Sistiaga's Preen Brushes - while not a new material, they propose a way of using vegetable fibres such as coconut, jute or natural sponge rather than the synthetic bristles with which brushes are normally manufactured. Álvaro Catalán de Ocón's pieces made with his Terrazzo Alhambra were exhibited: a combination of glass bottles sectioned in such a way that they produce unexpected designs when combined with cement, marble and coloured resins.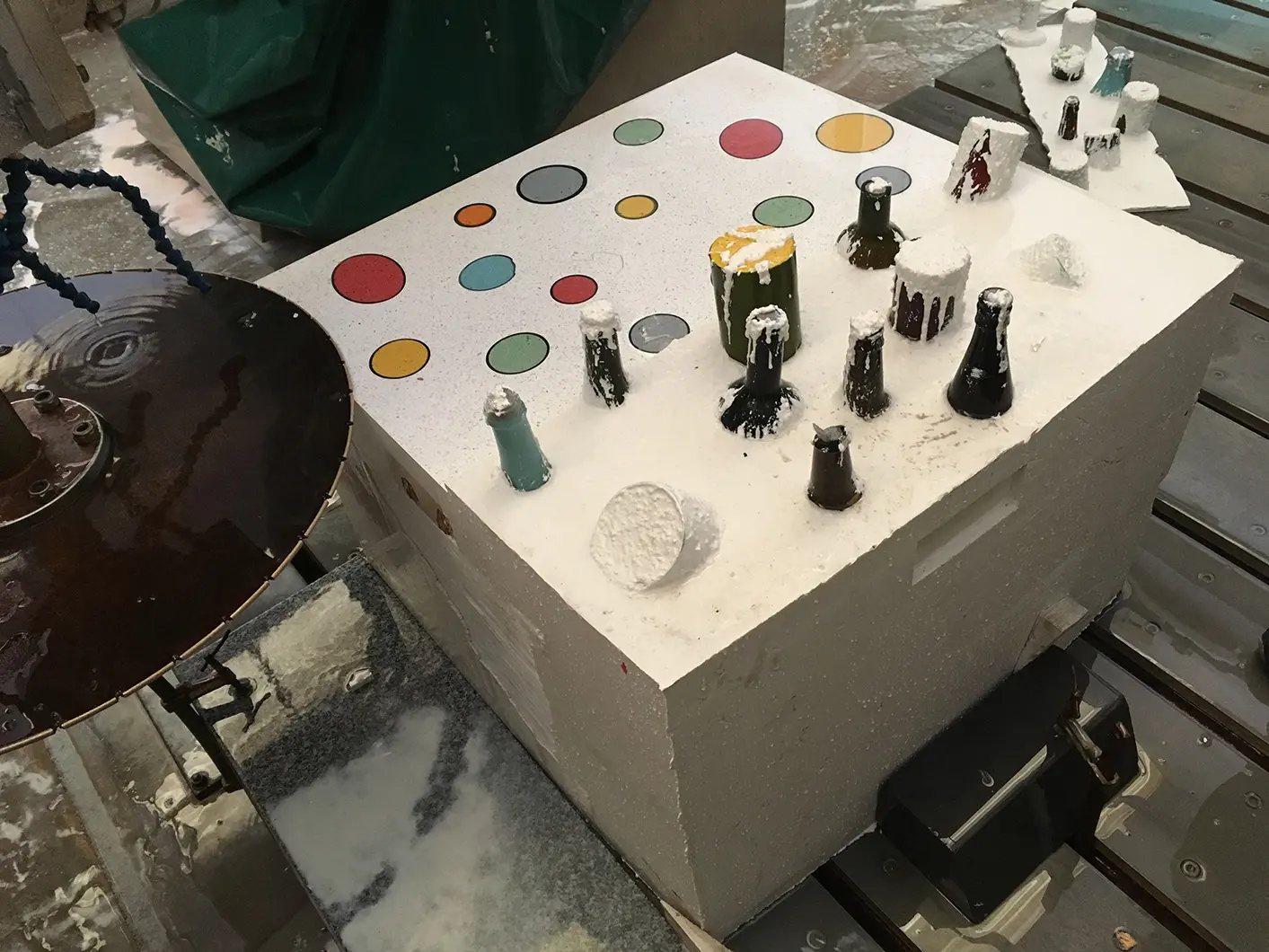 Rodrigo García González and Pierre Paslier came up with another very interesting project, using Notpla, a material made from algae and biodegradable plants, which biodegrades naturally in four to six weeks and is a good substitute for single use plastics. I also wanted to include some projects straddling the confines of design and art, such as the work of Nacho Carbonell, who makes his own materials for his pieces, including a paste made from cork sawdust and another material made from the leaves of trees.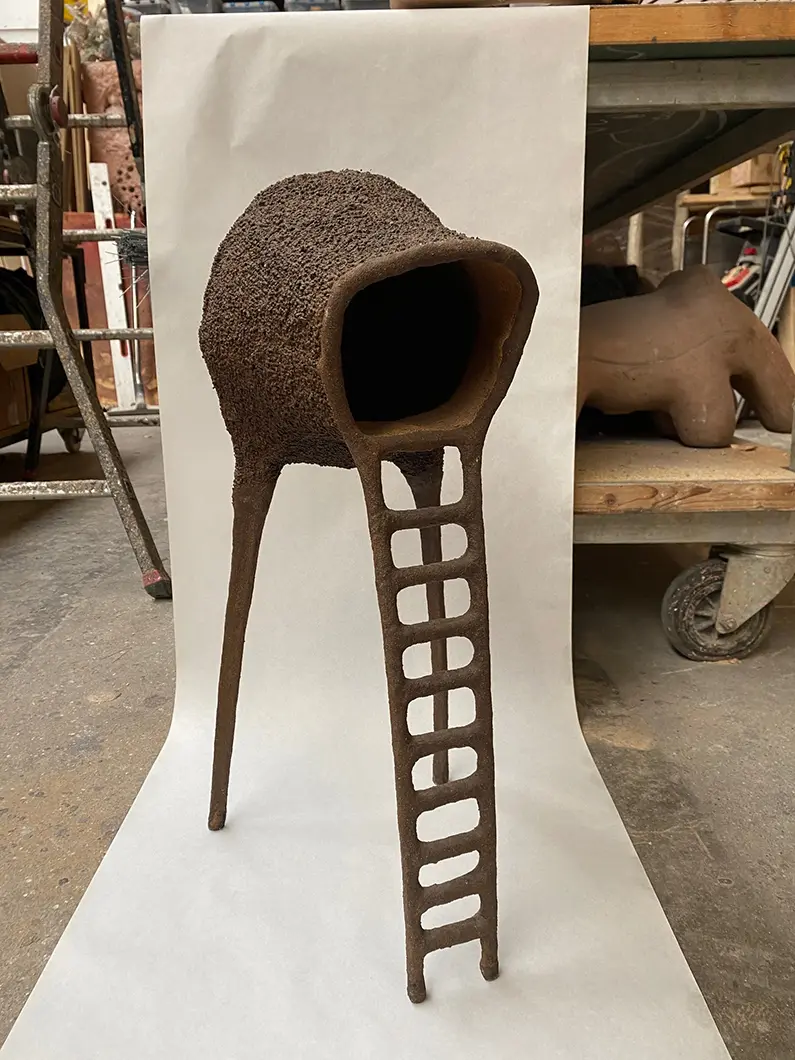 I missed including Sarah Viguer, author of the Xufa Process, a material that explores the residues of processing tiger nuts, suitable for making daily objects using a sustainable and bio-degradable fabrication process. Finally, I also showcased some interesting work by students at the Elisava School in Barcelona, including Aqua Faba Foam, a material made out of beans or Clint, a cardboard made from textile waste from laundry dryers, designed by Gerard Bel, Damià Cusí, Marta Galofré, Laia Moras and Marina Sevillano, together with the Girbau company.