Luca Nichetto, Lorenzo Palmeri, Martino Gamper and Pietro Russo's feel for music
Add to bookmarks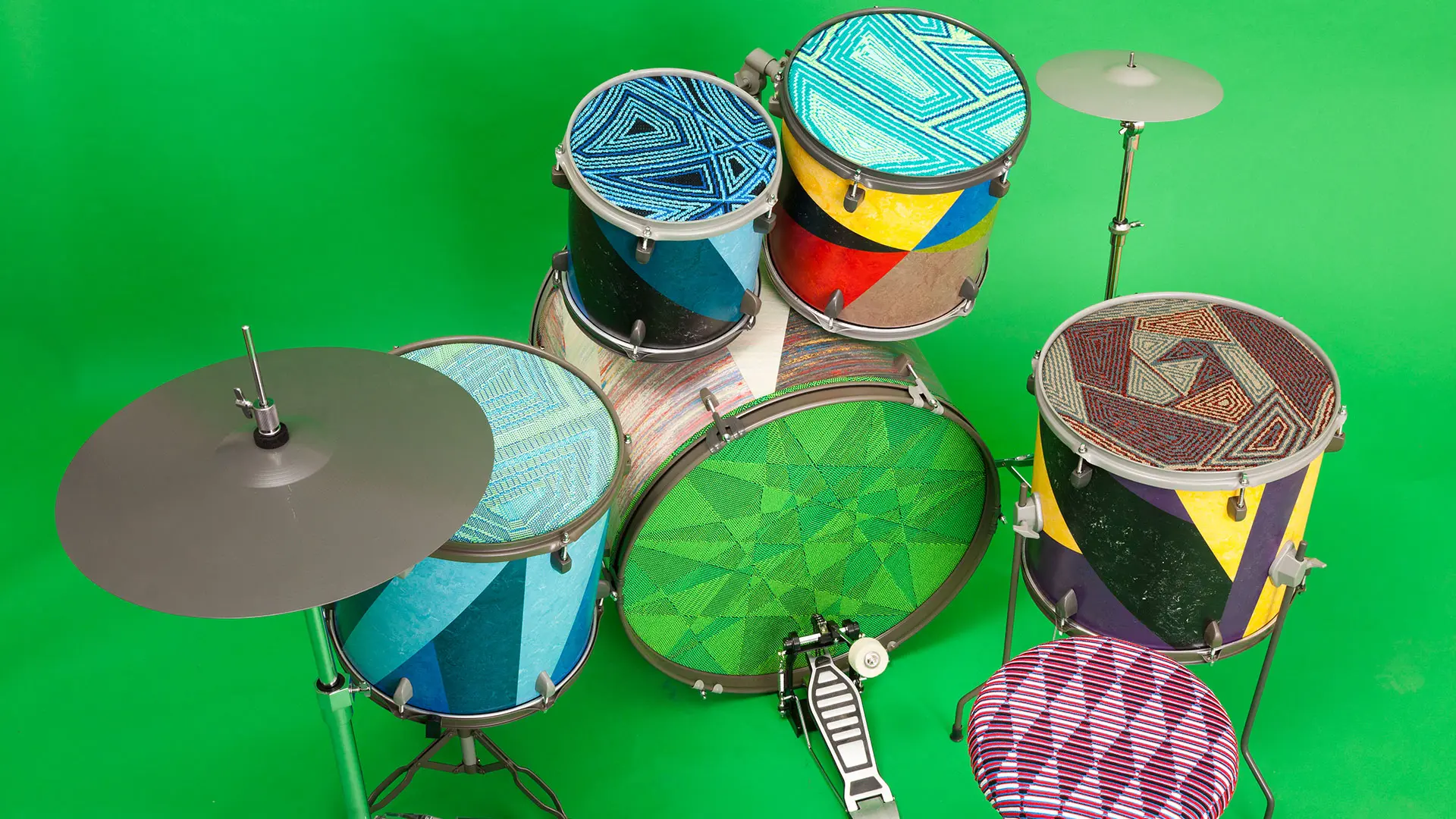 Discovering the M(usical) side of some designers. Why an instrument is perhaps the perfect metaphor for a design project: the shape of music.
While Renzo Piano declared that "the most wonderful adventure for an architect is that of constructing a concert hall," the designer Luca Nichetto, set to premiere his first musical instrument in April, says that "designing a piano is like designing a building in miniature, because it has so very many components that if you change just one little thing, the whole thing changes, in that it's really complex." Alongside architects who build temples to music – from Jean Nouvel to Herzog & De Meuron and Frank Gehry, to name but a few – there are designers who tackle musical instruments because, as Lorenzo Palmeri who designed the Paraffina Slapster guitar for  Noah Guitars in 2014 and which subsequently became Lou Reed's favourite,  says: "they are some of the most fascinating objects from a design perspective, because of the relationship between the person and the object." The dialogue between music and design is very intense and profound and this marked affinity has seen many different creatives try their hand at designing instruments as well as furnishings and lighting.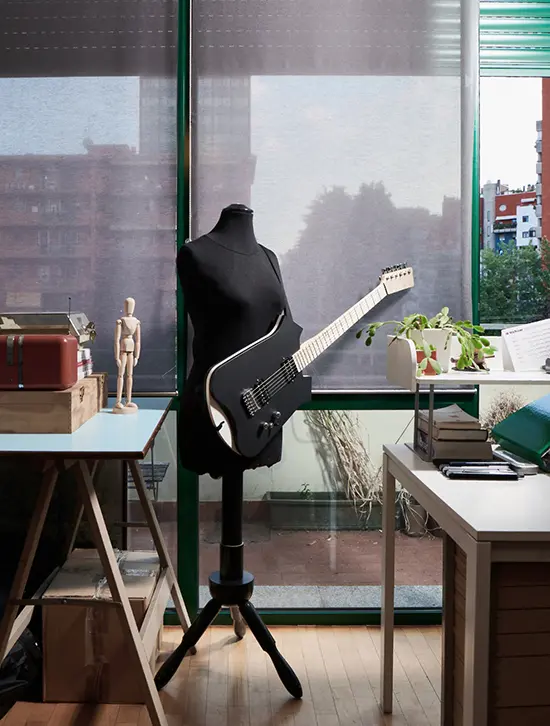 One of the very first, Lorenzo Palmeri, an architect by training who has worked closely with Bruno Munari and Isao Hosoe, notched up seven years studying composition at the Conservatoire in Milan to add to his CV. A gifted blender of design and music, he devoted part of his study to the latter. He may be the only one in the world. "Commissions and research came together, fortunately" he says. He has designed many acoustic objects, including instruments and installations, like the Navel guitar, available in two versions – 50,000-year-old kauri wood or Arpa's industrial FENIX material – an electronic keyboard for Korg, a blown glass trumpet that actually works, a Cajon, a whistle … as well as installations that include Concert Drops, designed with Michele De Lucchi, and the marble Gerico acoustic walls for Vicentina Marmi.
The designer-carpenter Martino Gamper's response to Nike's invitation to take part in The Nature of Motion project  for the exhibition held during the week of the 2016 Salone del Mobile was to create drum kits using Flyknit technology for the skins, drawing on the distinctive look of the American giant's running shoes. The material is composed of lightweight, hard-wearing and flexible fibres. "I imagined a musical marching band," he says. The project was clearly not an easy one: "The textile and the strings weren't really made for drum-making," adding that his approach to it involved "innovative concepts, creative solutions and playful  details" that brought life and sound to the instrument. Gamper is now ready for another musical commission, confessing: "It's just a matter of time before someone else offers me another opportunity."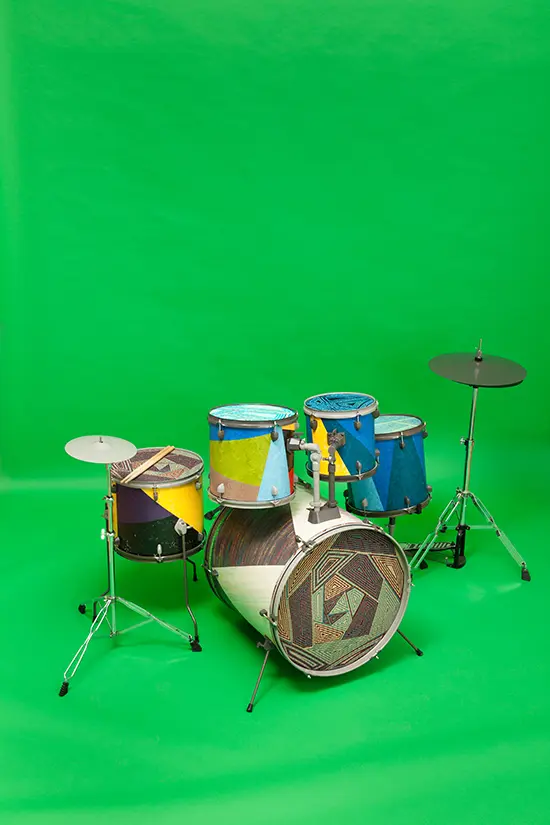 Pietro Russo – a scenographer and interior and product designer with a studio in Milan, who has recently embarked on designing children's musical instruments – agrees they are decidedly more complex to design than furnishings, because of the sound they have to produce: "When it comes to furnishings, I merely create prototypes or parts of them, otherwise I entrust the work to extremely specialised skilled craftspeople; when it comes to musical instruments, though, I make them entirely in my studio/workshop, a place that is part of my day-to-day life." Palmeri doesn't see it quite the same way, saying that "musical instruments call for a knowledge of certain particular characteristics, such as the sound performance of a material or certain specific laws of acoustics, but in general I don't think there's a huge difference. Any product, no matter what its scale, is a project designed to forge a – possibly virtuous – relationship with the materials, processes and behaviours of human beings." Like his next commissions: a ukulele and a piano.
What does taking on a project for a musical instrument mean for a designer? Luca Nichetto, a beginner in matters musical, who was called upon by the renowned Steinway & Sons, admits: "It had been a while since I had felt I really had to prove something. Being taken out of my comfort zone and experiencing the same emotion as I had felt the very first time." His endeavours outside the famous piano-building company clearly caught their interest. That led to the project for the piano, which will be presented in April in three finishes and featuring leather details. "I approached it in the manner of a car designer: I just designed the fairing, I didn't want to touch the engine. The problem was trying to produce a 'contemporary' piece, without overplaying the decoration, while sticking to an archetypal Steinway." The project has grown from an instrument to a creative consultancy, including the logo and presentation booklet, on which the Venetian designer was keen to leave a mark of his origins, inserting a postcard of the city on the lagoon "because in Venice there's an object, also black, shiny, that lives in the water and is created through a similar process to a piano," he explains nostalgically.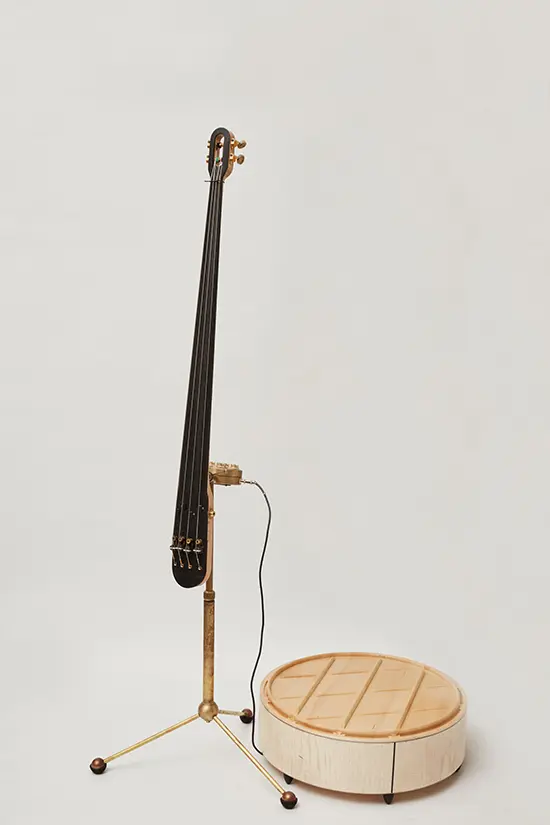 "I've always been drawn to music," says Russo, on the other hand "I thought, and I still do think, that there is a very seductive aesthetic value to instruments." His first was a flute, when he was 8: "but, once I'd finished it, it was more like a whistle and not remotely tuneful;" this was immediately followed by a zither. Then nothing until he was 40. He's now made 20 or so, "some of them very complicated that called for significant technical knowledge and substantial manual experience. All one-off pieces because they don't go onto the market but become part of my personal collection." For Palmeri the meaning lies in "harnessing a hugely important, extremely  deep-rooted culture, often stratified over time. It demands great respect and a certain humility. As an important part of my work is directly connected with music, it was natural for me to have a go at designing instruments. Commissions and research came together, fortunately."  
Musical instruments seem to hold a powerful new attraction for designers. Certainly a chance to reflect on how design can be applied to other types of objects, which in some cases are also very similar to pieces of furniture – like pianos – despite the parameters being totally different. Perhaps, though, instruments underscore the deepest meaning of design: entering into complete syntony and communion with their end user.