Let's go outside
Add to bookmarks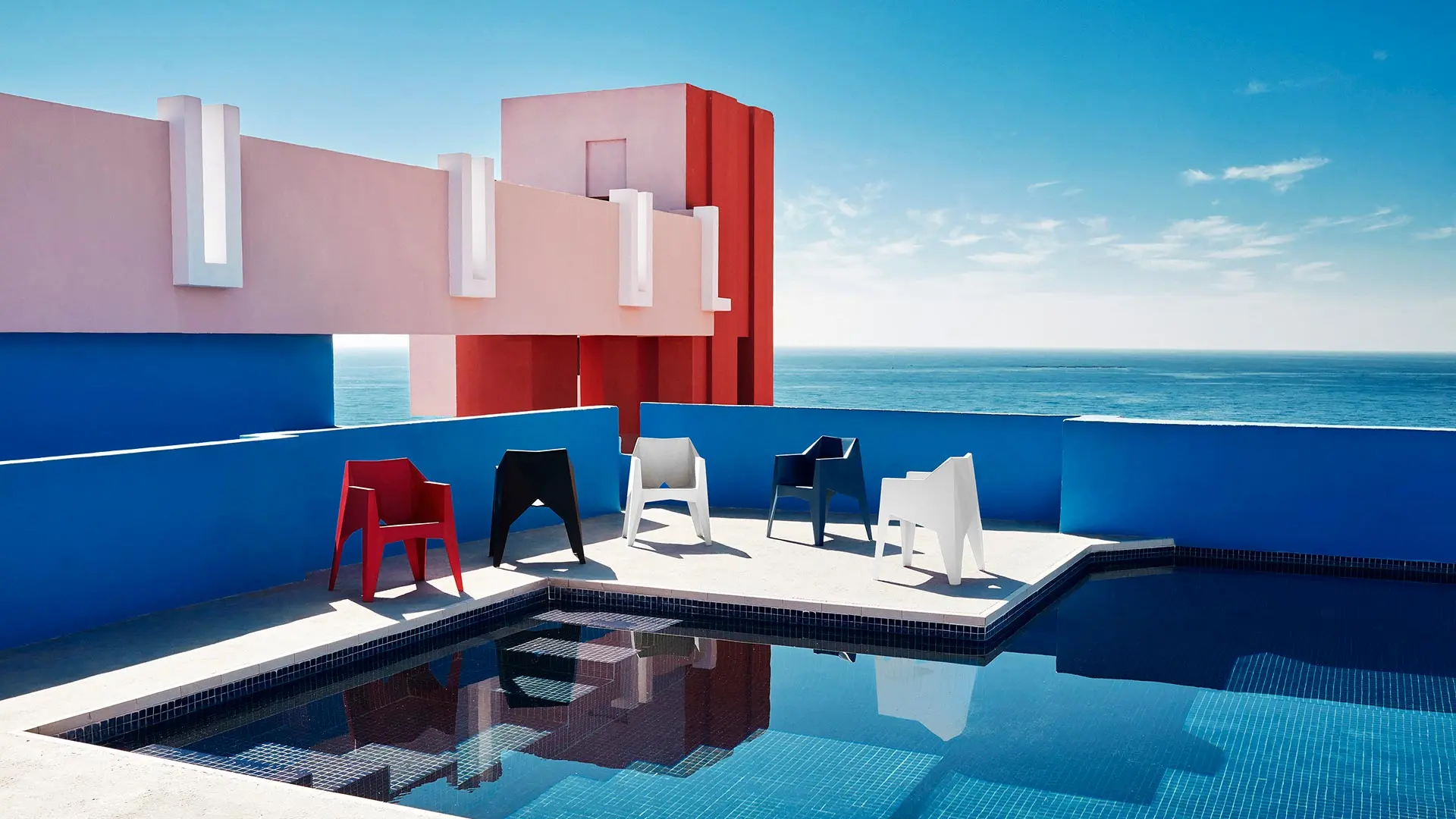 This year as never before, gardens, terraces, the outside, balconies and rooftops have soared to the top of lists of must-haves.
Because of our renewed awareness of just how invaluable outdoor spaces are for our wellbeing, from its reworking not just in terms of relaxation but also of purpose (how many activities have we carried out en plein air: from smart working to lunching, from physical activities to Zoom chats with friends) and the almost absolute value that the concepts of love of nature and resilience – two states of mind that bind man and nature inextricably together – have taken on, informing new open air design. Not just products and projects, but proposals for a proper "new and green lifestyle" which, after much research, brings together beauty, sustainability, innovation and comfort.
While a great many studies have shown the multiple benefits of contact with nature, companies such as Pratic have explored this aspect. We have discovered that pergolas are the only architecture features capable of perfectly balancing the atavistic demands of the right and left hemispheres of the human brain, combining openness and protection, focal and panoramic vision, the geometry of spaces and the ability to move freely around. The company's latest Brera Series is a bioclimatic pergola: the blades of the sunshade allows ideal ventilation and lighting conditions to be achieved, by simply harnessing elements present in the natural environment, sun and wind first and foremost.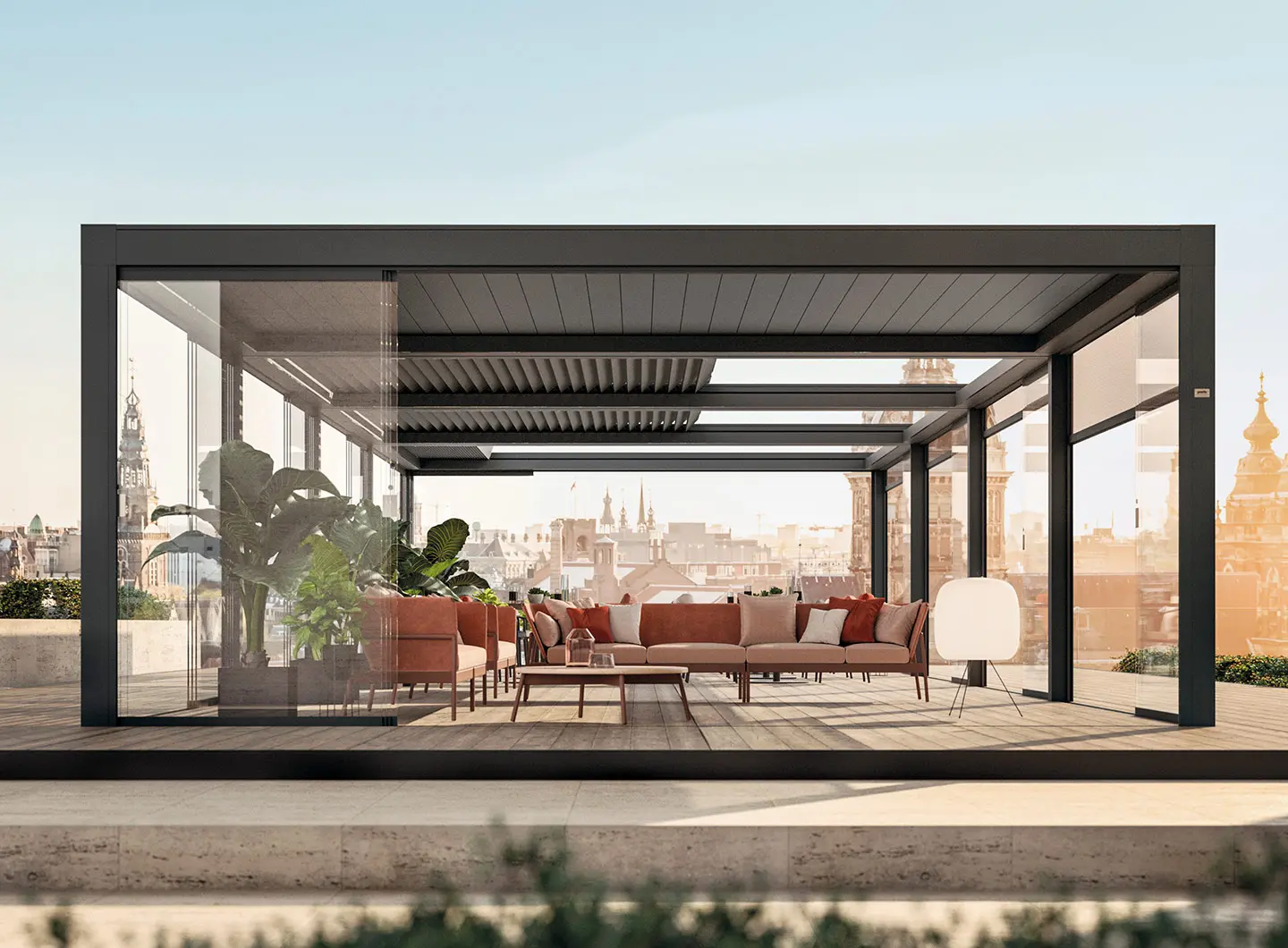 In line with this, Kettal has launched a replica of the attic at the top of the VDL Research House, the modernist architect Richard Neutra's former home in Los Angeles, built in 1963 and in which he played out all his architectural theories, including biorealism, "the inherent and inseparable relationship between man and nature." The VDL Penthouse was created under the supervision of his son Dion, using updated building techniques and materials, and has a home automation system that controls the lighting, the air conditioning and the heating.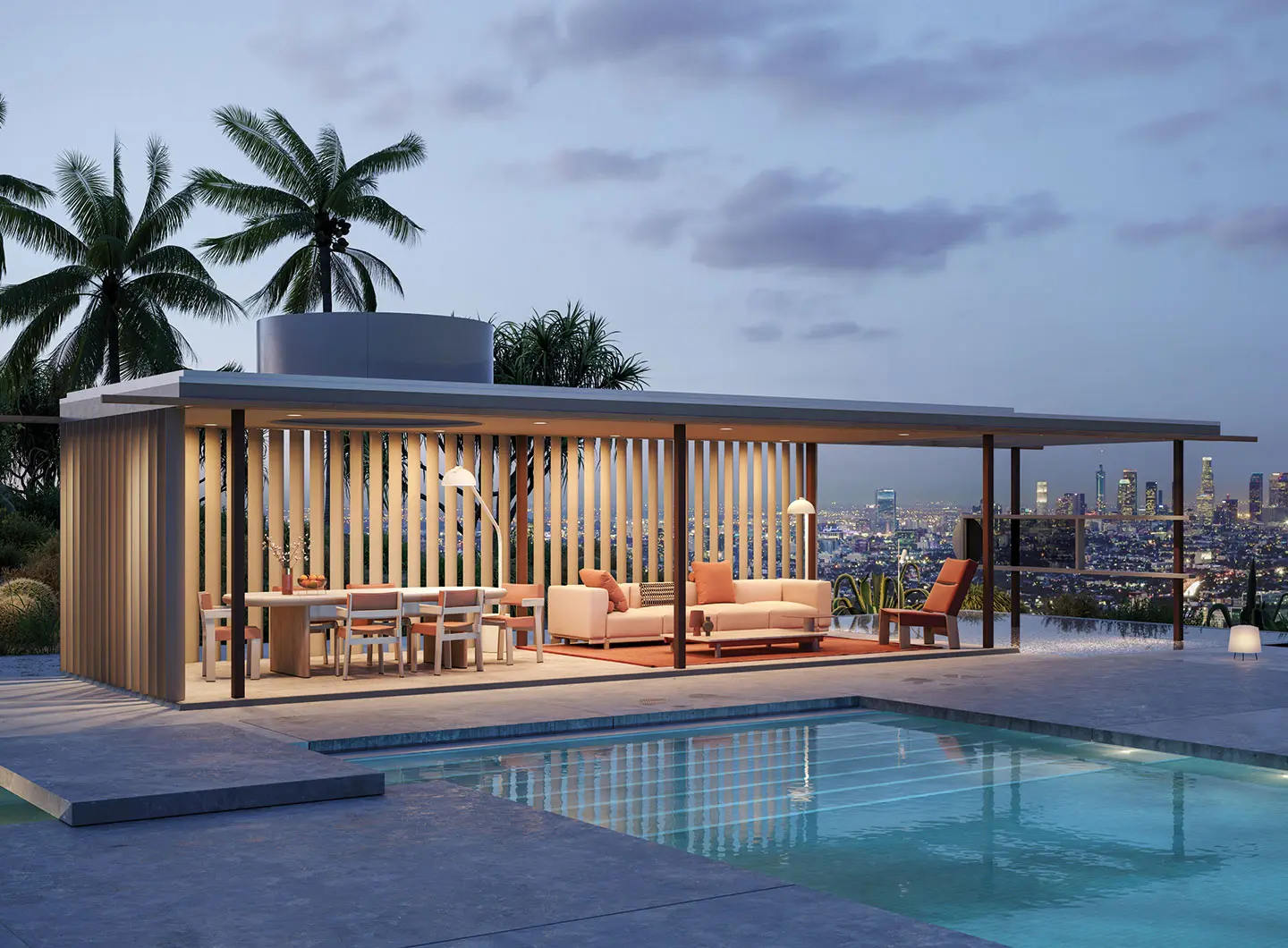 Gandía Blasco's portfolio also contains pergolas as a contemporary reworking of the traditional wooden "frames." They are anodised aluminium structures that transform any space into one where people can meet, perhaps enjoying its latest outdoor lounge furniture collection, Onsen, created by the Italian designer Francesco Meda and the Spanish designer David Quincoces, who have come up with a complete system of modular parts suitable for any outdoor setting.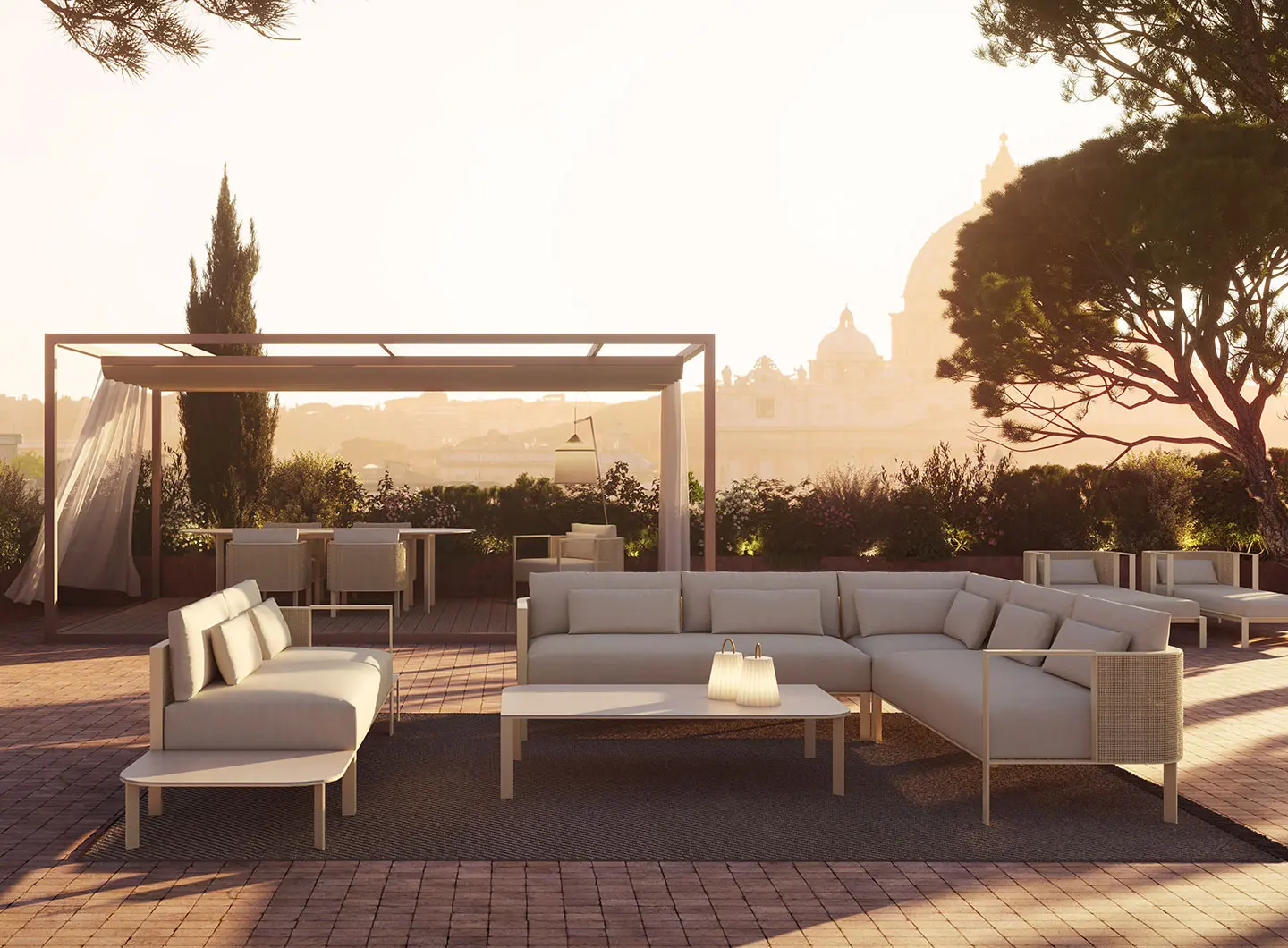 We mustn't forget, however, that we are still going through a period of social distancing, and there are solutions for open spaces that put the accent on private, welcoming and reassuring wellbeing. Marco Lavit and Ethimo have come up with Hut, a real hut that is a "unique nest on a human scale, a place to pause and regenerate. Inviting and comfortable, its wooden structure looks skywards, protecting like a shell. A habitat where the alternating rhythm of the slats creates gaps that filter perception of this space, in a natural dialogue between inside and out."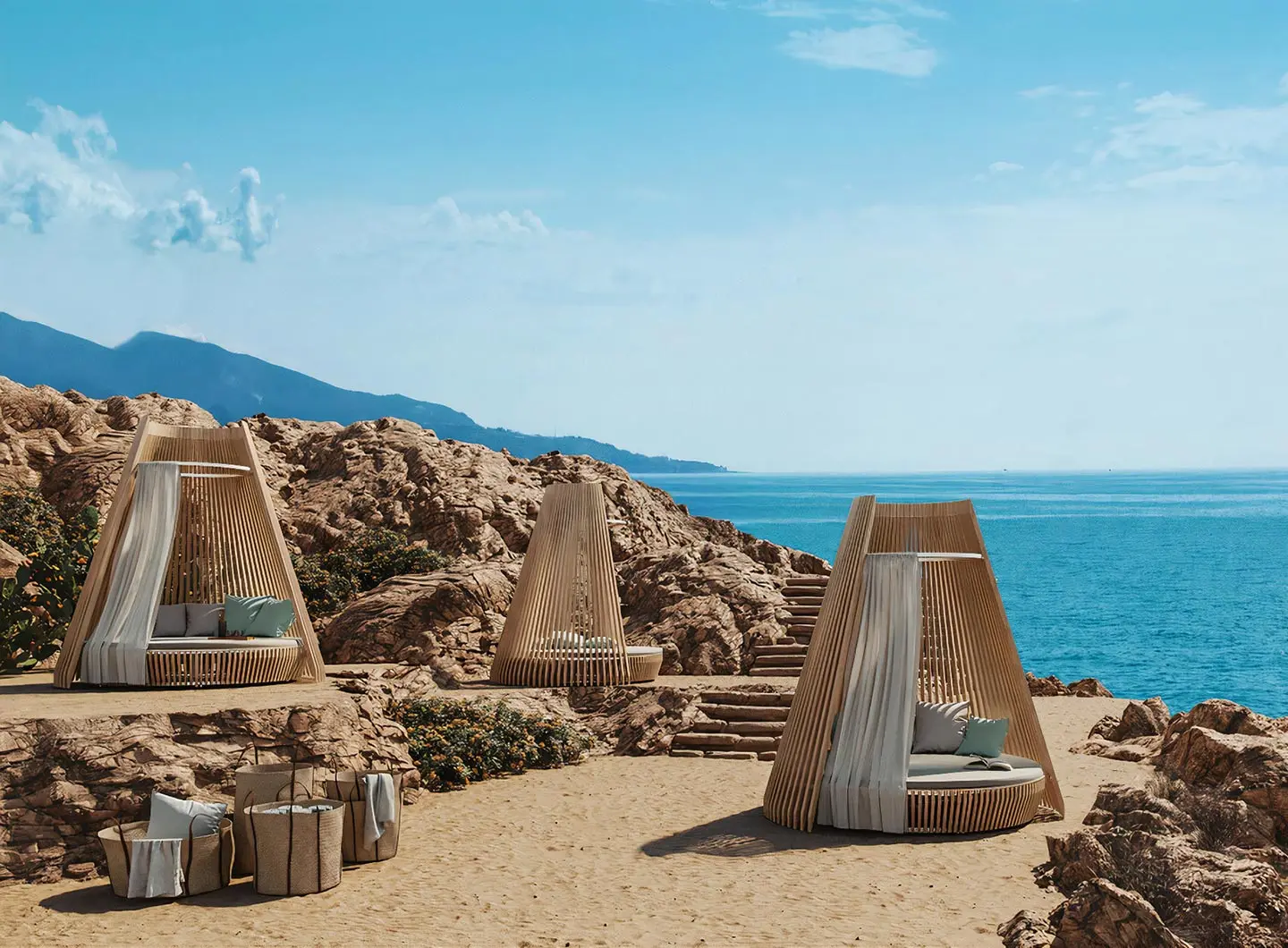 It was while contemplating the blue skies that Ramón Esteve dreamt up his original and captivating daybed for Vondom, which shares this idea of privacy and shelter with Hut. Moon's round shape defines its design, transforming this piece of furnishing into an enveloping sphere destined for outdoor relaxation. The product is made up of two half circles; the lower half acts as the seat, made of polyethylene and covered with soft padding, as is the backrest, and the top half is a protective dome that can be removed when necessary, is made of braided cord.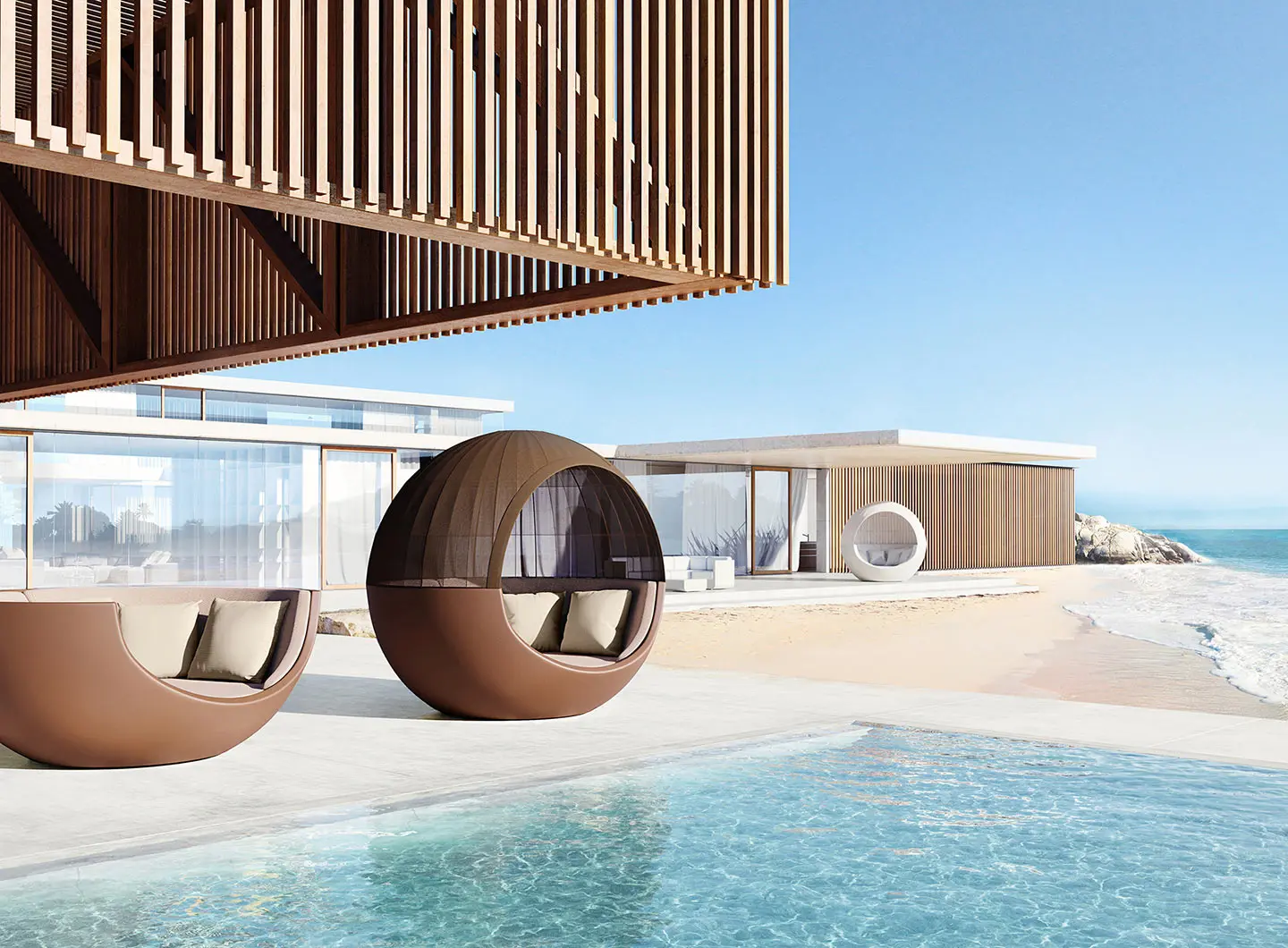 On the subject of comfortable seating, 2020 has seen the advent of new, broad, soft, even organic shapes, while remaining welcoming and very versatile. Most of the fabrics are obtained from fibres, making them waterproof and water repellent and which also guarantee a natural feel. Attention to patterns, colourways, edgings and textures makes for maximum personalisation – while respecting the identity and unique features of the original designs – and a tailored effect. The hues are almost all warm and nature-inspired, apart from the use of purely graphic or optical black and white by a few brands. The drive for new functions is also interesting, as in Oh, it rains! by Philippe Starck for his first collaboration with B&B Italia: a sofa and an armchair boasting generous and ergonomic backrests which create an intimate, protective space and which folds down over the seat if it rains or in bad weather.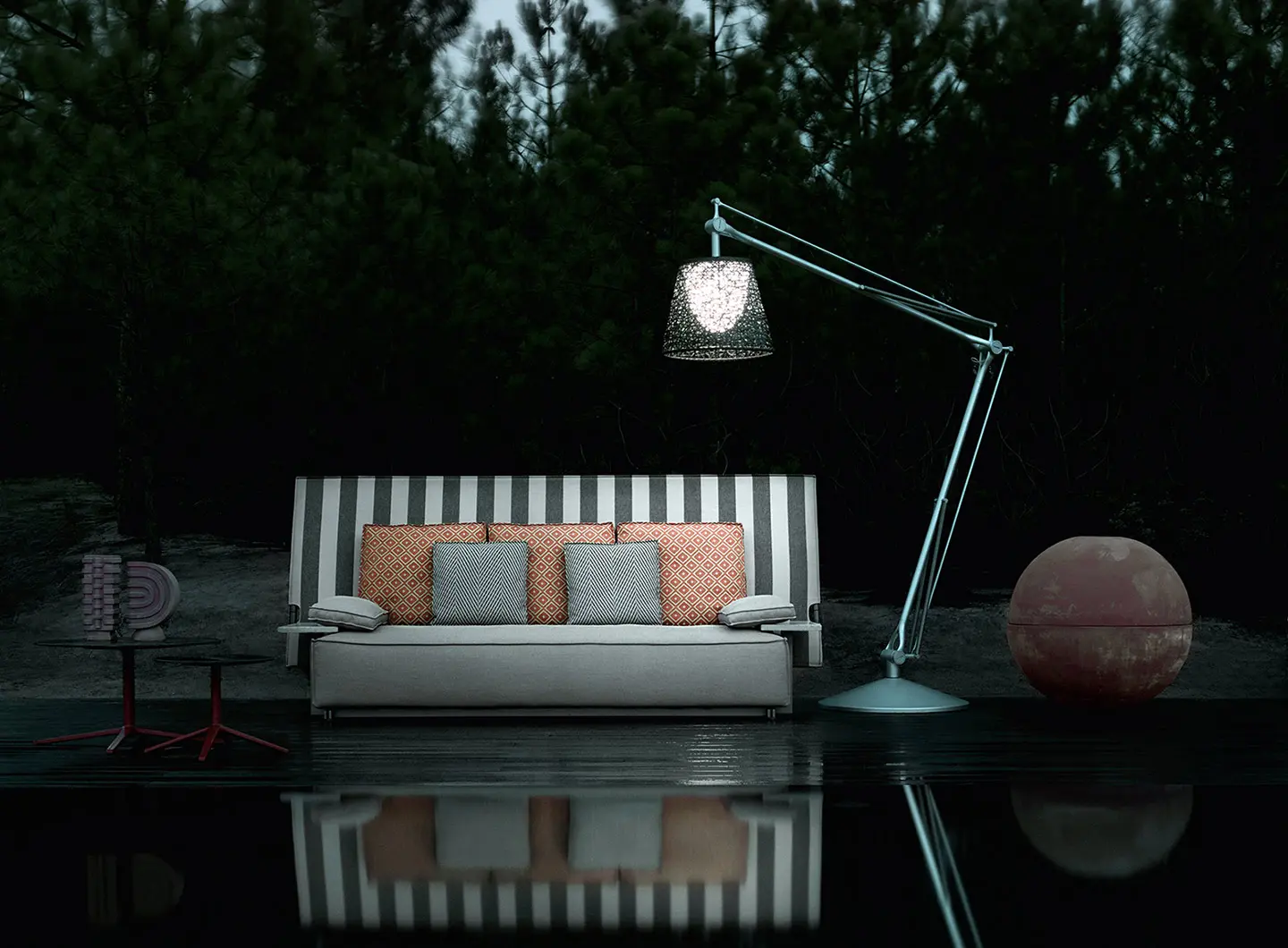 Inspired by the glam atmospheres of Fifties holiday resorts, Rodolfo Dordoni has designed Sail Out for Cassina: a modular sofa reminiscent of the form of canvas blow-up beds and boasts extreme comfort thanks to the blown polyester fibre and memory foam padding. He is also responsible for Roda's Eden sofa, notable for its generous, thick seat cushions, combination of different materials and extreme modularity.
For Flexform's Atlante collection, Antonio Citterio has harnessed a mythological reference: the name of the Titan, responsible for bearing the weight of the heavens on his shoulders for all eternity. The austere metal structures are offset by the generously upholstered cushions with grosgrain trims emphasising their large, extremely comfortable shapes. To be paired with daybeds for organising one's own outdoor space with great interpretative licence.
The Cruise Alu, designed by Ludovica+Roberto Palomba for Talenti, was inspired by the emotions of the nautical world, with rope evidenced in every piece in the collection - sofa, pouffe, armchair and dining chairs.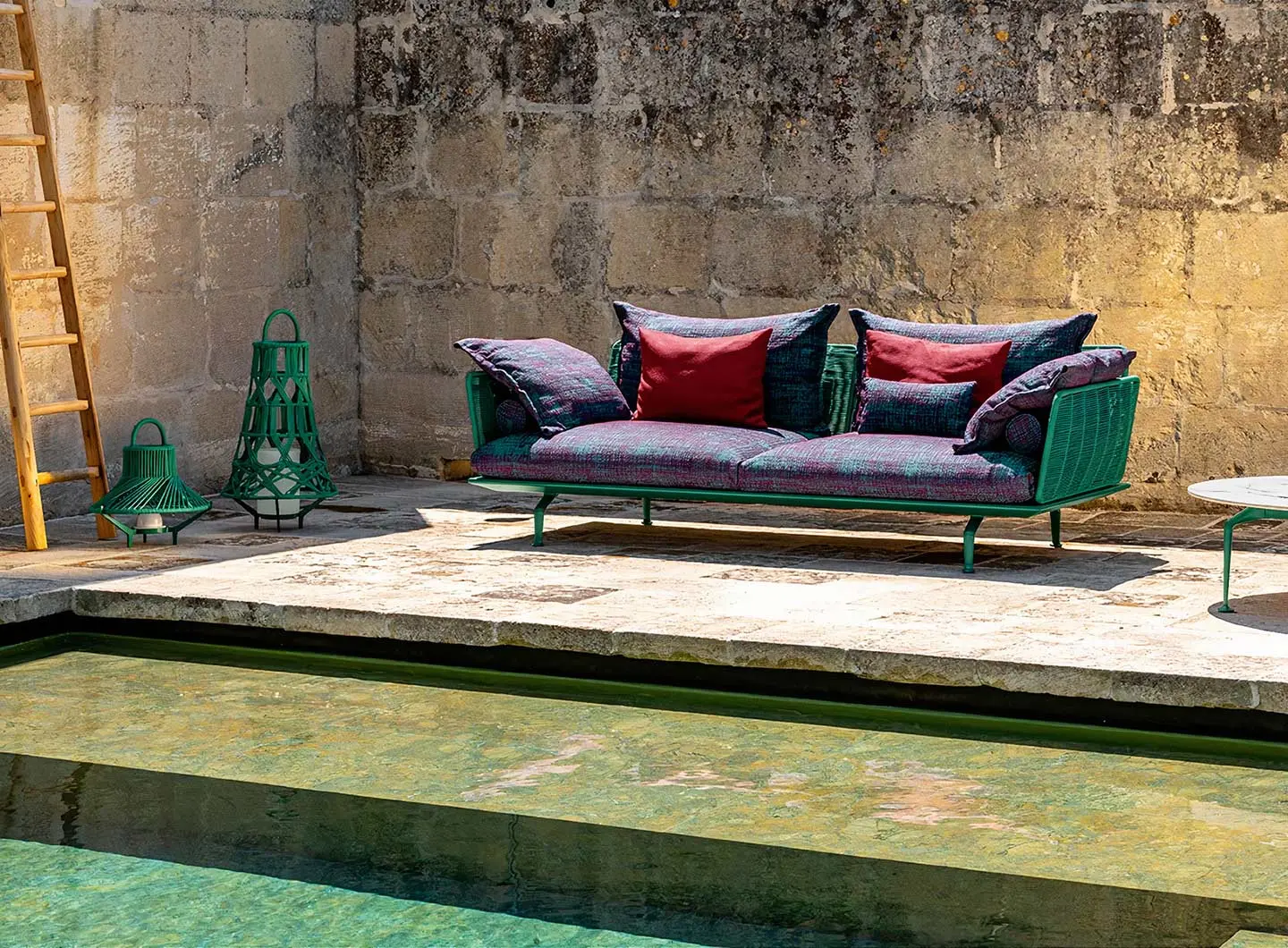 Raffaello Galliotto and Nardi have put the spotlight on total respect for the environment. The Komodo, modular system, inspired by the intertwining branches of trees, recently won both the German Design Award and the Good Design Award, while the Komodo EcoWall, a modular outdoor partition made from recycled plastic from recovered obsolete garden furniture, has just netted the Green Good Design Award. Sustainable research and production that take nothing away from the comfort and compositional flexibility of the collection.
Lastly, Roche Bobois has taken its iconic Mah Jong sofa, designed by Hans Hopfer back in 1971, out into the fresh air. Offering complete freedom of form and function, it is made up of three simple components that can be aligned or superimposed. A "simple" mattress thus becomes an armchair, a sofa, a chaise longue, a bed or a living space.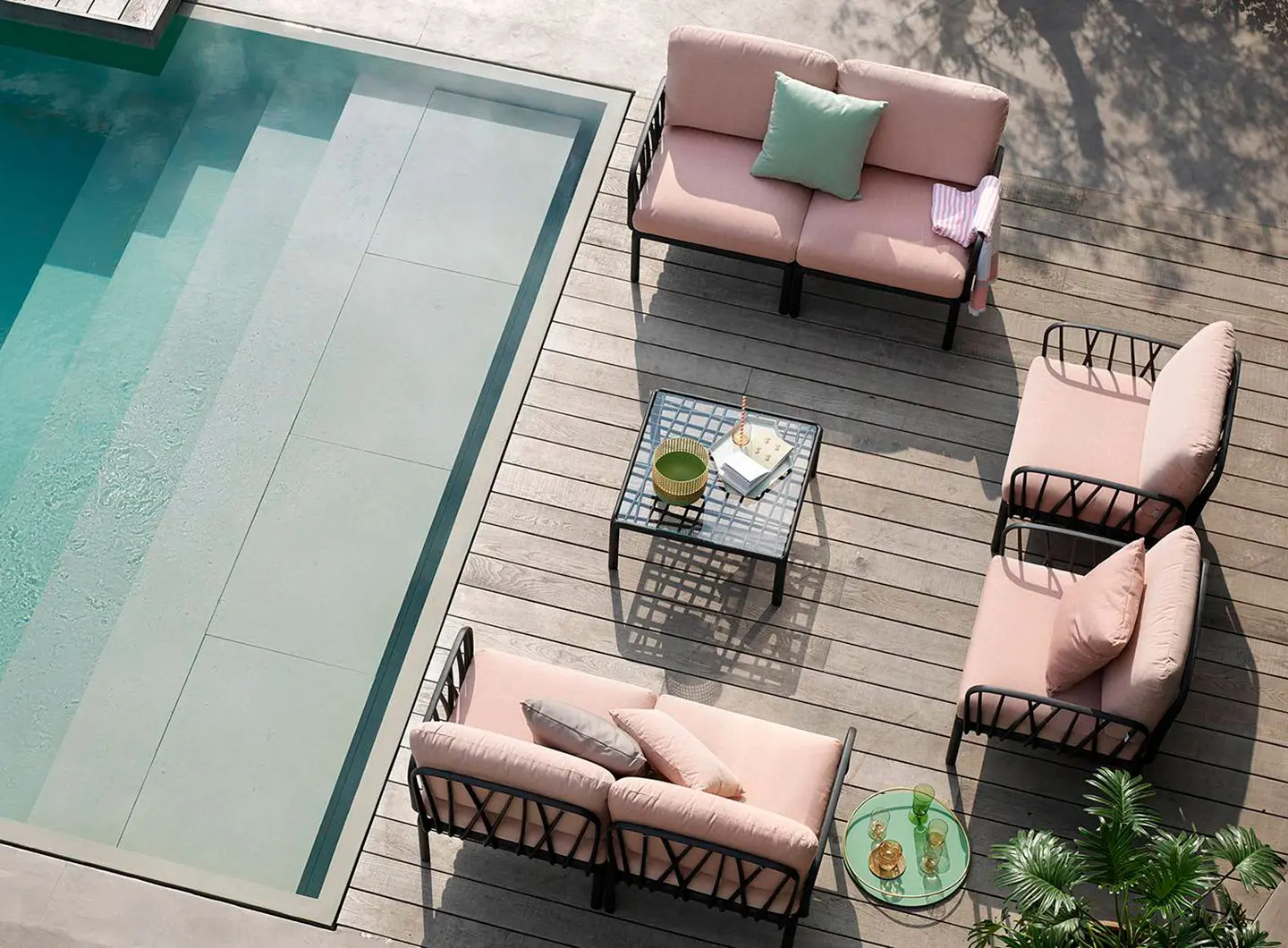 Along with sofas, armchairs have also become protagonists of the outdoors. Marcio Kogan and his studio mk27 have come up with the Daiki chairs for Minotti, born of the Brazilian architect's passion for the Japanese culture, which migrate to an outdoor space conceived and used like an extension of the indoor living space, with deep seats, with or without arms, dining chairs and pouffe footrests.
Concepts such as reduction, reusing and recycling form the basis for Lievore + Altherr Désile Park's Adell for Arper. Not just its rounded lines, the texture, lightness and colours of this chair evoke a suggestive natural presence but the shell in particular, made of 80% recycled polypropylene, instils a calming state of mind in regard to our environmental awareness.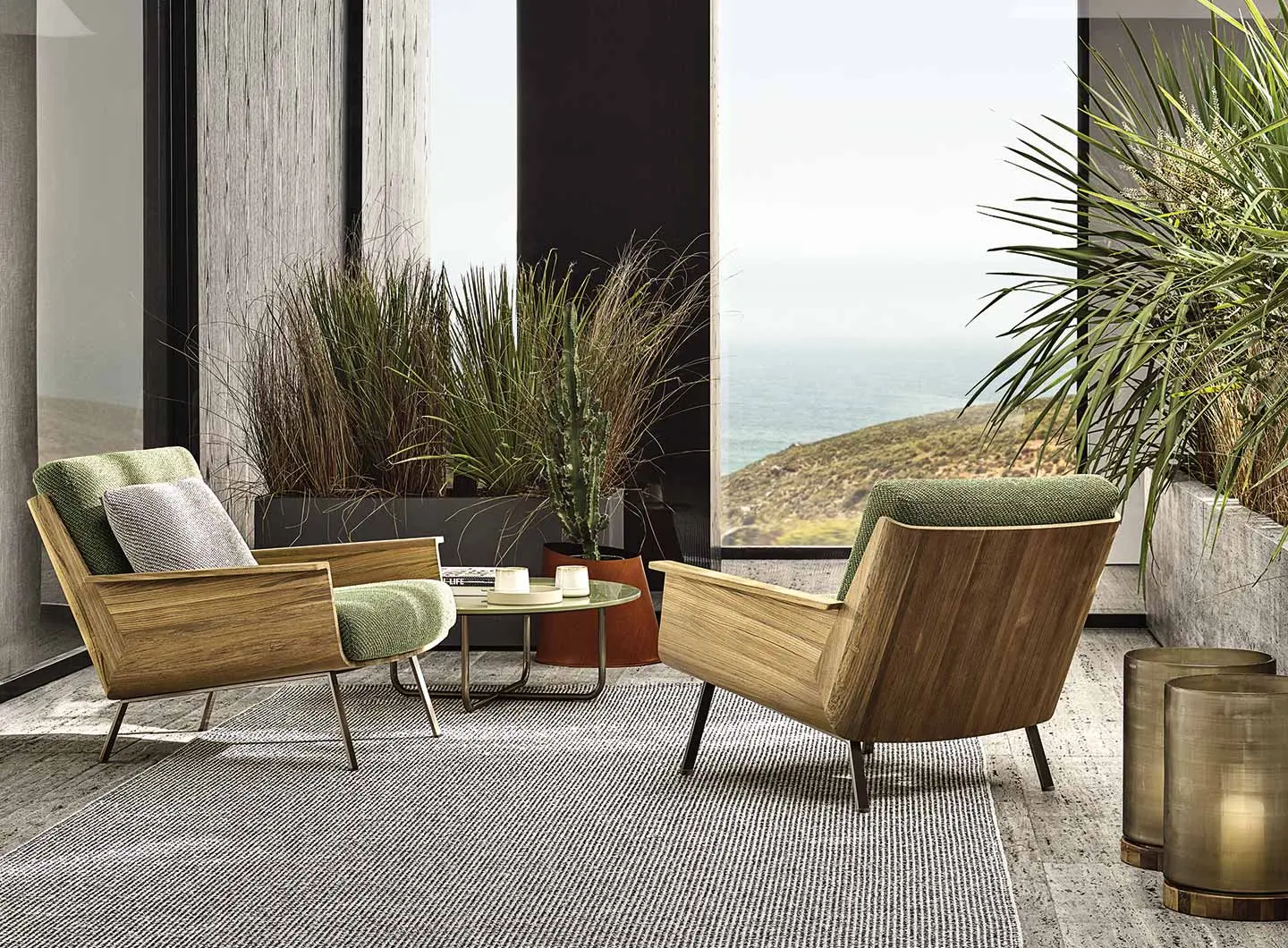 Paola Navone has taken the same approach for Gervasoni Outdoor with Jeko, a comfortable chair with an ECOTeak frame made from recycled beams and teak components retrieved from local authority-authorised demolition, The recovered components are cut to size, repaired with recycled wood, assembled and smoothed to reveal the original veins, and the final finish is achieved by hand-polishing with hemp and swarf.In the summertime, having lunch and supper in the open air is really enjoyable, so great importance has been given to lightweight, practical, functional chairs. As long as they're good-looking and brightly coloured. Appeal and durability are the keywords when it comes to their design. So Exteta has come up with Locus Solus Loveseat – made of steel and fabrics in original, novel patterns – which is the re-edition of a collection designed by the unpredictable and brilliant Gae Aulenti in 1964. The two-seater (strictly from the same family!) celebrates style and sharing and takes us back to vintage atmospheres, from the patterns of the fabrics and its sinuous, soft rounded lines.
Rías are narrow coves along the coast, their outline and poetic quality reminiscent of the Norwegian fjords. Alberto Lievore drew inspiration from these scraps of land that welcome and contain the sea and boats for the curved, enveloping shell of the Ria (precisely) die-cast and aluminium chair, which accommodates the wellbeing and the comfort of the body, designed for Fast.
Also available in an outdoor version, LEM – an acronym for Lunar Excursion Module – is now 20-years old. Designed by Shin & Tomoko Azumi, this bar stool is one of Lapalma's cult objects. Extremely light, it exploits the absence of gravity achieved by the void created in its design – a doubly curved rectangular section tubular steel defines the profile, bringing the seat and footrest together in a continuous line – fostering its relationship with the environment. A perfect synthesis of Japanese culture and Italian technology.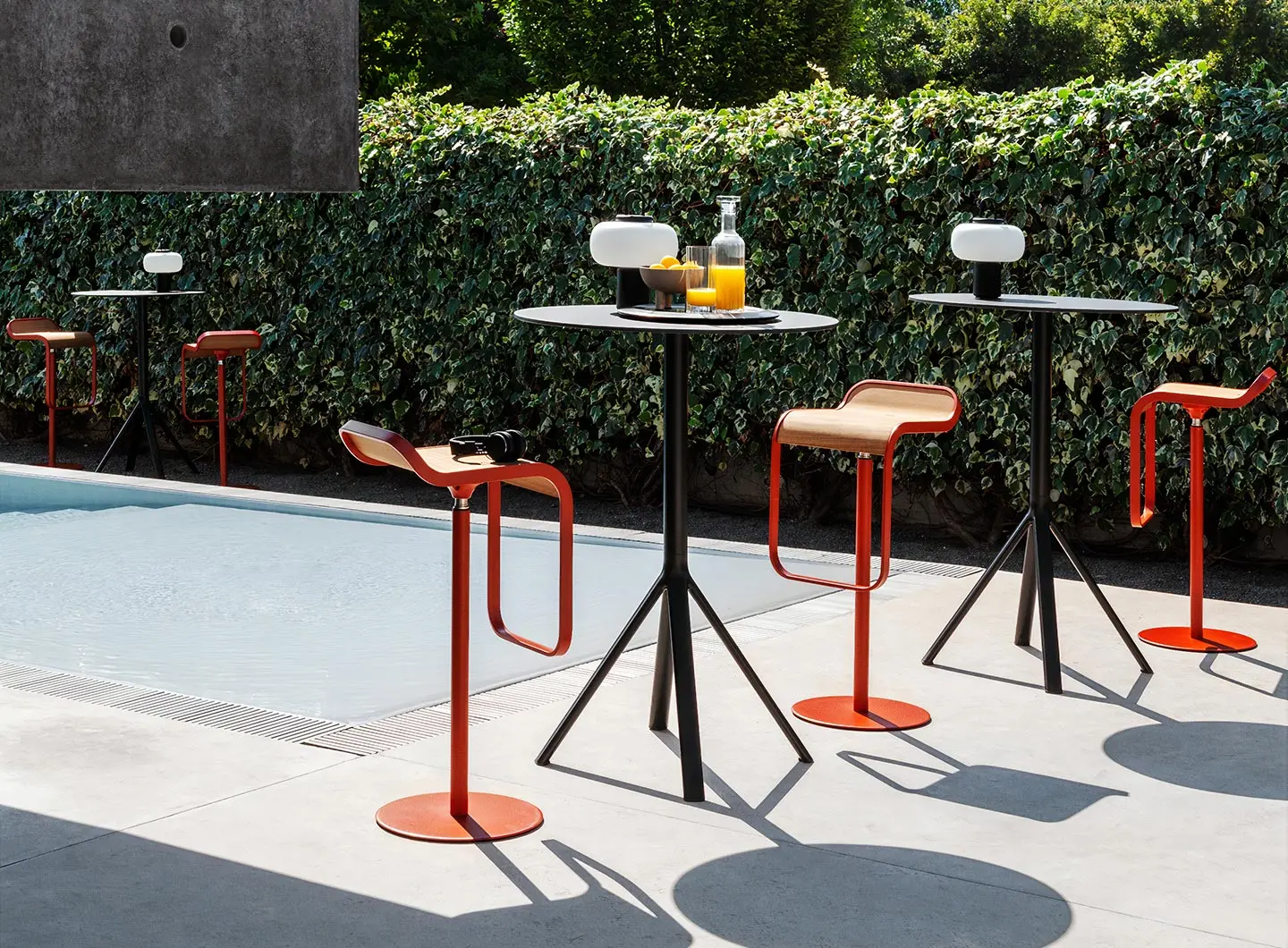 With its elegance and sleek lines, the stackable chair conceived by Mut Design for Expormim is different but just as sophisticated. The company wanted the range of materials used to be kept to a minimum, obviously without sacrificing comfort or usability. Petale was the upshot, made of tubular stainless steel and fabric. That's it. Yet it is truly beautiful in its deliberate simplicity and extremely comfortable with its petal-shaped backrest.
Love is not about staring at each other, but about looking in the same direction. This mega-romantic concept inspired the designers of Extremis for Bistroo, a combined table and chairs set side by side, rather than one in front of the other, enabling both people to have the same view. T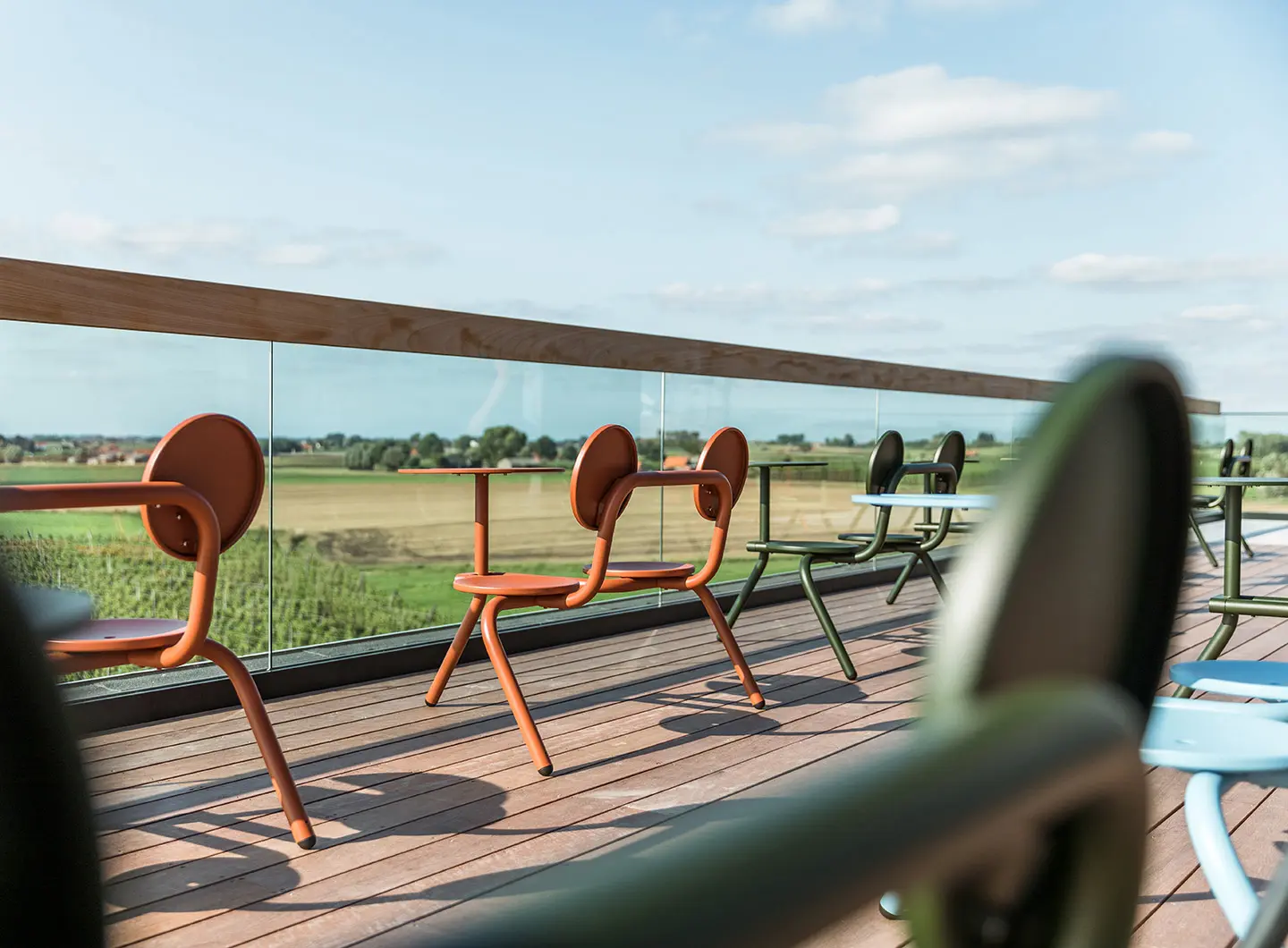 Outdoor spaces are synonymous with conviviality and the table undoubtedly reigns supreme, with an embarras de choix as regards shapes, materials, colours and sizes. Square, rectangular or round; with resin, plastic, metal, teak, rope or wicker structures; tops in glass, bioplastic, stoneware, stone or wood; light and geometric or large and imposing. Basically there is no shortage of dining (or coffee) tables to suit any and every requirement and outdoor type. Let's end this absolutely not exhaustive overview of outdoor design with the set presented by Carl Hansen & Son and created by one of the most iconic Danish designers: Børge Mogensen. Of his functionalist mindset, his son noted that he "made furniture for pretty much everything we needed at home and in life." The brand's re-edited table and benches are emblematic of a functional, simple and exacting approach to design, their teak slats inviting people to come and sit side by side.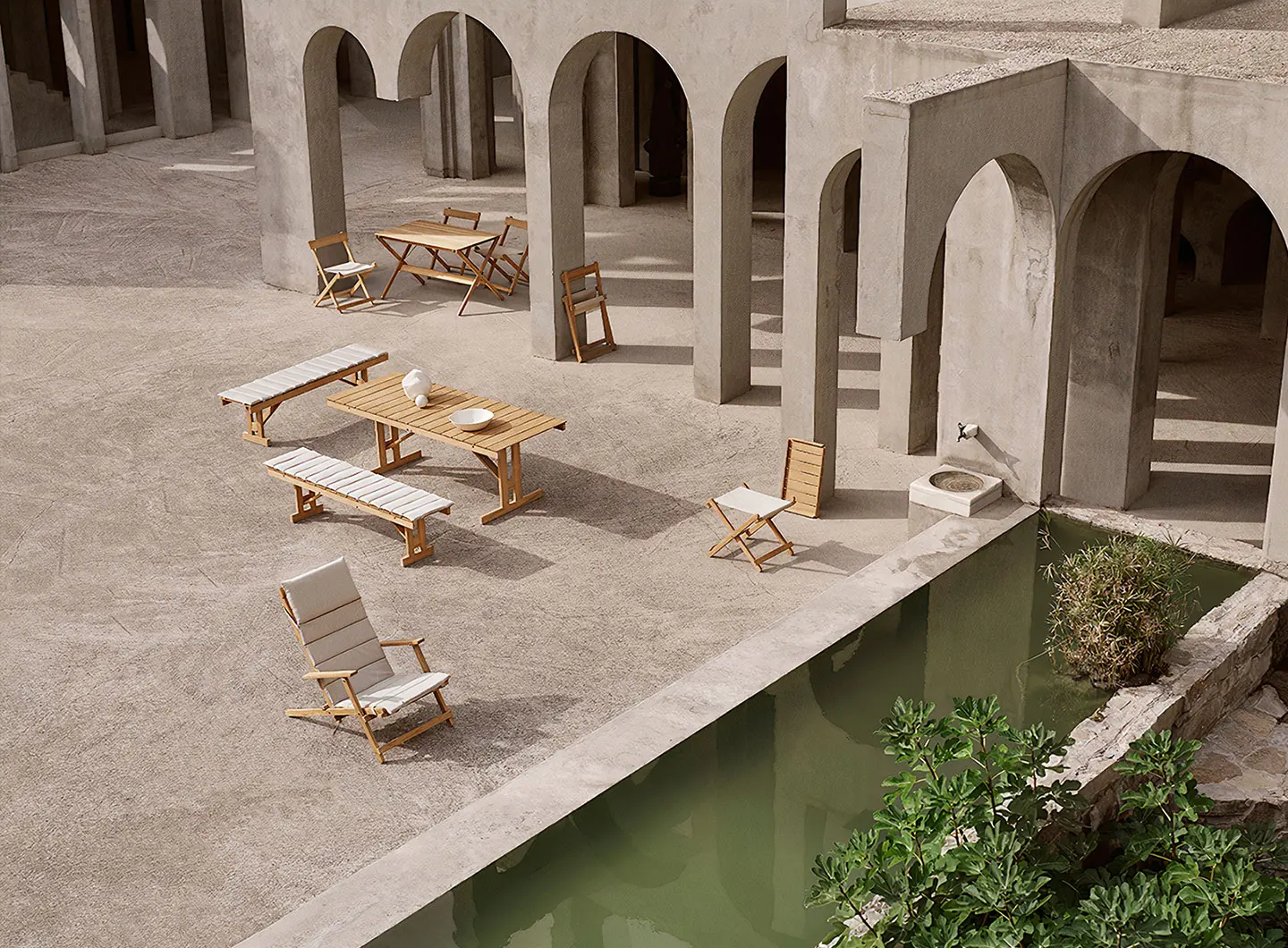 Thanks to the narrow frame, the table legs are totally unobtrusive. Once summer is over, both items can be folded and kept in a safe place until the fine weather returns. It is in this essentiality that the value of just being together lies, along with – presumably for everyone – happy memories of many summers past.