Carlo Stanga: the portrayer of cities
Add to bookmarks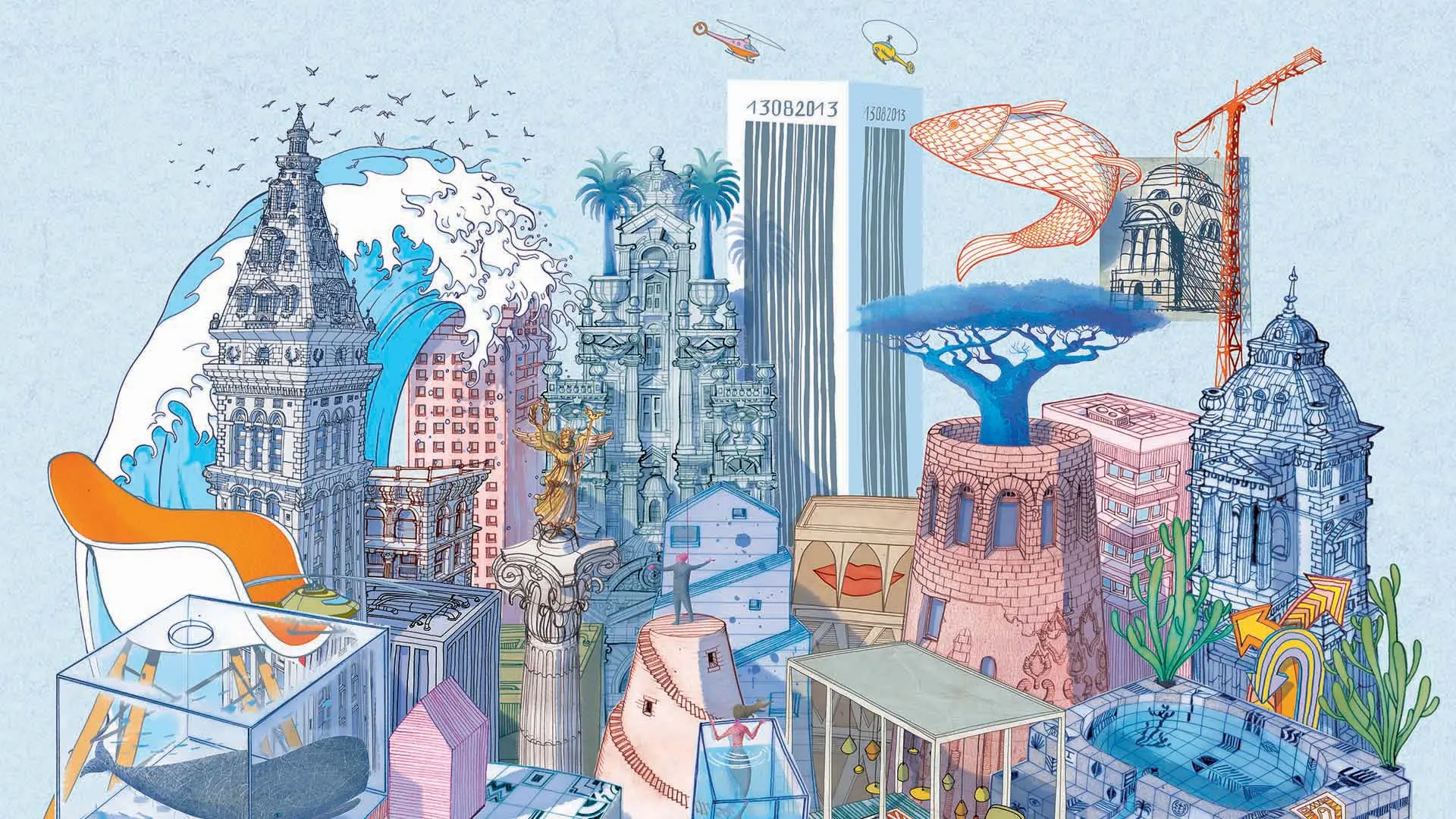 A master of design fond of breaking boundaries and travelling in search of the soul of buildings. He describes his work as "a concentrate of things that make life worth living."
He is deeply passionate about design, and has been since childhood, when at 18 months his anxious mother  took him to see a speech therapist because he would only express himself with pencils and coloured pastels. He took his degree in Architecture from the Polytechnic University of Milan, then frequented art and design studios and worked with Bruno Munari and Alessandro Mendini. He set up his own architectural practice, but his overriding interest in design, along with his love of travel and writing, led him to mix all these ingredients into a single profession. An illustrator. Since being definitively anointed by the daily newspaper La Repubblica in 2009 in the pages devoted to culture, current events and cookery and in a series of summer illustrations to travel stories by Paolo Rumiz, his talent has been prized by all and sundry. Most of his work is for newspaper and magazine articles, advertising agencies and design studios. His work – a stunning interior at the Achille Castiglioni Foundation, for instance - crops up in The Milaneser, a non-existent magazine, made up simply of iconic covers, quotes from the famous American magazine, in the advertising poster for the 2020-21 season at the Piccolo Teatro di Milano, and again in the recent video series Popping Up Milan for the  MEET - Digital Culture Centre. His style breaks with convention, while conserving an intrinsic basic harmony. His CV includes videos on learning to draw, from perspectives to architecture, in order to hone one's own personal point of view.
His increasing love of travel sparked his series of books for Moleskine on the world's leading cities, I Am the City, in 2015. Stanga sees cities like people, with their own characters and souls and their own secrets. He wrote and illustrated I Am Milan, which is devoted to his own city, even though he currently lives and works in Berlin. This was followed by I Am London and I Am New York. His atmospheres are evocative, from the spires on Milan Cathedral to Portobello Market and the bridges in the Big Apple, boasting a wealth of captions. Architecture and design also meld happily in the children's book Zaha Hadid, published in 2020 by Raum Italic- Berlin and the MAXXI in Rome.
He has won numerous awards both in Italy and the US, where his works have been selected by the American Illustration Annual and garnered a Gold Medal from the magazine Creative Quarterly and several Communication Arts Awards of Excellence.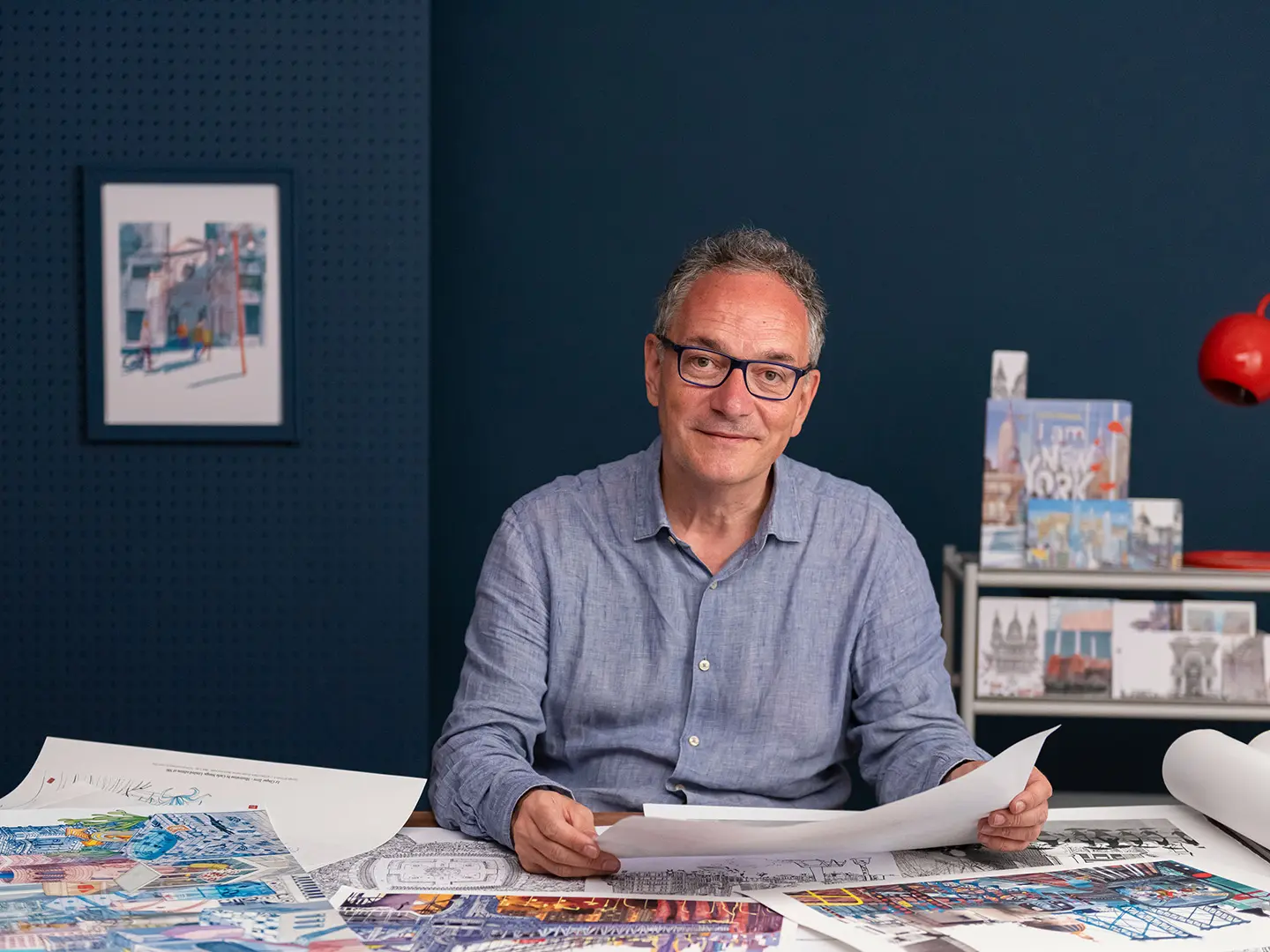 You have so many passions – design, architecture, cities, travel, writing – that have informed your work. One could describe it as an ideal job. One everyone would aspire to. Can you tell us about it?
Shaping a career influenced not just by my passions, but built on everything I love, was a natural process that I only became aware of gradually. In the beginning, with my early commissions, I became immersed in my work, with all the emotional involvement of inspiration that that entails, along with rational planning geared to meeting delivery dates, from the initial sketches to the finished works. Later, with time to think back on the work I've done and the creative process in all its facets, I saw a landscape in which the illustrative and creative part inevitably went hand in hand with a range of interests, activities and, what one might almost describe as rituals, that condensed my work into a concentrate of things that made life worth living. Doing a book on a city is the best example of how all my passions come together and most resemble "an ideal job." This sort of adventure, along with reading travel books, narratives and essays on a city, inevitably entails a trip to the destination, breathing in its air, talking to its inhabitants, writing about it in an attempt to capture its identity and even its hidden depths and then … and then… all this information and all those images in one's mind start the hand moving. Basically, yes, so many beautiful things in creative movement that coincide with the way I see life.
Then there are aspects that go along with illustration that make it an even more pleasurable activity, such as for example being able to do it anywhere, in a large European or American city or on a Greek island, sending everything off remotely via internet. Now, for instance, I'm splitting my time between Berlin and Jerusalem, with no adverse effects on my work, I draw analogically and digitally and send it off in a few minutes to clients living in different cities around the world.
I'd like to describe you as an expressionist miniaturist, if you're happy with that definition. I'm thinking for example of your Place des Vosges and Barcelona Puzzle drawings. How do you manage to reconcile this rational approach with a more instinctive one?
Aha, I like your definition! In particular, I regard the miniaturists who fleshed out the mediaeval manuscripts with their wonderful work, as the first real illustrators, i.e. depicting minuscule scenes representing the content of the adjacent text. Illustration is really an applied art that belongs in a precise context, a book, a newspaper, a magazine etc., transposing the meaning of the written word into image form. Illustrating, from the Latin, means illuminating a text, making it clearer and more legible. The part that you describe as expressionist dovetails well with the city in which I've been living for the last 10 years, Berlin, which is really the home of Expressionism. In any event, it's a style informed by observing cities as a complex phenomenon made up of energy, movement, the superposition of elements and density.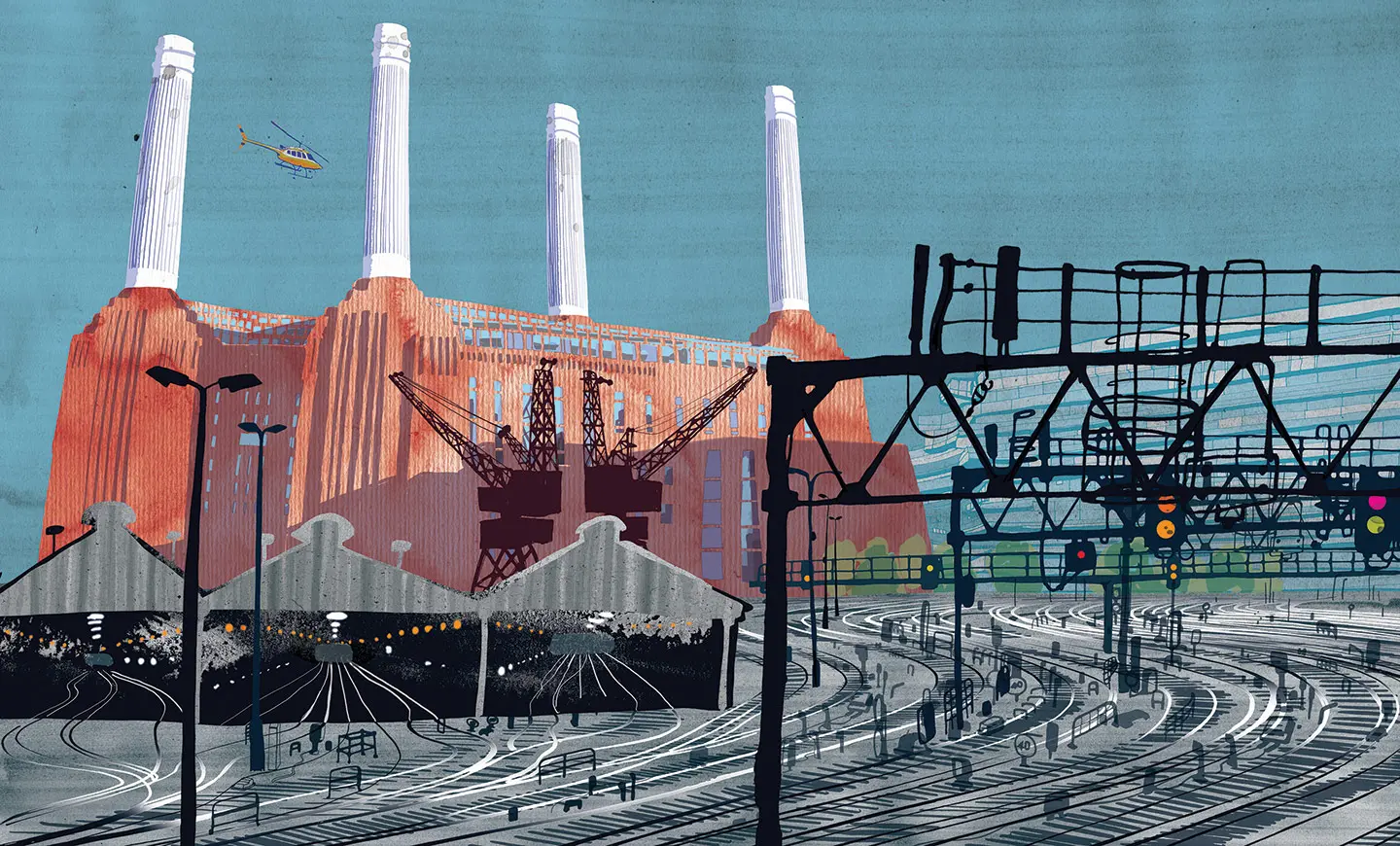 You've said that "drawing is a pathway to knowledge." So, given that you've drawn such a lot, you must be very wise. Is that the case? What has drawing taught you? Does colour have a metaphorical value or just a decorative, functional and expressive one?
Ah, here's we're treading on the toes of philosophy! "I know what I do not know." Drawing has taught me to observe real life, which means discovering that the world is not profoundly knowable, but that one has to follow a path, a line in ink or in pencil, which explores everything without ever getting to the end. I find the meaning of all this in the wonder of discovering an unexpected harmony between shapes or colours, that co-exist unexpectedly and in the ability to share knowledge with others, which in fact is an interpretation, of what I am illustrating. As soon as I start drawing on a sheet of paper, it gives me an opportunity to share what I've got in my mind, without the need for thousands of words. Herein too lies the meaning of what I do.
You've collaborated with the great masters of design, such as Munari and Mendini. What did you do with them and how do you remember them?
I worked with Bruno Munari at his creative workshops for children aged between 6 and 8. The way Munari related to the little ones, encouraging them quite naturally to look at life with different eyes, discovering and boosting their creative potential, had a profound effect on how I looked at the world and translated it onto paper. So the Munari method changed me too, making me more fluid and facilitating the connection between my creative spirit and the result of my endeavours. It's a lesson I'll never forget.
My collaboration with Alessandro Mendini was different but just as inspiring. He invited me to create some large panels of images for some of the Swatch shops. Again, the creative freedom and explosion of colour helped me discover my ideal job.
Some of your clients, such as Poliform and Zanotta also exhibit at the Salone del Mobile. Milano. What have you worked on together and what would you still like to do for this sector?
My collaborations with Poliform and Zanotta coincided with advertising experiences or brand celebrations for particular anniversaries or key moments for these companies, which have been central to the history of Italian design. They were occasions when I was free to interpret their extremely solid and recognisable, yet dynamic and constantly evolving identities. Illustration means illumination, as I said, so I had fun putting the spotlight on the atmospheres and aspects that transmitted the uniqueness of the two brands as far as I saw it, which also happened to me in the world of fashion design with Missoni an Ermenegildo Zegna.