Benwu Studio
Add to bookmarks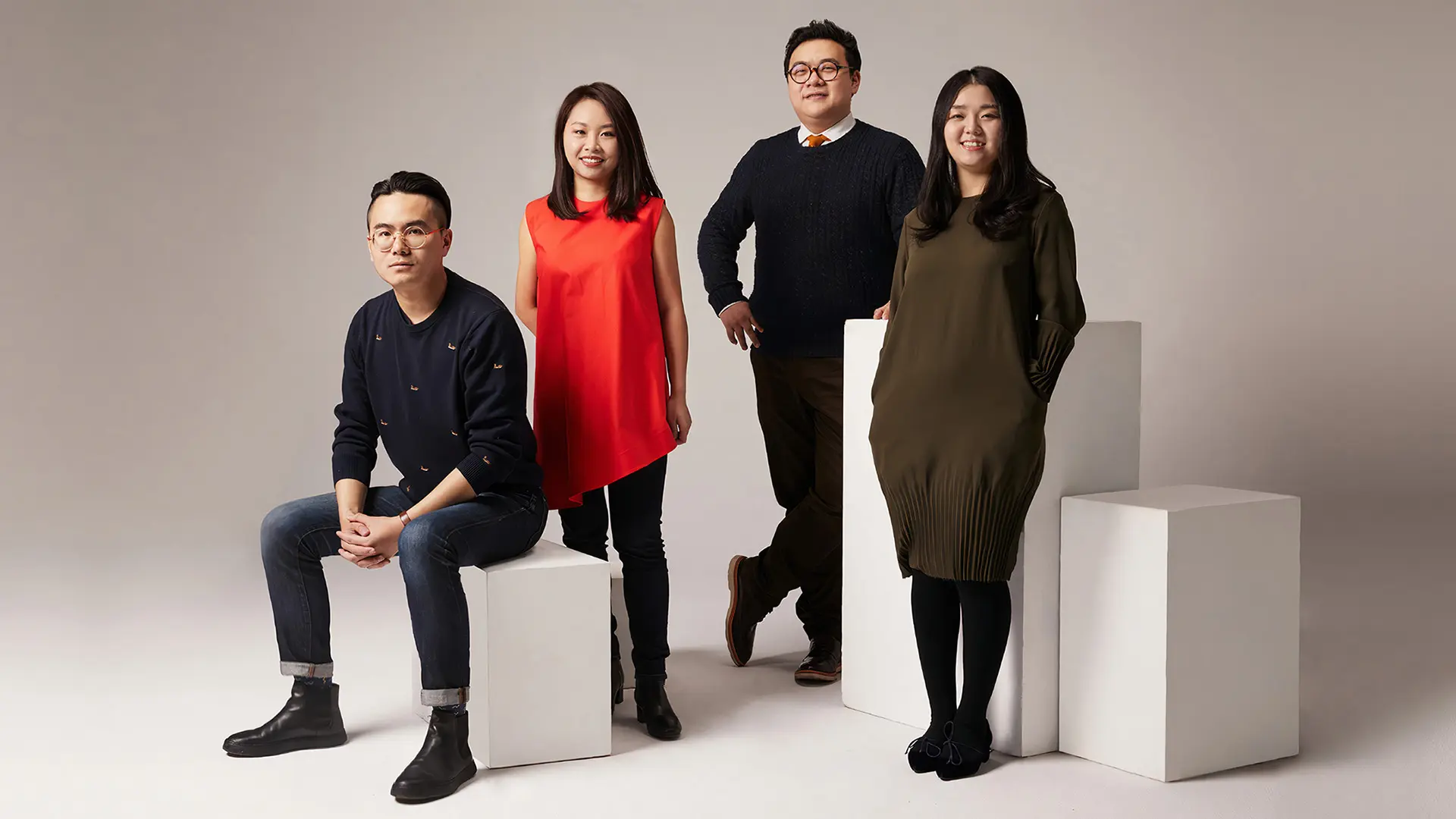 A design studio that has redoubled to become a multidisciplinary agency with offices in Shanghai and Beijing, specialising in displays, product and interior design.
Benwu Studio was set up by Hongchao Wang (ECAL) and Peng You (RCA) in New York City in 2012. The partnership initially focused on experimenting with materials and craft research. They were joined in 2015 by the architect Ge Wei (RCA) and product designer Qiyun Deng (ECAL), when Benwu Studio became a multi-disciplinary design agency specialising in display, product, and interior design. The agency now has offices in both Shanghai & Beijing and 14 full time staff, and has worked on important projects for clients such as Hermès, Petit H, Vacheron Constantin, Cassina, Isabel Marant, Mini, Baccarat, Swarovski, Perrier Jouet, Remy Martin, Lane Crawford, Comme Moi, MFK, Sealy, SKP, and Edros.
www.benwustudio.com
What was the first product/work you designed? What does design mean to you?
Our first product was a mortise and tenon structure, which was a joint effort between You Peng and me. It was inspired by the toy Kong Ming Lock – which was all the rage in 2011, when my partner and I were making sketches and drawings – and symbolised our friendship. Time Flies. Now we have taken on a lot of new people, who pulled out all the stops to join our team, one big family.
What are the 3 things in your home that you would never be without?
I share a rented house with some friends. Initially the house was full of books, but then we moved to the studio, leaving only a television and the beds at home. If I owned my own house, I would set myself three different projects. The first would be a splendid kitchen featuring Bulthaup's System B2, creating a suitable environment for cooking healthily. The second project would involve Poliform's Senzafine walk-in closet to encourage me to take greater care over my appearance. The third would involve the Veliero bookcase designed for Cassina by Franco Albini.
Is there a particular subject, a design field that interests you particularly, one you find stimulating?
We haven't done much in the way of exhibiting works of art or collections in galleries. We have just set up a new department – One-off – at Benwu Studio, which deals with one-off pieces collected by galleries, and we are currently making contact with other galleries about more potential contracts.
Contemporary design seeks to address human needs and emotions. As a Millennial, do you think new technologies will reshape the design landscape?
My partner You Peng is very good at dealing with electronic technology problems. Another partner, Deng Qiyun, is an expert in the application of new cutting-edge materials and techniques to mass production. We are all passionate about harnessing the huge market potential in Guangdong Province. Science and technology remain the top priority for our future development. In China, designers born between 1970 and 1985 have made a great deal of money. That notwithstanding, those resources that have been tapped and the wealth that has been acquired are infinite. So, making a technological breakthrough would be the logical way forward.
How do you imagine your home, your work, and your city in ten years' time?
I hope that I will still be working in design in 10 years' time, in cities like Shanghai and Beijing. Only by making pioneering efforts can we carve out a vantage point in the design industry. Anyone clinging to conventional ideas will be outpaced by swift socio-economic development. It would be fantastic if we were able to set up our practice in the magnificent North Bund complex, which has wonderful views over Shanghai. We have always had offices in new buildings with parking services. Besides which, being on a top floor and the ensuing sunlight mean that we've had the most fantastic views.