Beds and closets: how lifestyles have changed
Add to bookmarks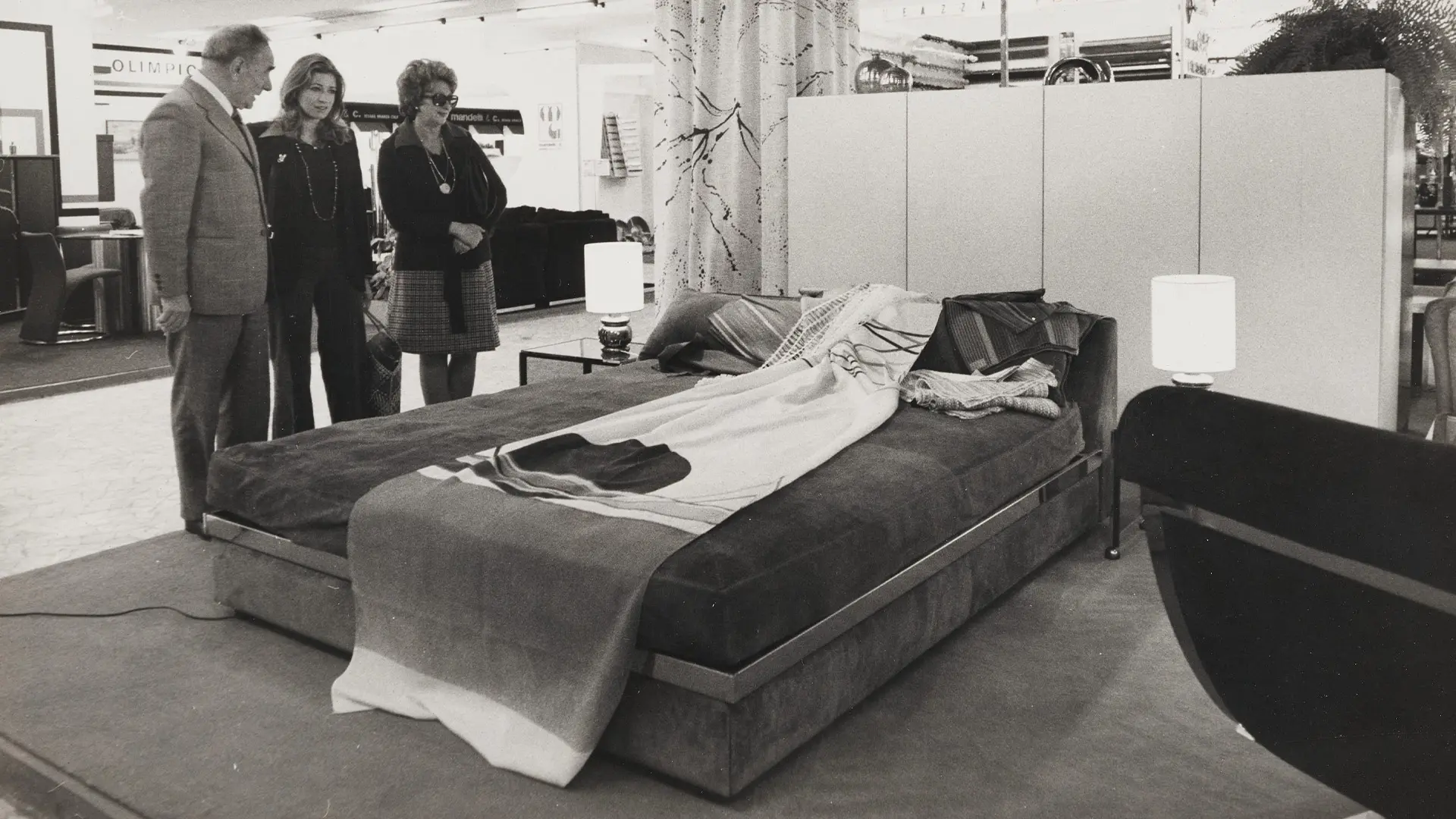 The bedroom, from a container of "private things" to a made-to-measure space… In the run-up to the June 2022 Salone del Mobile.Milano, we continue our journey into the past through previously-unseen images from the Fondazione Fiera Milano Archives
In his 1963 film Yesterday, Today and Tomorrow, Vittorio de Sica confirmed the bedroom's role as a container of "private things", engraving Mara (Sofia Loren) in people's minds as an inspiring and above all attainable template, thanks to a home seduction that relied on just a few things. Since Sofia Loren's beauty was not so common among leading ladies on the home front, taking her out of the equation, that left the diffuse light of dark stockings, a little mood music, an unforgettable Henry Wright lamp, and the bed.
Minimalist, Chippendale, rounded, upholstered, folding, technological and traditional, the Fair catered to all expectations and fantasies, with each market assigned its own space. Not surprisingly, the Fair was a crowded place where it was easy to get lost in the throng while sneaking peeks at imaginative and less imaginative beds… preferable nonetheless to the embarrassment of going out to look for something "weird" in a city centre store!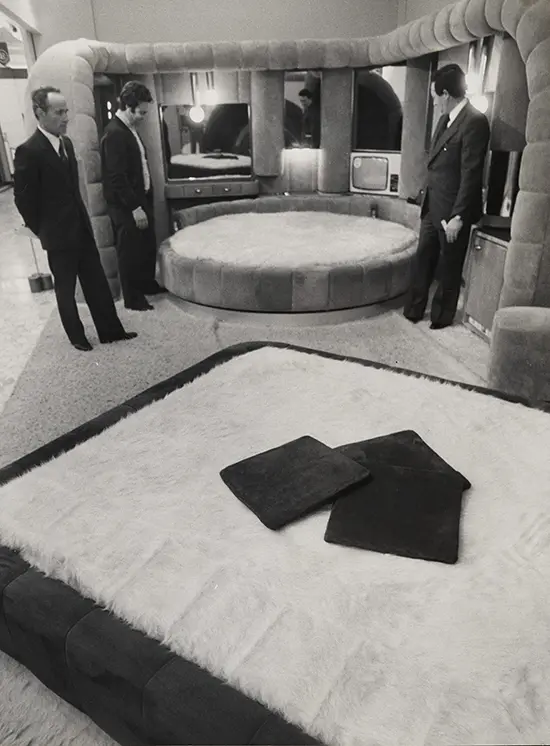 This period marked the start of the glory years for the closet, before decades later it ended up performing a role reversal. Back in the day, closets adapted to fit the space; then, they began to be designed and produced "to measure", then the modular closet appeared, then it was back to "tailor-made", at least for the doors, clad in a thousand different materials, with ever-more high performance hinges and built-in lighting that finally allowed husbands not to get confused between black and blue socks.
Of late, we've seen walk-in closets for people who live in normal-sized homes, if not the hutches young people studying in Italy and abroad are forced to live in. I'll never forget photographs of the room at a student residence in Strasbourg where my nephew stayed; clean, modern, new, only sized like the most cramped of Rome to Reggio Calabria couchette bunks (been there, done that!), with the sole differences of air conditioning, the internet and the certainty that you're not about to be pickpocketed. I'm not being rude here: when the train conductor clapped eyes on me, my sister and my umpteen nephews and nieces (I have five!), he made us promise to lock ourselves into the compartment until we reached our destination!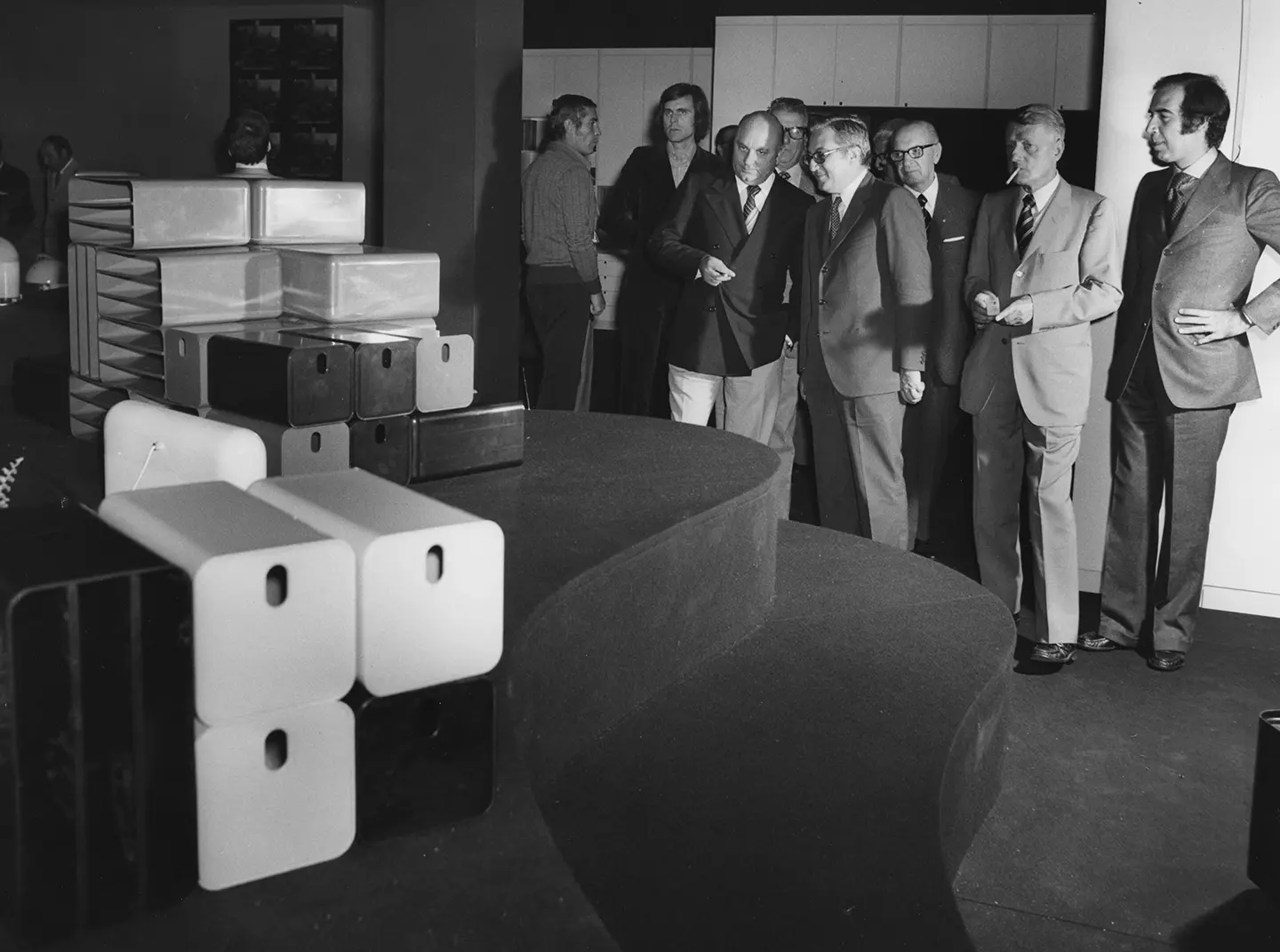 Back to the closets... In addition to being large enough to hide a lover, closets became vitally important, and not just as a place to hang a mirror in the bedroom opposite a flamed briar bed! The closet took its revenge, storing not just clothes but foldaway beds, desks and even kitchen blocks.
The most modern of the ilk relied on a new series of containers that went far beyond the classic canons: modular drawer units in moulded plastic, washable, stackable and fully implementable: now, even the lady of the house could have fun with her "Lego bricks" and indulge in daring constructions.
The imperative to "declutter" is a side-effect of progressively shrinking living spaces, the advent of a Nordic style that reduced needs to the bone (a home in Stockholm vs. a home in Venice, you do the math...), and a desire for clean lines. This furniture trend was reflected in a slew of objects that have become design icons: far more than one folder would be necessary to contain a homage to the ashtrays produced during those years, not to mention trays, table and desk accessories, and indeed an entire universe of projects "designed" without the sword of Damocles of numbers and sales, in another age when designers' approaches could wield boldness and expertise, rather than suffer the vagaries of the market and fiscal drag.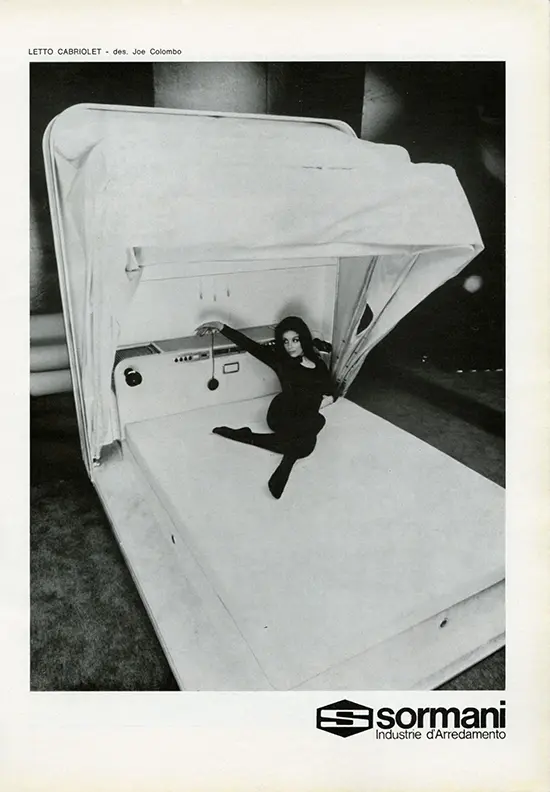 These new developments spread like wildfire, especially as foldaway beds hit the market, hidden away in offices, ironing rooms, sometimes even corridors. The hospitality world joined the revolution: rooms in hotels, residences and campsite bungalows spawned bunk beds and folding structures that, if you're not careful, will happily claim a finger, thumb or at least a phalange!
Stands began to be dedicated to hospitals too, as patient care was considered not only as a scientific and medical matter but one of comfort and ergonomics when it came to its instruments, starting with mechanized beds.
I was born in 1971. Despite their sense of humour and the joie de vivre they passed on to us, I'm afraid my parents wouldn't have drawn much inspiration from a spaceship like the one that was on display that year.
I end in the hope that we really are heading back to times when traffic on the Fair's crosswalks needs to be directed by one of Milan's finest ghisa traffic cops because they're so crowded, handling a quantity of visitors that, from what we already know, has booked out hotels across the city. To which, yay!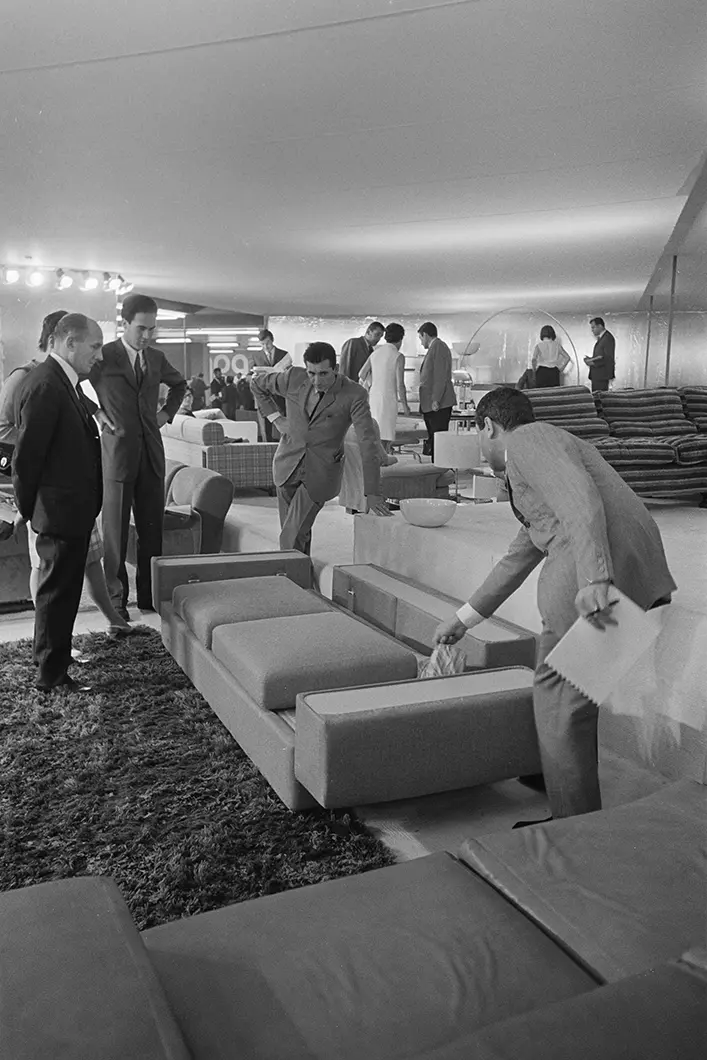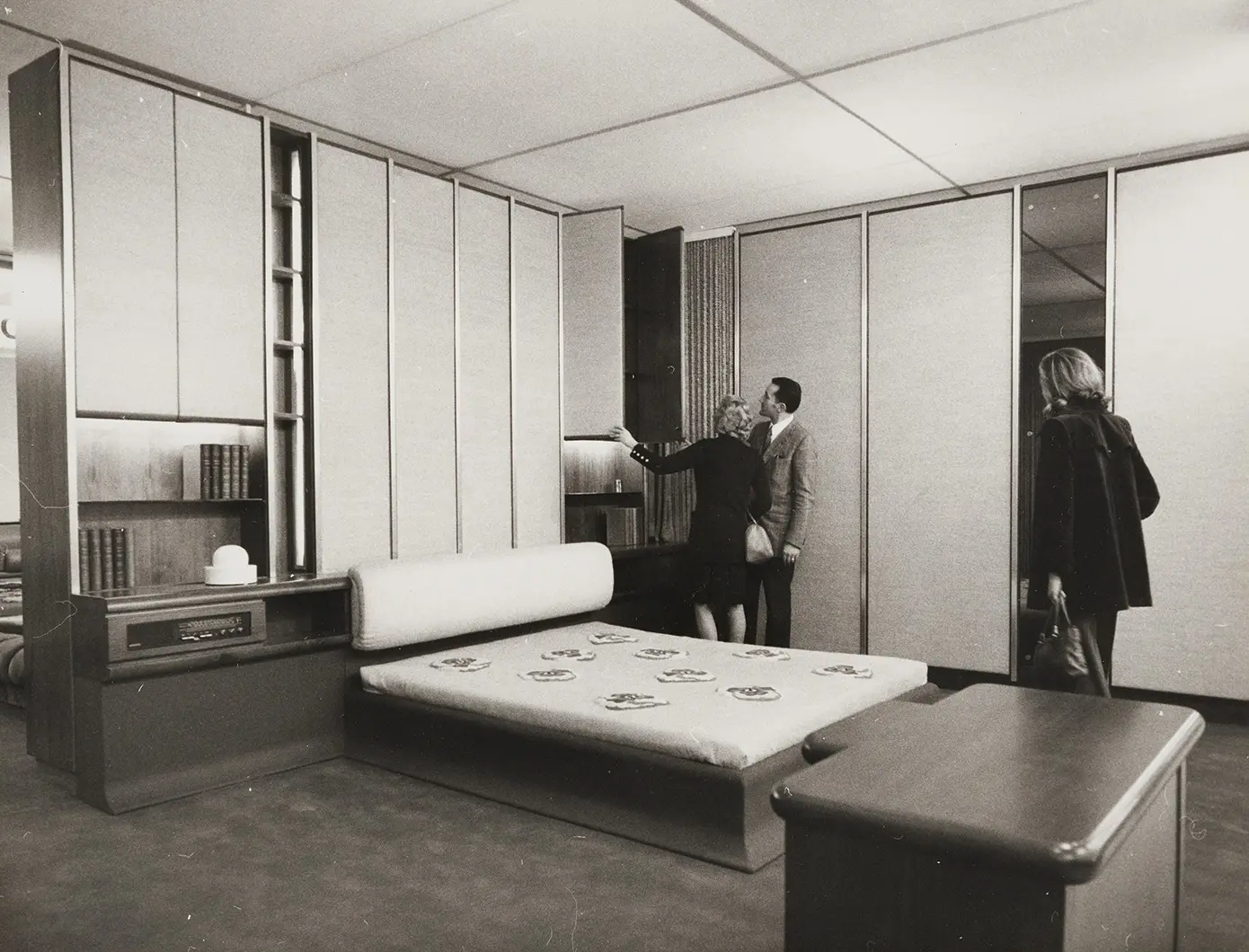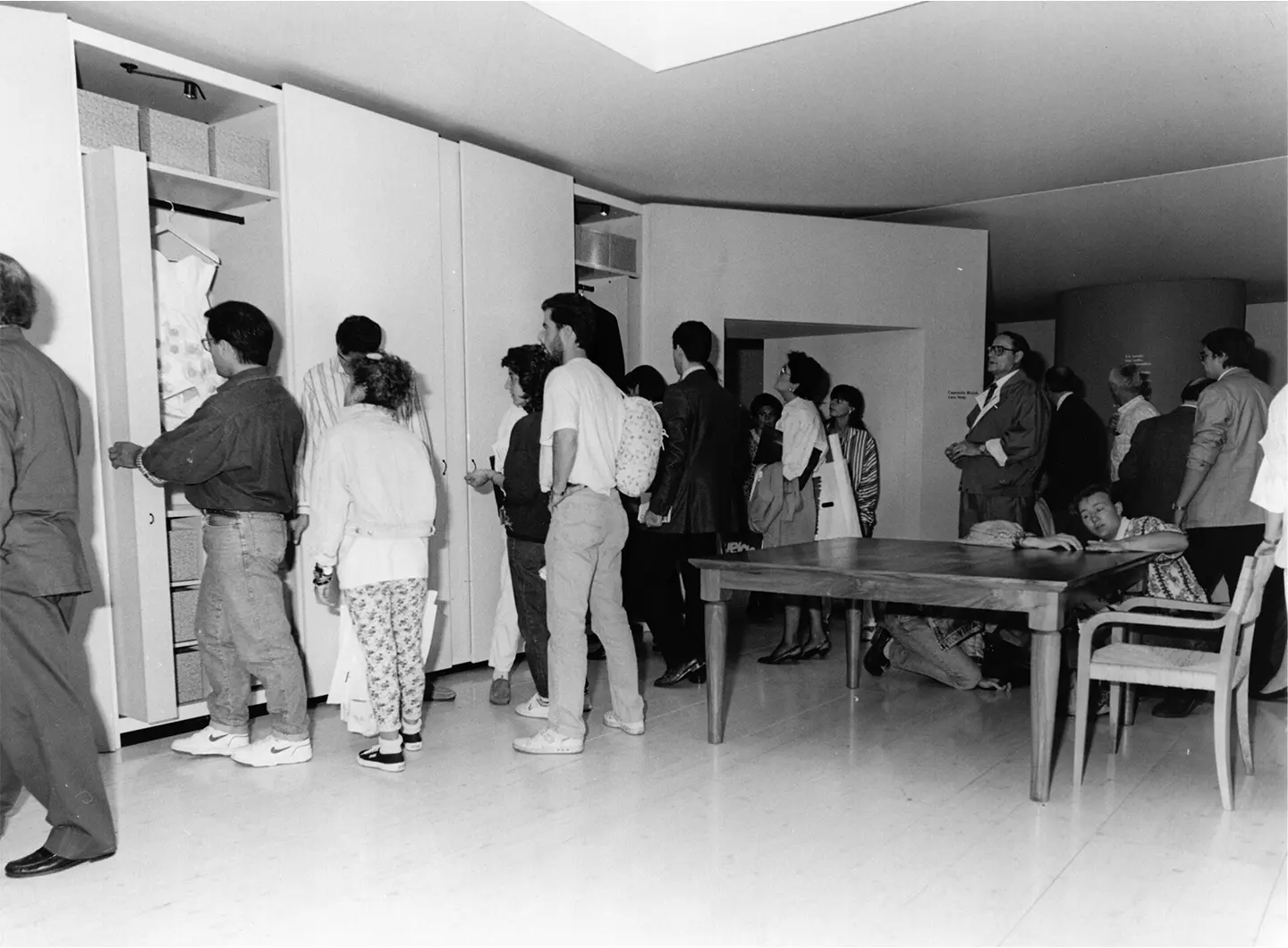 Check out the previews of the products that will be unveiled at the Salone del Mobile.Milano 2022