Beauty recycled in major Fondazione Prada exhibition
Add to bookmarks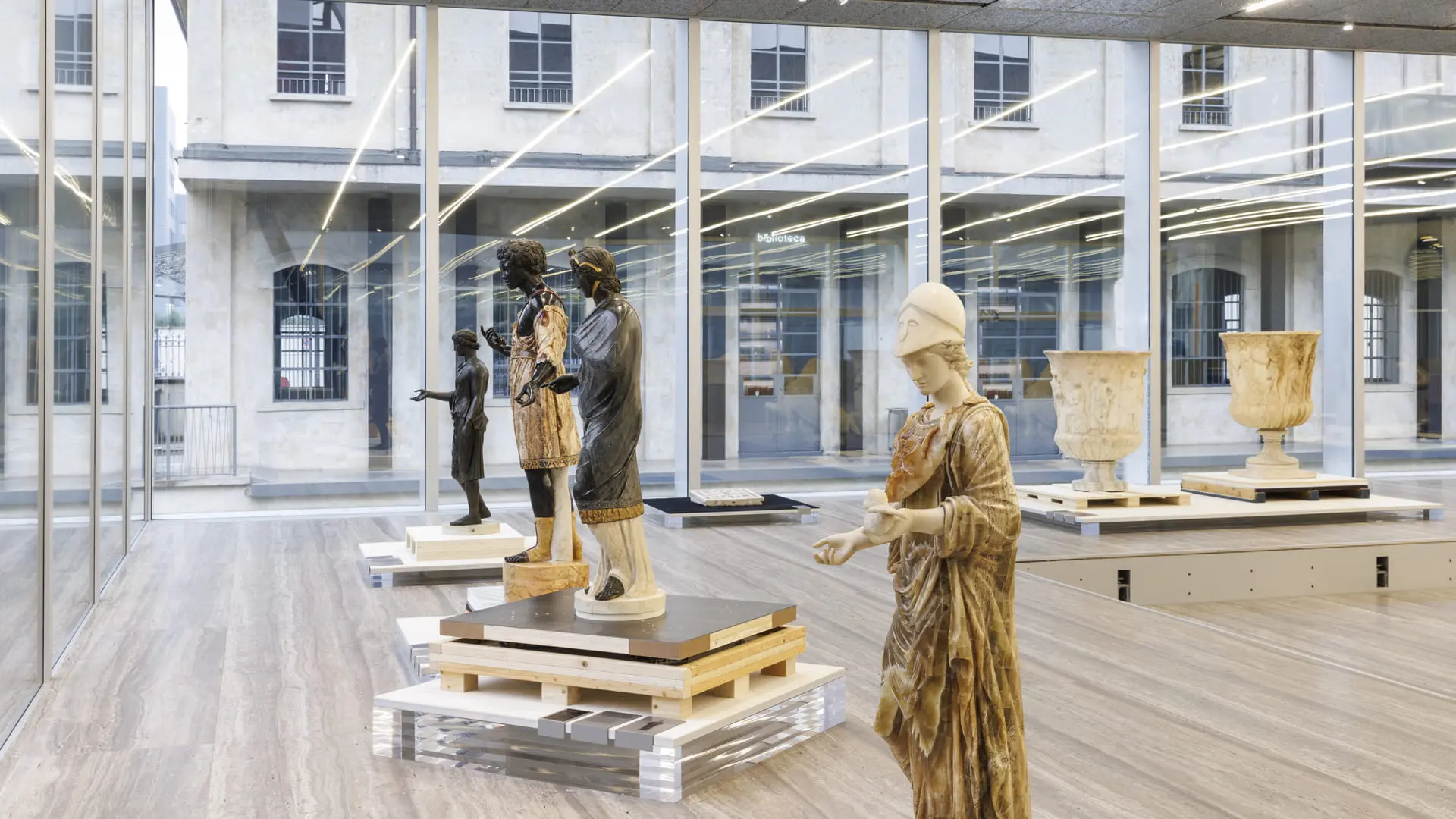 Recycling Beauty opened on November 17th at the Prada Foundation. The exhibition, rife with question marks and suggestions about our perception of artistic artifacts, showcases classic works in a true recycling operation, boldly rethinking their display thanks to the Rem Koolhaas-designed installation. A cue for the design industry, too
Fondazione Prada moved to its new home in a Milan neighbourhood increasingly referred to as 'Soupra' (SOUth of PRAda) in 2015. The large and variegated venue's inaugural exhibition, co-curated by Salvatore Settis, Anna Anguissola and Denise La Monica, Serial Classic, analyzed specimens of classical sculpture by exploring the ambivalent relationship between originality and imitation in the Roman world, and how that relationship spawned patterns that have continued uninterrupted through art history, ever since the classic age. What is the value of a copy? Why have copies been so fundamental to artistic culture?
These questions have now been joined by others at Recycling Beauty, an exhibition by the same curatorial team dedicated to the concept of reusing parts, fragments and materials from Greek and Roman antiquities, and recycling them against a post-antiquity backdrop.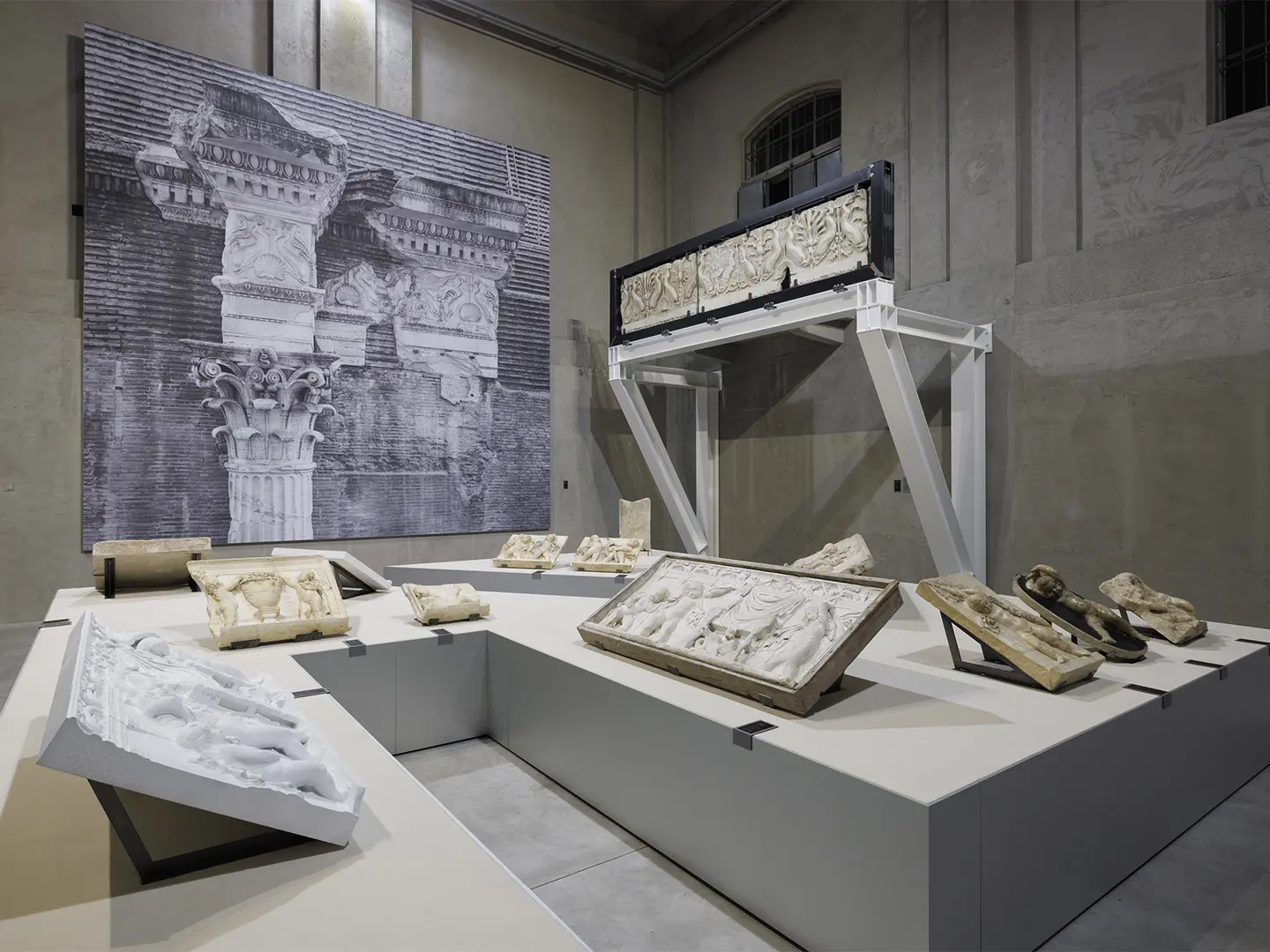 Accustomed as we are to a distorted view of the neoclassical era, one in which the ancient world's unparalleled imagery is presented as fixed and unchanging, for centuries we have regarded such perfect forms as expressions of constant, homogeneous intention, ignoring the fact that various forms of editing and mixing were, on the contrary, common practices. Salvatore Settis and his team's ambitious exhibition concept showcases many examples in which portions of something already considered "ancient" by Renaissance and Baroque authors led to the configuration of new works, here and there inspiring bold aesthetic interpretations and uses, or else simply reusing the materials as part of a true circular economy.
As previous Serial Classics have demonstrated, the creation and enjoyment of classical works is far more complex and transformative than we may at first think. The curators and Fondazione Prada are keen to convey this, not just through their own in-depth research, but via an intriguing and at the same time risky challenge: to present the ancient as contemporary art. The risk is, in the end, "calculated", given the many evident parallels visitors may discern between such themes as creative upcycling and the adaptation of former aesthetic models to new social and cultural contexts. What is less straightforward, however, is to imagine present-day artists taking on this practice as a "regular" part of their own artwork making. Some examples are to be found: in Italy, Francesco Vezzoli (perhaps not coincidentally, someone who shares the approach generated within Prada's cultural milieu) has reworked and appropriated ancient artefacts, but this and a few other cases have raised issues regarding copyright, or respect for and preservation of historical artefacts.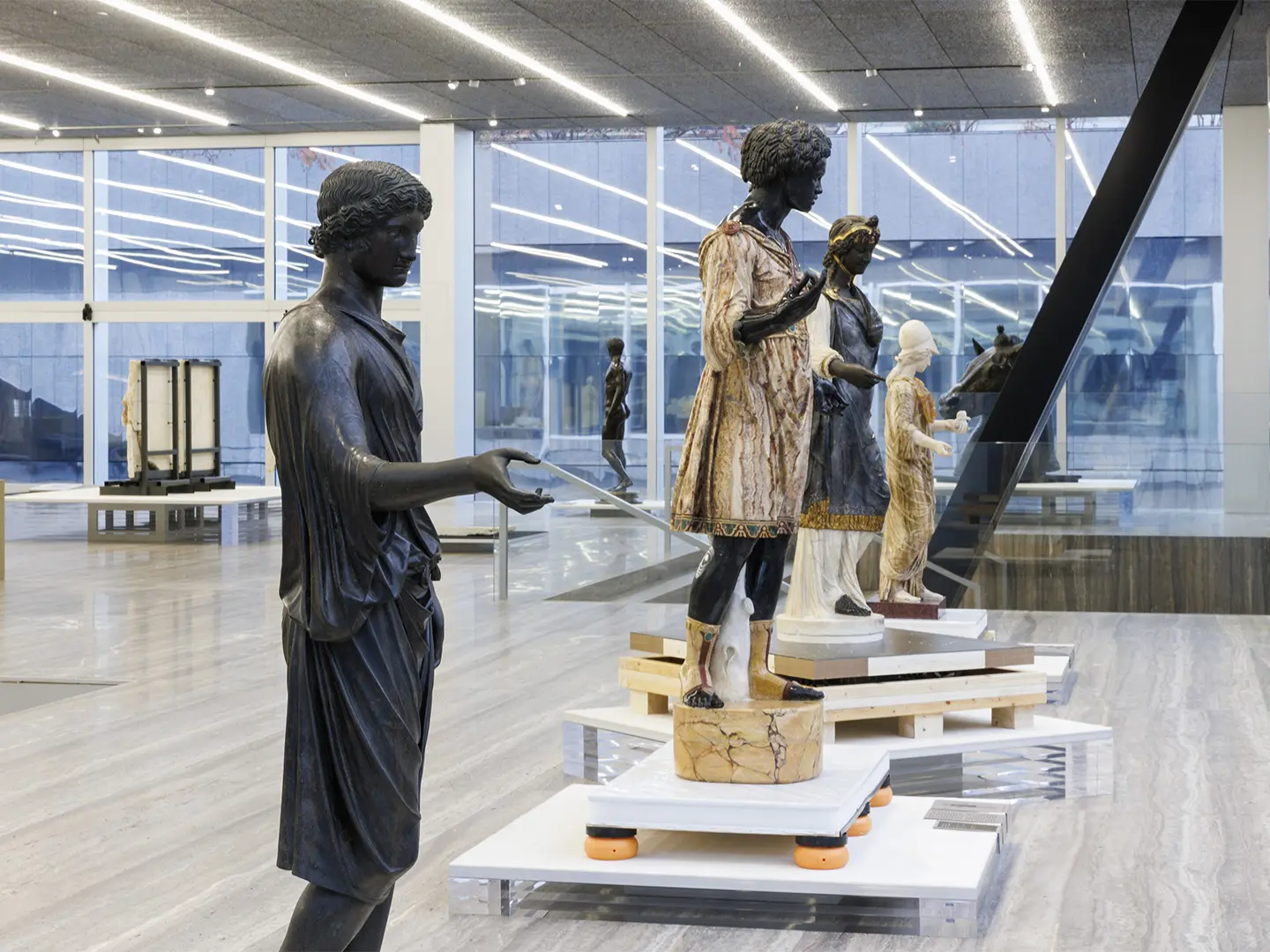 Koolhaas/OMA's exhibition design is a key part of the whole operation. Once again, the Dutch architect has turned his hand to using different materials for the purposes of museographic display.
At the press conference, Salvatore Settis appositely recalled how fundamental it is to study "ad hoc" solutions to presenting artefacts as part of the history of major exhibitions and museums: by way of example, the extraordinary solutions dreamed up (to look no further than within Italy's borders) by architects Carlo Scarpa or Franco Albini. In essence, Koolhaas made two (only partly comprehensible) choices here: on the one hand, he cleverly devised display cases that are in fact in all respects desks complete with "Eamsian" chairs for visitors to use, offering the experience of consulting the works as if a researcher had plucked historical volumes from some library shelf. He also deployed a wide variety of pedestals and bases to rest large and extra-large sculptures on, although here the logic behind the design is less clear: some are laid on multiple layers of various materials such as plexiglass and veritable canvases for painting; others are on wooden packaging (certainly not the packaging used to protect the works during transportation). In other cases, he has repurposed remnants of materials such as carpet or rubber pads. Although some of these details are eye-catching and even amusing, it is not clear how and to what extent these solutions represent a true exchange or dialogue with the respective works they present.
The layout appears to convey values and ambitions that are themselves sculptural, complementing and adding (at least for the duration of the exhibition) a layering of new materials to older ones.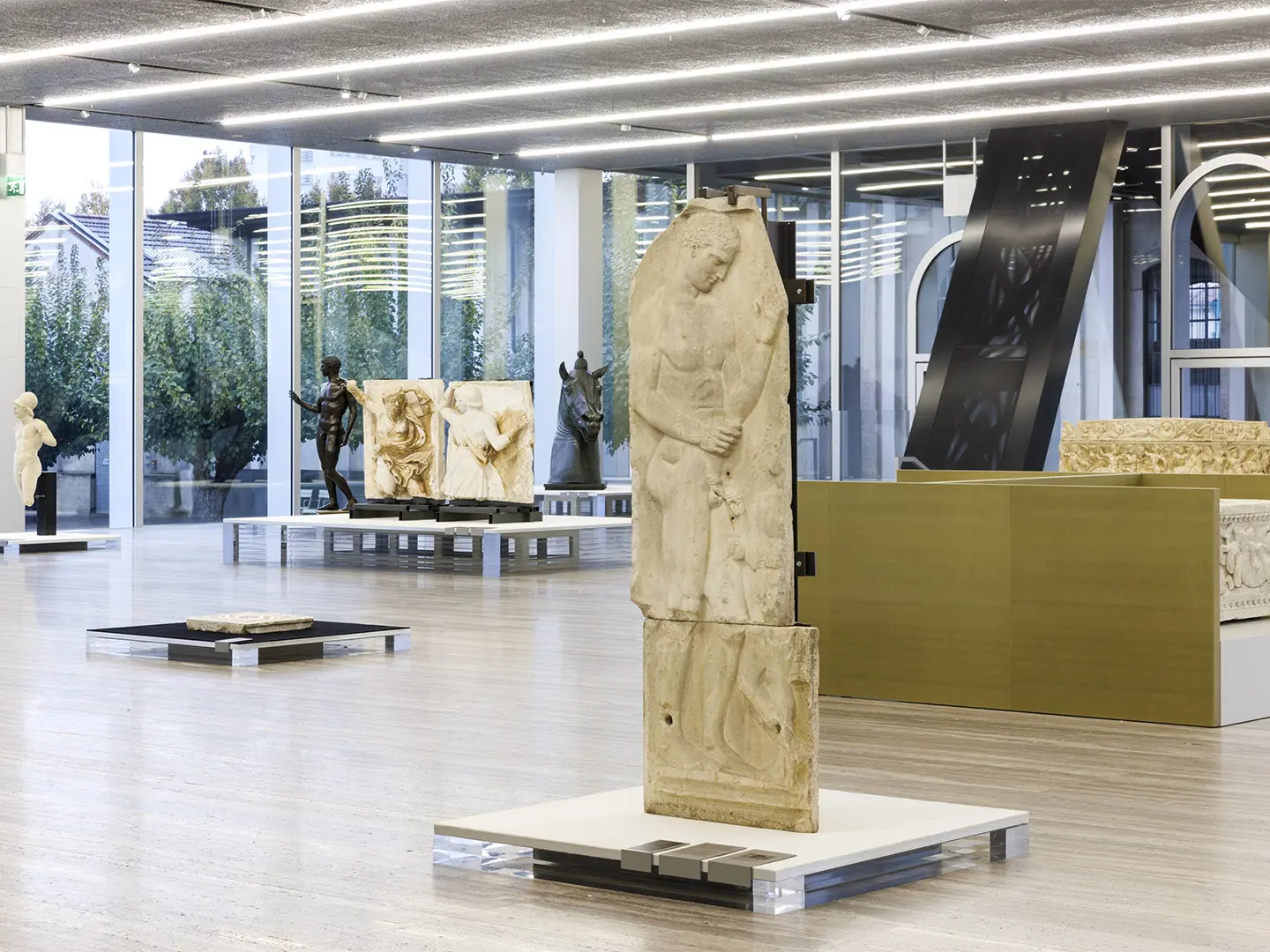 This extensive exhibition occupies the venue's airy Podium, where most of the works are displayed and visitors may wander freely, zigzagging without any particular chronological or thematic hierarchy, and the Cisterna, which features what is undoubtedly the most impressive piece in Recycling Beauty: an impressive reconstruction of the Colossus of Constantine, whose original fragments have for centuries lain in the courtyard of the Palazzo dei Conservatori on the Rome Capitol. Here, for the first time, a head, toe, foot and other parts are presented not in a virtual reconstruction but as an actual sculpture in the round, created by Adam Lowe of Factum Foundation. The resulting colossal statue may be admired from several vantage points. Like all hypertrophic things, it inspires awe, yet it also generates a vaguely alienating feeling to see a Roman emperor's titanic body seated on a sheet metal throne in a former industrial building in a reclaimed Milan suburb.
En route to the foot of the statue, a set of archival images reproduced on the walls show fragments of the colossus in various eras, including Johann Heinrich Füssli's famous red ochre drawing The Artist's Despair Before the Grandeur of Ancient Ruins, which the Swiss artist executed around 1779 inspired by these very finds. Arguably as a result of recycling, decontextualizing and appropriating what is left of the past, artists and architects have today definitely overcome that feeling of inadequacy toward it.
From 17 November 2022 to 27 February 2023